NEWS
The New Calendar of the New Season 2022!
By media@europe.triathlon.org
|
25 Oct, 2021

After a successful 2021 season, European Triathlon alongside the European National Triathlon Federations have finalized and are pleased to release the 2022 Events calendar. The 2022 season is shaping up to be a very exciting one, counting 31 events, in 17 different countries. We also highlight 1st time hosts, Norway, Switzerland and Moldavia, who will be putting on great events.
We also note two majors events, the European Multisport Festival hosted in Bilbao, Spain, and the European Championships held in Munich.
The standard distance elite triathlon will take place in Munich/GER, the triathlon Youth Championship Festival will take place in Zagreb/CRO, the Multisport Festival will take place in Bilbao/ESP, and lastly, the XVI Summer European Youth Olympic Festival (EYOF) will be held in Banská Bystrica/SVK. For the first time Triathlon will be part of the EYOF which is a huge step forward for the next generation athletes.
6 Championship events as outlined below:
The 2022 Europe Triathlon Cup will consist of 7 events and take place in 7 different countries. This will include 2 Supersprint Distance Race (semi-final and final format) and 5 Sprint Distance Races.
7 European cup as outlined below: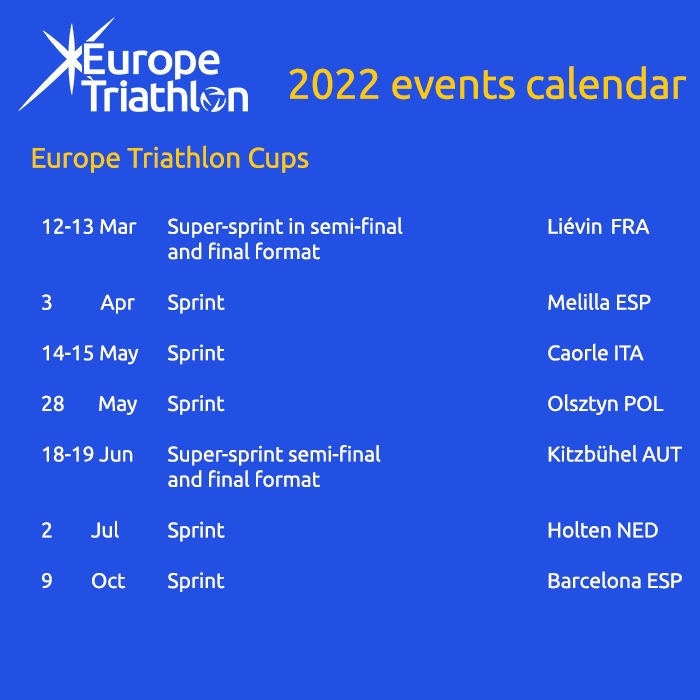 While the 2022 Europe Triathlon Junior Cup will be made up of 13 events taking place in 13 different countries, and will include 6 Supersprint Distance Races (3 Mixed Relay format,and 1 Standard Super Sprint and 2 semi-final and final format) 7 Sprint Distance Races.
13 Europe Junior Cup as outlined below:
3 Europe Triathlon Regional Championships and 2 events for the European Youth Olympic Fesival as outlined below:
The President of the European Triathlon Federation, Renato Bertrandi, said: "l am very proud of the great Race Calendar that, with the help of our NFs, we have been able to announce at our CCs meeting.It will offer opportunity for everybody as the races will be spread all over Europe.I want to focus particularly on 2 Events.The European Triathlon Championships on Olympic distance that will take place in Munich and the Multisport Festival in Bilbao.In Munich, as it was in Glasgow, our Sport will be staged with other disciplines, Athletics, Gymnastic, Cycling, Rowing, Beach Volley, Climbing and Table Tennis.We will race in the Olympic Park and it will be a fantastic opportunity to promote our Sport.I am sure that all the best European Athletes will be present on that occasion.In Bilbao, in September will take place the 3rd Edition of our European Multisport Festival.The location is great and I encourage all Elite and Age Groupers Athletes to be part of that memorable experience."
And the ETU boardmember and the ETU chair race comission Herwig Grabner said: "I would like to thank all the LOC's once again who organized great races for us in the difficult pandemic period in 2021.The individual careers of our future stars are particularly important to us. With our unique Triathlon Europe Cup for elite and juniors, we create the platform for Europe's rising stars to develop.The 2022 calendar is going to be great again. We will have races in 23 countries and thus carry our fascinating multisport to all parts of Europe."
There is an exciting year planned for Europe Triathlon, together with National Federations and LOC's the planning will continue to host an exhilarating race season!
Latest
Videos
---
Latest
Event Galleries