NEWS
Pavel Andreev and Helena Erbenova victorious in Vimperk
By David Peddie
|
17 Feb, 2013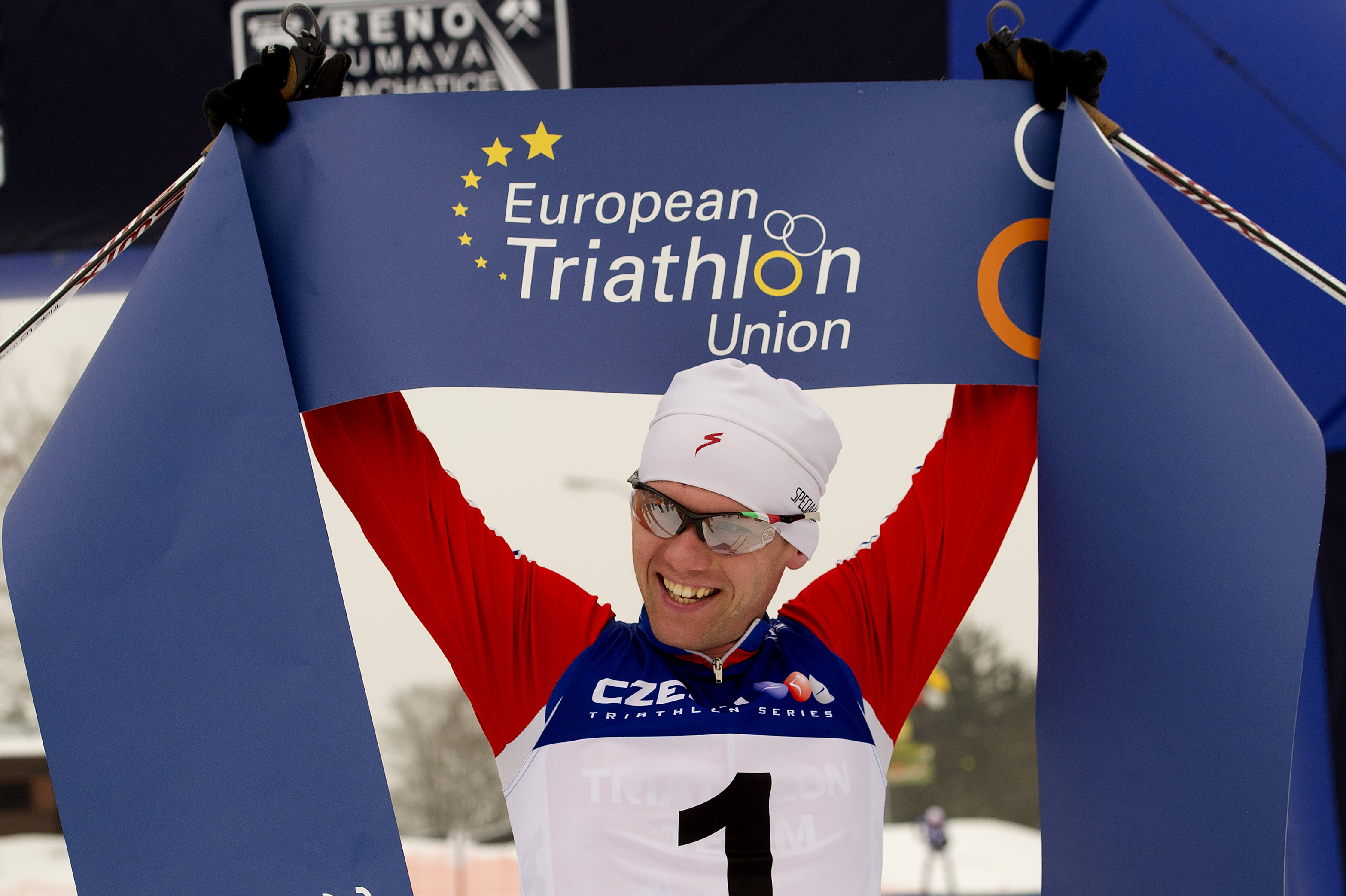 Pavel Andreev and Helena Erbenova claimed the gold medals after a thrilling day of Winter Triathlon racing at the European Cup in Vimperk.
Andreev (pictured above) has started 2013 like a man possessed and he followed up his European Championship title in Tartu a fortnight ago with his second win in as many races.
In perfect weather conditions and a relatively flat course, Andreev joined the leading group of runners early on and maintained his grip on the race. During the bike the Russian accelerated and left all challengers behind him, finishing T2 with a 14 second lead over the field.
He finished in 1:08:16, over a minute ahead of the runner up Evgeny Kirillov of Russia. Slovakia's Tomas Jurkovic finished third.
Andreev said: "I am very happy. I trained a lot and hard. I had the race under control and now I am looking forward to Word championship in Cogne."
Pavel Jindra (CZE) delighted the home crowd by finishing 4th in the Men's race and this was enough to see him crowned Czech National Champion.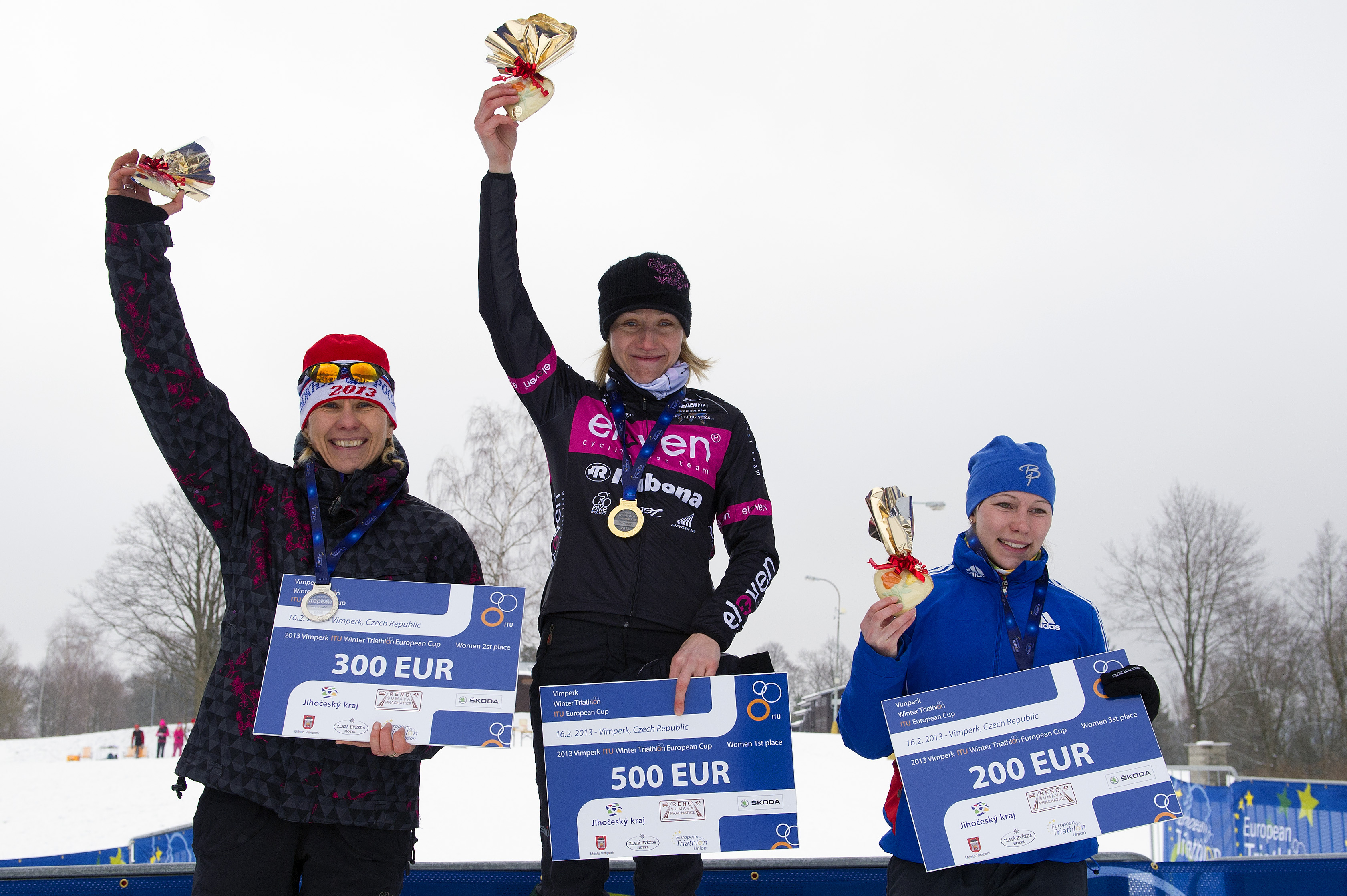 The Women's race was a real family affair as Helena Erbenova put the disappointment of finishing 2nd in the European Championships behind her to dominate this race and claim a convincing victory on home soil.
She led from start to finish and her winning time of 1:18:06 was almost six minutes ahead of second place.
Erbenova's supreme performance did deny the home crowd a fairytale result, although Sarka Grabmüllerová will be delighted with her second place.
The wife of the race organiser Ivo Grabmuller, Sarka finished in a comfortable second place in 1:23:55 ahead of Olga Parfinenko who completed the podium (pictured above)
The family day out was complete with daughter Natalie Grabmüllerová finishing in 6th place.
Speaking after the race Erbenova said: "This victory is great for me and I am happy. The race was very difficult for me. I had a trouble with my calf, so during running and skiing I suffered a little bit. I hope, that it will be better in Cogne."
Now Winter Triathlon attentions turn to Cogne (ITA) for the ITU World Winter Triathlon Championships next weekend.
Pictures courtesy of Adamek/Sportimage.cz. Further pictures will be available online in due course.
Related Event: 2013 Vimperk ITU Winter Triathlon European Cup
Related articles
The European Winter Triathlon series continues this weekend with the first European Cup race of 2013. A quirk of the race calendar means we already know our European Champions for this year, but all athletes will visit Vimperk in…

11 Feb, 2013

  Pavel Andreev retained the European Championship title in Tartu with a dynamic victory in a race dominated by the Russian athletes. The reigning World Champion, and 2011 European Champion, led home a Russian 1-2-3 to begin 2013…

27 Jan, 2013
Latest
Videos
---
Latest
Event Galleries