NEWS
Triumph and Unity: 2023 Europe Triathlon Multisport Championships in Menen
By media@europe.triathlon.org
|
30 Aug, 2023
It was a great past weekend of racing in Menen, a picturesque city in South West Flanders, Belgium, which hosted the 2023 Europe Triathlon Multisport Championships. This event has come a long way since its inception, offering athletes and spectators a memorable multisport experience that's as thrilling as it is rewarding.
Looking back to 2020, a year marked by the pandemic, the first edition of the Decospan Triathlon Menen provided a glimmer of positivity. While many events faced cancellations, this triathlon embraced the challenge. With determination and the support of partners, they managed to organise a successful race that brought together participants for a half distance triathlon, and even witnessed the remarkable finale of Frederik Van Lierde's professional racing career.
This year, over 1000 athletes from 35 different countries took to the streets of Menen to compete in the Aquathlon, Aquabike and Middle Distance races. The events took place from Friday until Sunday and the finish line area was packed with fans and spectators throughout. Although there was some occasional rain here and there, the atmosphere never changed as people cheered for the finishers of the different races.
The aquathlon races took place on the Friday, amidst favourable conditions, featuring a display of remarkable performances by both male and female athletes. The event, marked by its focus on athleticism and endurance, showcased the skills and determination of participants who pushed their limits to achieve their goals.
Noah Servais, a young athlete representing the home nation of Belgium, secured the top position in the elite men's category. With a finishing time of 28 minutes and 16 seconds, Servais displayed consistent performance across swimming and running segments. His splits included a swimming time of 12 minutes and 11 seconds, followed by a quick 45-second transition. He wrapped up the race with a running time of 15 minutes and 21 seconds, showcasing his well-rounded abilities. Following closely behind, Kevin Tarek Viñuela Gonzalez from Spain secured the second spot with a finishing time of 28 minutes and 28 seconds. His splits consisted of a swimming time of 12 minutes and 10 seconds, a transition of 46 seconds, and a running time of 15 minutes and 32 seconds. Tuur Lemmens, another Belgian athlete, secured the third position with a total time of 28 minutes and 37 seconds.
In the elite women's category, Giada Stegani from Italy clinched victory with a finishing time of 32 minutes and 37 seconds. Stegani's splits included a swimming time of 13 minutes and 18 seconds, followed by a transition of 53 seconds. She completed the race with a running time of 18 minutes and 28 seconds. Maryna Kyryk from Ukraine secured the second spot with a total time of 32 minutes and 47 seconds. Katrien Maes, representing Belgium, claimed the third position on home turf, with a finishing time of 33 minutes and 3 seconds.
After the pro categories made their start with the U23, Para and Juniors rounding them up, the many Age Group athletes were ready to dive in the water to start their races. They could choose from a diving or in water start which gave a slight twist to the competition and made it even more exciting. As the rolling stars initiated, the many athletes flooded the streets of Menen and were welcomed by the many spectators as they made their way to the finish.
On Sunday the stage was set for a test of endurance, skill, and sheer determination as athletes from across Europe gathered for the highly anticipated middle-distance triathlon race and aquabike. This prestigious event not only showcased the participants' physical prowess but also their strategic acumen as they navigated through swimming, cycling, and running segments to claim the long awaited title of European Champion in the various categories.
The elite men's category witnessed an intense battle for supremacy, with athletes pushing their limits to secure the European Champion title. Louis Naeyaert, a determined athlete from Belgium born in 1995, emerged as the European Champion with a stellar performance. Clocking in at an impressive 3 hours, 45 minutes, and 47 seconds, Naeyaert's journey encompassed a 25-minute swim, a swift 2-minute and 51-second transition, a formidable 2 hours and 2 minutes of cycling, a quick 2-minute and 11-second transition, and a resilient 1 hour, 13 minutes, and 30 seconds of running. Right on Naeyaert's heels, fellow Belgian Jonathan Wayaffe secured the second position. Born in 1995, Wayaffe's performance was a testament to his unwavering determination. His total time of 3 hours, 46 minutes, and 23 seconds comprised a 24-minute and 47-second swim, a transition of 2 minutes and 53 seconds, a 2-hour and 4-minute cycling leg, a 2-minute and 20-second transition, and a 1-hour, 12-minute, and 22-second run. The third spot was claimed by yet another Belgian athlete, Dieter Comhair. Born in 1997, Comhair's overall time of 3 hours, 47 minutes, and 37 seconds reflected his dedication to the race and to keep the last spot on the podium.
The elite women's category was no less competitive, with athletes showcasing their endurance and skill in pursuit of the European Champion title. Diede Diederiks from the Netherlands stood tall as the European Champion in the women's category. Born in 1991, Diederiks' victory was marked by her remarkable overall time of 4 hours, 11 minutes, and 5 seconds. Her journey included a 30-minute and 14-second swim, a seamless 2-minute and 46-second transition, a 2-hour and 14-minute cycling leg, a transition of 2 minutes and 18 seconds, and a determined 1-hour, 21-minute, and 15-second run. In a close second, Marta Lagownik from Poland secured her position with an overall time of 4 hours, 14 minutes, and 24 seconds. The third place was clinched by Jenny Jendryschik of Germany, born in 1998. Her determined efforts led to a total time of 4 hours, 16 minutes, and 30 seconds.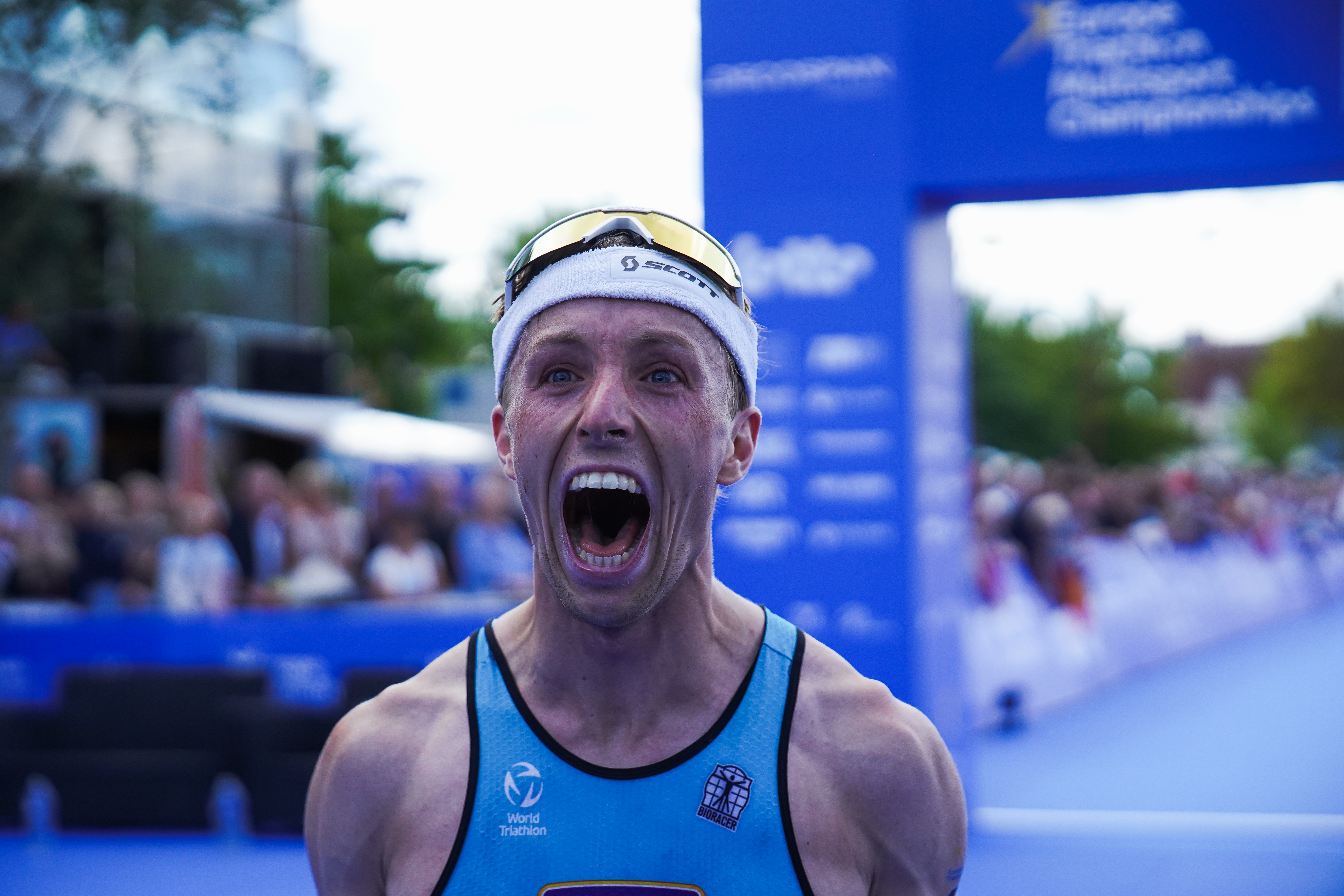 The event not only showcased elite athletes but also embraced diversity and celebrated the unyielding human will to overcome challenges. Para athletes from various categories set an inspiring example, showing that obstacles can be conquered through sheer determination. Their participation was a reminder that adversity is no match for the human spirit's drive to excel.
The race wasn't just about elite athletes – age groupers, ranging from novices to experienced triathletes, flooded the streets of Menen. The event turned the town into a vibrant triathlon party, marked by cheers, camaraderie, and shared passion for the sport. Spectators played a pivotal role, scattering themselves along the race course and infusing every corner with their enthusiastic support. From bustling streets to the town's centre, their cheers formed a symphony of encouragement, propelling athletes toward their goals.
As athletes neared the finish line, the atmosphere reached a crescendo of emotions. Families, friends, and fellow competitors erupted in cheers, creating an electric energy that marked the culmination of each athlete's journey. The finish line wasn't just an endpoint; it was a canvas of triumph, love, and celebration.
The recovery area encapsulated the essence of the triathlon community – a space where athletes were embraced by loved ones and fellow competitors, their achievements celebrated with genuine warmth. The shared joy and support were tangible, underscoring the race's deeper meaning.
In conclusion, all the races in Menen were more than a competition; it was a tapestry woven with threads of courage, unity, and determination. It exemplified the indomitable human spirit, the strength of community bonds, and the profound satisfaction of pushing past one's limits. The event served as a reminder that in the face of challenges, both physical and emotional, humanity prevails.
With this new european championship over now check out the medal tables for the various Age Group races: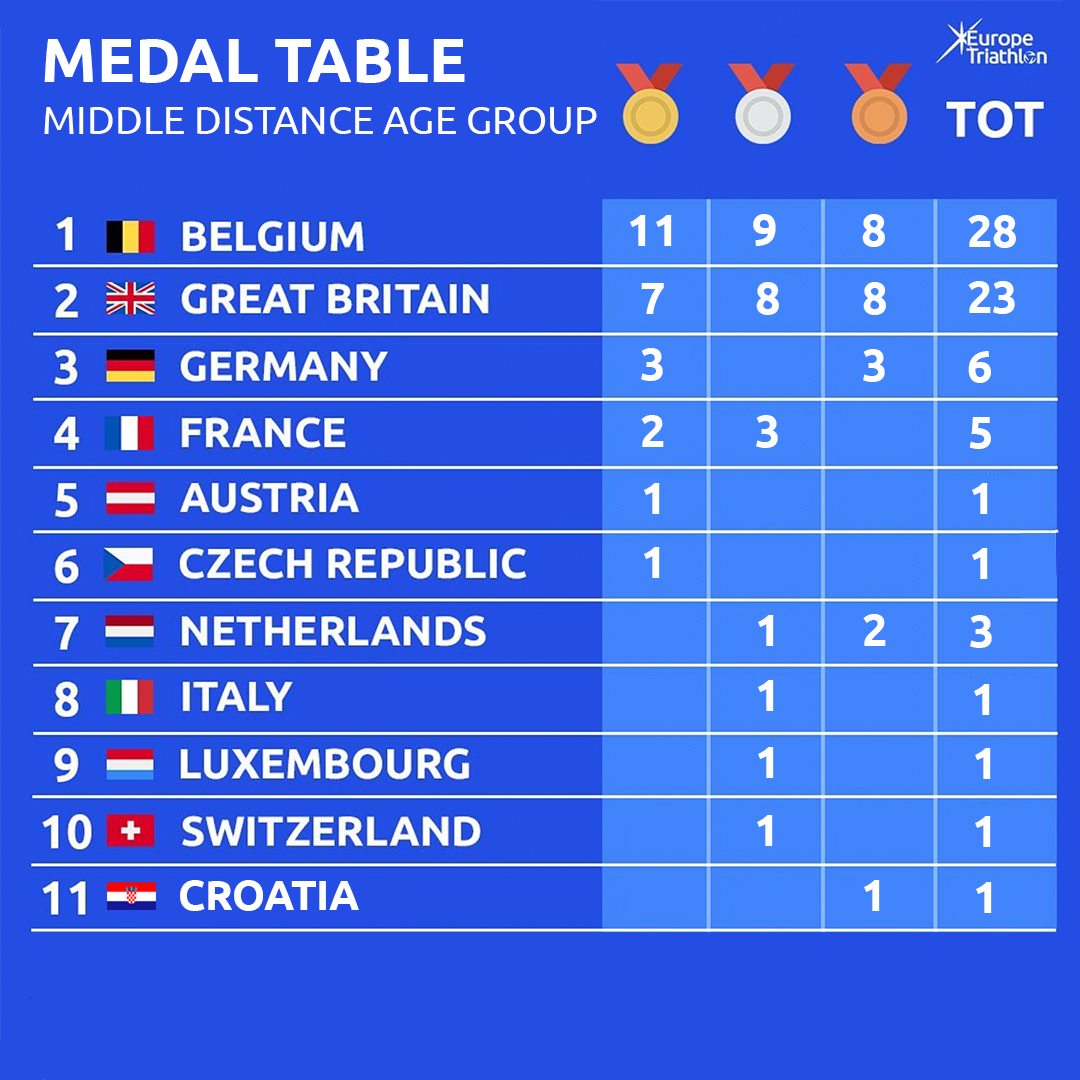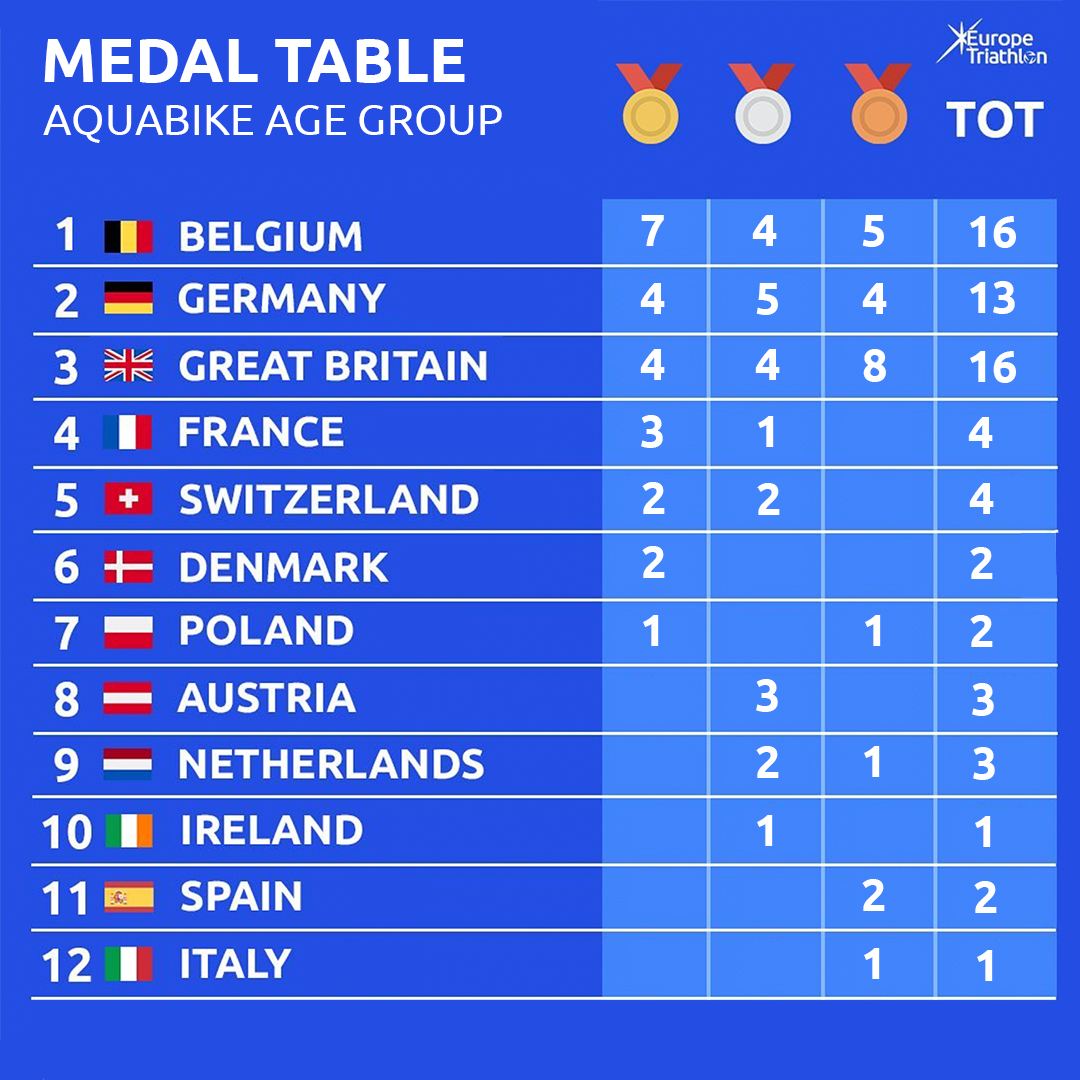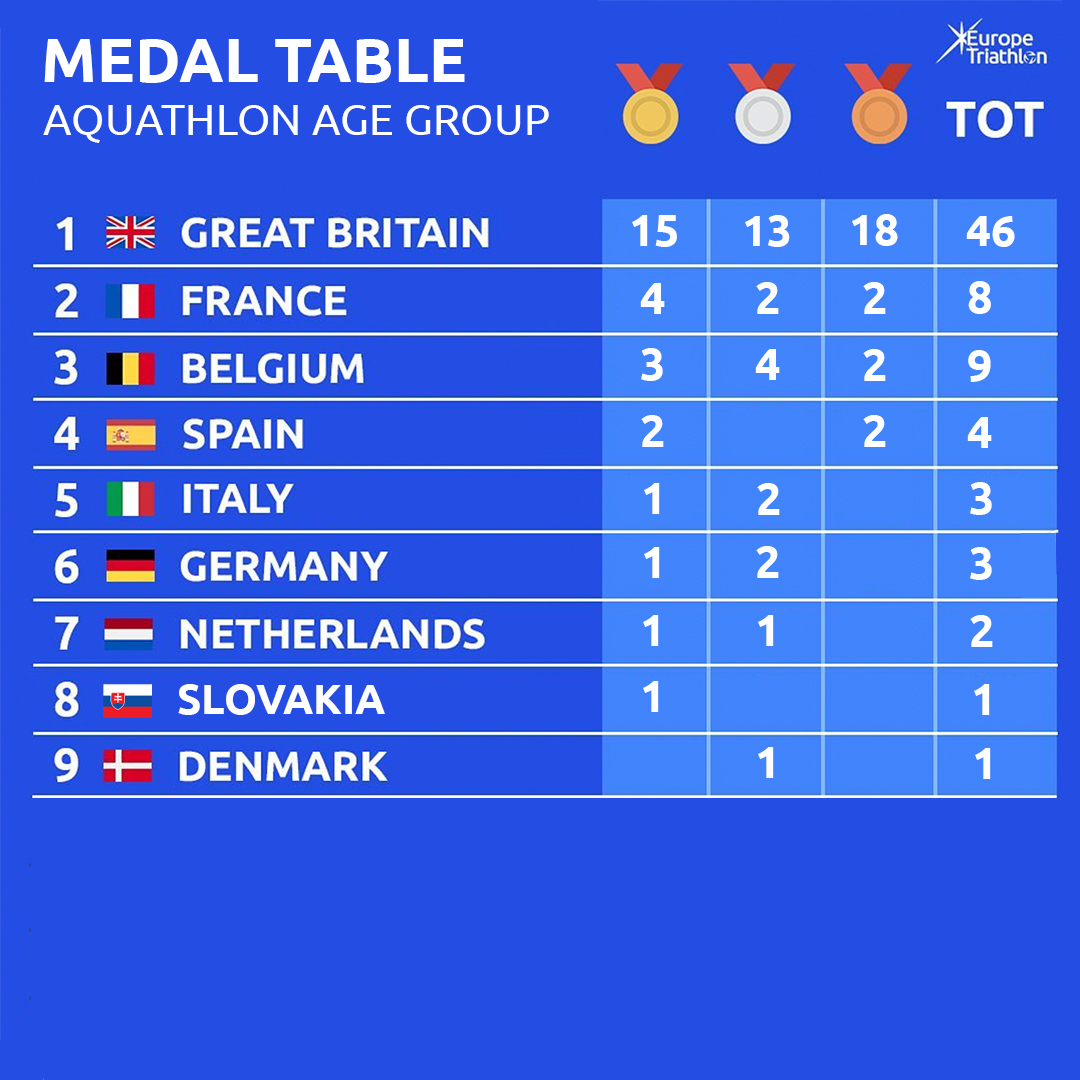 Related Event: 2023 Europe Triathlon Multisport Championships Menen
Latest
Videos
---
Latest
Event Galleries