NEWS
Team GB does it again - but not in the Rimini rain
By Paul Groves
|
28 May, 2015
Rimini, ETU, Challenge, Middle Distance, rain, sunshine, Age Group and Paratri. These are all the elements that make up a successful championship alongside the Elite. There have been numerous reports about the elite over the past few days but what about the rest?


On the drive to the airport at 03:00hrs on Monday morning, Alessandro Alessandri, Challenge Family Race Director, explained that they had over 1,600 starting in the European Championships, including the open and relay waves that started right at the end. For him, the introduction of the relay wave, with 80 teams, was very positive as it allows those who are perhaps terrified at the prospect of competing in a full event, "we had many top cyclists who did the bike leg. They may not feel comfortable doing the swim leg too and so by being part of a relay team they can get the feeling for the event". I guess this is the other end of "Triathlon Development". We focus so much on developing the youth and junior sections but equally there are so many people out there who just need a little bit of encouragement to take part. This weekend saw 2,600 athletes race and at least 10,000 spectators. 45% of athletes taking part came from outside Italy so this has been a very positive opportunity to showcase the city.


Where better than alongside the hugely experienced age group athletes ? Where better to get inspiration than racing alongside Europe's best Para-Athletes?


The cost of putting on such an event is high but the LOC used the course on the Saturday for their own races; a journalist's wave, the National ParaTri Championships, a duathlon and the first stage of the Italian Grand Prix. The other stages will be in Milano and Sardinia. The city was filled with athletes and their families but also with many football teams who had come for a tournament. For them, they had a chance to see exciting racing on closed roads.
For the Age Group athletes, they had to contend with the pouring rain and the building tension about what race day would bring. One German athlete Martin Schaedle took to the hills with his video recorder. The only people who were smiling were the restaurant owners who suddenly had their establishments full of hungry athletes with very big appetites.
Race morning dawned. Check-in was underway and to everyone's surprise there was a flat sea, well, flattish and clear skies with small bits of blue. It looked like a different world. The atmosphere picked up. Age Group athletes chatted to each other, team managers rushed around trying to make sure their athletes had everything they needed. Once again it was Team GB that came in force. 162 age group athletes travelled to Rimini along with the 5 Elite athletes.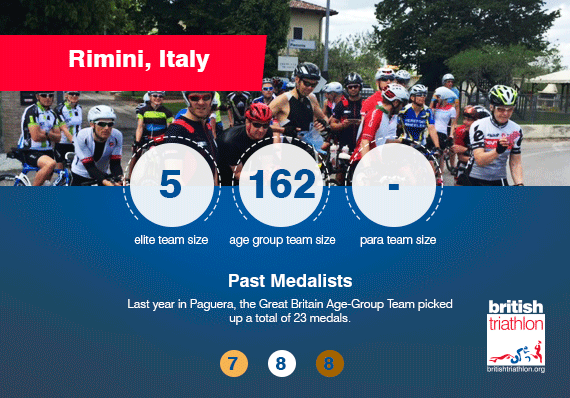 You never know what a triathlon is going to bring you. A mass start, unfamiliar sea conditions, a bike course that you have seen on a map but never really had the chance to ride on and familiarise yourself with and a run course over which other athletes, some better, some worse than you will be trying to take your medal or your position away. So many things to go wrong. So many things to remember to get right. Indeed you never know who you might meet on the start line. ETU President, Renato Bertrandi was there to cheer on the athletes. An experienced long-distance athlete himself, it was clear to see that he would rather have raced.
GB's Melissa Dowell wrote, "On my way excited but aware I don't know what I've let myself in for !!" Well, she has been off the ITU radar for a few years but when she last raced in 2011 in Tampere is was a solid second place after her victory in 2009 in Prague. Rimini went well for her and she crossed the line a massive 16 minutes ahead of her challengers. This is a good preparation for her "big one" later in the year. Check out the Challenge Rimini photos here.
Amongst the men, Italian athlete Bruno Pasqualini, known to his teammates as "l'animale" had already shown his pace at the 2014 Kitzbühel ETU Triathlon European Championships, where he won his age group. Now, moving up to middle distance, he would be relying upon his awesome run-pace to finish as far up the field as possible. In Italy the Guardia Fiscale and the Carabinieri provide significant support for athletes. With the defending champion Giulio Molinari racing for the Carabinieri it is clear that such support pays dividends. In Rimini it was not only the elite who benefitted as Pasqualini posted the fastest bike and run in his age-group to romp home with over six minutes to spare. His club, ASD TORINO TRIATHLON proudly showed him to be their fastest athlete of the day.
The Italian Federation posted a fine album of images.
Another athlete from Italy, racing in the 65-69 category had already experienced the pleasure of having a gold medal placed around his neck. Back in 2013, Gianmarco Tironi he won the World Title in Belfort. Last year in Paguera-Mallorca he took silver over the Middle Distance. This year Tironi left behind the bronze medallist from 2014, who remained in the previous category, so Tironi, in 2015, moves up an age group bringing with him a great racing pedigree. Having lost some time in the swim, he raced through T1, gaining over a minute on those who would be fighting for the podium and set off on the bike. It was at the turn point far up in the hills that the rain started and for many of the older Age Groupers this was exactly the wrong time as they started their descent. Tironi did not hold back and clocked the fastest bike split of the category. Indeed his strength on the bike would have taken him to silver medal position in the younger 60 – 64 category. His final run over the 21k was enough to take him into a strong gold medal position with over 11 minutes on fellow countryman Michele Vanzi who came to Rimini to defend his European title from 2014. In third place came Peter Grünebach GER who, with his wife who was also competing, had fought through the snow-closed roads of the Brenner Pass to get to Rimini.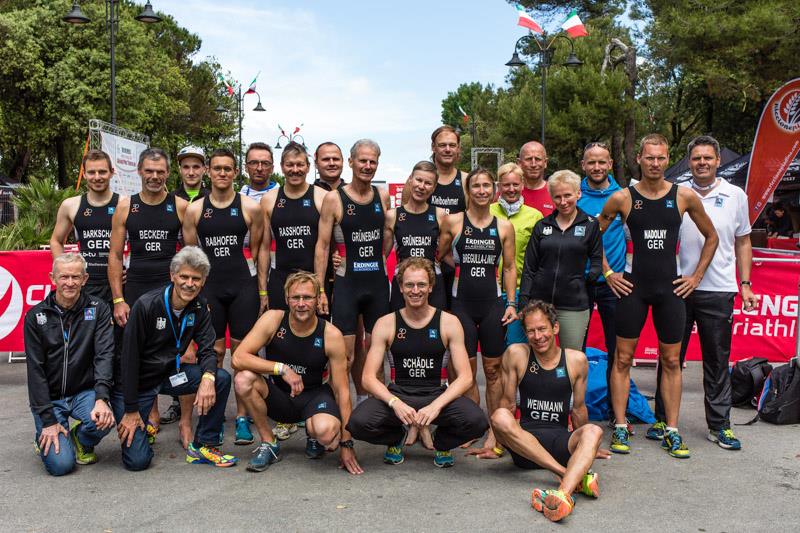 It was not just the Brits who came with a big Team. The German Triathlon Federation had a great team of athletes and posted some wonderful images from the race. Album 1 Album 2
It was Germany that took gold and silver in the Women's 60 – 64 category. Christiane Goettner, registered her first ITU result with a gold. It was her pace on the flat and by now quite hot run that secured her victory ahead of Marianne Grünebach who has successfully moved up to our middle distance races. Victoria Carpenter, GBR completed the podium.
For another Team GB member, she had time after her victory to remember on Facebook that it isn't just the athlete that gets to the podium, "Last bit of self-indulgence from me, and then I'll shut up! While I've trained really hard for months for the European Middle Distance Tri Champs I know that my win is also attributable to expert coaching from Positive Kinetics Coaching and Clunie and Doug at Bloc3, and training sessions and tips over the years from John, Scott, Karl, Izzy, Stephen, Calum Hendry, Lothian Running Club, Edinburgh Athletic Club, and the late Andrew McMenigall. You've all helped me improve so much from being an occasional jogger who'd never ridden a road bike and was scared of swim training sessions in 2009. Also thanks to my Edinburgh Triathletes club-mates and other training buddies who have made the slog more enjoyable, especially Caroline, Peter, Derek, and Ben who have helped me realise I can go faster!" She described the race just as many had seen it, "Tough race, mostly loved it, and mostly smashed it: won my age group in 5:22:28 so am European Champion of 40-44 year old women! And get to defend my title in Austria next year. Am in all sorts of pain and all sorts of happiness. What a day!" Elizabeth Richardson made her mark in the swim and then ensured she had done enough to take gold from Dane, Kristina Beckendorf. Her account of the race can be read here and it really takes you into the race. Bronze went to another British athlete, Fran Bungay who took gold in Vichy in 2013 over the long course, silver in Paguera-Mallorca in 2014 and now a bronze in Rimini.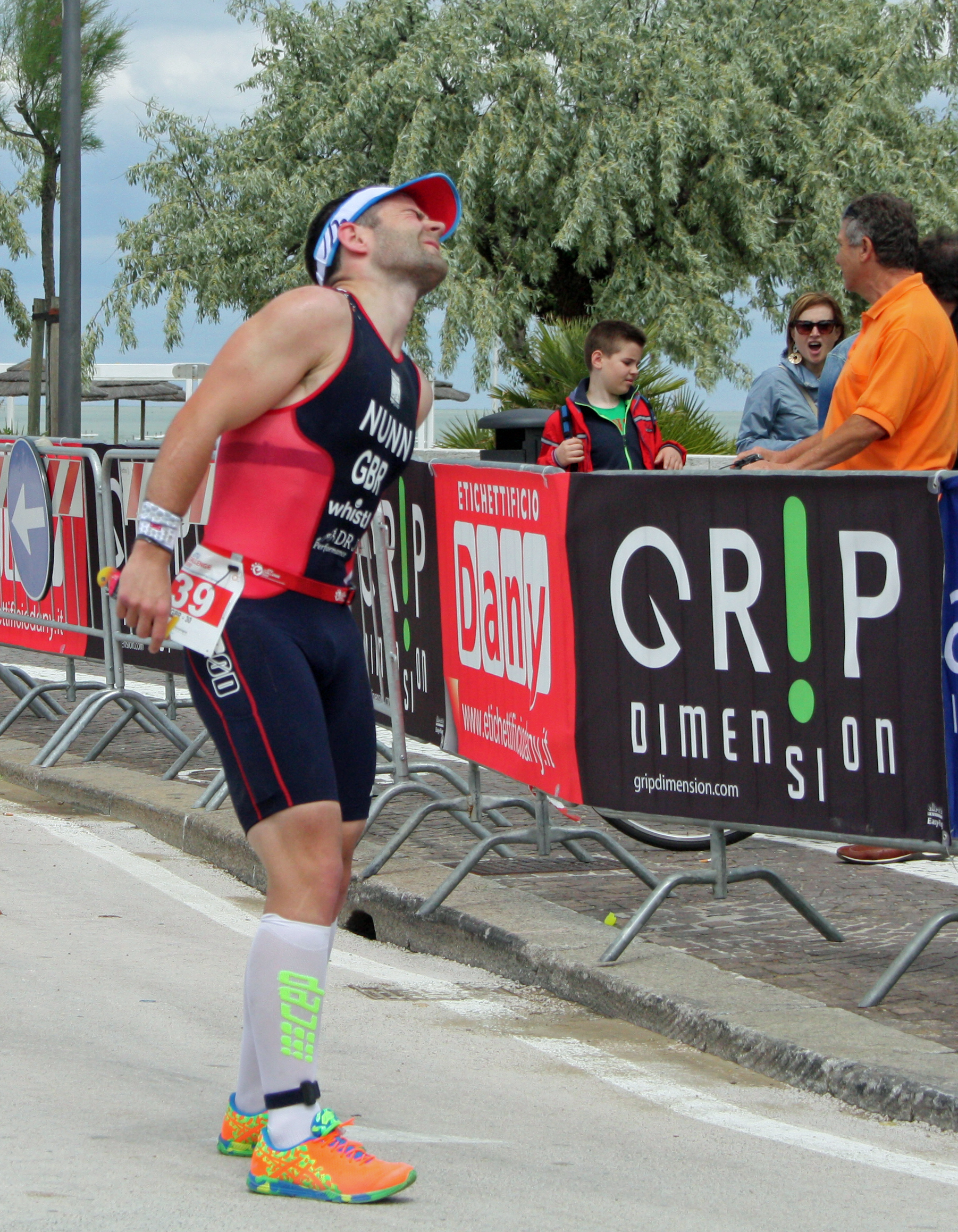 Each and every Age Group athlete has a story to tell. A story to tell to the family, to their sponsors, to their club-mates, colleagues and of course to anyone out there who asks, "what did you do last weekend?" It is the Age Group athletes who make the race, who fill the streets with their national uniforms, who are remembered by the hoteliers and restauranteurs and bar owners. A big well done to them all !

Is it time for a medal table ? For this event it was Team GB who went away with 8 golds, 4 silvers and 8 bronzes (if you include the Elite Bronze). In second place was Italy, on home soil, with 6 golds, 7 silvers and 3 bronzes (again including the elite silvers) and 3 bronzes. Germany had a solid 4 golds, 6 silvers and 3 bronzes.
The biggest cheers of the day went to the Para-Athletes. From start to finish the crowds were cheering them on. Listening to the many spectators before, during and after the event, there was nothing but praise and amazement.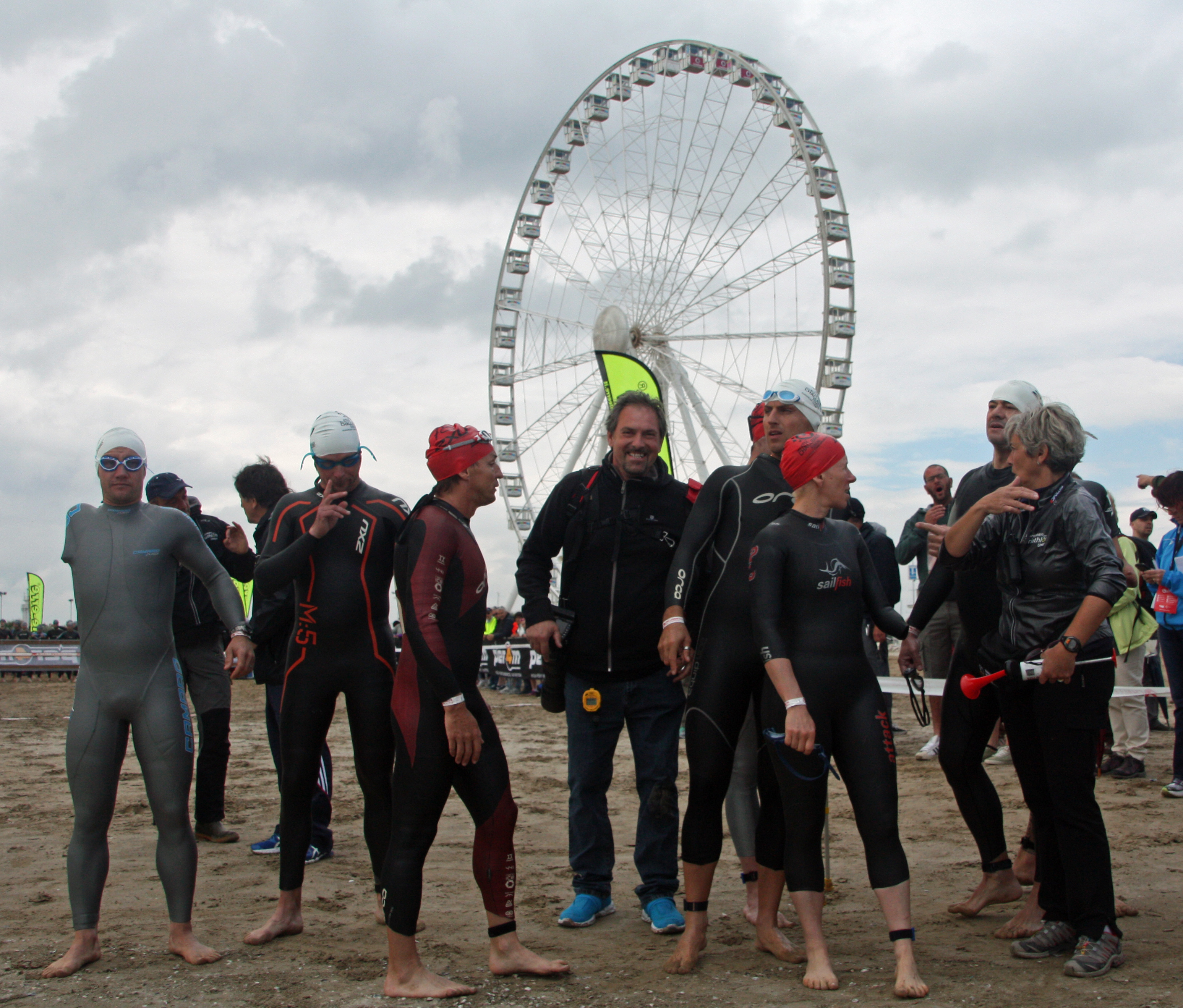 One person who always manages to capture that "moment" and who has worked extensively with para-athletes around the world is Marco Bardella. These few images speak volumes.
ETU Challenge Rimini, European Triathlon Middle Distance Championships are over. The next big one for European athletes will be the ETU Challenge Weymouth, European Triathlon Long Distance Championships are in September.
Is there anyone doing "The Double"? If you are – send me a mail and good luck with your training.
Related Event: 2015 Rimini ETU Challenge Middle Distance Triathlon European Championships
Latest
Videos
---
Latest
Event Galleries