NEWS
ETU Challenge Half Distance Europan Championships - Paguera
By Paul Groves
|
17 Oct, 2014
At the far eastern end of the Mediterranean the athletes will be going for the Sprint Distance. Far West on the island of Mallorca, it is the Middle Distance that will be raced by a massive field of athletes. Challenge has chosen Paguera, with its stunning combination of coastal and mountain scenery and a delightful Mediterranean climate, to provide the perfect end-of-season target race for European athletes.


ETU President, Renato Bertrandi, said, "Mallorca is one the prime holiday spots in Europe and also one of the top training destinations for triathletes. Having Challenge Mallorca as part of ETU highlights the importance of the race and the location and will ensure the season finishes in style!"
Challenge has provided top-quality events this season and has rapidly become a "must-do" for athletes wanting to race middle and long distance. For this weekend there are many reasons to choose Paguera. The top five reasons to race are:
Represent your country at the official ETU European Championships
Perfect way to end your tri season
Spectacular course through one of most beautiful parts of the island
Beautiful beaches to relax on before and after the race
Great location to holiday with friends and family
Check out the Promo Video here
Challenge Paguera will consist of a 1.9km swim, followed by a 90 km cycle and finally a 21 km run. The swim is a single lap course between two of the most delightful coves on the whole of the famous Mallorcan coast. The race begins on Playa Torá and ends at Playa de la Romana, where T1 will be waiting.
The swim course is one-lap out and back, starting on Playa Torá and exiting the water on Playa de la Romana.

The bike course promises to be fast. Without any major climbs, the highest peak being 151 metres, the riders complete two 45 km laps along the coast, passing through some of the best known tourist resorts and alongside some of the island's most popular beaches before heading inland into the midst of magnificent natural scenery in the foothills of the internationally famous Serra de la Tramuntana, a UNESCO World Heritage Site.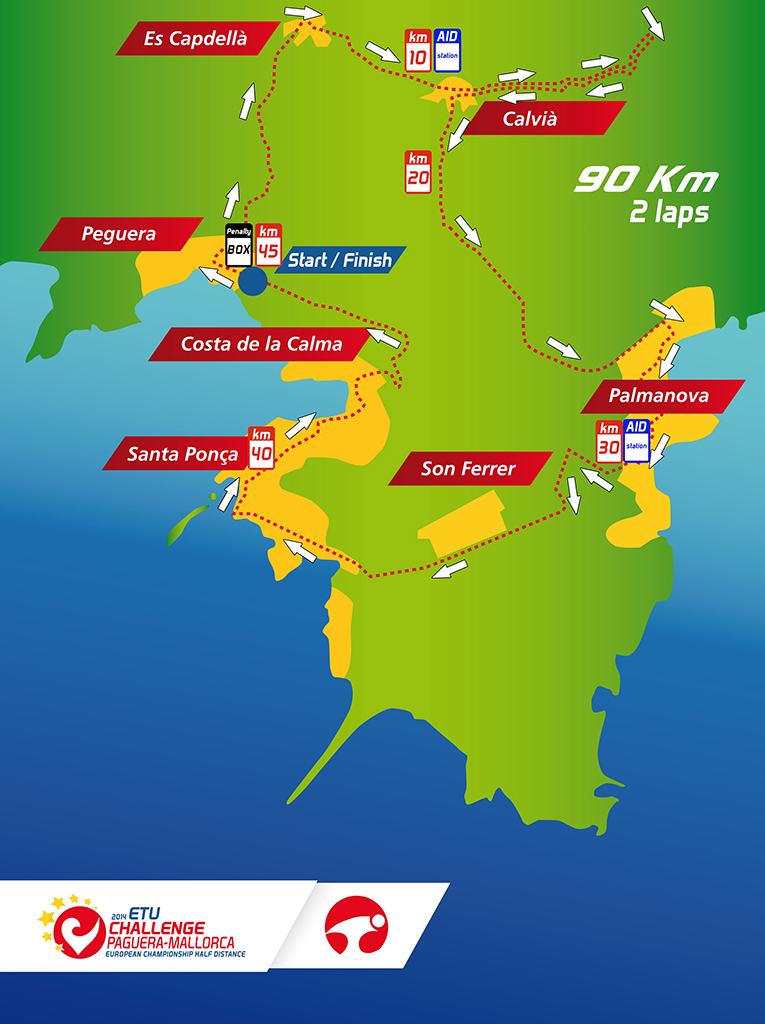 Bike course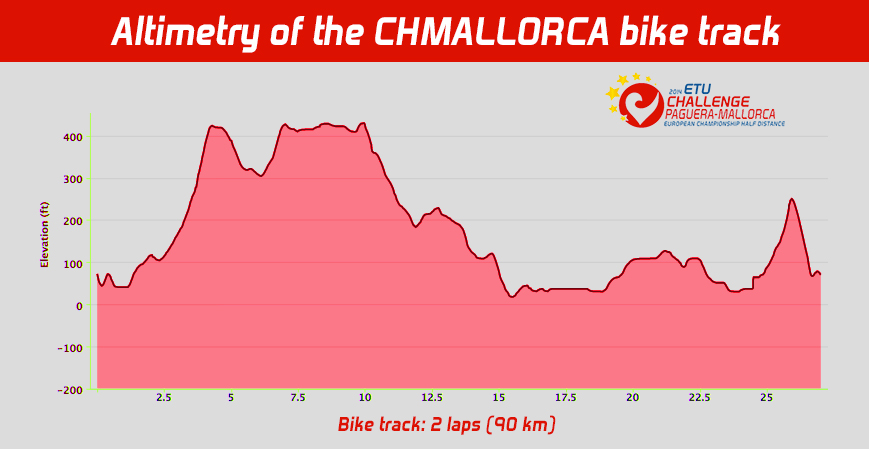 The event comes to an end on the seafront promenade. The run course is also a fast one, and involves four almost entirely flat laps beside the beaches of Els Morts, Torà and Paguera and through the Boulevard in the tourist resort of Paguera.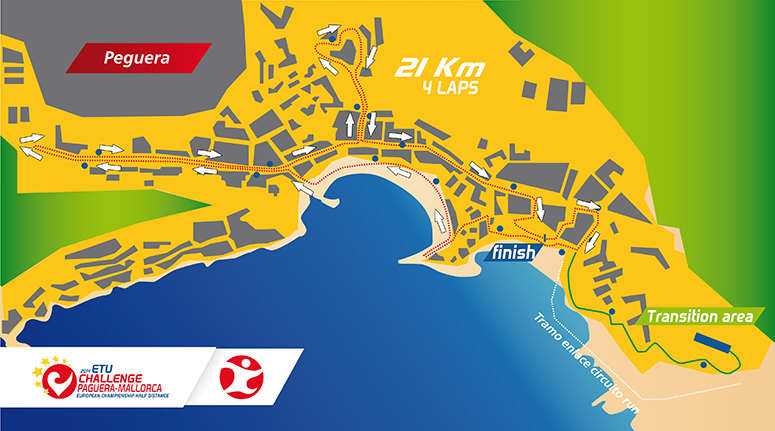 The Elite Women have representatives from 11 nations. Top ranked and from Germany is Celia Kuch. She narrowly missed the podium, coming home in 4th, at the Challenge Long Distance ETU Championships in Almere only recently and will be hoping to improve on that performance over this shorter distance. The podium is not a strange place for her, with previous medals at Challenge and national events. She will be up against strong competition from fellow German, Diana Riesler, who won Vichy last year over the long distance. Valentina Zapatrina RUS, will be going long after a career of standard distance racing. Using the same step-up, from Sprint and Standard races to middle distance, will be fellow Russian, Olga Dmitrieva. One to watch will be Kaisa Lehtonen FIN, who took silver in Weihai and who has stunning pace on the run. Spanish hopes will rest on Gurutze Frades Larralde who took the Spanish Long Distance National title last year.
The Elite Men have 46 starters representing 17 nations. Amongst them are several moving up to the middle distance. Amongst them and looking forwards to the race, in fact "can't wait to go back to action" is Swiss athlete Ruedi Wild. He is up against a very strong Russian Team. Leading the ranking is Nikolay Yaroshenko. A tenth place in Weihai is something he will be hoping to improve upon. Just back from the two recent Latin American ITU World Cup races is Dmitry Rostyagaev. They are new to racing middle distance but no stranger to this distance is fellow countryman Alexey Brylev. He managed a top ten finish in Vichy and will be relying on the fact that he knows how it can hurt when you push hard over this distance. One to watch will be the Italian Alberto Casadei. Along with Ritchie Nicholls GBR, he might just be a threat to the higher ranked athletes. Also one to watch, is Pavel Andreev RUS. The multiple World and European Champion over the chilly winter Run / MTB / Ski discipline has moved into racing Challenge and managed a 10th place at the ITU Cross Triathlon Worlds in Zittau.
The race is also a chance for Parathletes to win medals and with four of the five men's categories represented this will be a good test for those who want to go long. Age Group athletes have descended on the Island and will be looking to take home not only great memories of the race but also medals. As usual, the biggest team represented there is from Great Britain and so we can expect to see some great photos and comments on social media.
Weather looks good with clear skies, sunshine and little wind. Wish I was there !
Related Event: 2014 Paguera-Mallorca ETU Challenge Half Distance Triathlon European Championships
Latest
Videos
---
Latest
Event Galleries