NEWS
Aquabike: gold, silver, bronze and ... diamond
By Paul Groves
|
17 Jan, 2019
Aquabike as a sport is relatively new to Europe, but has been a firm favourite over the water in the USA where, since 2005, there has been growing interest in the sport. The first ever ETU Championships were held as part of the Ibiza Multisport Festival and proved to be a hit. Medals were shared between Great Britain, Spain, Germany, Austria, Switzerland, Ireland, Italy and the Netherlands with, once again, the Brits going home with excess baggage.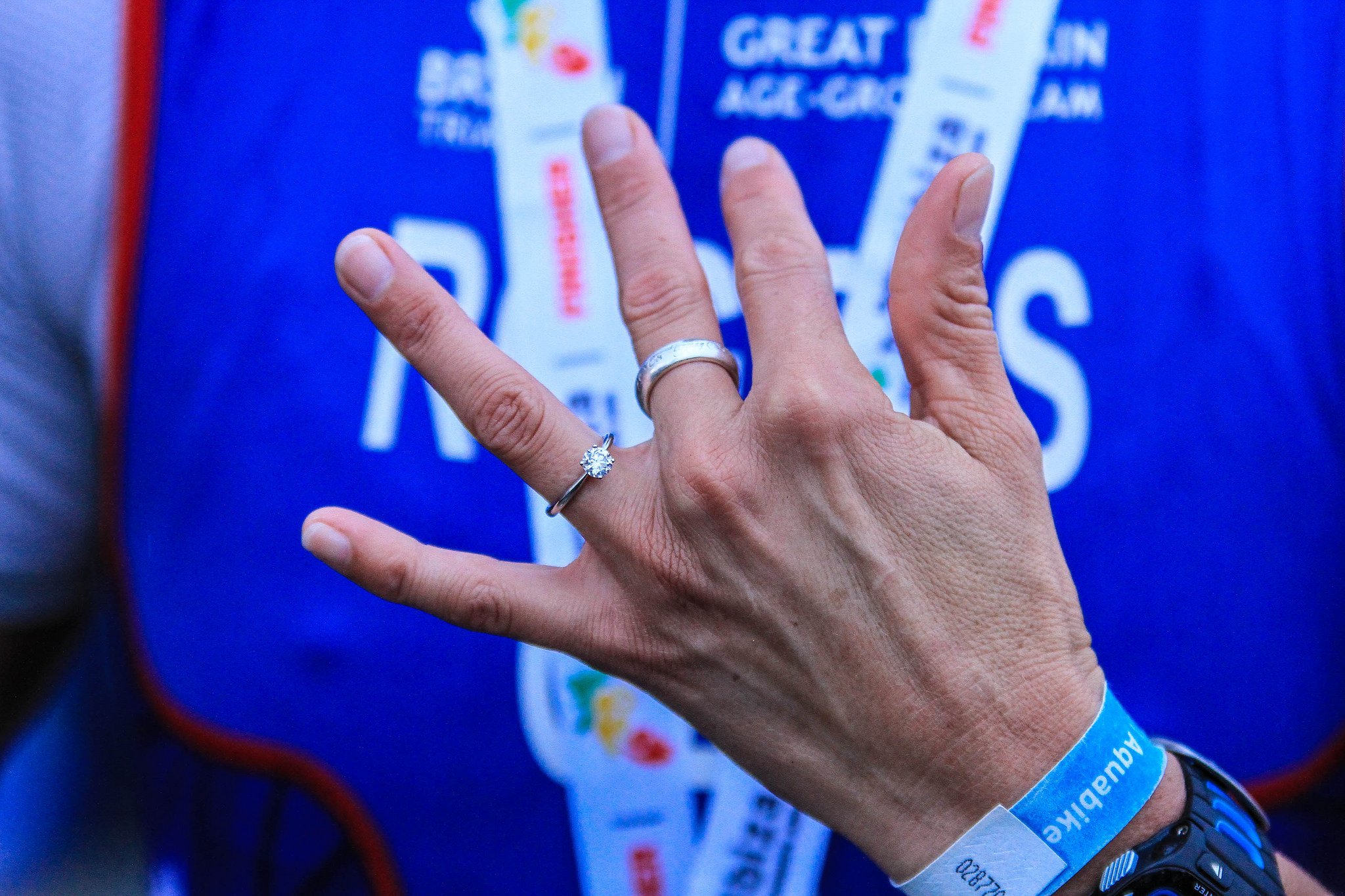 Amongst the medals leaving Ibiza at the end of the weekend was also one very special prize. One athlete went away not with a medal but instead a diamond of truly massive proportions. The lucky winner of this very special prize was Danielle Rogers. Her top-ten finish in her category was one that several people were really keen to see and the live commentary ensured that everyone at the finish line was there to celebrate.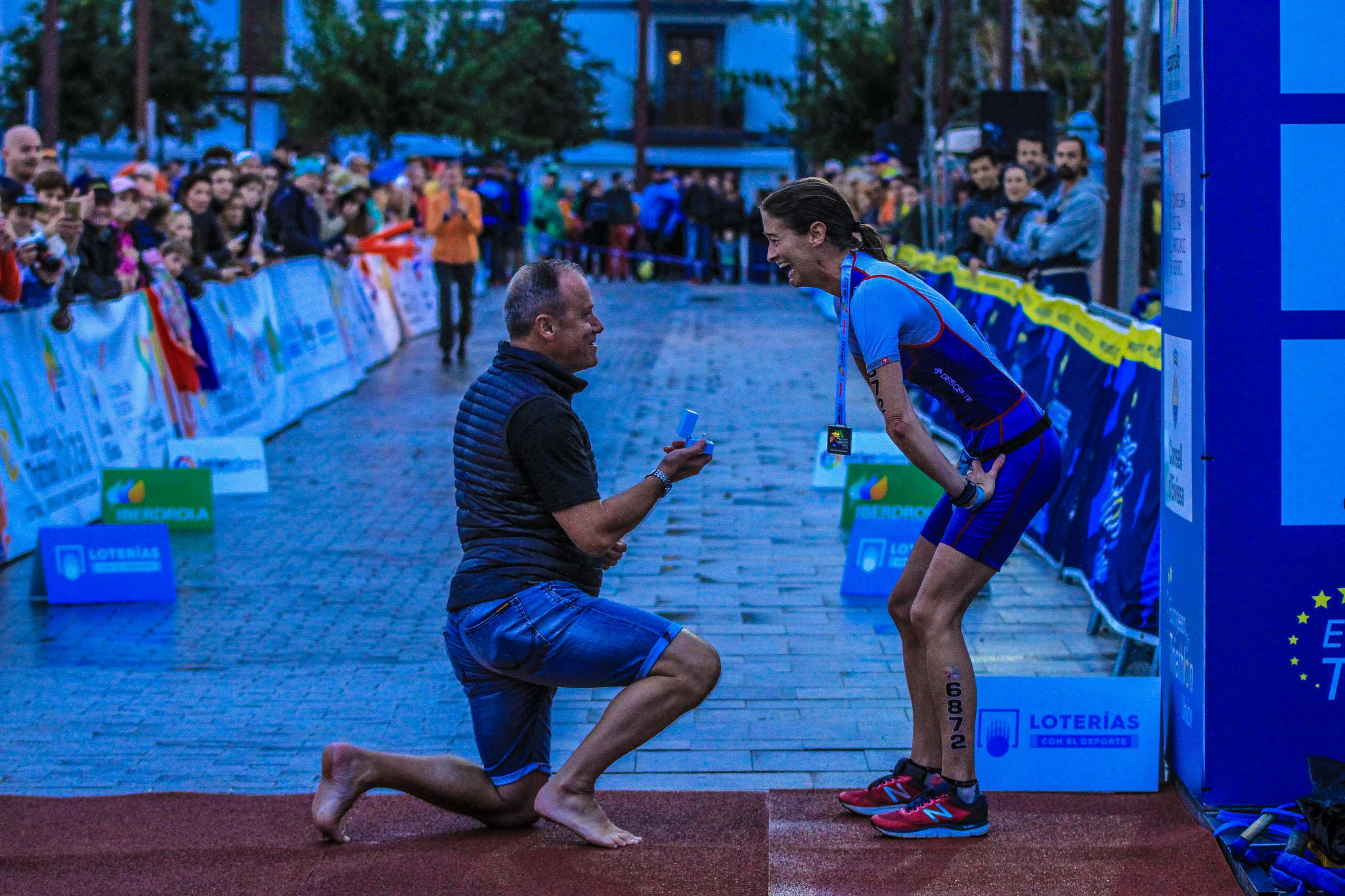 Why? Well there was this man with a ring and …. She said yes!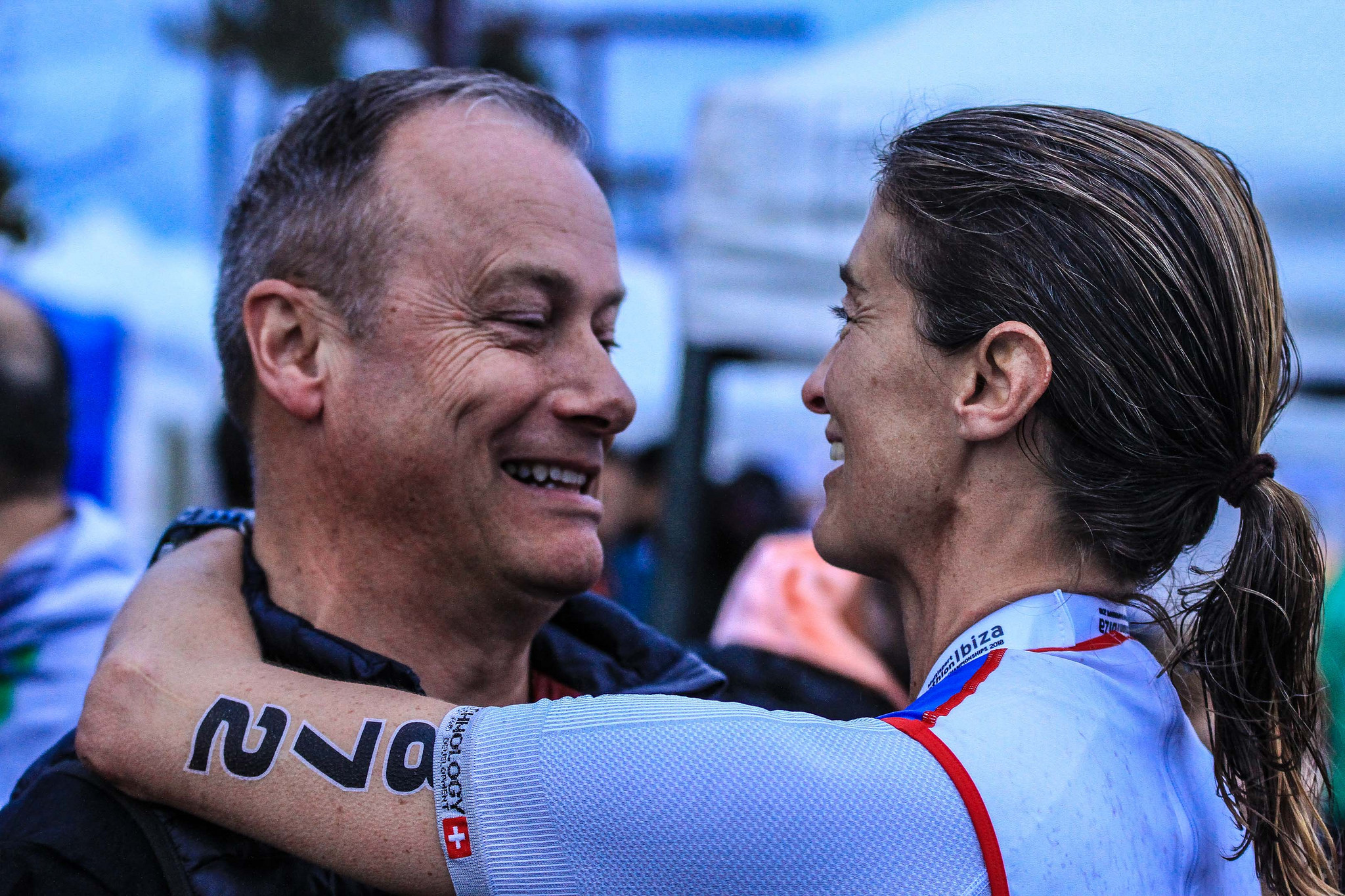 Read all about it here.
The race was held alongside the ETU Middle Distance Championships but awful weather ruined the day.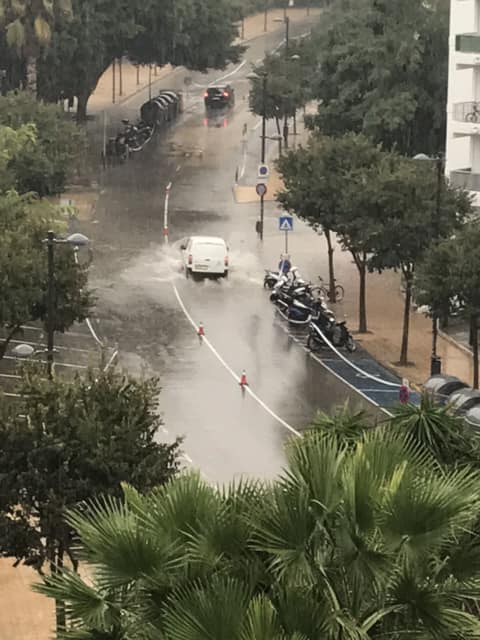 The races went ahead but due to the extreme conditions, the bike course had to be hacked to pieces and reduced to almost half the planned distance and the start was delayed to allow the main part of the storm to pass through. Not the ideal start to its history on the European mainland but … that's life.
So, with a 1900m swim and then the 45.3k bike, it was, "Take your marks!"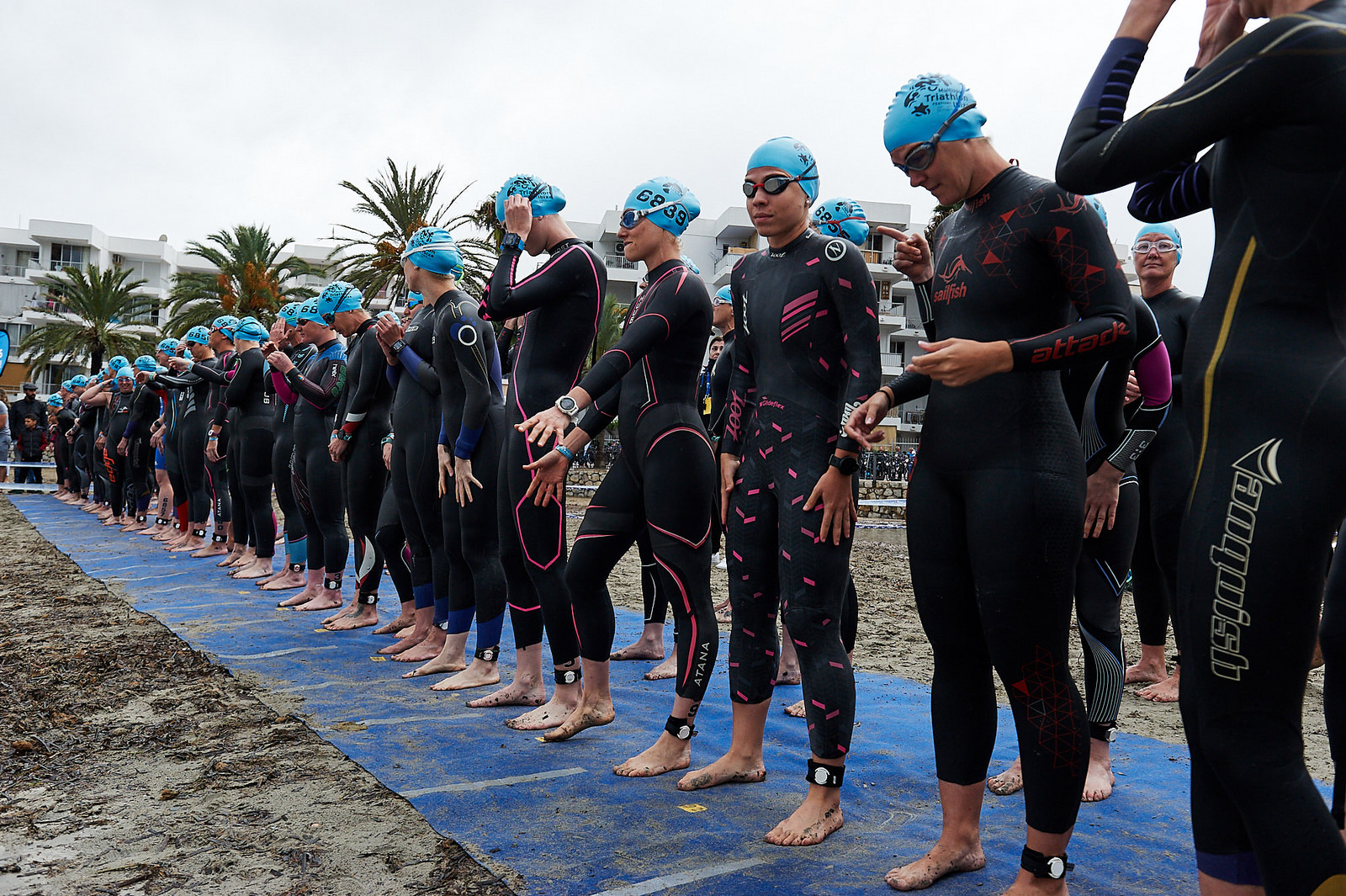 Emily Burton was first up on the podium. Racing alone in her category, again an astonishing fact that raises the question, "where were the other 18-19 year-old female athletes?" she relied upon dogged determination to finish and collected her third European title. "Thrilled beyond words to have won double gold at the 2018 European Championships! We raced in awful weather conditions and I had a mechanical on the bike, I was convinced my race over but one of my team mates showed amazing sportsmanship by sacrificing her own race to help me!"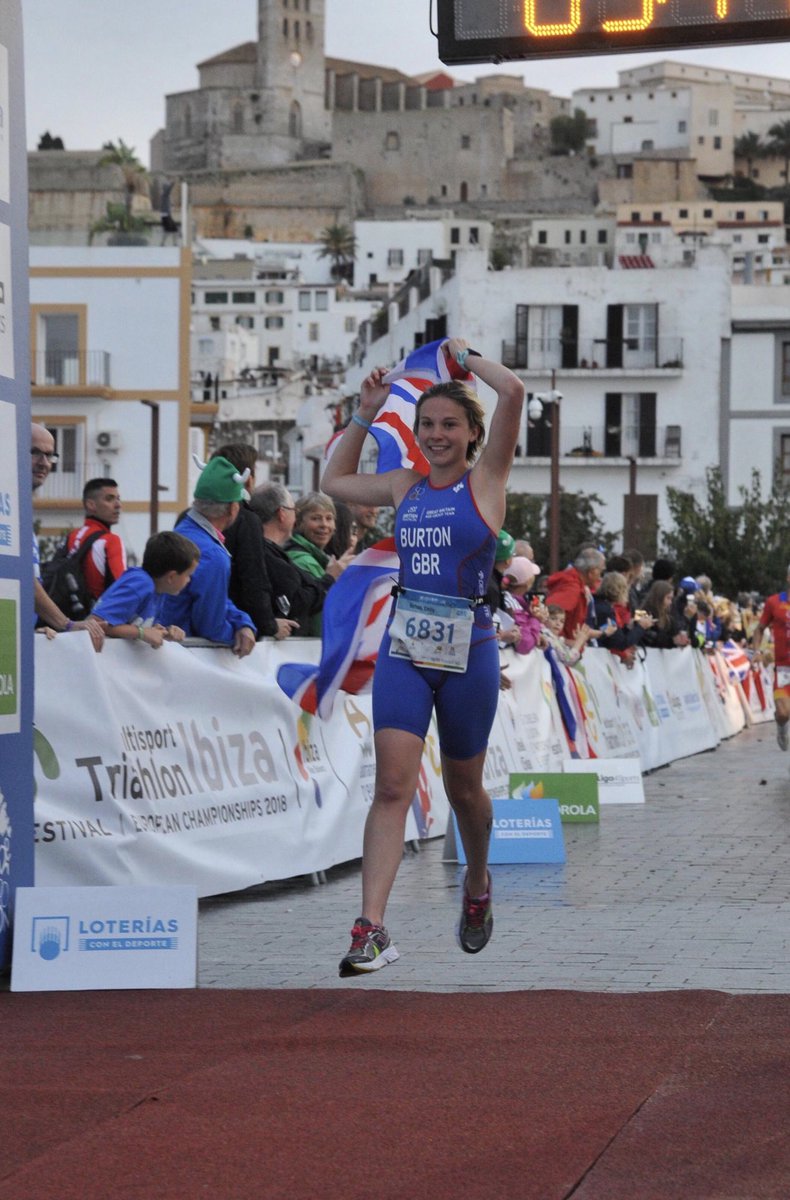 No men raced.
For the 20-24 category, it was gold once more to GB with Alex Clay taking the title ahead of Spain's Clara Sampol Allés. Clay is relatively new on the scene but took the silver medal in Fyn, over the 3k swim / 121km bike course, where she narrowly missed out on the title. Coming to Ibiza, she knew she had a good chance and from the very start applied the pressure with a strong swim and bike.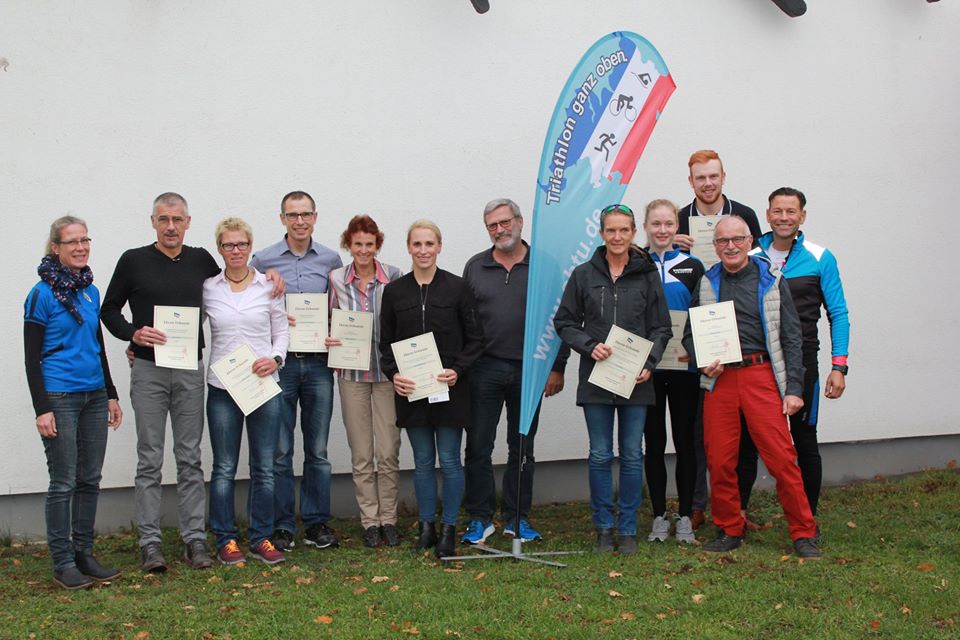 The men's race saw Germany, Spain and Britain on the podium, with the title going to Germany's Leif Johannsen. The Schleswig-Holstein athlete was later rewarded by the regional triathlon body for his performance. Exiting the water in tenth place, he had 2 minutes to catch up on the leader. He was so close in achieving just that, finishing third overall in the Age Group men. "Beim heutigen Verbandstag in Bornhöved zeichneten SHTU-Präsident Uwe Euskirchen und Vizepräsidentin Inke Ruiz Porath die Deutschen Meister aus Schleswig-Holstein und alle SHTU-Athleten aus, die bei Welt- und Europameisterschaften eine Medaille gewannen. Herzlichen Glückwunsch zu Eurer starken Saison 2018. At today's Federation Day in Bornhöved, SHTU President Uwe Euskirchen and Vice President Inke Ruiz Porath awarded the German Champions from Schleswig-Holstein and all SHTU athletes, who won a medal at World and European Championships. Congratulations on your strong season 2018." His power on the bike was immense and his lead over the silver and bronze medal-winners was over ten minutes. Álvaro Poole Roca held on to second place despite GB's Ben Kent almost matching him on the bike.
The fastest women of the day was GB's Brittany Tate. Her finish time, a full 14 minutes and change ahead of any rival in her category, was a standout performance and well in keeping with her results over the past few years. Coming to this race as the two times runner-up over the Sprint Triathlon distance in Düsseldorf and Glasgow, there was no doubt about her speed but even over the longer course. Sub 30-minute swim, 1:15 on the bike. Her finish time was well ahead of many male competitors and it will be good to see her race and defend her title in the summer in Romania. Silver went to Spain's Miriam Roselló Marí who overcame her fear of the storm to cross the line with the cheers of her supporters ringing in her ears.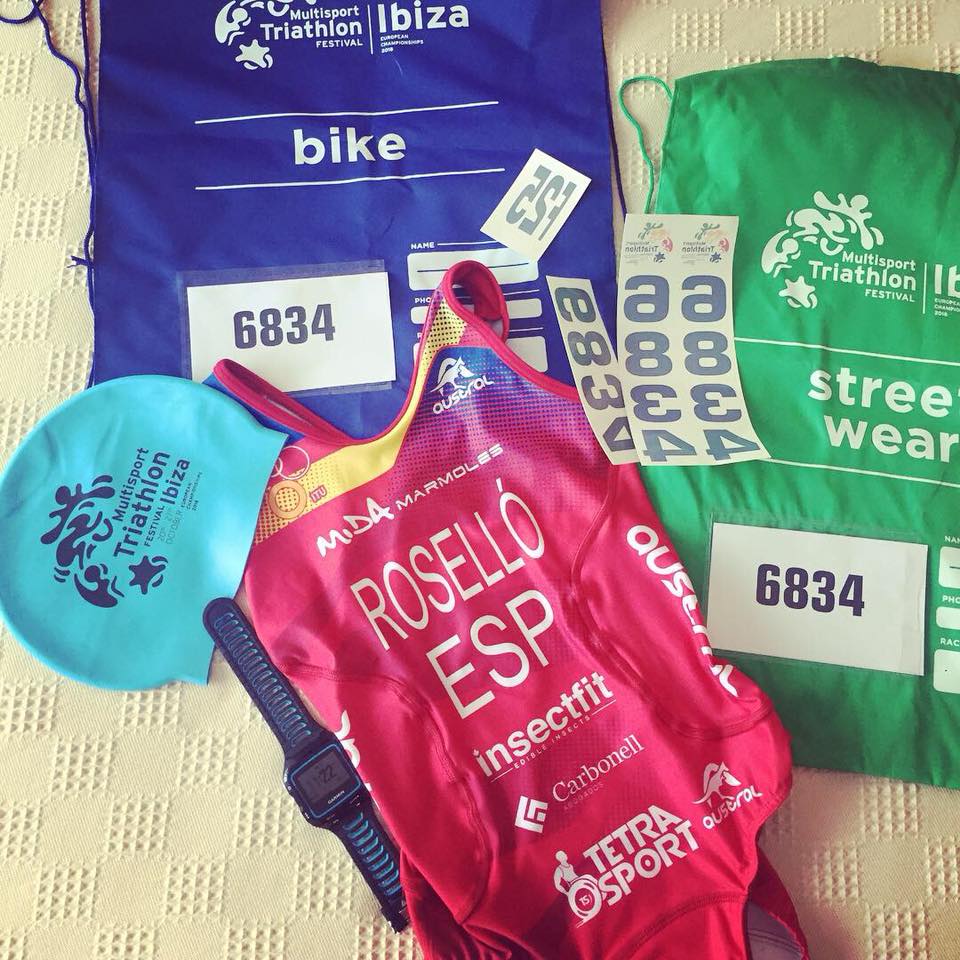 "Nunca dejes que el miedo sea tan grande que te impida salir adelante"
Y eso hice!! Después de casi morirme de miedo por la tormenta y el suelo mojado… dejé los miedos a un lado y lo hice como mejor pude hasta llegué a cogerle el gustillo de ir en bici lloviendo… Muchísimas gracias a toda mi family que vino de supporters y por esos súper ánimos!! Sobretodo Diego Robles por aguantar todos mis nervios
Al final segunda ggee 25-29!!!
"Never allow your fears to be so big that will prevent you moving forward" And I certainly did it ! After almost dying of fear because of the storm and the wet floor, I put it to one side and did the best I could; even ended up enjoying riding my bike on the storm. Big thanks to my family who came to support me cheering constantly and especially to Diego Robles who had to cope with all my nerves. At the end, I finished second in my AG category 25-29 !!!" It was Maartje Van Gestel NED who claimed bronze. So, on the podium you had a physiotherapist and an osteopath.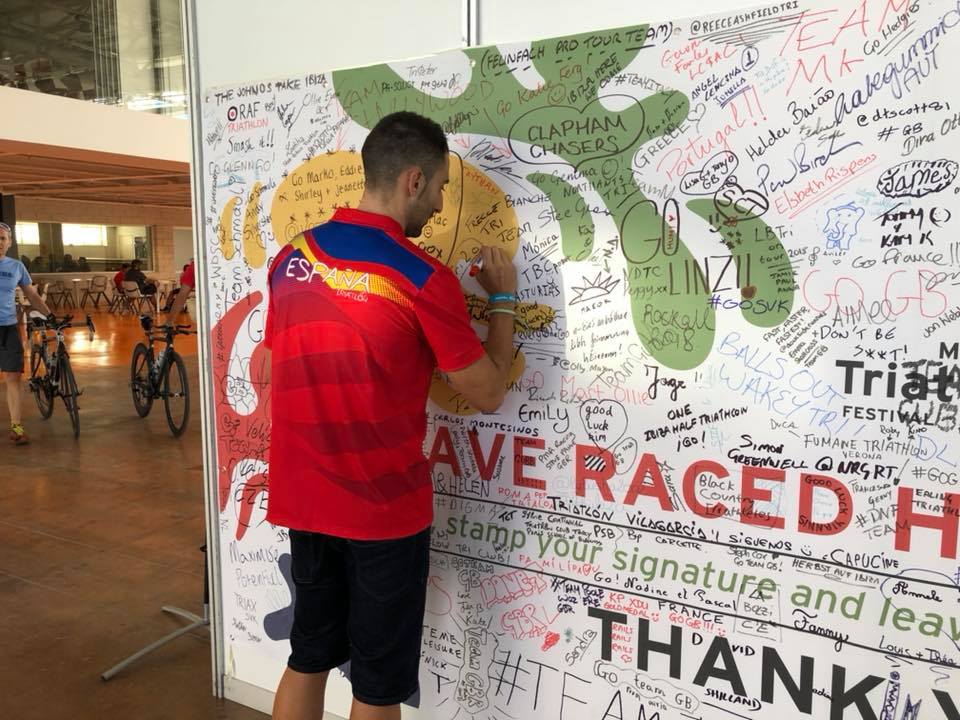 For the men, it was the hosts who could cheer, with David Guimera Callau upgrading his Fyn silver to a European title. From the very off he was in control and posting stronger swim and bike splits, was comfortably home ahead of two British athletes. Callum McPartlin gets his first podium after some solid coaching from none other than Judith Brand, who can often be seen at international events as a Technical Official. Bronze went to Jamie Platts.
Guimera tells us what it takes to become a European Champion?
La pretemporada arrancó el 18/12/2017 y finalizó el 27/10/2018 tras el Campeonato de Europa. Durante estos 314 días hemos descansado 26 días y hemos competido 20 días. En total hemos realizado 395 actividades, 484h de actividad y 376.000 Kcal quemadas, todo esto sin contar las sesiones de gimnasio. Los totales según disciplina son:
• 377.000m de natación
• 11.000Km de Ciclismo
• 450Km de carrera a pie (9 semanas con 0 Kilómetros por la lesión y 14 semanas para preparar el mundial y el europeo de Aquabike)
Contento con los números de la natación y del ciclismo, pero faltan muuuuchos kilómetros de carrera a pie. Seguro que en 2019 mejoraremos nuestro rendimiento y mejoraremos esos números.
The pre-season started on the 18/12/2017 and finished on the 27/10/2018 after the European Championships. During these 314 days I rested 26 days and competed 20 days. In total I've done 395 different sessions, 484 hours of being active with 376,000 calories burnt; all these without taking in consideration the gym sessions. Each discipline took: 377,000 metres of swimming, 11,000km of cycling and 450 km of running. (9 weeks with 0 activity because of an injury and 14 weeks to prepare myself for the World and European Champ in Aquabike) Happy with the swimming and cycling numbers, but still need a great amount of kilometres of running. I'm quite sure that in 2019 I will be able to improve my performance, increasing the total numbers."
In the 30-34 category, the Brits had a clean sweep with the women. Led home by Jennie Stemp, the reigning World Champion, there was never much doubt about who was going to win from the very moment they hit the water. With a 29:11 swim and then the fastest bike split, she had a lead of almost ten minutes when she crossed the line to take the title and make her the undisputed champion in her age-group. She was followed by Raya Hubbell who collected her first medal in her first race wearing GB kit.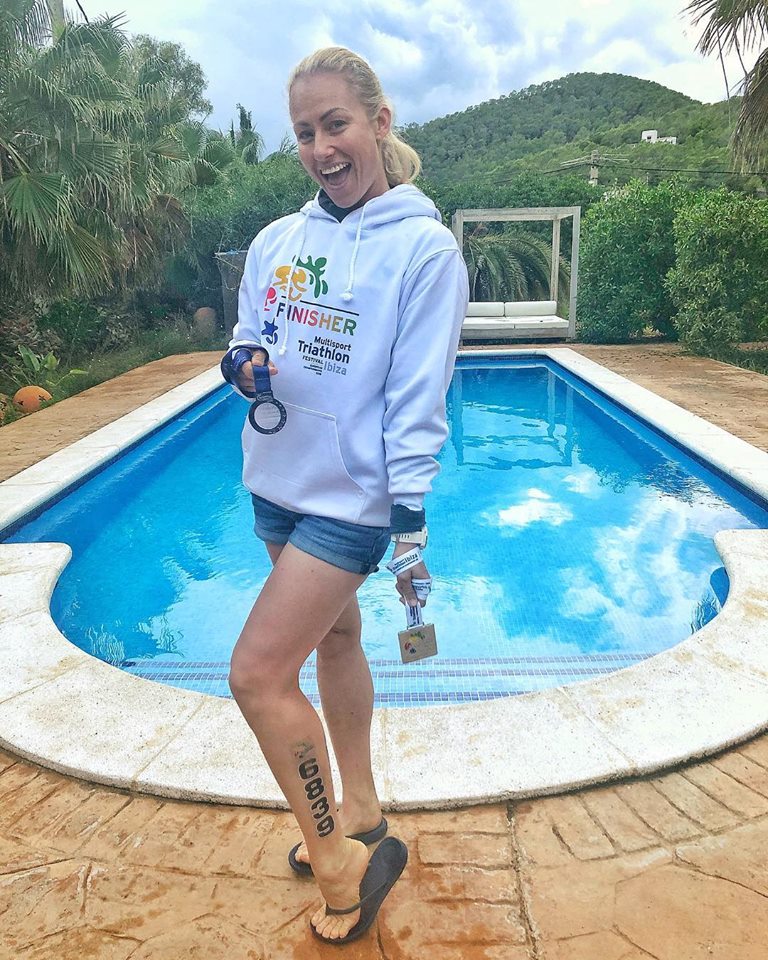 Describing herself as a "Sports Junkie", Hubbell broke her back in 2001 and then in 2010 contracted Meningitis. 2018 saw her suffer a crash just before an earlier event but she came back strong and with her medal in Ibiza, her motivation will be even greater. Not only for herself but also for the other she coaches. "I got to wear team GB kit for the first time AND bagged myself a silver medal. Racing, training and coaching was my saviour this year. I have loved every minute of it." Laura Brown rounded off the podium.
In the men's race the victor was also comfortably ahead when he crossed the finish line. Ismael Parrilla Ponce was supreme in the swim, in transition and on the bike. The support for Ibiza-based Parrilla was strong, especially as the crowds realised that his younger brother was flying in the Middle Distance event that was running in parallel. With the brothers both claiming European titles in their respective age-groups, the local paper had a great story. If you want to read the article (in Spanish), please click this link. GB's Stuart Mackay claimed the silver and from Ireland, it was Ross Hamilton who went home with bronze.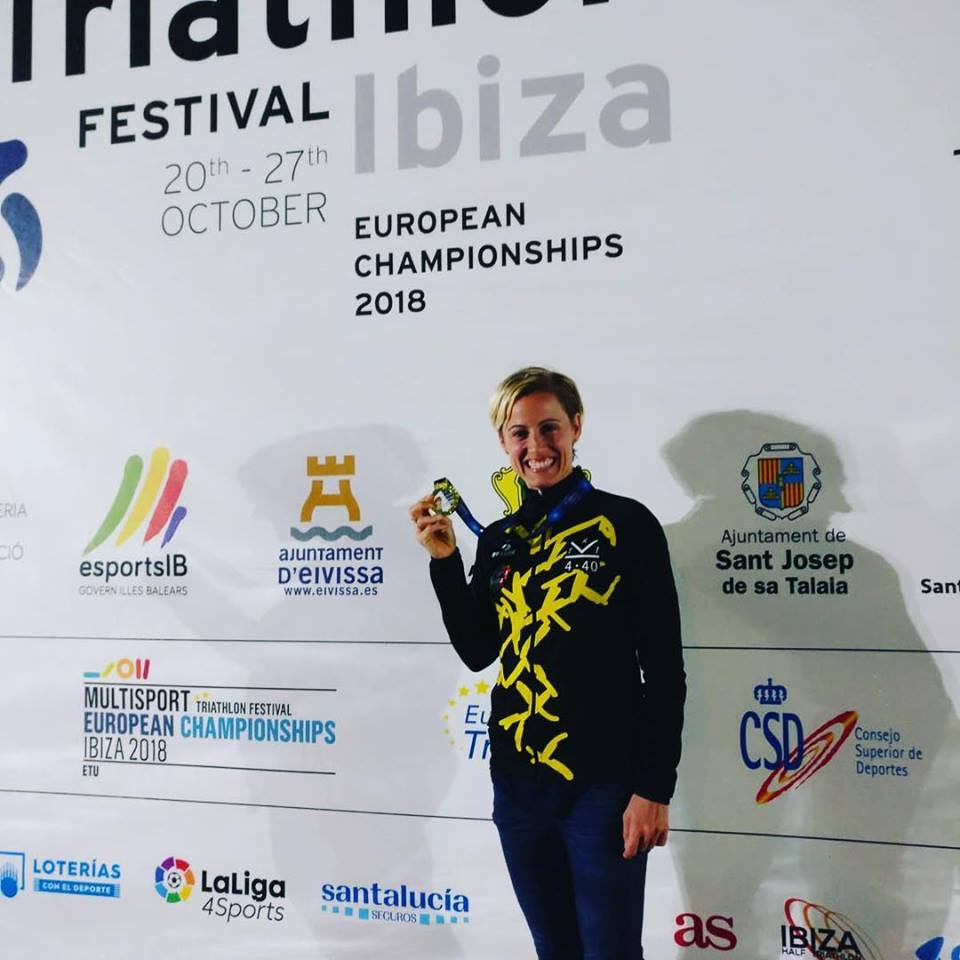 It was a nail-biting finish in the 35-39 category, with Spain's former elite athlete, Eva Ledesma Calvet only just managing to hold off a spirited attack from GB's Lucy Richardson. The Spanish athlete had been off the ETU and ITU calendar since 2013 but returned and raced well. "Després de molt temps sense poder competir em sento molt feliç de tornar i de gaudir del que més m'agrada. Moltes gràcies a tothom que ho ha fet possible. After a long time without being able to compete I feel very happy to come back and enjoy what I like most. Thank you very much to everyone who made it possible." Richardson, bronze medal-winner in Fyn, was behind in the swim and lost valuable time in T1. When she looks back at the splits, she will be certain to focus in that lost time in transition because out on the bike she was impressive and at the line, there was only two seconds that separated her from the winner. Bronze went to Lydia Adelin who finally makes it to the podium after a number of outings in GB kit.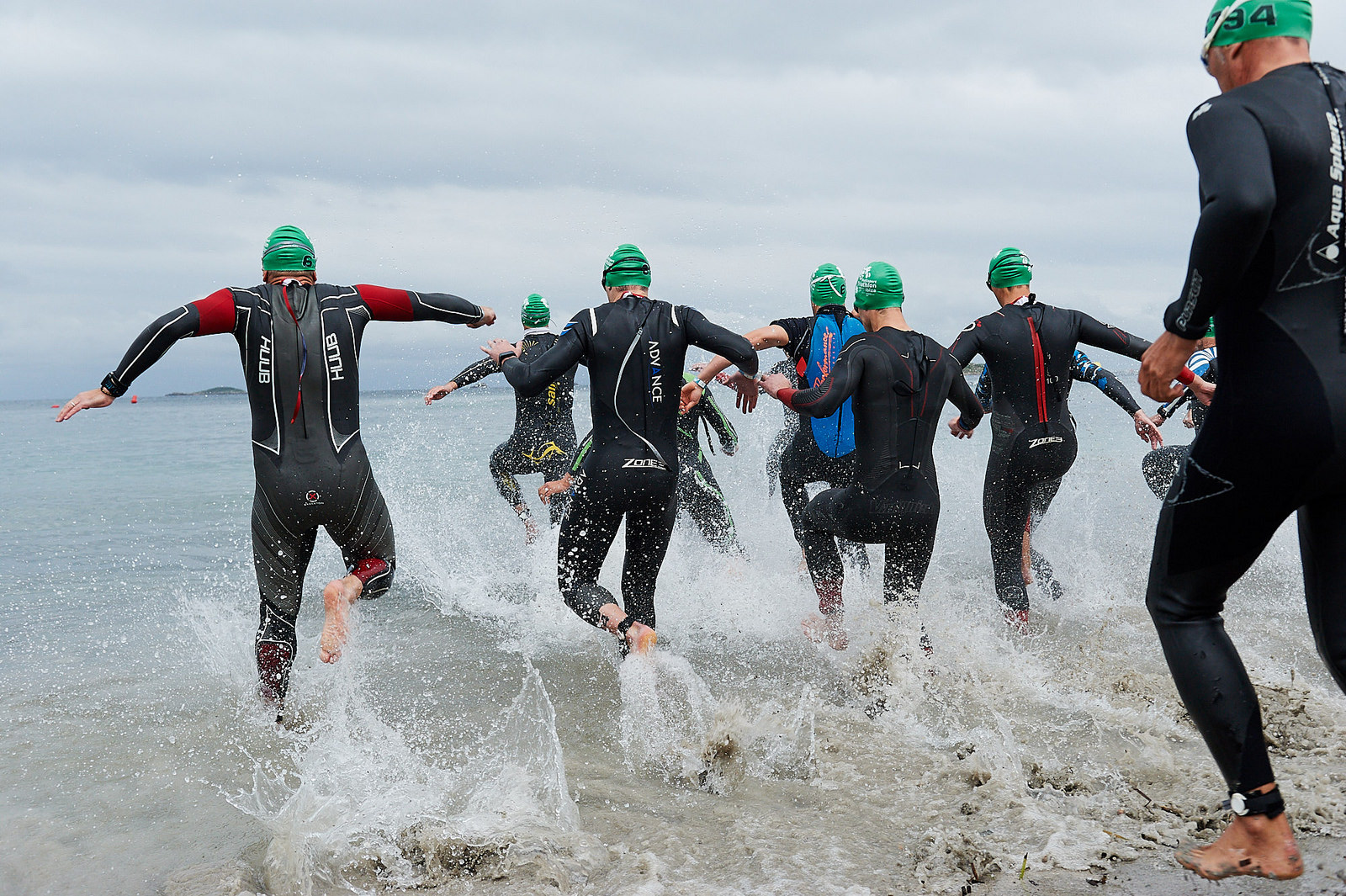 The Spanish were denied a double in this age-group. David Rodríguez López opened with a good swim, to lead Britain's Paul Edmonds out of the water with over a minute's lead but again it was time lost in T1 and then on the bike that saw Edmonds storm to the front and cross the line with time to spare. Edmonds has been seen at middle distance and standard distance races but this event saw his strengths and the gold was a huge improvement upon his previous finishes. David Reeves upgraded his 5th place in Fyn to claim the bronze medal to the collected delight of East Fife Triathlon.
Amy Pritchard was second woman home overall and led the British charge in the 40-44 category. The reigning world champion, having won not only in Fyn but also in the inaugural event in Penticton, came to the event on form and with a bronze in the Aquathlon a few days earlier, was already fired up. Her race went to plan with a comfortable victory over the largely British wave. With some technical glitches, it looked as if Jen Lande had DNF'd but with a great show of team spirit, it was Kate Sandford who helped the officials to rectify the mistake and so it was that Lande and Sandford joined Pritchard on the podium. Sandford had also been providing a steady supply of photos for the British Age-Groupers that kept the social media channels busy. What made the podium all the more special was that at the finish, it was Lande, by just two seconds, who claimed the silver ahead of a fast-finishing Sandford.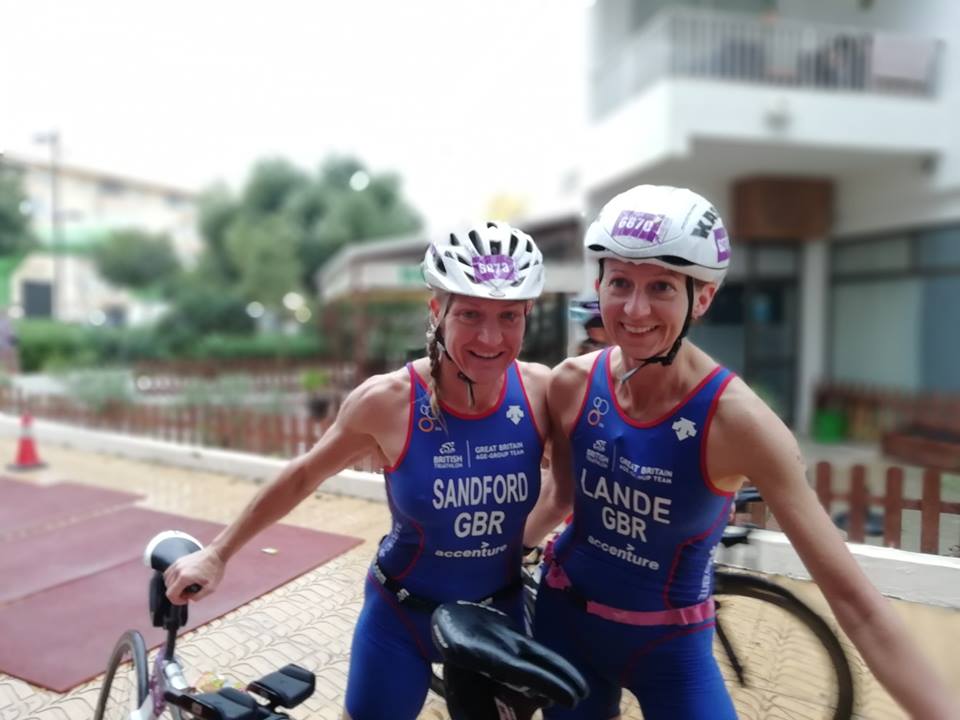 If ever there was someone who conveyed the delight of being part of the team, then it was Sandford, "Live timing is great, but finding the website or app can be a challenge. I was lucky enough to find another AG to help I was told that I had secured a Silver medal – I knew immediately this was not correct as I knew that Amy and Jen Lande had finished ahead of me, but I did not know why, then I realised that Jen Lande was categorised as a 'DNF' – of course this was incorrect and would be an injustice so I left the table (I wasn't doing a runner!) and ran back to the Finish Line to speak with the chief timer to get the result changed, excitedly I ran back and told Jen Lande that the result was changed and she was no longer a DNF but a Silver Medallist!"

Spain's Javier Martínez Gramage nearly lost out to Great Britain's Neil Dighton. A strong swim from Martínez and a fast T1 was followed by a 1:14 bike but Dighton, losing time in T1 was storming the bike and his 1:12 looked as if it would bring him up into contention for the title. Martínez had done just enough to hold onto the title and Dighton was comfortably ahead of his teammate, Dan Clapton at the finish but it took a determined bit of riding to bring Clapton onto the podium. His swim was to put him in the top five of the group, but then time was lost in transition before he exploded out onto the bike course, using his long-distance biking skills, to take him past those ahead of him. He secured the last medal by just a few seconds.
Martínez, a professor in the Department of Physiotherapy, Universidad Cardenal Herrera-CEU, CEU Universities, Valencia, Spain, has contributed significantly to delivery of triathlon at the 2016 Paralympics.
It was clean-sweep #3 for the British women in the 45-49 category. It was Sarah Kelman who led them home. Missing the podium in Fyn, she posted the strongest swim and bike to take gold and have over two minutes in the bank ahead of Jenny Astall, who claimed silver. Nicola Stevenson rounded off the podium for bronze.
Austria won gold with Arthur Winter posting a remarkable bike split of 1:09. His swim left him with work to do but once out on two wheels, he attacked and soon captured those ahead of him. The HSV Triathlon Kärnten athlete was 6th overall in the Age-Group race. Silver went to Spain's Hugo Ecija Bernal, who was 7th place overall. GB's Sean Collins, an accomplished open water swimmer, upgraded his Fyn 5th to bronze, with a superb swim of 27:19.
Moving into the 50-54 category and it was clean-sweep #4 for the British women. Melissa Dowell is no stranger to the podium (be that an ITU, ETU or commercial one). With her first title in 2009, in the ETU Prague Long Distance Championships, she followed that with top ten finishes at ITU events, before coming runner-up in Tampere in 2011. Rimini, in 2015 was her return to the top of the podium, where she was utterly dominant. Bronze in Walchsee was followed later in the year with a world title in the 2016 Oklahoma Long Distance championships. Fyn, over the long distance, did not quite work out but when you are up against the mighty Gill Fullen there are few who can match her. But here in Ibiza, her swim and bike power was never going to be matched. Defending champion, Maria Powell came to the race buoyed by her silver earlier in the week in the Aquathlon and with the ETU Sprint Triathlon title in her pocket after Glasgow. World Champion in the inaugural Aquabike in Penticton and then having defended her title in Fyn she had not raced Dowell and was over two minutes down after the swim. Time was lost in T1 but the power came back on for the bike. Despite a valiant effort, Dowell was too strong but the silver medal was a solid one with a nine-minute advantage over the chasing Bee Furber who collects her first medal.
Not to be put into the shadow, the British men were able to enjoy a clean-sweep in this category. Adrian Wilkins led them out of the water with a clear advantage but once out on the bike, the powerful riding of Trevor Back was just too much. Back was able to claw back a bit of lost time in transition but once on two wheels he simply powered up and was unbeatable. 1:14 in those conditions is a time that many half his age would have been happy with.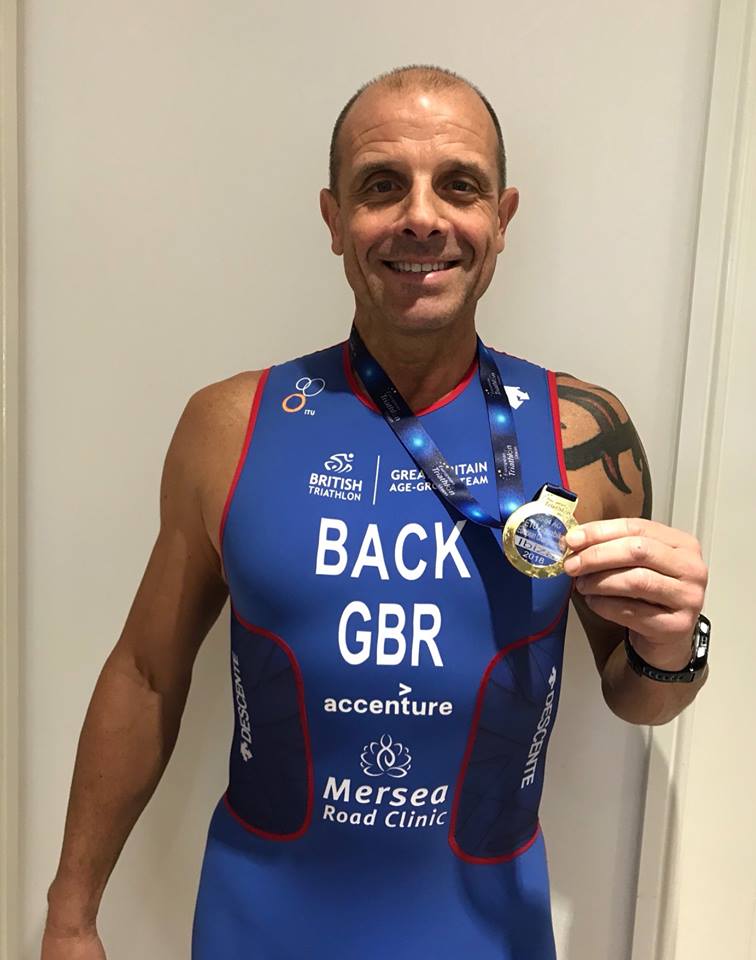 He later had time to reflect, with gratitude to the people at the Mersea Road Clinic who keep putting him back together, "I had previously finished just off the podium in 4th at the World Championships earlier in the year in Denmark. As well as racing in the Aquabike event, I also represented GB in the Aquathlon, which is a swim/run format although not quite so successfully, only managing 19th place. Next year will involve travelling to Pontevedra in Spain at the end of April for the World Championships and then in July, to Târgu Mureș in Romania to defend my European title. This along with other regional and National triathlon races will keep me busy and very grateful, as ever, for the support from all at Mersea Road Clinic, especially Michael for his generosity. With all the injuries I have sustained over the years, I'm surely walking proof that with the right care and commitment, you can really achieve anything!" Wilkins' initial speed in the water was enough to keep him in silver medal position. "Managed to finish 2nd in the European Aquabike Championships. Pretty pleased with that to be honest considering the biblical storms just before the start. Season over now - time to rest and act my age!" Bronze went to Andy Hayes.
The British women's strangle-hold on the podium was relaxed in the 55-59 category, although it was still a Brit who took the title. Jeannie Fry. The Burnham-on-Sea Academy Swim and Health Club Instructor has been knocking out top-five finishes for over 14 years now and her race reminds us all that it is the finish time that matters. Coming out of the water in seconds place in the category, she used her experience to speed through transition and then simply set about a steady ride that took her past the initial leader and all the way to gold.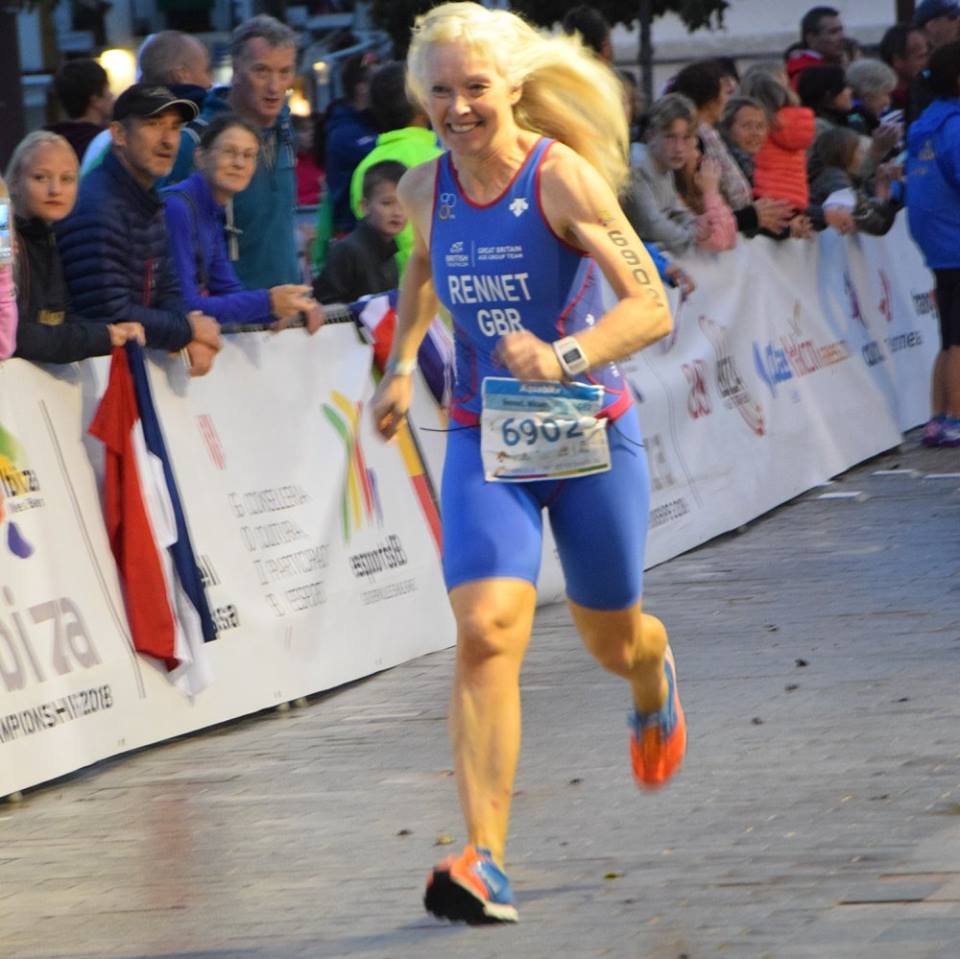 Teammate Miriam Rennet. Rennet's top ten finish in Tartu in the heat was good preparation for Ibiza, with a strong performance on the bike over 40k. Her bike split in Glasgow, over the 20k sprint, was the fastest. She was outpaced by Fry but had done enough to walk off with the silver. Bronze went to Annette Fuglsang Owens DEN, who greatly improved upon her 8th place in Fyn.

This was the age-group where the Brits failed to win a medal in the men's category. The title went to Austria's Alexander Schawalder. Schawalder has a particular claim to fame that not many athletes around today can make. He raced in Avignon back in 1989. That race, won by the great Mark Allen, was a mass event, with over 100 finishers. Since then, a steady collection of medals have come his way but this race was the first that was truly his own. Complete domination took him to the lead early on. With over five minutes to wait at the finish line for the runner-up, the Austrian athlete was rightly crowned champion. With a silver medal in Fyn, Gunter Stecher was able to finish the season with a second silver. Leaving transition with an Italian uniform in sight, within 5k he had caught up and passed Gianfranco Coppa and went on, with an average speed of 37.7km per hour, to comfortably claim the second place on the podium. Coppa's bronze is added to his Aquathlon silver. In response to the pedigree of the Austrian, Stecher can boast a finisher's shirt from 1988 but for a slightly longer race. Not only is the T-shirt still in great condition, it also fits!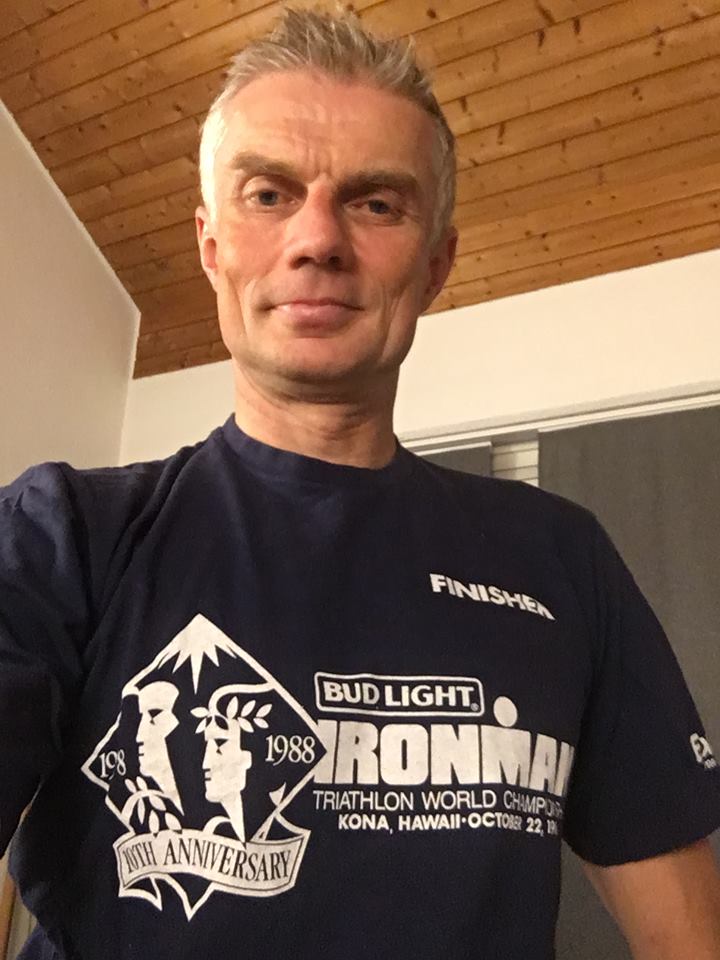 In the 60-64 category, it was once more Team GB that scooped up all available spots on the podium. Berkshire Tri's Julia Hodkinson runner up in Fyn, was all powerful and led from the very first strokes. The gold medal and title came to her just a few days before her birthday. A nice way to end the season. Runner-up and silver medal winner was Jo Lewis, 2006, 2015 and 2017 ETU Aquathlon champion. Lewis, co-founder of a women's only triathlon club, Tri50 has worked hard to deliver inspiration to mature athletes. When you look at her pedigree, you can see that she has so much to give to athletes. It was Cathy Booth who rounded off the podium with a medal in her first outing.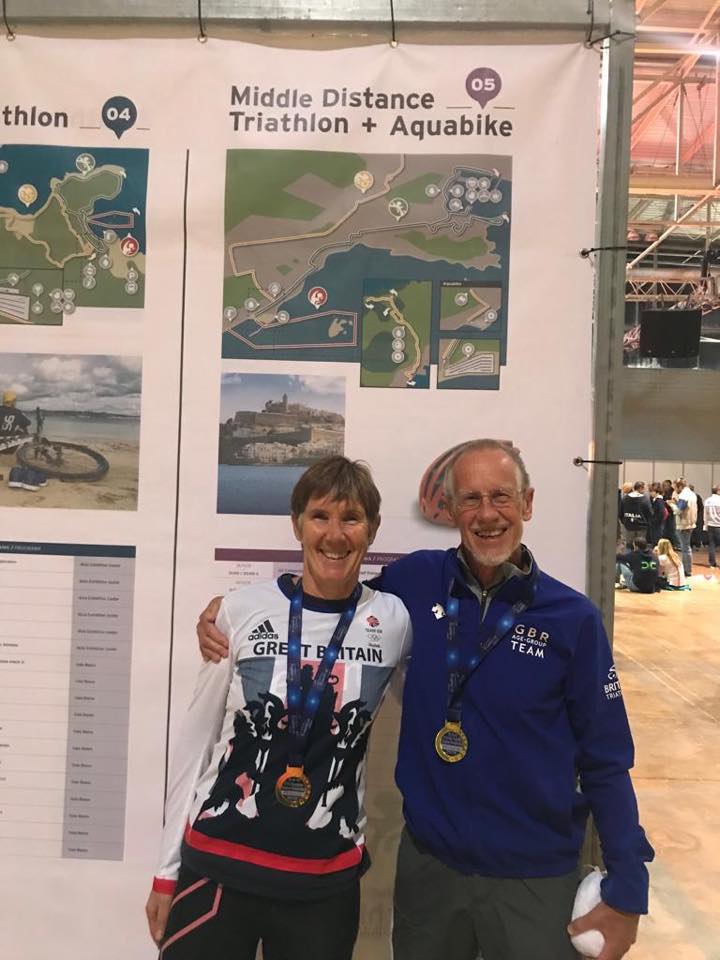 Spain claimed the title for the men, with a dominating performance from Jose Horacio Prario Ispizua led from the start and had a four-minute winning margin ahead of Britain's Anthony Hall, whose 10th place in Fyn was massively upgraded here in Ibiza. Félix Castrillo San Rafael, very much a long-distance specialist, claimed the bronze medal comfortably ahead of the rest of the field.
In the 65-69 category, there was only one female athlete and it is no surprise that it was a British one, Liz Ball. The defending world champion's finish time would have been good enough for silver in one category beneath her and would have seen her just miss the podium in the 55-59 category. An impressive solo performance that was well and truly won on the bike.
For the men, it was the 2nd clean-sweep for the Brits, with the oldest in the category, Ted Hamilton leading them out of the water with an advantage of over a minute. The 2015 ETU champion and 2017 World Champion (Aquathlon) made sure that they had to work hard to catch him and the only one with enough pace on the bike was Grant Young. Bronze went to Colin Watkins. Hamilton had good cause to celebrate afterwards as his long-time partner, Jo Lewis had won silver.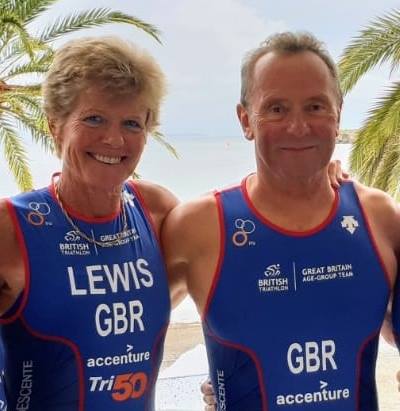 Ted, "Neither of us can run so we competed at 'Aquabike' - 2k sea swim followed by a 90k bike ride (thankfully shortened to 45k due to the rotten weather). 2 Silver medals!!"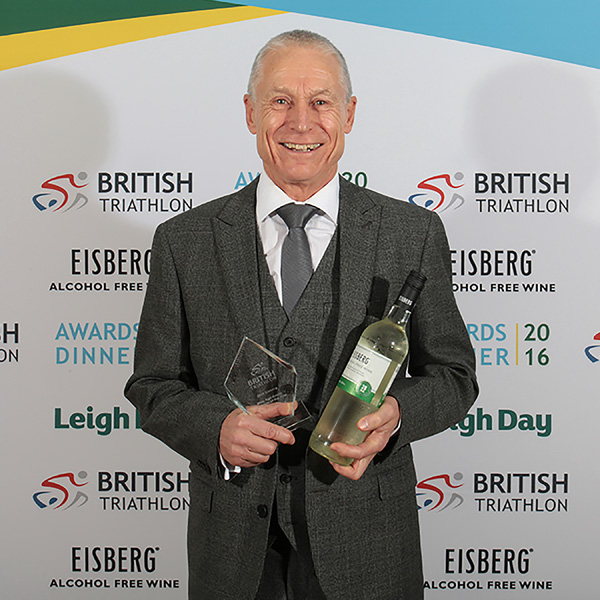 The final category saw a truly impressive performance from Mike Smallwood. We really need some up to date photos of this amazing athlete. Smallwood, a member of Rugby Triathlon Club, was the British Triathlon Male Age-Group Athlete of the Year in 2016, a season in which he won six European and World Championship medals. 2017 saw him claim the European title in Bratislava for the Aquathlon and then the Sprint Triathlon title in Düsseldorf. Runner-up in Kitzbühel, he kicked off the 2018 season in style winning Silver medals in Fyn, Denmark (Aquabike) and Tartu, Estonia (Standard Distance), before successfully defending his Sprint title in Glasgow. The medal in Tartu was his 25th podium finish in ITU/ETU competition, a record for a British Age-Group athlete. As one of the most recognisable athletes on the GB circuit, British Triathlon took time to interview him ahead of the Ibiza event. Read the full article here.
The interview finished with a question that he answered perfectly; an answer that goes some way to explain why there are so many Brits who race abroad. For someone considering wanting to qualify for and race in the British Triathlon Age-Group team, what would be your advice / encouragement? "Without any hesitation - go for it! Whatever your standard and whatever your aims whether it is just completing the event or competing for the podium, there's nothing like being able to say that you've officially represented your country at a major international event."
For official photos of the event, please click here.

The medal table for the Aquabike looks like this:
| | | | | |
| --- | --- | --- | --- | --- |
| | | GOLD | SILVER | BRONZE |
| GBR | | 14 | 13 | 13 |
| ESP | | 5 | 5 | 1 |
| GER | | 1 | 1 | |
| AUT | | 1 | | |
| SUI | | 1 | | |
| IRL | | | | 1 |
| ITA | | | | 1 |
| NED | | | | 1 |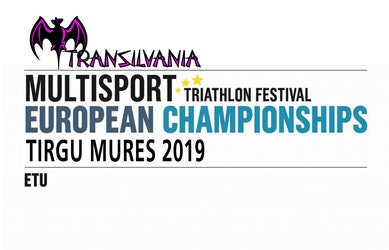 Don't forget, the next chance you have of collecting an ETU medal for this discipline will be on the superb course in darkest Transylvania. Check out the 2019 Târgu Mures ETU Multisport European Championships.
Related Event: 2018 Ibiza ETU Aquabike European Championships
Latest
Videos
---
Latest
Event Galleries