NEWS
A look back at 2023: a challenging yet remarkable year
By media@europe.triathlon.org
|
25 Oct, 2023
As we stand on the cusp of winter, it's the perfect time to reflect on a year of extraordinary achievements and unparalleled determination in the Europe Triathlon circuit. The 2023 European Triathlon season has been nothing short of spectacular, with a series of thrilling races held in stunning locations across the continent. In this retrospective, we'll revisit the remarkable events that defined this unforgettable year of European triathlon. You'll also be able to finally see which age group nations did best in this year's Age Group Nations League medal table and which athletes emerged on top in our Europe Triathlon Elite and U23 rankings. Stay tuned for this Friday at 10 am CET for the 2024 Europe Triathlon season calendar release (potentially with some info also on 2025).
Europe Triathlon Winter Championships in Andorra: A Grand Start to the Year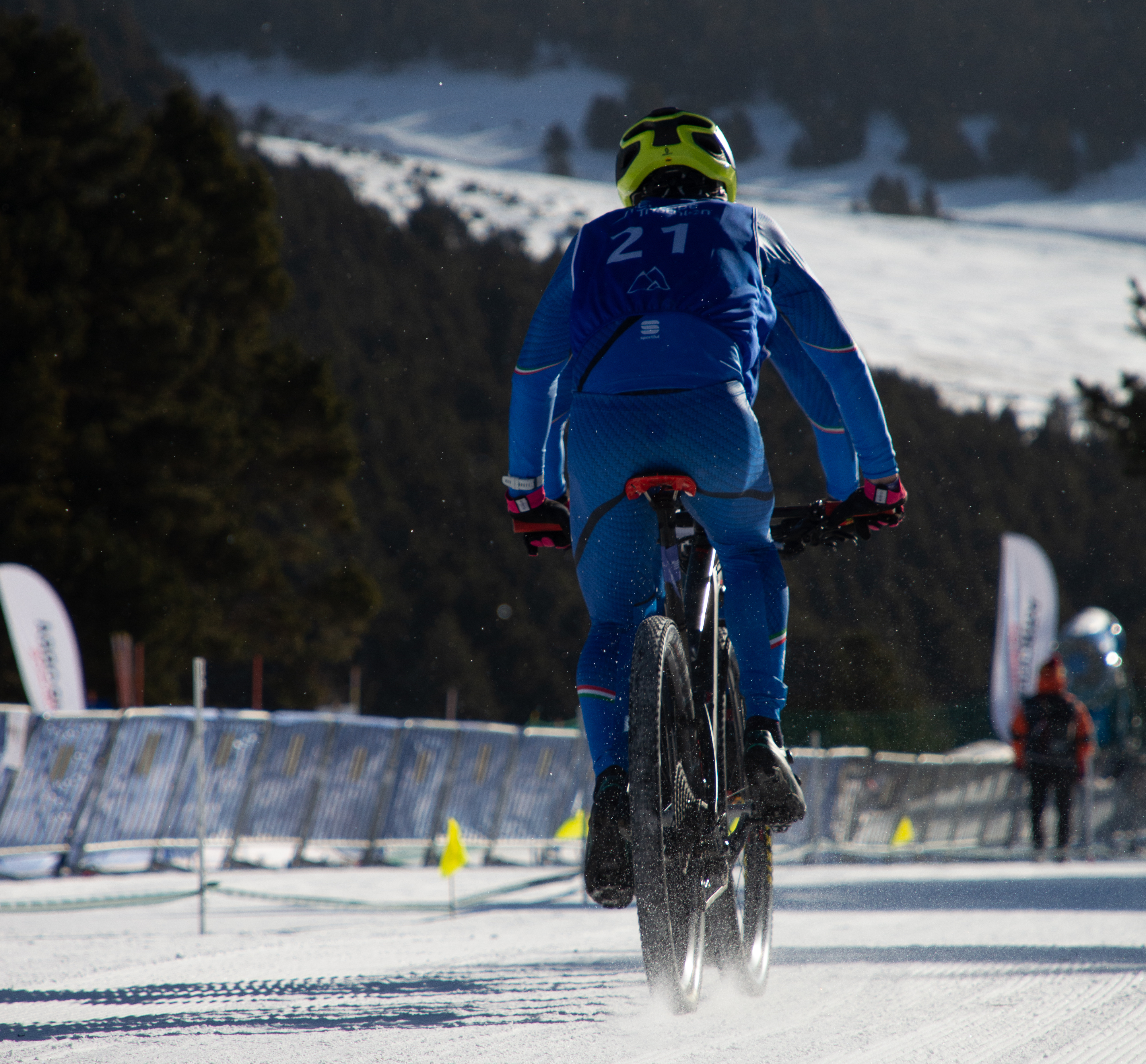 Our journey through the 2023 European Triathlon Season began in the heart of winter in Andorra, the breathtakingly beautiful nation nestled high in the Pyrenees mountains. At an elevation of 2,000 meters above sea level, the Andorra Winter Triathlon set the stage for what was to be an exceptional year. This event, now in its third edition, saw athletes from 13 countries converging to test their mettle in the snow. An impressive highlight was the 9% increase in female participation compared to the previous year, with women making up 29% of the competitors. In the elite categories, Italian athletes Franco Pesavento and Sandra Mairhofer took the top honors, showcasing their prowess and laying the foundation for a season filled with fierce competition.
Europe Triathlon Duathlon Championships in Venice Caorle: The Little Venice
From the snowy mountains of Andorra, we traveled to the enchanting town of Caorle in Italy, often referred to as "little Venice." Here, the Europe Triathlon Duathlon Championships unfolded in a captivating setting. French athletes Benjamin Choquert and Marion Legrand dominated the elite categories, leaving spectators in awe of their exceptional talent and unwavering determination. Caorle bore witness to thrilling races against the backdrop of picturesque canals and historic streets.
Europe Triathlon Championships in Madrid: A Showcase of Adaptability and Perseverance
The European Championships in Madrid were a testament to the adaptability and indomitable spirit of triathletes. Competing in the serene Casa De Campo park, athletes tackled various categories, including Para Triathlon, Olympic distance, and Sprint distance. David Castro Fajardo and Jeanne Lehair emerged as the new European Triathlon champions in the elite categories, illustrating that perseverance and adaptability are key to success in the demanding sport of triathlon.
2023 Europe Triathlon Youth Championships Festival Banyoles: Cultivating Young Talent
In the heart of Catalonia, Spain, the picturesque town of Banyoles served as a gem for triathlon enthusiasts. With its tranquil lake and challenging terrain, Banyoles was the perfect setting for the Europe Triathlon Youth Festival Championship. This intense competition saw Tristan Douche from France and Fanni Szalai from Hungary crowned as champions of this exciting event, showcasing the promising future of European triathlon.
2023 Europe Triathlon Sprint & Relay Championships Balikesir: Thrilling Spectacle in Turkey
Nestled in the idyllic town of Balikesir, the Triathlon European Championships offered a true sporting spectacle. Elite athletes showcased their agility and tenacity on the demanding course. Ricardo Batista of Portugal, Lasse Nygaard Priester of Germany, and Richard Murray of the Netherlands dazzled the audience with their skills and unwavering determination. Meanwhile, the elite women's race witnessed an equally impressive performance from Mathilde Gautier of France, Selina Klamt of Germany, and Jessica Fullagar of Great Britain.
2023 Europe Triathlon Multisport Championships Menen: A Celebration of Diversity and Determination
Menen, a picturesque city in South West Flanders, Belgium, hosted the 2023 Europe Triathlon Multisport Championships. What began as a glimmer of positivity during the pandemic in 2020 has now blossomed into a true celebration of multisport. Over 1000 athletes from 35 countries competed in Aquathlon, Aquabike, and Middle Distance races, reinforcing the sense of unity and determination that defines European triathlon. Para-athletes played a pivotal role, setting an inspiring example for all. In the elite men's category, Noah Servais from Belgium secured the top position with a strong performance, finishing in 28 minutes and 16 seconds, while in the elite women's category, Giada Stegani of Italy emerged victorious, completing the course in 32 minutes and 37 seconds. Their exceptional skills and determination shone in the European triathlon competition.
2023 Europe Triathlon Cross Championships Riva del Garda-Trentino: A Weekend of Pure Thrills
As we fast forward to the recent past, we find ourselves transported to a weekend filled with adrenaline in Riva del Garda, Italy. This picturesque town between Lake Garda and the majestic Brenta Dolomites hosted the European Cross Duathlon and Cross Triathlon Championships. These events promised intense competition, gripping rivalries, and inspiring performances, and they certainly delivered. In the elite men's Cross Triathlon, Michele Bonacina of Italy claimed the top spot with a time of 1 hour, 32 minutes, and 52 seconds. Lukas Kocar from the Czech Republic and Theo Dupras from France rounded out the podium, finishing second and third, respectively. The elite women's Cross Triathlon saw Marta Menditto of Italy secure the gold medal, with Anna Zehnder of Switzerland taking silver, and Romy Spoelder of the Netherlands earning the bronze.
2023 Europe Triathlon Challenge Long Distance Championships Almere: A Battle of Endurance
In Almere, Netherlands, both professional athletes and Age Groups came together for Challenge Almere-Amsterdam, competing for the coveted title of Europe Triathlon Long Distance Champion. The elite men's race was a thrilling display of speed and endurance, won by Menno Koolhaas of the Netherlands, who completed the course in an impressive 7 hours, 36 minutes, and 36 seconds, cementing his status as a rising star in the sport. Great Britain's Kieran Lindars and another Dutch athlete, Milan Brons, fiercely competed for the second and third spots on the podium. In the elite women's category, Els Visser, also from the Netherlands, celebrated her victory, finishing with an exceptional time of 8 hours, 36 minutes, and 24 seconds, marking her successful return to the European triathlon stage. Marlene De Boer and Katrine Græsbøll Christensen secured the silver and bronze medals, respectively. The results of Challenge Almere-Amsterdam highlighted the depth of talent and passion in European long-distance triathlon and emphasized the international vibrancy of the European triathlon scene.
2023 Age Group Nations League Medal Table
And now, as promised, it's time to unveil the 2023 Age Group Nations League Medal Table. This table represents the culmination of a year's worth of dedication and perseverance by age group athletes from various European nations. The gold, silver, and bronze medals in the age group categories exemplify the strength and commitment of these athletes and their respective countries. We now recognize and celebrate their remarkable achievements in the European triathlon circuit: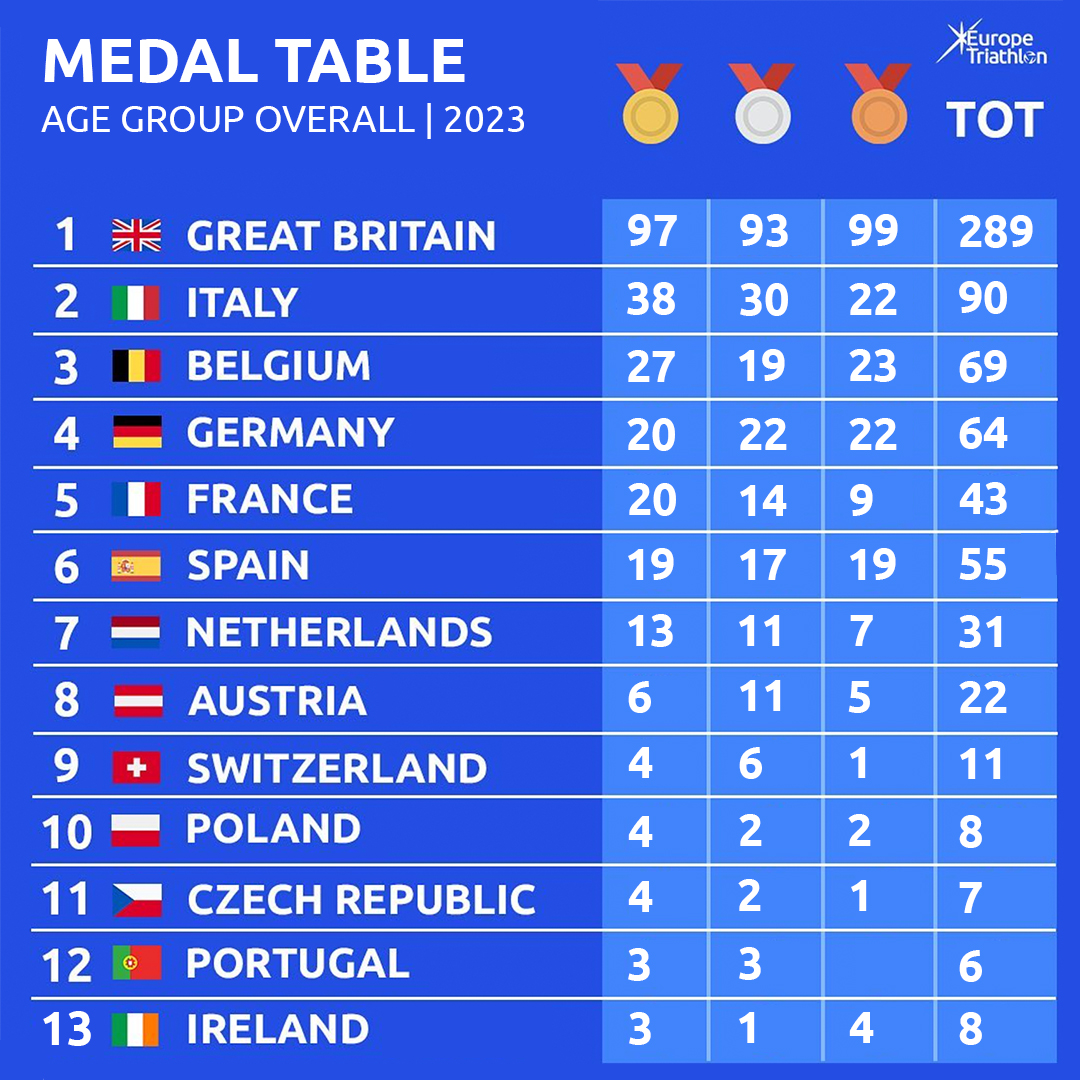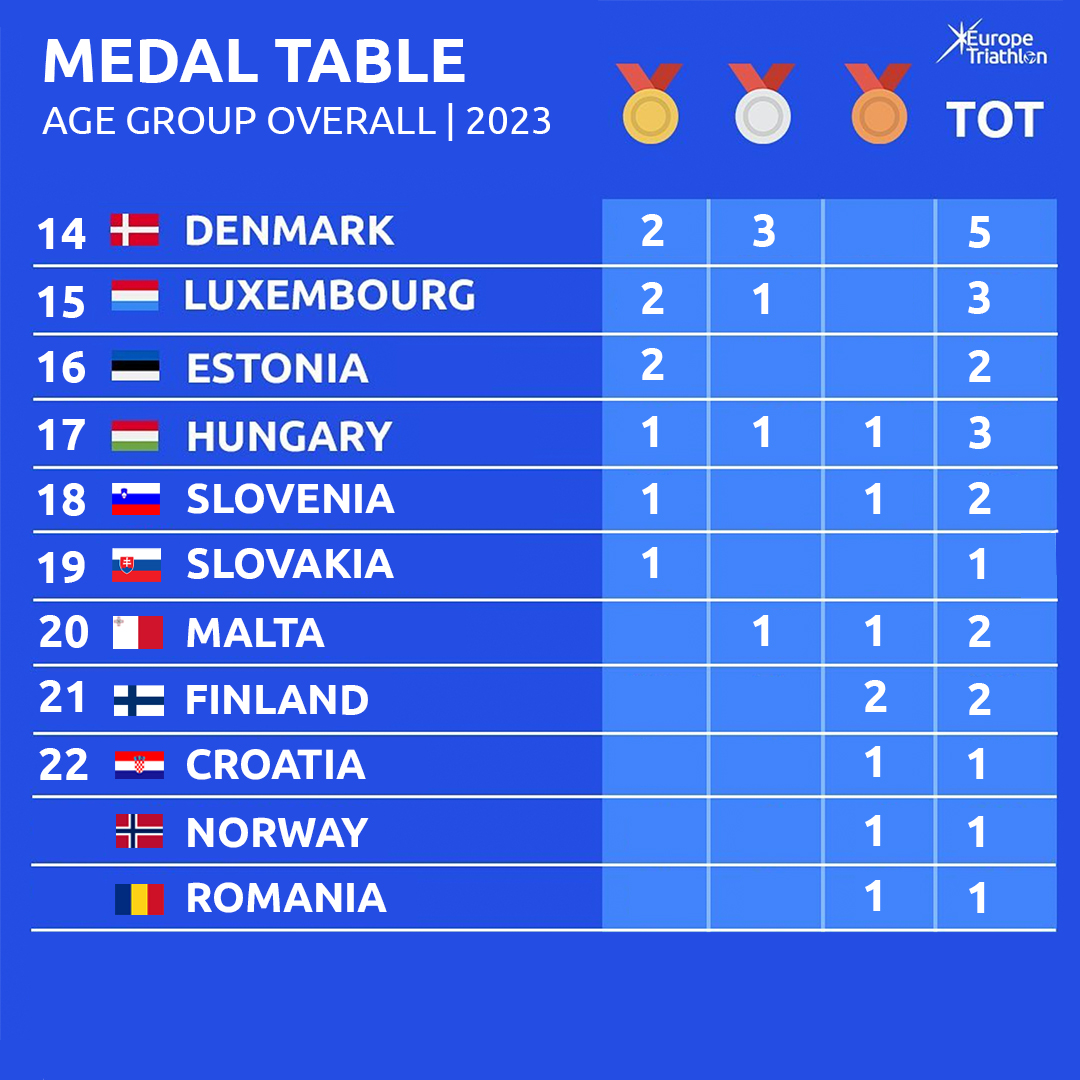 Congratulations to all nations who participated throughout the year across all the different events to represent their country and do their best.
2023 Europe Triathlon U23 and Elite Rankings
In addition to all the major European championships that were held this year, we shall not forget the multiple Europe Triathlon Cups and Junior Cups held all year round across the continent (you can see highlights, winners and pictures of these races on our social media and you can find full results here). Now, let's turn our attention to the outstanding athletes who have excelled in the championships and cups and consequently in the 2023 Europe Triathlon U23 and Elite rankings. These individuals have demonstrated exceptional skill and dedication, earning their rightful places at the top of the rankings. Here are the elite and U23 champions who have left an indelible mark on the 2023 European triathlon season. Europe Triathlon will inform all the athletes that have received prize money directly.
Europe Triathlon U23 Rankings:
Men's Champion: Osterholt Jonas from Germany with 1236,6 points. You can see the full rankings results here.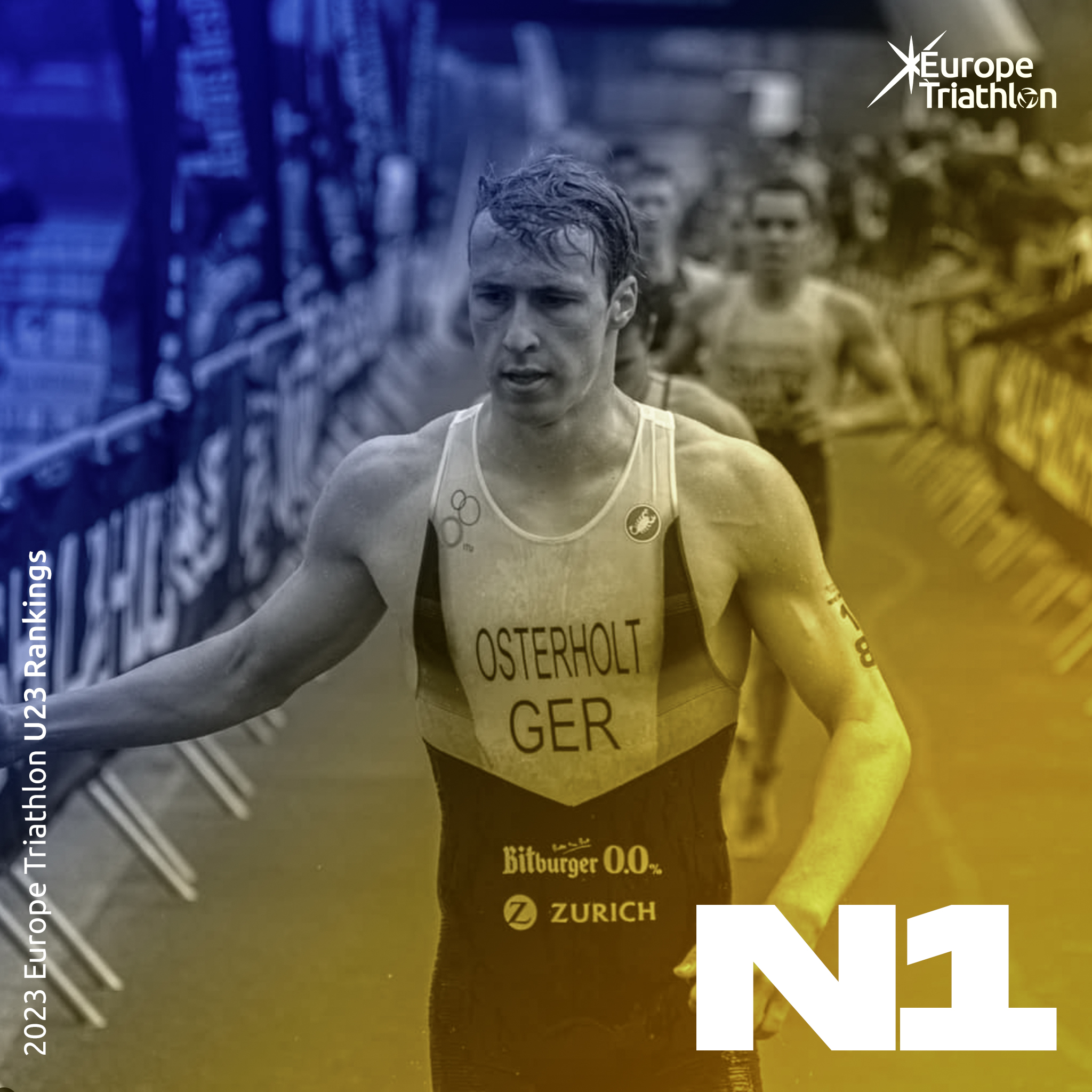 Women's Champion: Klamt Selina from Germany with 1231,3 points. You can see the full rankings results here.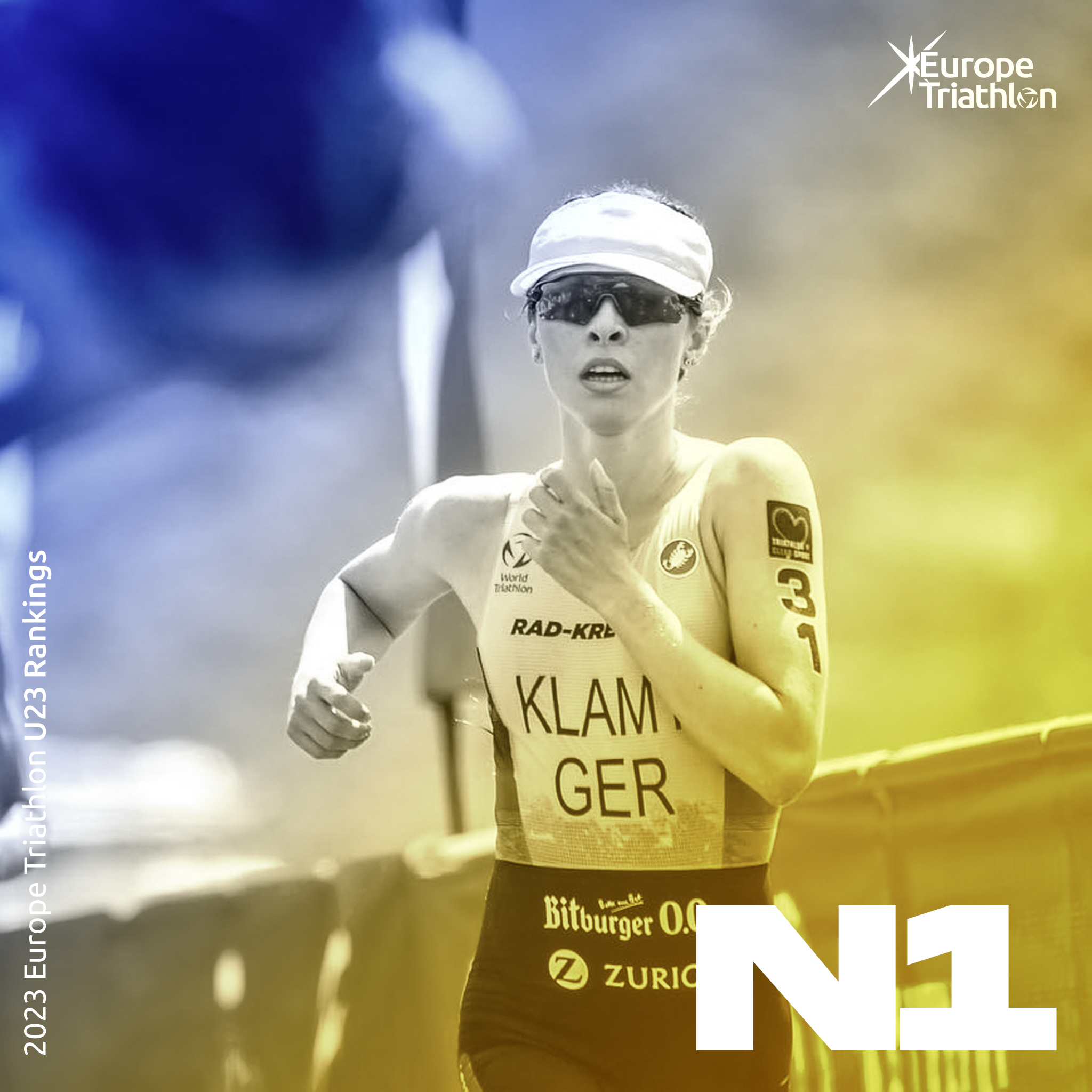 Europe Triathlon Elite Rankings:
Men's Champion: Vitiello Louis from France with 1199,9 points. You can see the full rankings results here.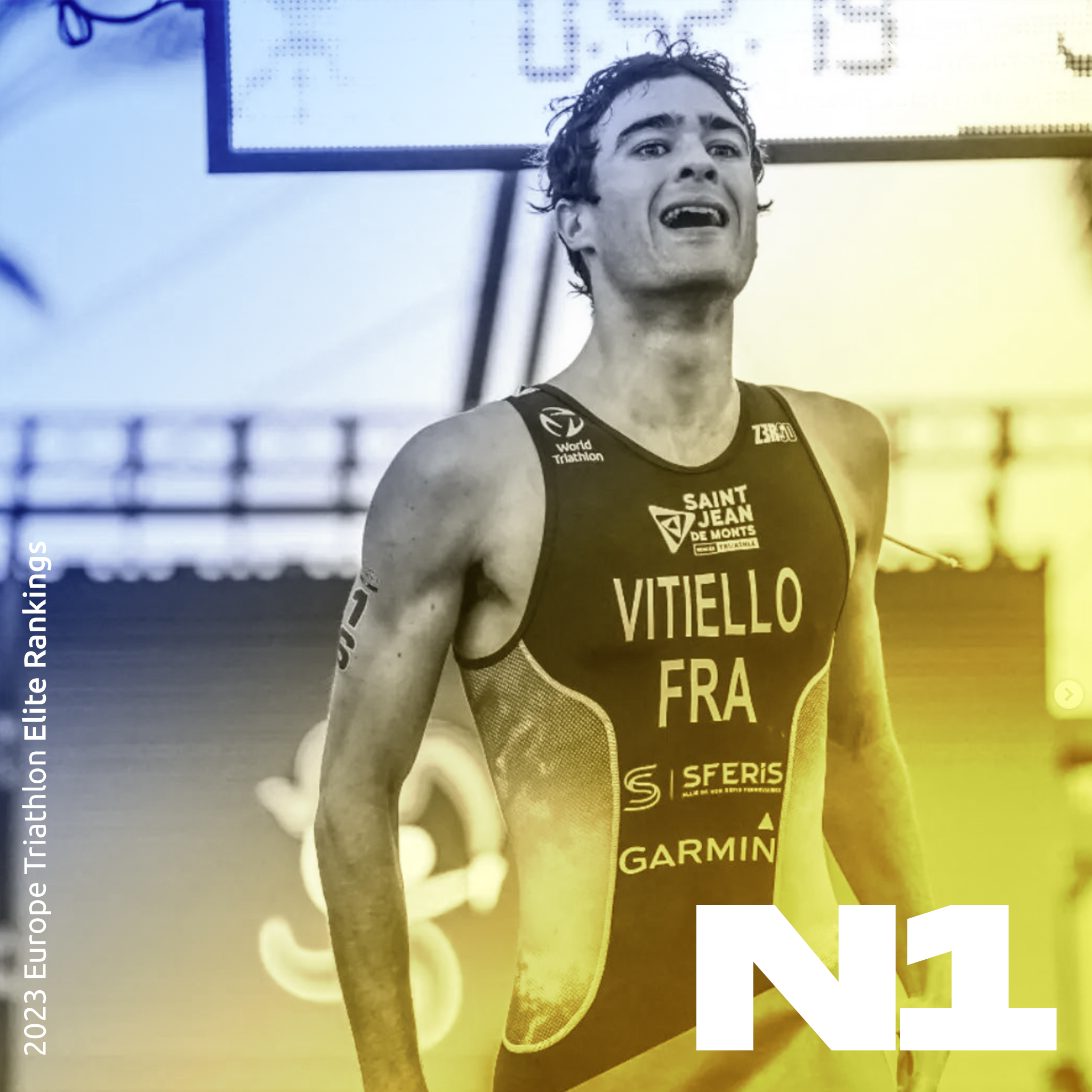 Women's Champion: again Klamt Selina from Germany with 1286,3 points. You can see the full rankings results here.
Congratulations to these remarkable athletes on their well-deserved titles. Their achievements are a testament to the dedication and perseverance that define the sport of triathlon. We look forward to seeing their continued success in the coming years on the European and World stage.
As mentioned already, stay tuned for this Friday at 10am CET for the announcement of the 2024 Europe Triathlon season calendar.
Latest
Videos
---
Latest
Event Galleries