NEWS
With Ceuta done and dusted it's time to set our sights on the last race of the season in Alanya.
By media@europe.triathlon.org
|
12 Oct, 2022
The Triathlon European Cup brought out the citizens of Ceuta on a beautiful Sunday morning in terms of weather and with all the competitions organized by the Spanish Federation. The beach of La Ribera and a good part of the town center of Ceuta presented themselves as the perfect venue for yet another of the European Cups of this season.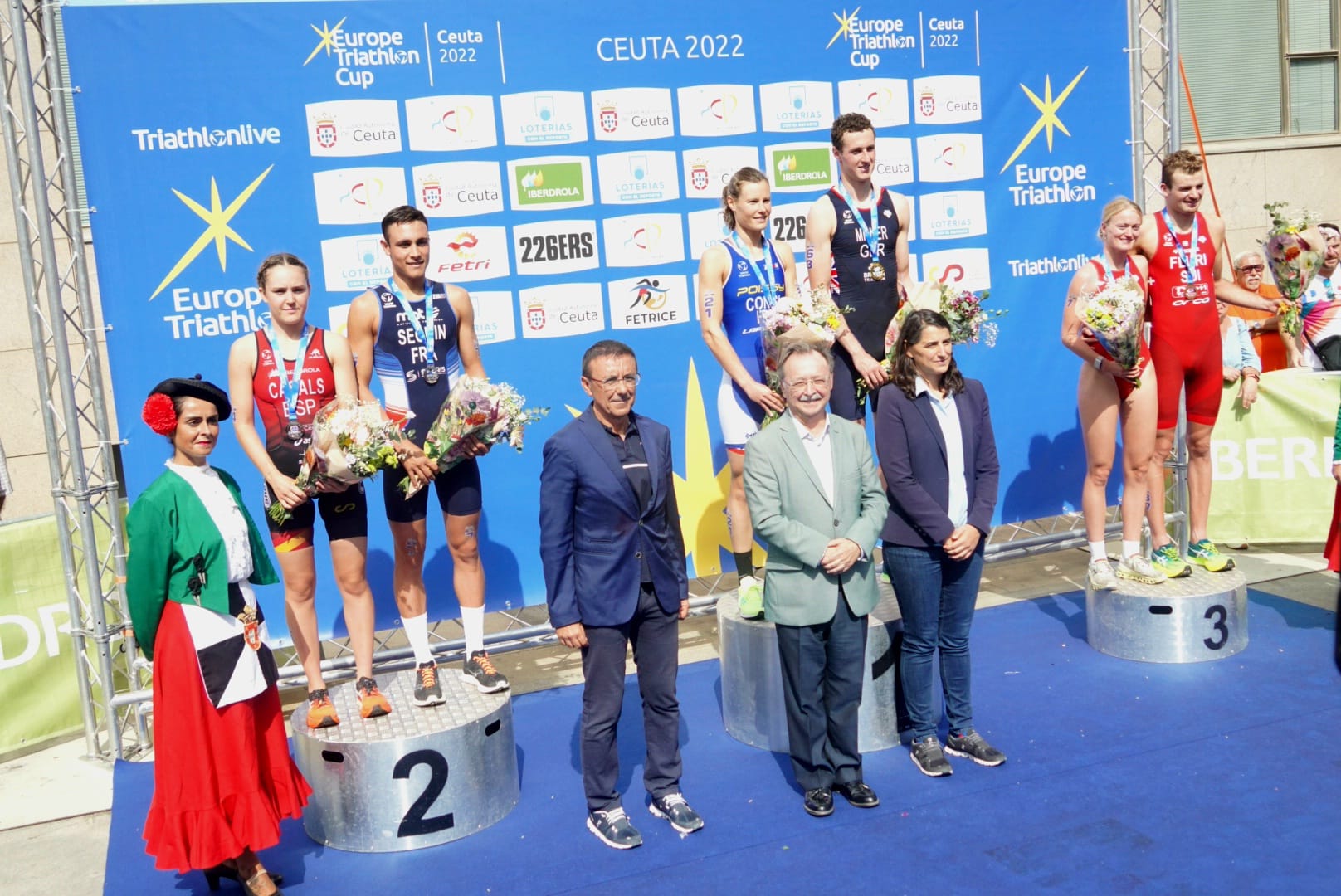 The Elite women's race saw the Hungarian athlete Laura Holánszky come out of the water first with a time of 9:23 closely followed by Helena Carvalho from Portugal. On the bike a group formed at the front with all those who would then compete for the top positions. On the run the race was decided with Kristelle Congi from France getting to the finish line first in a time of 1:01:39. Maria Casalas Mojica from Spain took second place in 1:01:43 and Swiss athlete Nora Gmur came third just 5 seconds later. In the men's race Tom Lerno from France came out of the water first with a long line of athletes behind him. Athletes who were 20-30sec behind from the swim scrambled and pushed hard on the bike to rejoin the front of the race. On the run Hugo Milner from Great Britain had the strongest legs, posting a time of 14:47 to take the win. Yanis Seguin from France took second place and Maxime Fluri from Switzerland came in third just 1 sec behind.
This coming weekend marks the last weekend of racing for the 2023 season. Alanya, a city that has already seen many triathlon events on its streets, will host yet another European Cup in combination with a World Triathlon Para Cup. It will be a special event as being the last one of the season, it counts the same as one of our European Premium Cups. Double the points will see athletes fight hard for the top spots, trying to earn the most points possible.
The Provisional Event Schedule is as follows:
Saturday, October 15, 2022
12:00 Elite Briefing (Pre-Recorded)
11:45 12:45 Elite Swim Familiarization
13:00 14:00 Elite Bike Familiarization (2 Laps)
14:00 15:00 Elite Run Course Familiarization (2 Laps)
15:30 16:30 Elite Registration/Race package pick-up
Sunday, October 16, 2022
10:30 11:30 Elite Women Athletes Lounge open
10:45 11:45 Elite Women Transition open
10:45 11:45 Elite Women Swim Warm Up
11:50 Elite Women Athletes Presentation
12:00 Elite Women Start
12:30 13:30 Elite Men Athletes Lounge open
12:45 13:45 Elite Men Transition open
12:45 13:45 Elite Men Swim Warm Up
13:50 Elite Men Athletes Presentation
14:00 Elite Men Start
16:00 Elite Medal Ceremony
Check out the startlists at: https://www.triathlon.org/events/event/2022_europe_triathlon_cup_alanya
Live timing link: https://portal.triatlon.org.tr/tr/results/race/2022-avrupa-triatlon-kupasi-ve-paratriatlon-dunya/
Related Event: 2022 Europe Triathlon Cup Ceuta
Latest
Videos
---
Latest
Event Galleries