NEWS
White out challenge for winter triathletes in Spain.
By Paul Groves
|
02 Feb, 2015
This weekend saw the first ETU medals of 2015 being presented to athletes. The very same day the Presidents, or their representatives, from 33 Federations met in Loughborough but during the business meetings many were checking for updates from the Cantabrian town of Reinosa.
The Spanish Federation stepped in at the last minute late last year to offer one of its oldest races as the venue for the ETU Winter Triathlon Championships. Other organisers had withdrawn at the last minute due mainly to a lack of funding and it is clear to us all that we really need to have strong funding behind our events not only to make them successful but simply to make them happen. The format, as we read earlier, in Reinosa is for a town run to be followed by a tough 24k climb up to the ski resort. ETU requested a rule exemption from ITU to allow road bikes as the course was on good quality asphalt. If only we had a crystal ball …
The weather forecast suggested that Race Day would be in a small gap between storms but Saturday morning presented the Technical Delegate with a terrible image.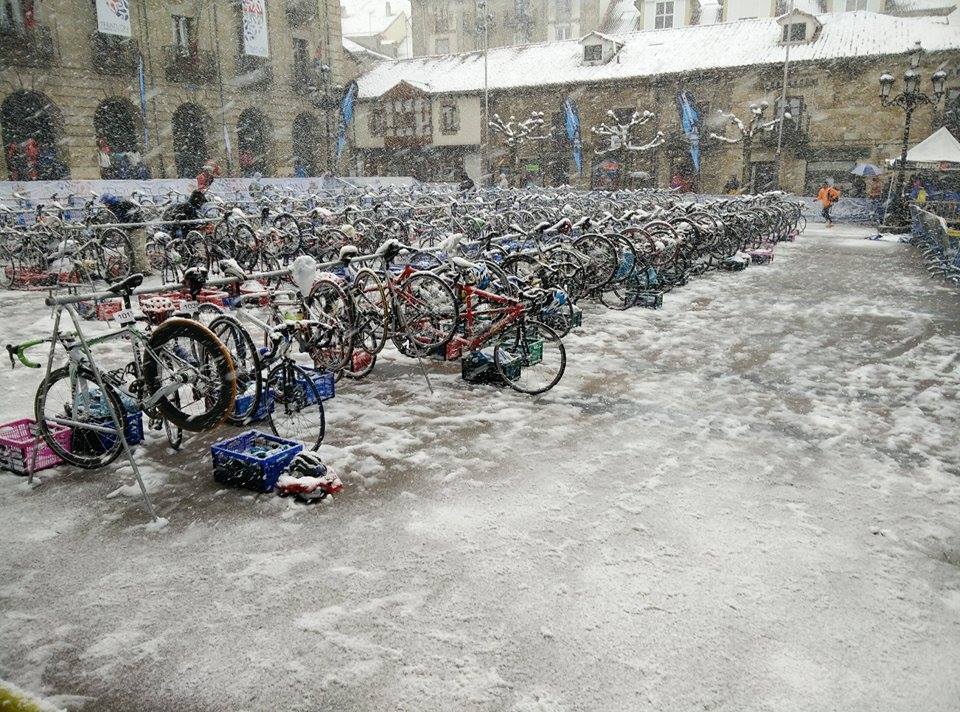 Speaking for the TD, Jorge Garcia explained, "Although the weather forecast was not stable during all the week, we were confident to have the ski segment at the end; the reality is that on Thursday and Friday, the course was ready, and athletes were getting familiar with it. On Saturday morning, the snow came down heavily on the city of Reinosa. We started to think that possibly we need to apply the contingency plan. We checked the roads and the access to the ski area, which was much higher than the city but it was impossible to get there. We immediately called the coaches and explained the situation, explaining that the contingency plan would be to change to a Duathlon and that as the weather was really so bad, the duathlon would be over the sprint distance. We agreed upon 3 hour delay, as the weather reports suggested that conditions would be getting better later in the day. This delay would also give the local authorities time to clean the roads, apply the contingency plan, re-locate volunteers and medical teams, etc. At 13.00 we had a second meeting with the coaches in order to explain the changes; all of them were in agreement to start and from that moment on the process of the event started."


Jorge, as one of Europe's top-ranked officials was there for the Spanish Federation but was the ideal person to have there, as such decisions are not easy to make. The main thing is to keep everyone informed and to secure agreements with everyone. The weather was so changeable that aside from one small period of sunshine, the athletes got a whiteout for most of the day.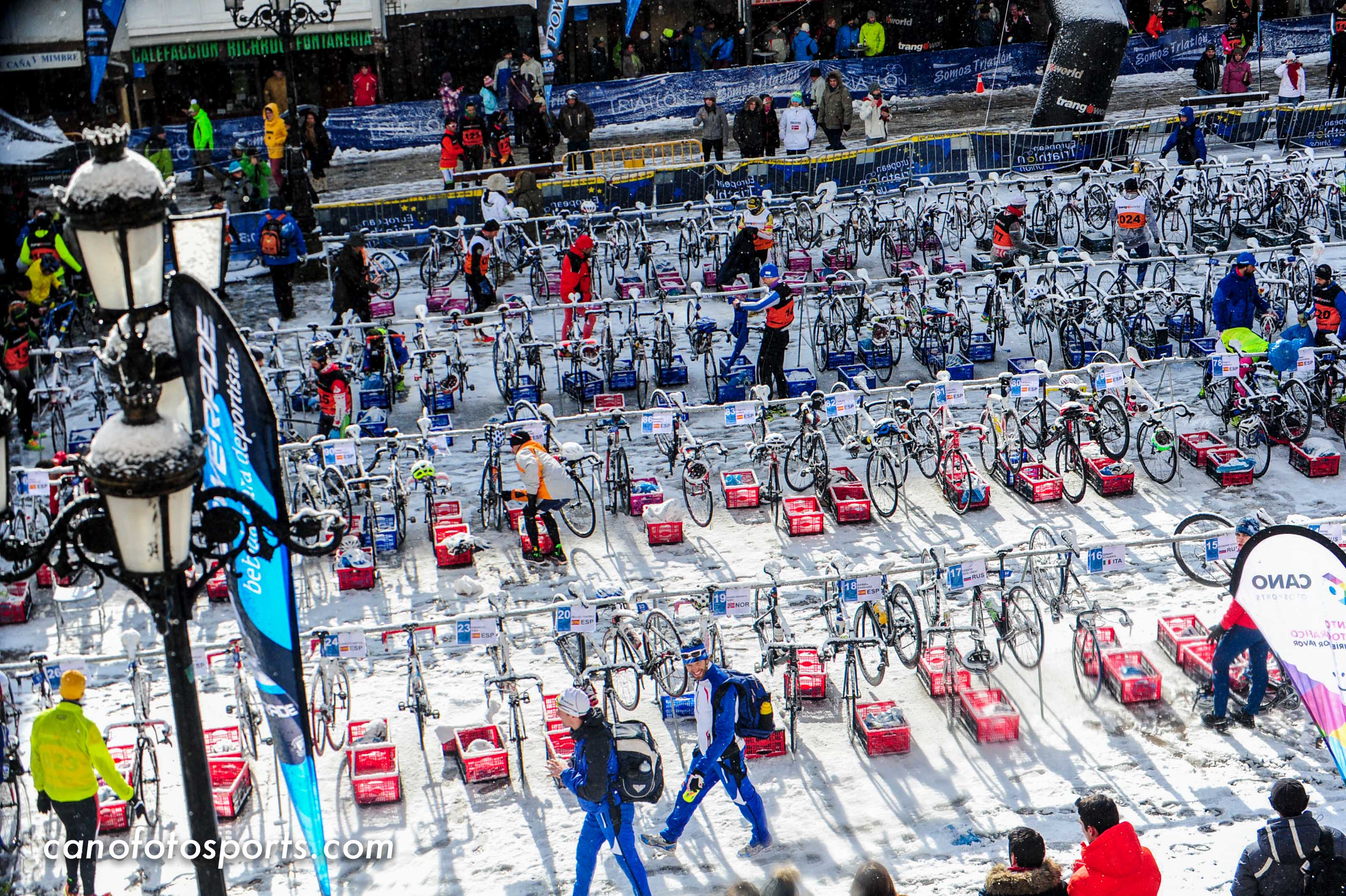 For the Elite Women, there was a battle from the start with very fast pace being set by Russia's Olga Parfinenko and Yana Lavnikovich, and the Czech athlete Šárka Grabmüllerová with Spain's Ana Casares. Choosing her moment and with the home advantage, it was Casares who surged to the front in the first minute.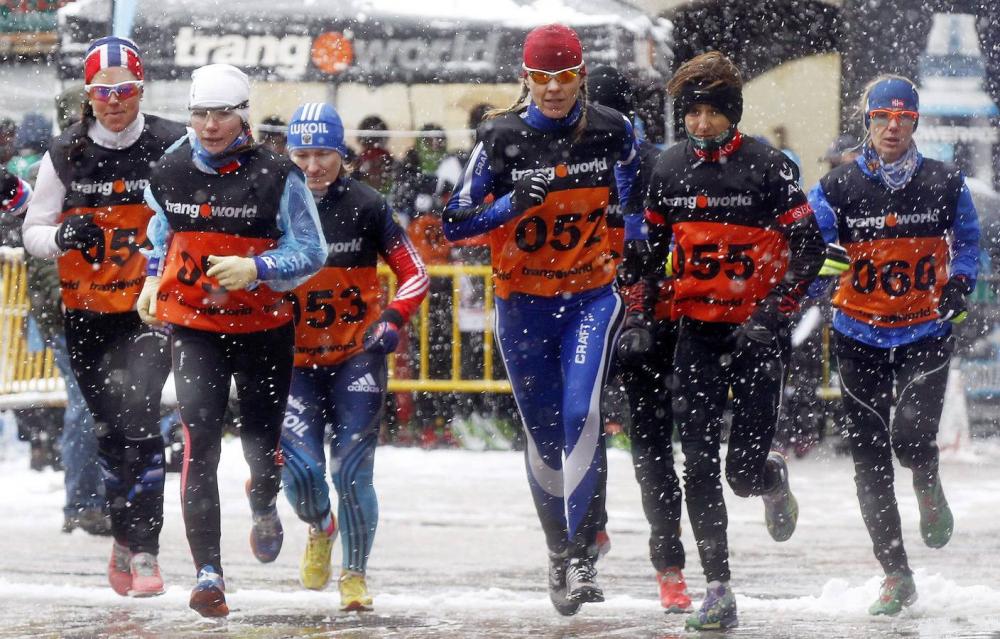 However, the bike course proved a challenge for all athletes and with the Russian and Czech athletes working together, it was not to be Spanish gold. First over the line in 1:04:10 was Parfinenko, with Grabmüllerová a mere 19 seconds behind. Casares possibly paying for her early fast pace had to settle for a hard-earned bronze, clocking 1:06:21.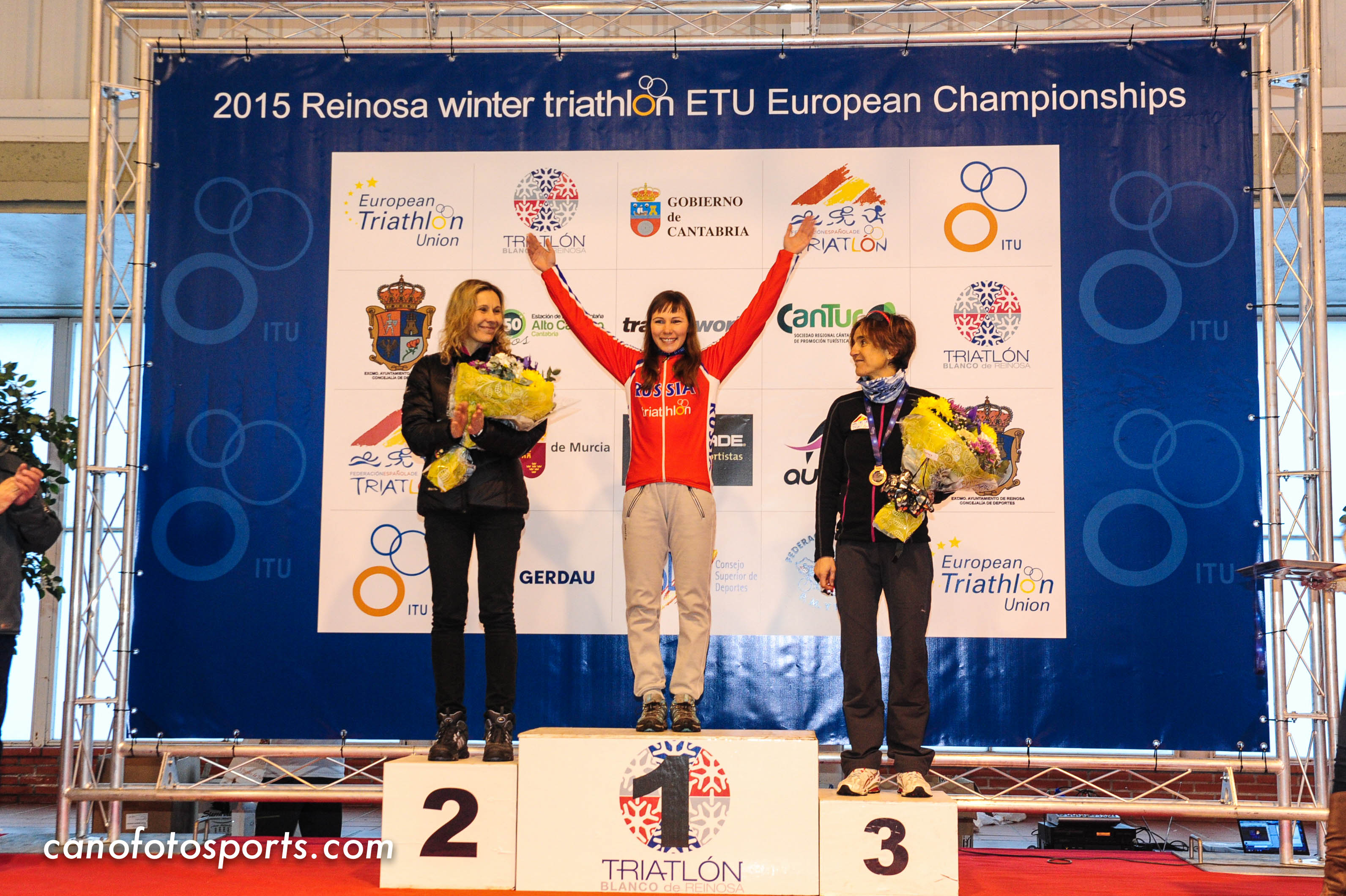 For Grabmüllerová who has been racing as an Elite athlete since 2003, this was yet again her chance to show her amazing skill and strength. "First I would like to thank the organisers, because in those conditions they did miracle with the race! Still it was slippery out on the road bikes in snow storm. I didn't see any accidents, so it wasn't that bad. Huge respect to organisers, it's unbelievable that they managed to do the race. Our journey back home was even worse as we were driving car with summer tires in a snowstorm. Anyway I am really happy with my second place. It was an enjoyable race with a lot of spectators and an amazing atmosphere. The decision about cancelling the ski segment was right, although we were all disappointed. I hope once I will have chance to come back to Reinosa and do the entire thing. I was training as usual in altitude in Livigno. At home I train with my daughters Aneta and Natalie."


Not so far behind Casares and showing great promise in this tough race, was Russian U23 athlete Lavnikovich, taking gold in that category 1:07:02. Silver went to Spain's Maite Murgia Ioldi in 1:10:45.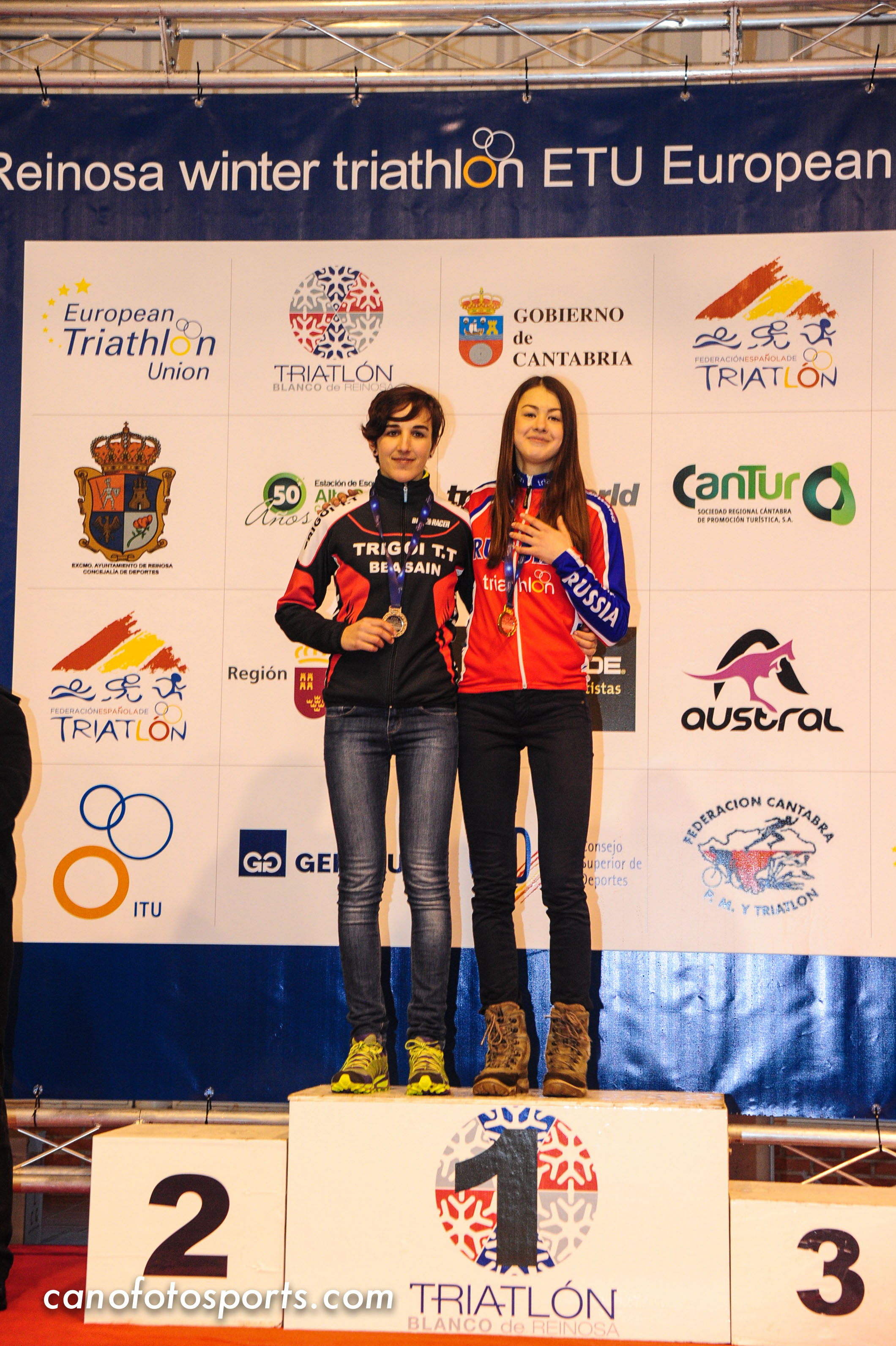 In the Men's Elite Race the 5k run was dominated by the Russian team who have a strong Winter Triathlon schedule of races every year. Again, the pace was fast and coming into T1 a tight group of five were clearly leading. No surprise then that in the group was Pavel Andreev, a multiple European and World champion who has also raced well as a duathlete. Alongside him was Spain's Egoitz Zalakain who was without doubt hoping to steal gold from the Russians.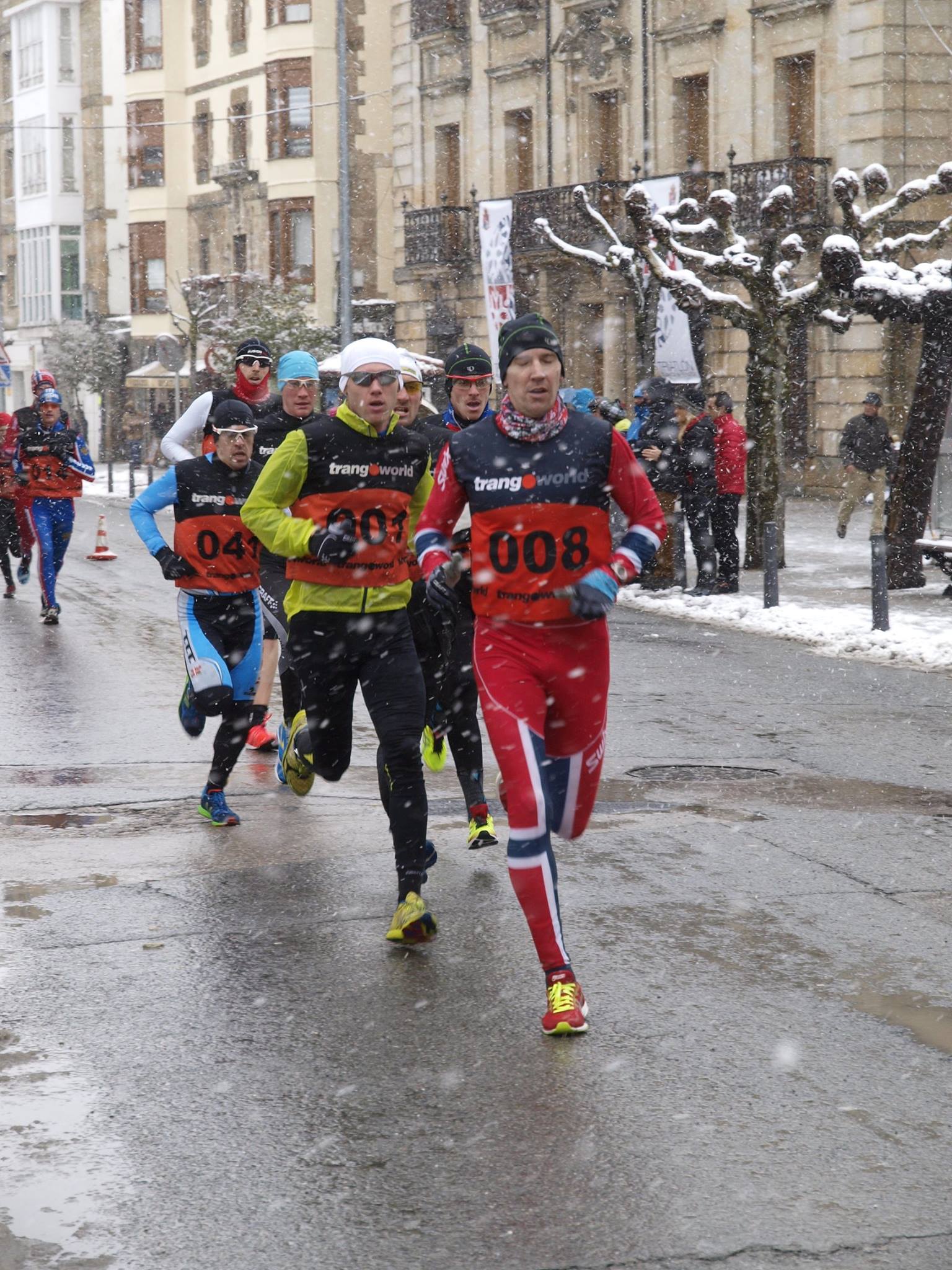 Out onto the bike and for 18k the athletes had a massive struggle in almost blizzard conditions. For the Spaniard some technical issues with his gears took away the advantage he had created by powerful running and pushed his medal hopes almost out of reach.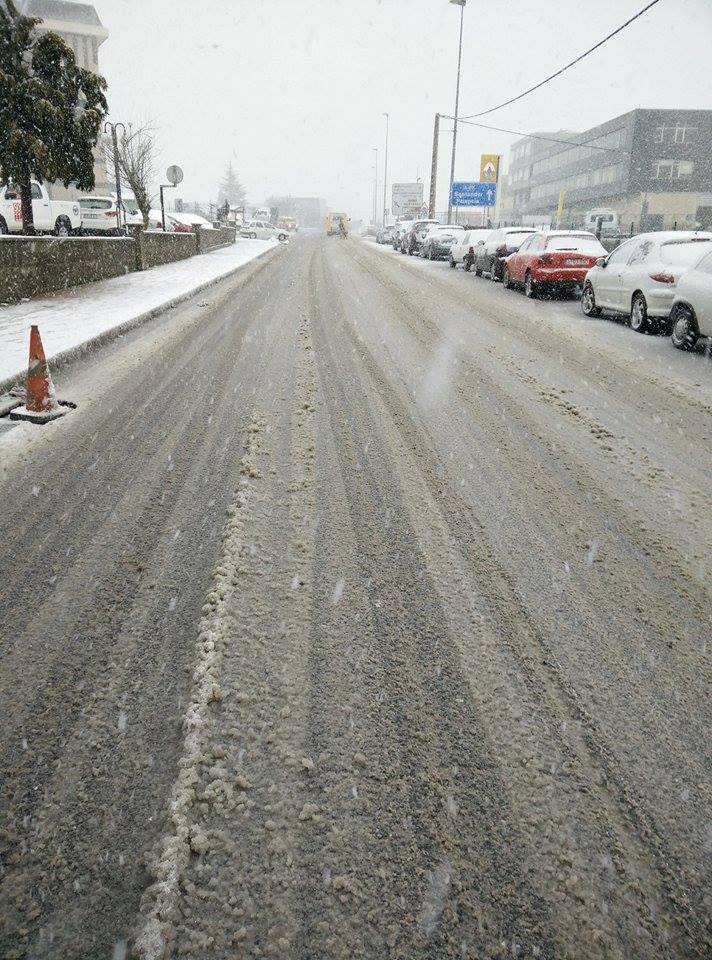 Coming into T2 the athletes were all covered in a thick layer of snow, which they had to shake off before starting the final run. With cold toes, tight muscles in their legs but the knowledge that the medals were now only 2.5k from their grasp the athletes raced through transition. Andreev and Dmitry Bregeda fought hard with Evgeny Kirillov to pull away from Zalakain who pushed as hard as he could but the sprint over such a short distance was just that bit too short for him to catch up the Russian machine and grab a place on the podium.
It was Andreev who once again stamped his mark on Winter Triathlon with a 53:06 victory that was again a sprint finish with him being just 2 seconds ahead of Kirillov. Bregeda took bronze with 43:48.
For Andreev the trip to Spain was a good move. "I am happy to be in Spain, in the European championship. I had heard much about this event in the Internet (ETU reports) and was hoping very much to take part in this beautiful and difficult race. During the last month I was training in the Altai Mountains (South Central Siberia) with the team (Kirillov Evgeny, Parfinenko Olga, Lavnikovich Yana.) We were all ready for a tough race. The LOC announced on race day morning that because of difficult weather conditions the format of race would be changed. I wasn't really upset or surprised even though I am very strong on the skis because I have been racing well in duathlon. With these circumstances I knew that the fight would not be with my rivals but rather with weather conditions; strong wind and sleet. It all worked out well for me and my fellow Russian athletes but we really would like to come back and race this venue in a full Winter Triathlon one day. I would like, on behalf of the Russian athletes to thank the organisers for the event and also for giving us such a warm welcome. We look forward to more competitions in a winter triathlon. Thanks!"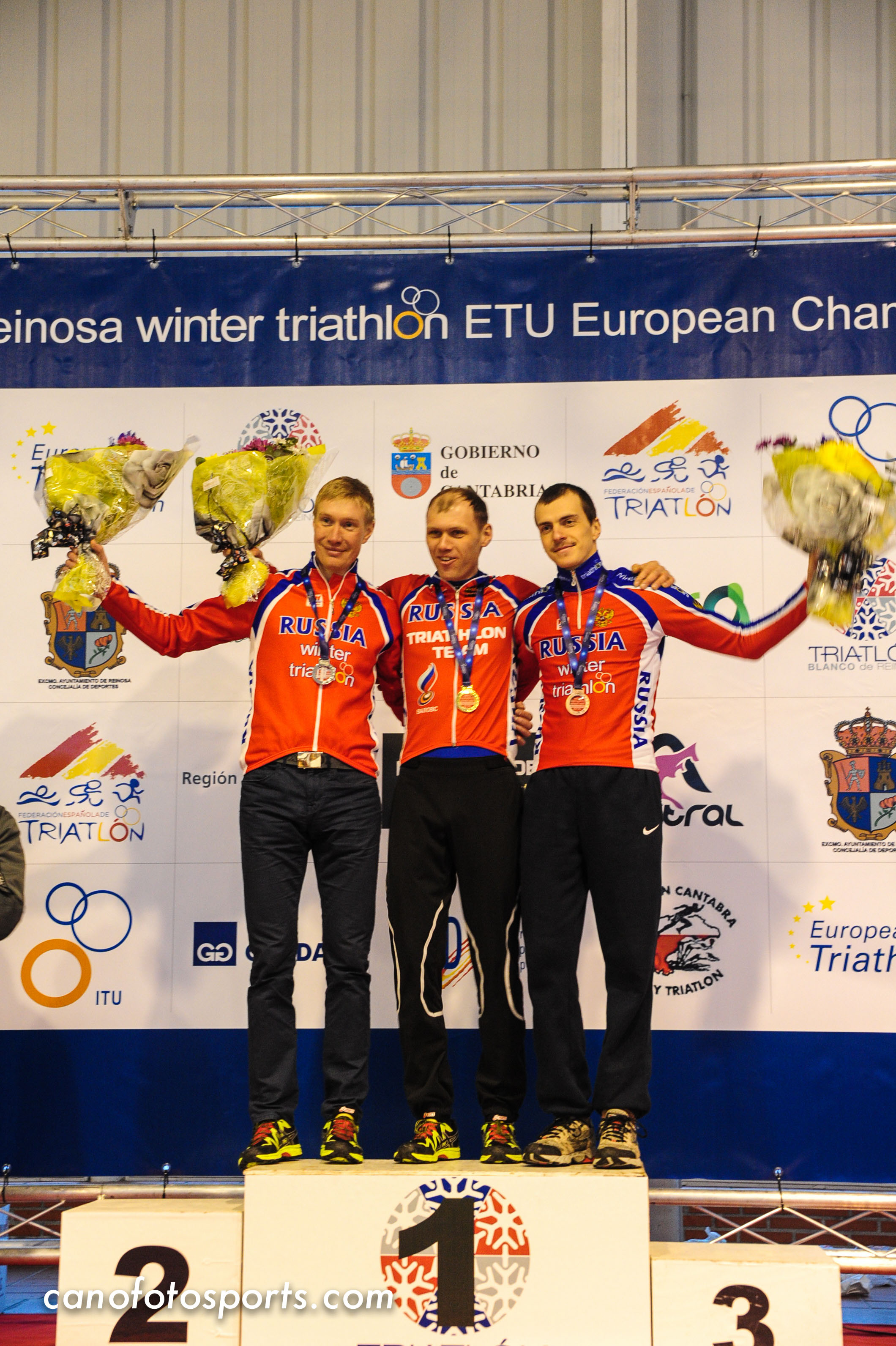 For the U23 men it was great news for Spain as a powerful overall performance from Pello Osoro Gutierrez took him into 5th place overall and into a comfortable gold medal slot in his category. His 54:30 was almost a minute ahead of Pavel Yakimov (RUS) who had to settle for silver and fellow Russian Fedor Golubev took bronze in 55:58.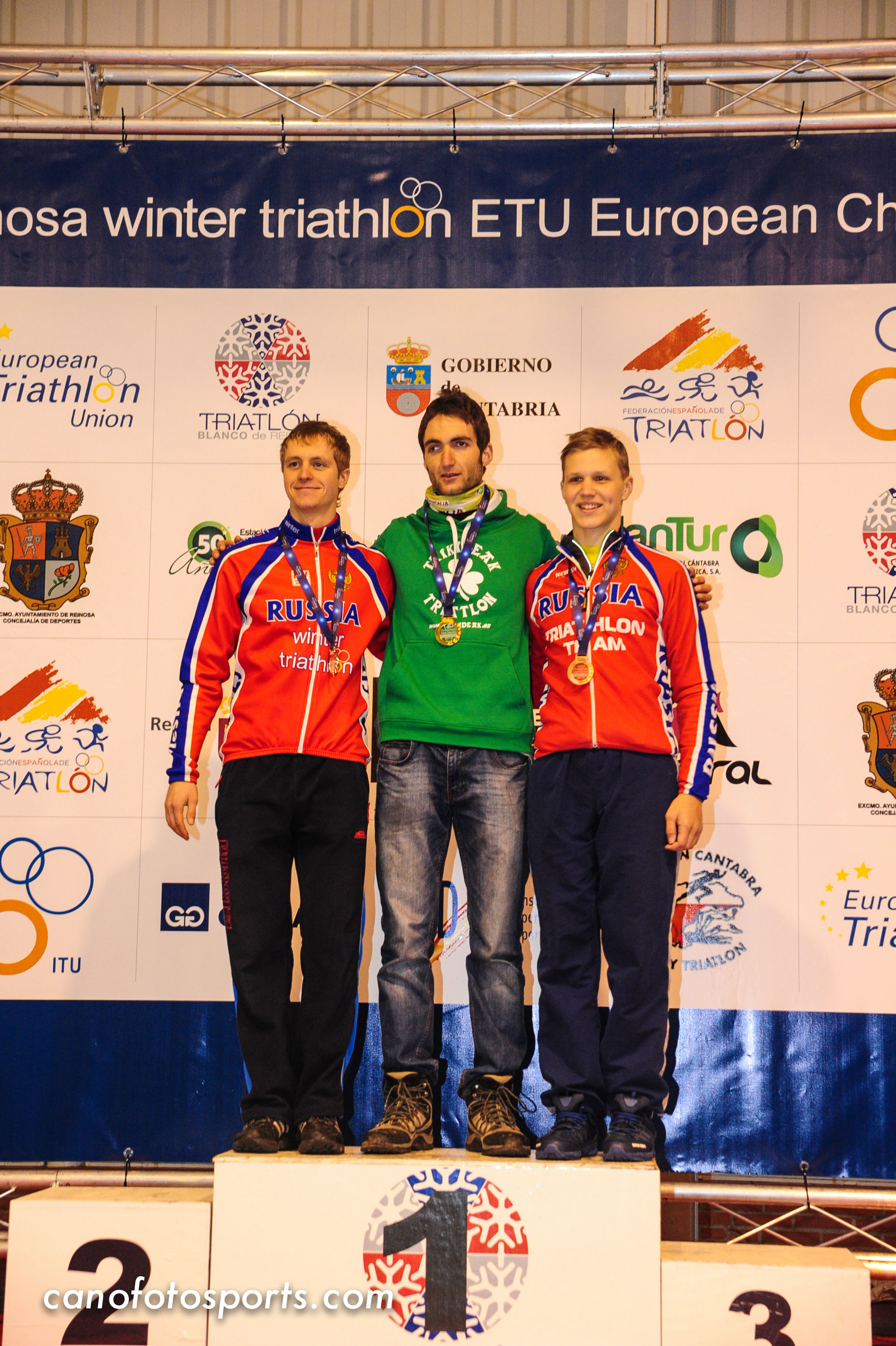 Despite the dreadful weather conditions that created challenges for all athletes, the Parathletes were not going to retire. PT3 and PT4 were represented by athletes from Spain. Their times were more than respectable. The full results can be seen from the link below. Medals went to all three athletes.
For the many Age-Group athletes, our loyal supporters, the change from run / bike / ski to run / bike / run came as a great disappointment but all could see that the conditions were so bad that anything was better than nothing. It was a chance to renew old acquaintances. It was a chance to battle against old friends. It was a chance once again for the ETU Winter Triathlon family to get together.
The medal table showed a massive domination from the Spanish athletes. They swept all the medals away with the exception of the Women's 45-49, where gold went to Russia and to the older men's categories where Germany dominated, taking two golds and one silver. The huge collection of ETU medals will be a nice reward to the Spanish Federation who worked so hard before and during this race to ensure that the athletes would not be denied a race.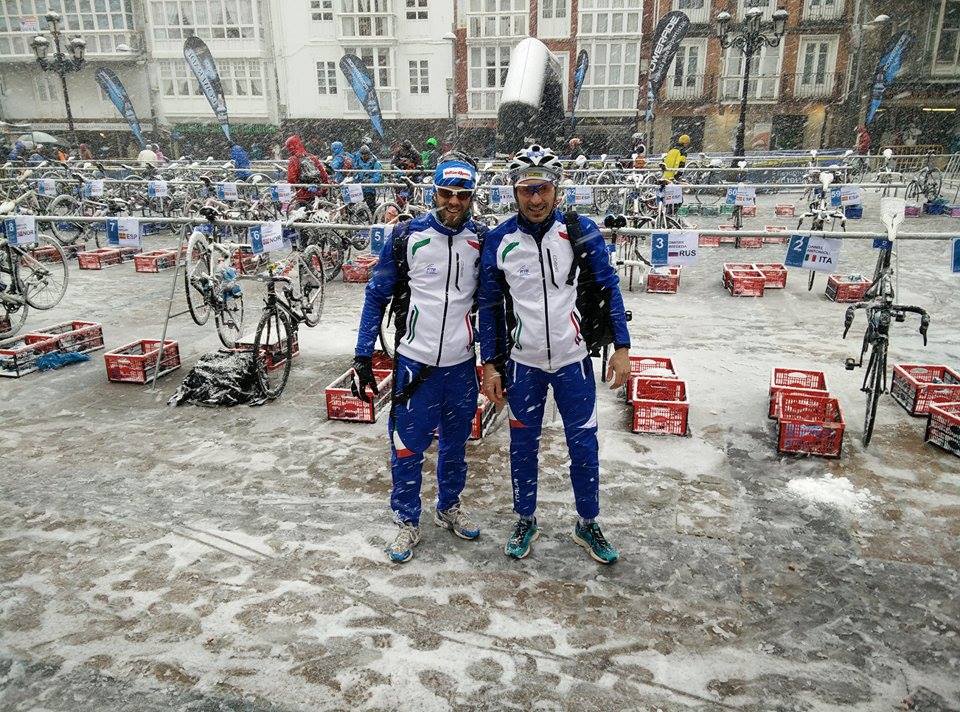 Now is the time for any athletes, coaches, Federations and LOCs to consider plans for the next ETU European Winter Triathlon Championships. Europe has historically had the best events and the strongest athletes. Winter Triathlon, European-style, is loved by the athletes and there is a strong and vocal group of them who want nothing better than to run / bike / ski. The cry went up from the Italian team who were in good voice, "Faremo tutto il possibile. Ci crediamo! Save the winter triathlon !"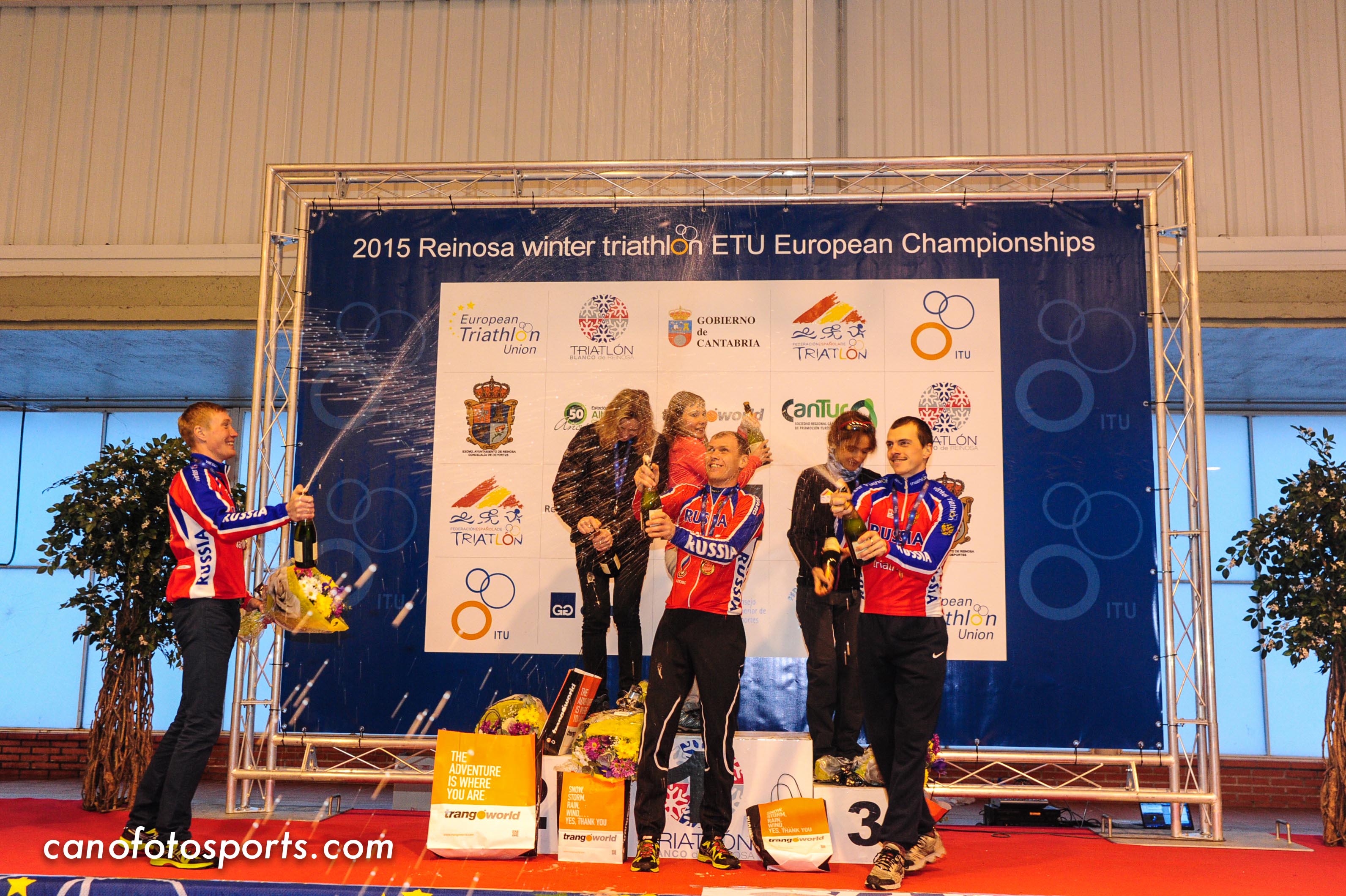 Many thanks to Šárka Grabmüllerová, Marco Bethaz and the Spanish Triathlon Federation for the photos that provide us with such great memories.
---
Article gallery
Related Event: 2015 Reinosa ETU Winter Triathlon European Championships
Latest
Videos
---
Latest
Event Galleries