NEWS
Tartu promised and Tartu delivered.
By Paul Groves
|
11 Jul, 2017
Tartu promised and Tartu delivered. A great race with thrilling action and a tremendous champagne celebration was the reward for the LOC for the hard work they had put in for this year's ETU Sprint Triathlon European Cup. This was a great chance for the organizers to see just what they have to do for the 2018 ETU Championships, which will see the Elite, Juniors and Paras racing for Sprint Championship medals, the Junior Mixed Relays and of course what we anticipate will be a huge turnout for the Age Group Standard Distance championships.
A quick tour of the usual Social Media showed that the City was ready and that there was plenty to see and do in this delightful Estonian location.
This weekend saw medals, prize-money and points for the ETU rankings series up for grabs for the Elite and it was a pretty impressive line-up for both men and women's races.
For the thousands of spectators from Estonia, there was only one favourite in the women's race and that was Kaidi Kivioja. She has been given so much support by the Federation and has in return given so much back into the sport, by encouraging athletes of all ages to swim, bike and run. Her victory was always going to be challenged by Italy's Angelica Olmo who won a tough race in Weert earlier this year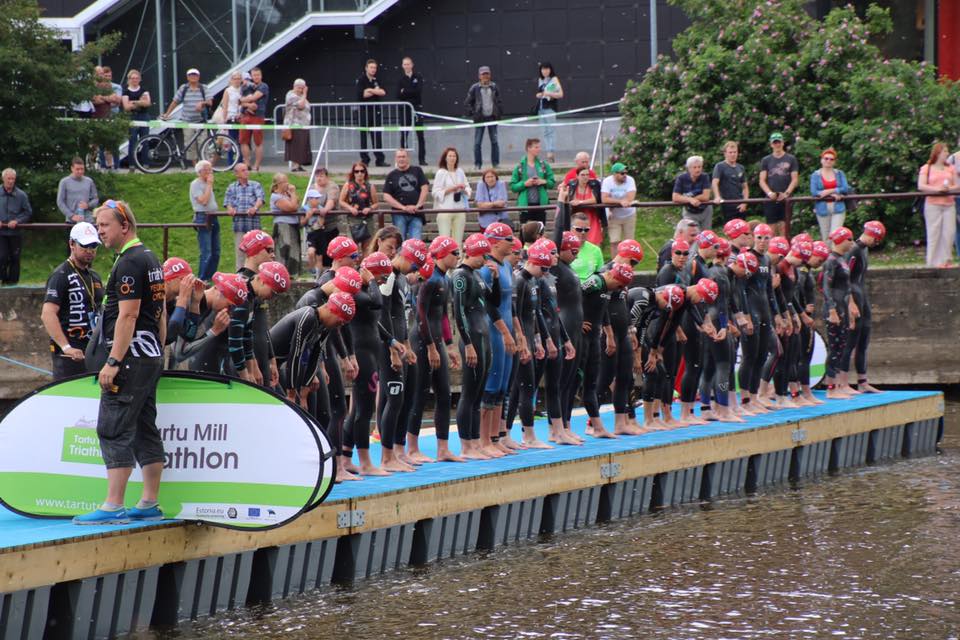 In the swim, it was Great Britain's Chloe Cook who led them out.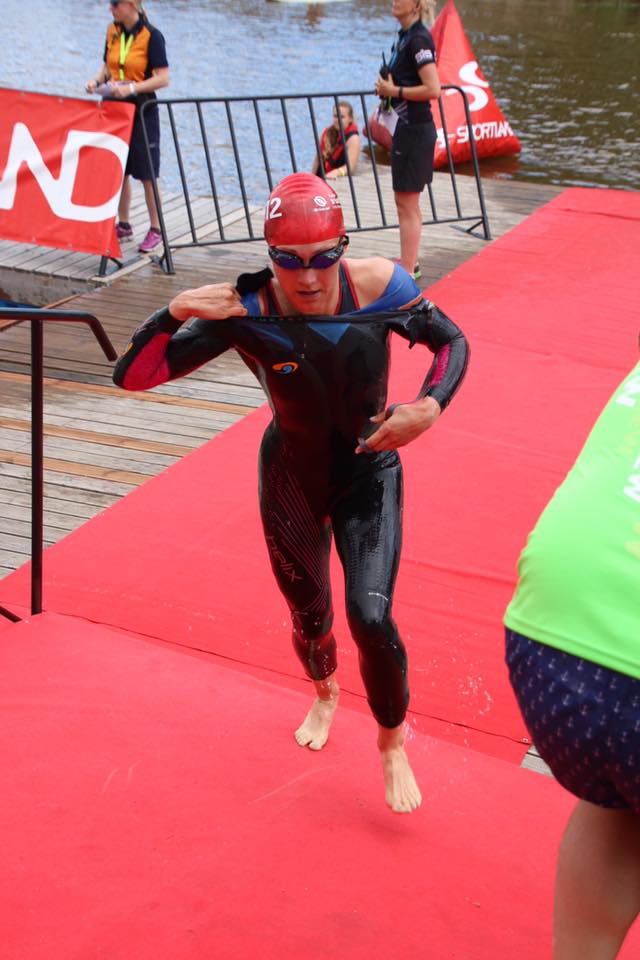 After a promising performance in Burgas in 2015 she has been side-lined but, with an enormously strong pedigree she has retuned and looked in form as she led them into T1. Olmo was sensibly placed, a few strides behind and they were accompanied by Canada's Emy Legault who has strength on the bike, which would certainly help Cook and Olmo. Dangerously close was Russia's Ekaterina Matiukh. Once working inside the pack they would certainly be able to build up a huge lead over the chasing athletes.
Kivioja worked hard after the swim and caught up the leading group of Cook, Olmo, Legault and then Matiukh joined and soon it was game on!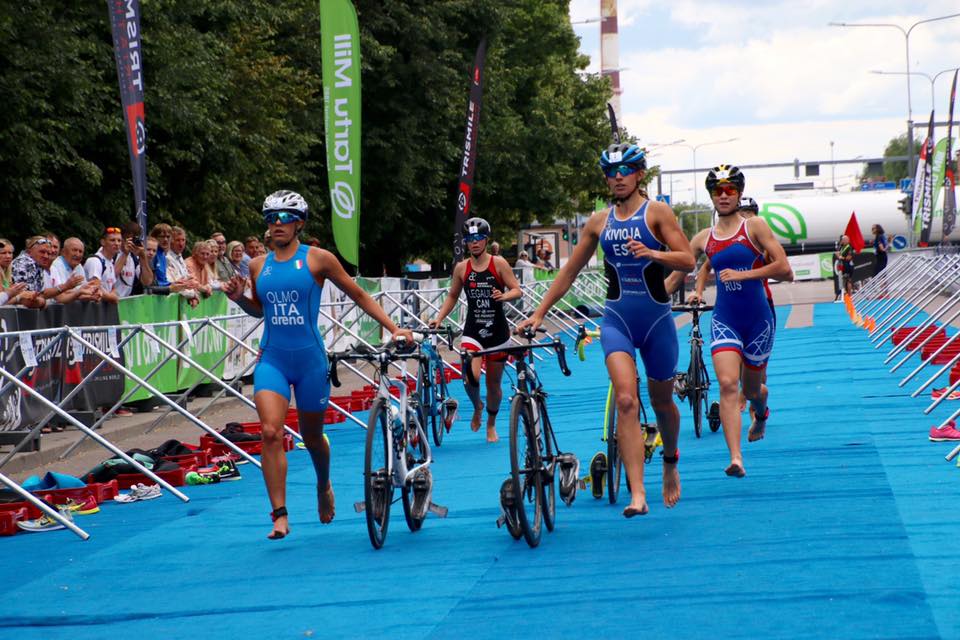 The five of them led into T2 and it was the Estonian who sped away from the blue carpet. Soon it was just Olmo, Kivioja and Cook as the pace cranked up. From behind, they were spotted and caught by the US athlete Chelsea Sodaro. From way down the pack, this athlete was tearing along the 5k course, racing to the max. She caught first Matiukh, then Kivioja and was closing down on Cook and Olmo when all of a sudden the blue carpet was in sight.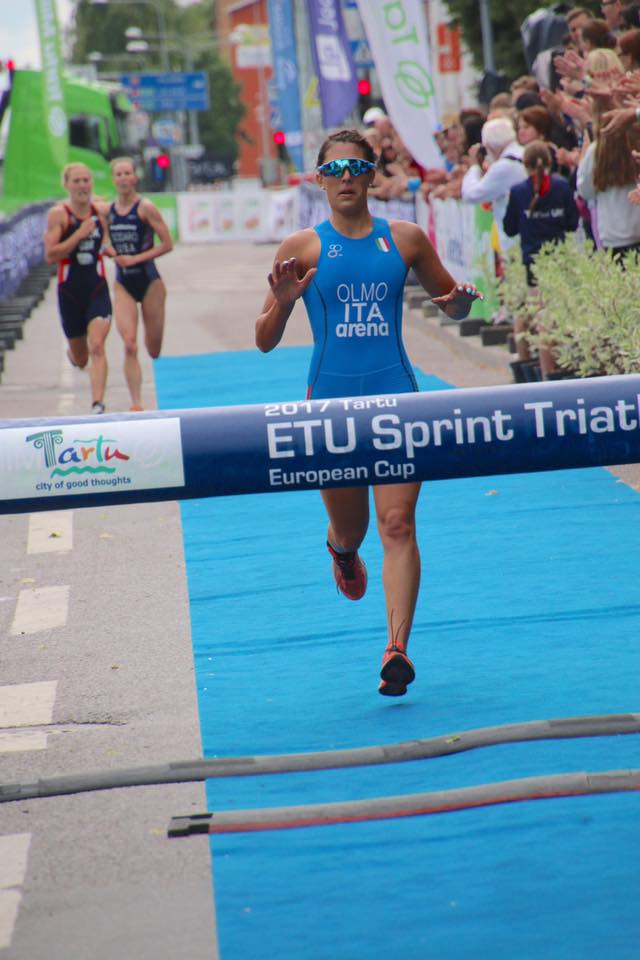 Olmo's determination and pace took her to the line and behind the sprint was on with Cook only just holding on to the silver medal position, in a superb return to fitness. Sodaro's 16:02 was amazing.
Thrilled to get back to back wins, Olmo took time to share her race with us. "The swim was pretty strange with a good current and we came out with a little advantage. Kaidi along with Ekaterina came soon back into the pack and we gained around 50" on the bike trying to help each other (I wasn't feeling so well on the bike so I was sorry not to help well the other girls).The run was a battle with Chloe and Kaidi and there was the comeback of the American girl and I attacked at 400m from the finish and just had a little gap to get the win! Yeah the race is so well organised and the crowd is just amazing!! I'm so happy to take another victory today! I'm really happy for that!"
For Cook, "It was such fun to be back racing again after injuries last year! The bike was tough and technical which was great and then the run came down to a sprint with Olmo, myself, Kivioja and Sodaro so I'm really happy to come away with a podium! I have to say too, what a lovely town Tartu is and how well-organised the event was! It will definitely be a great host for the Europeans in 2018! Big thanks to them and of course to my sponsors, The Tri Store."
All the way from the USA, Sodaro was also full of praise for the event. "I am very thankful for the opportunity to race in Tartu - a well-organized race in a beautiful city. This is my first time to Estonia and I loved every minute of my time here. The competition was wonderful and all of the volunteers were kind and extremely helpful. I'm happy with my race. I would have liked to come out of the water with the leaders, as I was not able to catch the front group on the bike. I left myself a lot of work to do on the run. I'm excited to be on the podium on my second European Cup. The competition was stellar, and it's always fun for the spectators to see a sprint finish. The ladies ran very strong at the end. The spectators were fabulous! A long stretch of the course was lined with engaging fans. Tartu knows how to put on a triathlon!"
So, Tartu – from the Elite Women – you did well.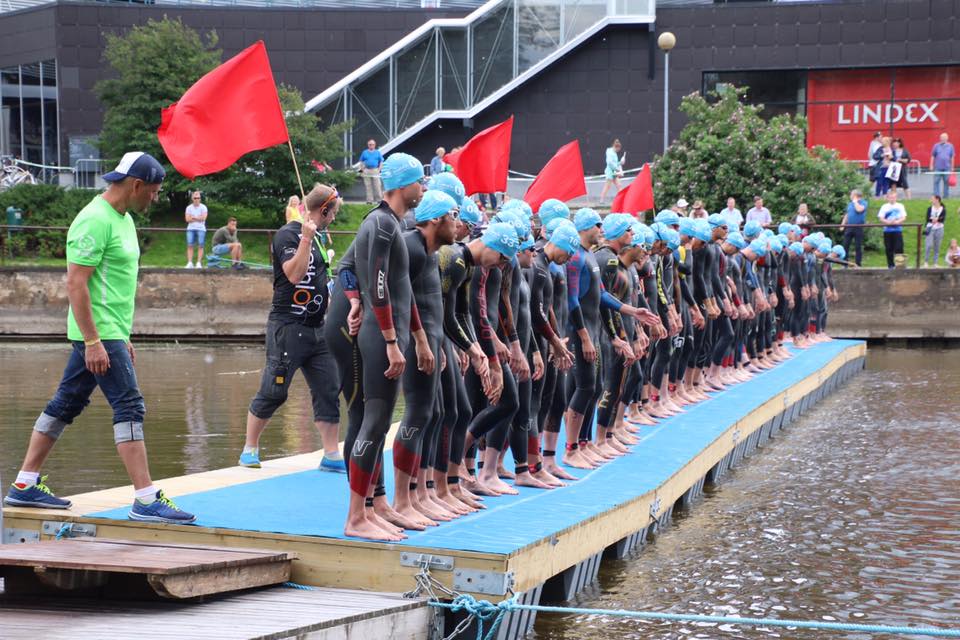 The Men's race was also full of top names. But were they on form, or would some of the newer and younger athletes use this race to make their mark?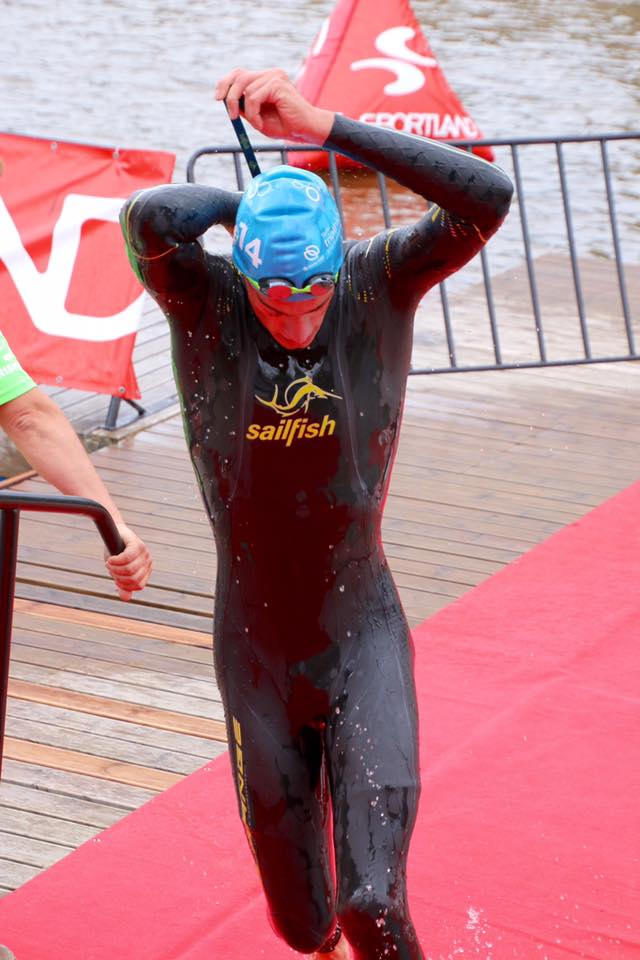 The swim was led by the ETU Aquathlon Champion, Hungary's Márk Dévay. He was leading by a country mile and set off onto the bike alone.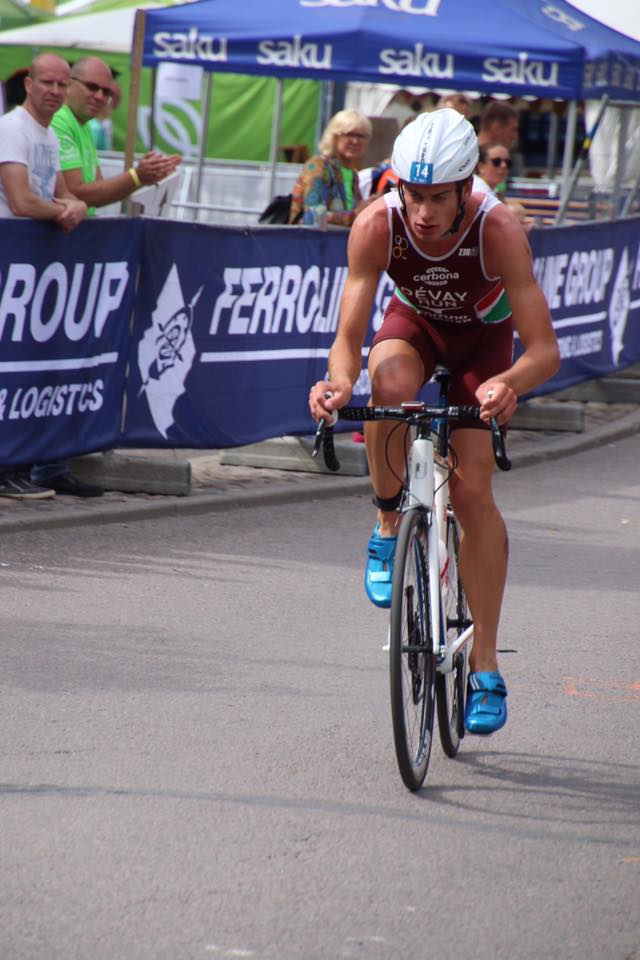 Soon, though, he was caught by a chase pack that contained the winner from the Weert race, GB's Callum Johnson. Could it be that as in the Women's race, Johnson could manage back to back gold?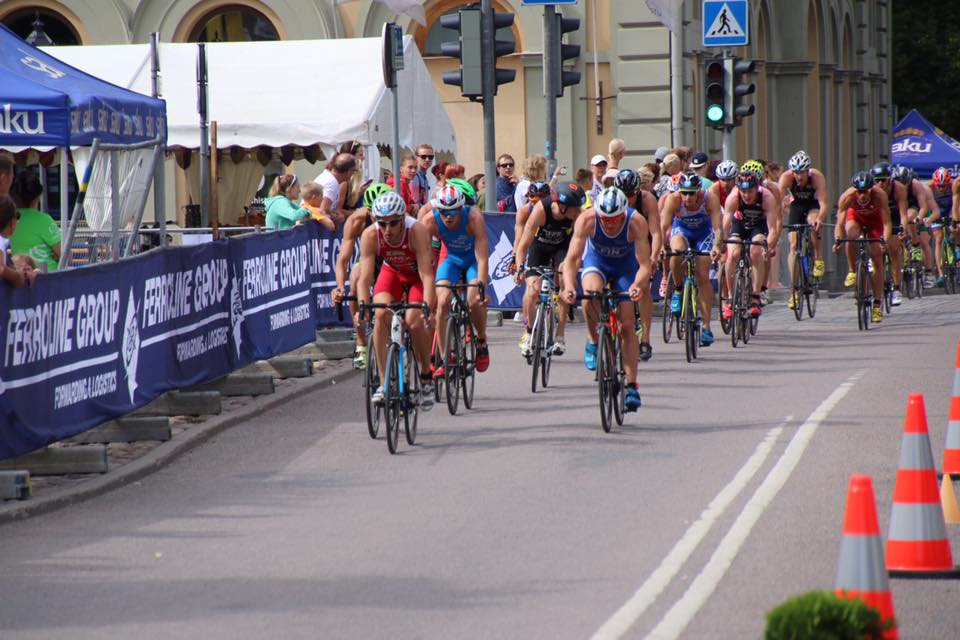 The large peloton was shifting fast along the 20k bike course but any slip, any error would spill an athlete out of the pack and their race would be over. No room for mistakes then.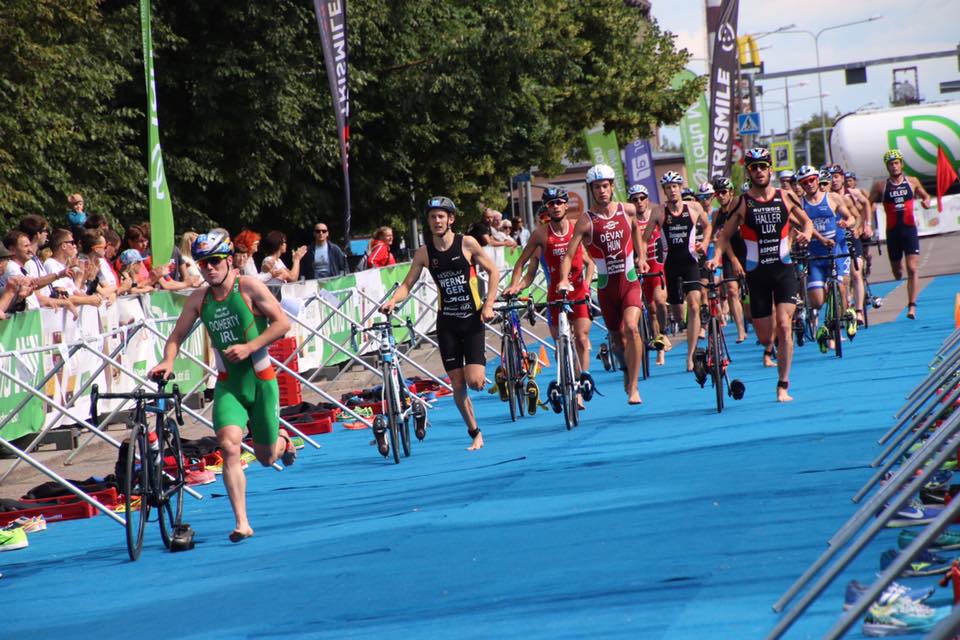 Entering T2, it was Ireland's Con Doherty in the distinctive Irish green who led the pack. He was racked, shoed and off before most could blink and was running fast but was being chased by some of the fastest.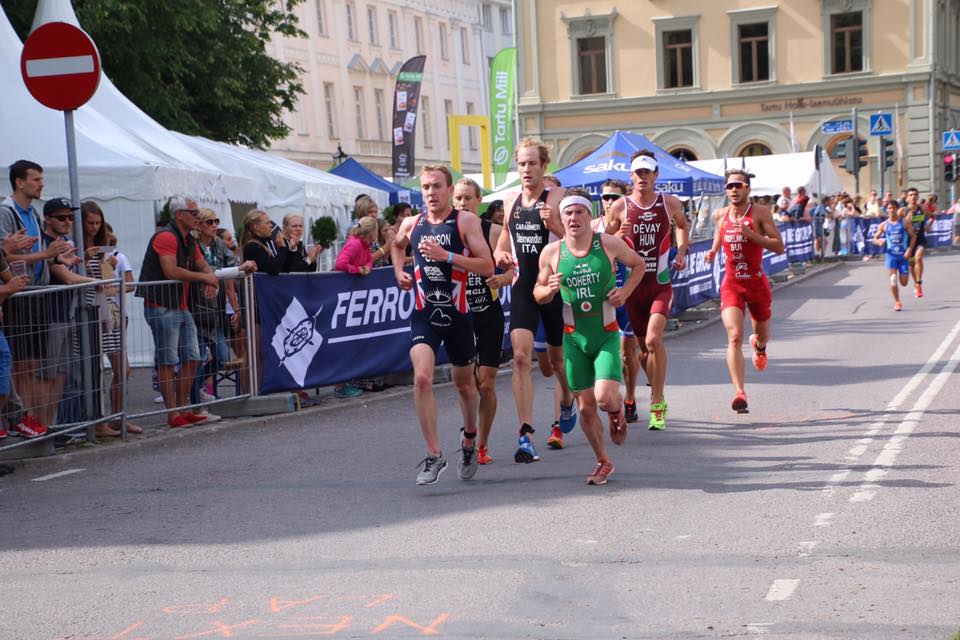 Soon a leading group of 8; with Doherty, Johnson and Dévay but tucked in was the tall Italian Matthias Steinwandter who won the race last year and who would certainly be eyeing the double.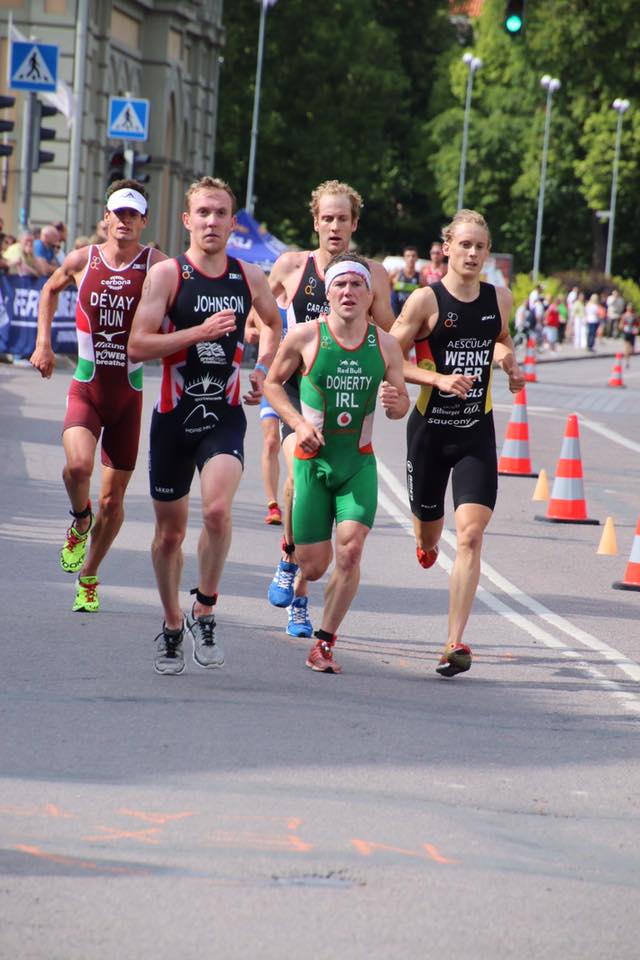 Former German Junior champion, Valentin Wernz was there but the pace was relentless and soon, they were just five. Doherty still leading, Johnson on his shoulder, Wernz beside him, Steinwandter towering above them and Dévay just hanging on.
A final kick from Wernz took him into the lead but Johnson threatened him all the way to the line.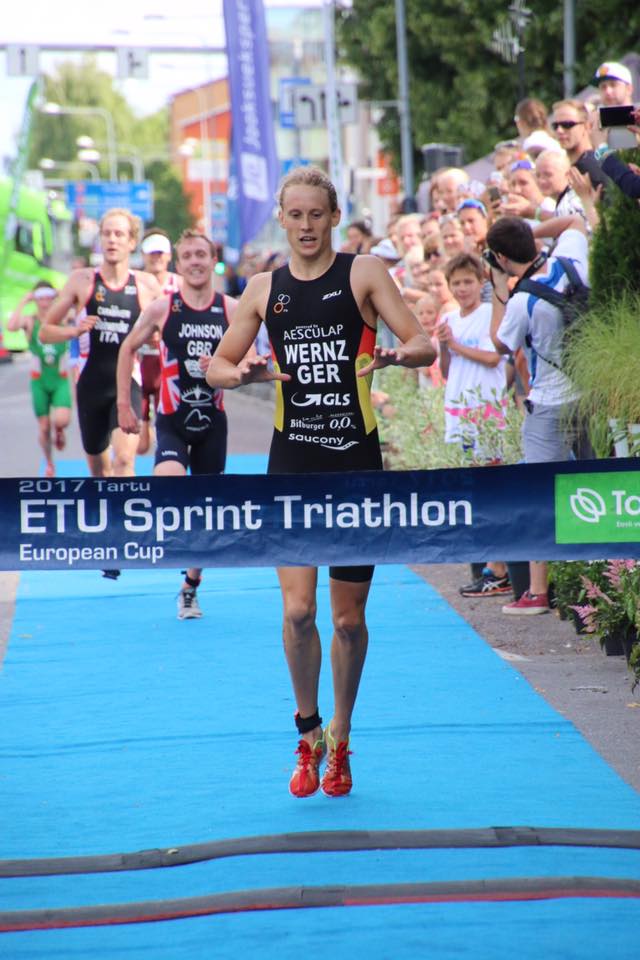 It was Wernz who had that extra pace. Johnson settled for silver and the Italian victor from last year came away with bronze.
The battle between Dévay and Doherty was won by the Hungarian, but only just.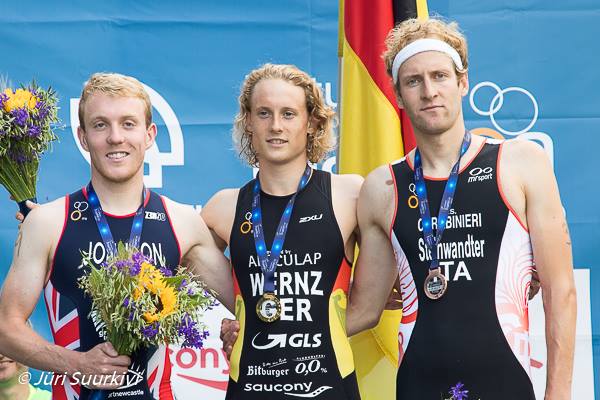 The gold medal firmly in his hand, Wernz said after the race, "Das Rennen war super! Der Sieg kam sehr überraschend. Ich habe mich schon beim schwimmen sehr gut gefühlt und bin mit der Spitze aus dem Wasser gekommen, die Radstrecke war sehr anspruchsvoll wegen den vielen Kurven und Schlaglöcher. Beim laufen war ich dann sofort in der Spitzengruppe mit dabei. Ich weis das ich sehr schnell am Ende sprinten kann und habe dann 300m vor dem Ziel attackiert und habe gewonnen. The race was superb and the victory was a real surprise. I felt pretty good in the swim and came out of the water with the leaders. The bike course was quite complicated, with the many bends and potholes. Out on the run and I was able to get with the leaders pretty soon. I know that I can kick at the end amd so I waited until about 300m from the finish and then attacked … and won !"
For Johnson, "I really enjoyed the weekend. It was a great race, executed well and I was really impressed by Tartu! Really pleased with my swim, I exited the water inside the top 10. The swim was tough, position in the water was really important due to the strength of the current in different places. It was a rough swim around the turn buoys as the loop was only 290m.
Onto the bike there was a front group of around 15/20 initially. We were caught by another group after the first lap which made the group around 35 in total. I didn't realise this until approaching T2 as I was always riding near the front of the group rarely moving outside the top 10. The small hill and technical course made for a tough ride at times.
I left T2 in around 6th place with a quick transition. I felt heavy-legged for the first 1k but after that I began to feel more relaxed and shared the lead with Irish athlete Con Doherty. As the finish approached I knew I was running strongly and wanted to make it tough and not leave it to a sprint finish. I pushed on with 1k to go but was overtaken by surprise with around 200m to go and just couldn't get back to the German athlete but held on for 2nd comfortably, although it was very close behind!
I learnt my lesson at the end of that run but it's all experience and am very happy to be on the podium for the second time this season. I'm pleased things are moving forward and excited to race at European U23 Champs in a few weeks' time. Without doubt, I could not be racing without the continued support of Sport Newcastle and without the encouragement of those athletes in my training environment at Leeds and of course, my sponsors Blueseventy and Start Fitness."
Our bronze medal winner showed no signs of disappointment from the 2016 winner, Steinwandter, "Non c'è molto da dire riguardo ad una gara che mi ha visto pronto ed in grande forma. Finalmente una prestazione che definisce, a mio avviso, la mia preparazione in questo momento: un buon nuoto, una buona frazione ciclistica ed ottime sensazioni nella corsa. Sceso dalla bici sapevo che potevo fare la differenza e che gambe e testa avrebbero lavorato all'unisono. Concludo la gara a Tartu con un ottimo terzo posto e grandi aspettative per il futuro!!!! Stay tuned!!!!!
Not really much to say on a race that saw me ready and in a great condition. Finally a performance which, in my opinion, defines my preparation at the moment: a good swim, a good bike fraction and great sensations during the run. After the bike I knew I could make the difference and that legs and mind would work at the unison. I conclude the race in Tartu with a great 3rd place and big expectations for the future!! Stay tuned!!!"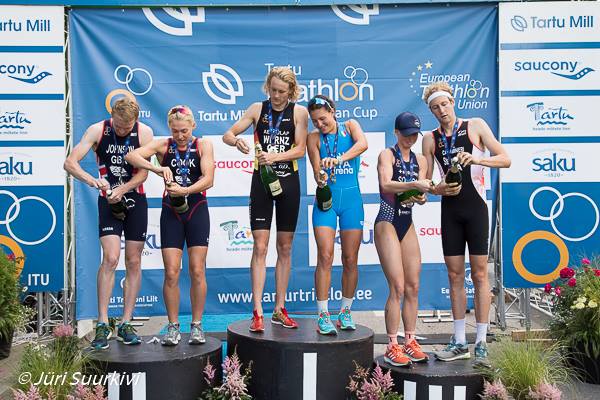 So far we have heard from the medal winners but winning medals, whilst it does pay the bills and get you sponsor exposure, is not the whole story.
Just have a read of this very honest piece from Irish athlete, Ailbhe Carroll.
"You win some you lose some the saying goes…
Not every win means top of the podium however. There is only one space for one human up there but there are a lot of other people who walk away from the race happy…a win you see.
I went into Tartu with great hopes of placing in the top 10. My swim was there and I had proved that in my last few races. My bike legs were attached and I'm running better than I have before. No reason why it shouldn't have come together on the day.
I was very relaxed before the race and had gone through the course in detail. I was very excited to get going and just enjoy what I had hoped would be my best ETU cup result yet.This was not to be the case as it just didn't happen for me. No outstanding reason as to why I couldn't nail it. Couple of little things that have been noted to improve upon for next time.
My swim was poor. My T1 I felt was good but upon analysing the results it turns out that 4 of the top 12 girls swam with me…so the race was there…I just failed to capitalise on that somehow.
Biking has always been a strength for me and with Tartu being a very technical and challenging Hilly course it looked like a day for Swim bikers. I went ahead and lost focus for a split second on a STRAIGHT bit of road and lost the group. Who does that?! ME!
The group were riding away on the technical bits and the gap was growing…I was a 'little' annoyed at this so put the head down and closed the gap to the group…twice. (the first time I made contact was on the hill where a Russian gal put in a burst…enough to hit me after chasing.) I got on the group again and didn't make that mistake twice.
The run…who knows. My legs were a bit shocked and although I knew a good run would possibly get me inside the top 20 ...it just wasn't there.
I was bitterly disappointed coming over the line. But disappointed doesn't knock you, it drives you forward and only adds fire to the belly for the next.
I had a cracking weekend of laughter and endless giggles with the Irish and the British contingents…let's do this again sometime!
A big whoop Whoop for the 3 stand out races Con Doherty Calum Johnson Chloe Cook you guys are just legends and it was awesome to see you do your thang! "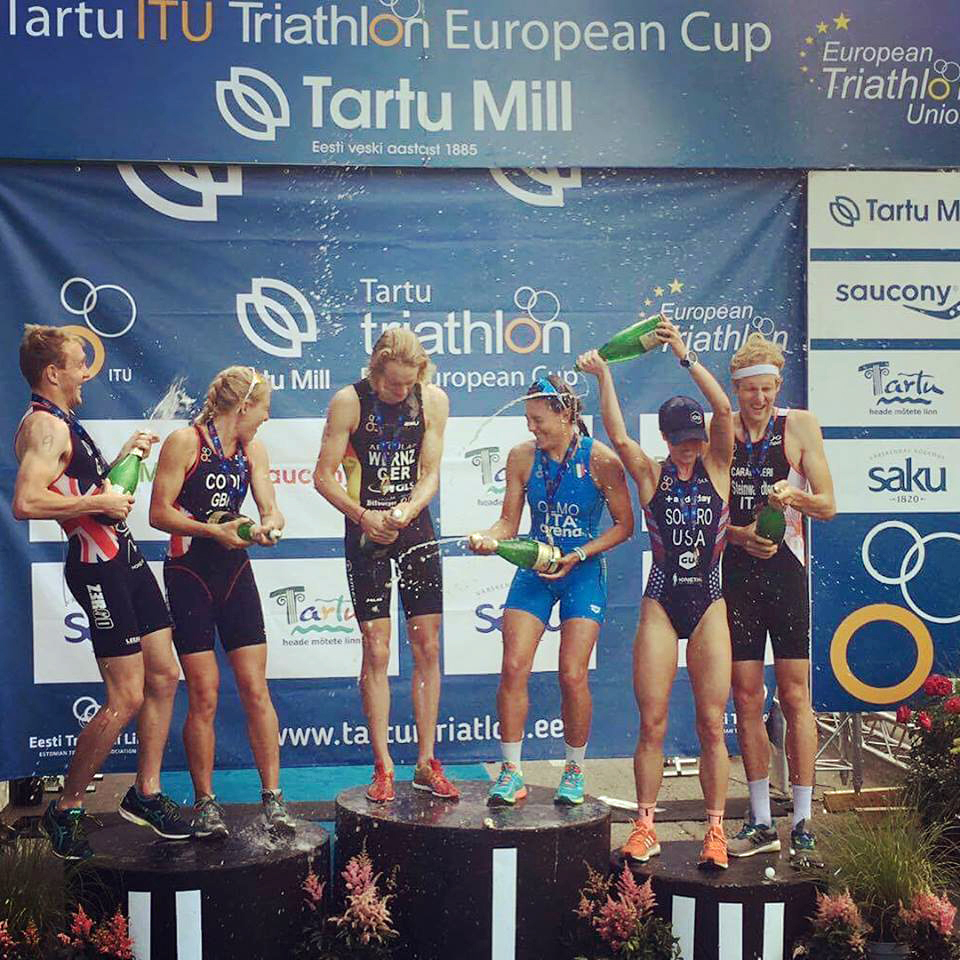 Our thanks go to Viviane and to Jüri Suurkivi for some great photos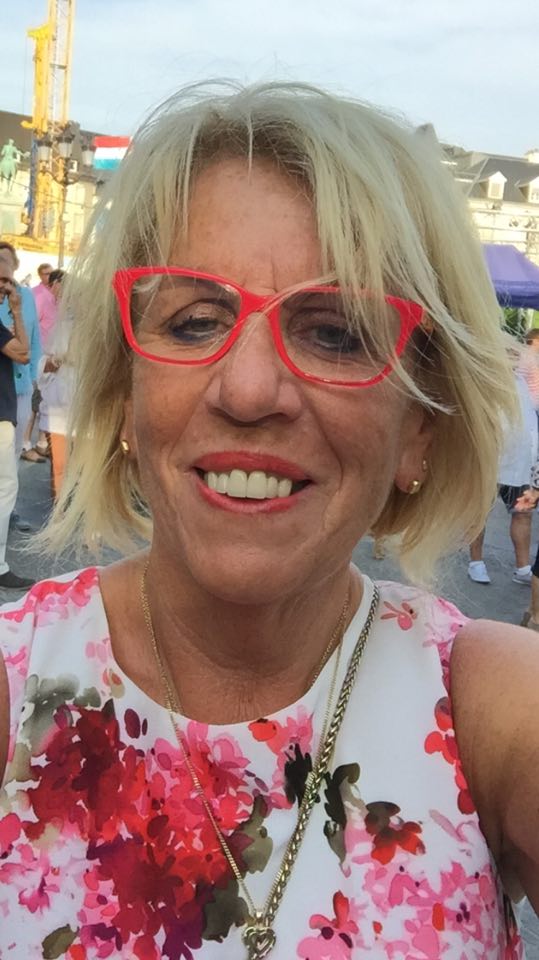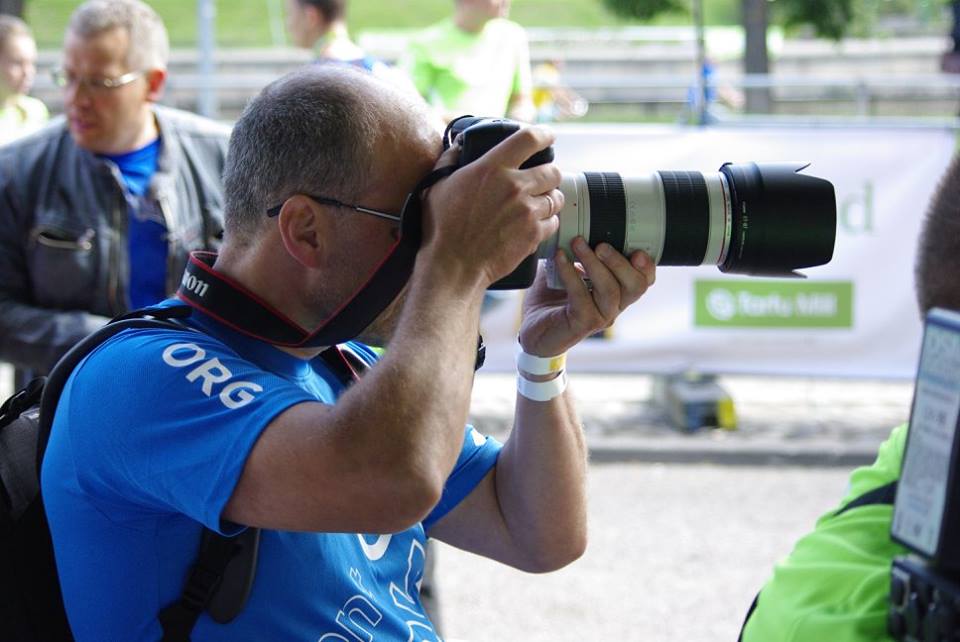 ---
Article gallery
Related Event: 2017 Tartu ETU Sprint Triathlon European Cup
Latest
Videos
---
Latest
Event Galleries