NEWS
Spain and Russia enjoy medal success but it wasn't easy !
By Paul Groves
|
09 Sep, 2015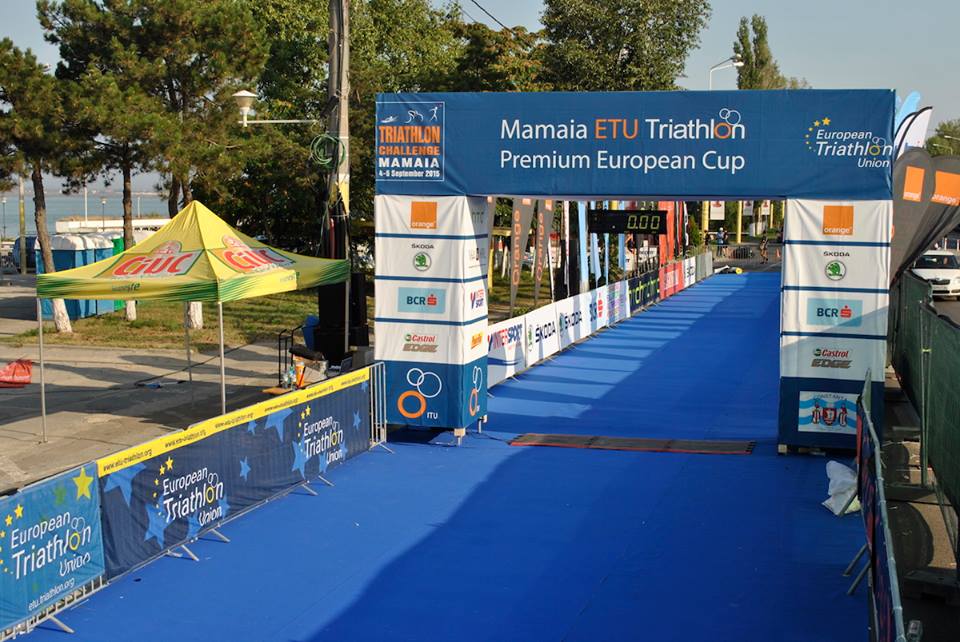 Romanian Triathlon Technical Officials had just one week to rest before they were once again carrying their yellow and red cards and whistles to manage the swim/bike/run festival that was to be the focus of the weekend. The 2015 Constanta-Mamaia ETU Triathlon Premium European Cup was not just one elite race but instead a whole weekend of multi-sport activities. The appetite for our sports is growing in Romania like never before and so it is a big, indeed a very big thank you that ETU gives to the Romanian Triathlon Federation.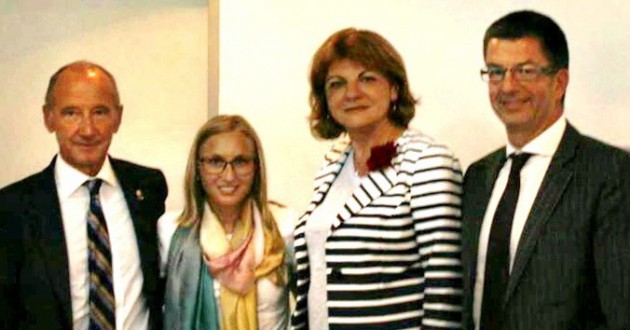 ETU president, Renato Bertrandi was there to show his support for the work that is being done by the Federation and together with Gabriela Szabo, Minister of Youth and Sport, Secretary of State for Sport of the Ministry of Youth and Sports, Carmen Tocala and Adrian Nanulescu, President of the Romanian Federation of Triathlon a very valuable press conference underlined the desire of the Romanian authorities, working with ETU, to develop our sports more in Romania.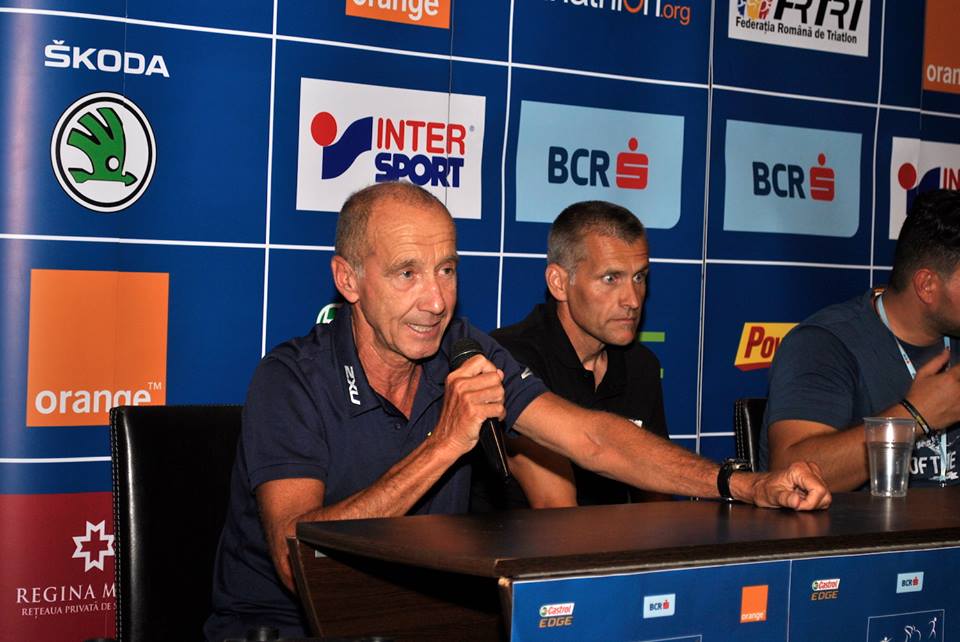 The event in Constanta-Mamaia is considered the largest triathlon competition from Eastern Europe and the Balkans. During the meeting, they discussed the importance of increasing participation by promoting mass sports competitions, the provision of public sports training centres, technical equipment and thereby providing a clear potential for boosting the performance of talented athletes. With many sponsors working alongside the LOC, it really was a fin way to end the season.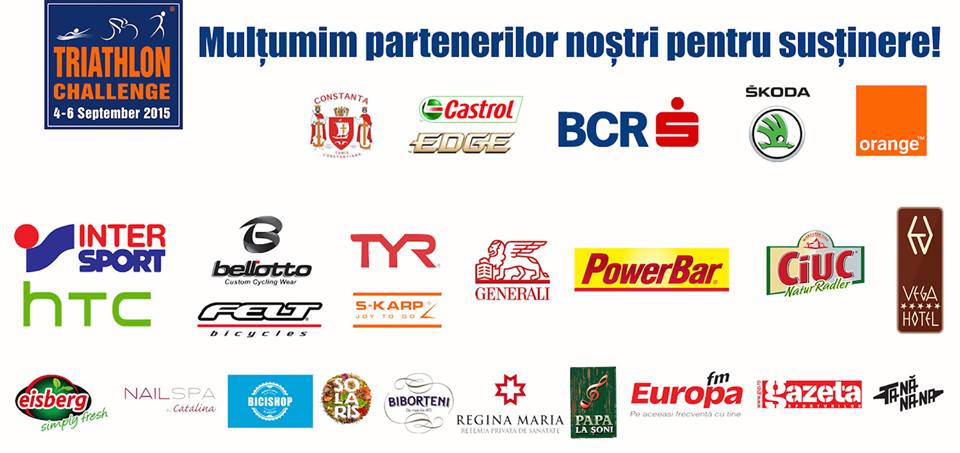 Romanian Triathlon Federation President, Adrian Nanulescu, took this opportunity to invite Minister Gabriela Szabo to be present at the competition Triathlon Champions Start-project base to see the selection and training of young sportsmen, which is funded and run under the Ministry of Youth and Sport and the European Triathlon Union. The weekend's Triathlon Challenge is a mass sports competition; a contest in which anyone can participate and so it is that all fans of swimming, cycling and running; lovers of the sport and outdoor activities can meet at a very special race at the end of a long summer.
It was the turn of the women to open the racing on a very windy Sunday. Temperatures had soared to the 40's on the Saturday but cooled off with the strong winds to a manageable 31C but the winds created a real challenge for the swimmers who, even though the swim course was entirely secured in a lake, will remember this 1500m for many years to come.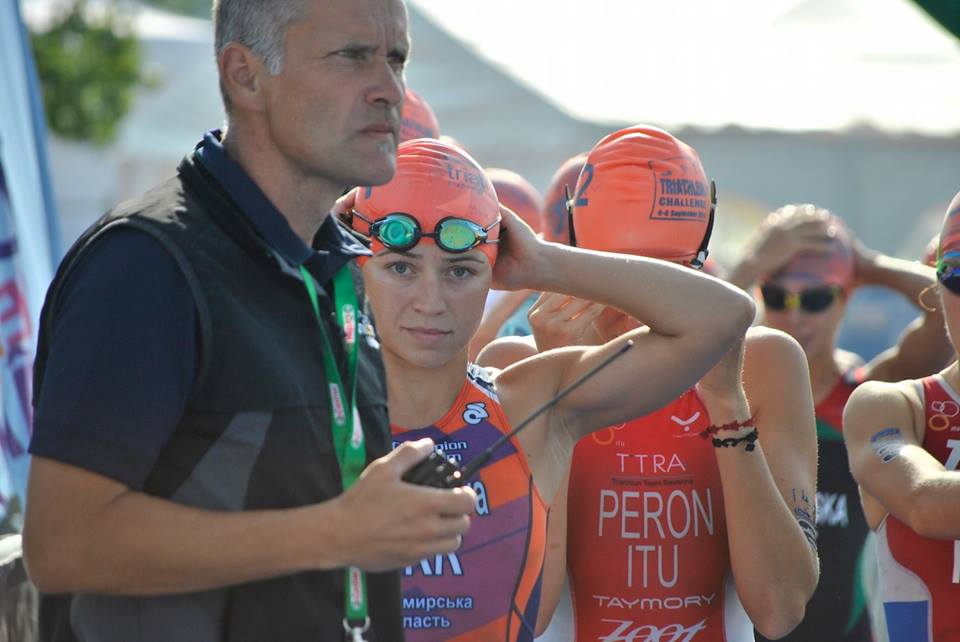 The line-up was prepared and the crowds were delighted to see such a famous selection of Olympic triathletes. Defending her title and hoping for maximum points that will take her to a Ranking Victory in Sochi was Ukraine's Yuliya Yelistratova.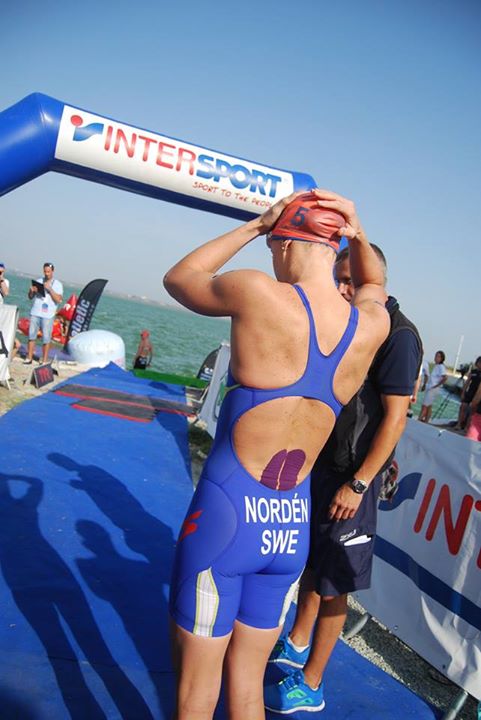 She would be up against the London 2012 silver medallist, Lisa Nordén who decided not to go to Edmonton this weekend where it was miserable and cold but instead to travel East. Would she be able to match the running pace of the Ukrainian who, despite her absence from a few races due to injury, has been posting super-fast run times? Lining up with them were Gaia Peron racing for ITU and Liubov Polyanskaya RUS who narrowly missed the podium in Eğirdir. Yelistratova's greatest threat in the points race comes from fellow Ukrainian athlete Inna Ryzhykh.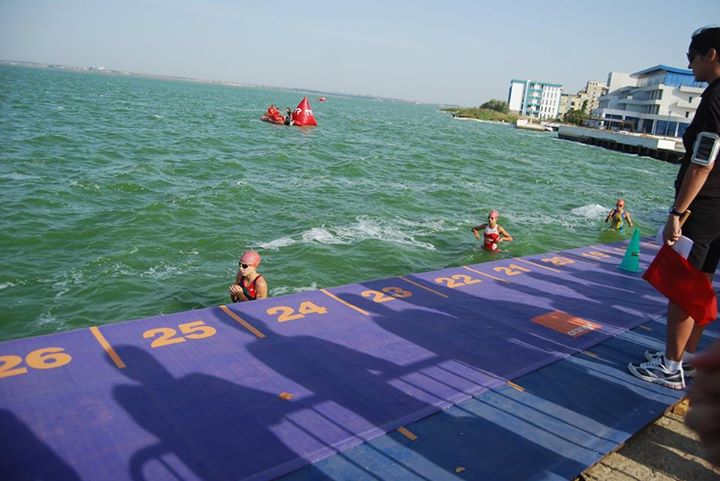 Due to the heavy winds the ETU Technical Delegate, Angeliki Thoma, working with the local organising committee and the water safety teams, had agreed to start the athletes in the water. This was really the only way to ensure that nobody was injured in the initial stages of the swim as the wind whipped the water. Swimming in such conditions is not easy at all. Sometimes you are underwater, sometimes riding high on the waves with your arms trying to find water.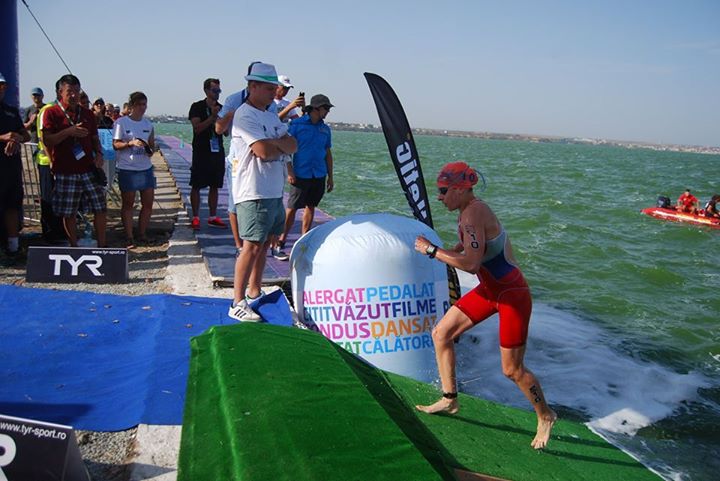 It was really a day for the expert swimmers and so it was that Valentina Zapatrina RUS who led them out of the water. She has previously shown strong swimming ability when she led them out of the water in Riga and last year in Antalya but on both occasions the water was calm.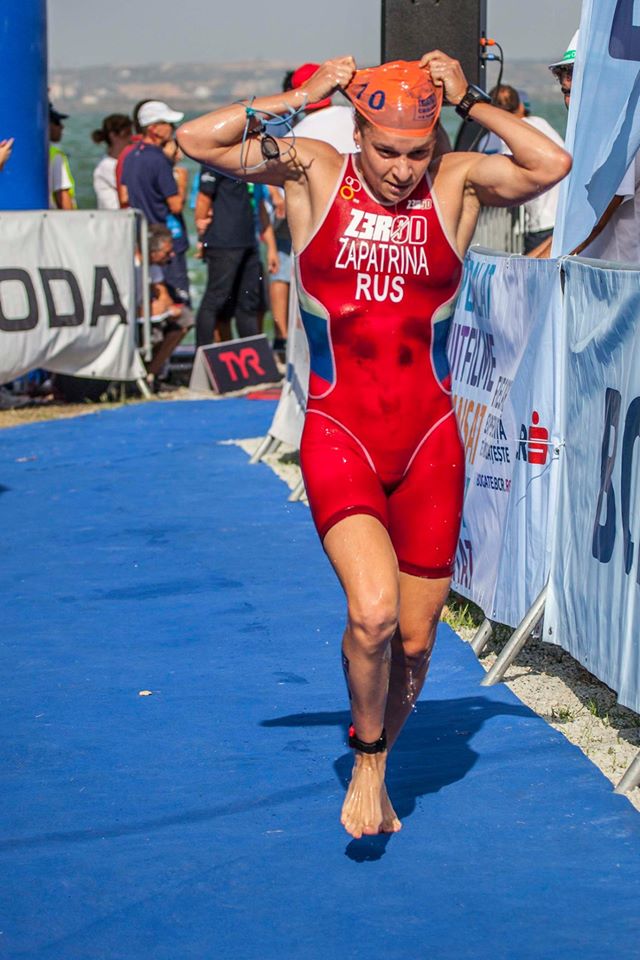 Her first few steps on dry land soon saw her regain control of her balance. Peron was 5 seconds adrift but Nordén was some 45 seconds behind.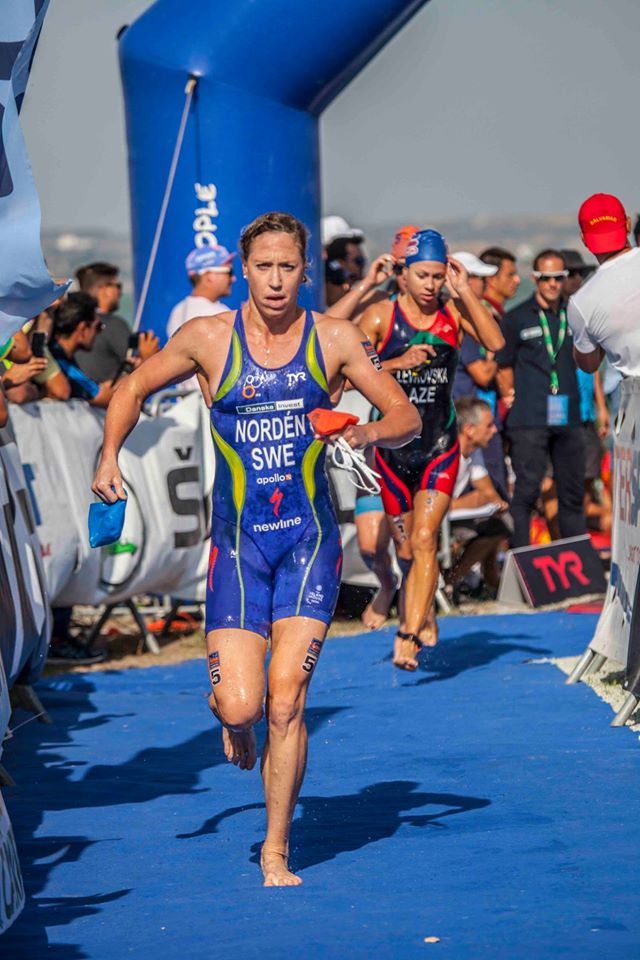 Would Peron and Zapatrina be able to get away from the Swede? Where was Yelistratova?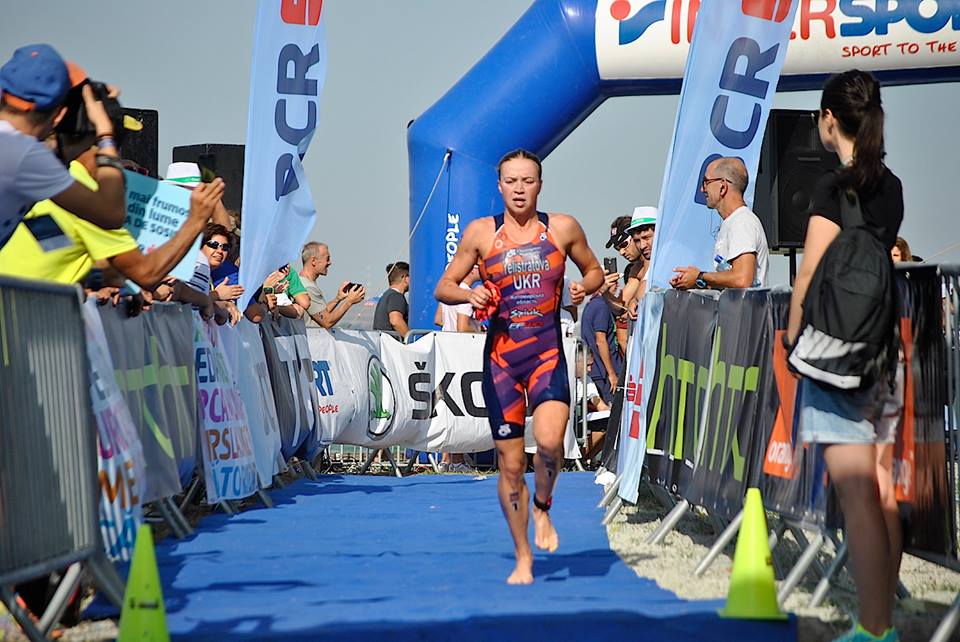 Out onto the bike and after about 4k the leading pair were caught and so the breakaway was limited to only four athletes.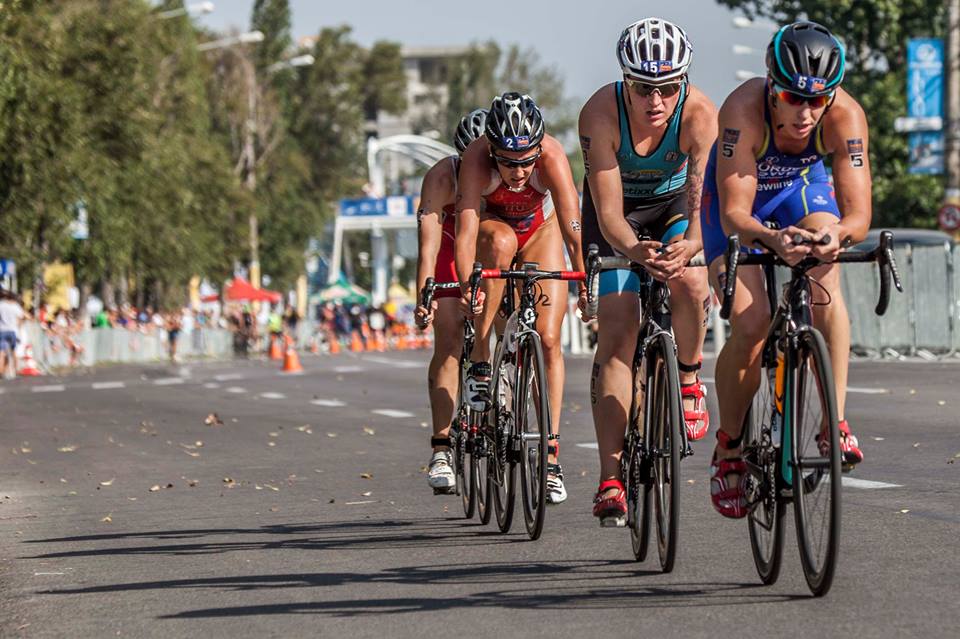 Nordén had managed to catch Zapatrina and Peron and they were joined by Belgium's Charlotte Deldaele. Following a tough swim she had worked well, put behind her a disappointing performance in the Belgium Nationals and was not going flat out. The four worked hard to create distance between them and the chasing athletes. All were aware that Yelistratova was behind but none knew exactly how far back she was.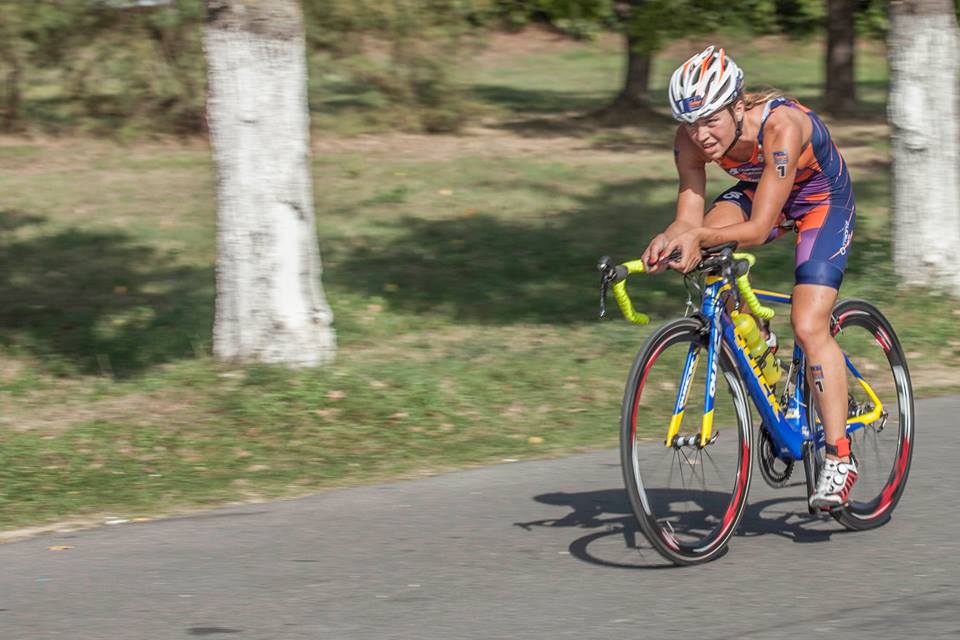 T2 was waiting and the leading four could only but worry about the Ukrainian's pace off the bike.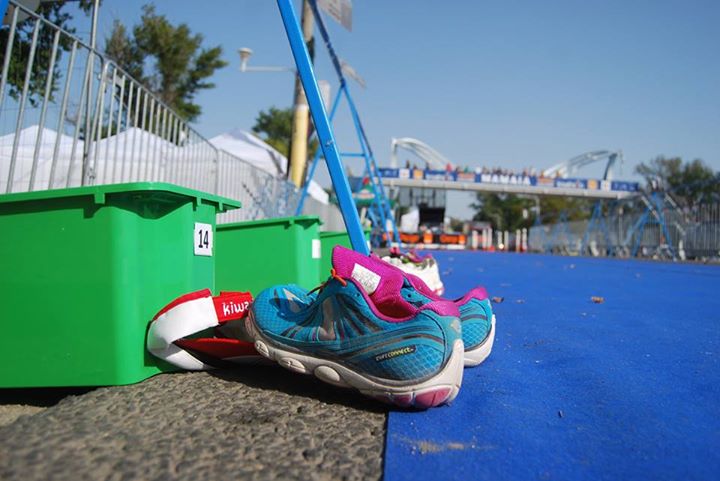 The four of them came into T2 together and after a lightning-quick transition it was out onto the 4-lap 10k course.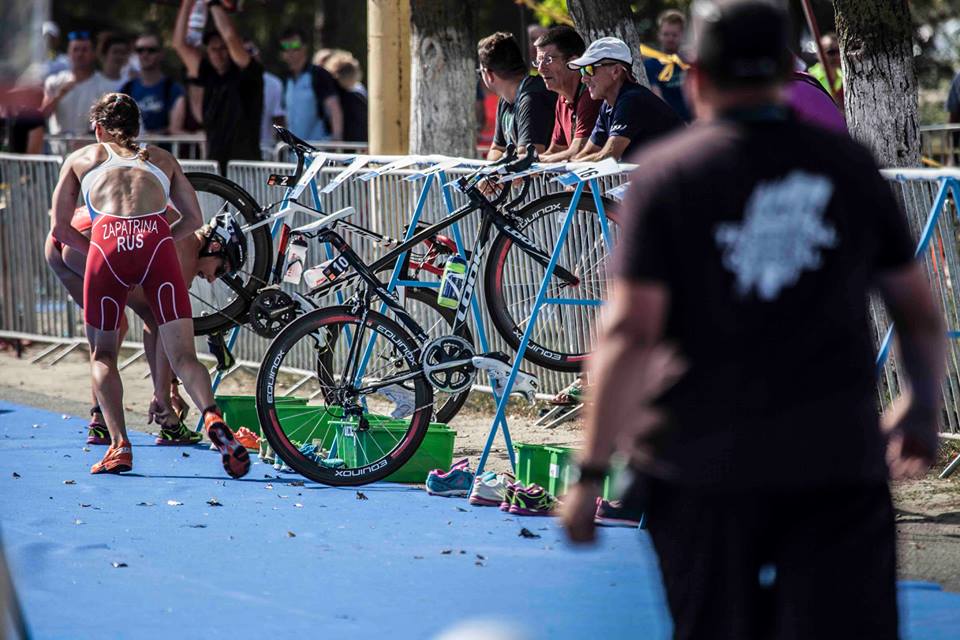 Deldaele explained, "I had a really good feeling during the run. Gaia (Peron) dropped back after the first of the 4 laps. So as there was a lot of wind I had to choose; either stay behind Nordén and Zapatrina or slow down a bit and stay with Gaia. I felt good so I kept up the speed and ran 5k with Nordén and Zapatrina."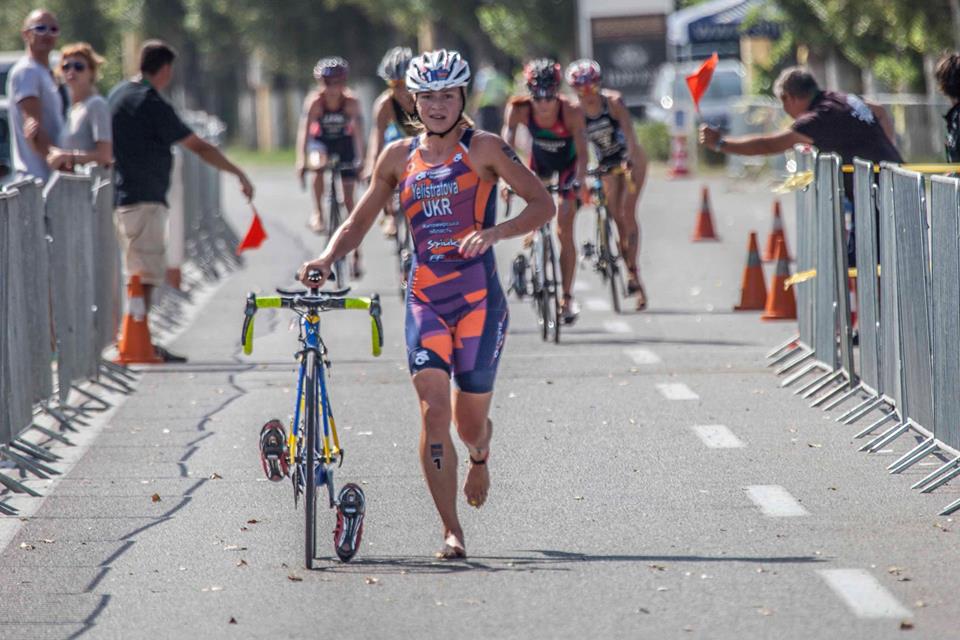 Yelistratova had worked hard on the bike and with very few people to help her on her way over the 40k she was going out onto the 10k run with a hard bike in her legs.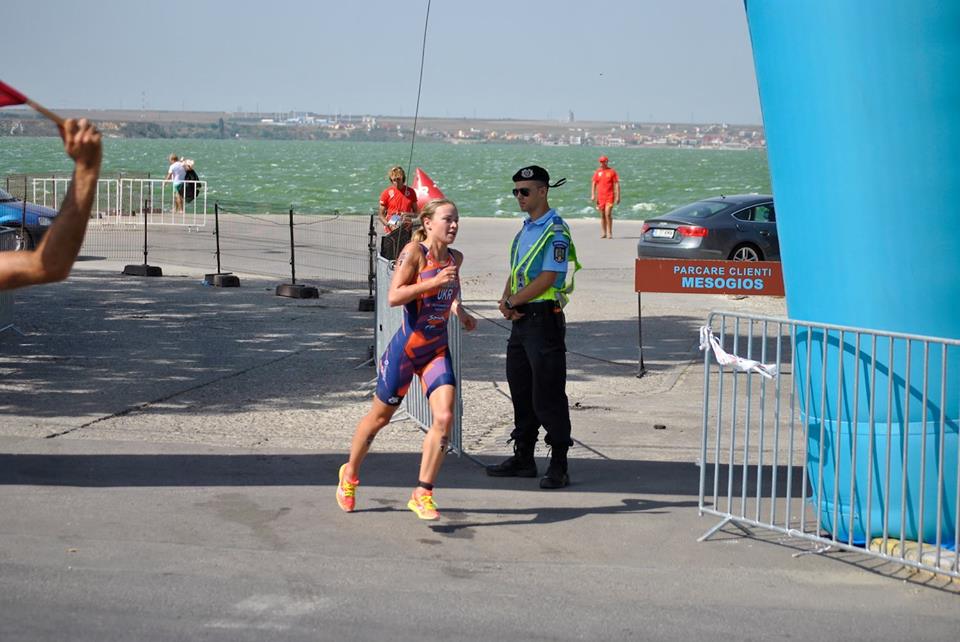 Yelistratova flew out of T2 and soon was catching up on the leading athletes.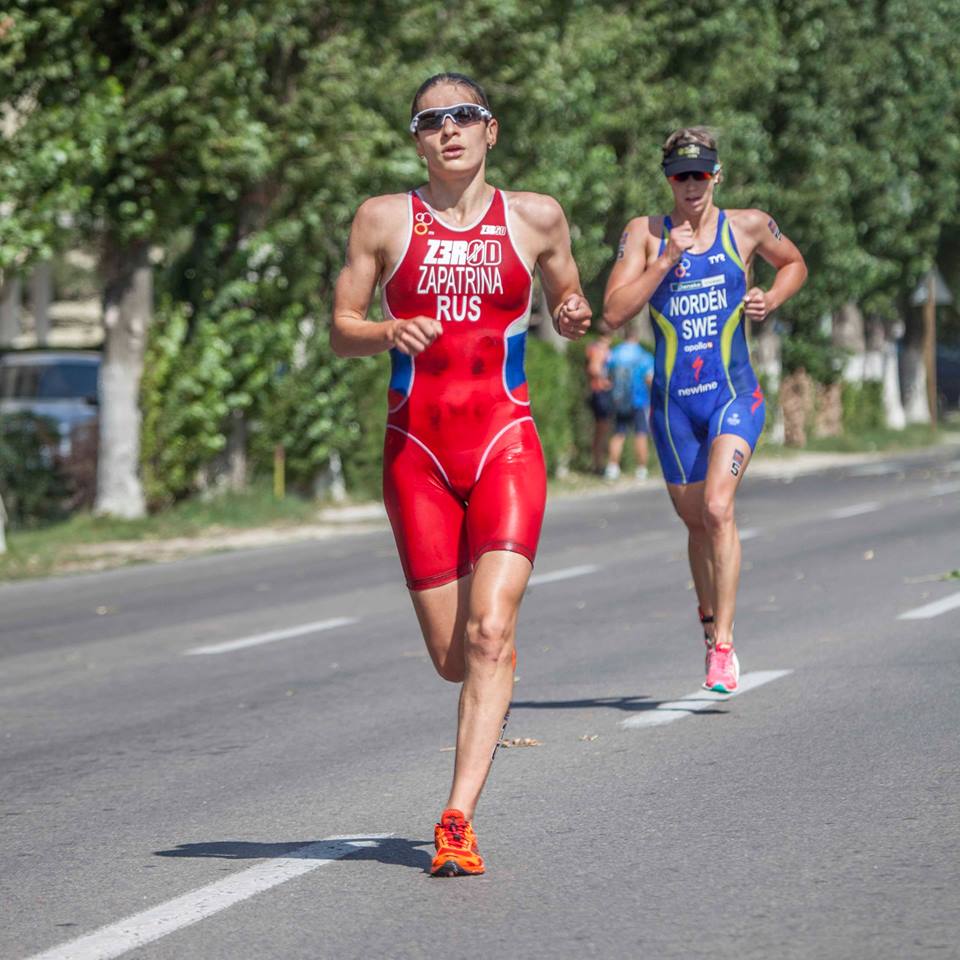 Zapatrina looked strong. At the midway point Deldaele explained, "I had to give them a small gap and on the 3rd lap the very strong Yelistratova flashed by. On the last lap Gaia came back to me and as we were running together she pushed the pace and I had to let go for the last 2k. I almost had to throw up twice so maybe I was a bit too enthusiastic on the first half of the running. Anyhow. Another chance to get better; Another step closer. I am more than happy with my 5th place." A wonderful insight into the intensity of top-class racing.
So, 5th place for the Belgian and a massive improvement over her performance in Baku that will have delighted her coach and Federation. But what was happening ahead of her and who was going to get the gold?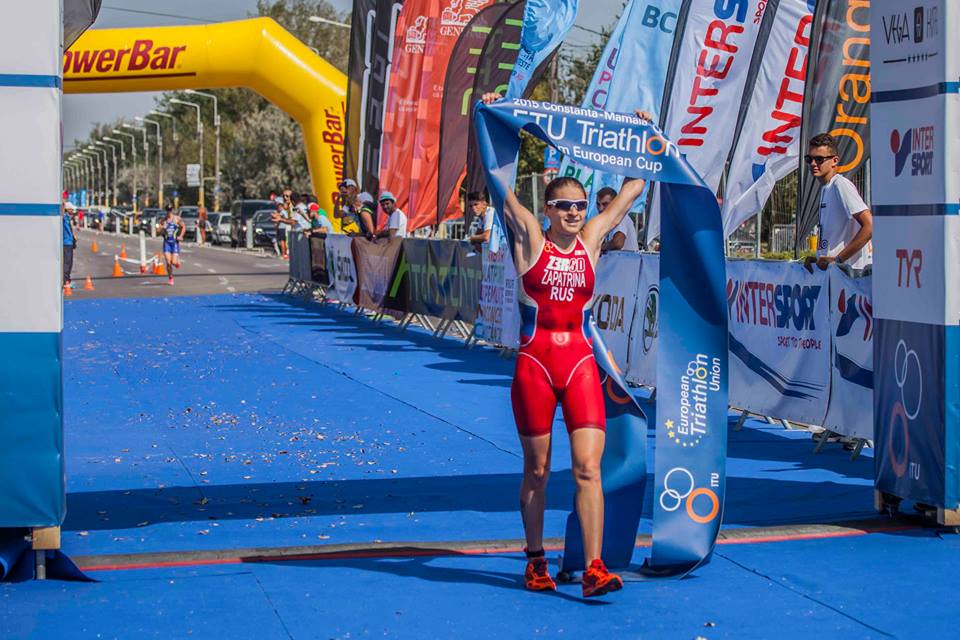 It was to be a fantastic victory for Russia's Zapatrina and easily a career best for her.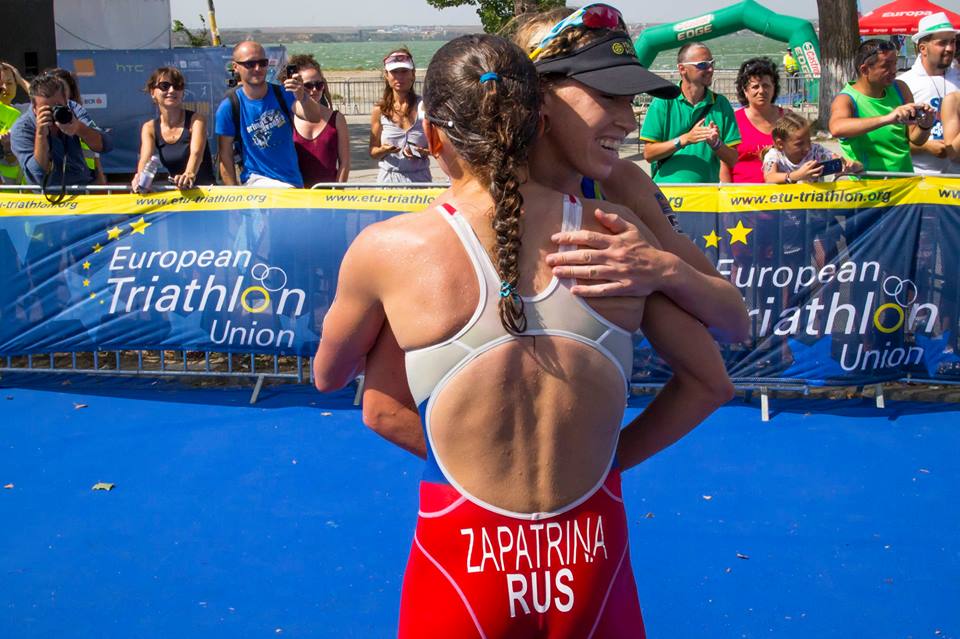 Nordén had to settle for silver and with once again the fastest run of the day by an amazing 40+ seconds, it was a delighted Yelistratova who crossed the line to take bronze.


Nordén said after the race, "A hot and windy race and first one back for me after a few bumps this season. Solid swim and a 4-girl breakaway on the bike. Hung on for three laps before Zapatrina got the better of me. Points made - and body held up. Now let's keep building."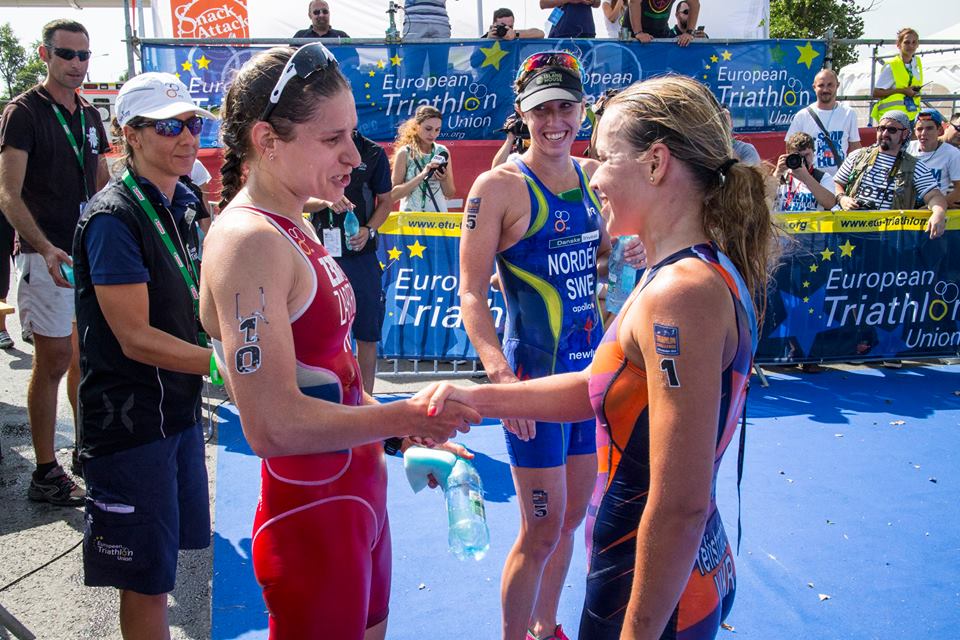 For Yelistratova, coming back off the Kyiv crash and showing improvement with each performance, it was a clear sign that she is ready for Sochi. "A bronze at the Premium European Cup! I'm glad I managed to do it with such strong swimmers participating in Mamaia and I got the best running split. Now aiming only for improving! Many thanks for the consistent support to all my sponsors and for the good memories of cheering from such friendly Romanian spectators."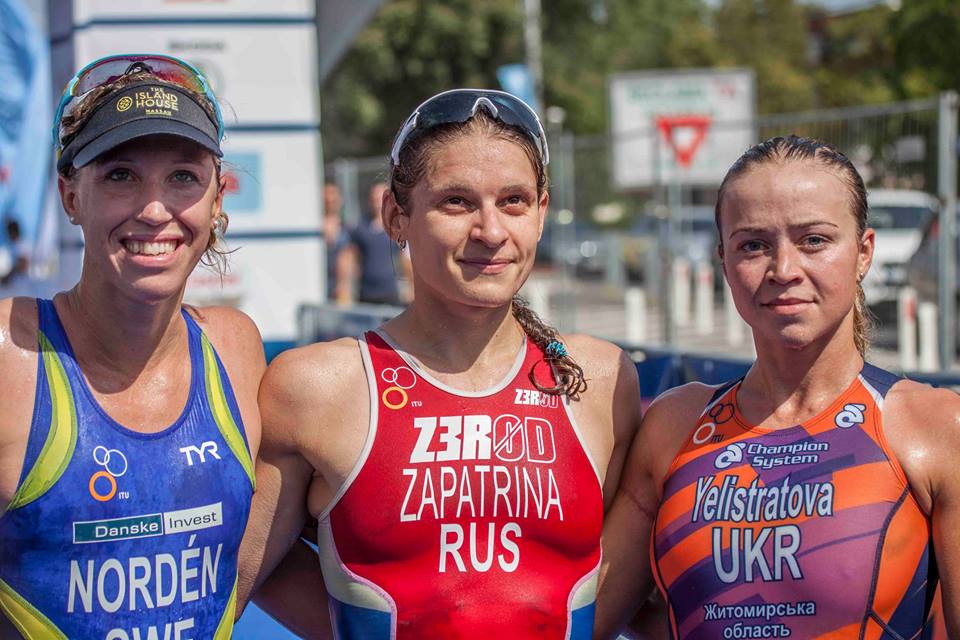 .
The men raced next and has to deal with a lake that looked very, very angry. Have a look at the video here to get an idea. With a huge €25,000 in prize-money and a chance for a big points haul, there were some very strong athletes ready to race.


First down to the pontoon was Vladimir Turbaevskiy. He was followed by team-mate Ivan Tutukin RUS and Oleksiy Syutkin UKR who really has become one to watch with his pace off the bike. With one gold already this season was 2014 Spanish Champion, Uxío Abuín Ares from Padrón, Galicia.


The warm up finished and then as you can see in the video, it was hell at sea for the next 1500m.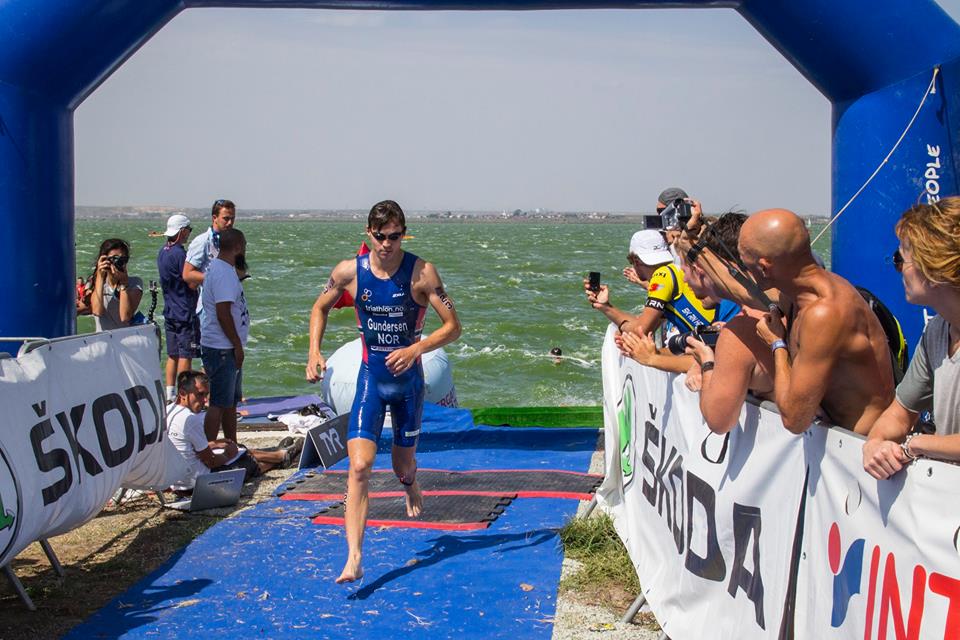 It was Jørgen Gundersen NOR who led the swim with a comfortable margin over a tight group of athletes.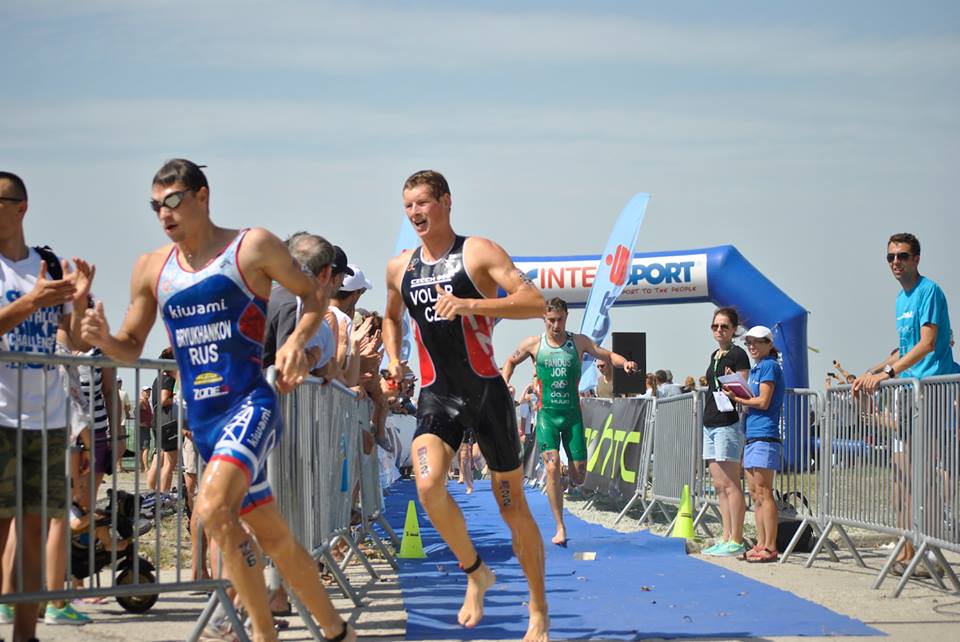 Andrey Bryukhankov RUS, led Jan Volár CZE and Jordan's Lawrence Fanous.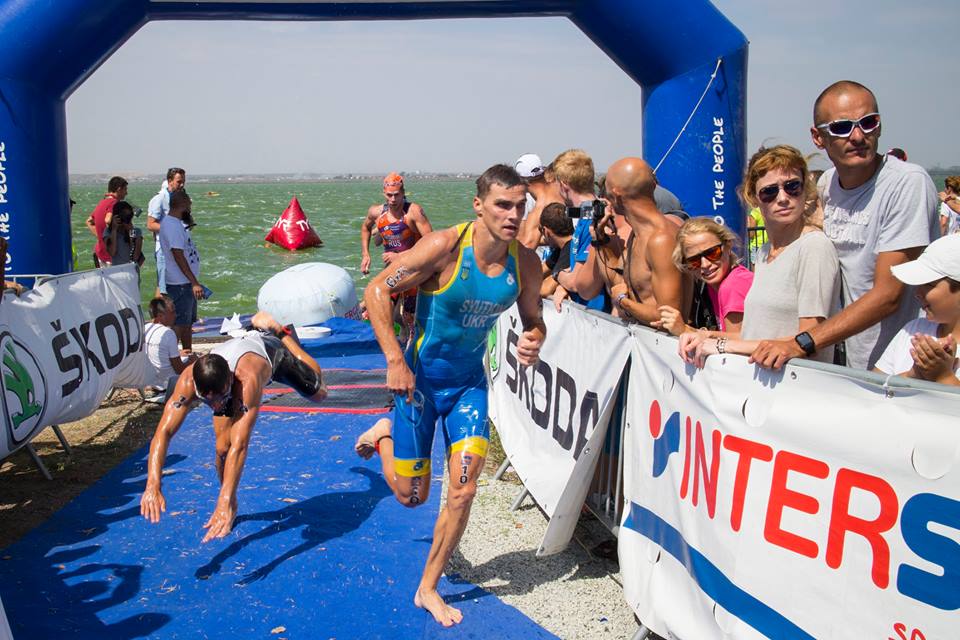 Behind them athletes were finding it difficult to balance after the torture of the lake.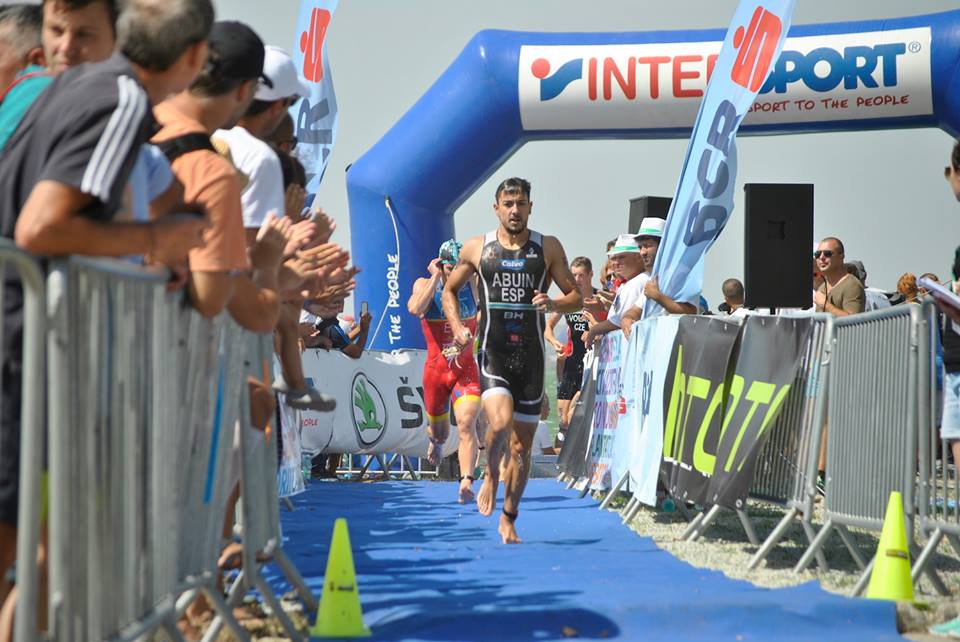 Abuín looked controlled as he made his way to T1 and before too long there was a huge peloton of men eating up the 40k in very hot conditions.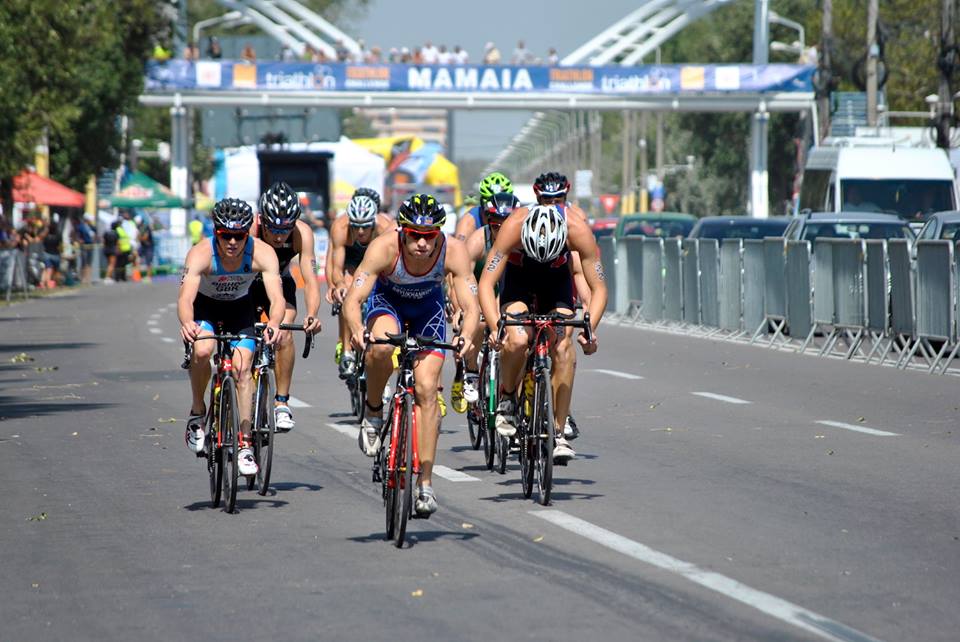 Bryukhankov commanded the lead group but between them it seemed they had created a big enough gap to keep any threat away.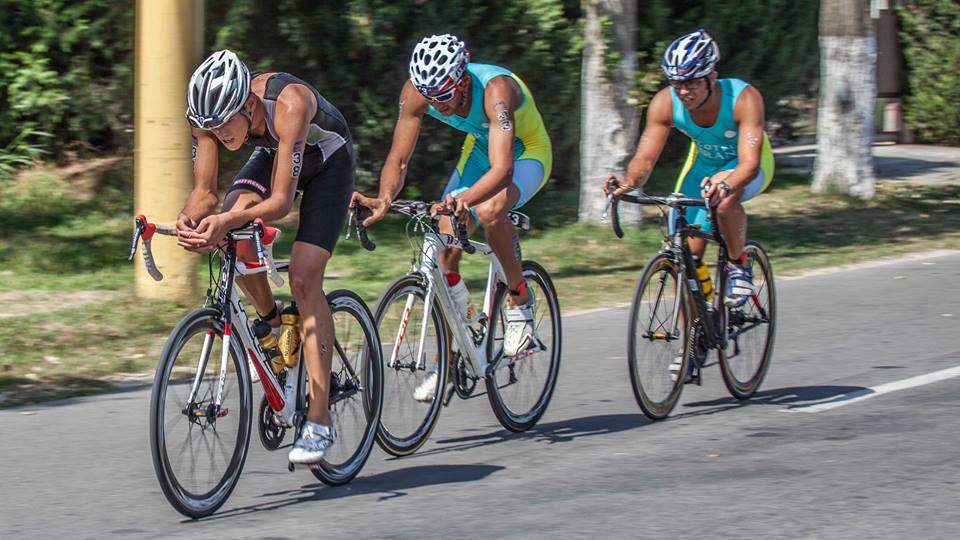 Further back there were special cheers for the Iranian athletes who had successfully managed to finish the swim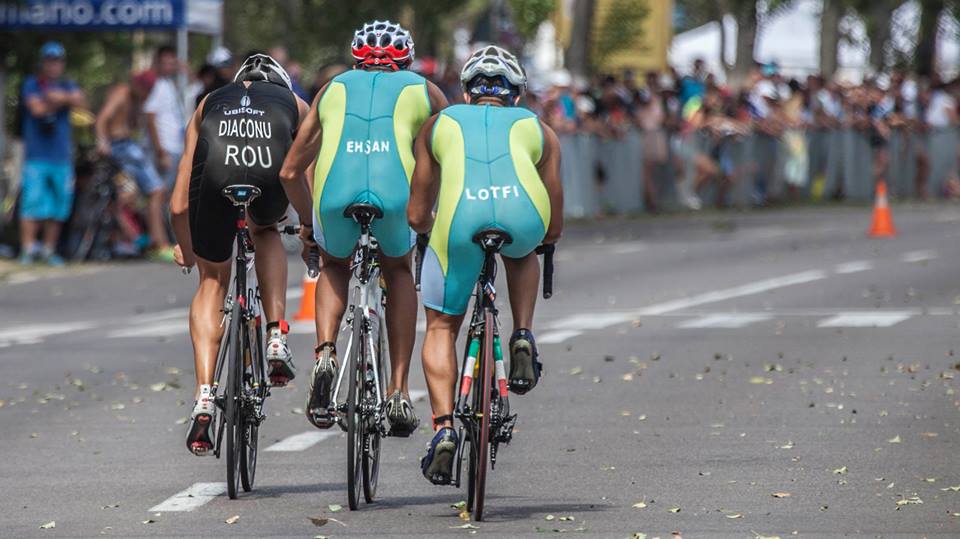 They were now working with one of the Romanian athletes, trying hard to avoid the chasing power-pack led by the Russian.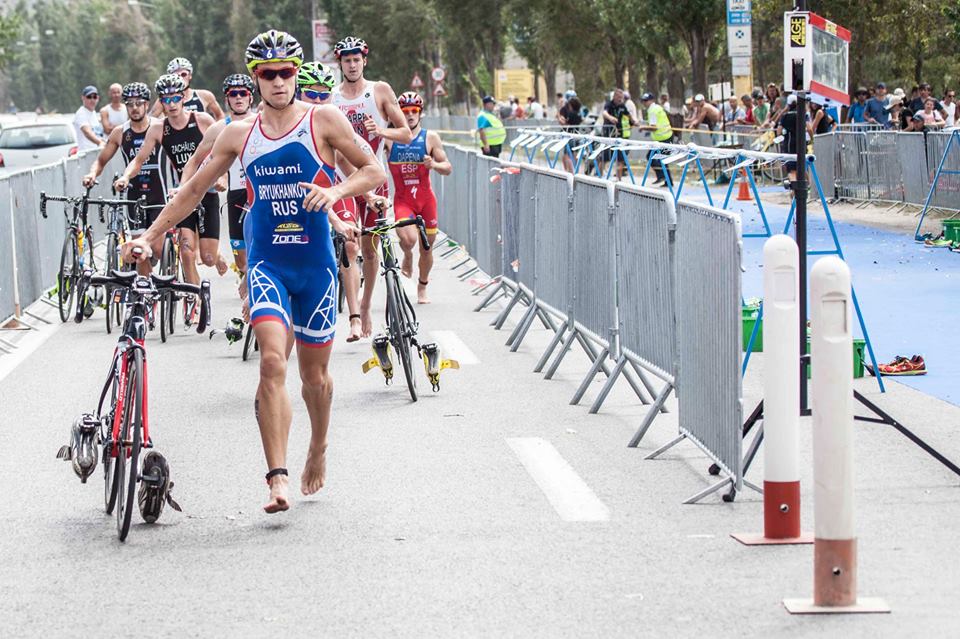 Into T2 and the group was led by Bryukhankov. In contention were all the players but it was not long before Abuín was able to pull away with fellow Spaniard and fellow Galician, Pablo Dapena González who suddenly found himself in the best position he could imagine.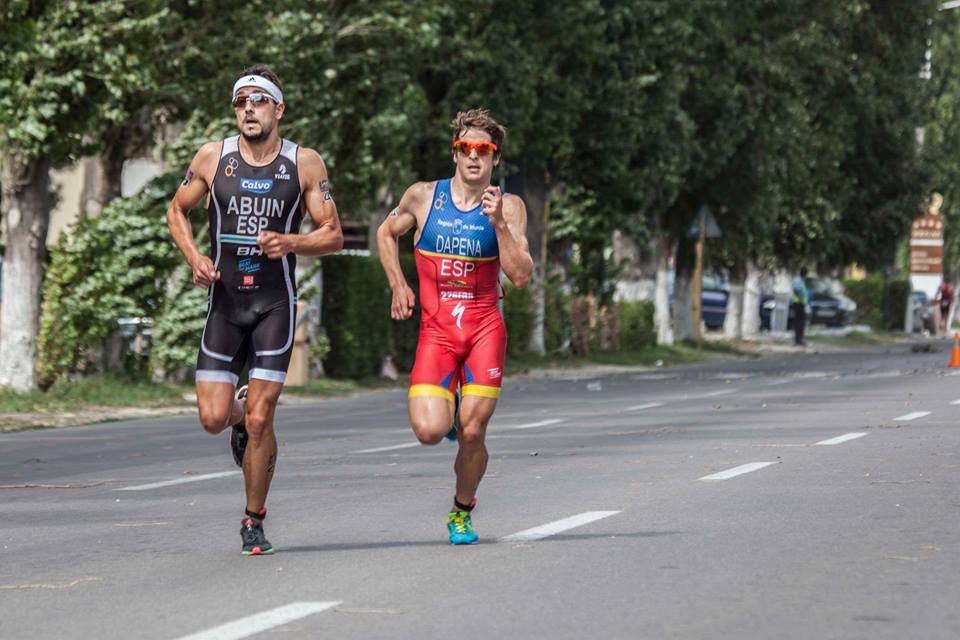 Only in the latter stages of the race was Abuín able to pull away to take gold.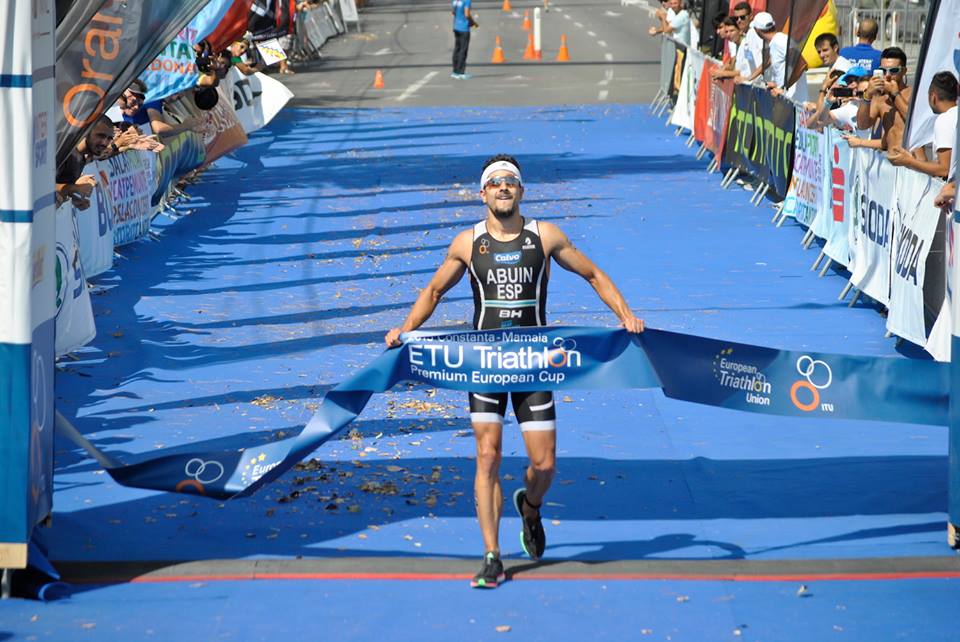 With a tremendous gust of wind his arrival at the finish line was welcome with leaves from the trees. With a tremendous cheer he announced his form. "Double in the European Cup of Constanta-Mamaia (Romania)!! Very, very happy for this great result; a victory that gives me a lot of points for the ranking of European so coming to the end with a lot of options to the triumph!"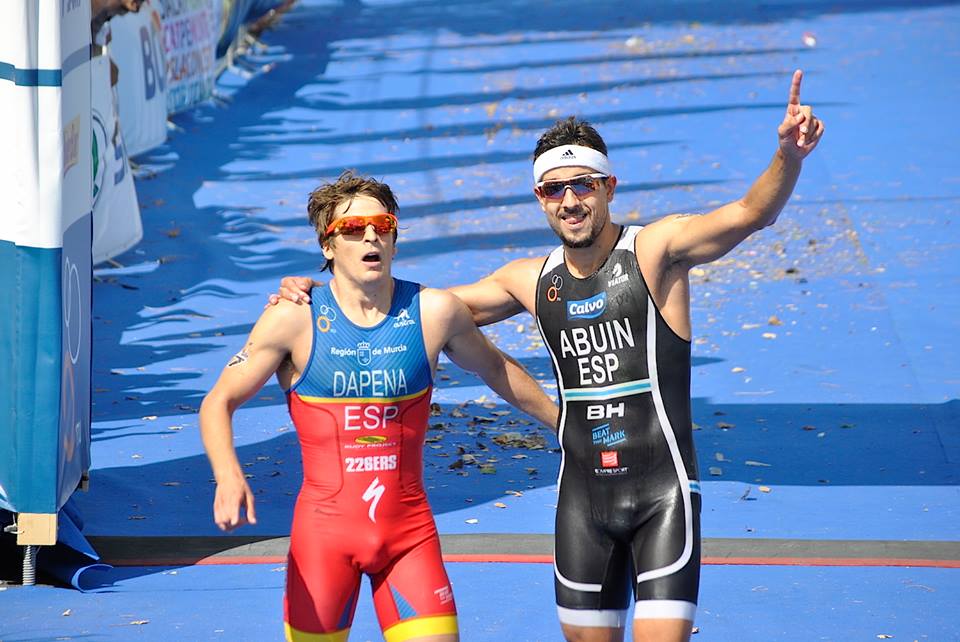 He had breath to cheer his fellow countryman; a special bond between the two from Galicia, "I was so glad when Pablo Dapena González crossed the finish line in second position and it's a pleasure sharing the podium with a great friend with whom I have shared many training sessions this year!!"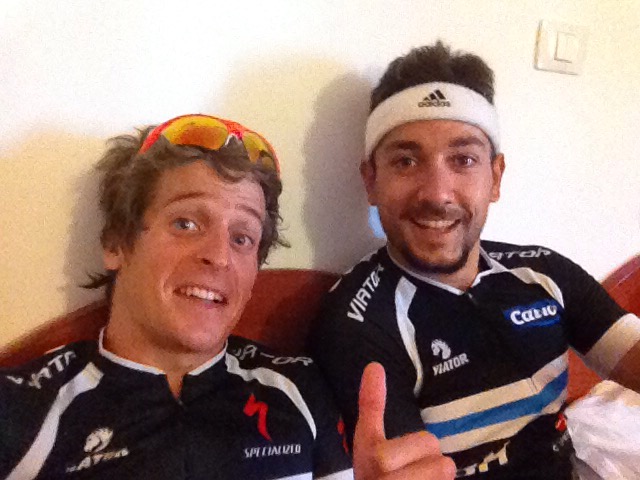 Dapena, once he had recovered, was delighted. "Amazing… Unimaginable… Double in the European Cup at Constanta-Mamaia. Uxio 1st and me 2nd. This result is just going to those people who did not forget my during those 2 months endless while I was injured. Thank you, thank you and thank you."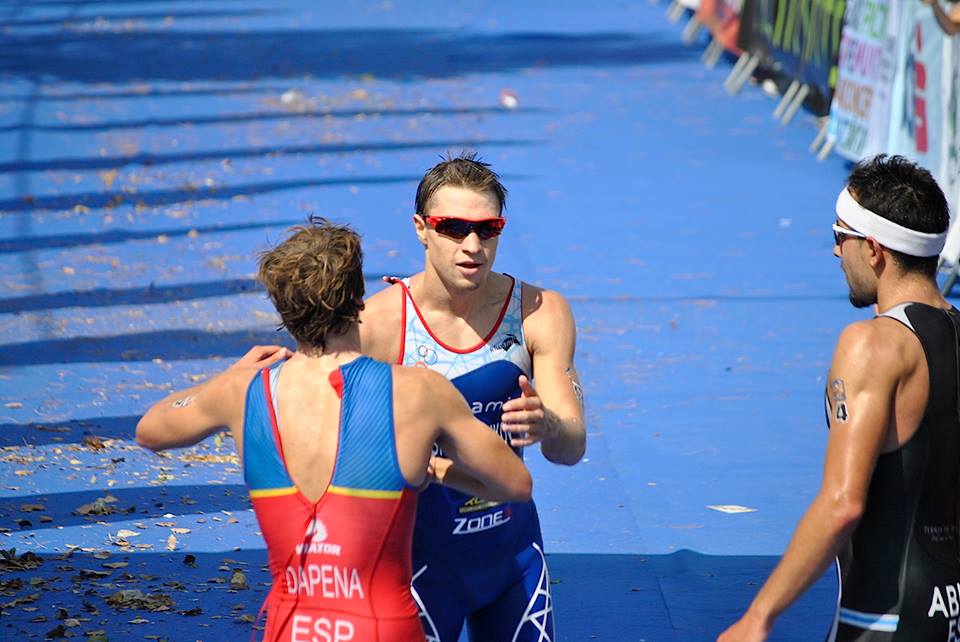 Coming in to take the bronze was Bryukhankov. This podium is his best performance since his victory last year in Karlovy Vary and will be a valuable boost to his ETU Ranking Points.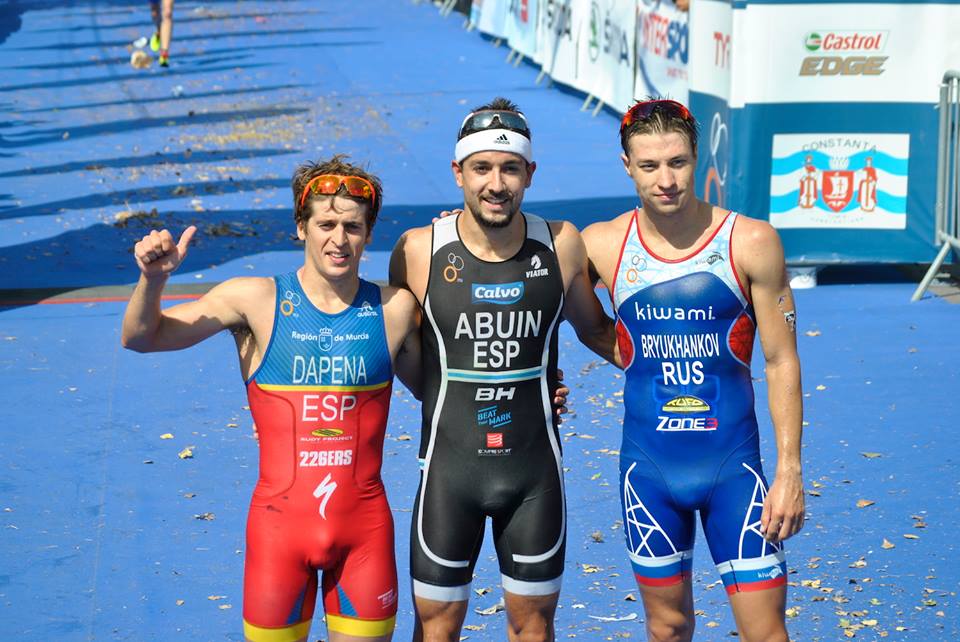 The race was one of the toughest of the year with the heat and wind but the prize-money will help as the ETU racing season draws to a close and with all eyes now focussed on the Final in Sochi, the racing there promises to be amazing.
Romanian Triathlon moved up a league this weekend. With back to back racing weekends that have proven each to be a great success the rest of Europe now knows that no calendar is complete without an event in this region of Europe.
Next up for Europe's Elites will be Sochi – a huge pay-day but it will be tough after Chicago.
This race has put Yelistratova back into the lead in the ranking race. Nordén is in a threatening position and so for these two it is going to be a real battle in Sochi. Inna Ryzhykh sits in third but is not yet safe as Britain's Heather Sellars is still in contention.
ETU Rankings – women
For the men, Lebrun has held onto the lead. Abuín could easily take that title but he will have to work hard to beat Bryukhankov and Daubord.
ETU Rankings – men
A big thank you to Triathlon Challenge Mamaia for the photos.
---
Article gallery
Related Event: 2015 Constanta-Mamaia ETU Triathlon Premium European Cup
Latest
Videos
---
Latest
Event Galleries