NEWS
Raphael Montoya and Leonie Periault lead French to victory in Vierzon
By David Peddie
|
13 May, 2013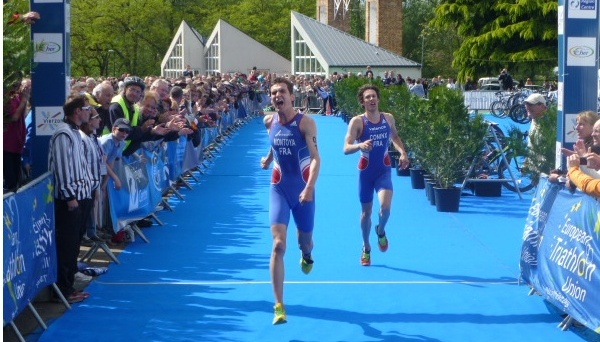 Leonie Periault and Raphael Montoya stormed to victory to make it a French double celebration at the ETU European Junior Cup in Vierzon.
The French Triathlon Federation had stated beforehand that this European Cup would offer a final chance for athletes to impress for selection to the European Championships in Alanya and so it proved as French athletes brought home four medals, leaving selectors with some tough decisions to make.
In the Junior women's race, Periault chose the perfect time to win the first race of her International career. A cautious swim, where she exited behind the leaders, was followed by a tactical bike race that left her in the best possible position to use her pace to stride home for victory.
It was another French athlete, Margot Garabedian, who was first out of the water, closely followed by Lotte Miller (NOR), Sian Rainsley and Florie Mcleish (both GBR), Melanie Santos (POR) and Jeanne Lehair (FRA).
The gap over the rest of the field was small and that allowed pre-race favourites such as Ivana Kuriackova (SVK) and Emma Sharkey (IRL) to catch the best swimmers and form a front pack of 15 on the opening bike lap.
After T2, it did no take Periault long to take the initiative. She made her move and no one was able to match her pace. There was a battle going on behind her with Miller, Kuriackova and Lehair battling for silver and bronze.
Periault came across the finish line in a time of 1.03:36, 39 seconds ahead of Lehair, making it one-two for France. Ivana Kuriackova, winner of the first race in Quarteira in early April, had to settle for third place this time.
A delighted Periault, who was runner up at the European Championships last year, said: "After my two silver medals last year, this new season is starting very well. My ambition now is to be on the podium again at the next European Championships in mid-June."
Silver medallist Lehair said: "I was disappointed with my place in the recent Duathlon National Championships, and I wanted to win today to qualify for the European Championships. The French girls worked hard on the bike, then on the run, I was able to beat the Slovakian athlete, but there was nothing I could do against Leonie."
Kuriackova, who has two gold medals to her name already this season, was satisfied to finish on the podium again. She said: "It was a real fight at the start of the swim, it's been a hard race for me, but I'm happy with my 3rd place. I tried my best on the run, but the two French girls were just better than me."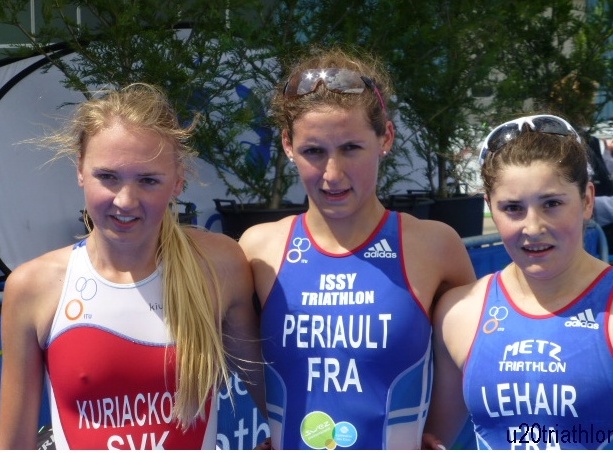 In the Junior Men's race, Raphael Montoya won his second European Cup of the season and once again it was a dramatic finish.
On the final lap nothing could separate Montoya from his countryman Dorian Coninx with the two fighting it out for first and second. Just as in Quarteira, it was Montoya who took Gold right on the line, just a second ahead of his opponent.
The field remained tightly contested after T1 before two packs formed on the opening bike laps, a lead pack of 15 and a second of 37 athletes. A small group made a brief breakaway heading into T2 but it wasn't until the run that this race exploded into life.
Montoya and Coninx were immediately on the pace with Great Britain's Marc Austin and they quickly established a lead of over 20 seconds ahead of a group which included Gordon Benson (GBR), Alexandre Nobre and Francisco Machado (both POR) and Max Biewer (LUX).
The two French athletes put pressure on their main rival Austin, who could not keep up with the pace, and in a thrilling sprint finish it was Montoya who outsprinted his teammate in the final straight.
"This is my second victory, and it's the second time I've won in a sprint finish," said Montoya. "Dorian is a great finisher, so I've proved I was good at that too. I am number one today and hope to be number one again at the European Championships in Turkey next month."
Montoya knows how to win in these tense situations, a valuable commodity for the young athlete. Coninx should not be too dis-heartened, however, as his second place was his first ever podium finish at this level.
Great Britain's Marc Austin got his 2013 European season off to a great start with third place.
Picture Credit: U20 Triathlon
Related Event: 2013 Vierzon ETU Triathlon Junior European Cup
Related articles
The European Triathlon season continues at pace with the third ETU Junior European Cup in Vierzon on Sunday. A bumper field is set to tackle the first ever International race in Vierzon, with National Federation places at the…

09 May, 2013

Ivana Kuriackova and Raphael Montoya made the perfect start to their European season after an exciting and dramatic day of racing in Quarteira. In a tense junior women's race, Kuriackova's strong running was enough to seal victory –…

07 Apr, 2013
Latest
Videos
---
Latest
Event Galleries