NEWS
Para-duathletes: Spain and France show that they are the best in Europe
By Paul Groves
|
29 Apr, 2015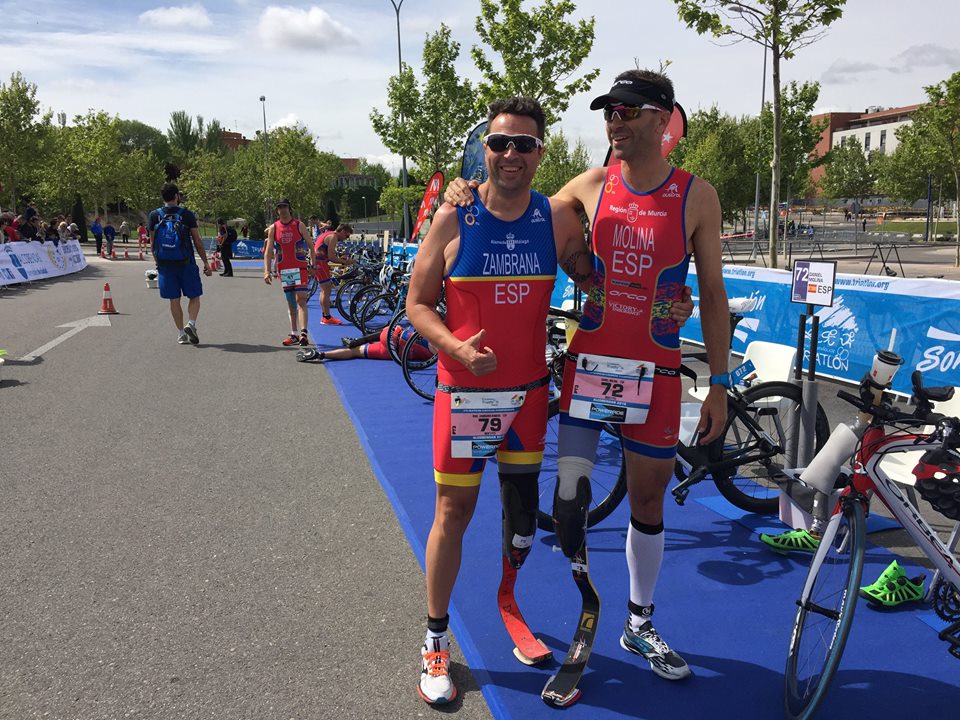 A truly top level field of athletes with medal wins dating back to 2007 came to check-in for the ETU Duathlon Championships. The medals were shared between Spain and France. 4 golds went to France and aside from two silvers that were won by Italy, the rest of the medals went to the home nation. The Spanish Triathlon Federation website ran the headline, "Triumph of the Spanish paratriathletes in the European Championships Duathlon Alcobendas" but in reality it was a triumph for all over this very tough course.
In the Women's PT1 it was Eva María Moral Pedrero ESP who took the gold to add to her collection of a gold medal from Buffalo City and a bronze from Madrid.
For the Women's PT 3, French athlete Edith Dasse who seems to have dominated this category since 2007. The gold medal she took away this weekend brings her tally to 14.
PT5 saw the familiar figure of Susana Rodriguez delight the home crowd. She too has been racing for a number of years now and this was to be her 12th gold medal in international multi-sport competition since 2010.
The men saw races over all five categories. Once again the Spanish were out in force but once again the competition from France proved too strong for some. In the PT1 race it was a clean sweep for Spain with gold and silver going to the home nation. José Vicente Arzo Diago made up lost time on the bike and put in a fast second run to see Daniel Abenza take silver.
The PT2 category saw multiple gold medallist Geoffrey Wersy confirm France's domination. Italian, Alessandro Carvani Minetti took silver and former world champion Miguel Coca Sanchez gave some hope to the Spanish spectators with the bronze.
PT3 would see another French medal. This time it was seasoned athlete Franck Paget who finished with a clear minute advantage over the chasing Spaniards who had to settle for silver and bronze; Alejandro Sánchez Palomero and Joaquin Carrasco.
PT4 saw Spanish victory but with Italian silver. It was Rafa Solis Torres who put in a powerful bike leg to secure his victory. Silver went to Italian, Giovanni Titolo. Bronze was to go to Antonio Franco Salas from Spain.
The final category, PT5 was once more a chance for the French to grab gold. Arnaud Grandjean, the defending world champion dominated the race from the start. His first run took him to a 30 second lead. His bike was over 2:30 faster than anyone else and his final run at over 30 seconds faster than anyone else meant that his run down the blue carpet to the finish was an easy on. Silver went to Daniel Llambrich Gabriel and bronze to Jose Luis García Serrano both from Spain.
So a great weekend for the para-athletes. With Rio getting closer and closer the competition is hotting up. Catch up on all the important announcements on http://www.triathlon.org/paratriathlon
Sadly we do not have any official photos but this link to Facebook takes you to an amazing set of images captured by Ana Urrea Fernández-Santos
Related Event: 2015 Alcobendas ETU Sprint and Standard Distance Duathlon European Championships
Latest
Videos
---
Latest
Event Galleries