NEWS
On this date ...
By Paul Groves
|
29 May, 2020
We are using this "lockdown time" to have a look back and see what happened before, in the "good old days". Fortunately for ETU, our history is rich and long and so we are able to use a borrowed TARDIS to travel back in time.
Although not exactly one, five, ten, twenty or twenty-five years ago, we have collected together some great memories and of course, some standout names.
It would be great if you could look in your own archives and share with us some of your memories from those races.
Let's look first back to 1995.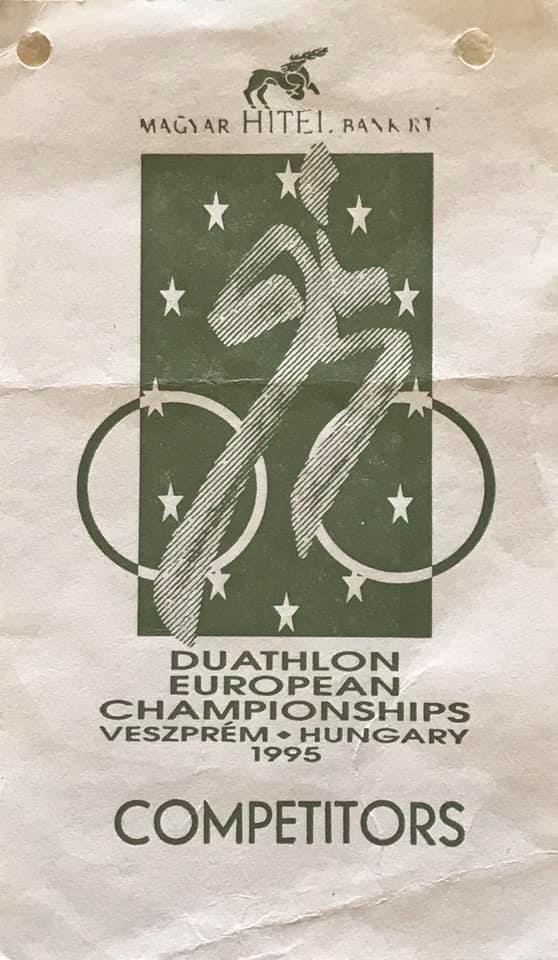 Photo: Filip Coussement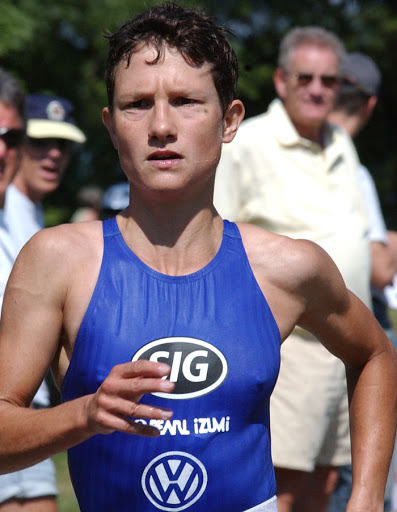 It was Switzerland's Dolorita Fuchs-Gerber who took the European title at the 1995 Veszprém ETU Duathlon European Championships. Located not far from Lake Balaton, this was the venue that would see battle between Gerber, defending champion, ten times Swiss Duathlon and seven times Swiss Triathlon Champion and the legendary Natascha Badmann. The two Swiss athletes fought hard against the threat from Denmark that was Susanne Nedergård. Gerber successfully defended her title, won the year before in the Finnish city of Vuokatti. She went on to win the title once more , in 1997 in Głogów, before taking time out to start a family. Badmann went on to win the 1995 Cancun ITU Duathlon World Championships before moving her focus to long distance events. Her win in Zofingen in 1997 pushed Nedergård into silver.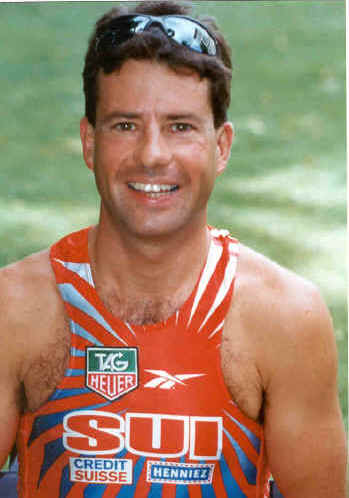 Photo: tri.paul.italix.ch
The men's race saw a comfortable win for Urs Dellsperger, making it a Swiss double. Dellsperger came to the race as a defending European Champion, with his individual win in Vuokatti but had twice been on the winning team, in 1991 in Birmingham and then in 1992 in Madrid, when the championships were run on a team basis. He went on to win again in 1996 in Mafra, Portugal before collecting the gold in Zofingen in 1997. He returned to racing as an Age-Group athlete, winning world gold in Győr and Rimini in 2007 and 2008. The silver medal went to the host nation, with a determined run from Péter Kropkó who was able to split the Swiss domination, by edging Jörg Denzler into bronze. Kropkó was the first Hungarian to qualify for Kona, with his 1988 finish in Roth. He went on to win a number of full-distance events, including two victories in Zurich in 1999 and 2001. His daughter is ensuring that the family name stays on the leader board, with her Márta Kropkó with her regular podium appearances and Tulcea victory last year as a Junior.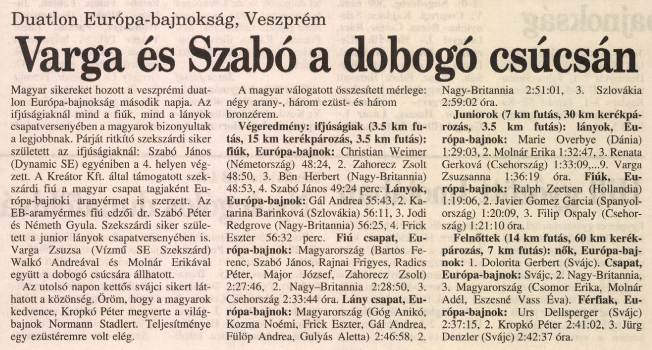 Check out the local newspaper report. Do you recognise any of the names?
In 2000, we had a major city race in Italy that saw a host of famous names race the standard distance. The 2000 Milan ETU Triathlon European Cup saw a runaway victory for Nancy Kemp-Arendt LUX. She smashed the swim, coming out of the water with over 30 seconds in the bank and then held the lead over the 40k bike course to round off with a solid run to take the win over a minute ahead of GB's Sian Brice. Bronze went to Italy's Nadia Cortassa, who outpaced Sophie Delemer FRA, who had raced in the very first ITU World Championships in Avignon. Kemp-Arendt is now a politician, sitting in the national legislature, the Chamber of Deputies, for the Christian Social People's Party.
The men's race was a chance for the Brits to collect more medals as the 1998 European Champion Andrew Johns and Richard Allen battled for the win. It was Johns who led the swim, with Italy's Gianpietro De Faveri on his toes. Allen was third out of the water. With a DNF coming his way, De Faveri's race was not his best but the two Brits were strong and created the perfect conditions for an all-out run for the tape with Johns just having the legs to beat Allen, despite the younger Brit's determined run. Johns went on to win the European title in Stein in July. De Faveri has continued to race and now, as an Age-Group athlete, has been scooping up titles in off-road triathlon racing. 2015 and 2019 World Champion, 2017, 2018 and 2019 European Champion.
Spin the clock forwards to 2010 and we come to the northern reaches of our racing map and to Strathclyde. The 2010 Strathclyde ITU Triathlon European Cup saw uncommonly warm weather for the weekend of racing.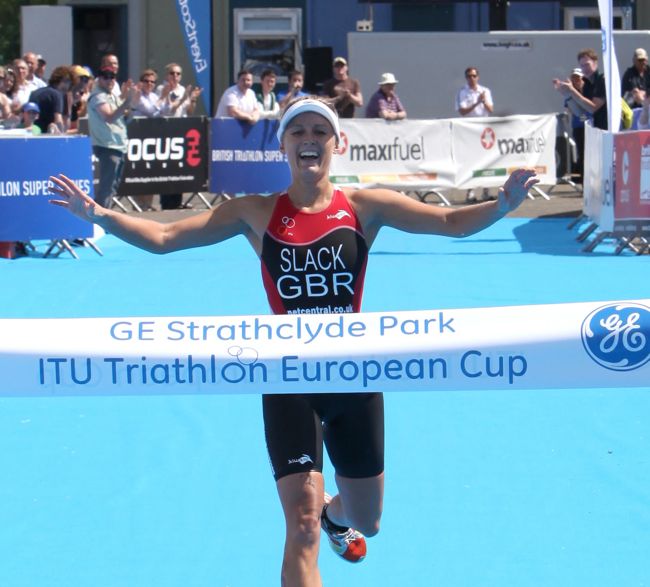 It was a solid day for the Scots, with gold and silver medals going to the hosts in the Men's race and with Great Britain's Jacqueline Slack winning the women's race ahead of some tough international talent, it was an altogether successful weekend and a clear message that plans for the 2014 Commonwealth Games triathlon were on track. Slack came to the race after a tough training camp and, confident in her ability, waited until the right moment to kick for home. "I'm amazed. To be honest, I didn't expect to come out and win. I was aiming for top five, possibly top three—either would've been great so early in the season." Silver went to the reigning U23 European Duathlon champion, Alexandra Tondeur BEL and bronze to Charlotte McShane who was in fact racing on home soil, having been born in Wick, Scotland but then in 2005, relocating down under.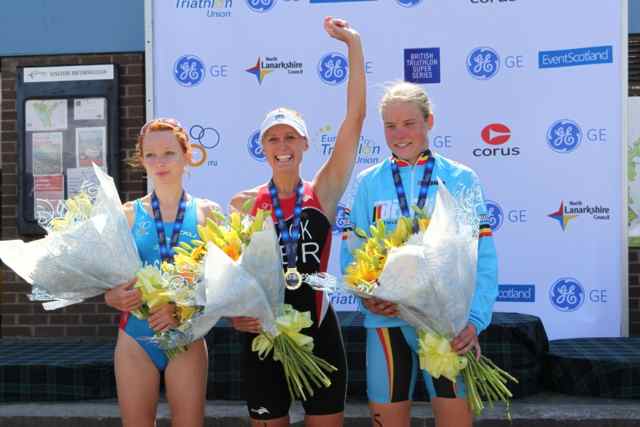 The men's race gave local hero Ritchie Nicholls a chance to show that his recovery was complete. He had a good swim, held it together on the bike and then ran through the field, picking off the French leading duo to take the win. Behind him, teammate and fellow Scot, David McNamee took silver and, with the fastest run split of the day, Irishman, Bryan Keane finishing third. His run of 32:32 smashed a path to the podium. You can watch highlights from the race, including a spectacular crash that took out GB's Richard Stannard by clicking this link.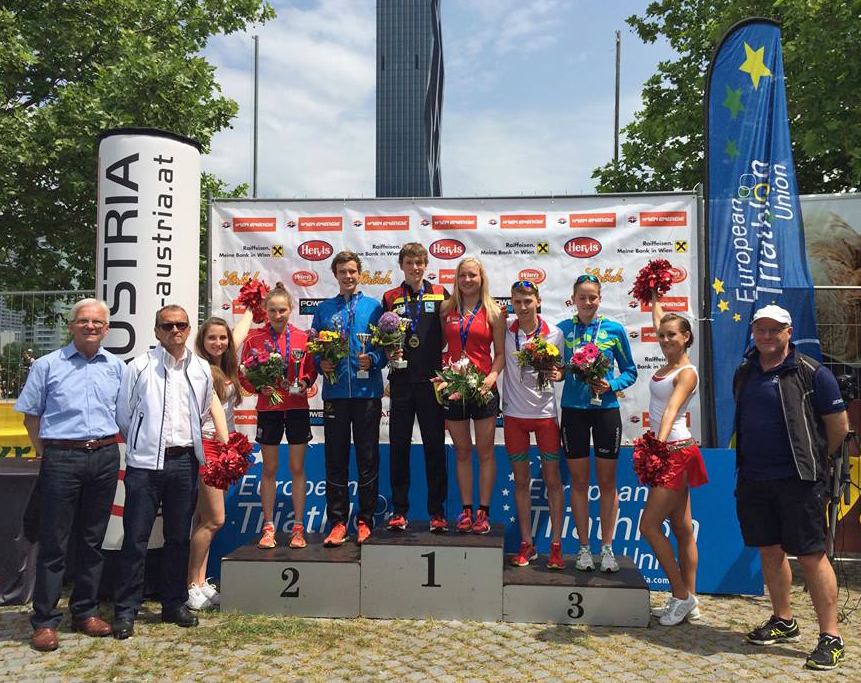 Moving forwards to 2015 and we have the Vienna ETU Triathlon Junior European Cup.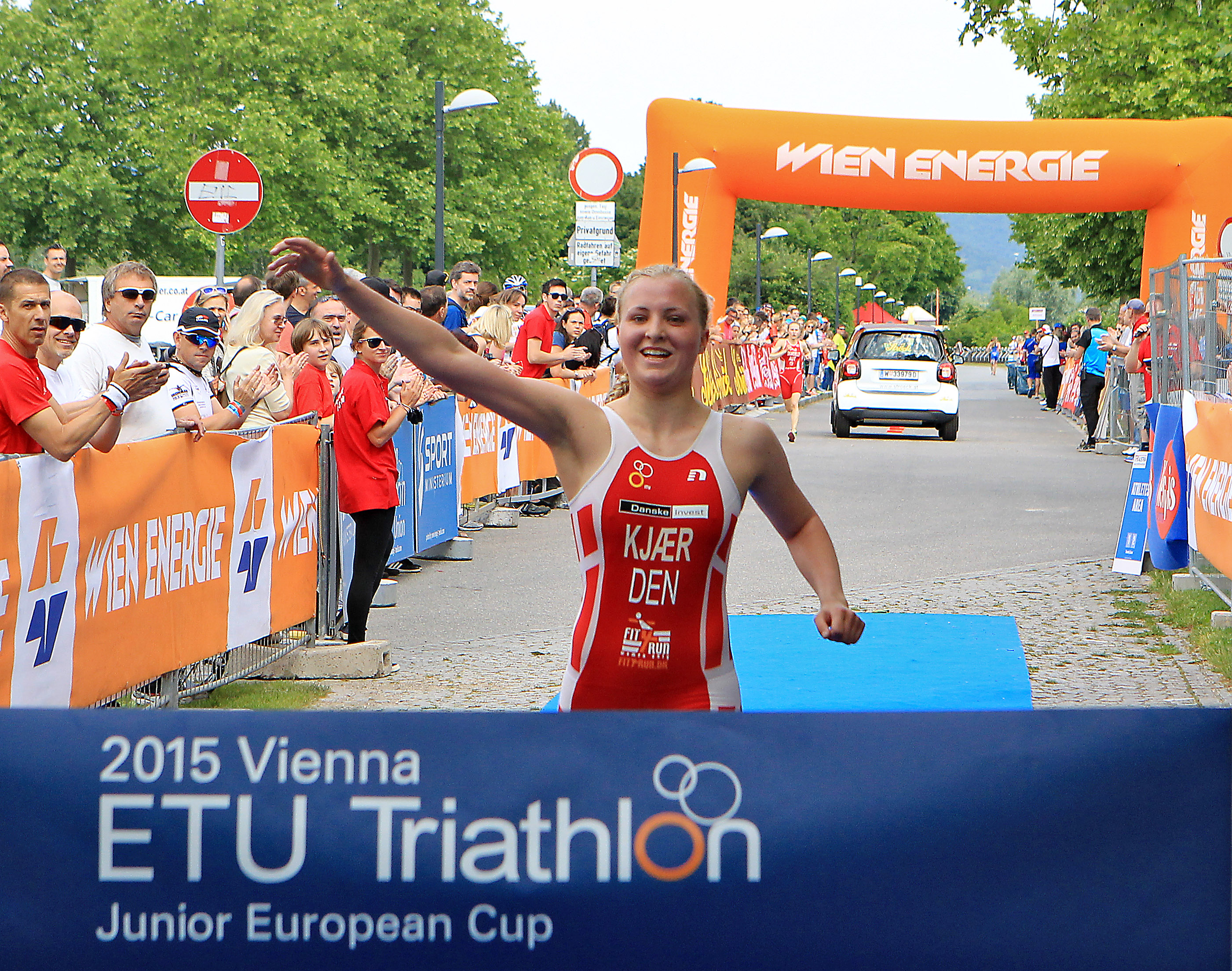 The race moved to the city centre and with perfect weather for racing the crowds were out to cheer along the athletes. A large group of 18 athletes in the women's race gave no impression as to who might win. The home crowds were behind Sara Skardelly who looked good for gold but Denmark's Alberte Kjær Pedersen proved too strong on the 5k run and snatched the gold in the final stages. Bronze went to Slovenia's Eva Skaza. 58 women in the line-up was an impressive turnout for a very popular race.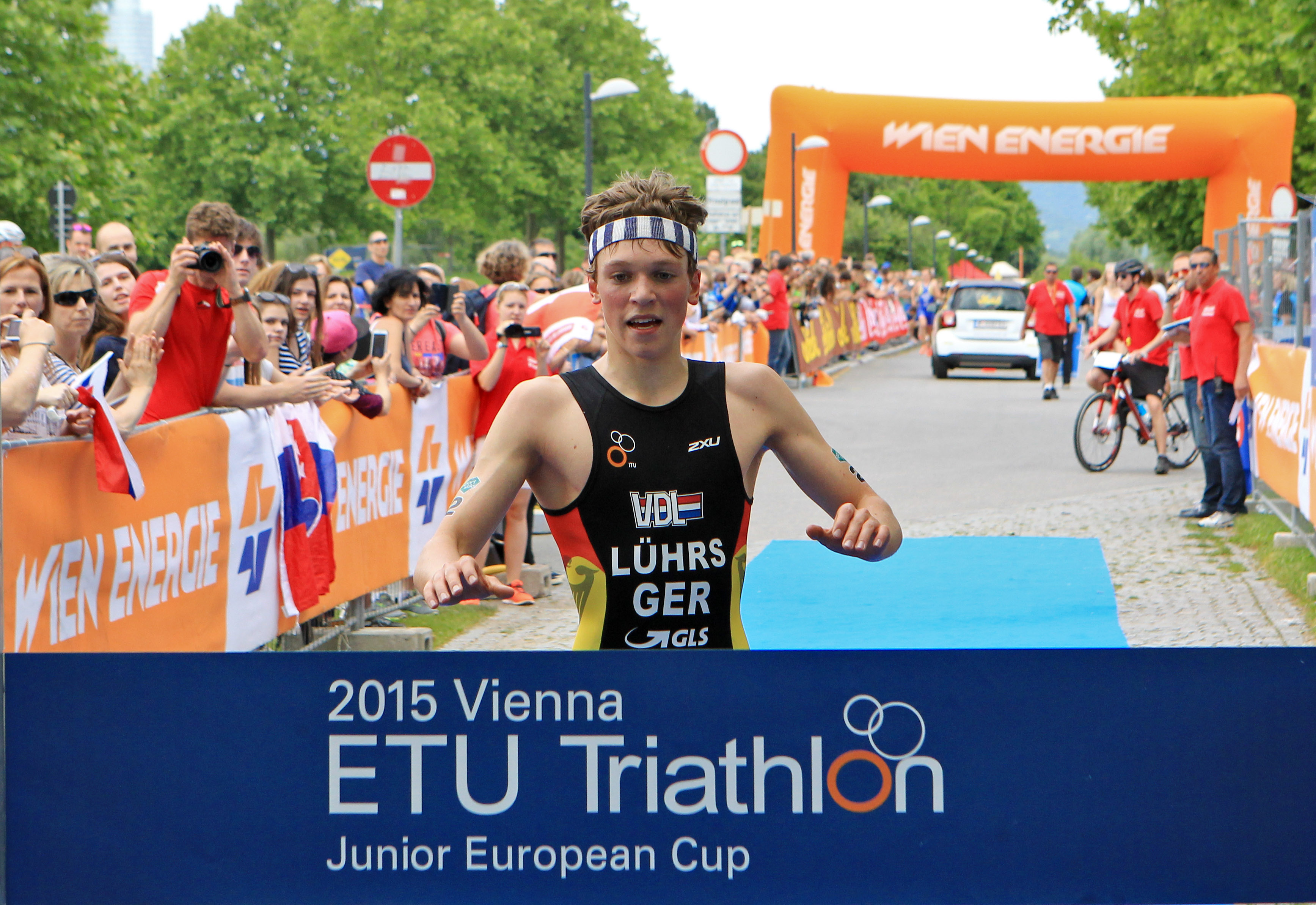 The Men's race also had a massive peloton lead into T2. 40 athletes. Three medals. It was Lasse Lührs GER, who would finally have the speed to break away and claim the victory. Sweden's Gabriel Sandör showed improved speed and took the silver medal, while USA's Seth Rider just lost out to Mikita Katsianeu BLR, who stole bronze with a final push that took him to the podium with three seconds to spare over the American. Read the full race report here.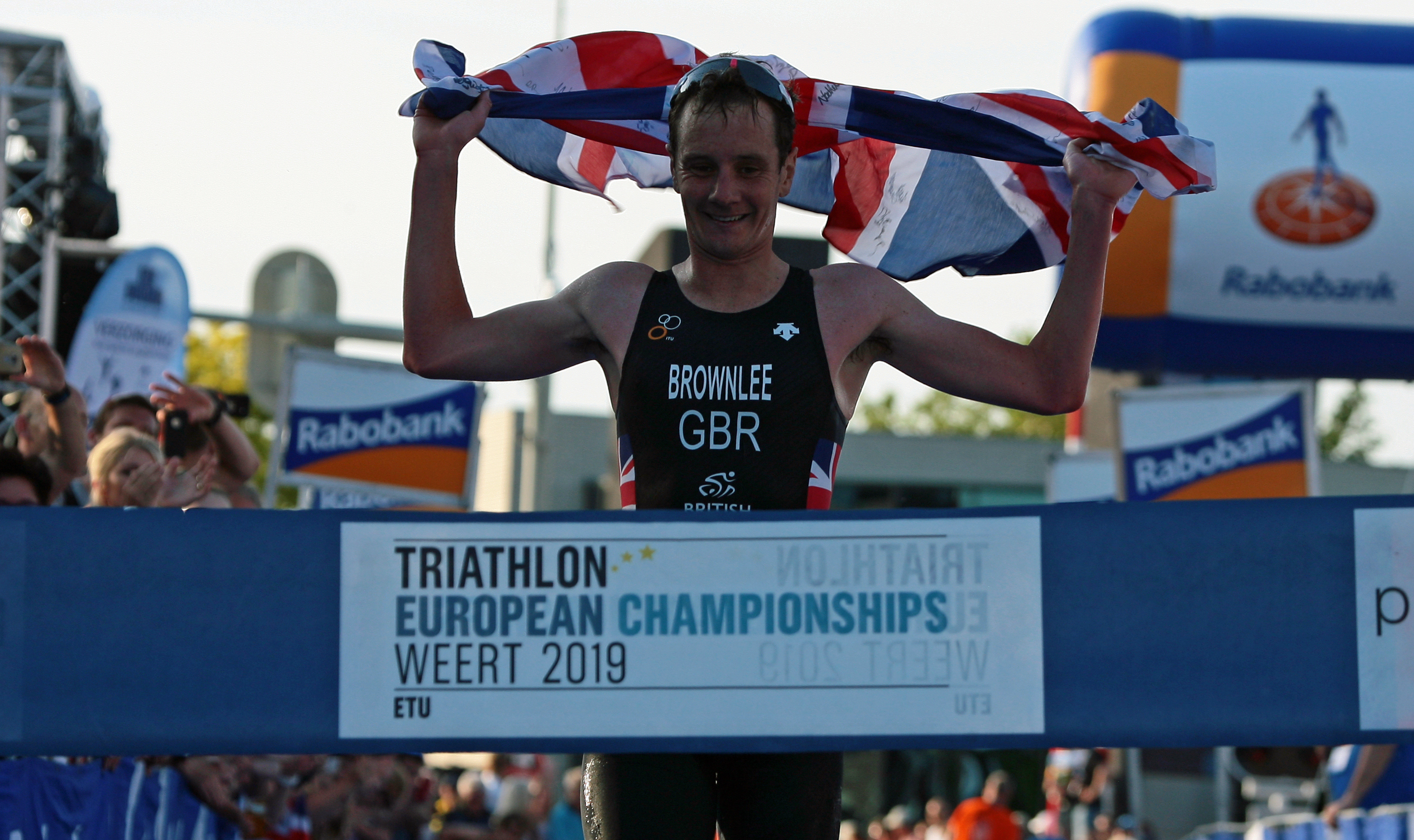 Fast-forward to 2019 and the focus was on Weert. Coming back to the short-distance was GB's Double Olympic Champion, Alistair Brownlee. What he did in Cagliari only a couple of weeks before had shocked the world. After a winter of long-distance training, he dominated the Sprint-Distance race there and of course, everyone expected him now to win in Weert over the Standard-Distance. Well, that's exactly what he did and in style.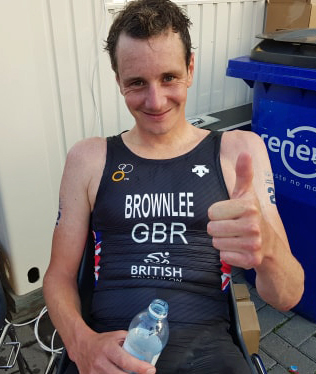 Thumbs up from Alistair. He beat double European Champion João Pereira PRT into silver and it was Belgium's Jelle Geens who pushed up into bronze.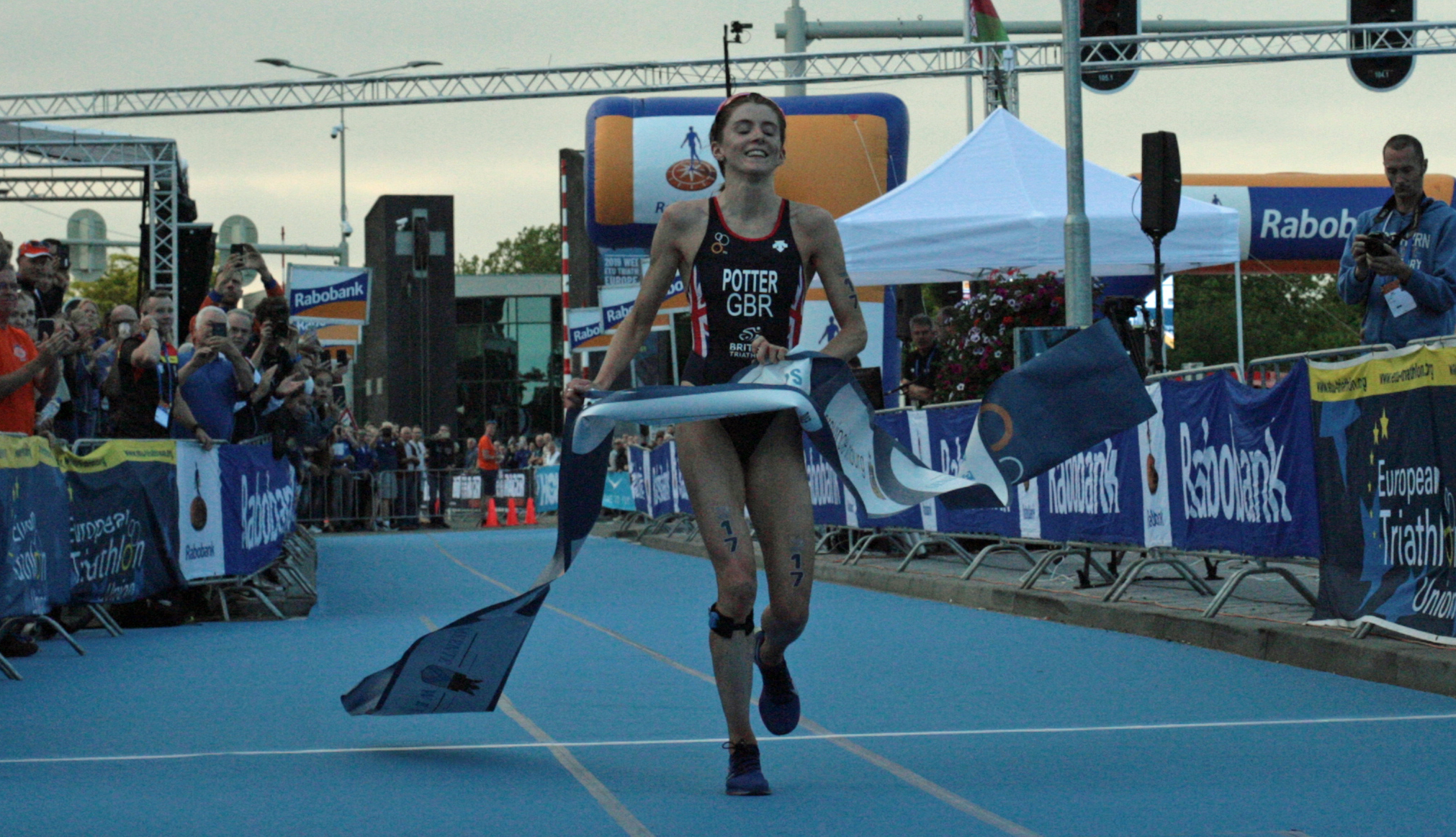 For Team GB this was a successful Championships as Beth Potter stormed to victory, using the run to show her incredible pace and seal a GB double ahead of Sandra Dodet FRA and Claire Michel BEL.

Read all about the men's race here.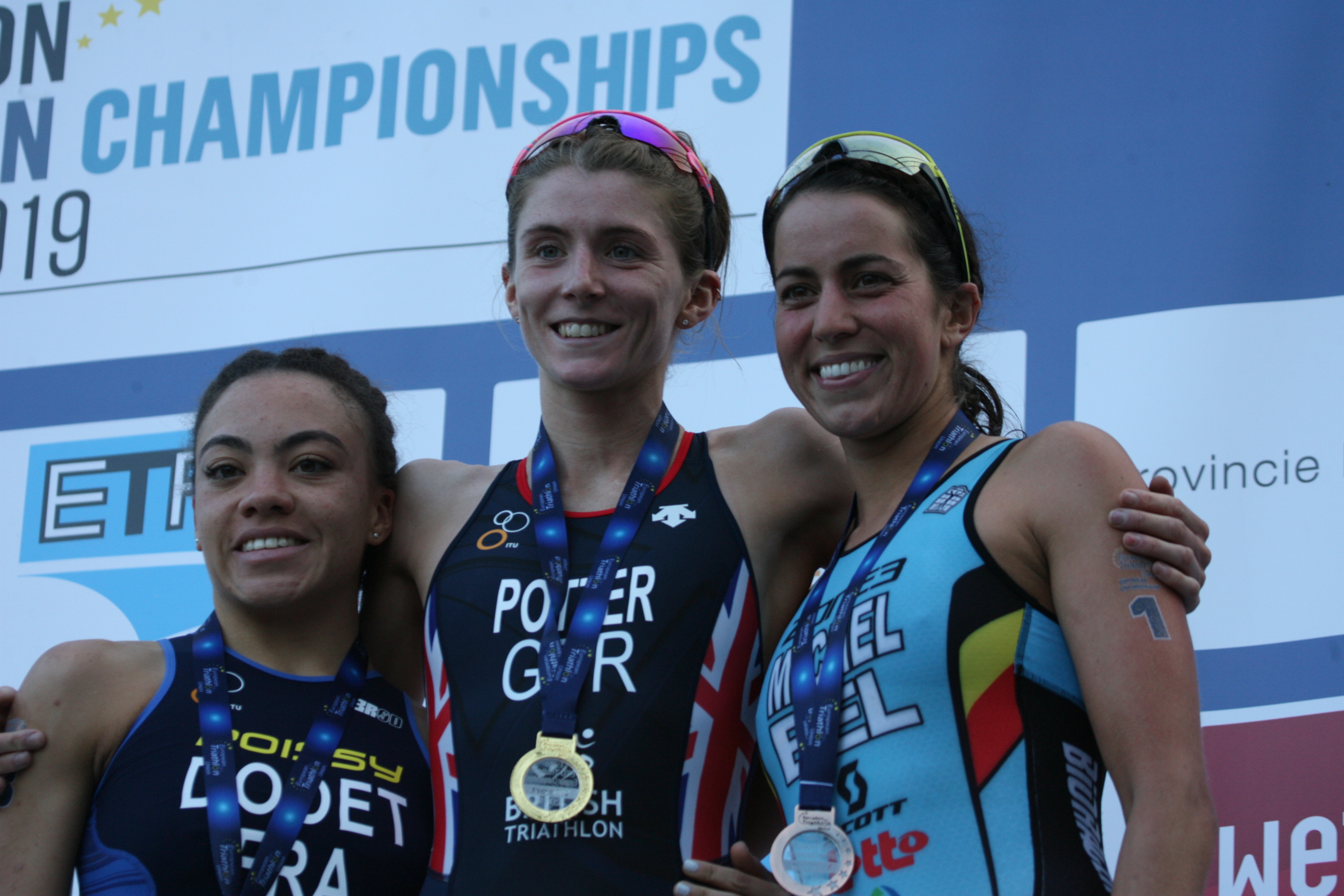 Read all about the women's race here.
So, that was what was happening around this time in the past. If you have any photos, or memories, please send them in to ETU Media. Let's fill the archive with images.
Latest
Videos
---
Latest
Event Galleries