NEWS
Multi-National Age Group athletes crowned European Champions in Alanya
By David Peddie
|
14 Jun, 2013
Of the 27 National Federations represented in the Olympic Distance Age Group European Championships, 16 went home with a medal thanks to some superb performances from their athletes.
The Age Groups started off a hectic Friday's racing at 0700 but the early start provided little respite from the soaring temperatures.
In the youngest category, Male 18-19, Patrick Cutmore (GBR) won gold ahead of team-mate James Briscoe (GBR). Iceland's Bjarki Freyr Rünarsson finished third.
In the 20-24 category, delight for Malta has Hannah Pace claimed gold ahead of British duo Emily Whitmore and Louisa Downs. In the Men's category, Samuel Wade (GBR) finished first with Bojan Koronovic (SRB) second and Jonathan Yeates (GBR) third.
In the 25-29 category, Carmen Macheriotou (CYP) led home Keira Murray (GBR) and Maria Hivner (GER). In the Men's category, Kevin Thornton won gold for Ireland ahead of Alex Lawton (GBR) and Keith Galea (MLT).
In the 30-34 category, Claire Hann (GBR) won gold with Deirdre Casey (IRL) in second and Sylvia Gehnboeck claiming the bronze medal. Danny Russell (GBR) beat team-mate Andy Turner to first place with Sebastien Karner (GER) completing the podium for the Male 30-34 category.
Across the next three female age groups the Brits were unstoppable with 9 medals across three events. Manuela Maxwell won gold, Deborah Coyle silver and Parys Edwards bronze in the 35-39 category. Jane Hansom led home Larissa Davies and Catherine Linney in the 40-44 and Maria Powell, Julie Topley and Sarah Gunn finished 1-2-3 in the 45-49.
Francoise Theate (BEL) claimed gold in the Female 50-54 but British duo Joanna Crotch and Valerie Place completed the podium.
Vladimir Savic (SRB) claimed gold in the Male 35-39 with Phil Holland (GBR) in second and Mitja Mori (SLO) third.
In the 40-44, Bruno Invernizzi (SUI) was the winner ahead of British duo Paul Jones and Noel Sutton. Olaf Geserick (GER) claimed gold in the 45-49 with Peter Eggleston (GBR) and Andrea Fiore (ITA) completing that podium.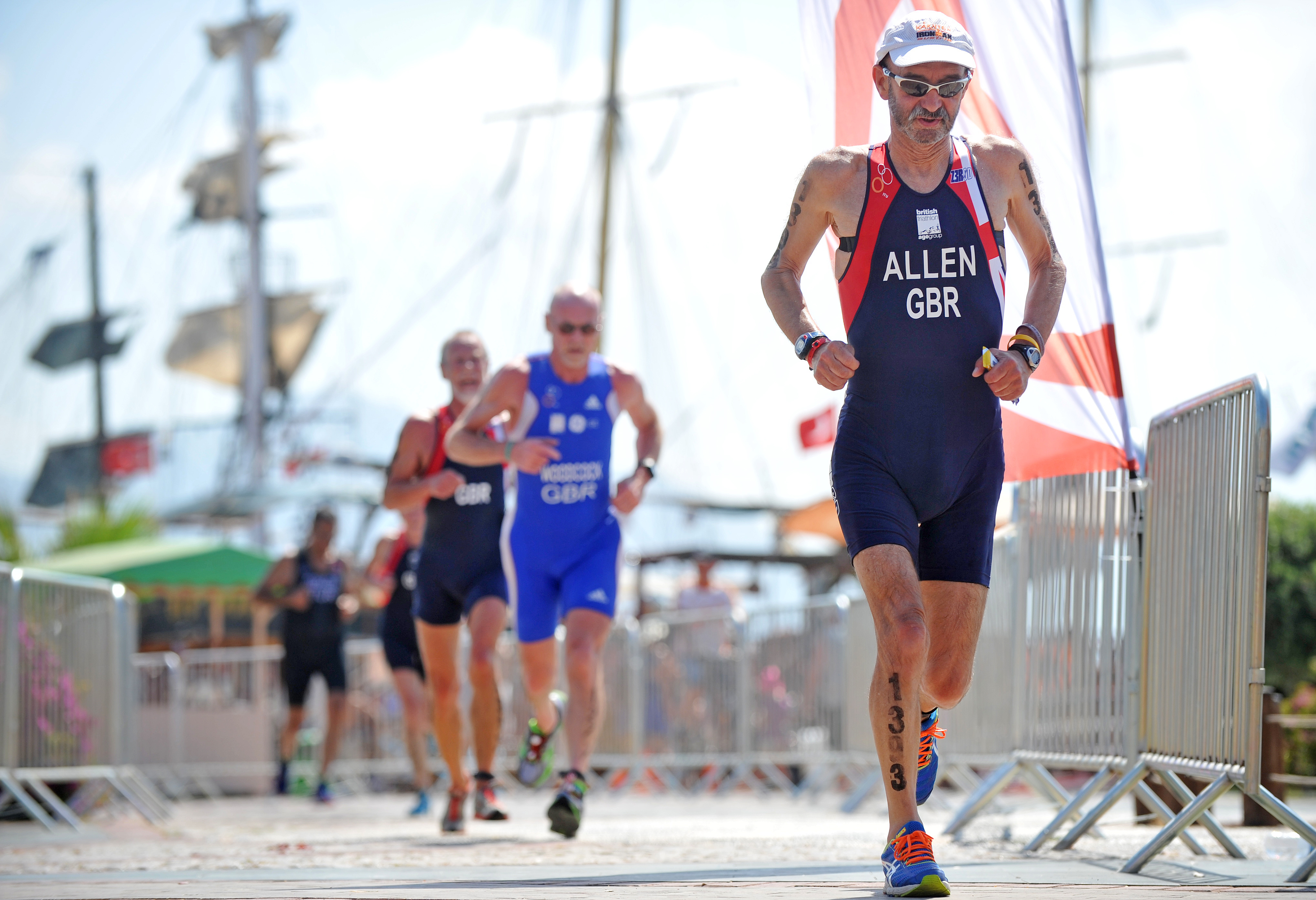 There was double joy for Switzerland as Beat Widmer and Reta Schawalder finished in the top two in the 50-54 category with Stuart Robinson (GBR) claiming the bronze medal in third.
The Swiss Federation picked up another two medals in the Male 55-59 category as Alfi Caprez (1st) and Georges Bürgi (3rd) sandwiched Greek athlete Christos Garefis who won the silver medal.
Irene Gambaro picked up another medal for Switzerland in the Female 55-59 category. She finished second behind Great Britain's Beverley Childs, who defended the title she won in Eilat last year. Kim Kildegaargd Isherwood finished 3rd for Denmark.
In the 60-64 category, Lesley Kernaghan claimed another gold for Britain. Ludmilla Veronova (RUS) was second and Christine Glew (GBR) third.
Barry Jameson claimed gold in the Men's 60-64 category ahead of Michele Vanzi (ITA) and Alan Woodcock (GBR).
In the final women's category, Great Britain's Hilary Stevenson made it three golds in a row in the 65-69 event. Sandra Abrams (GBR) was second.
In the Men's 65-69 category, Klaus Kuebler claimed gold for Austria ahead of Richard File (GBR) and Stanislav Zajfert (POL).
In the 70-74 category, Roger Kiernan (GBR) won gold with Roberto Scaglianti claiming second place. Ivan Green finished third for Great Britain and his bronze medal was the British team's 37th Age Group medal of the day.
In the final category, Francesco Fiori (ITA) stormed to a gold medal in the 75-59 group.
For a full list of all Age Group results from the 2013 European Championships - click here
Related Event: 2013 Alanya ETU Triathlon European Championships
Related articles
Rachel Klamer won the European Championship after an exhilarating race in Alanya. The Dutch athlete out-sprinted Vicky Holland (GBR) after chasing down and catching Vendula Frintova (CZE) with two laps to go. Holland claimed her first…

14 Jun, 2013

Georgia Taylor-Brown sprinted to glory to defend her European Championship Junior title in the scorching afternoon heat in Alanya. After a couple of months out due to injury, Taylor-Brown showed no ill effects in what was her first…

14 Jun, 2013
Latest
Videos
---
Latest
Event Galleries