NEWS
La Squadra Italia beats Germany in tight Mixed Team Relay battle in Kitzbuhel
By David Peddie
|
22 Jun, 2014
Your video is loading. If the video fails to load please upgrade your Flash player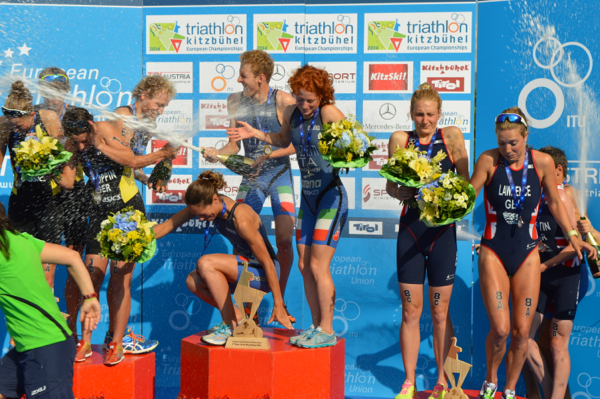 By Hans Cleemput
The Italians secured the last of the European titles in Kitzbuhel, outsprinting Germany in an exciting run final of the Mixed Team Relay competition. Charlotte Bonin, Alessandro Fabian, Annamaria Mazzetti and Matthias Steinwandter were extremely satisfied with the win. "We kept the gold medal for last so we could enjoy it even more", laughs Alessandro Fabian. "It's so great becoming European champions with this strong team", says Annamaria. "Will we become world champions as well? We'll see, but to finish on the podium would already be great. Here in Kitzbuhel it was a tough race, after the last two days of racing. But we're really happy that we can sing our national anthem out loud on the podium today."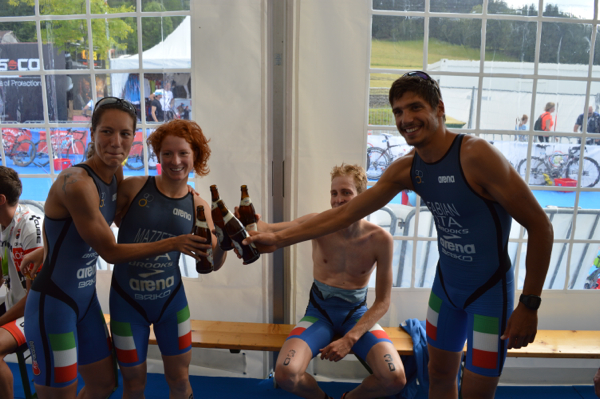 Italy and Germany made a break when Hanna Philippin and Annamaria Mazzetti worked together on the bike, dropping off Hungarian Margit Vanek. She would be caught before the end of the bike leg by Great Britain, Ukraine, Russia and Czech Republic, making it an exciting battle for bronze.
Italy and Germany came into the final transition together with a lead of 1'12. In a neck-and-neck-race the final 2,5 km run would be all decisive. Matthias Steinwandter sprinted faster than Germany's Justus Nieschlag and made Italy the new European champions Mixed eam Relay.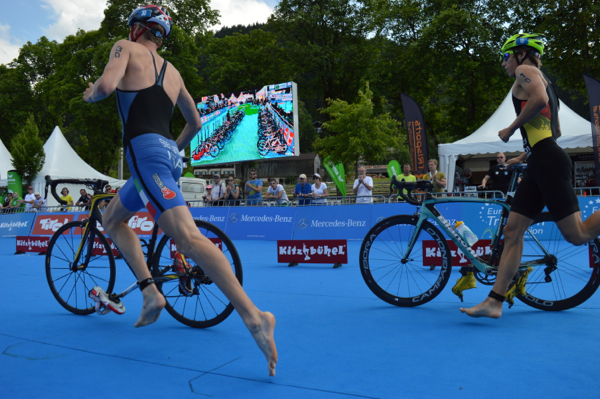 Nieschlag was not too disappointed. "It's great to win silver today with our team. I gave it all, but Matthias is a very strong runner. We are looking out for a big party tonight, with both gold for our junior team and silver for us. All in all I am satisfied with my races here. It has been a good season so far and I am confident for my next race in Hamburg. That will be a big race for us Germans," he said.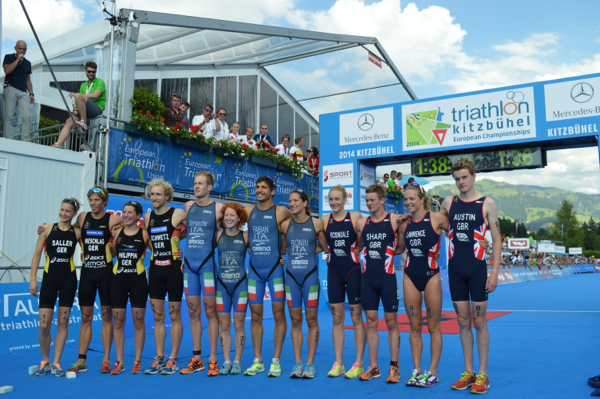 Matthew Sharp had to fight off Hungarian Gabor Faldum to take the bronze medal for Team GB. Hungary and Great Britain also entered the final transition side by side. Sharp was delighted. "That was a pretty fast and hard run, yes. But I really need to thank my team mates Lois Rosindale, Marc Austin and Holly Lawrence for bringing us in the front. Yesterday was a hard race and I really felt my legs burn in the downhill sections on the run today. I know they were counting on me to finish it off, but I love to do the last leg, so I'm pretty excited that we won bronze."
Related Event: 2014 Kitzbühel ETU Triathlon European Championships
Related articles
By Hans Cleemput Olympic champion Alistair Brownlee took his 5th victory in Kitzbuhel, claiming his 3rd European gold medal. A big lead pack of 53 athletes entered T2 and after a fast transition, Brownlee immediately opened up a gap…

21 Jun, 2014

by Hans Cleemput Although the rain and the cold could not stop Nicola Spirig from winning her 4th European gold in Kitzbühel, the weather definitely had an impact on the race. While yesterday the water temperature of the Schwarzsee…

20 Jun, 2014
Latest
Videos
---
Latest
Event Galleries