NEWS
La Baule ready for another year of European competitions
By media@europe.triathlon.org
|
19 Sep, 2023
Nestled along the picturesque shores of the Atlantic Ocean, La Baule has long been celebrated for its pristine beaches, charming seaside promenades, and a rich cultural tapestry. But for athletes and triathlon enthusiasts, this coastal gem holds an even more enticing secret: the annual Audencia - La Baule Triathlon.
Last year, La Baule earned a special place in the hearts of young triathletes and sports aficionados as it played host to the unforgettable Europe Tri Youth festival. The event showcased the boundless energy, talent, and determination of the continent's budding triathlon stars. It was a spectacle that left spectators in awe and competitors inspired to push their limits further.
But the excitement doesn't end there. This year La Baule gears up to welcome a new wave of elite athletes and eager fans for the highly anticipated 2023 Europe Triathlon Mixed Relay Club Championships. This prestigious event promises to be a thrilling spectacle that transcends borders, uniting athletes from across Europe in the spirit of competition, camaraderie, and pure athletic excellence.
Adding a touch of star power to this year's event, the Audencia - La Baule Triathlon has proudly announced David Hauss as its patron. Hauss, a former European triathlon champion, brings a wealth of experience, inspiration, and a deep connection to the world of triathlon. His story is a testament to dedication, ambition, and the enduring allure of this multi-discipline sport.
A native of Réunion Island, Hauss discovered his passion for triathlon at a young age, and his journey has been nothing short of remarkable. He ascended the ranks, representing France on both the junior and military triathlon teams, before making his mark on the international stage. His 4th-place finish at the 2012 London Olympics and his European Triathlon Championship victory in Geneva in 2015 underscore his enduring legacy in the sport.
Hauss's ties with the Audencia - La Baule Triathlon run deep. He has graced the event as an athlete on five occasions, and now, he's set to make a triumphant return to compete in the Legends' Challenge, alongside fellow luminaries of the sport. As the patron of this year's event, his presence is a testament to the event's enduring allure and reputation as a pinnacle of triathlon excellence.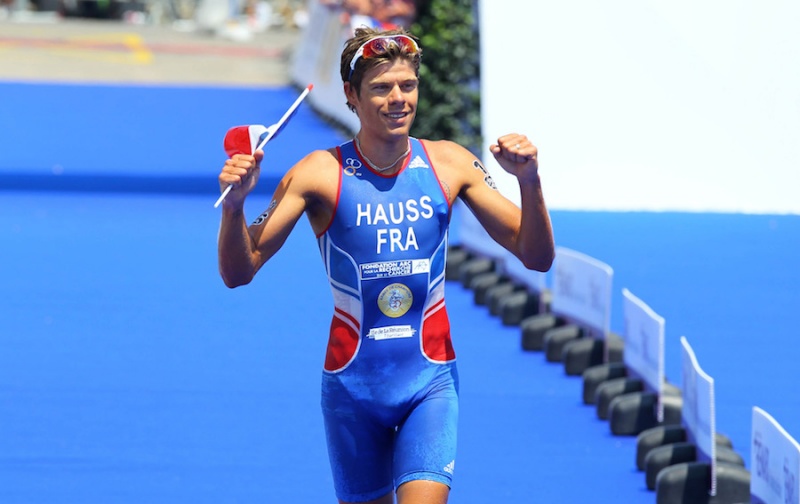 As La Baule prepares to host the 2023 Europe Triathlon Mixed Relay Club Championships, anticipation is increasing. The picturesque coastal town is gearing up to welcome athletes, spectators, and triathlon enthusiasts from all corners of Europe. With David Hauss at the helm as patron, the stage is set for a weekend of exhilarating races, nail-biting finishes, and unforgettable moments.
Related Event: 2023 Europe Triathlon Mixed Relay Club Championships La Baule
Latest
Videos
---
Latest
Event Galleries