NEWS
Denmark's duathletes dominate in Vejle
By Paul Groves
|
10 May, 2018
Each year, duathletes from all over Europe meet up for the big test. That test is over the Powerman distance of 10k – 60k – 10k and coming with the working partnership between ETU and Powerman there is a close-knit, family feeling amongst the athletes.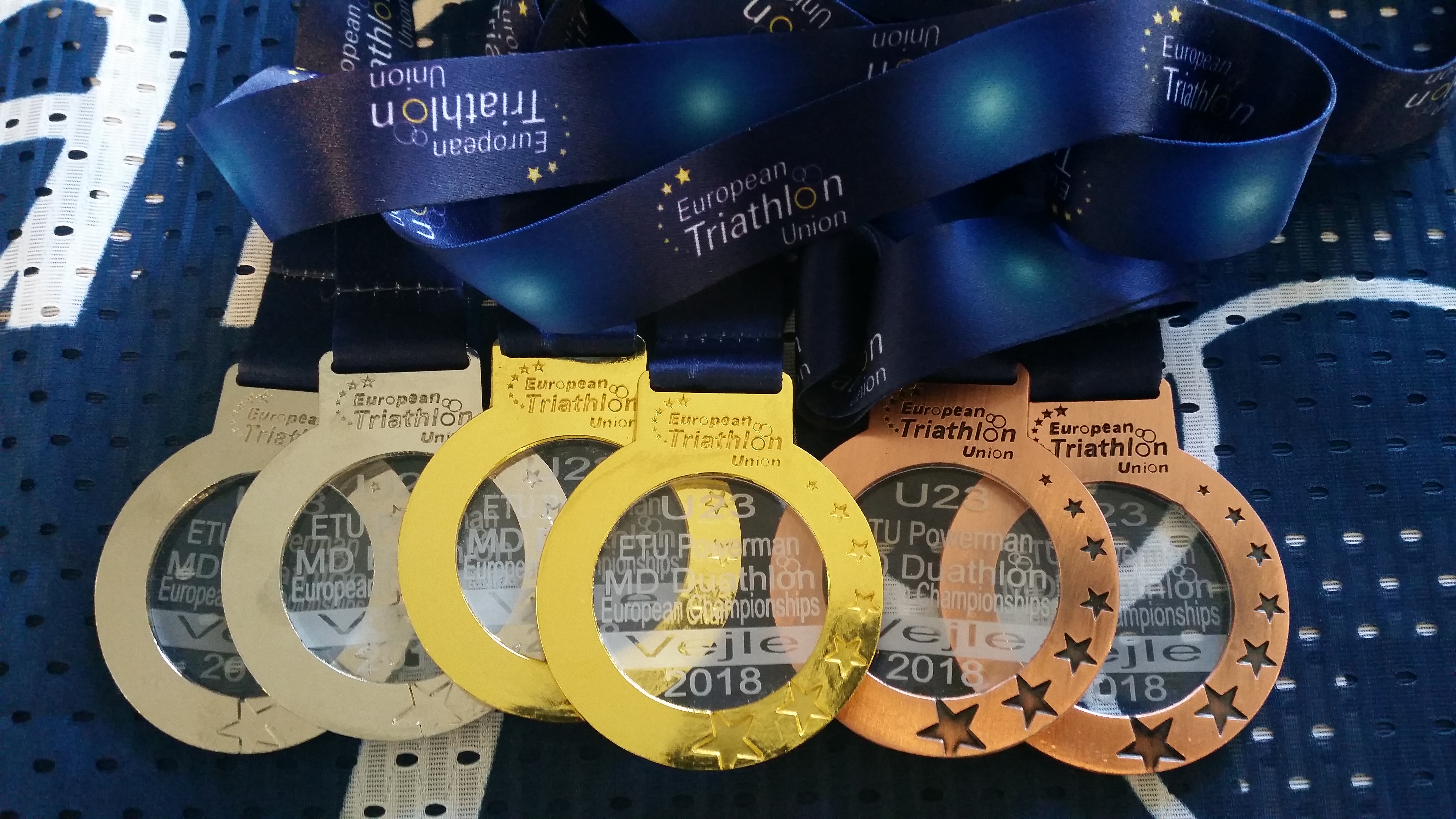 This is no sprint, but equally, it is not Zofingen. For many, the race last weekend was enough. For some, this race was a test to see how the preparations are going for the ultimate Duathlon in the world, Zofingen, which is raced over 10k – 150k – 30k and is recognised as being one of the toughest, if not THE toughest duathlons in the world.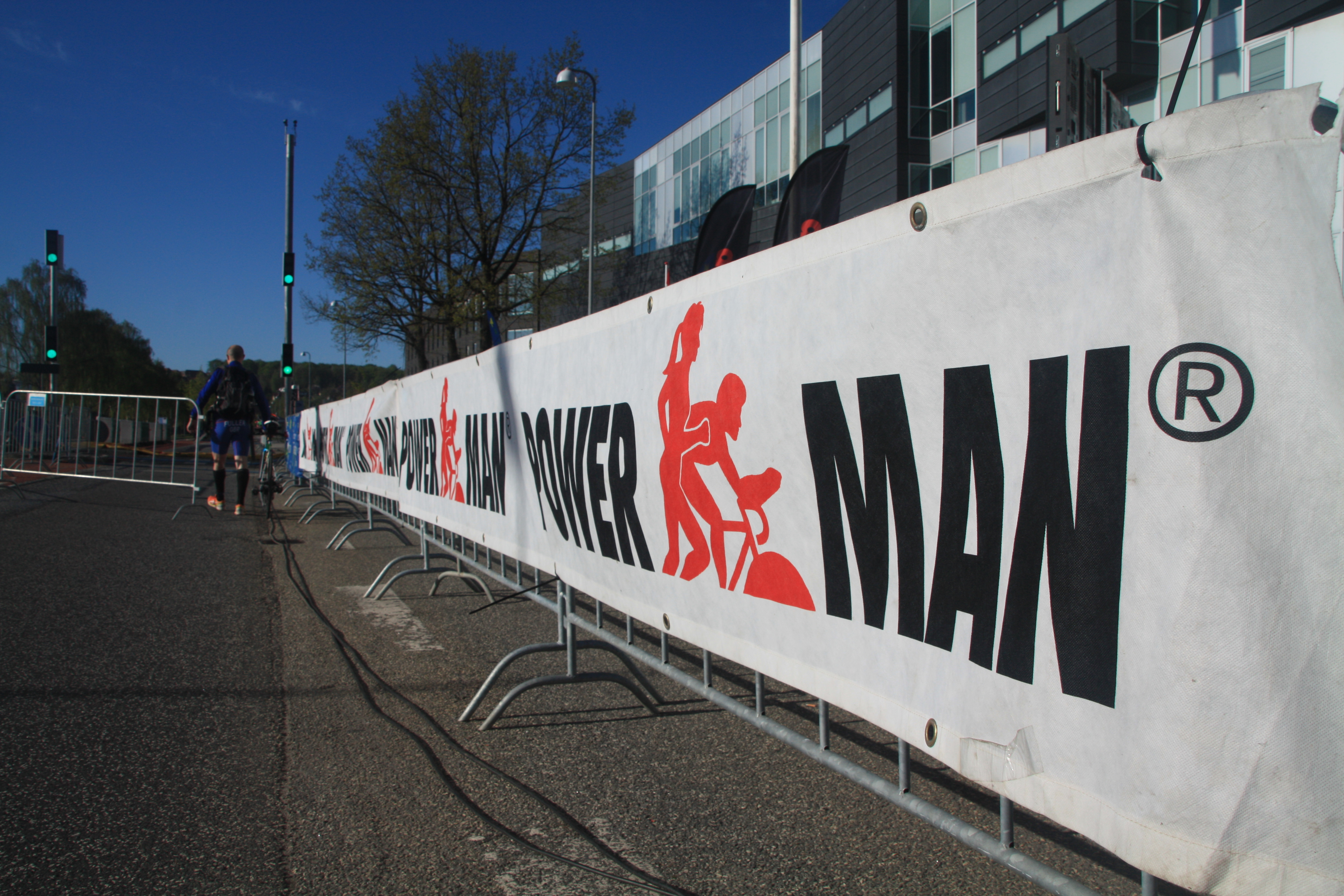 The sun shone all weekend in Vejle, a small town not so far from Fredericia, where in the past we have seen battles for medals over long-distance triathlon and duathlon. The hotels were full and the streets were ablaze with the uniforms and flags of 17 European nations and one visiting athlete, racing in the Elite field, from the Philippines.
With the unexpected sunshine came the need for protection.
The Elite had set off and were out on the course. Time now for the Age Group Women and Men 55+.

Once the Age Groupers had sped away from the massive Powerman arch, the roads were filled with athletes. It was in the women's Age Group race that we saw GB's Gill Fullen set the pace. Racing in the 50-54 category, she has the enviable stats of 11 starts, 11 podiums and 9 wins and looked set to win her category once again, now that she has returned to racing after a tough battle with cancer.


Leading the women around the course, she was joined by French athlete, Bénédicte Blanc .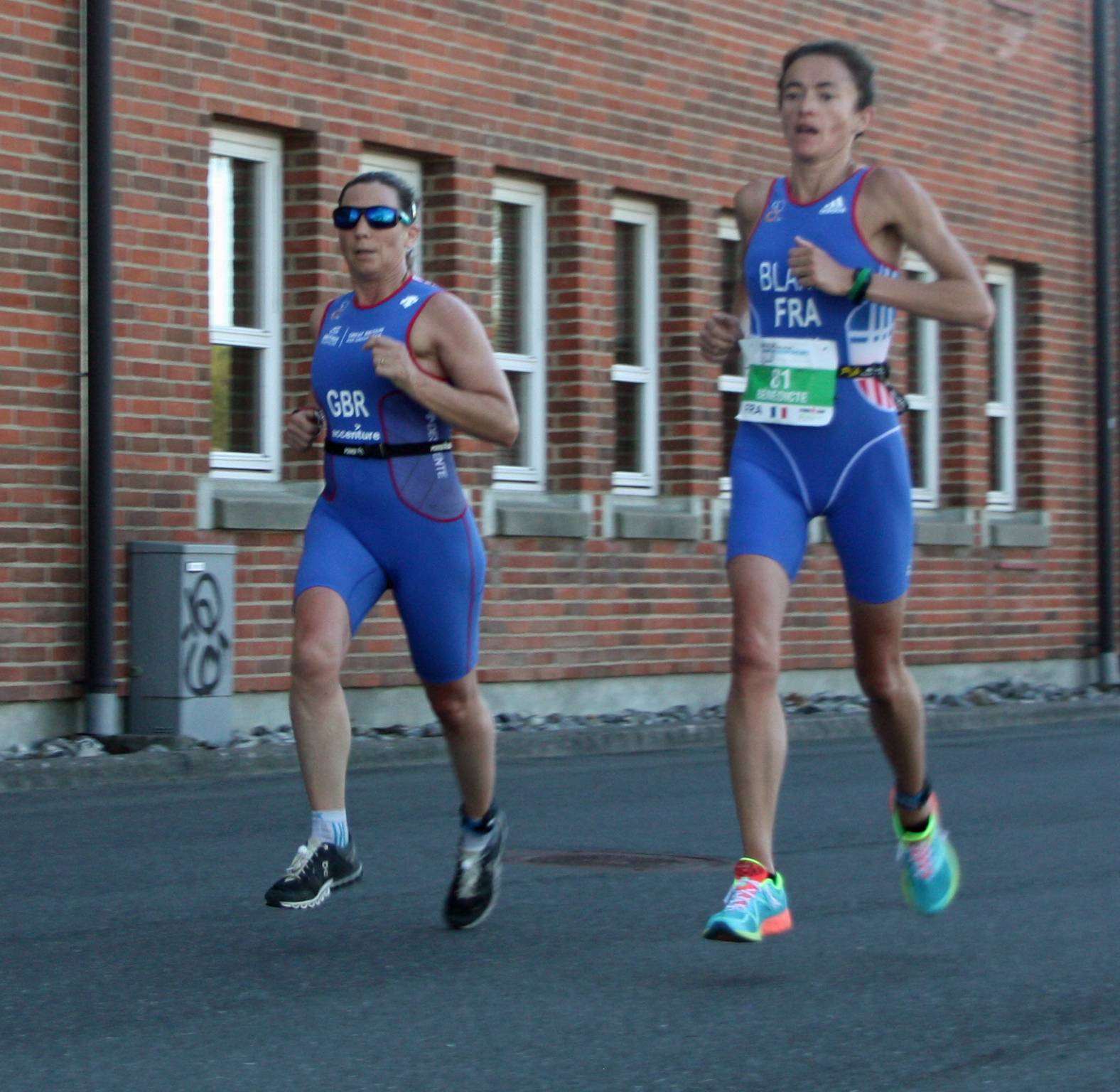 They truly set the pace and ran into T1 almost together, with Blanc taking the lead and clocking 39:14, ahead by just one second, for the first 10k.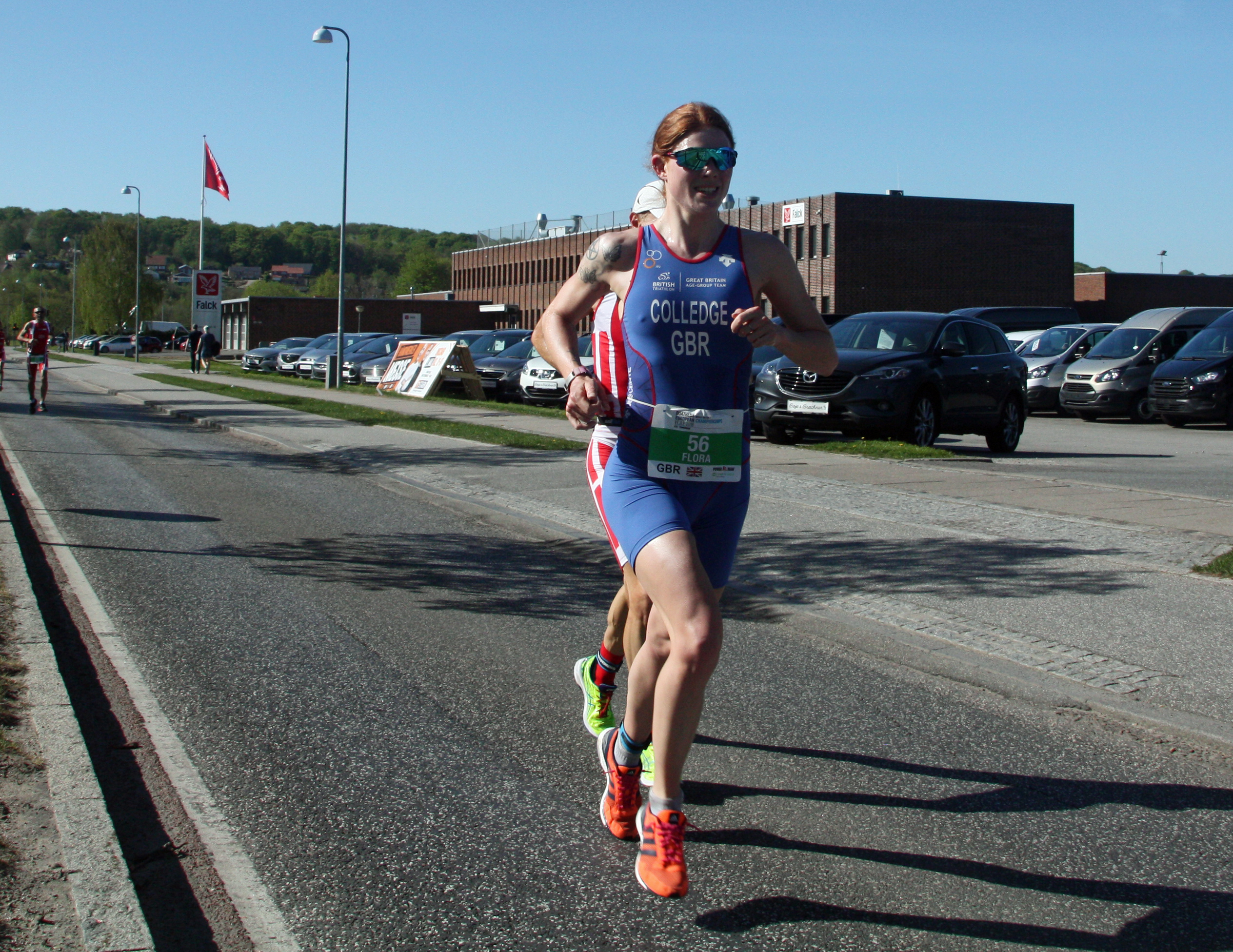 Next in was Team GB's Flora Colledge. Reigning World Champion, it was going to be interesting to see how she would fare over the shorter distance. She looked strong and was running easy.
The bike course was where it all came undone for Fullen. Mechanical problems out on the two-lap course ruined any chance she had of a medal and indeed a top 5 finish.
Colledge looked strong and soon overtook Blanc. Behind her Carol Rasmussen DEN showed her biking power that has taken her to the podium on 8 occasions with 5 golds and looked like she was going to catch her but Colledge, over 20 years younger, held her off to enter T2 leading the race.


As Transition filled up once more, the sun was still shining brightly and the temperature around the run course rose up into the high 20's. It would be essential to keep hydrated over the remaining 4 laps of the final 10k run.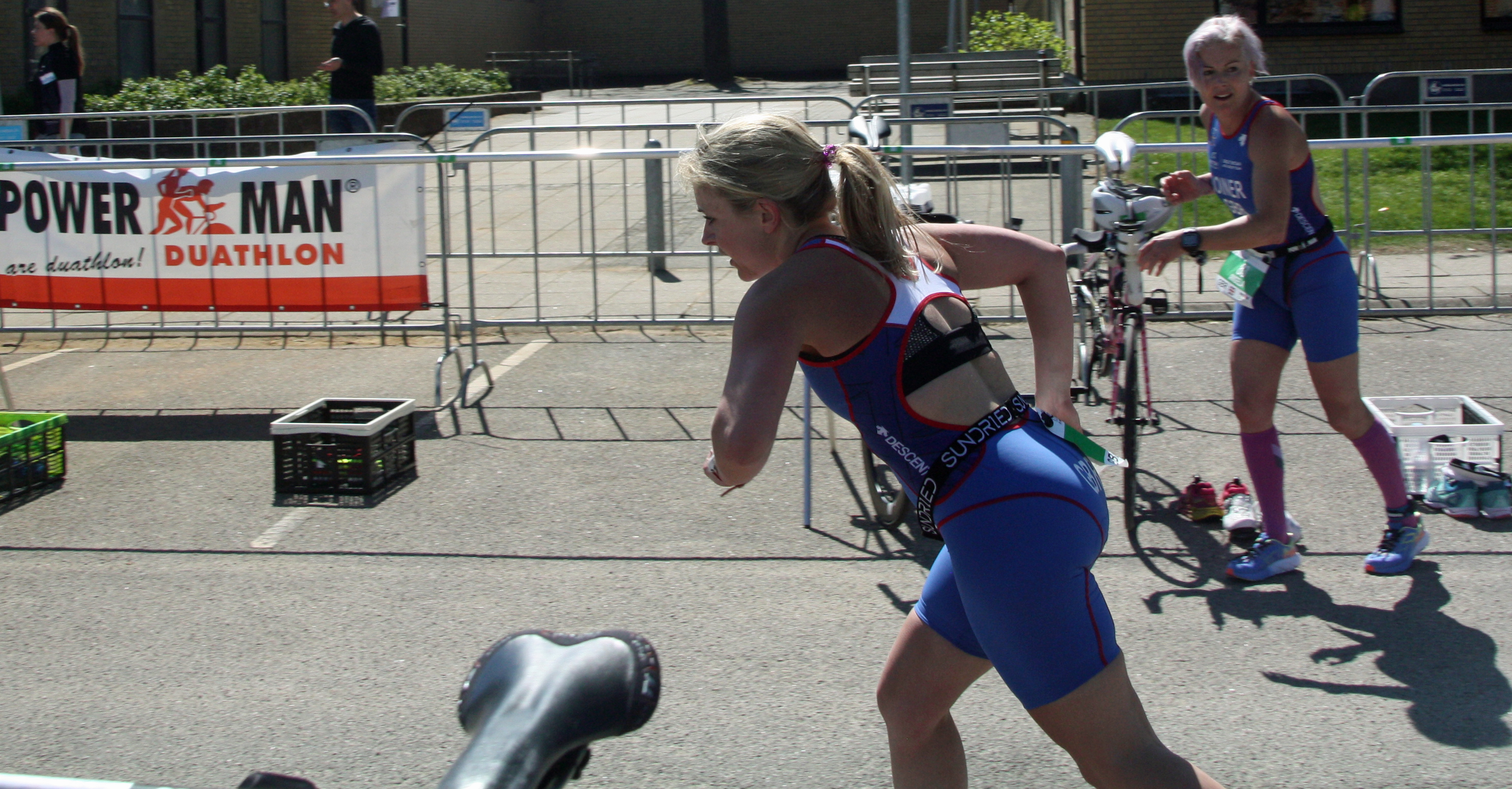 Maintaining her earlier pace and without Fullen to threaten her on the final run, it was GB's Colledge who cruised to victory in her age group (30-34) and was the first Age Group woman to cross the line. Her finish time of 3:21:05 would have given her prize-money if she had raced with the Elite women.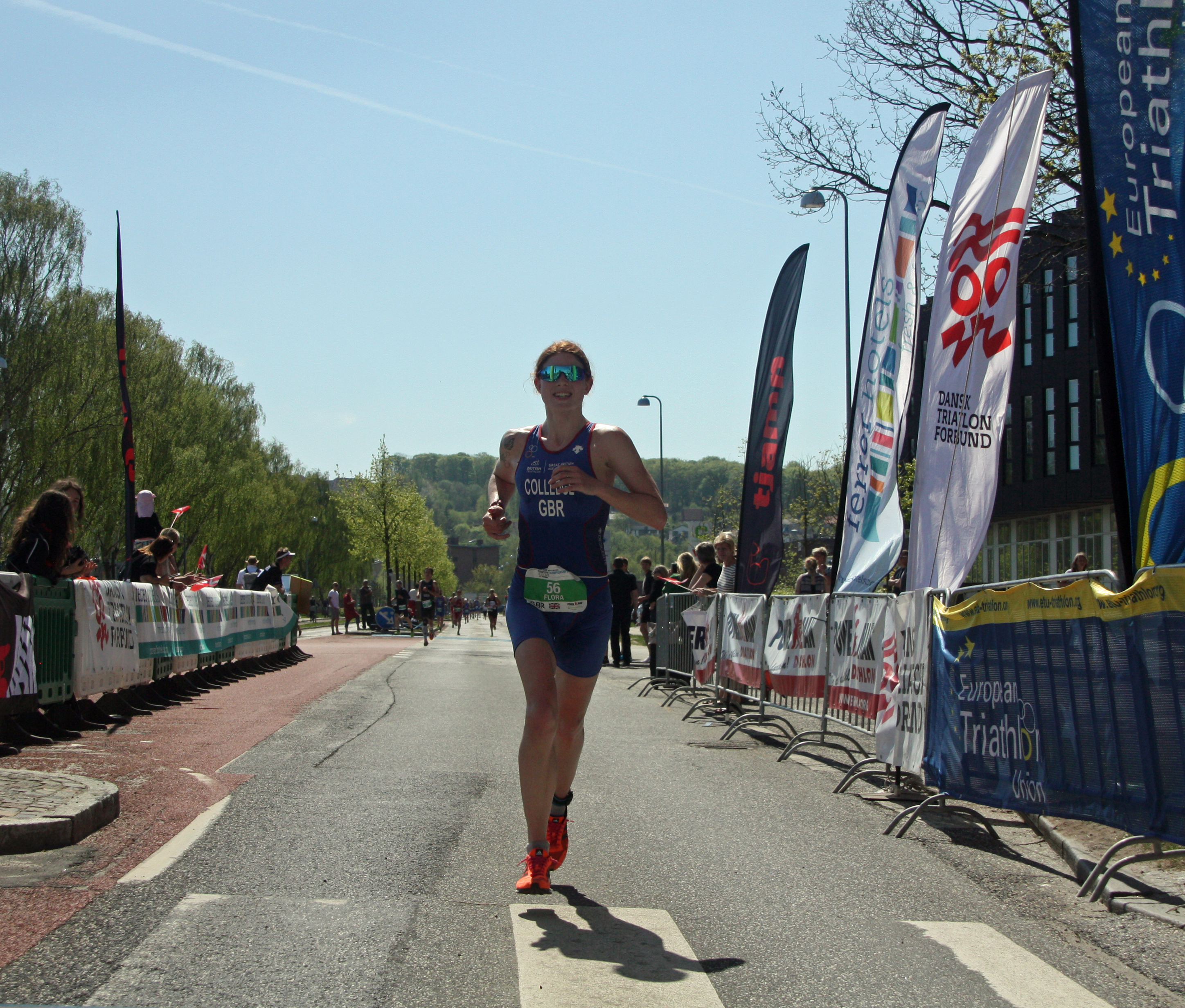 Next to come home was Denmark's Carol Rasmussen, who had been helping out with registration the day before. 3:24:24 was her AG winning time (50-54) and that gave her the biggest margin of victory amongst all the Age Group women.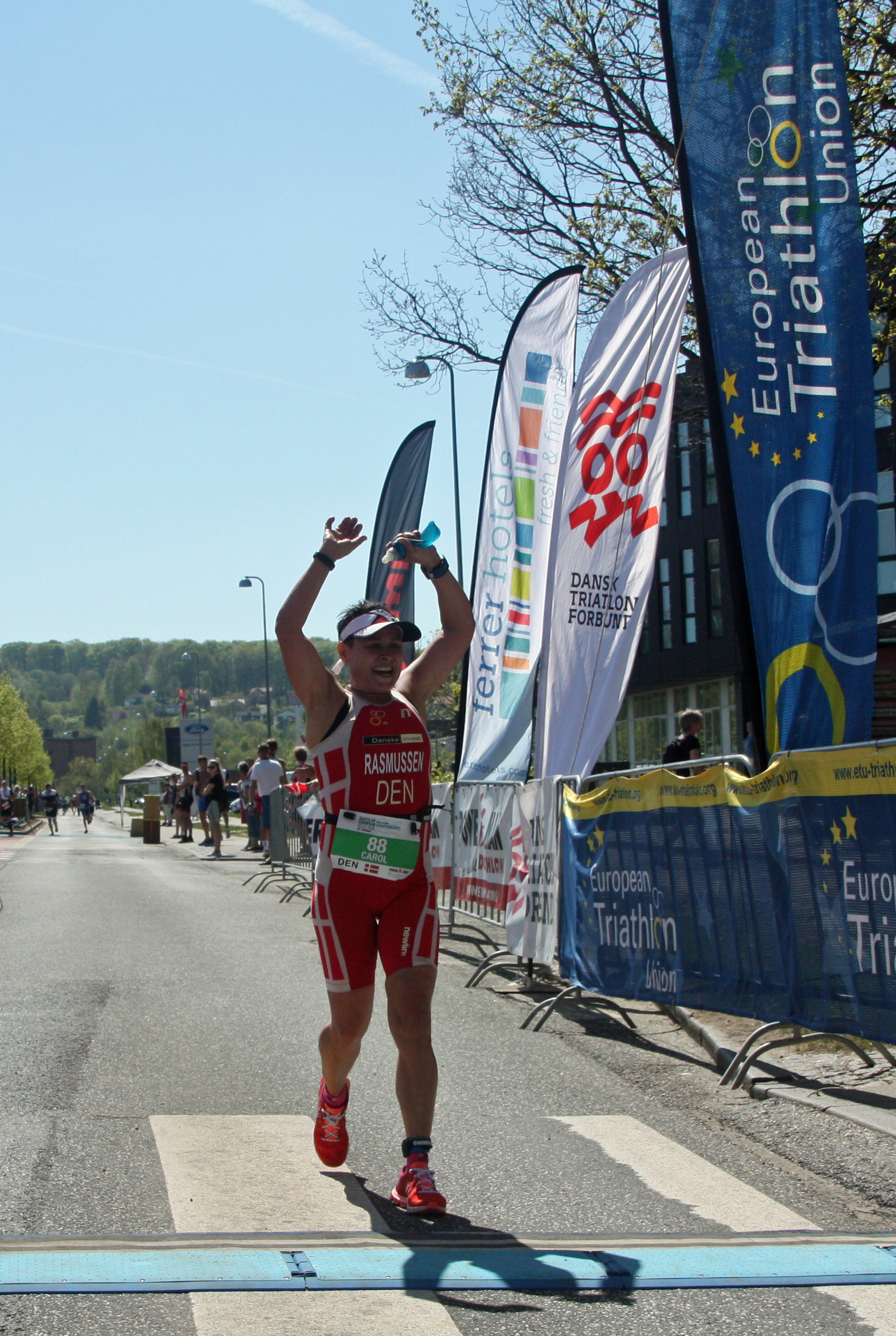 Third across the line was Denmark's Anni Friis Pedersen who took silver in the 30-34 category.
Let's have a look at the remaining winners in the Women's Age Group.
Denmark's Anne Johansen is now a European Champion in the youngest category, 18-19 along with Julie Abildgaard in the 25-29 category. It is hard to believe, but the host nation was unable to find anyone to race in the women's 20-24 category.
With Colledge winning the 30-34 category and Denmark taking silver, it was a bronze to GB with Davina Greenwell. Colledge's performance was not the only gold medal-winning one. There was more gold for the British women with Hester Barsham-Rolfe who did just enough in her first race for Team GB to bring home the medal and title in the 35-39 category. She fought off a determined attack from the home nation but had done more than enough damage on the first run and on the bike to keep the Danes at bay.
"So today I pulled on my British Triathlon Age Group kit for the first time to participate in the European Middle Distance Duathlon Championships. I was nervous and worried about the bike. Went out wayyyy too hard on the first run, clocking a 40min 10k… battled hard on the 60k bike and died on final 10k run… I led my Age Group from the off but had to dig deep at the end to hold for the win. I can now call myself a European Champion!" Nice way to debut! Denmark's Chiin Hooi Tan finally moved up from her collection of bronze medals, won in Nancy in 2012 and then in Copenhagen in 2016, to collect silver. Bronze went to Sanne Stjernholm Andersen.
Denmark dominated in the older categories too, with Rasmussen's fine performance and second overall came victory in the 40-44 category with Kristina Beckendorf. She can add this title to her collection of medals. Her victory was secured on the final run despite the threat from teammate, Maria Buchvoll DEN, who posted a very strong bike split. Bronze went to GB's Joanne Clark who has previously won silver at the shorter "Standard Distance" championships in Alcobendas and Kalkar.
With Frenchwoman Blanc leading the race early on as Fullen set the pace, she was not so dominant on the bike but with a super-fast final run of 40:51, she comfortably won her 45-49 category. Silver went to the host nation and to Melina Neergaard Olsen. Her greater power on the bike took her ahead of GB's Angela Joiner-Handy who wins her first international medal.
With Rasmussen dominating the 50-54 category after Fullen's technical problems on the bike, it was gold and silver to the host nations as Pia Graagaard came home ahead of Germany's Dr Diana Mull. Graagaard faded badly on the final run but had done enough damage on the bike to ensure victory over the faster running Mull.
Winner of the silver medal last year on a similar course, Boo Smith GBR, was unable to match Kirsten Mørch's power on the first run and bike. Smith watched the Dane and then teammate Karen Haley pull past on the first run. Smith caught up a little on the bike and then put in a satisfying negative split for the final run but had to settle for bronze. Haley must be delighted to put the ghosts to bed after a couple of DNFs. A previous Zofingen winner Mørch improves on her Copenhagen silver and Sankt Wendel bronze.
In the 60-64 category, it was Elly Visser NED, who came to defend her title. She paced the race well and after an easy run, she dominated the bike with a 2:08:45 split to run to victory ahead of Vibeke Hansen who has won on home soil on three occasions, Copenhagen in 2007 and 2016 and Herning in 2017. GB took bronze with Irene Peaty who now has a medal in each of the podium colours.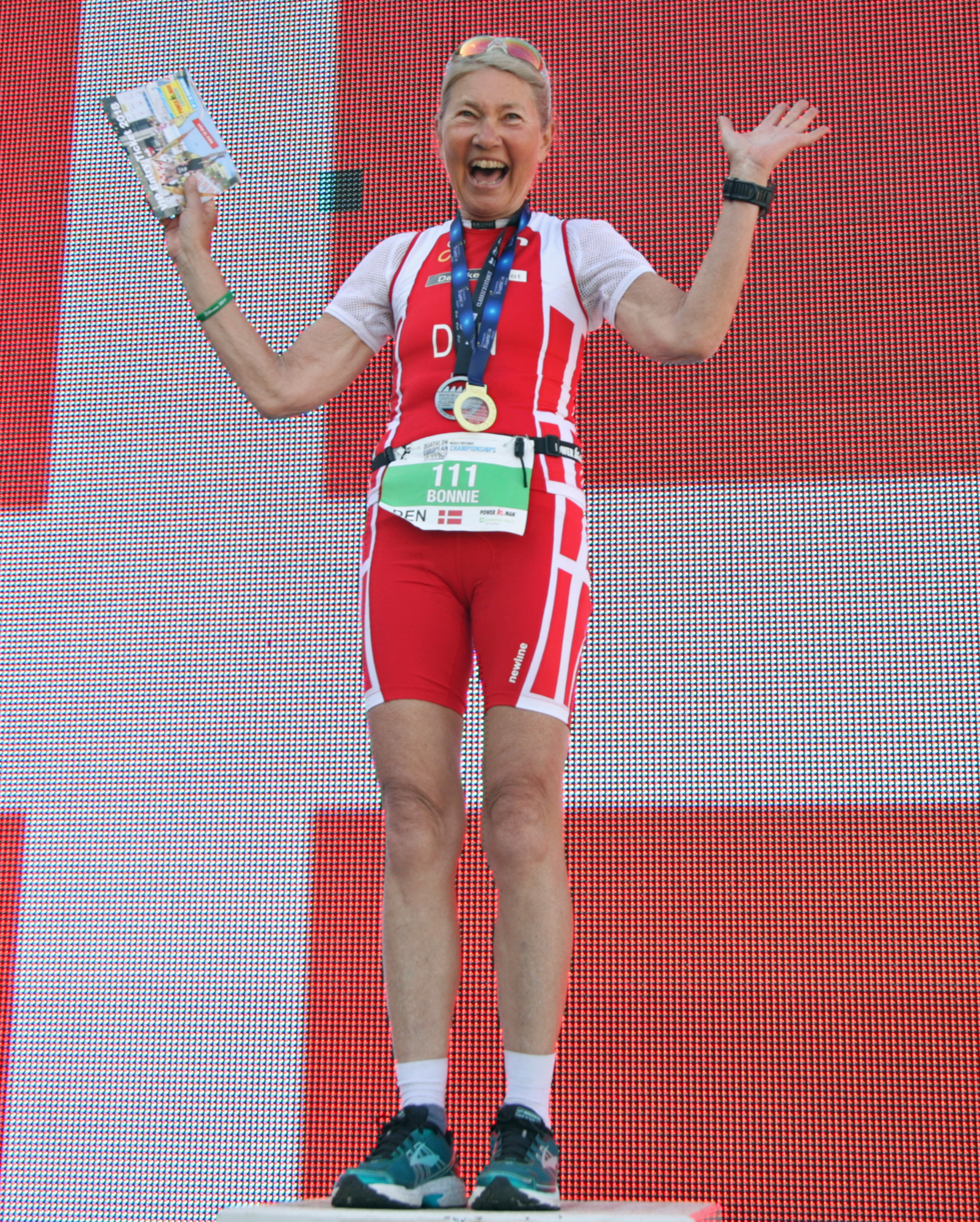 The oldest category for the women was the 65-69 age group and this saw gold go to Denmark's delighted Bonnie Ridderberg and which improves upon her silver at Herning last year.

The Age Group men (under 55yrs) all started together once the women and older men had disappeared out onto the course. The atmosphere was relaxed in the sunshine but we all knew there would be some fierce competition out there.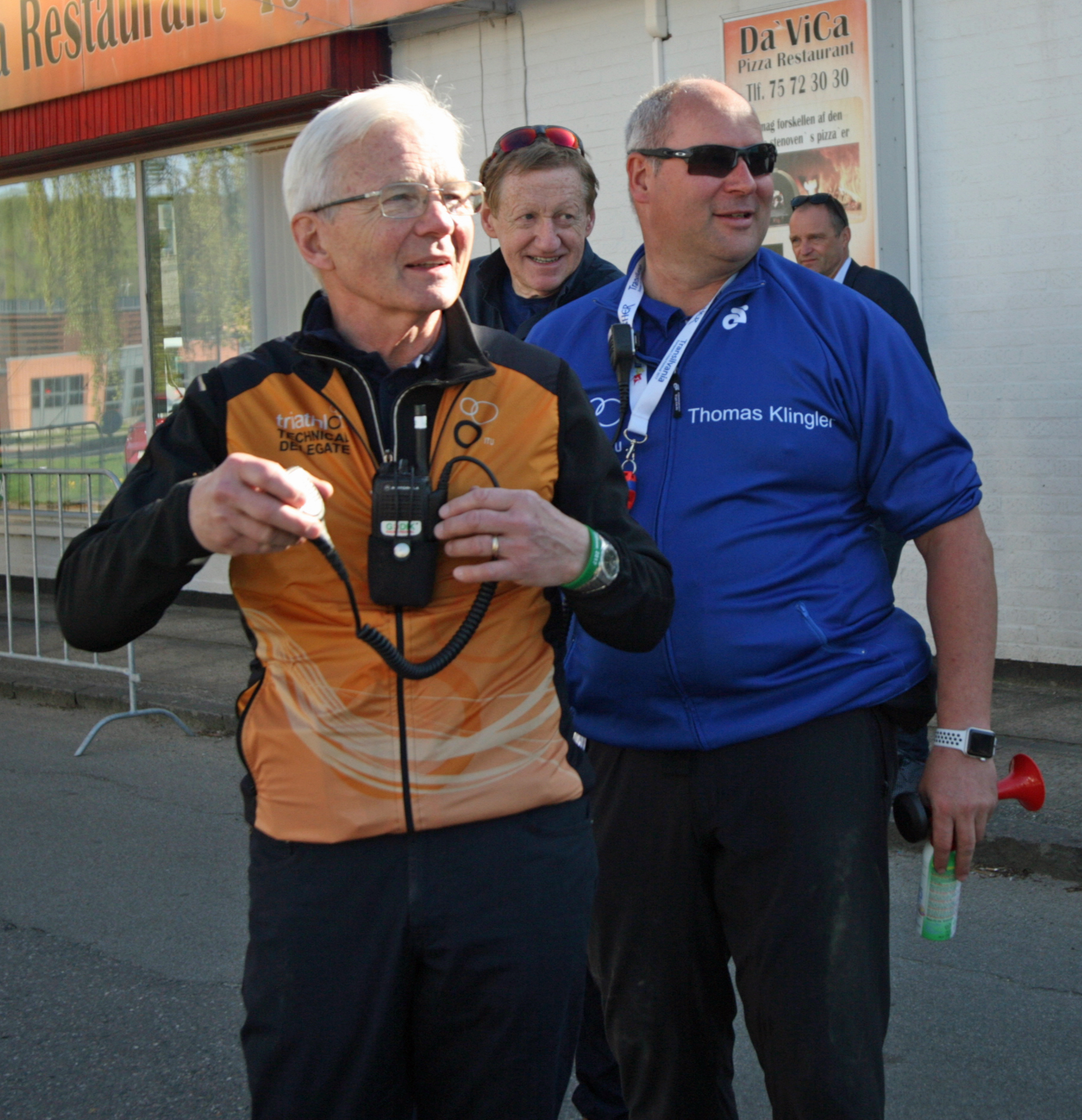 All was under control, with Eugène Kraus (LUX) as Technical Delegate and Head Referee, Thomas Klingler (SUI) in command.


The tension built. The start signal sounded and they were off.

An early lead was established by Belgium's Wout Daniels. He was leading Oliver Kreindl AUT and Jerome Ewen LUX.


It was the Belgian who led them into T1.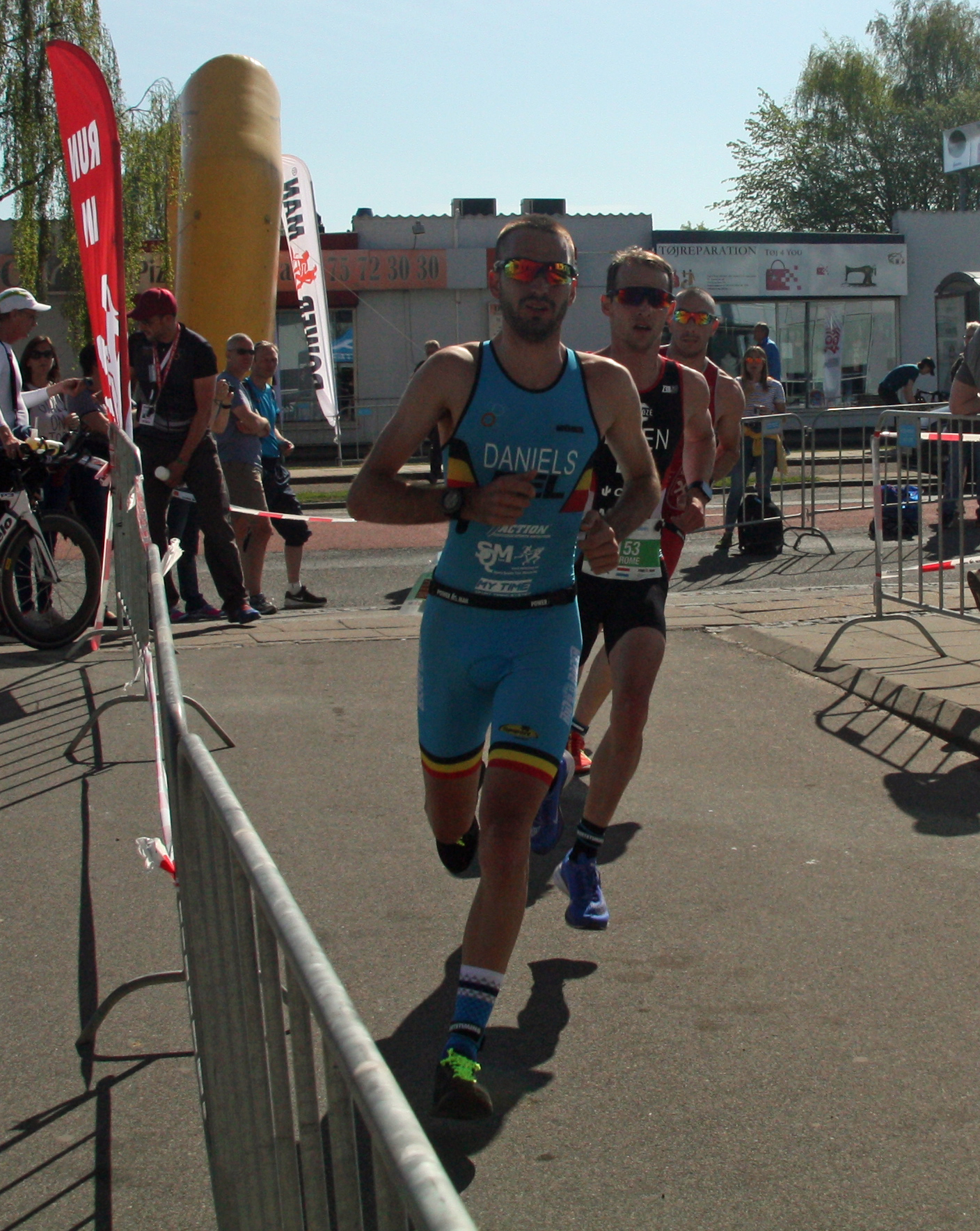 But it was Ewen, leading Kreindl and Daniels, who took them out on to the bike course.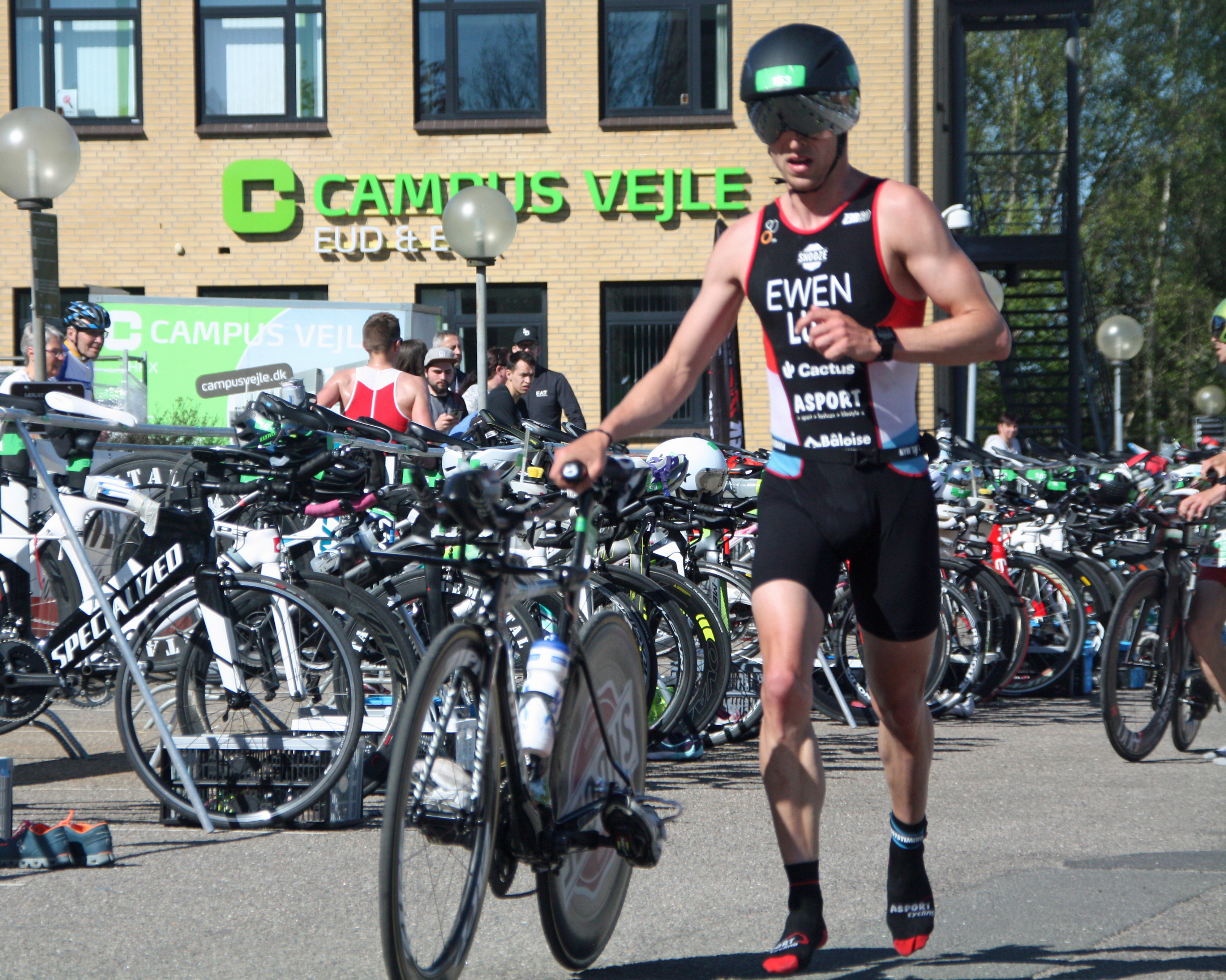 And the chase was on.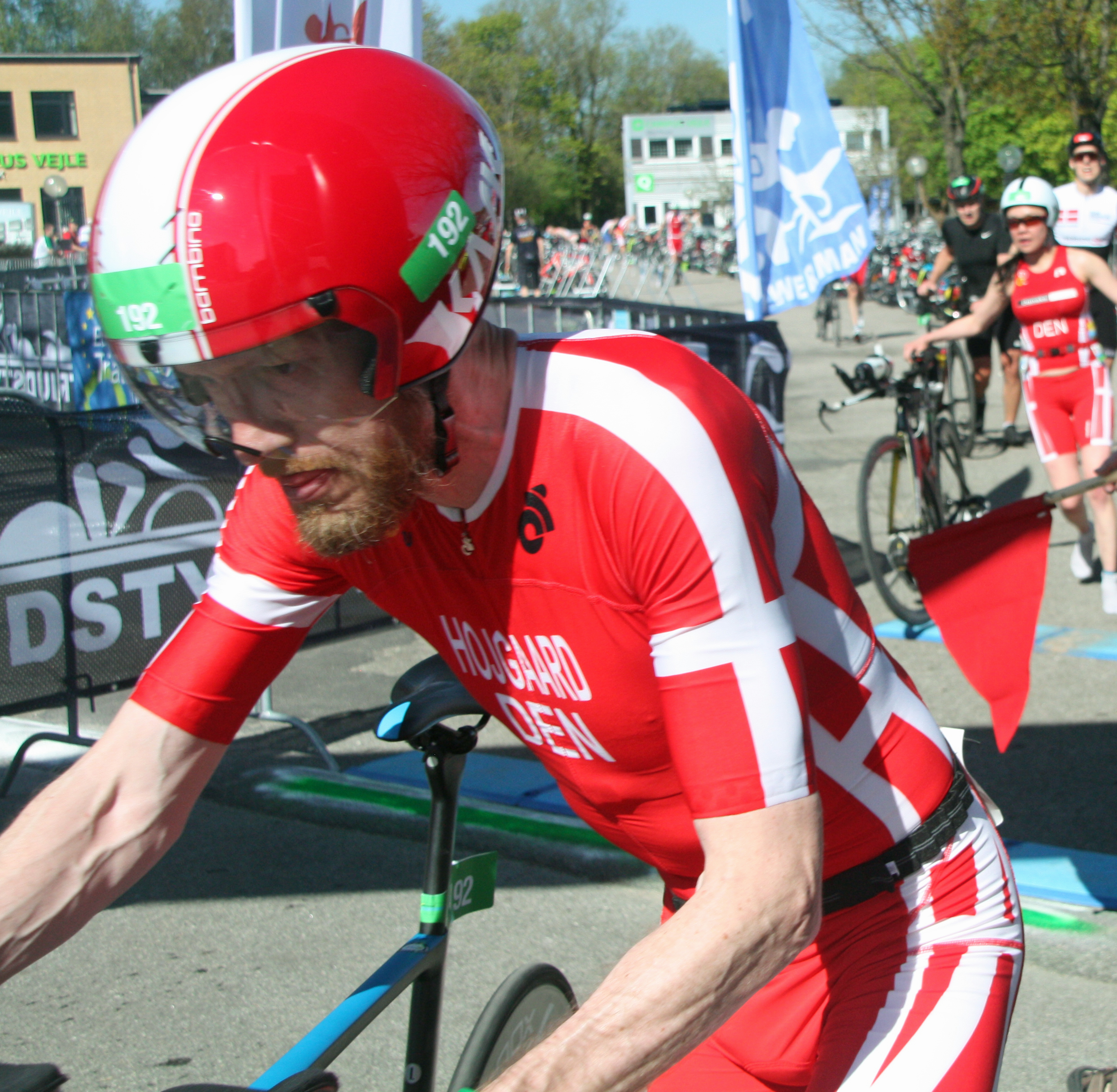 The bike course gave a chance to the real cyclists to show their skills and some impressive times were recorded. It was also out there on the two-laps of 30k that mechanical problems smashed hopes. Punctures, gear problems and chain problems took people out of the race but it was Matthias Jubt GER, who placed 5th last year in Sankt Wendel, who posted a mighty 1:37:56, to record the fastest bike split for the Age Group men.
Of course, running off a hard bike is never easy but Jubt dug deep and held on to take a bronze in his age group.
Daniels, looking so strong, pulled out after the bike, leaving Ewen and Kreindl to battle for the overall victory. The four laps were now filled with athletes from the earlier wave and also from the easier "sprint distance" but Kreindl fought his way through to post a closing 35:18 10k. His was not the fastest final 10k. That honour went to Denmark's Brian Birch Strandby in the 40-44 category. He opened up the race with a 33:55, coming into T1 in the top five athletes. His biking dropped him back but they were running scared of him in the closing stages of the race as he clocked 33:58. This stunning performance only gave him 4th but with work on the bike in future his power on the run will take him to domination in his age group.
Kreindl was first of the male Age Group athletes to finish. That glory and the title, "European Champion" goes back to him after his victory in Kalkar. Impressive on skis to, he took the World Winter Triathlon title in Zeltweg in 2016.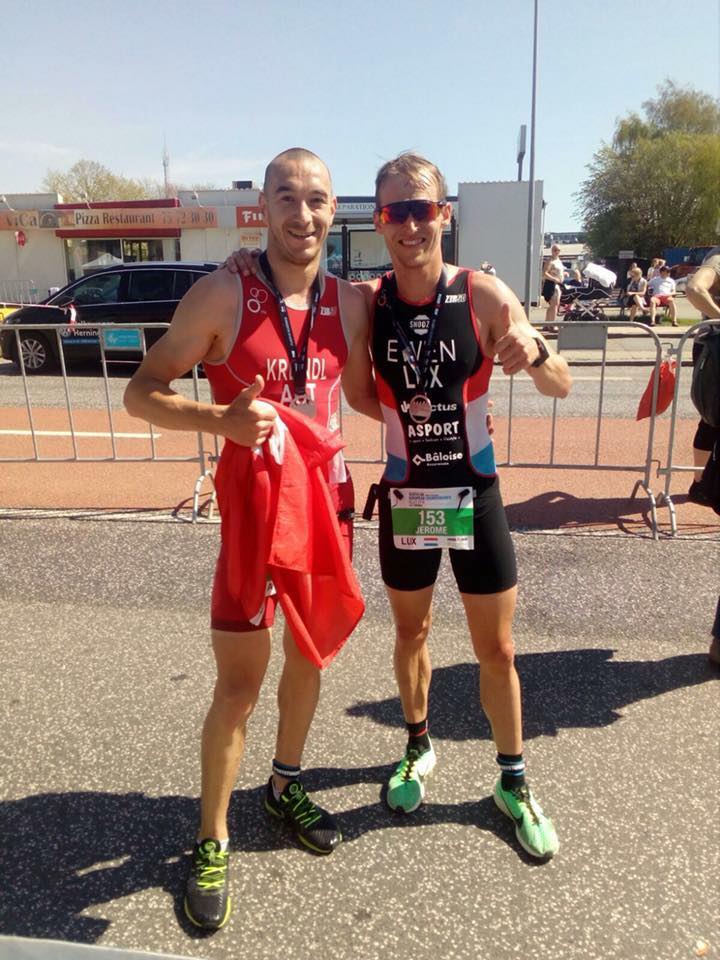 Kreindl was able to inject just enough pace to keep ahead of Ewen, but the Luxembourgish athlete greatly improved upon his performance from last year in Sankt Wendel to take home the 30-34 title. Third across the line was the young Dutch athlete Daan Schouten. He had been trying to keep pace with Daniels early in the race but the Belgian had run away, only to fall back on the bike. It was out there on the 60k that Schouten caught and passed the Belgian and then, with a comfortable lead, was able to cruise home to take gold in the 20-24 category.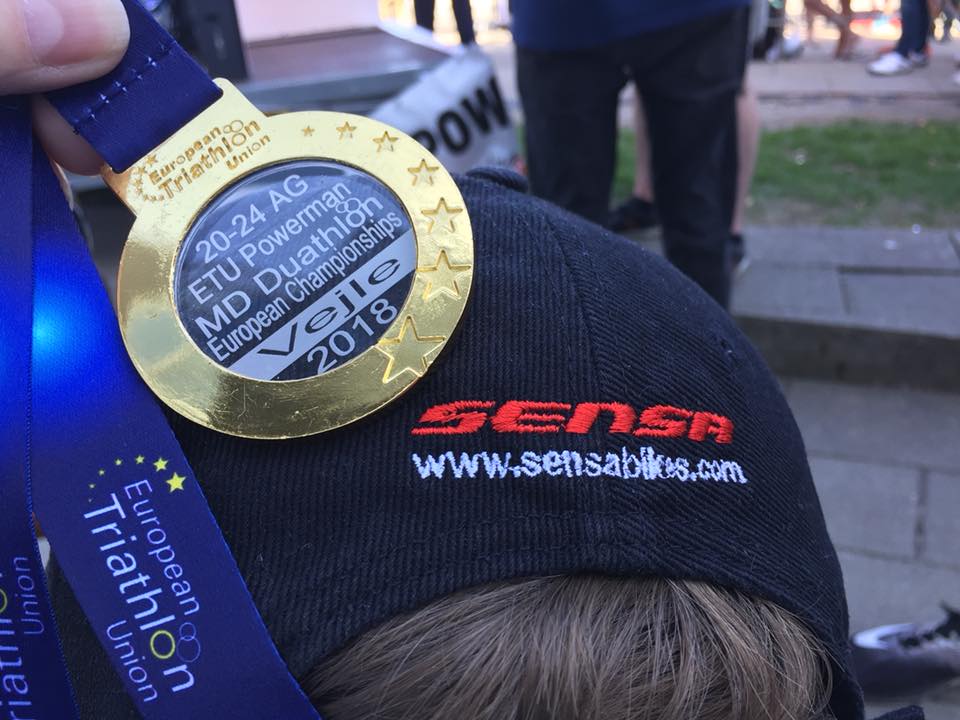 His sponsors, naturally, were delighted.
So, amongst the men, who won the medals?
Well, with Schouten taking the gold in the youngest category, silver went to Johannes Heindl AUT and bronze was collected by Denmark's Lasse Bæk Andersen.
Kreindl in the 25-29 category beat Denmark's Kenneth Vestesen, whose race in Vejle was a great improvement upon his 19th place in Herning last year. Denmark claimed the bronze too with Søren Ejsing. He has trained hard, lost weight and did enough to beat Jonas Vandevyvere who had held onto third place for most of the race. It was only in the last lap that Ejsing edged ahead. Exhausted, the Belgian settled for 4th but with his racing pedigree we can certainly expect to see him back soon on the podium.
With gold going to Ewen in the 30-34 category, it was Denmark once more who took silver. Lars Dupont Lornholt who improves upon his previous bronze medals, won in Paguera and Herning. Dutch athlete, Tibor Gijssen lives in Germany and won Zofingen back in 2016. In Sankt Wendel he was in the Elite wave but this year chose to race in his category and was rewarded with a bronze medal after his negative split in the final run.
Denmark took home gold in the next age group, 35-39. It was Mikkel Rosendal Larsen who can add this Vejle gold to the one he collected in Herning. With such power on the bike it would be great to see him race at a few more ETU and ITU events. It was his pace on the bike that took him past Koen Lintermans BEL. Behind the Belgian came Dani Papi LUX who improves upon his 4th place in Kalkar to match his 2013 Horst bronze.
Wim De Coene BEL came back from Zofingen last year with a silver medal. Clearly he was going to be a favourite for this race and sure enough, his biking was what took him ahead of the earlier race leader Brian Birch Strandby. No 4th place this time around. It was gold to Belgium. Karsten Dahl DEN was just 30 seconds back, losing out on that final run and Germany's Thomas Gogolin matches his Sankt Wendel bronze this year.
Race favourite in the 45-49 age group was Denmark's Pelle Grønberg. His enviable results of 6 starts, 6 podiums and 4 wins shows depth, strength and speed over sprint, standard and now middle-distance racing. He had to work hard though and only just held off Switzerland's Edi Frauchiger who was thrilled with his first international result, "Mi erst Usland Duathlon! EM Vejle! Overall Age Grouper Rang 7 und ir Ak Silber." Bronze went to Matthias Jubt GER who improves upon his 5th last year.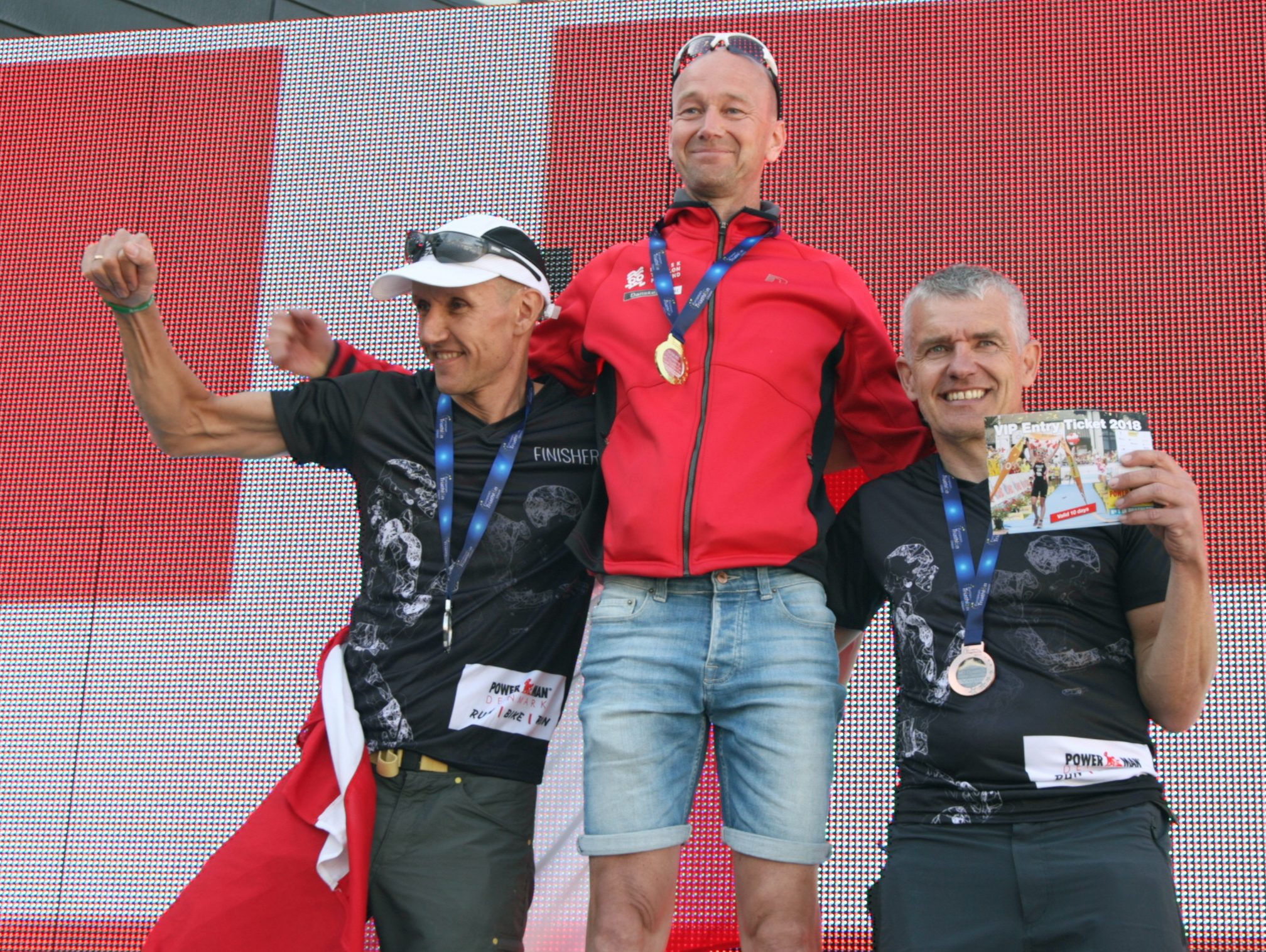 It took a long time but the "clean sweep" from the host nation came in the 50-54 age group. It was really hardly surprising that Jens Oluf Eriksen, with back to back wins in Zofingen, should win. He was by far the strongest on the bike. "God dag i Vejle. Europamester og dansk mester på mellemdistance duathlon 10-60-10. Rent dansk podium med Lars Brix og Rene Steenberg Olsen. Mangler lidt topfart men dieselmotoren holdt helt til målstregen. Good day in vejle. Europamester and Danish champion at mellemdistance duathlon 10-60-10. Pure Danish podium with Lars Brix And Pure Steenberg Olsen. Need some top speed but the diesel engine kept all the way to the finish line." He had a comfortable lead over Lars Brix and Rene Steenberg Olsen. In fact this "clean sweep" extended beyond the podium to take up the top 5 places.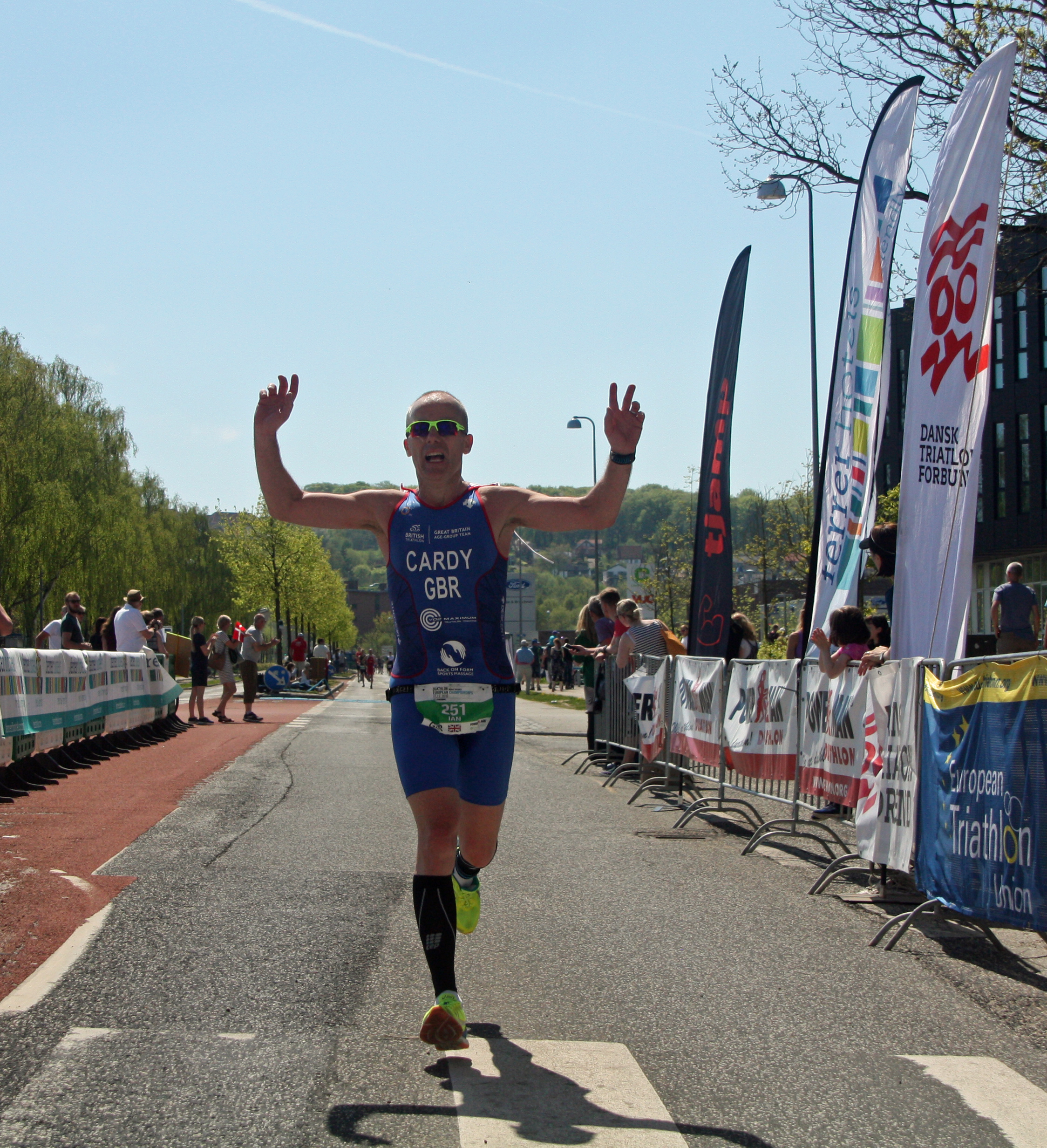 In the 55-59 category, it was gold to Team GB with Ian Cardy running powerfully in both first and second run legs. "Very proud to be representing Team GB in Denmark at the ETU Middle Distance Duathlon Champs but even more proud to have won the Gold Medal and become the European Champion! A very tough race and after over three hours of racing it came down to 23 seconds between me and 2nd place! As usual I couldn't have done this without the support of my lovely Wife Heidi, (who also turned into the chief cheer leader for Team GB!) Now to relax and have a couple of beers!" His victory over Swiss athlete Aeneas Appius is a significant one as Appius was European champion in Kalkar, he took silver in Copenhagen and then went on to take the world title in Penticton over the Sprint Distance and a silver in the Standard. Appius was stronger on the bike but, having pulled a muscle quite early in the race, was outrun by Cardy. Some way back was Morten Plougstrup who moves up to the podium after his earlier top ten finishes. After the race Appius was able to chat to IPA President, John Raadschedlers. The word, "Zofingen" was indeed mentioned.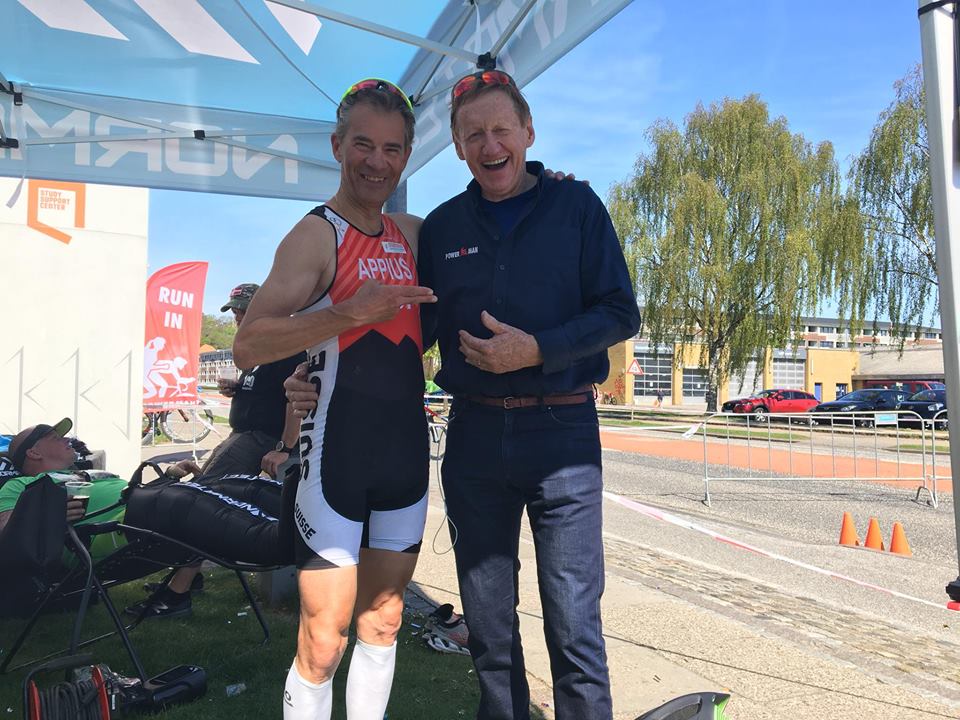 It was Ole Loumann DEN, reigning European Standard Distance Duathlon champion and Middle Distance Triathlon champion who comfortably won gold in the 60-64 category. Gerold Müller improved upon his 2013 Horst bronze, showing once again his consistent racing over more than a decade that has delivered him numerous top-five finishes. Bronze went to Denmark and to Flemming Normann.
Reinhard Petzold GER, was stunning in the 65-69 category. His opening 42:33 run was followed by a 2:03:43 bike. An easy 50:02 took him once again to gold, retaining his Sankt Wendel title ahead of Ron Skilling GBR, who adds this medal to his 2017 Almere silver. It was teammate, Ray O'Grady who claimed bronze in his first attempt at middle distance duathlon.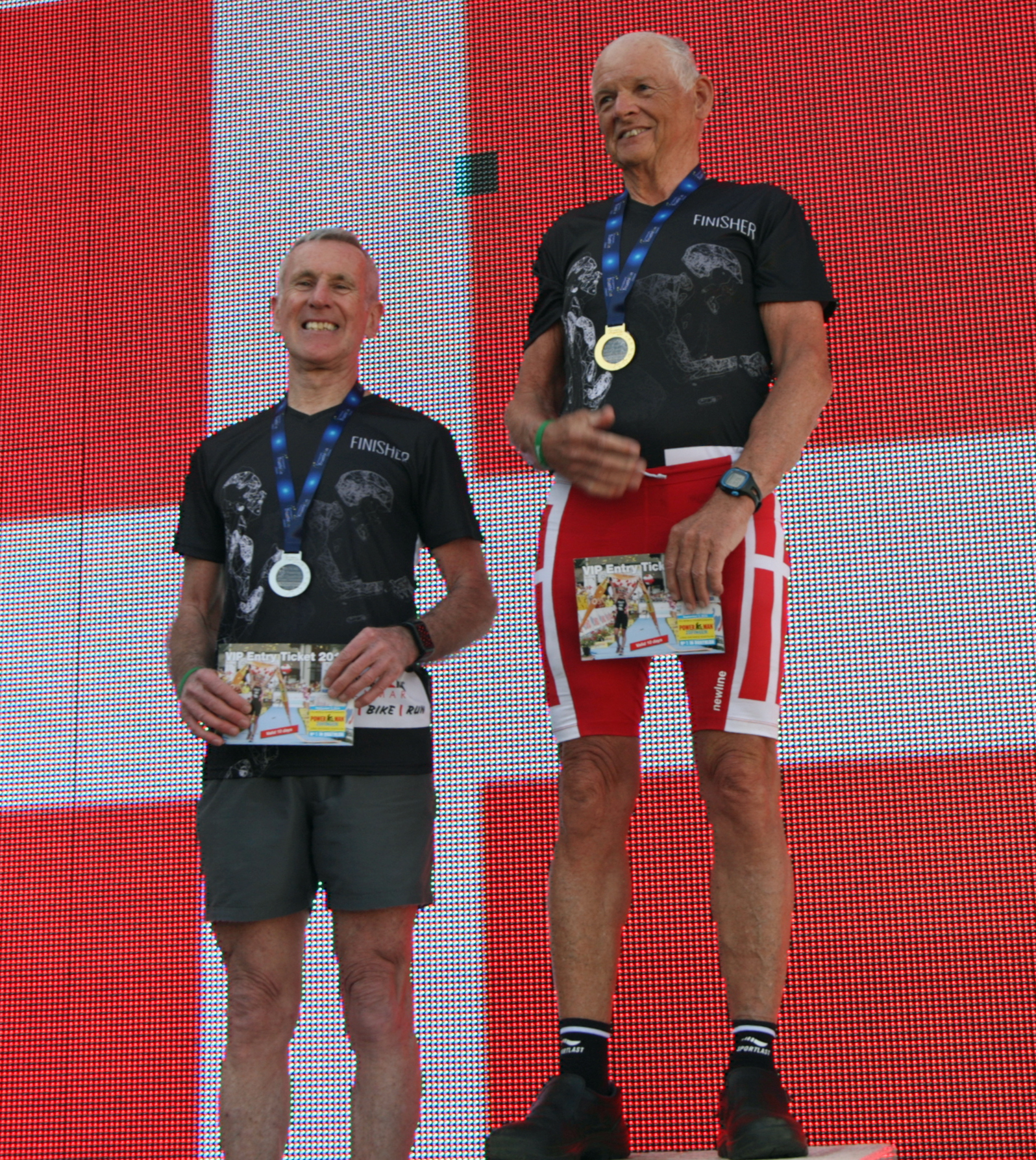 Mick Anglim GBR came to Vejle to defend his title. Surging to the lead in the first run, it all went wrong out on the bike and he watched Svend-Erik Andersen speed past on the bike and ultimately take the title. Anglim did what he could to catch up but with too much time lost out on the hilly course and a very uncharacteristically slow bike, he had to settle for silver.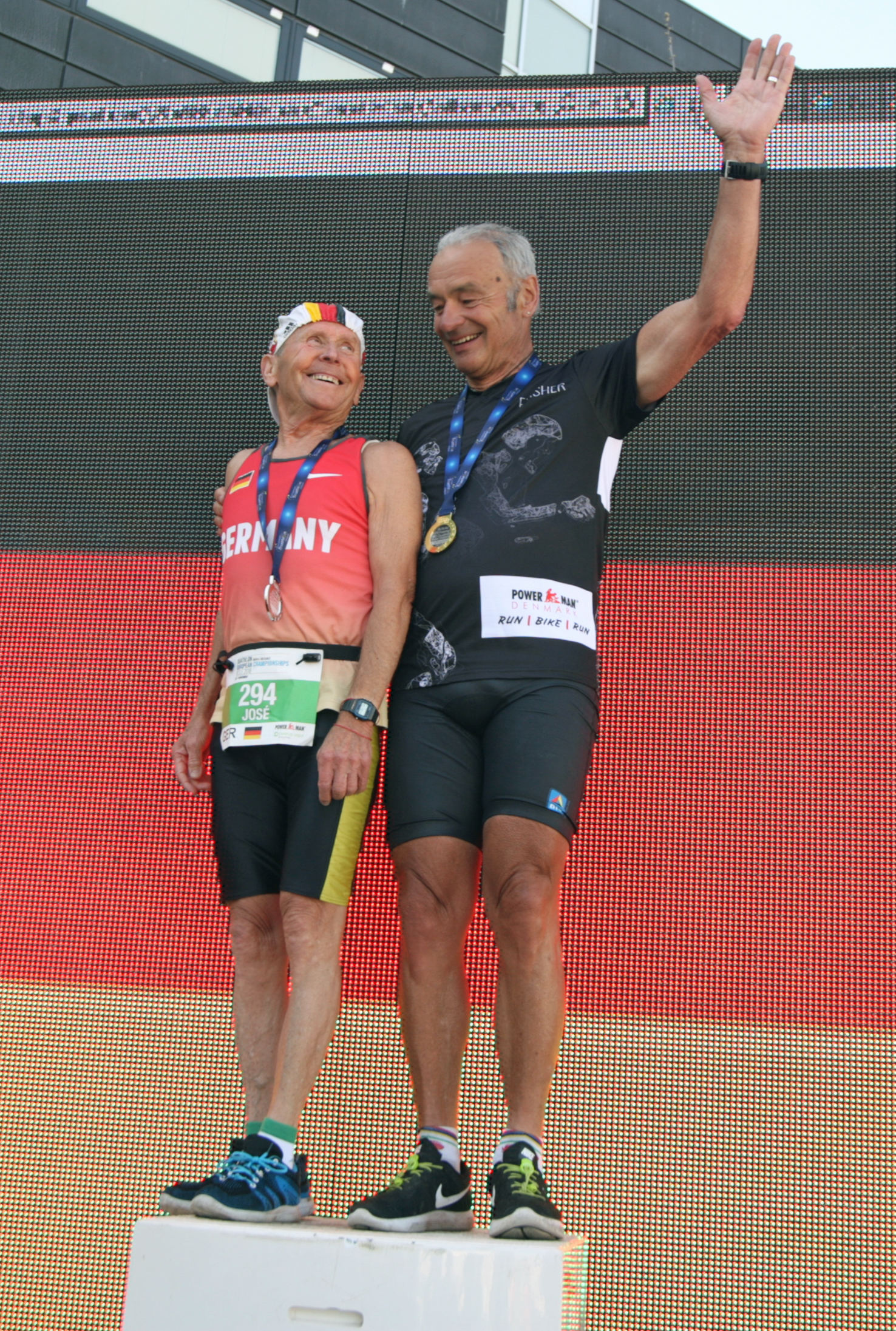 The final age group for the men was 75-79. The athletes were born in 1941 and 1943 and ran side by side for the first 10k. It was out on the bike that Heinz Bauer took control of the race. His came into T2 with a comfortable lead of almost 10 minutes. Behind him the older, always smiling, José Molero-Membrilla came in and lost valuable time changing into his running shoes. It was gold to Bauer and a second silver to Molero-Membrilla and the biggest cheer of the day when they mounted the podium.
A full selection of photos will be posted on the ETU Facebook Page. Keep checking - there are rather a lot.
The sun did indeed shine and those athletes who travelled to Denmark raced a tough and at times, traffic-filled course. They came home with suntans, with medals, with new friends and for many, with plans for Zofingen at the end of the year.
The medal table was predictably won by the host nation but as we have seen in the past, these performances are not repeated outside their own territory, which is a real shame. The Brits, always keen to travel, did well, with second place on the table.
| | | | | |
| --- | --- | --- | --- | --- |
| | | Gold | Silver | Bronze |
| DEN | | 11 | 10 | 6 |
| GBR | | 3 | 3 | 6 |
| GER | | 2 | 2 | 2 |
| NED | | 2 | | 1 |
| AUT | | 1 | 1 | 1 |
| BEL | | 1 | 1 | |
| LUX | | 1 | | 1 |
| FRA | | 1 | | |
| SUI | | | 2 | |
The next chance for Age Group medals will be in Tartu.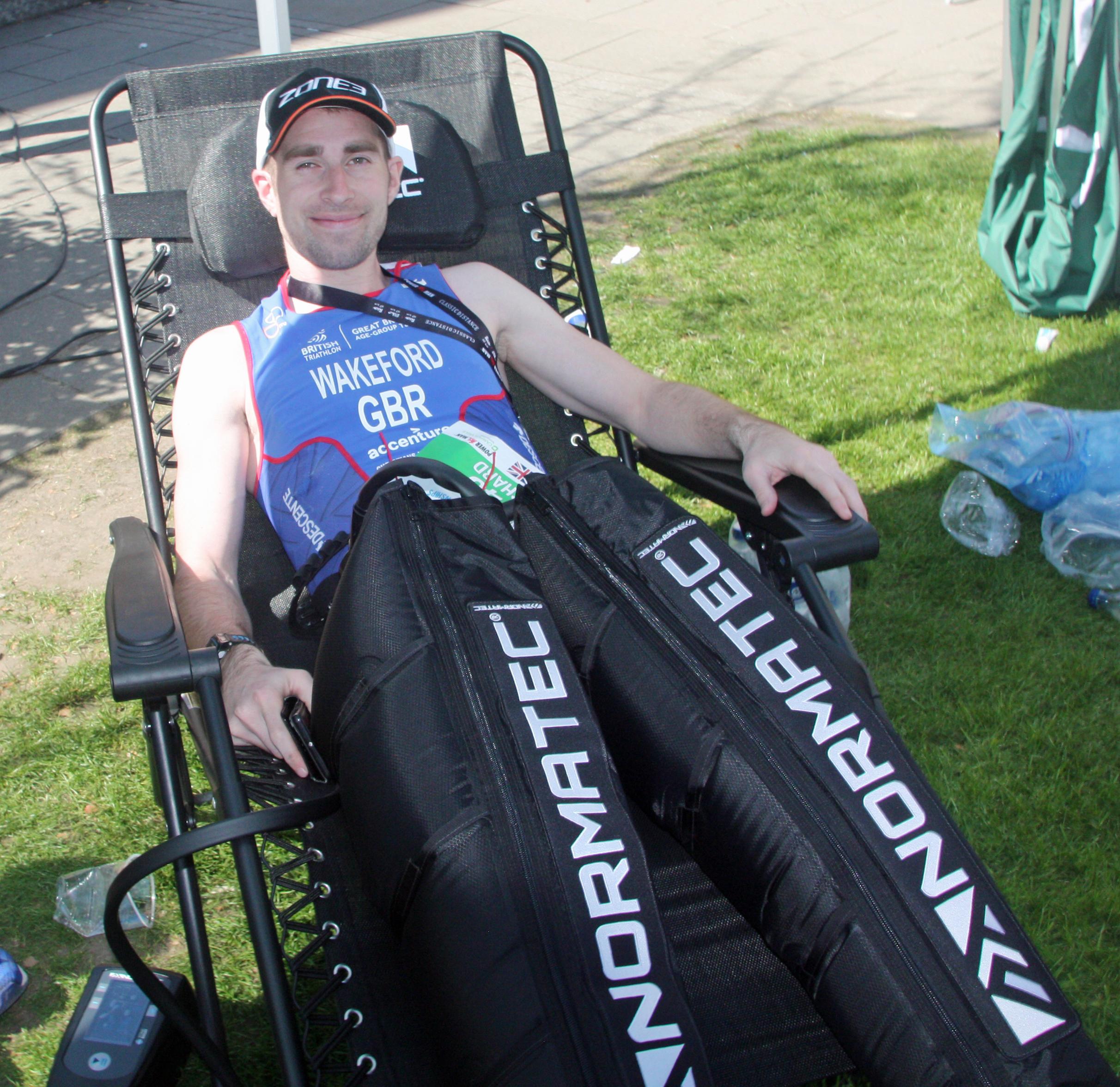 In case you are wondering how the race went for Richard Wakeford, well, he had a good first run but then a puncture out on the bike course that took ages to fix. Coming home in 10th, he nevertheless recorded a good time and was refreshingly positive about the whole race. His very special support team were out and about on the course and we wish them all well for the coming months.
Related Event: 2018 Vejle ETU Powerman Middle Distance Duathlon European Championships
Latest
Videos
---
Latest
Event Galleries