NEWS
Cassan Ferrier and Buckingham claim European Cup wins in Banyoles
By David Peddie
|
27 Jul, 2014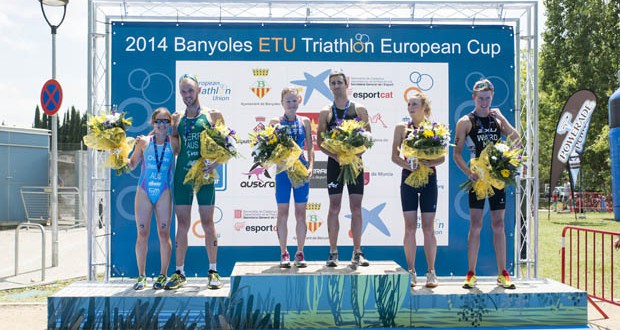 Alexandra Cassan Ferrier (FRA) and Mark Buckingham (GBR) secured their first ever European Cup victories at the ETU European Cup in Banyoles.
Both athletes had to fight for everything on the final run to take gold and hold off their challengers.
The closest Cassan Ferrier, the 2012 World Duathlon Champion and European U23 Triathlon Champion, had come to a European Cup victory was 4th place in Holten earlier this year so she had high hopes coming into this race that this would be her opportunity to break her duck.
She battled closely with Lois Rosindale (GBR) before finding that extra yard on the final lap of the run. Felicity Sheedy-Ryan (AUS), a winner here in 2011, finished second with Rosindale having to settle for third place.
Buckingham finished 4th in Banyoles in 2012 in a World Cup fixture and he avenged that race to finish top of the podium here.
He finished ahead of Peter Kerr (AUS) and Sam Ward (NZL) who, in a day of firsts, secured their first ever European podiums and offered an antipodean flavour to the medal ceremony.
Related Event: 2014 Banyoles ETU Triathlon European Cup
Latest
Videos
---
Latest
Event Galleries