NEWS
Brilliant performance for Yelistratova and Petsov in Dnipro!
By laura@europe.triathlon.org
|
07 Jun, 2021
This weekend the Europe Triathlon Cup and Junior Cup moved in Dnipro, Ukraine with another great event. Triathlon this demonstrates that the sport of triathlon is awakening after last season's forced pause. All the pandemic measures have been implemented efficiently for the safety of everyone racing.
Saturday the élite race saw the victory of the home athlete Yuliya Yelistratova and Rotislav Petsov from Azerbaijan. Experience was decisive for both women and men élite athletes respectively 33 and 32 years old gave no space to the younger athletes who had to settle for the other steps of the podium.
But let's start from Saturday in women's élite: at 9 am the athletes kicked off from the pontoon and after a 750 mt swim first to exit was the Italian Bianca Seregni followed by the British Sophia Green. A big leading group formed and after T2 Yelistratova and the Norwegian Løvseth battled right to the end for the victory, that was taken for one second by the Ukrainian in 57'24. A very brilliant last minute decision for the English Triathlon Federation to bring Sophia Green to the event, secured a perfect silver medal at this European Cup. A wonderful 4th place for Seregni at her first international élite European Cup, well done!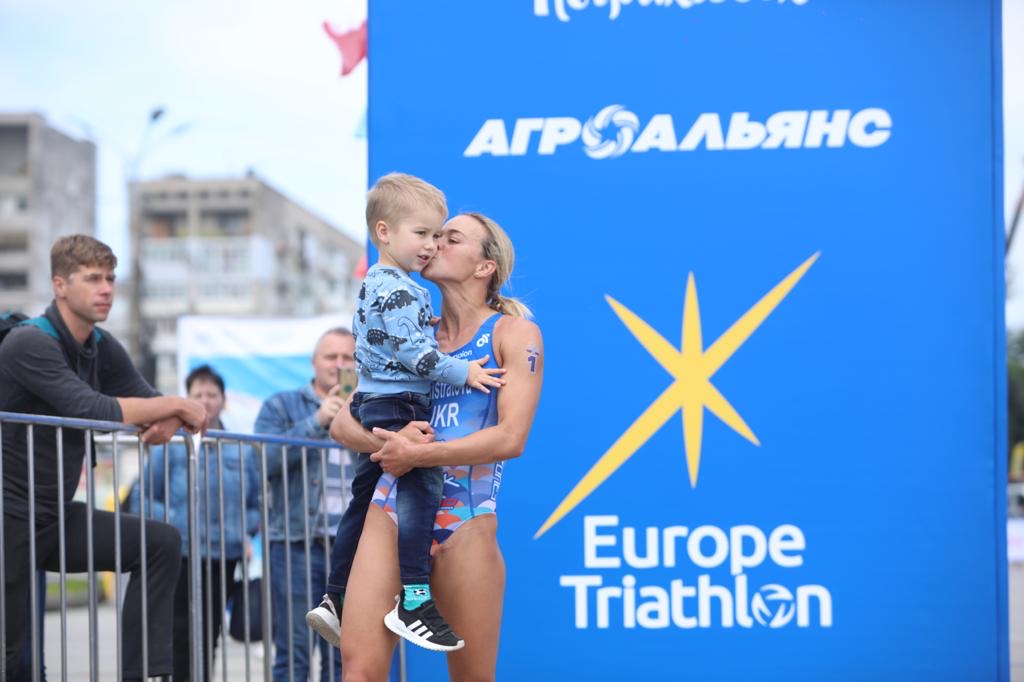 In the men's race the fastest swim was realised by the British Harry Leleu in 09'09 giving to all his contenders more than 15 seconds of gap which permitted him to exit T1 easily. After T2 it was clear that Petsov had everything under control and waited till the end to shake off the English Leleu and crossing the finish in 51'20. The other two steps spoke English with silver taken by Leleu and bronze by the other National team's fellow Cameron Main.
On Sunday in the junior women's race the battle between Ukrainian and Russian athletes was won by the Russian Daryia Firsova in 1'02"46 and for two disqualifications second place was taken by Mariia Aha and third by Anastasiia Terentieva both from Ukraine.
In the junior men's race victory was claimed by Artūrs Liepa from Latvia in 55'48. In second Yegor Krupyakov from Kazakhstan in 56'23 and in third Marcin Stanglewicz already 9th in Olsztyn in 56'46.
(photo of the élite men race courtesy of Peter Horsten)

élite men results
élite women results
junior men results
junior women results

Latest
Videos
---
Latest
Event Galleries