NEWS
Are you ready for the 2021 season opener, Europe Triathlon Winter Championships?
By Amé Venter
|
13 Nov, 2020
The Europe Triathlon season for 2021 will be opened with 2021 Europe Triathlon Winter Championships Cheile Gradistei. The racing will once again be returning to Cheile Gradistei and will be organized by the Romanian Triathlon Federation, Cheile Gradistei, and the Fundata Resort. Cheile Gradistei hosted the ITU Wintertriathlon World Championships in 2018 and the Europe Triathlon Wintertriathlon European Cup 2017, we return to this venue with great pleasure and to add on to a long list of memories we have already formed here as federation.

The venue is located in Cheile Gradistei, more specifically in the Fundata Resort. This is a touristic venue that is situated 5km form the Resort Moeciu. From the resort you can enjoy a panorama view of the Piatra Craiului and Bucegi mountains. There is also a sort of freshness and privacy that adds a special sort of beauty and privacy. The event will take place at the world-class biathlon center, that is located in the forest with a good deal of MTB trials and running trials.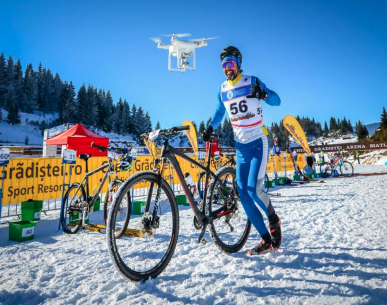 The weekend will include an event for all categories, from elite to Para triathlon, Juniors and Age Group athletes, while offering a strong local experience. Distances range from 4,5 km run, 8 km bike, and 6 km cross-country skiing to 4 times 1,5 km run and 2,7 km bike as well as 2 km cross-country skiing and lastly 2 km skiing, 2,7 km bike and 1,5 km's of running.
This year, before we had event cancellations and the realization of the seriousness of COVID-19, we had the privilege of being here and experienced some great racing. The weather was not friendly as there was a large amount of snowfall on the Friday evening, Saturday morning a freshly covered track was presented. The sun was trying hard to break through the snow, but this allowed athletes to enjoy a challenging mix of snow, ice, gravel and asphalt.
See you there!
Latest
Videos
---
Latest
Event Galleries