NEWS
Age-Group Standard Distance: The Story
By Paul Groves
|
08 May, 2020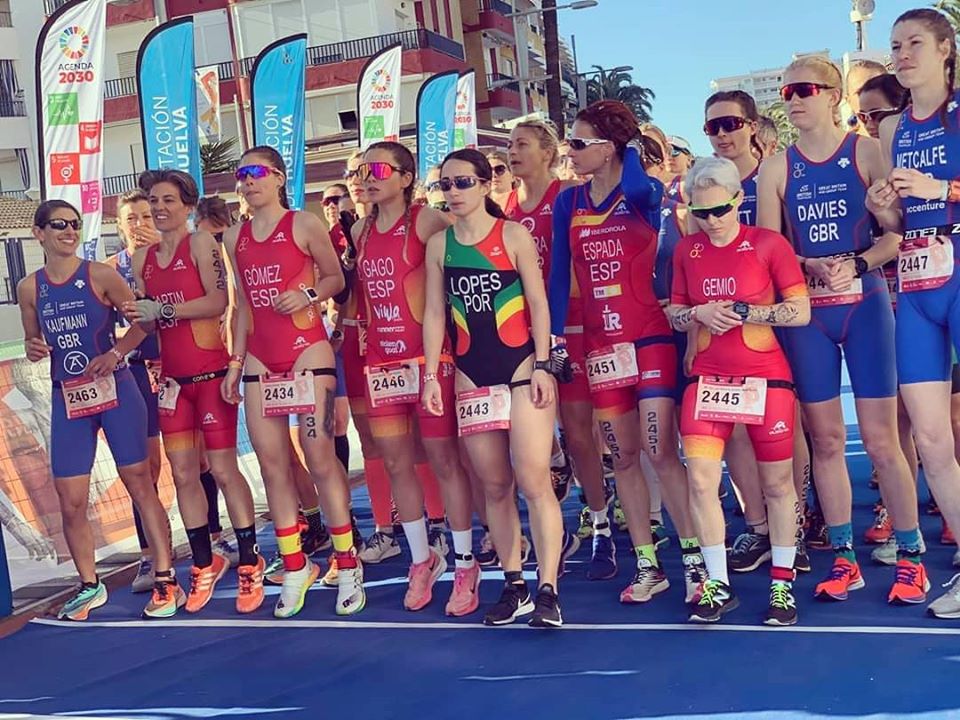 Well, we are now at the final stage of our retrospective on Age-Group racing for 2020. Our fingers are crossed that towards the end of the year we might see more but for the moment, let's look back to the sunny days in Punta Umbría and in particular, the Standard Distance race that decided medals and titles.
The course was completely different to the surprisingly difficult Transylvanian Motor Racing circuit, where athletes were treated to the best surface ever and some testing climbs. This year saw a downtown run course with an out and back rolling bike course. A large number of athletes choose to double-up and race both events and once again the town came out to support the LOC and the athletes. The Federación Española de Triatlón certainly put on a good show and the overall response from athletes and coaches was that this was a great weekend.
Athletes raced in all categories from 18 years up to 75-79 and medals were shared across 9 countries with the Irish team making it onto the medal table.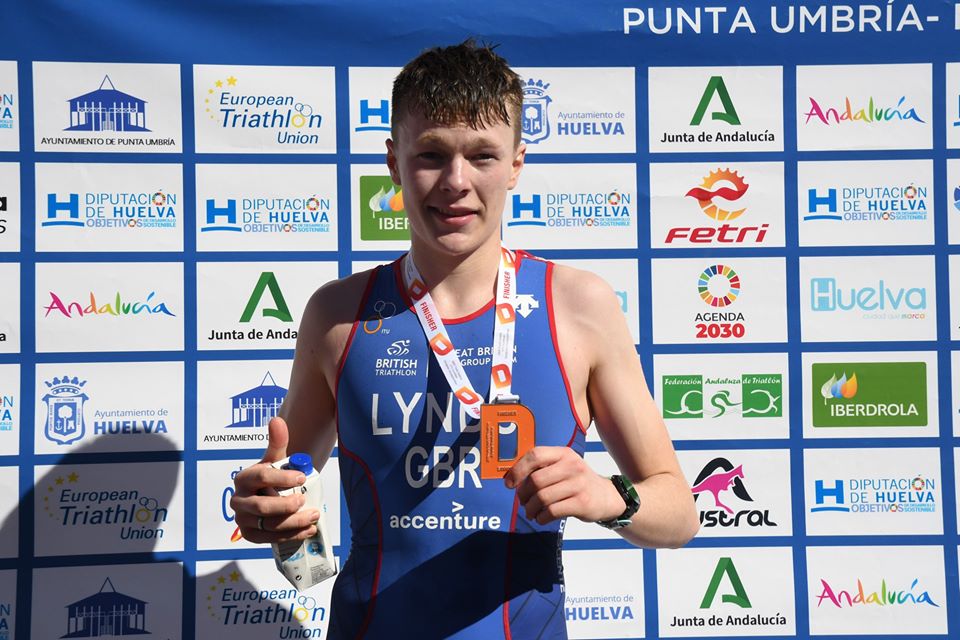 In the 18-19 Category, Luke Lynds GBR made his debut and went home with the title and his first ETU medal. His opening run of 33:36 put him at the front end of the pack. Sadly, no women raced in this Age-Group.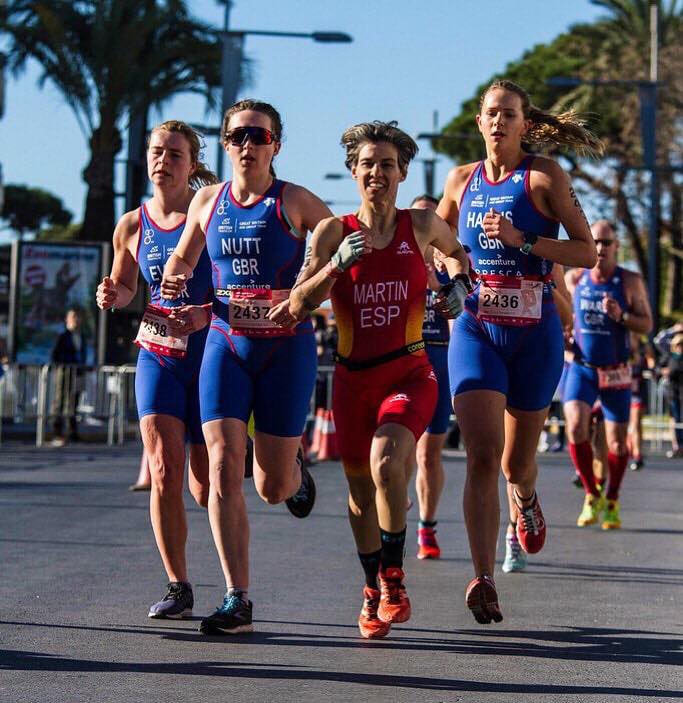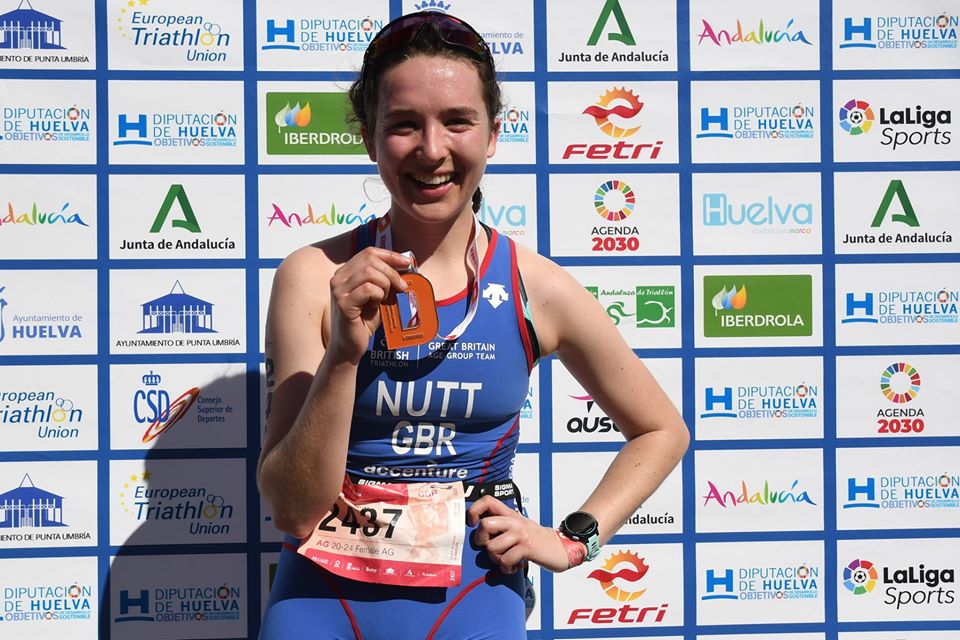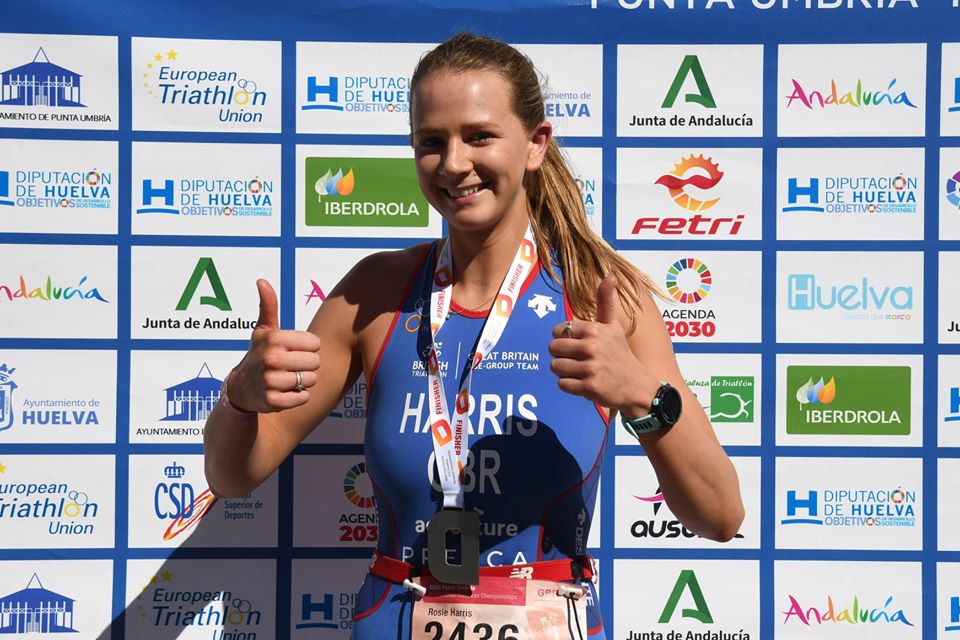 For the 20-24 Category, the Brits made sure that all three medals would come back to Blighty. It was Maddy Nutt who dominated the race, with the fastest run/bike/run and a finish time that gave her a very comfortable lead over those chasing her. The UCL student led home Annabelle Evans and Rosie Harris to complete the clean sweep. All three making their international debut.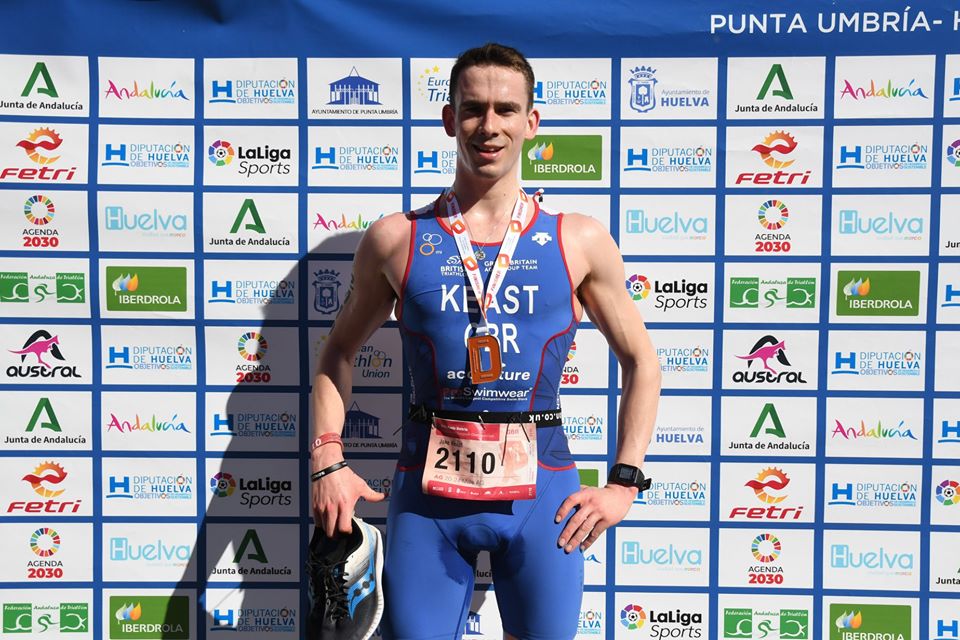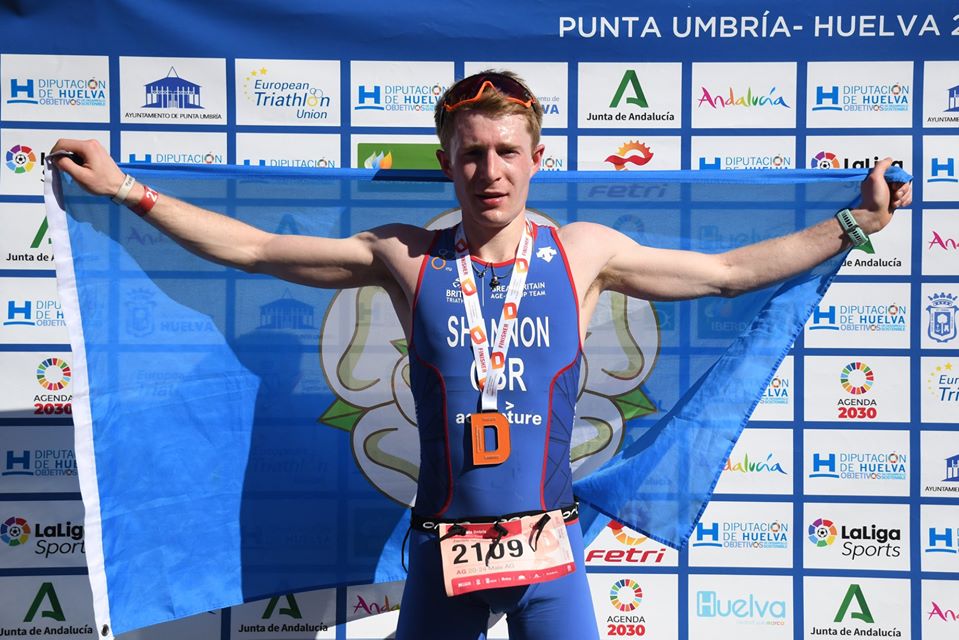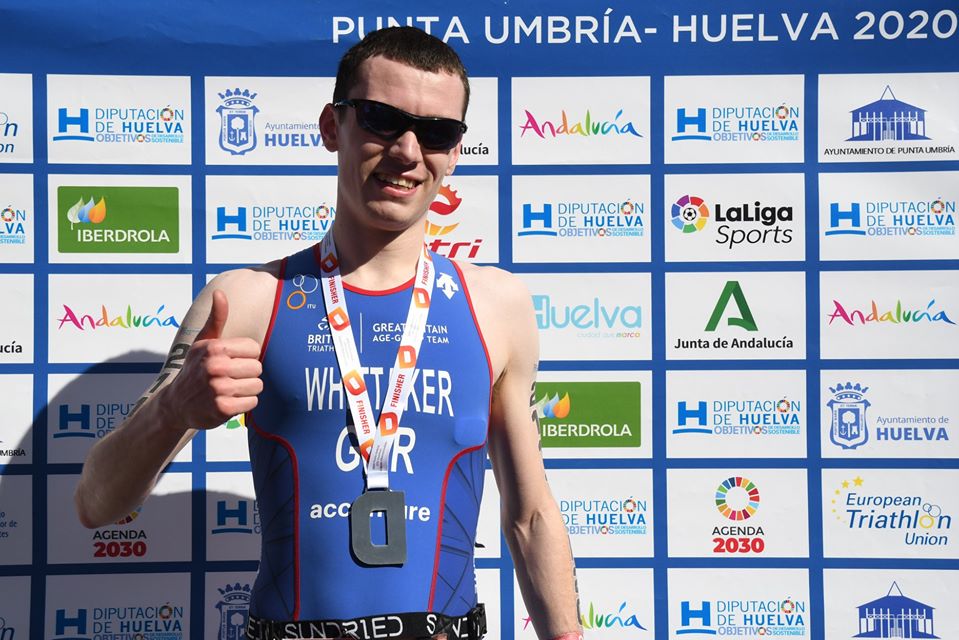 Having swept up all available medals in the women's race, the men set about doing the same and, with Yorkshireman, Jacob Shannon leading, that is exactly what they did. An opening run of 31:31 gave the former Barnard Castle School student, who wears the GB kit for the third time now, the edge on his team mates. Cozumel and Rotterdam saw him miss out on the podium but here, he was in his element. A powerful ride took him away and on the final run, he again opened up all the valves to run away with a masterful win. Jake Keast claimed silver with Adam Whittaker rounding off the podium. Since his return to the UK, Whittaker has been busy using his graduate skills in helping the fight against COVID-19. He recently posted, "1st batch of x20 3D printed face shields sterilised, medically approved and ready for delivery to local hospitals for NHS front line staff alongside a work team."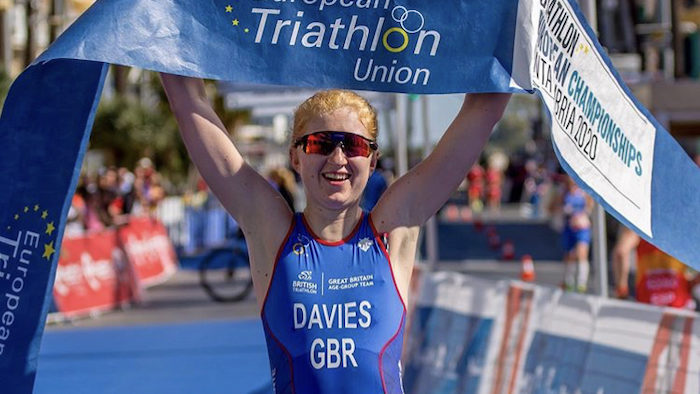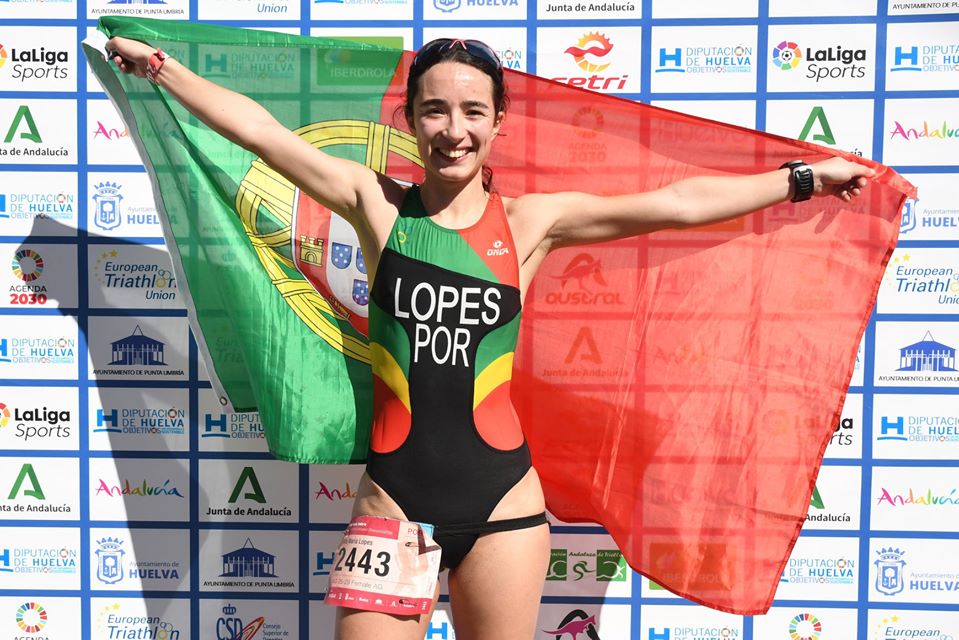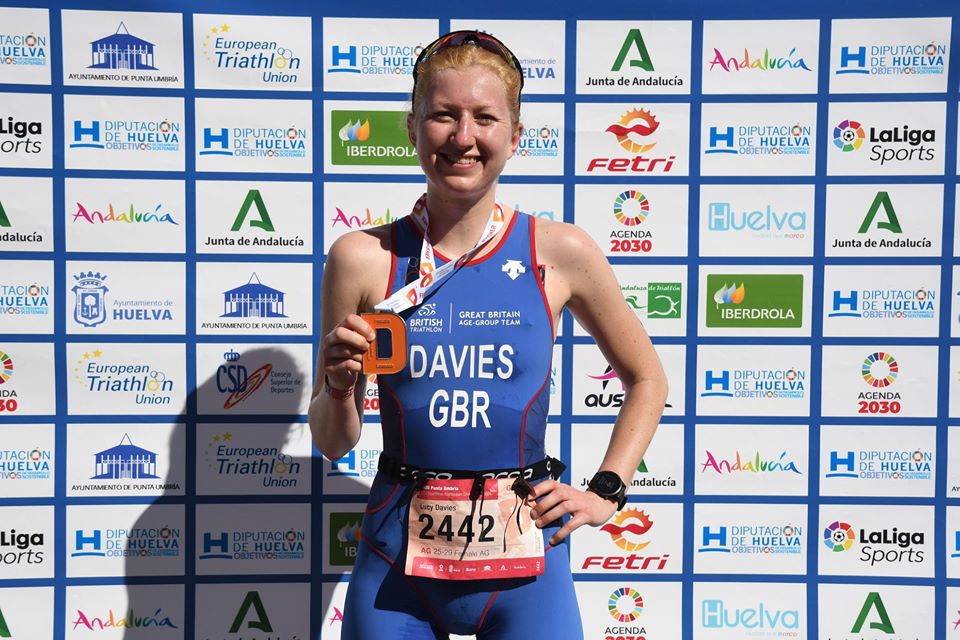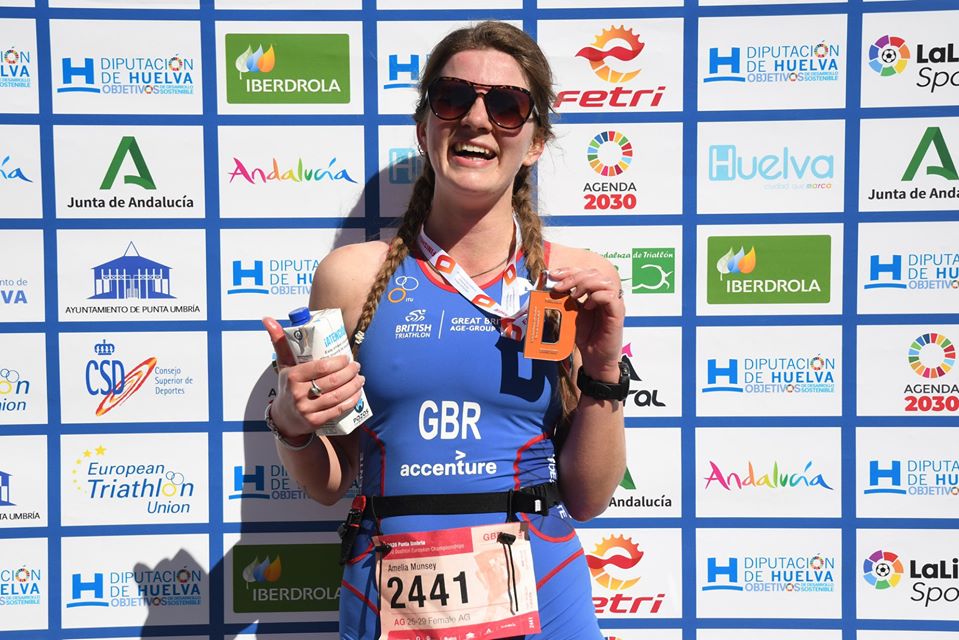 The 25-29 Age-Group saw the fastest time for all the women, with Great Britain's former European Triathlon Champion, Lucy Davies blow the race apart. Her pace in Tartu in 2018 took her to gold. Weert saw her once more on the podium but in this race, she was outstanding. Bang – 35:57. Bang – 1:00:26. Bang 19:50. Job done and a chance to raise the finish tape above her head. "European Standard Distance Duathlon Champion 2020!!!!!! THAT WAS UNREAAAL - I never expected to be 1st overall female in Punta Umbría this weekend, leading by over 5 mins, and to get the fastest first run, bike and second run splits of the day! Hands down THE BEST SUNDAY EVER. Can't thank everyone enough for all the support round the course, it was amazing, and for all the kind words people have said after." Behind her came Portugal's Rita Maria Lopes, who once again collected the silver, after her 2nd place in the Sprint. "On Saturday, the duathlon sprint, where I did it from the beginning to the end, trying to keep up with the front of the women's race, right that in the first race (5 km), 30 seconds only separated me from (…) the gold medal in my age group, and I stayed in a small group of 3 athletes, against another one of 11 athletes that were further ahead, still, I left (…) transition and so I (…) finished as Vice Champion 25-29 years and 12th absolute women. On Sunday, it was the day to compete for a greater distance, the Duathlon Standard, where the management of the effort would dictate a lot, and that's what I did, a first run of 10 km controlled, (…), 40 km of solo cycling, where the legs cooperated better than I was expecting and a last 5 km run, very much suffered from the wear, But that still allowed me to recover 2 places lost on the bike and finish 2nd in the 25-29 years, once again, Vice Champion Europe 25-29 years, this time in the standard distance and 3 Absolute female. I can only thank all those who have been and are always present, and who supported me in this preparation, and on this double journey! Thank you." Bronze went to GB's Amelia Munsey.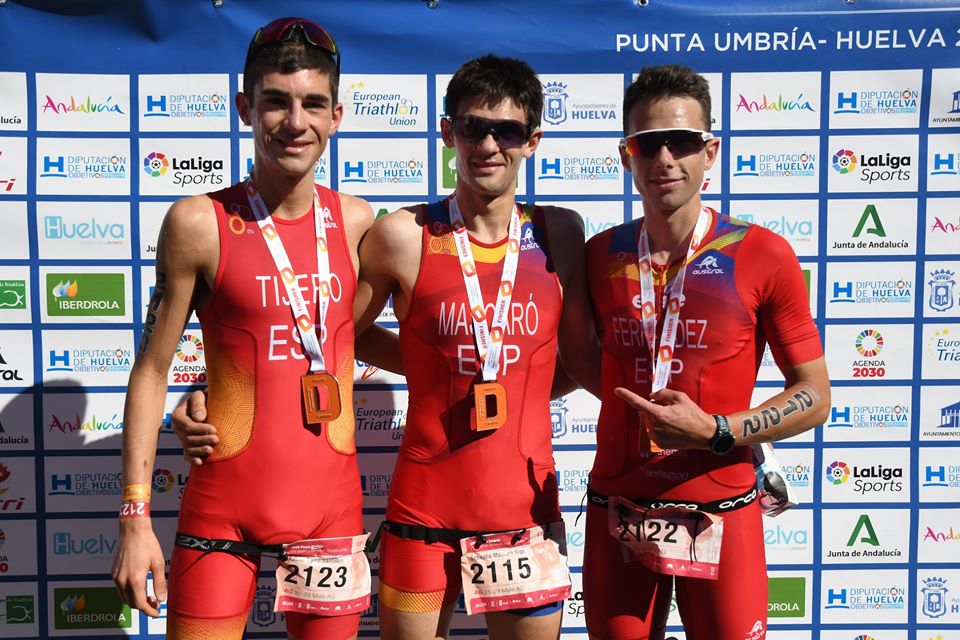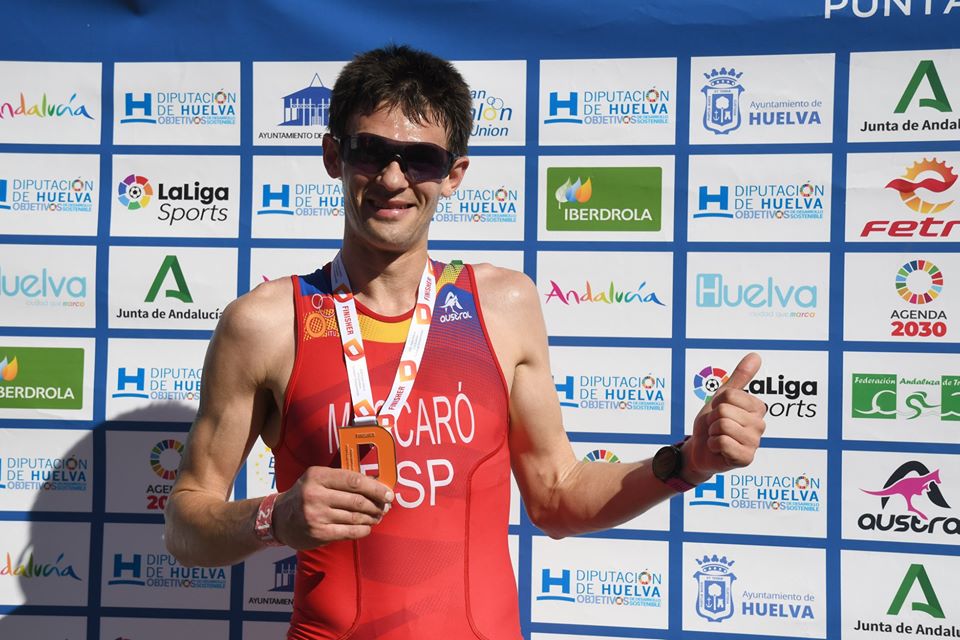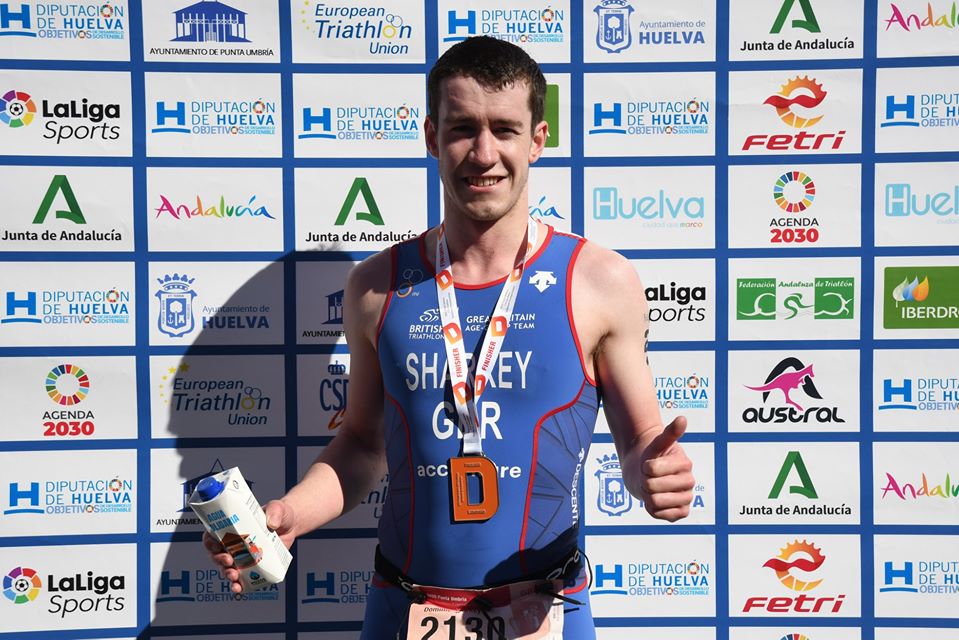 The men's race was almost a clean sweep for the host nation, with a fantastic battle between Dominic Sharkey GBR and Alberto Soler Martín ESP. The pair were locked together on the first run, with Sharkey losing time in transition. The Scottish vet gained back that lost time on the bike and sped through T2 to post a decisive run that took him onto the podium and gave him his first international medal, beating Soler by just three seconds. Had Sharkey not had the pace to beat Soler, it would have been gold, silver and bronze for the Spanish team, as Sebastià Mascaró Rigo ESP, runner-up in Ibiza and with a bronze in Pontevedra, popped in an impressive bike split of 55:46. His ride was strong enough to take him ahead of the faster runners and allowed him to cruise to the line for the win ahead of Juan Francisco Fernández Abril, the 2018 European Champion, who had to settle this time for the runner-up position.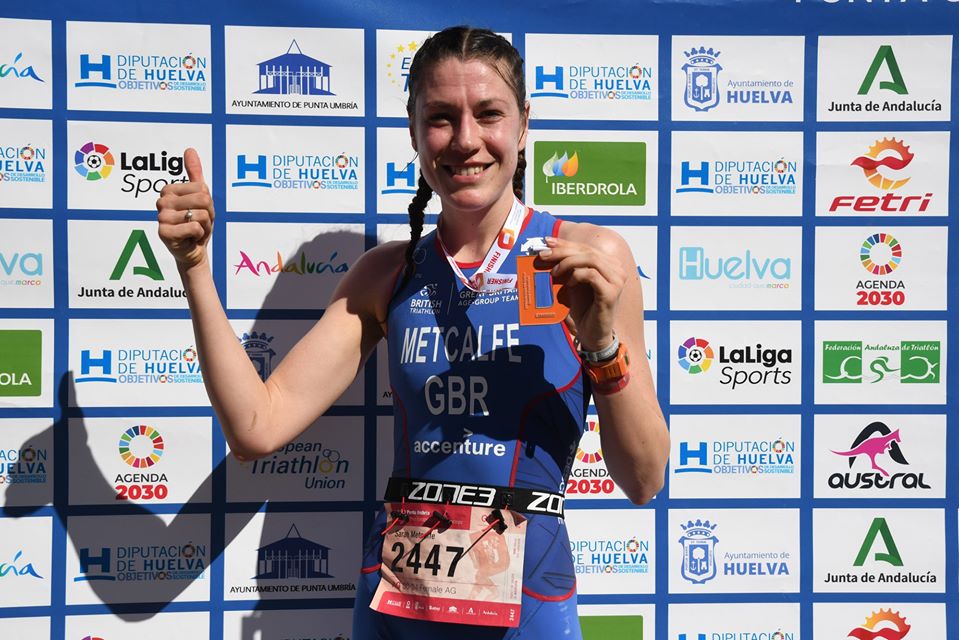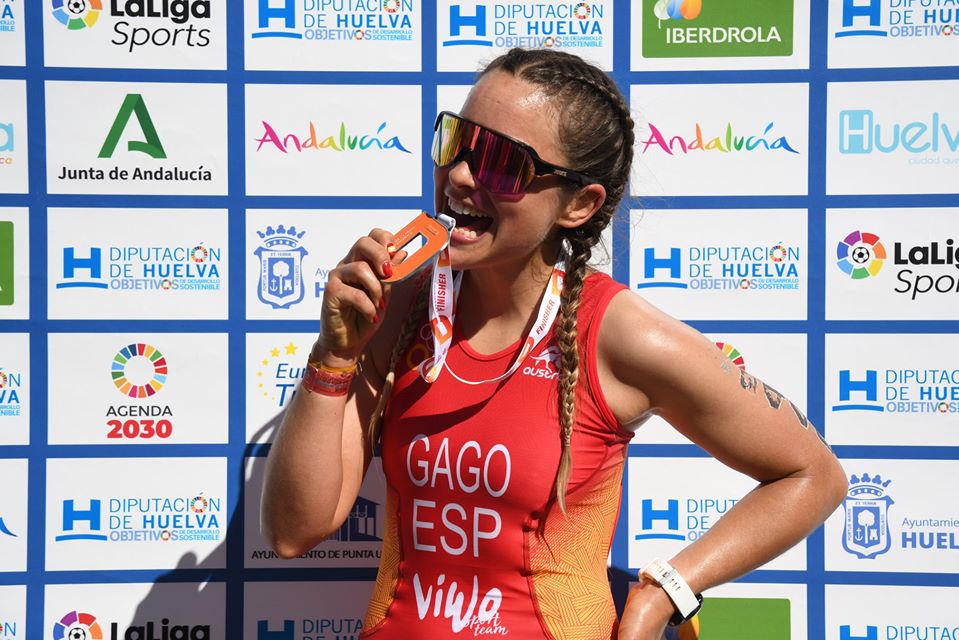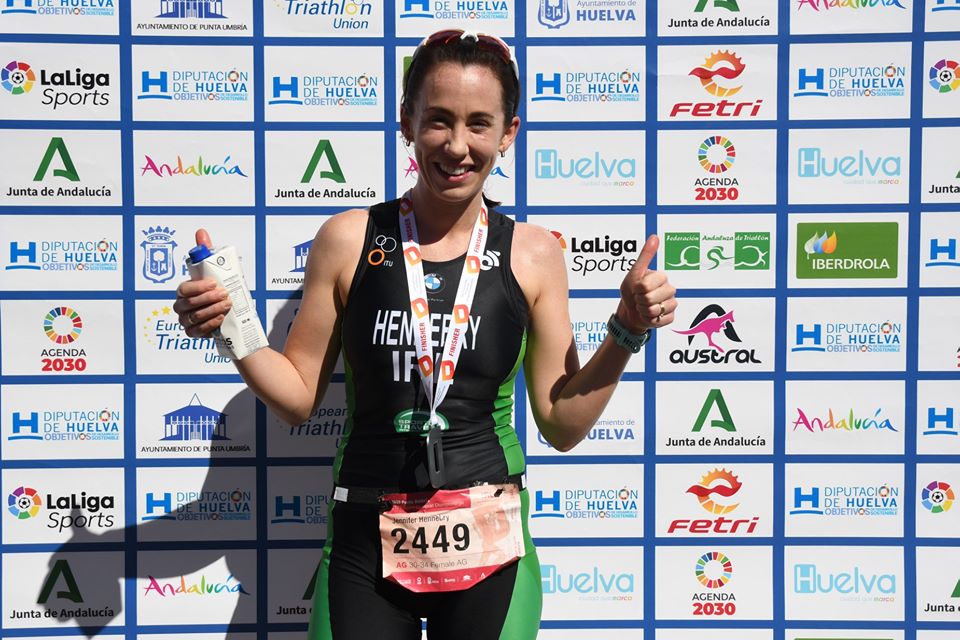 For the 30-34 race saw once again the Spanish flag fly high. It was Ana María Gago Guillén who used the first run and transition to compose herself before attacking on the bike and then pushing the pace on the final run. Her victory was complete and, on her international debut, she took the gold medal and the title for her nation ahead of GB's Sarah Metcalfe who led into T1 but who was unable to match the Spaniard's pace. Gago went on to win but let's hear from Dr Metcalfe "I CAME 2nd!! Second place medal. 2nd in my age group at European Championships! 10 months after doing my first ever multi-sport event and only my 9th ever race! & on #IWD2020 too. Proud as punch, but in a lot of pain!" Metcalfe had arrived with her support team ahead of the first day of racing and was able to watch the Sprint Event to get an idea of things to come. Her pre-race preparation had not exactly gone to plan but once they set off, the buzz was there and she posted a solid first run. Bronze medal went to Ireland's Jennifer Hennebry, to the delight of her Waterford Triathlon supporters.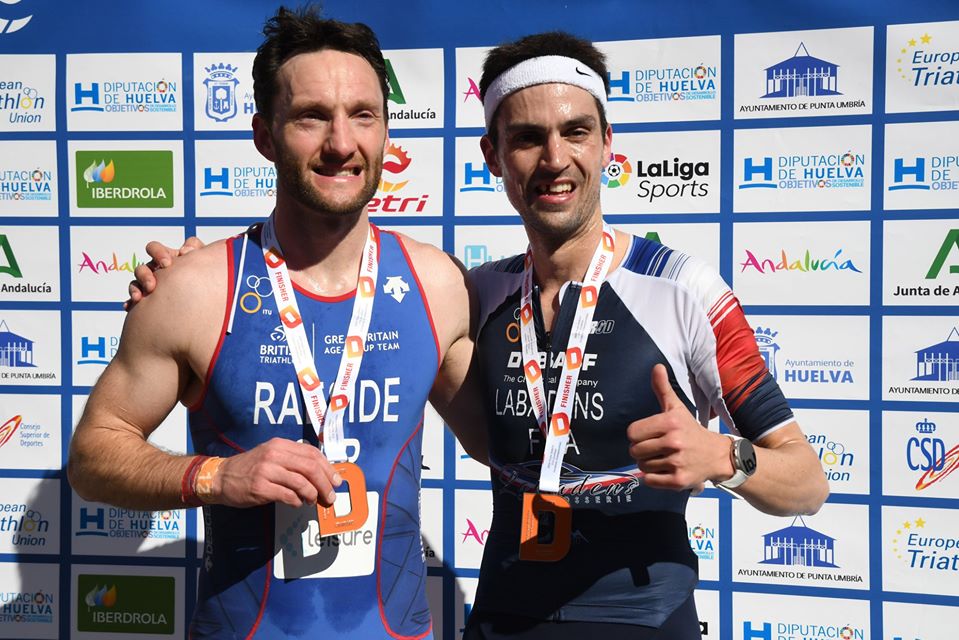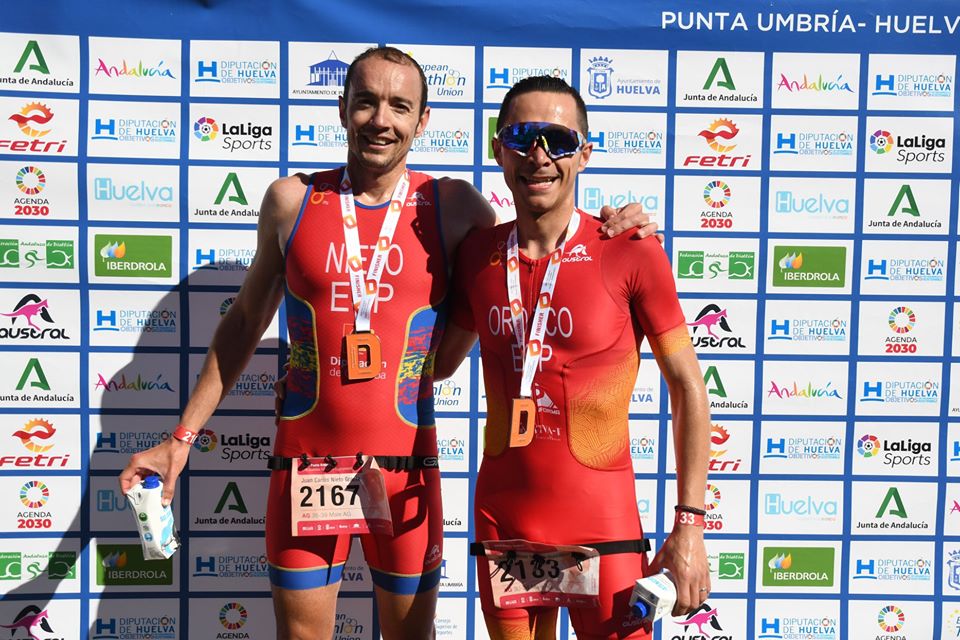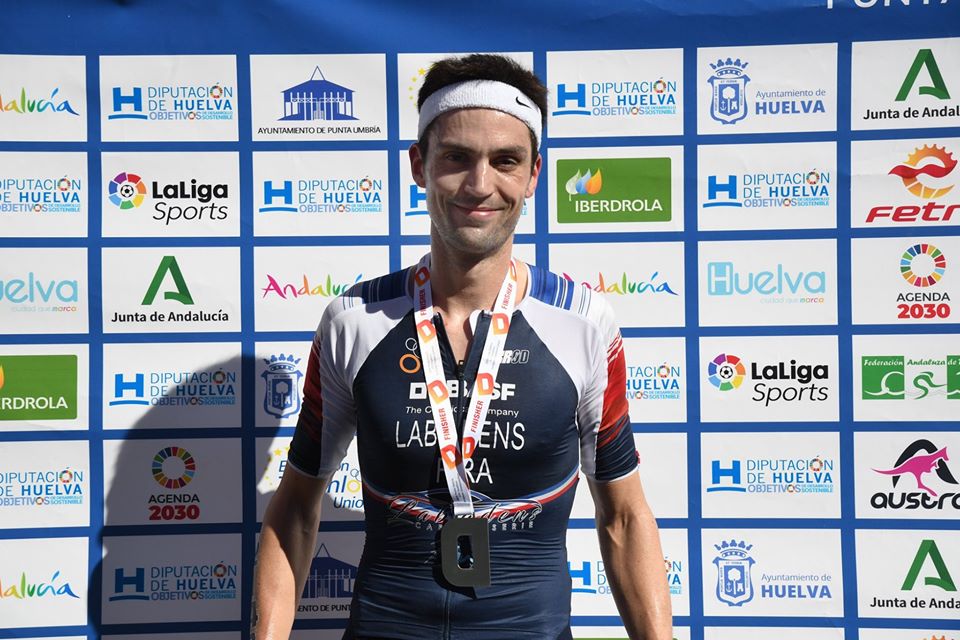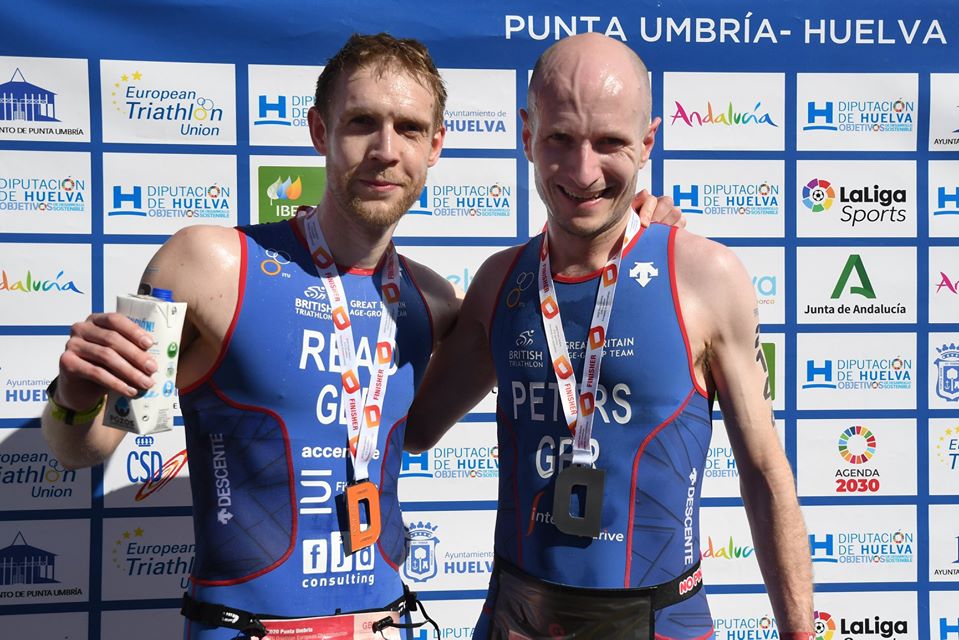 The men's race saw the second-fastest time of the day, with Frenchman, Cédric Labadens having a nail-biting battle with GB's Bruce Raeside who, racing in the next Age-Group up, was making the pace after his warm-up and silver medal in the Sprint. The two were matched throughout the race and no doubt it was this pairing the ensured the winning times in both this and in the 35-39 category were fast. Labadens had won his age group by a country mile over the half-distance at the end of 2019 in Cascais. Out on the bike Raeside was storming and the pair were easily breaking away from the rest of their respective categories. Into T2 and out onto the run the pace stayed high. They stopped the finish clock together, giving both the gold medal in their respective categories. Silver went to José Manuel Orozco Quiñones, giving him his first podium and bronze was safely in the hands of GB's Jonathan Read, defending champion but in this race, the oldest of the medal winners. Read's win in Transylvania came after his silver in Pontevedra.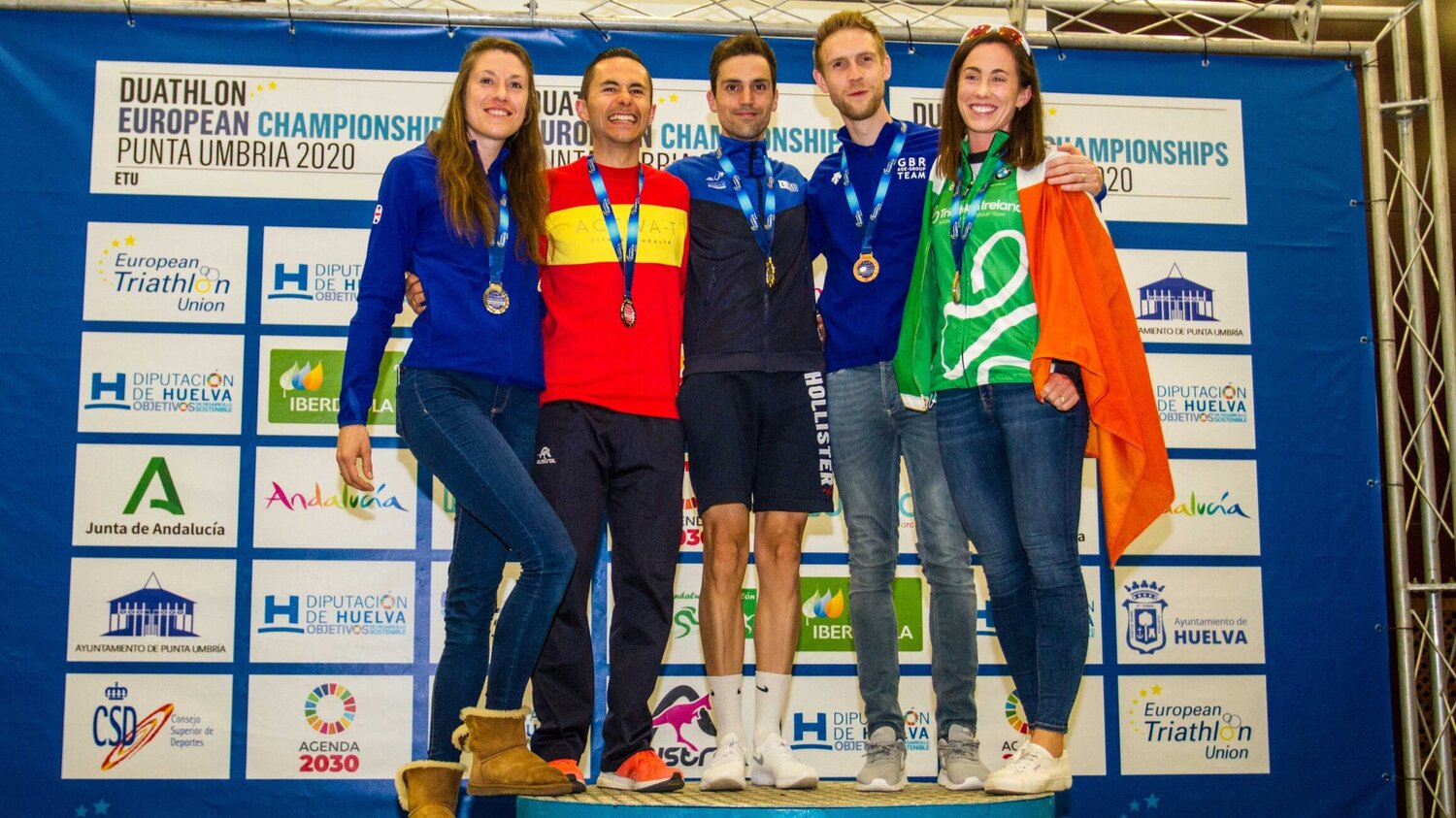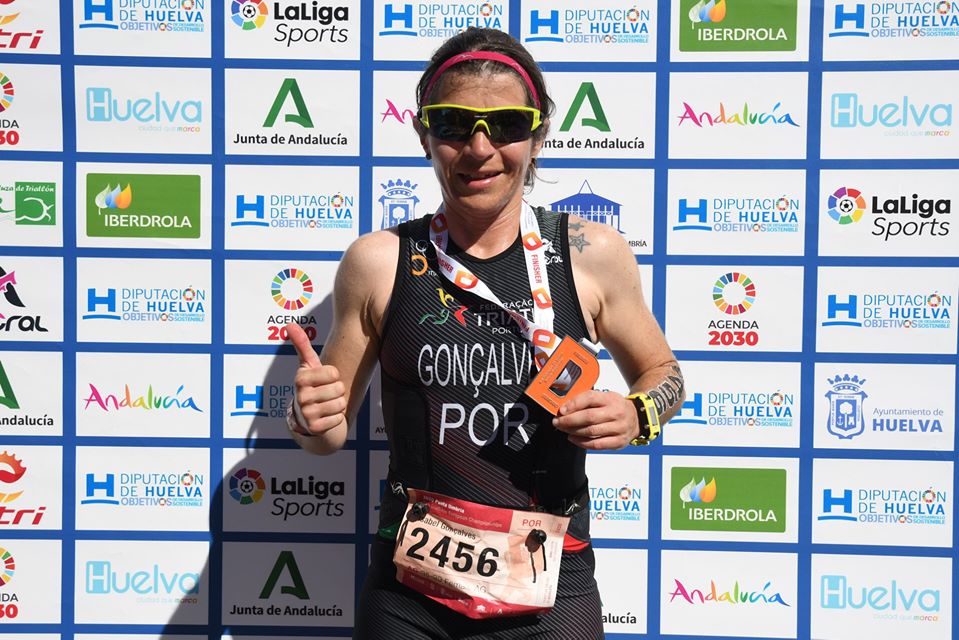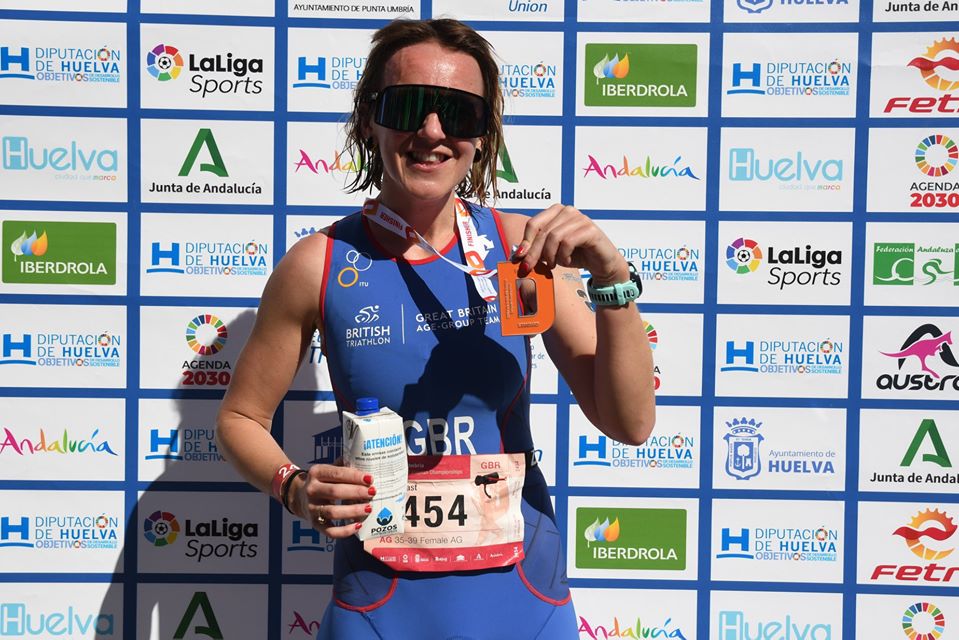 35-39 saw the host nation celebrate with a convincing victory for their off-road specialist, Rocío Espada Vázquez. She dominated the race, using the power that has given her so much success off-road. Spanish and from the region, she was a favourite with the crowds afterwards.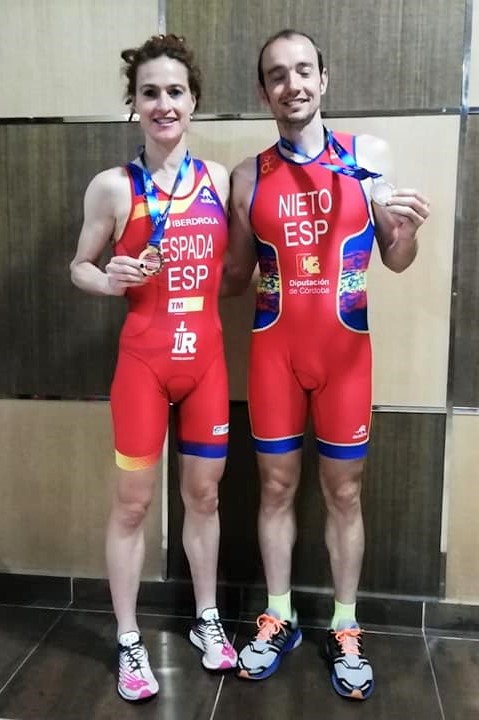 Interviewed after the race, she gave her account of the race, "Click here for the video" . Silver went to Portugal's Isabel Gonçalves. She too has moved to Age-Group racing from the elite ranks, finishing 5th in Pontevedra. Along with GB's Elinor East, these three athletes were comfortably ahead of the chasing pack.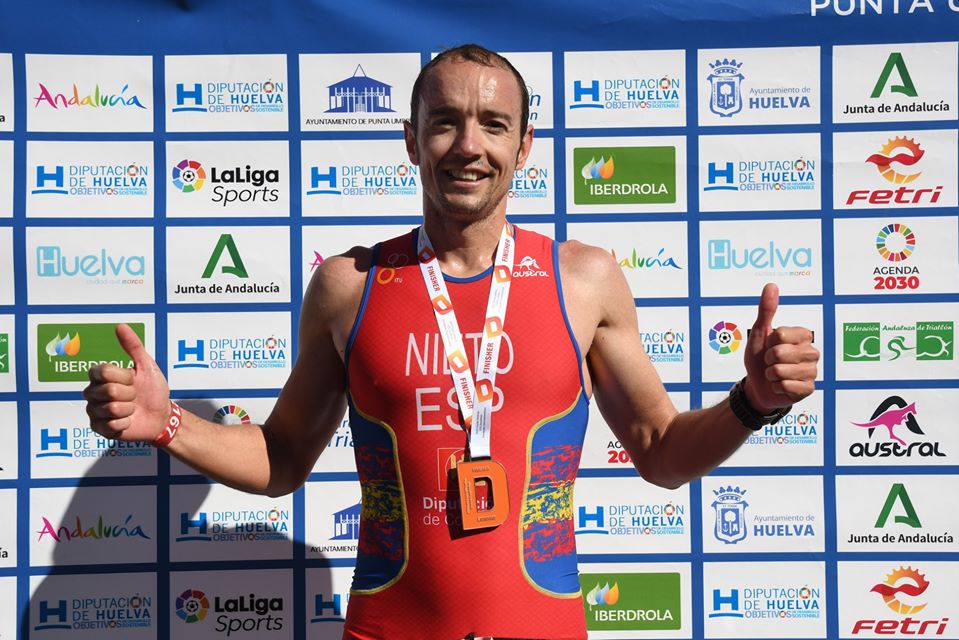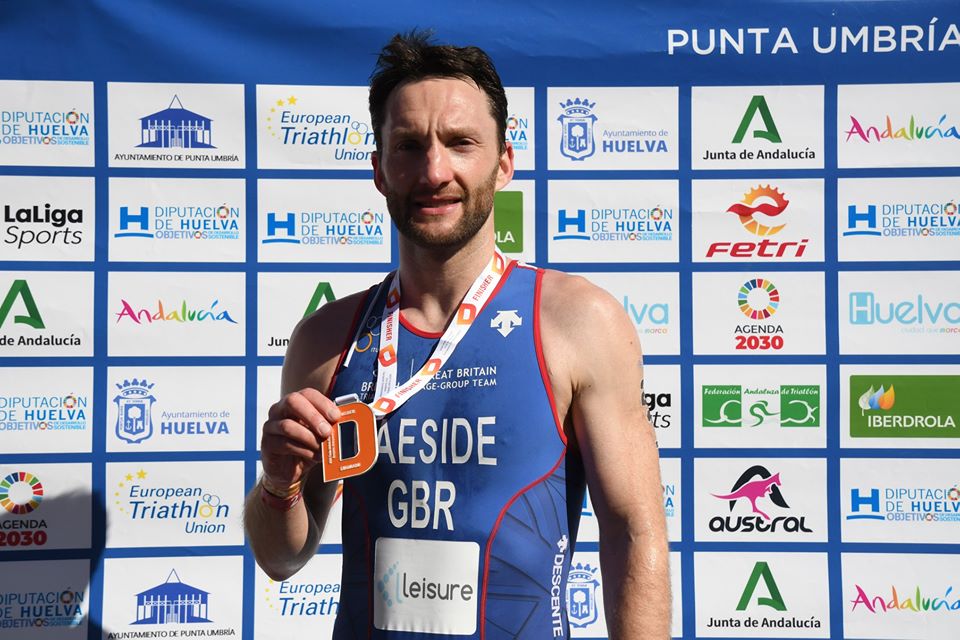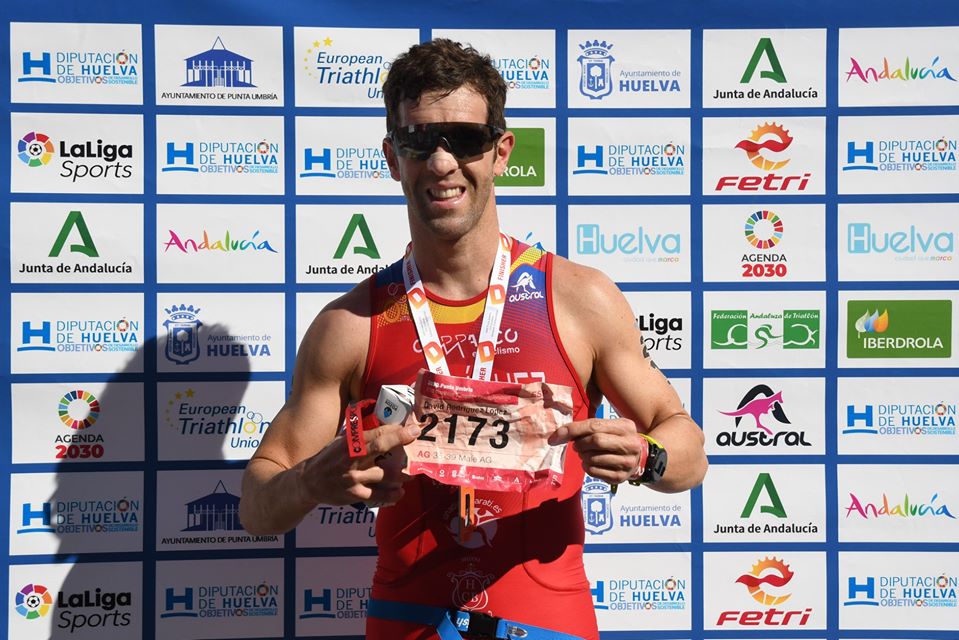 In the men's race, GB's Bruce Raeside got into a real battle as we see above. His early pace took him way ahead, with Juan Carlos Nieto Gracia and David Rodríguez López fighting to keep the Brit in sight. Both Spaniards came to the race with a history of podium finishes in off-road and in road duathlon events but were unable to eat into the lead created by the frantic attack ahead of them. Nieto's ride looked as if it might bring him closer to the gold but with Raeside speeding through T2 and then chasing Labadens on the final run, it was inevitable that Spain would have to settle for silver and bronze. And so it was, gold to the Scot and Nieto just having the greater power over Rodríguez, who came away with bronze. After he race, Raeside said, "European Champion in Standard Distance Duathlon on my 1st attempt 10km Run/40km bike/5km run 1hr46. After missing out on Gold 24hrs earlier I had a lot to prove to myself! Thank you to everyone for all your support." For Rodríguez, "Muy feliz por este tercer puesto que sabe a mucho. He dado el 100% y se me ha recompensado con un final feliz. / So very happy with this third place that tastes so good! I've given 100 % and was rewarded with a great result."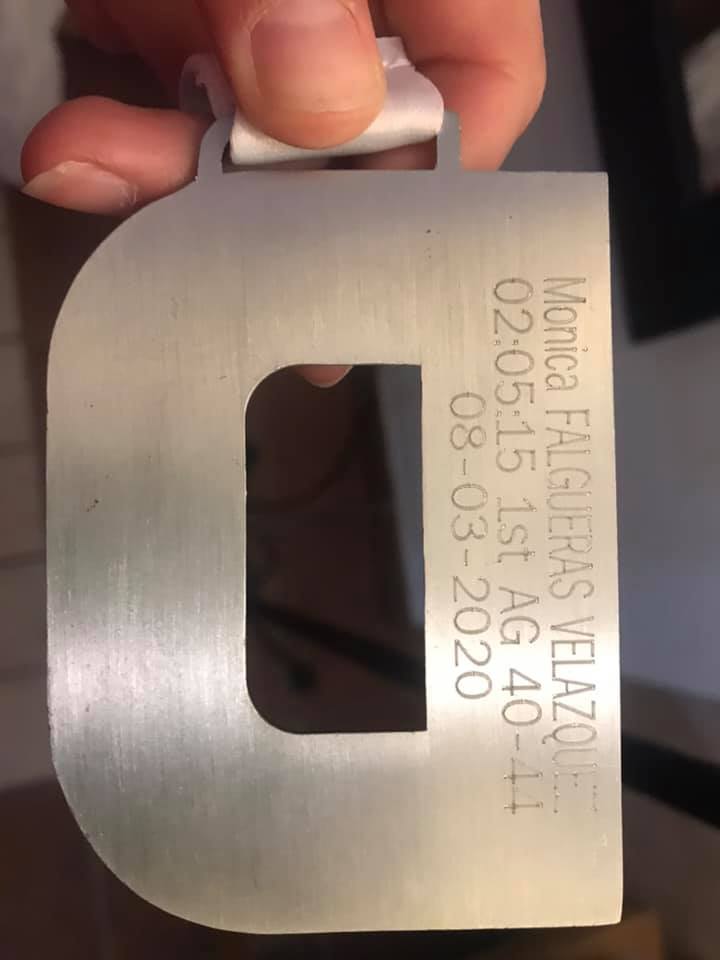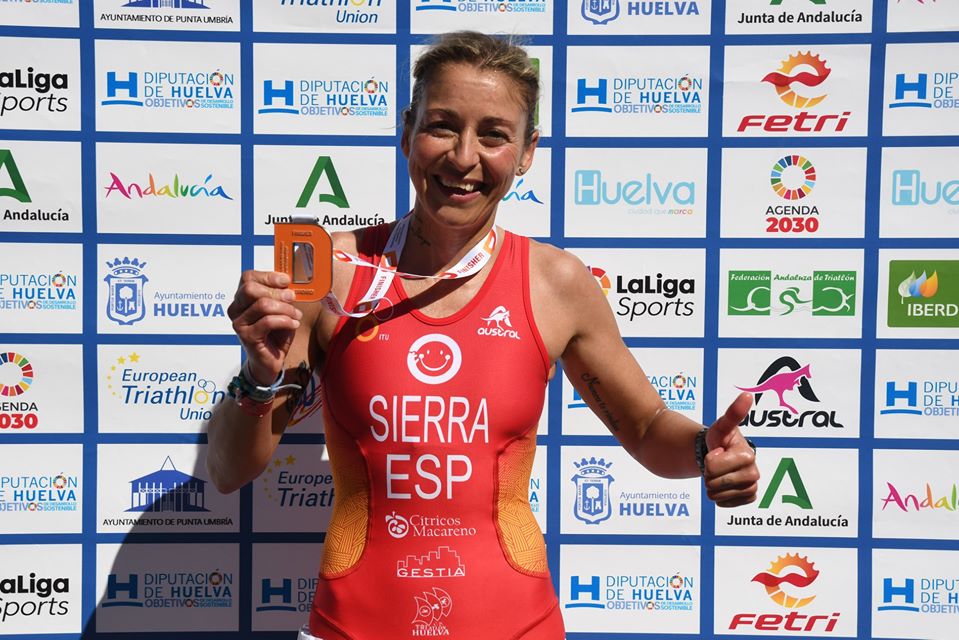 In the Women's 40-44 category, it was a fine match between Great Britain's Karina Kaufmann and Spain's Mónica Falgueras Velázquez. Kaufmann was runner-up in Transylvania and this year moving up a category. With all the advantages of being that little bit younger, her hopes were high but Falgueras, a former Spanish elite long distance athlete, with a military background, had the initial advantage in the first run. Coming into T1 behind team-mate and Andalusian fellow long-distance specialist, María Jesús Sierra Barroso, whose 49-second lead was soon lost on the bike by the strong riding of both Falgueras and Kaufmann who posted the fastest bike split. The leading pair now had left Jesús Sierra and despite a much quicker T2, Kaufmann could not match the run power of Falgueras who crossed the line a frustrating 9 seconds ahead of the Brit. Gold to Spain and bronze to Spain but a well-earned silver to Team GB.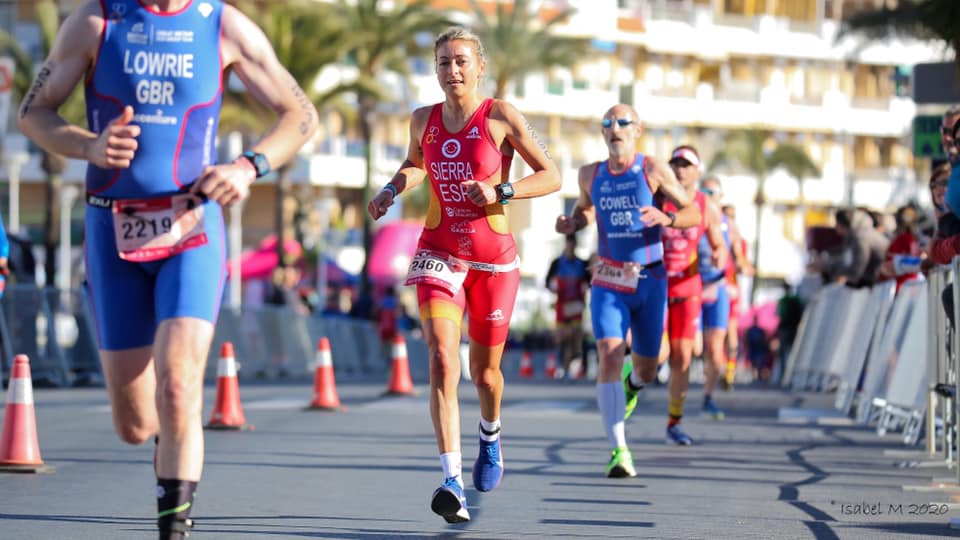 Photo Isabel M

Huelva-resident Sierra was buzzing with excitement after the race, "Campeonato de Europa Duatlón GGEE distancia Standard PUNTA UMBRÍA. GRACIAS es la palabra que definiría lo vivido el Domingo en el Campeonato de Europa de Duatlón…. GRACIAS a Punta Umbría y a la organización porque sin su gran labor e implicación este evento no sería possible. GRACIAS a todas los duatletas que participaron porque hicieron más grande aún este evento. / European Championship Duathlon Standard Distance, PUNTA UMBRIA. THANK YOU is the word that would define what I experienced on Sunday at the Duathlon European Championships .... THANKS to Punta Umbría and the organization because without their great work and involvement this event would not be possible. THANK YOU to all duathletes who participated because they made this event even bigger."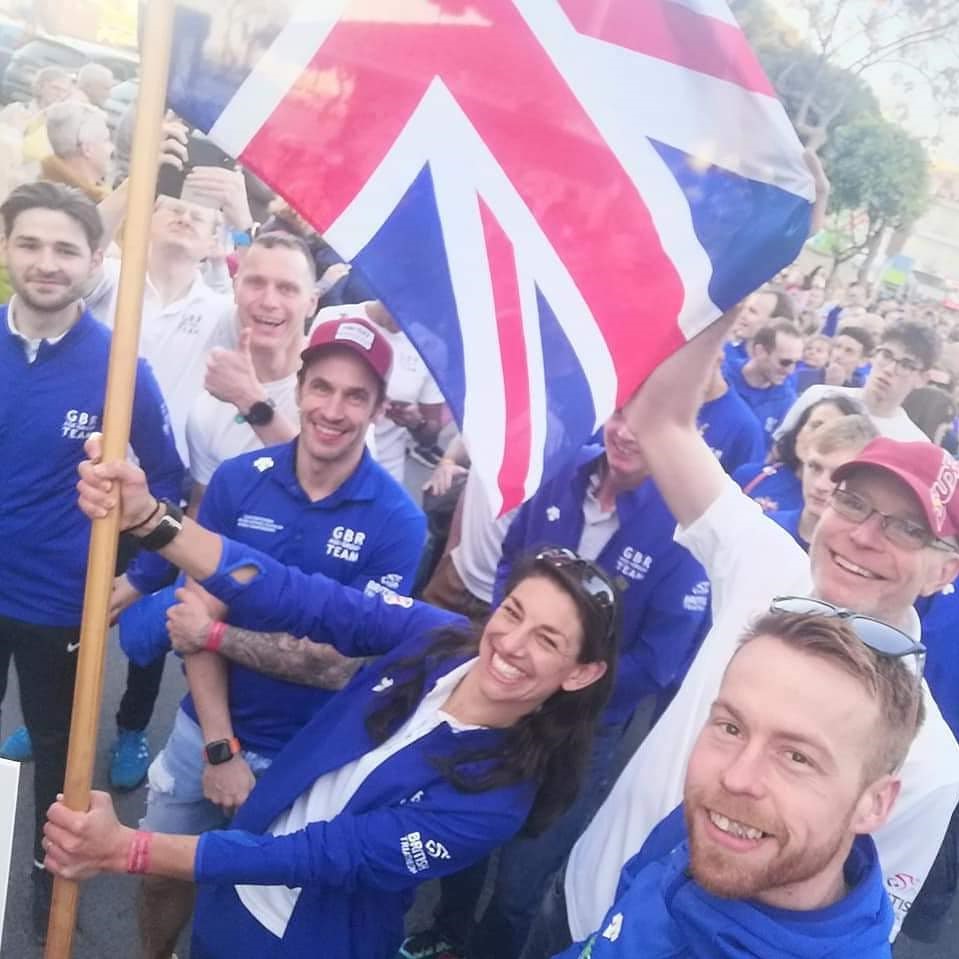 Kaufmann was delighted that she could wear the GB kit once more and, finishing with a silver medal, was quite simply, "Thrilled with my second international podium! So close to that title and gold medal….11 seconds away but I made the Spanish girl really work for it."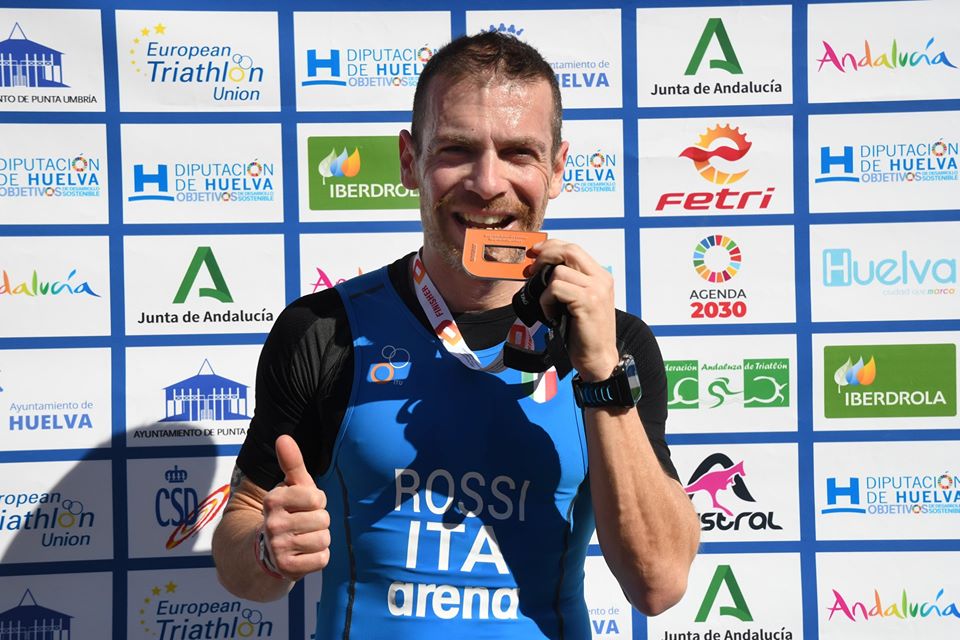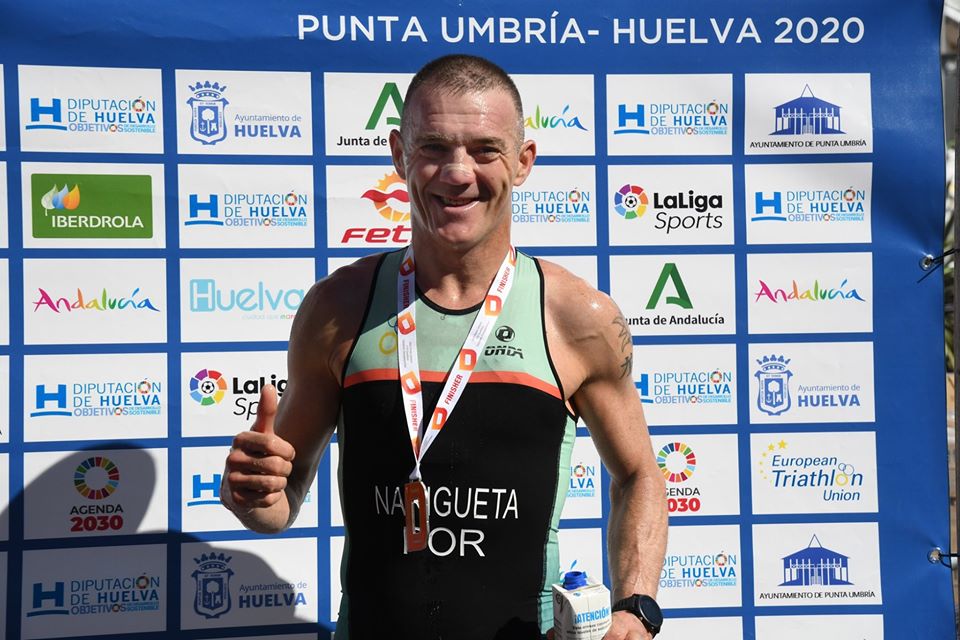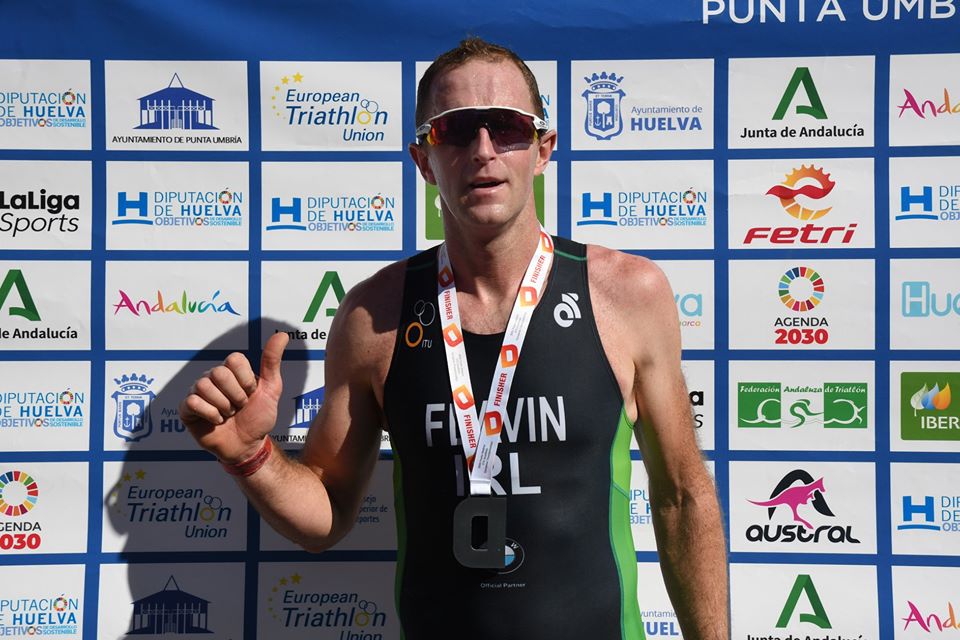 The Men's race saw the fastest finish time as Portugal's Rui Narigueta beat the defending champion from Italy, Huber Rossi in a thrilling and blisteringly fast race that saw all three medal-winners crack the 1:46 barrier. The opening run saw Rossi, Functional Appraisal Manager of the Marathon Sport & Medical Center in Brescia, lead into transition. Behind him and close together were Narigueta and Spain's Antonio José Aguilar Gil. Out onto the bike and despite warnings, Aguilar failed to heed the advice of the Technical Officials and picked up a drafting penalty. When he failed to stop at the Penalty Box, his race was over. Rossi was caught and it was Portugal leading the race. Behind them, making up time with the fastest bike split, was Ireland's Marc Flavin. Sixth in Fyn and Pontevedra, the Waterford man was flying. No signs of him being "weak as a kitten who had been hit by a train". No doubt now, with the bronze medal in his hands, he will be looking at those lost seconds in T2, as he crossed the line just 3 seconds behind the 4-times winner from Italy. For Narigueta, "Muito obrigado a todos os que deram força e a todos os que apoiam. Muito obrigado família e Feliz dia da Mulher Ritinha. / Thank you so much to all who gave strength and to all who support. Thank you so much family and happy women's day."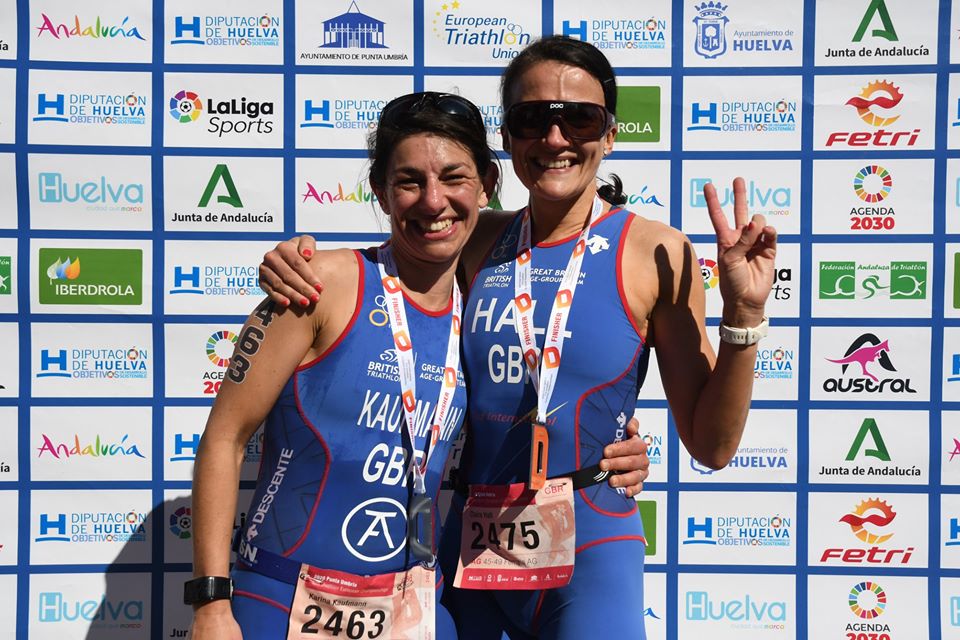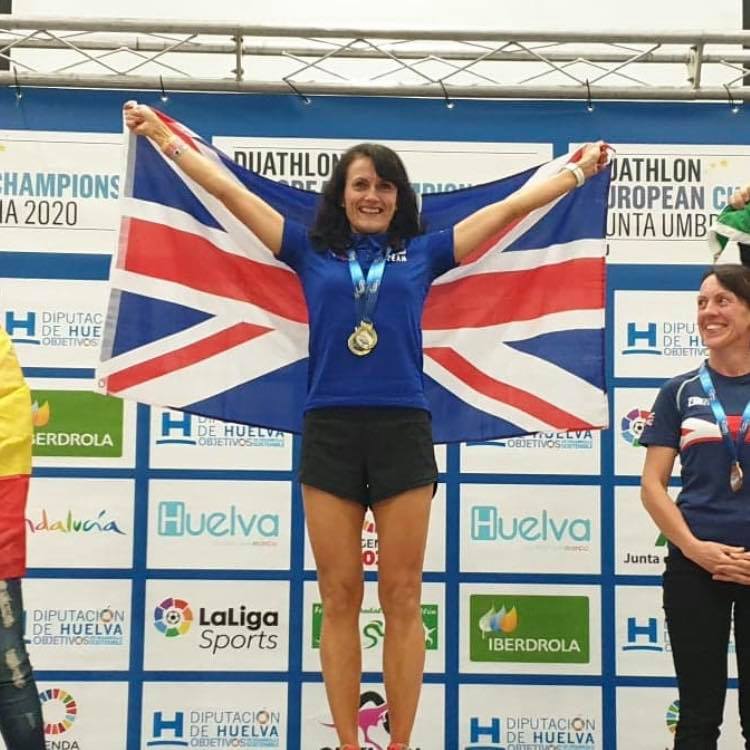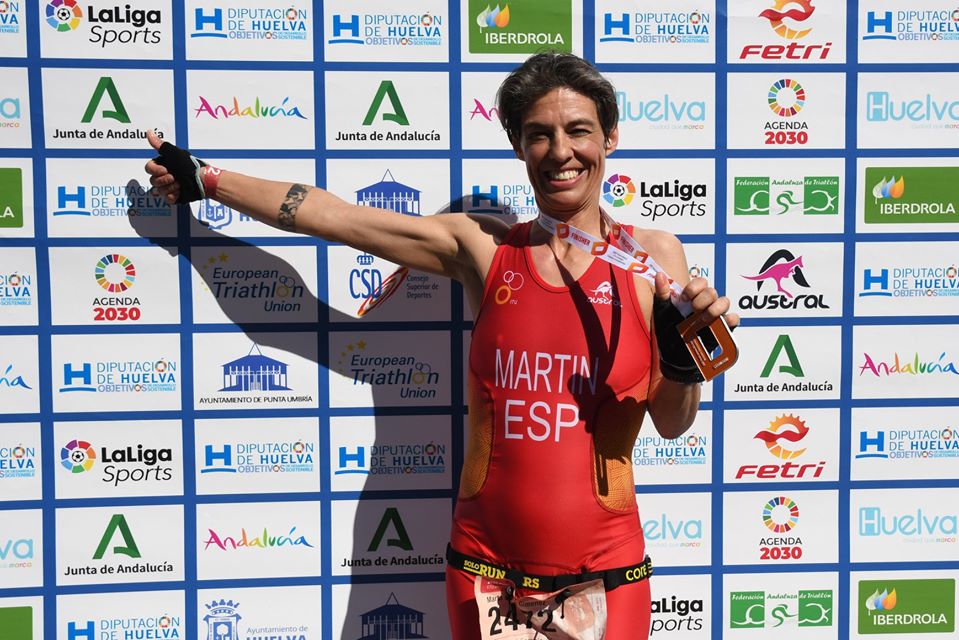 It was once again Team GB that took control in the 45-49 Age-Group with Claire Hall, fresh from her victory in the Sprint and having won the title in Transylvania, who set the pace with an opening run that took her clear into T1 ahead of Marta Martín Giménez. GB's Elizabeth Burgess was some way back in the pack but once out on the bike, she put in an impressive display of power and control that put her right back into medal contention. Hall was long gone, with Martín now focussed on keeping hold of the silver. The day finished with Hall as a double champion, with Spain taking silver and with Burgess claiming the bronze.
Ignacio Morón González ESP got his first mountain bike when he was 25 years old. Two months later in his first race, he came 5th out of 60. Since then he collected a number of cycling titles and, with already proven success in running races, he turned his attention to duathlon, showing great form. In this, his first international race, he stormed to the front on the run and with a steady ride, was ready to blast away on the closing run of 17:14 to take the title. Behind him the battle for silver and bronze was fought between team-mate and reigning ITU long Distance Triathlon champion, Jaime Menéndez de Luarca Zumalacárregui and Ireland's Michael Reilly, the 2016 ETU Champion. Menéndez was impressive on the bike and did his best to stay with the Irishman. The pair were neck and neck until Menéndez broke free on the run to steal silver.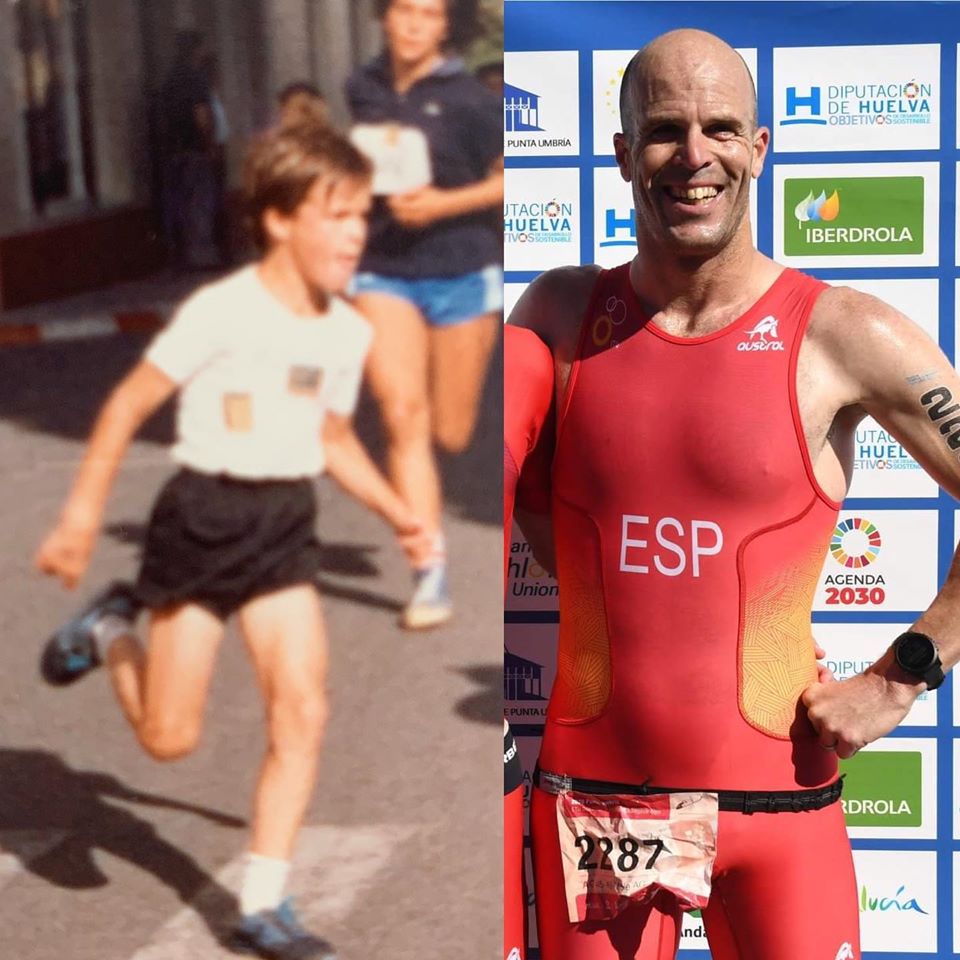 Winning that silver on the run, he said afterwards, "1981-2020. Aparte de más gemelo y menos pelo poco ha cambiado desde aquella Carreira Popular de Cedeira a este Europeo de Punta Umbría de GG.EE. / 1981-2020. Apart from bigger calves and less hair little has changed since that Popular Carreira of Cedeira to this European Championships in Punta Umbría." BALD KID PIC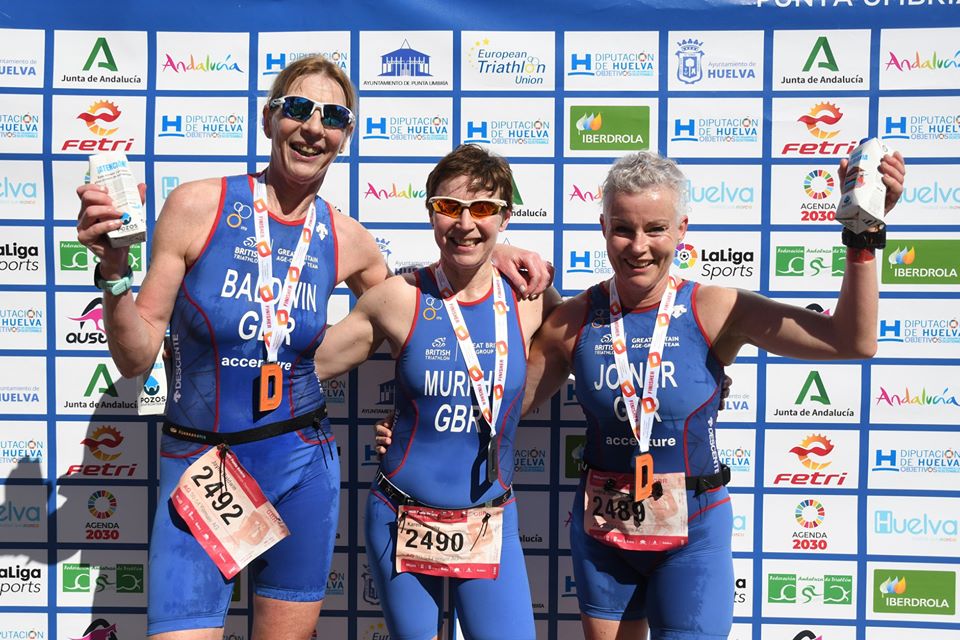 Into the 50-54 Age-Group and for Team GB it was a truly dominate performance with the top five place being claimed and with a comfortable margin over those chasing. Defending champion, Karen Murphy set the pace from the gun, with team-mate and runner up last year Jayne Baldwin and Angela Joyner-Handy, who seems just at home over the ETU-Powerman distance as she does over these shorter distances following almost two minutes down.
Murphy, from Potters Bar, works as a physiotherapist and coach with Be Endurance, was taking no prisoners. Joiner-Handy, having finished with a top ten in the sprint (a top ten finish despite navigational problems that added over three minutes to her finish time), was now at a distance more suited to her and put in a storming bike split, but up front, Murphy was showing no signs of easing up and her final run made the clearest of statements. Baldwin, a minute behind Joiner-Handy on the bike showed great closing pace to add another silver to her collection, with bronze going to Joiner-Handy.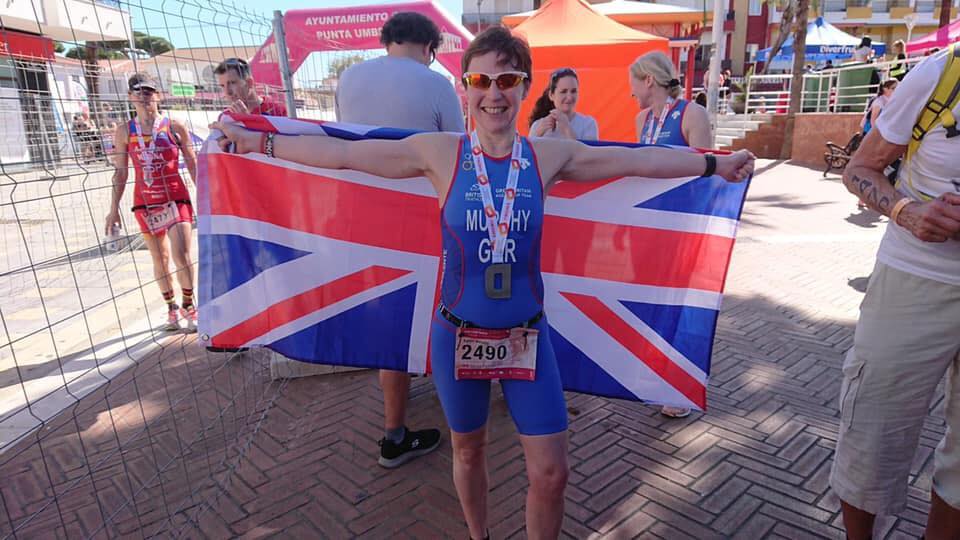 Photo Be Endurance
Murphy's team back home was delighted, "Yet another success today as Karen Murphy who trains with us at various sessions and has recently done some coaching for us became European Standard Distance Duathlon Champion for a 2nd year running destroying the field again. Incredible result and racing from her."
Baldwin, who was selected to read out the Athletes' Oath in Weert at the very same time as she was teaching her class back home about Olympic ethics, seems to be getting stronger and stronger and adds this silver to her medal from last year. Joiner-Handy had this to say after the race, "Bronze today at the Euro Standard Champs! Loved it! Weak run because I haven't done any - strong bike because I have been Zwifting". (Editor's note - be part of the ETU TTT Thursday Zwift sessions).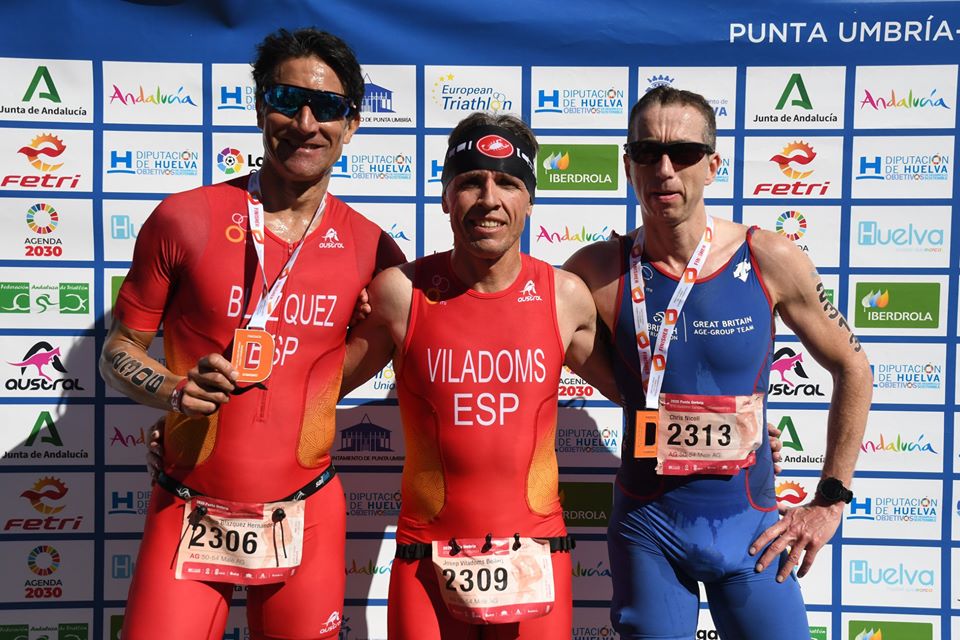 The Men's race saw a battle for the final place on the podium that was decided by just one second. It was also a repeat battle between the very same athletes who had raced the Sprint Distance. With the same athletes at the front end, so determined to claim not only a podium place but, potentially, the title, the pace was set early by Spain's Josep Viladoms Bellart, winner of the Sprint race. He had Portugal's Joaquim Carlos Lopes and fellow Spaniard, Francisco Blázquez Hernández, who was runner-up, just seconds behind. GB's Chris Nicholl, who had been the third man on the podium in the Sprint was a further 20 seconds back but once on the bike, Lopes struggled to find the form he had over the shorter distance and Italy's Pietro Carrara, a Zofingen veteran, looked set to threaten them. In T2 Blázquez lost valuable time and then struggled on the run as Nicholl upped the pace to chase down the leader but despite putting in the fastest closing run, he could not match the Spaniard. Gold and the double to Viladoms. Second silver to Nicholl and a second bronze to Blázquez who just held off the speeding Italian by that one-second margin. No doubt Carrara will be looking at his second Transition time and cursing those lost seconds.
For Viladoms, the Double Champion, "¡¡Fi de semana perfecte !!! Al campeonat d' Europa a Punta Umbría disfrurant amb la família!!! Doble campió d'europa en duatló en les modalitats Sprint i olímpica. / Perfect weekend!!! At the European Championship at Punta Umbría having a great time with the family!!! Double European Duathlon Champion over Sprint and Standard Distances."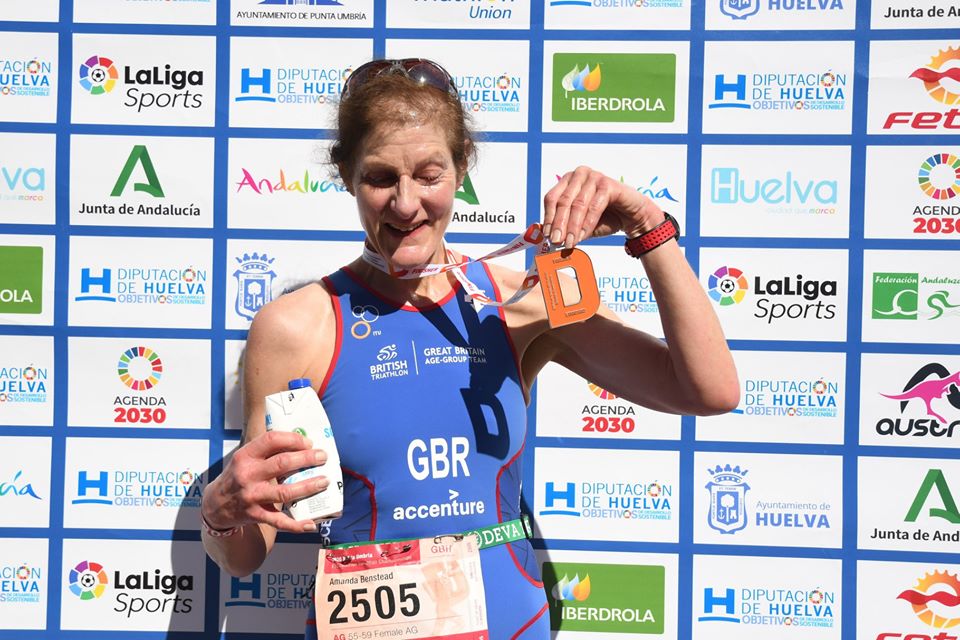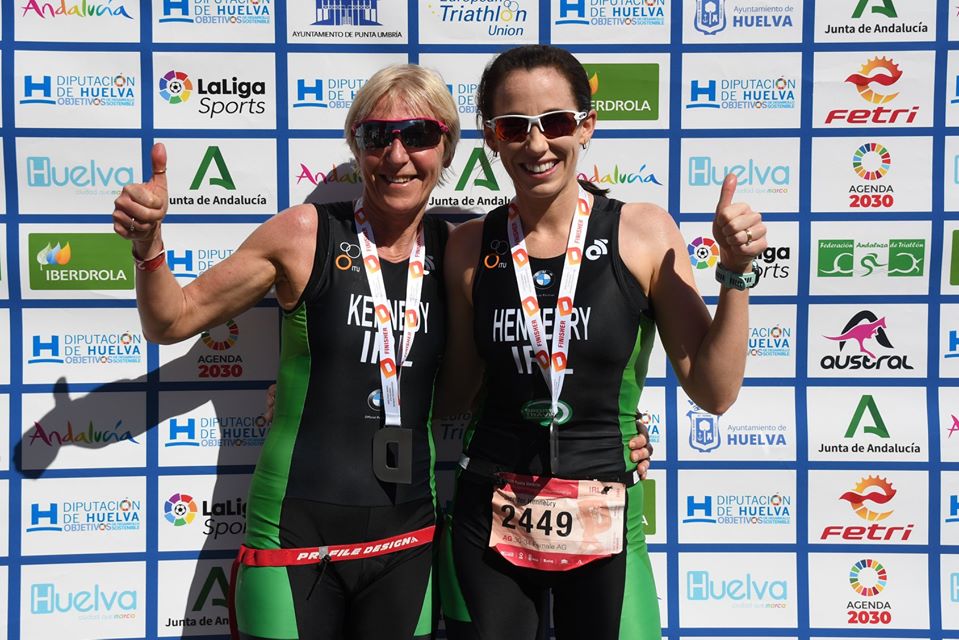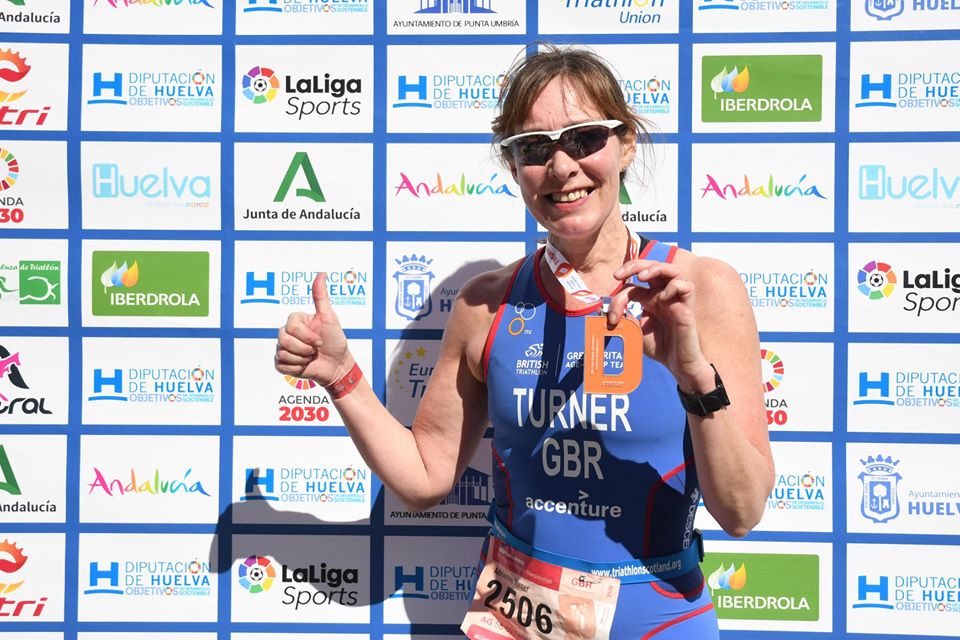 Ireland claimed a well-deserved gold in the 55-59 Age-Group, with the victory of Siobhán Kennedy that saw her debut on the international playing field. With an Age-Group winning 11:23 for the Full-Distance, raced over the tough Bolton Course in England, she was now testing the waters over the run/bike/run format . Her performance was light years ahead of the opposition. Leading into T1 with a three-minute advantage over Amanda Benstead GBR, she was out and onto the bike in no time and that is when she really opened up the valves to post a mighty 1:04:42 to round off with a 23-minute final run. A stunning win for the Irishwoman that will raise the hopes of the Age-Group Team for future races. Benstead came home for silver, having previously won silver in Limerick in 2011. Team-mate, Adrienne Turner, also a newbie, made full use of the local café before the race and came home for bronze.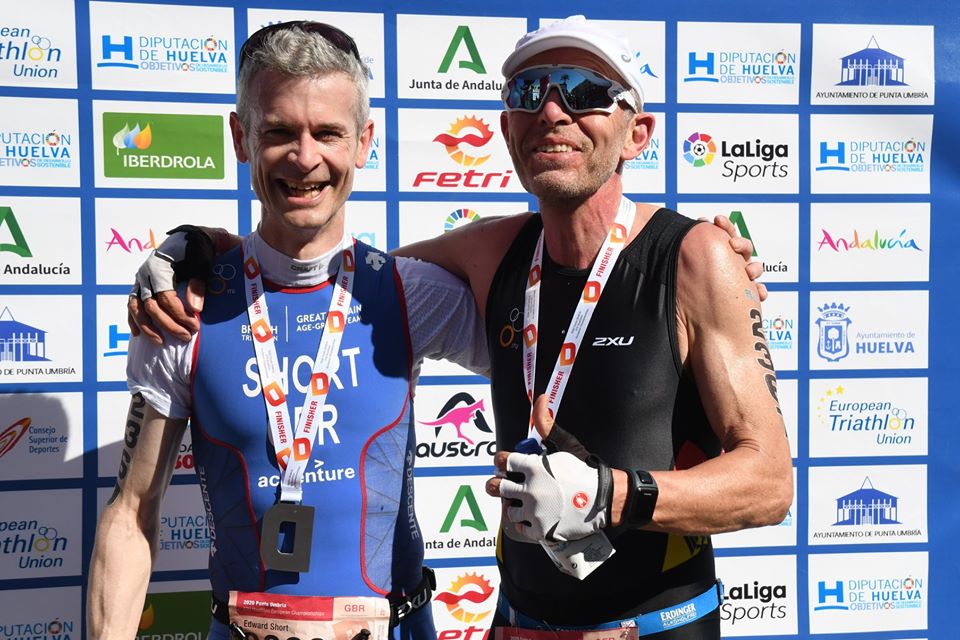 The men's race saw GB's Edward Short attack from the front. The 2019 bronze medal-winner at the Pontevedra Worlds, ran well to put himself in a commanding position and was soon out onto the bike course where he was doing well until Ángel Lencina Alonso ESP and Germany's Stefan Schütz appeared. Schütz won the Sprint title last year and was runner-up in the Standard. He pushed to the front. Game on. The three leading athletes came into T2 in quick succession and the battle was now on for the title. With a history of off-road racing, it was Lencina, three-times ETU Cross Duathlon Champion, who had the stamina and speed to claim the win by just 7 seconds. Schütz, already with a silver from the Sprint, could not match him on the final run but had done enough to ensure the silver ahead of Short. 29 finishers in this Age-Group, with Spain dominating the top ten.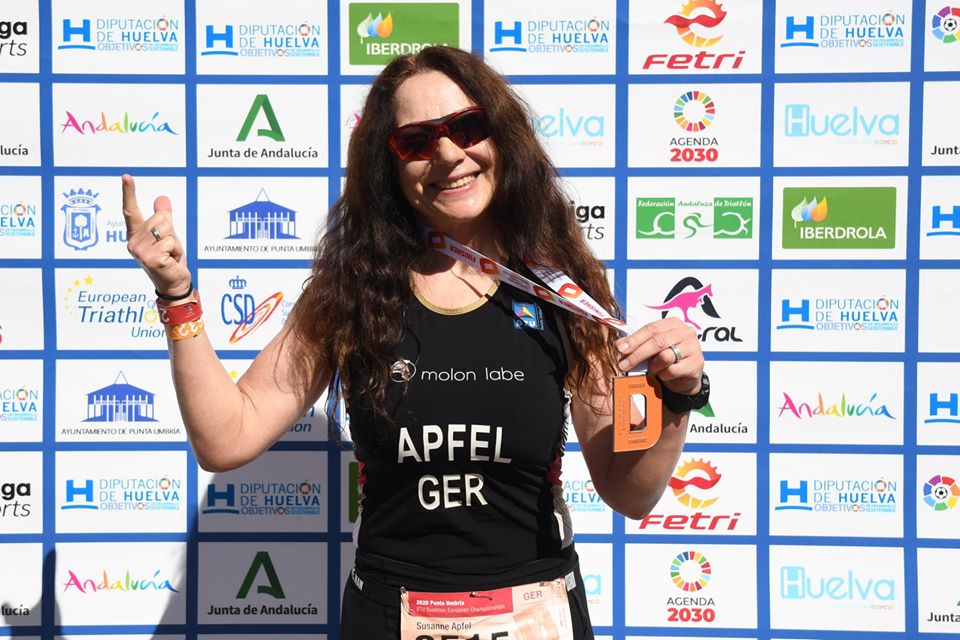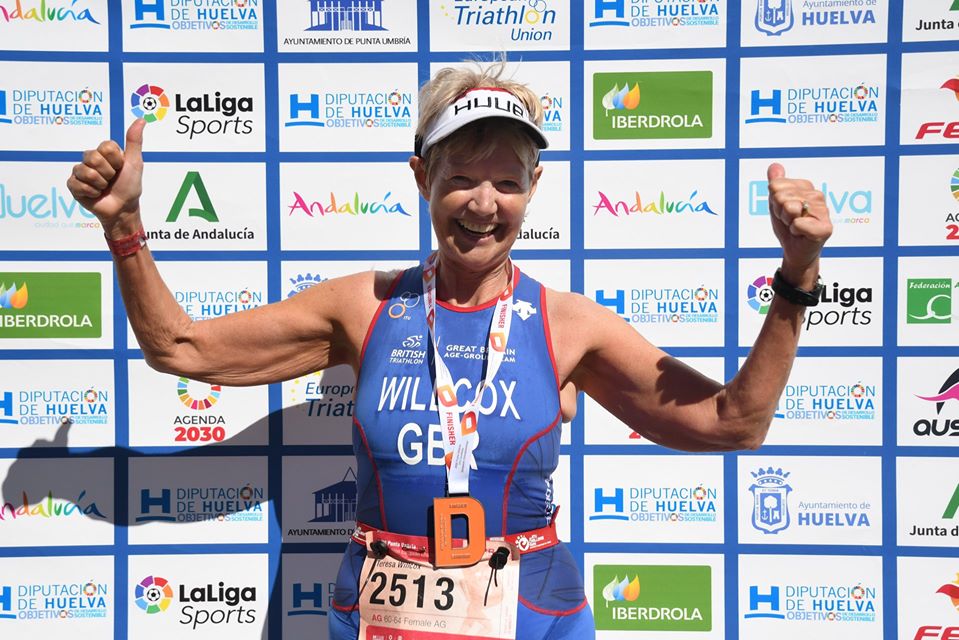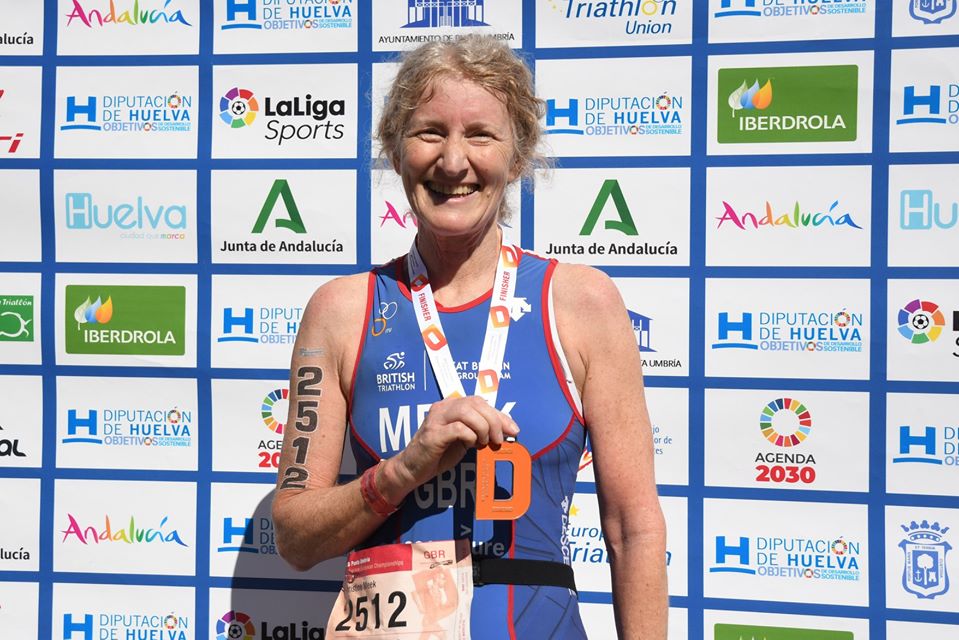 60-64 now and this curiously saw no Spanish athletes at all in the women's race. The pack was led by GB's Teresa Willcox on her 5th outing in GB colours. The Thames Turbo athlete had the race of her life, dominating the run and bike to finish almost 7 minutes ahead of Germany's Susanne Apfel, former Zofingen champion. Christine Meek GBR made up the podium. Apfel, after the race, said, "Freude über EM-Silber. Nach dem 5. Platz im Sprint, bei dem ich auf der Schlussrunde das tags darauf folgende Rennen über die doppelte Distanz im Hinterkopf hatte, sodass ich da nicht mehr alles gegeben habe um etwas Kraft zu sparen. Mit doch etwas schweren Beinen ging ich dann an die Standard-Distanz 10-40-5. Die ersten knapp 10 km in 46:20 min. waren mehr als im Plan, ich lag unerwartet an Platz 2. Auf dem Rad war ich mit ca 31 km/h unterwegs (kein Windschattenfahren erlaubt). Bei den zahlreichen Wenden stellte ich fest, dass die in Führung liegende Britin den Abstand zu mir stetig vergrößern konnte. Ich machte mir keine großen Gedanken, hatte Spaß am Rad fahren und habe mich wohl etwas zu sicher gefühlt und ein bisschen getrödelt. Direkt beim 2. Wechsel haben mich 2 Britinnen eingeholt. Schnell wechseln und versuchen, beim Laufen wieder weg zu kommen! Den zweiten Lauf (ca 5,2 km in 26:10 min.), normalerweise meine Schwäche, habe ich dann doch noch sehr gut absolviert und habe damit die Silbermedaille gesichert. Die Mühe hat sich also gelohnt, ich bin echt stolz und glücklich, da ich maximal mit Blech gerechnet habe. / Happy with a European Championship silver. After coming 5th in the Sprint, where on the last leg I was all too aware that I would have to race double that distance the following day and so didn't really give all in order to save some energy and coming now with rather heavy legs to the Standard 10-40-5, I ran the first 10k in a tidy 46:20. That was pretty much the plan but I was surprised to find myself in 2nd place. Out on the bike and I was pushing at about 31kph (no drafting) and on the many turns, I could work out that the distance between me and the leading British woman was increasing. I wasn't really worried, I had fun cycling and I felt a little too safe and dawdled a little. Two British women caught up with me right at T2. I had a quick transition and tried to get away on the run! The second run (about 5.2 km in 26:10 min.), which is usually my weak point, went well and I got the silver medal. The effort was worth it, I am really proud and happy, because I was expecting a maximum of bronze."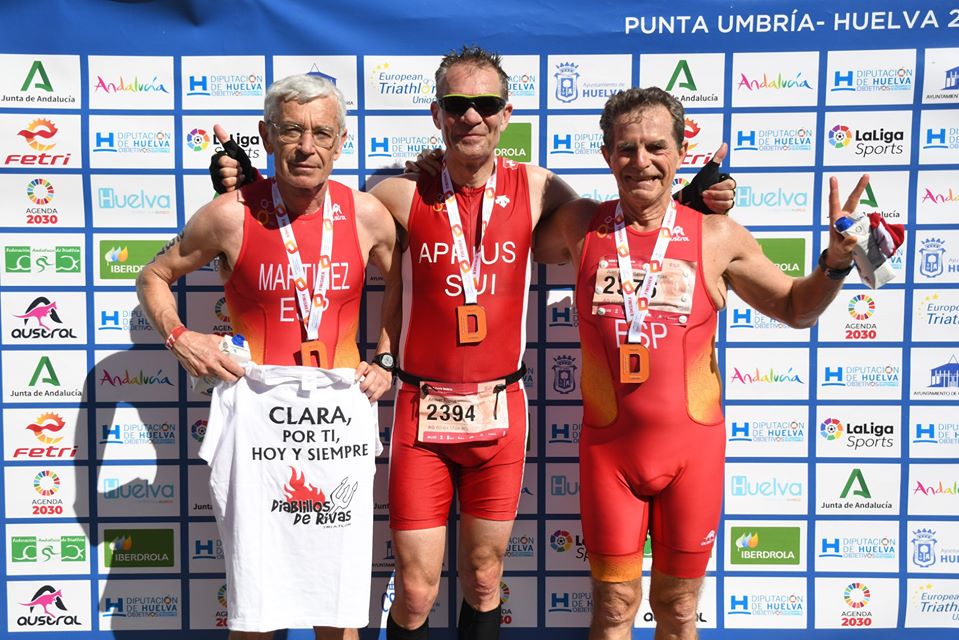 We saw Switzerland's Aeneas Appius dominate the Sprint race and he was back now to claim his second title. His solo ride of 20k in the Sprint was good training for this draft-illegal distance and once again, it was Swiss precision that delivered the win. He did so convincingly and with a restrained race plan that allowed a few to lead him into T1 before he attacked on the bike. He was able to ease off on the final run, to cross the line, a double-winner, with 30 seconds or so advantage. Silver and bronze went to the hosts, with Jesús Aureo Martínez Rubio, the 2018 ETU-Challenge Long Distance champion in second place and Juan Carlos Galindo Villegas a middle and long-distance specialist.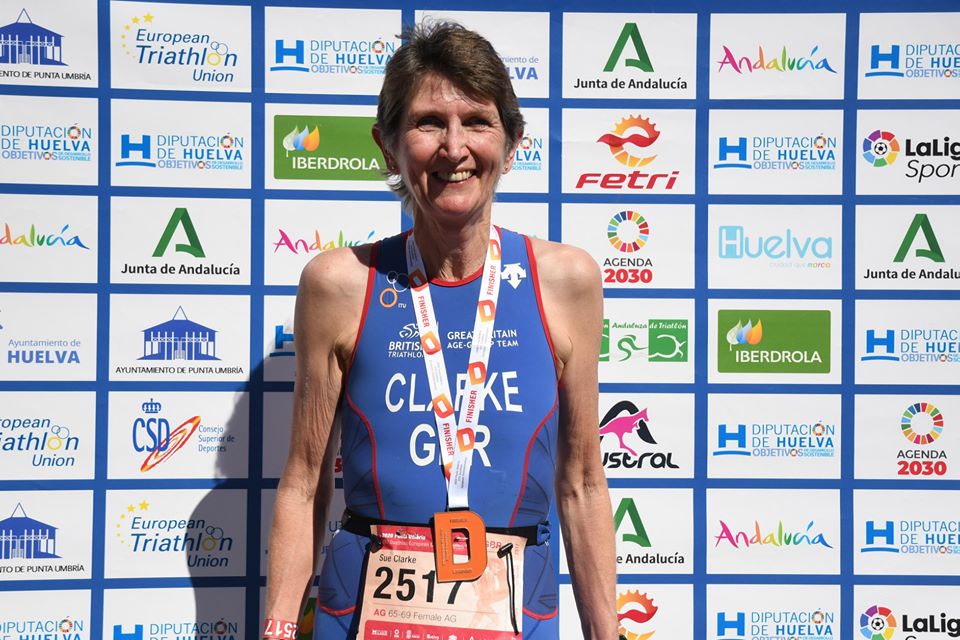 It was the British women who faced no opposition from the host nation, who swept up the final medals over the 65-69 and 70-74 Categories. In the younger age-group, Sue Clarke, former World and European Champion over the Sprint Distance, tried her hand for the first time over the longer distance and posted a finish time that would have put her in 4th place in the 60-64 race and 6th in the 55-59 race.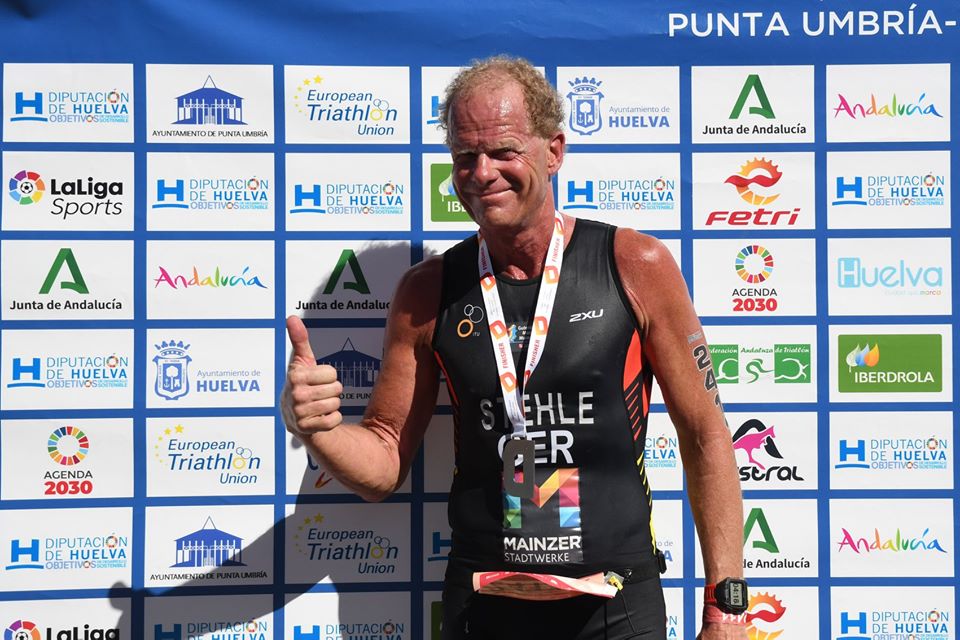 Defending Champion, Jörg Stehle not only claimed the Standard Distance Duathlon title in Transylvania last year but then went on to add the ETU Middle Distance Triathlon Crown to his collection. His 38:53 opening run took him away from even the fast-paced duo from Portugal, Carlos Cabrita and Fernando Feijão. Feijão's lost time in transition cost him badly and soon he was playing catch-up to Cabrita and Spain's Juan Vicente Izquierdo Rey who had just missed the podium in Târgu Mureș but who had claimed silver in the Sprint the day before. Out on the bike course and Stehle was unbeatable. 1:01:07 on the bike was remarkable and this put him into a commanding lead. His winning margin of 5 minutes sealed the victory, with Cabrita claiming silver and Izquierdo the bronze.
For Stehle, this victory meant a lot. Having bene beaten by 40 seconds in Pontevedra at the Worlds, his arch-rival, Román Hernández Sierra was in his crosshairs. Hernández had been DSQ in the Sprint for failing to complete the bike course and this would be his chance to put the ghosts to bed. It was not to be. "Zur Kurz-Duathlon EM nach Punta Umbría in Andalusien zwar als Titelverteidiger angereist, aber auch der Weltmeister, der mich letztes Jahr in Pontevedra bei der WM um 40 Sekunden geschlagen hatte, war gemeldet. Aber bange machen gilt nicht, immer lächeln, setzt Serotonin frei! Und es war einfach mein Tag, die ersten 10 km unter 39 Minuten, dann fast einen 40er Schnitt auf dem Rad auf der topfebenen Strecke und zum Abschluss nochmal 22:25 min auf die abschließenden 5 km - die Gegner hatten heute leider keine Chance – Start Ziel-Sieg bei strahlendem Wetter und mit 5 Minuten Vorsprung Europameister geworden – guter Start ins Jahr 2020!!! / So, in short, Came to the ETU Championships in Punta Umbría in Andalucía as defending champion but the World Champion, who had beaten me by 40 seconds in Pontevedra at the Worlds last year was also on the start lists. Getting worried does nothing. Smile, that sets off the Serotonin! And on the day, it all went my way. First 10k in 39 minutes, followed by a 40k bike on the pretty flat course and closing with a 22:25 for the final 5 km - unfortunately the opponents had no chance today - start and awards ceremony in brilliant weather and took the title with a 5-minute lead - good start to 2020 !!!"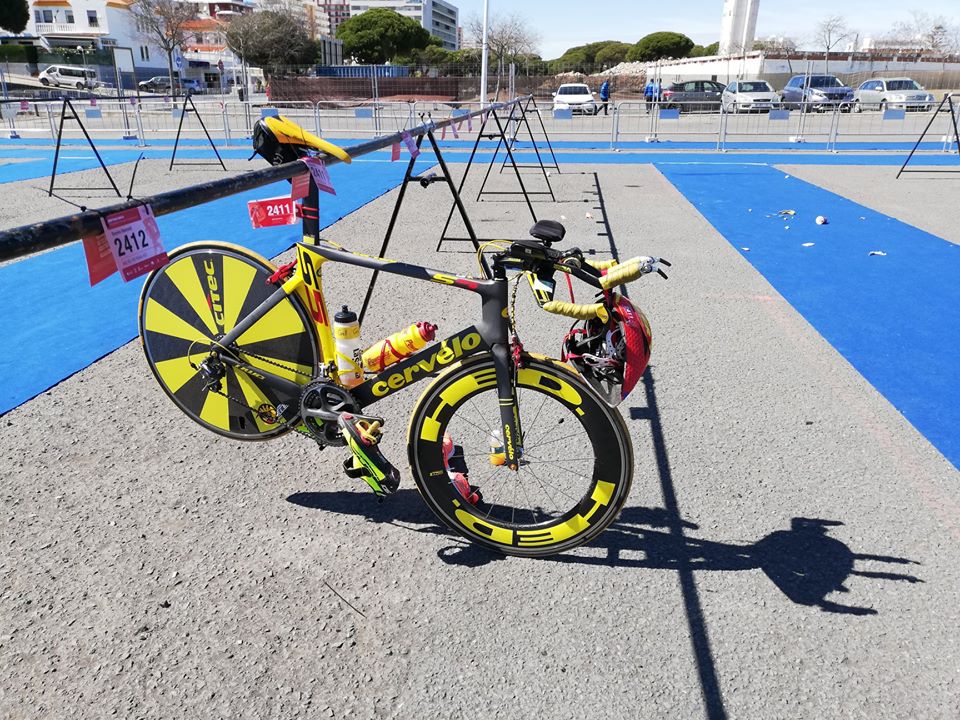 In case you missed it, this was his bike, his very fast bike. It isn't small, it's just a long way away.
Cabrita had last raced an international duathlon in 1997. His 7th place in his age-group out of 51 starters was massively upgraded at these championships and the support he got from fellow athletes once he got home was impressive. For Izquierdo, "Muy contento, este fin de semana, en los campeonatos de Europa, con nada mas y nada menos que el sabado plata domingo bronce. / Very happy, this weekend, in the European championships, with nothing more and nothing less than Saturday silver Sunday bronze."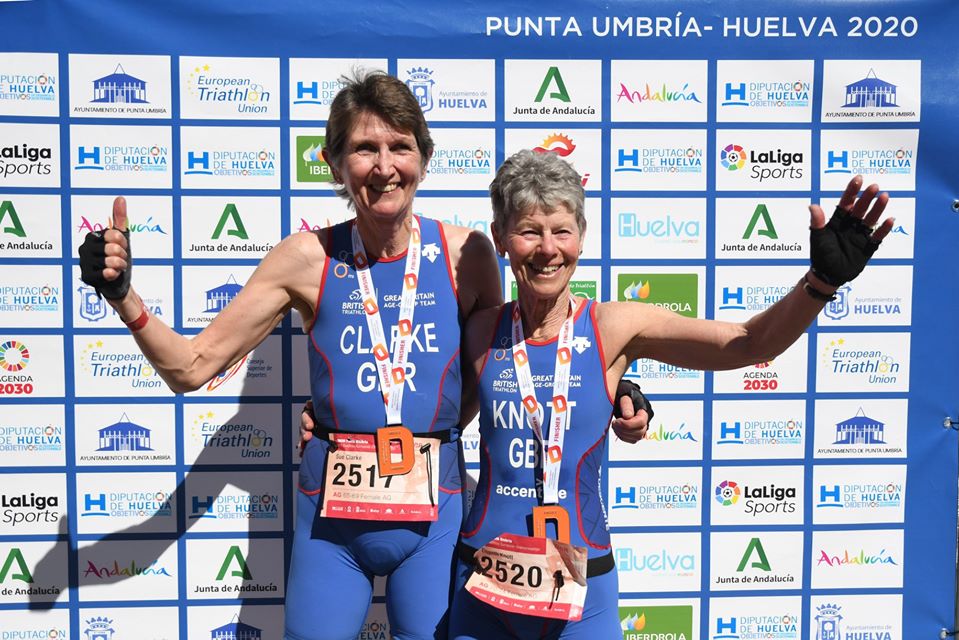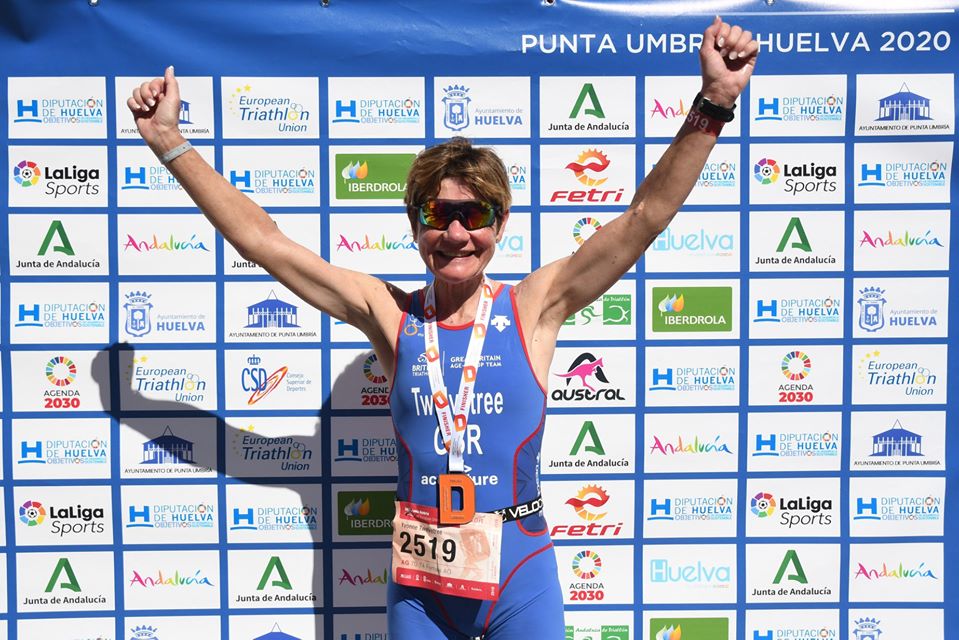 The final category where we saw medals for the women was the 70-74 Age-Group. GB's legendary Elspeth Knott, with a massive 16 World and European duathlon titles, followed team-mate Yvonne Twelvetree into transition but once out on the bike, she pulled away to win her 17th title. Twelvetree, only racing on the international duathlon circuit, was runner up last year and with her running power, we can expect to see many more medals from her.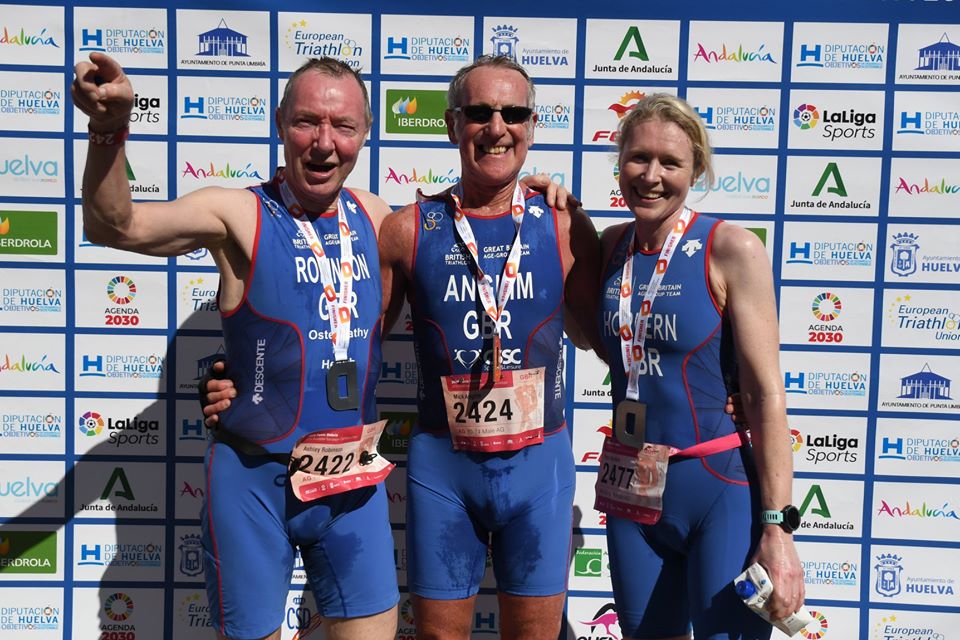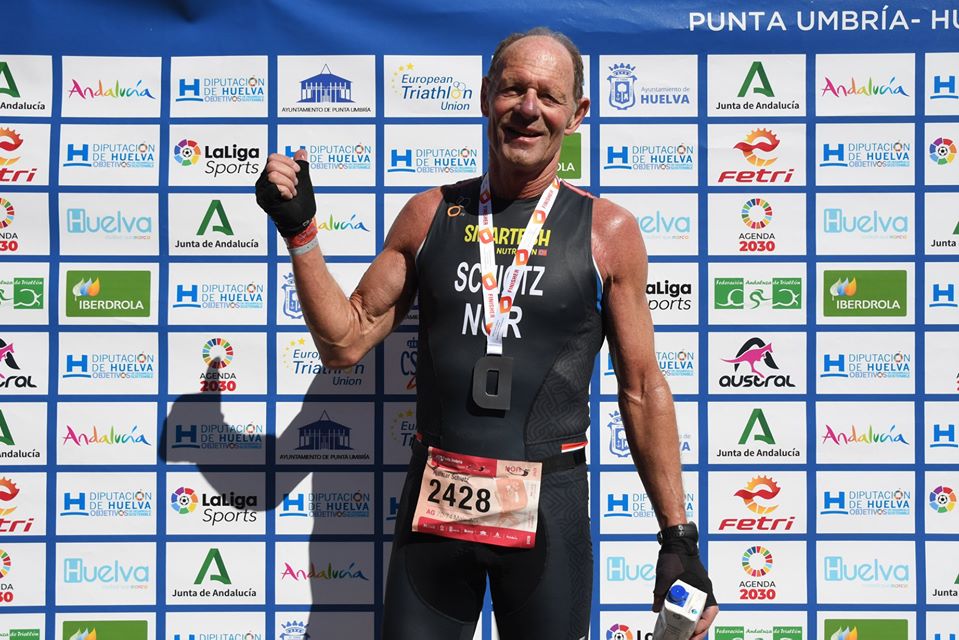 The men's race saw more medals for Norway, with Hjalmar Schiøtz upgrading his bronze from the sprint to a gold with a fine display of running and biking. His lead into T1 was matched by the fastest split on the bike and followed by the fastest run to the tape. He led GB's Ashley Robinson, the defending champion, who settled for silver but with the eager anticipation of much singing and dancing. Team-mate Mick Anglim, runner-up in Transylvania came home for another podium finish, to collect the bronze medal.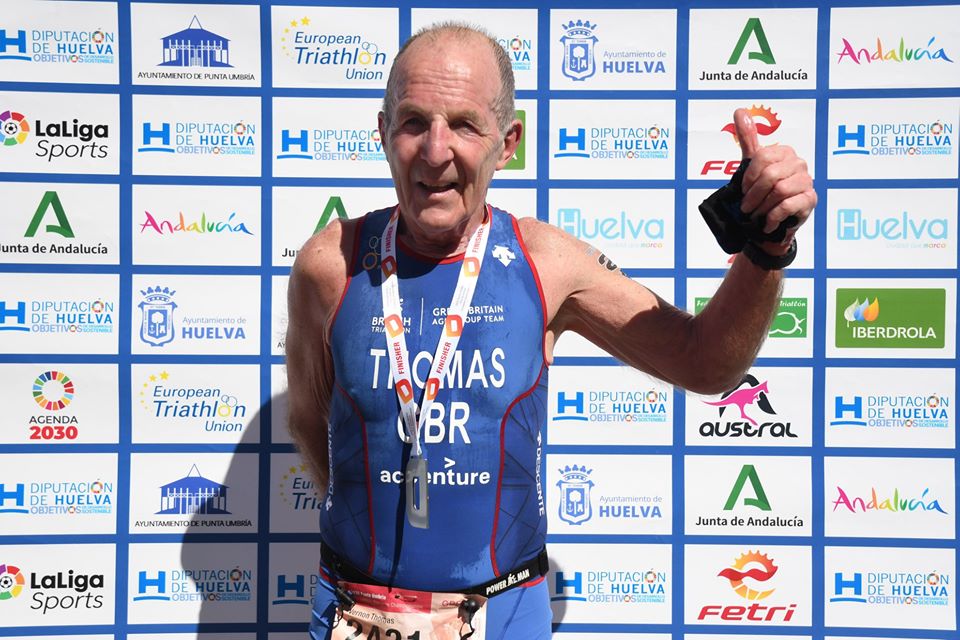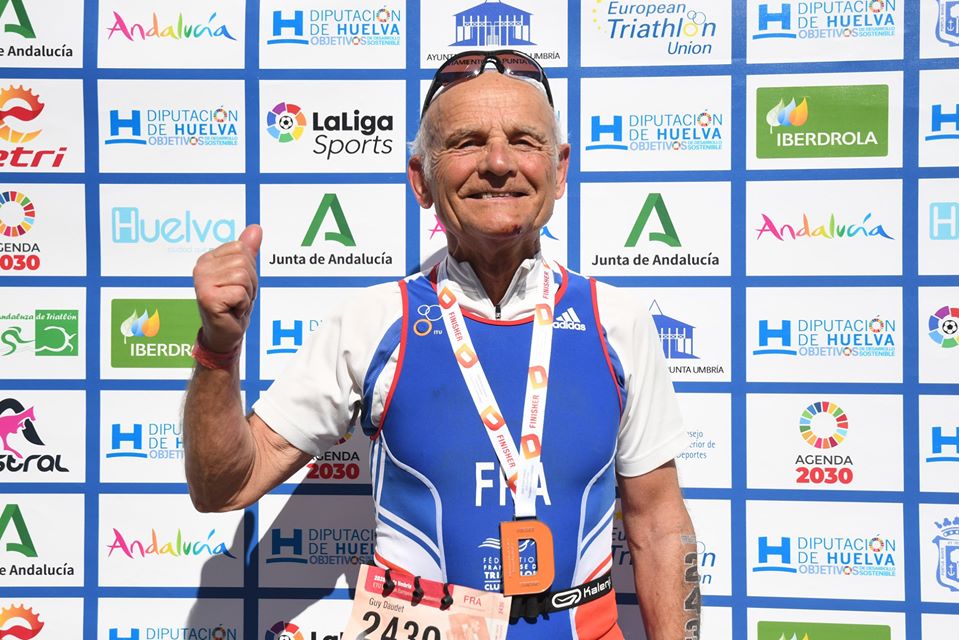 The final Category saw GB's Vernon Thomas, the defending champion, face two other athletes. Sadly, fellow Brit, Mike Thomas had to pull out of the race but that left Frenchman, 2017 European Champion, Guy Daudet to battle with. The first run saw Thomas take advantage and then pull away on the bike. He maintained the lead all the way to the finish line, defending his title in style. Gold to GB. Silver to France.
MEDAL TABLE - Sprint Distance
| | | | | |
| --- | --- | --- | --- | --- |
| | | GOLD | SILVER | BRONZE |
| Great Britain | | 12 | 9 | 13 |
| Spain | | 7 | 6 | 5 |
| Portugal | | 1 | 3 | |
| Germany | | 1 | 2 | |
| France | | 1 | 1 | |
| Ireland | | 1 | | 3 |
| Norway | | 1 | | |
| Switzerland | | 1 | | |
| Italy | | | 1 | |
As we can see above, despite hosting the event, the Spanish were nudged down into 2nd place by the mighty Team GB who once again turned up in their hundreds and made sure they had a real party from start to finish. Portuguese athletes, benefitting from the easy access to the location, claimed the third place on the table.
Winter Triathlon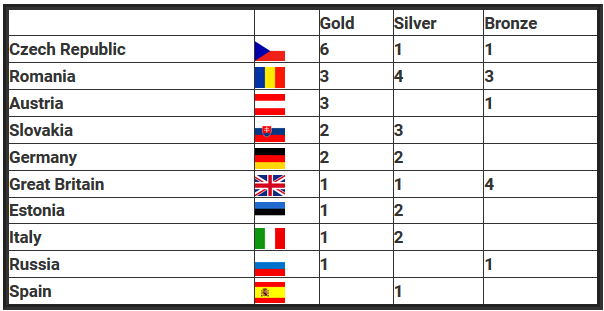 Sprint Distance Duathlon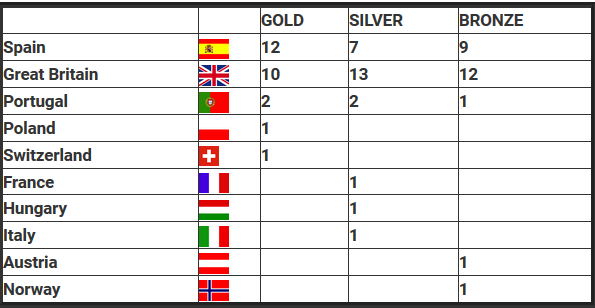 If we look at how the medals have gone so far this year, with the three championship opportunities of Cheile Grădiștei and the two Duathlon Races, it is once more Great Britain and its well-oiled Age-Group machine that leads. Spain, having the home advantage of two championship events, claims second place and the Czech Republic, absent from the podium in Spain, in third with a powerful demonstration of winter skills.
| | | | | |
| --- | --- | --- | --- | --- |
| | | Gold | Silver | Bronze |
| Great Britain | | 23 | 23 | 29 |
| Spain | | 19 | 14 | 14 |
| Czech Republic | | 6 | 1 | 1 |
| Romania | | 3 | 4 | 3 |
| Germany | | 3 | 4 | |
| Austria | | 3 | | 2 |
| Switzerland | | 2 | | |
| Italy | | 1 | 4 | |
| Estonia | | 1 | 2 | |
| France | | 1 | 2 | |
| Ireland | | 1 | | 3 |
| Norway | | 1 | | 1 |
| Poland | | 1 | | |
| Russia | | 1 | | |
| Hungary | | | 1 | |
With everything still very much on hold and with no clear understanding of what the immediate or long-term future holds for us, we can still look back at any number of races and remember the good old days. There are hundreds of photos on the ETU Facebook page and on the ETU Instagram page that are waiting for you to tag and share. Alongside those photos are a number of videos too.
If you have not yet seen the information on the ETU Zwift TTT, then please check out the links and with a few friends or training partners, join in the Thursday fun.
Event Photos can be found here. A big thank you to the LOC for such great images.
Click here for further LOC Facebook images.
Until we meet again, stay safe, be positive.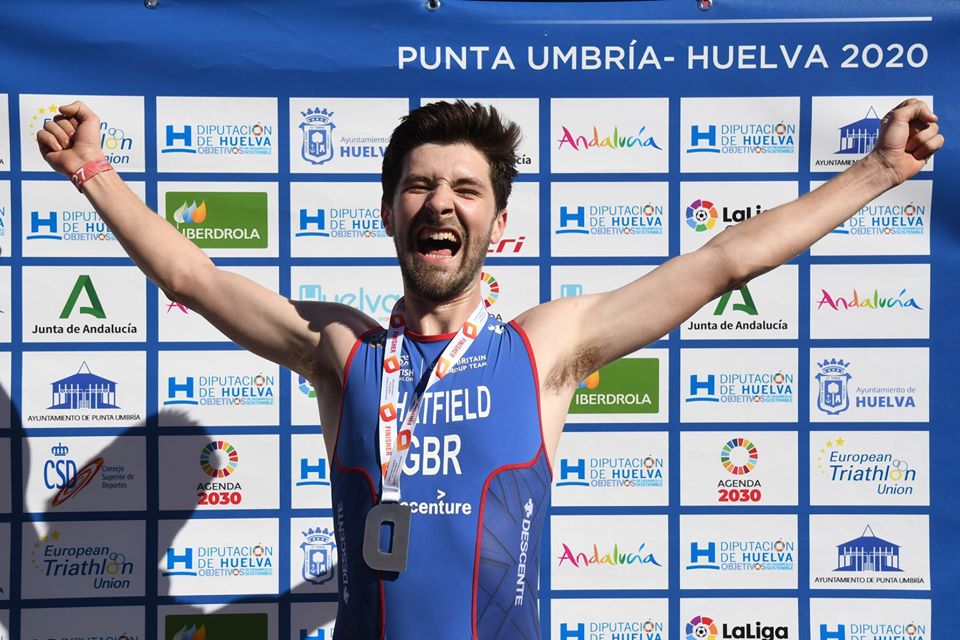 Related Event: 2020 Punta Umbria ETU Duathlon European Championships
Latest
Videos
---
Latest
Event Galleries