NEWS
Who is going to Ibiza?
By Paul Groves
|
17 Aug, 2018
2018 Ibiza ETU Multisport European Championships

Who is going to Ibiza?

Who will win medals and who will race each event?
Well, the entries are coming in and it looks like this will be a bumper multisport festival to round off the season but there are still a few places left if you hurry.
If you have already qualified (for those nations who have a qualification procedure) or if you think you are fit enough to race the various challenging events that are on offer, then you really need to get in contact with your National Federation, who will ensure that your details are entered correctly on the ITU Entries page.
We have had this message from the Spanish organisers:
Some updates that you need to know:
ENTRIES: The final deadline is 30 of September; so we encourage all the NFs to inform about this deadline; and the way to enter the athletes is as usual in Spain, through ITU system. Also for the families that don't have a license of the NF, there is the possibility to enter the Open races, that are currently open for all the events
TRANSPORT IN THE ISLAND: We encourage everyone to rent a car in the island; although we are working now in the transportation plan, the best way to discover the island is renting a car, that is really cheap in Ibiza, and athletes and families, will have the possibility to discover the island in a different way. We have an agreement with a rental car company, and you can access from the website (click the image to check out the website).

ACCOMODATION: Ibiza has a lot of opportunities for accommodation. In our website and with our partner Globalia, you can have all the possibilities in different prizes level. Feel free to contact Luna Segovia, in order to help you on this. Keep in mind that the booking includes the transfer from the airport to the hotel and return, and the prizes are per room/per night. Our recommendations:
Click the sport to see a video
From next week, we will come to you with regular updates. You can check the Facebook page for updates too.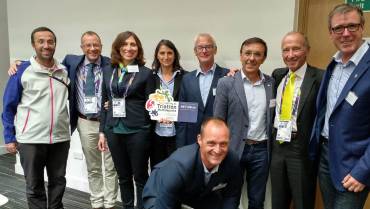 The Multisport Festival was a big discussion point last weekend in Glasgow and the ETU Executive Board are delighted that athletes from all over Europe will have the chance to race on this iconic island, where they can race hard, party hard and enjoy the wonderful hospitality of the islanders.
Related Event: 2018 Ibiza ETU Multisport European Championships
Latest
Videos
---
Latest
Event Galleries