NEWS
Valencia sees a clean sweep for French in the Women's race
By Paul Groves
|
09 Sep, 2018
ETU's Vice-President, Denis Jaeger was representing the ETU Executive Board in Spain this weekend at the 2018 Valencia ETU Triathlon European Cup and when he stepped onto the plane last week in Strasbourg for the flight down to the southern neighbours, he might have been hoping that the French team would have some success.
Of course, being entirely impartial, he has returned to France in a state of jubilation as this race was well and truly dominated by the French women, with the top five places being filled by the distinctive blue, red and white uniforms. Amongst the men, there was a silver to bring home but the race was very definitely a huge success for "Les Françaises".
With the long leg on the swim, it was always going to be a chance for a strong athlete to dig deep and apply pressure. It was GB's Chloe Pollard who used the swim power we saw in Fyn this year, when she claimed silver in the U23 World Aquathlon Championships, to take the lead by a couple of seconds as they entered T1. Hot on her heels came the storming French contingent, led by Margot Garabedian. Mathilde Gautier, Jeanne Lehair, Léa Coninx, Audrey Merle and Azerbaijan's Daryna Moskalenko followed closely behind and made a clear break out onto the bike course.
The six-lap, quite technical bike course was a gift to this group of 7 and they established a significant lead that would ensure the medals were shared amongst this lead group.
All down to the final run and a 2:45 lead.
It was here that Lehair proved to be the strongest and her final 10k time was enough to edge Garabedian into the silver medal position. Gautier had power enough to hold back Coninx and Merle.
Before the race, Lehair said, "In the start-blocks for my second Europe cup of the season in Valencia. Bib 1 for the first time in my life, not much room to beat my number, especially with girls who won't make me race easy."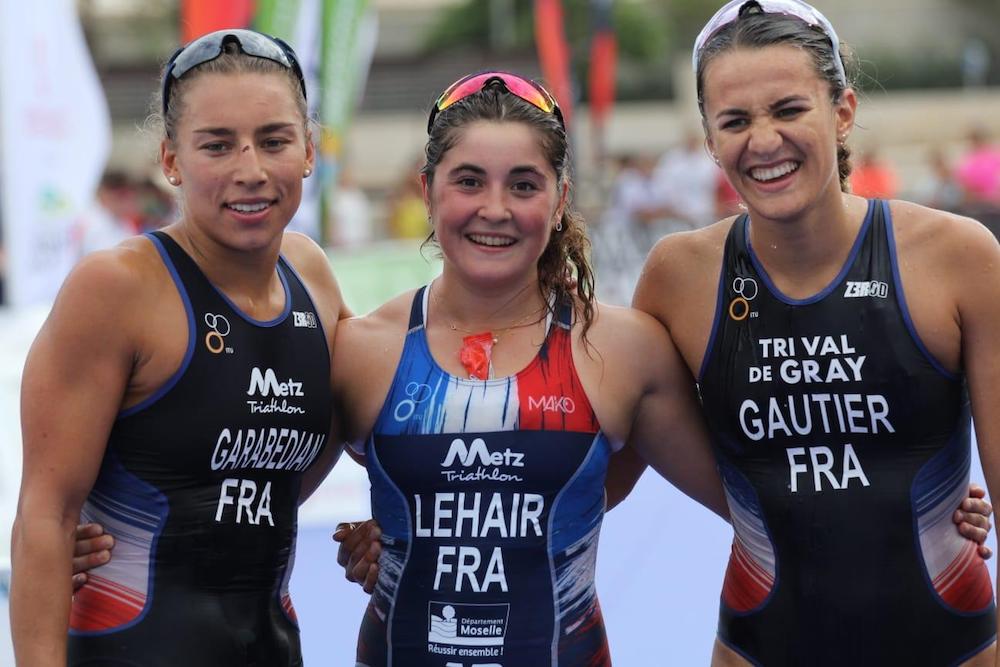 FOTO: Ignacio González by Triatlon Channel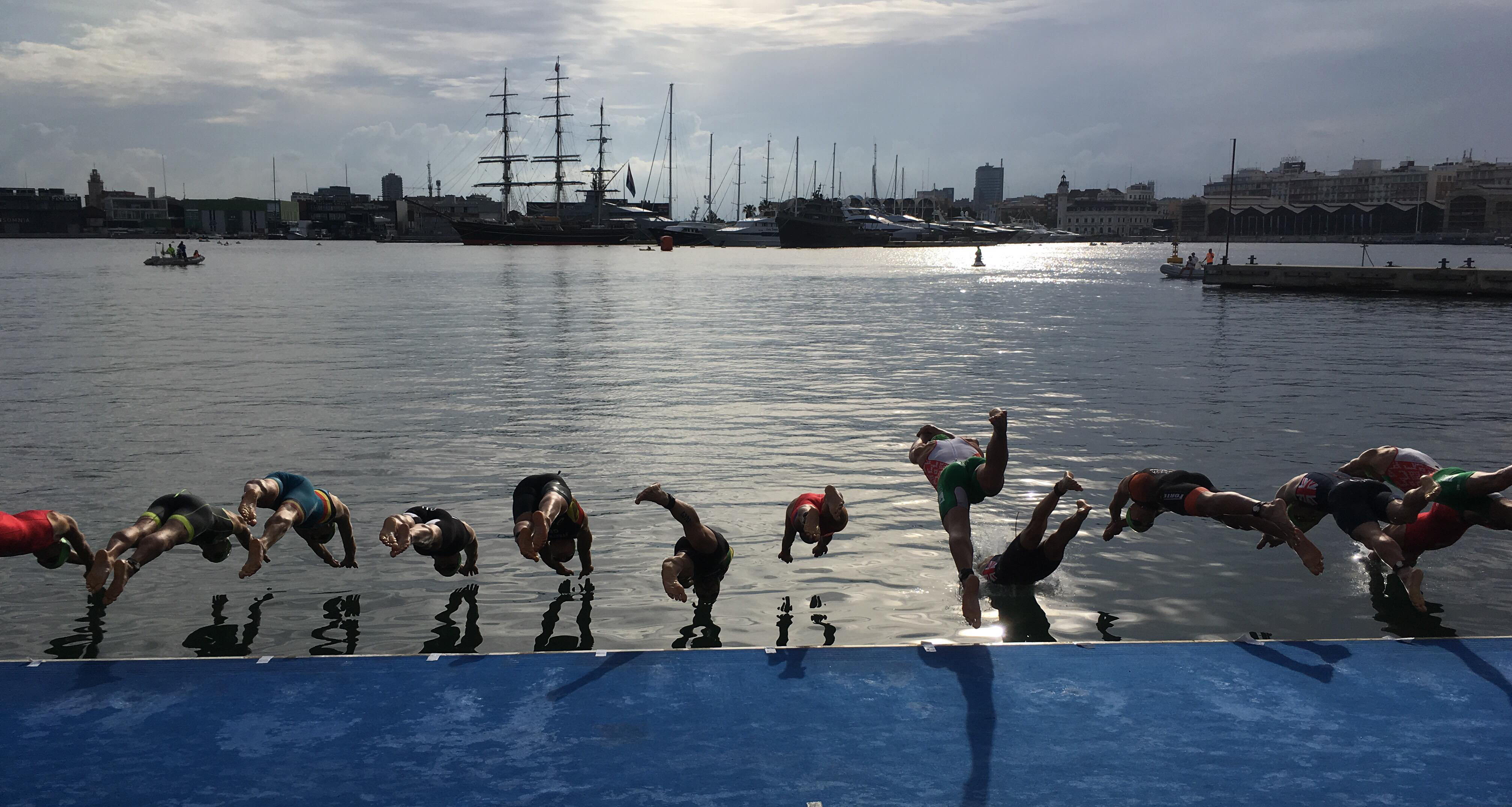 For the men, the host nation shared the medals with France as Jordi García Gracia claimed the win, with Nathan Guerbeur just missing out on the gold as he tried desperately to chase down the Spanish winner. Bronze went to Ignacio González García.
There was a battle behind them between Germany's Lars Pfeifer and Welshman, Iestyn Harrett, who was stronger on the run and able to claw back extra points ahead of Pfeifer.
As the swim unfolded, it was no surprise once again to see Kevin Tarek Viñuela González lead them out of the water. On his toes and looking good after a series of poor performances, was his teammate, David Castro Fajardo. After a successful 2016, his form has not been reproduced but now, looking race-fit and determined, Castro was in a good position to use his skills and experience to return a good result. His final finish position was a clear indication that his form is returning.
The lead group, almost 30-strong, soon built up an advantage of some 30 seconds and were able to hold off any attacks for the 40k.
Into T2 and 28 athletes hit the blue carpet.
No room for any mistakes and it would be the strongest runner who would come out on top here.
It was Jordi García who flew out of transition onto the run course and proceeded to stretch them out over the 3-lap course. A smaller group of six followed but in the final 2k, it was down to three, with García still looking strongest.
His pace proved unbeatable and here in Valencia, he claimed his first international victory. Behind him a tremendous sprint for silver unfolded with Guerbeur managing to out-pace González.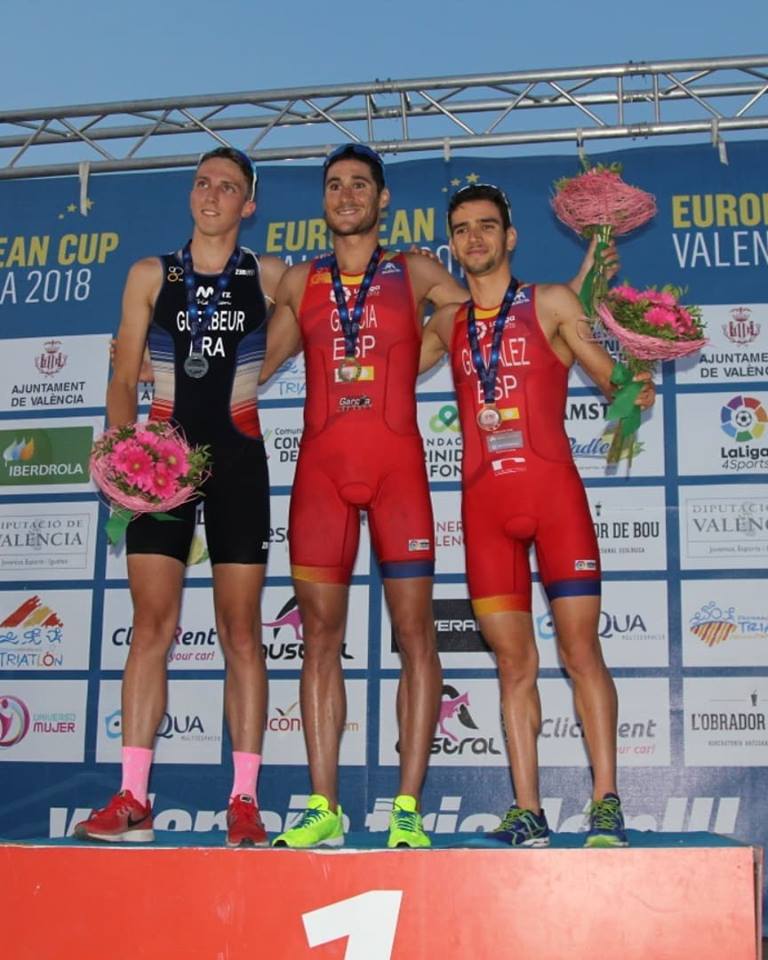 With the season coming close to the Funchal Cup Final, where end of season cash bonuses will be available to the top-ranked athletes, it is time to have a look at the leader-boards, which will be updated shortly.

Thanks to Valencia, it was nice to have you back on the race calendar.
Related Event: 2018 Valencia ETU Triathlon European Cup
Latest
Videos
---
Latest
Event Galleries