NEWS
Trends in the ETU Corona inquiry
By Paul Groves
|
06 Apr, 2020
The Executive Board has been in contact with all National Federations in connection with the impact upon our sport from the COVID-19 crisis and would like to thank those who have participated in the discussion about how we, as the biggest and most dynamic confederation, deal with the dramatic changes that have been imposed upon all aspects of our sport in these unprecedented times.
With so many events planned, at international, national and regional level, with so many commitments from athletes, coaches, organisers, team managers and volunteers, the 2020 calendar has been thrown into turmoil.
With world leaders struggling to find answers, all we can do is to follow the advice published by individual governments and act responsibly, in line with that advice.
We at ETU are doing our best to keep the lines of triathlon contact open across Europe, so that we can, in line with ITU, provide you with the most up-to-date and accurate information possible.
To that end, we have been collecting information from each national federation on a regular basis and would like now to share with you our findings.
Whilst we recognise that not all of your questions will be answered here, we hope that you will understand that we are doing our best and that in return we expect respect for those who are trying to communicate, build and plan for the future in the same way that we recognise and respect the confusion and concern that you and indeed we are suffering at the moment.
Herewith the findings:
Trends in the ETU Corona inquiry
The Executive Board of the ETU has conducted an online survey over three consecutive weeks on the development in Europe around the COVID-19 crisis. The first survey was sent out on Tuesday 10th of March (week 11) and the last one on Tuesday 24th of March (week 13).
At the end of the weekend all the data was collected and analysed in order to enable a well-informed online discussion during the weekly executive board meeting set up to discuss and monitor the development of the Pandemic.
We have put the survey on pause for a while as we feel that National Federations (NF) now need a little more time to see how the Pandemic develops in their country before being able to give us updates on the key questions. We plan to run the next survey towards the end of April.
If we look for example at the question, do you expect measures to be taken in the upcoming time, in week 11 only 6 NFs expected measures. It has to be noted that some of the NFs said No because there are no ETU-races planned in their country in 2020.
However, in week 13 already all NFs who replied, reported restrictions had been put in place. The majority were expecting to organise races no earlier than July, with also 25% saying they saw no possibility to give any forecast on when it would be able to organise races again. Calls with the LOC confirmed this, e.g. the well-known race in Holten (NED) was, on April 1st, cancelled for 2020, with the promise to be back in 2021.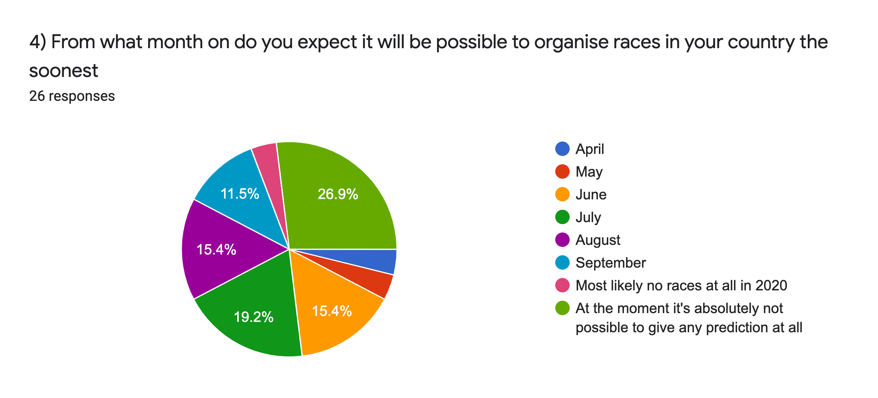 Next to these restrictions on (sport) events, almost all countries have restrictions for people travelling to their countries, only two NFs there no travel restrictions in their country.


So overall the trend is towards at least no races until beginning of July, but with strong concerns that even this will be too ambitious.

ETU Executive Board
Latest
Videos
---
Latest
Event Galleries