NEWS
The 2022 European Multisport Triathlon Championships will take place in BILBAO BIZKAIA
By Amé Venter
|
08 Feb, 2021
This will be a 10 day event where Bilbao and Bizkaia are expected to host more than 3,000 athletes. The European Multisport Triathlon Championship brings together six European Championships: Duathlon, Cros Duathlon, Aquathlon, Cros Triathlon, Medium Distance Triathlon and Aquabike. This event is for both the Elite and the Age Group athletes. To further the inclusion, paratriathletes will participate in the event as well.
During the presentation last week announcing this international event major stakeholders were present. This include the Mayor of Bilbao, Juan Mari Aburto, and the Deputy for Economic Promotion of Bizkaia, Ainara Basurko, together with the President of the Spanish Triathlon Federation, José Hidalgo, the representative of the European Federation, Alicia García, and the President of the Basque Triathlon Federation, Ibán Pérez.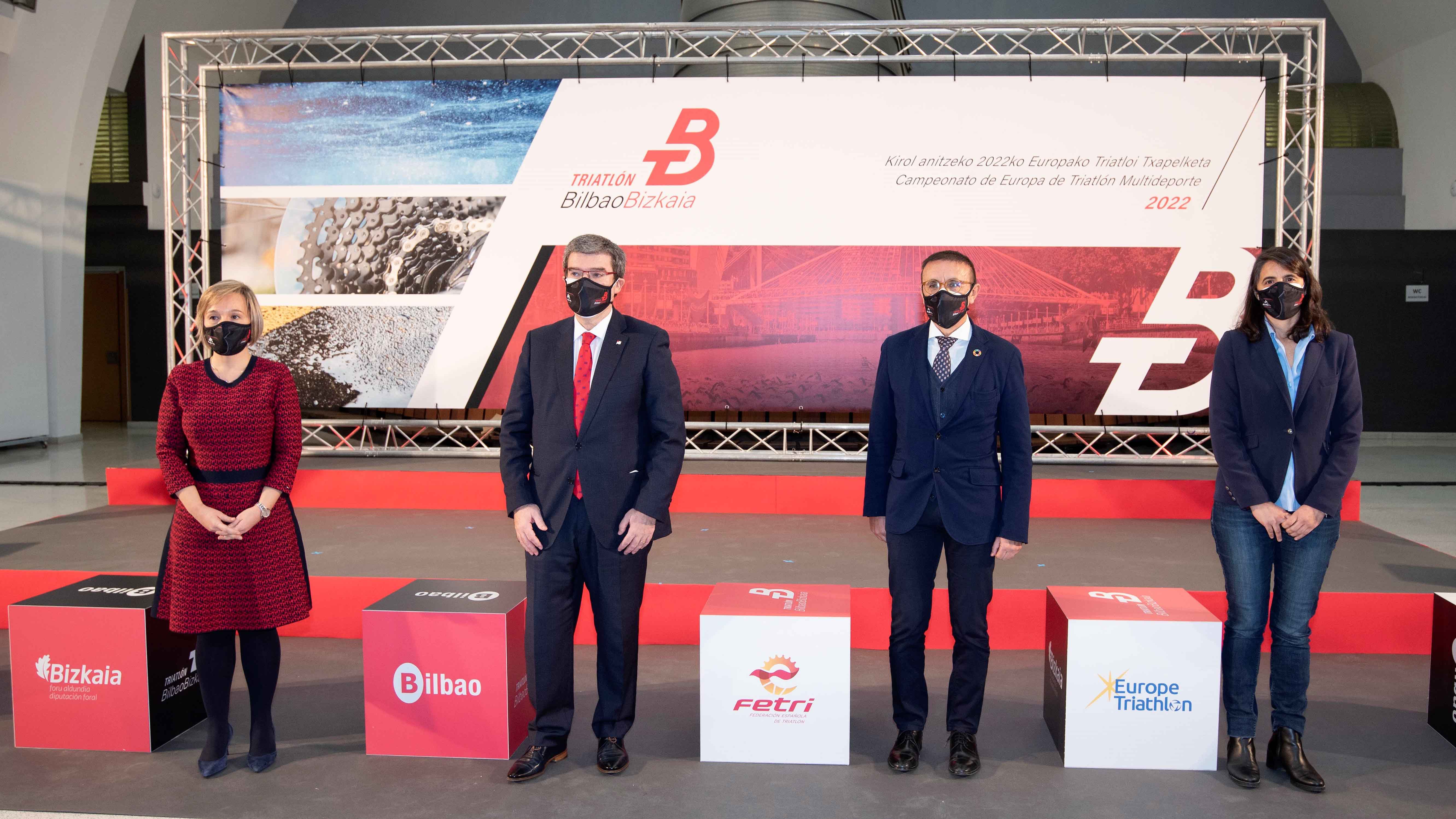 JUAN MARI ABURTO, MAYOR OF BILBAO
"Bilbao and Bizkaia - he said - we are going to continue working to bring important and high-level events. We are a benchmark in the world and a very attractive destination. And we want to be, even more so when the pandemic ends. And I anticipate that today's event is only the first of others that we are able to bring or create in order to strengthen our economy and employment, to enjoy and to put Bilbao and Bizkaia back on the international scene ".
AINARA BASURKO, DEPUTY FOR ECONOMIC PROMOTION
"Without the commitment and collaboration of so many institutions it would not be possible to hold an appointment of this magnitude; for its duration, for its numerous locations and for the impact it will have in terms of participants, visitors and projection for the territory. Thousands of people are going to travel to discover Bizkaia: from Bilbao to Enkarterri, passing by both banks of the estuary, to one of our natural treasures, the Urdaibai Biosphere Reserve ", he stressed.
JOSÉ HIDALGO, PRESIDENT OF THE SPANISH FEDERATION OF TRIATHLON
For José Hidalgo, "Bilbao Bizkaia Triathlon is much more than a sports project, which of course it is and is what moves us, a great European sports event. But we intend that in 2022 it be much more than a sporting event, and that it be a catalyst for the economy, hospitality, tourism ... and that it also be a benchmark in good practices from an organization committed to sustainability and the environment. And being a reference in the future for European and world organizers due to our degree of commitment in this fundamental field in today's world. "
"This European Multisport Triathlon Championship is going to position Bilbao, Bizkaia, and their natural treasures as benchmarks for European triathlon. This presentation of the 2022 event is the beginning of a path that the Spanish and Basque Triathlon Federations want to travel, together with the Provincial Council of Bizkaia and the Bilbao City Council, with the aim of making Bilbao Bizkaia a world benchmark for Triathlon in the next years."
Renato Bertrandi, President of Europe Triathlon
"Europe Triathlon is really pleased to announce that the Multisport Festival 2022 will take place in Bilbao. It is a strategic event in the European Calendar as in that occasion we will not only crown our best Elites Athletes in Duathlon, Cross Triathlon, Aqua bike, Aquathlon and Middle distance Triathlon but we will give the opportunity to thousands of Age Groupers to fight for the European Title in their age category. It will be a "fiesta grande" for more than ten days with a massive number of Athletes and supporters enjoying not only the races but also the hospitality of your Region.
Thank you to the ayuntamiento de Bilbao, Diputación de Bizkaia, Fetri, la Federacion Vasca and all the institutions supporting this important event.
Eskerrikasko.
It means thank you.
It is a word that all our Athletes will learn and use many times during their stay in 2022."
Latest
Videos
---
Latest
Event Galleries