NEWS
Stanford (GBR) and Alarza (ESP) get European season underway with wins in Quarteira
By David Peddie
|
06 Apr, 2013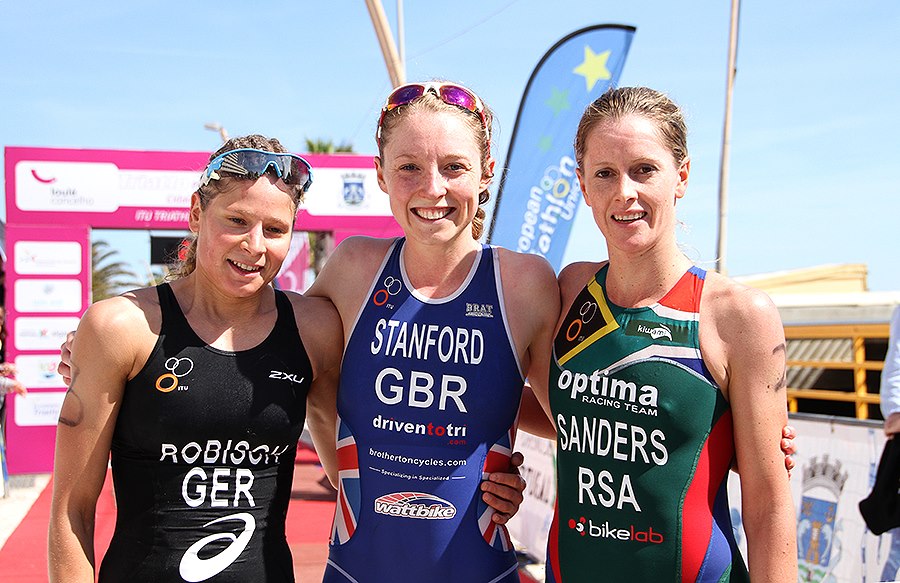 The 2013 European Triathlon season got underway in glorious conditions in Quarteira with Great Britain's Non Stanford and Spain's Fernando Alarza getting their season's off to the best possible start.
U23 World Champion Stanford claimed her first European Cup title with a scintillating performance on the run – after the first 2.5km she had opened up a 50 second lead on the field – and she finished the 10km over two and a half minutes faster than any other female athlete.
In fact, the most exciting battle came behind Stanford, as Germany's Rebecca Robisch and South Africa's Gillian Sanders were neck and neck for the final sprint.
The pair could not be separated during the race, matching each other stroke for stroke and stride for stride. But eventually it was Robisch, who was also runner up here back in 2011, who just pipped the South African by a second to claim second place.
Sanders finished comfortably in third place ahead of Charlotte Bonin (ITA) and Maria Czesnik (POL).
In the Men's race, Fernando Alarza also claimed his first ever European Cup victory in a race dominated by Spanish athletes.
Last year's winner, Aurelien Raphael, set a brisk pace right from the start but Alarza was never too far from the leading pack at all times.
Helped by a strong Spanish contingent at the front, which included Vicente Hernandez, Francesc Godoy and Jesus Gomar, Alarza emerged from T2 in the lead and over the 10km run course steadily increased his advantage over the field to win comfortably.
Raphael pushed hard and gave it everything and although he could not defend his title he will be satisfied with a second successive podium position in Quarteira.
Spain's dominance in this race, they had four finishers in the top six, was cemented with Vicente Hernandez's securing a podium position with third place.
Picture Credit: Vitor Lopes (http://www.vitorfotos.com)

Related Event: 2013 Quarteira ITU Triathlon European Cup
Related articles
It's just 182 days since European triathletes crossed the finish line in Alanya to bring last year's European season to a close. After an exciting Winter season, we are ready to go again and the coastal Portuguese resort of Quarteira…

03 Apr, 2013
Latest
Videos
---
Latest
Event Galleries