NEWS
Quarteira weekend. Elite and Junior athletes racing but the weather .... ?
By Paul Groves
|
23 Mar, 2018
This weekend sees the second race in the ETU European Cup series. The sunshine of Gran Canaria has been replaced by grey skies and sporadic rain in the Algarve and it looks like being quite a tough weekend there for the Elite and Junior athletes. Of the two, it is possible that the junior athletes will have worse weather but with the strong winds that often come along the coast, it can all change.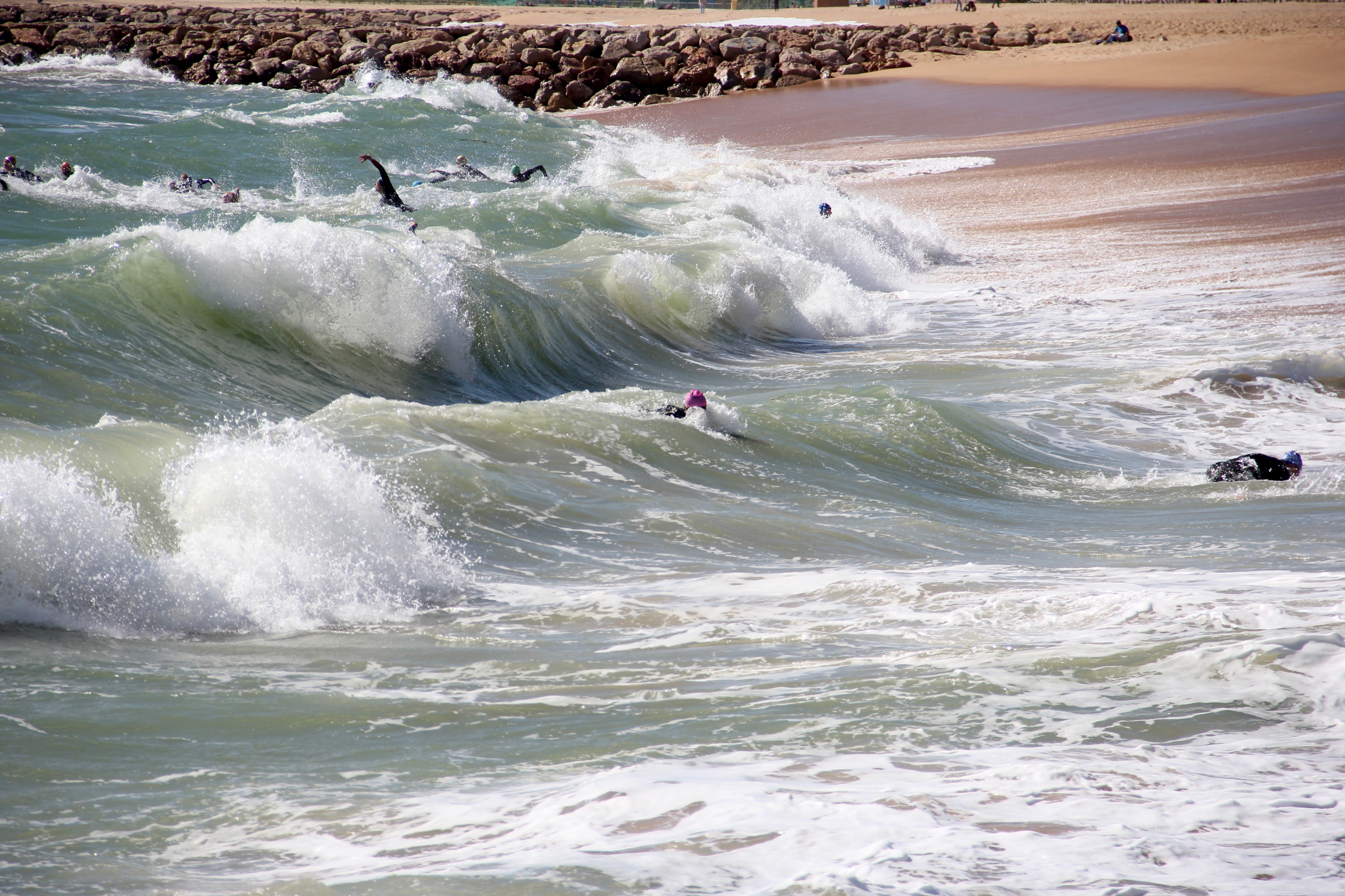 The Athletes' Guide can be found here.
With her podium place last weekend, Switzerland's Julie Derron will certainly be feeling confident but this is not a sprint race and so the 1500m swim, 40k bike and 10k run will be a good test for her. Vero Navarro's great photo shows Derron coming in to T2 ahead of the gold and silver medal winners.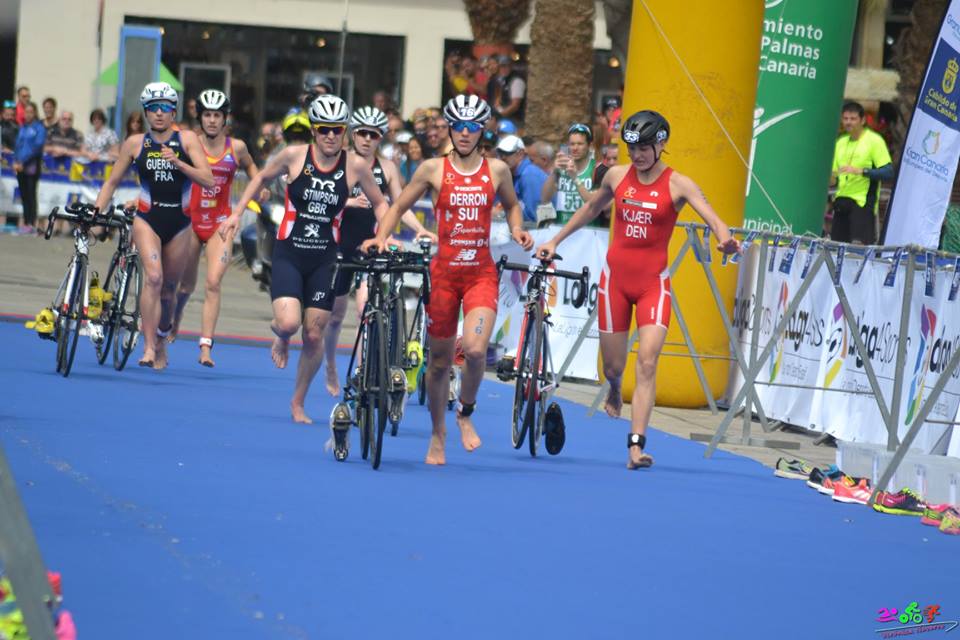 She will be racing against some very experienced athletes and topping the list is Portugal's U23 world silver medallist, Melanie Santos. Her 5th place in Abu Dhabi shows that she is in form and she will be certainly hoping to improve upon the 8th place she had here last year. As the newly appointed Portuguese Ambassador of Trek, this is an ideal course to show biking skills.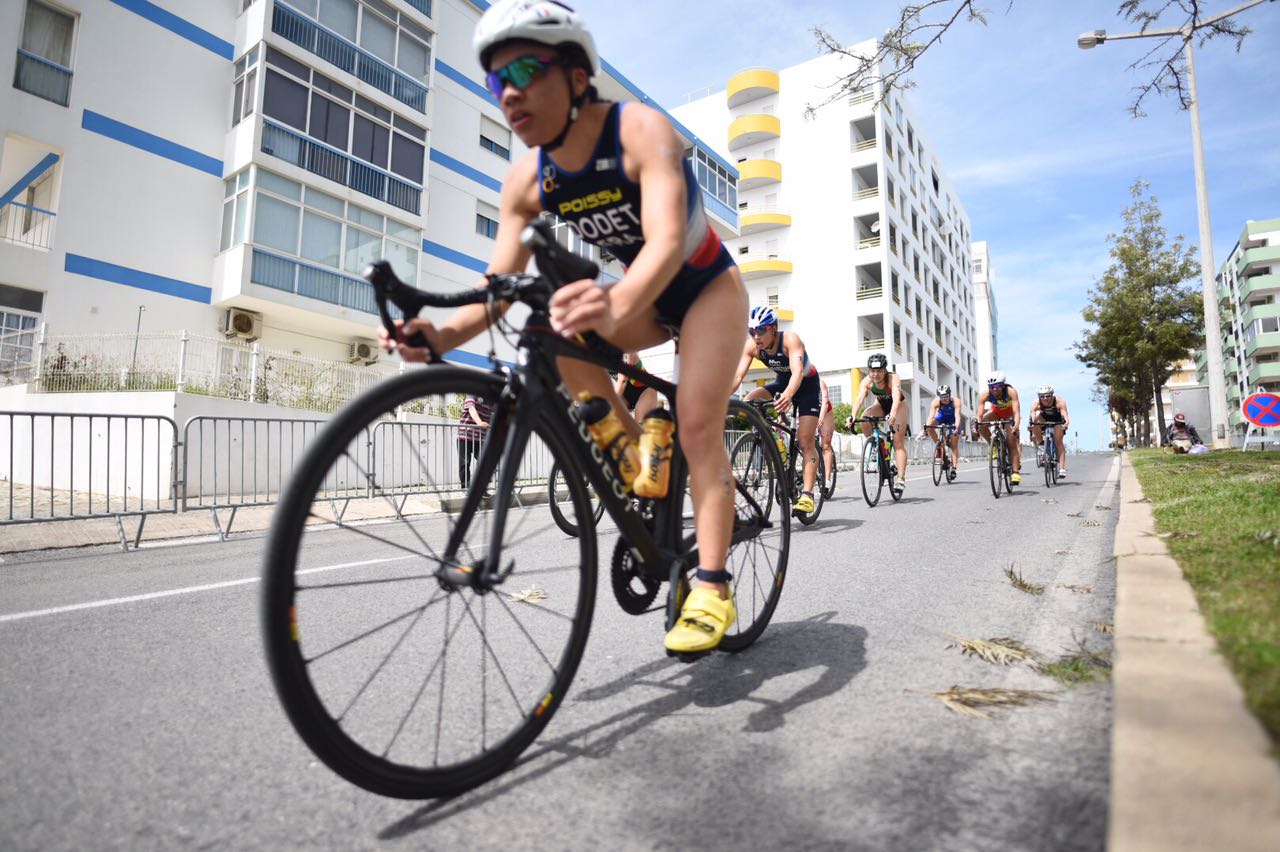 She will be facing a rested Sandra Dodet FRA. Her end of season 4th place in Melilla last year, after a long season and against tough competition was an impressive non-podium performance. Just missing out on the podium last year was Spain's Anna Godoy Contreras. She will be hoping that the Gran Canaria race has sharpened her up and that this year this ever popular Portuguese race will give her a medal. Racing alongside her will be teammate Cecilia Santamaria Surroca. Her 8th place in Gran Canaria was good enough to secure her selection for the Mediterranean Games and a place on the Spanish Elite Women's team for World Cup races. Watch out for this young talent. Along with Inés Santiago the Spanish women are looking strong in Portugal. Italy has representation as well from Ilaria Zana. 10th place last year she will be hoping to impress the Italian selectors ahead of the 2018 season.
Slovakia has Romana Gajdošová, the 2017 U23 ETU Aquathlon champion. Heavy seas will suit her and from today's photos, the sea looks BIG.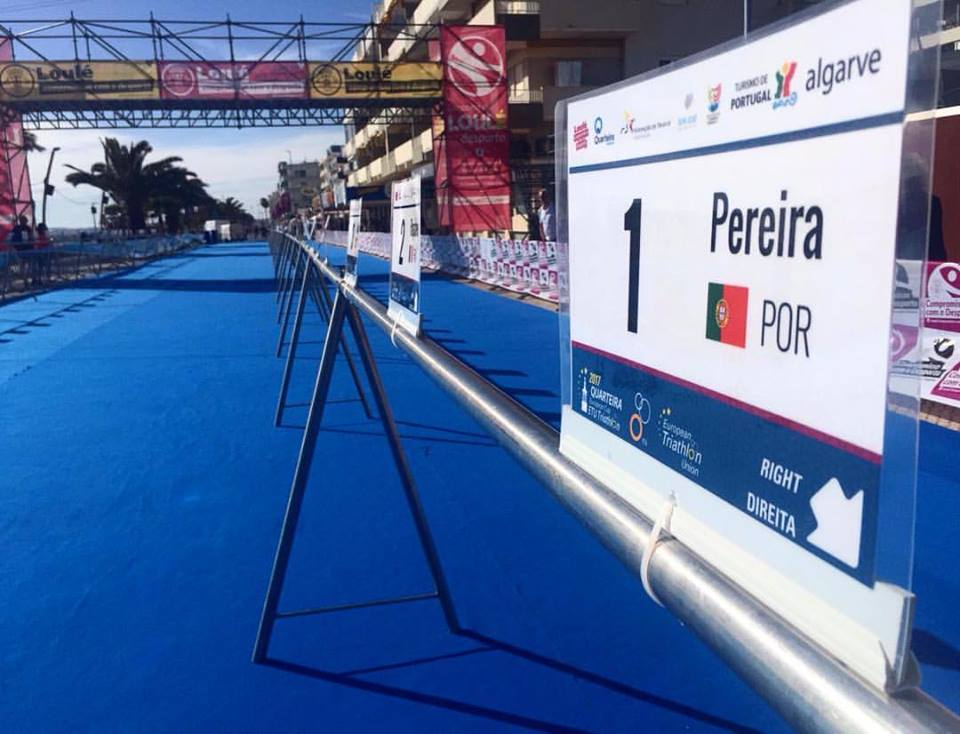 The Elite Men will sadly not see the European double champion, João Pereira. He sits this one out to leave the top number to Spain's Uxío Abuín Ares. A technical problem last weekend robbed him of a chance for a podium place and he will be keen to ensure a top three finish this weekend. He missed gold last year by a matter of seconds and this year will be pushed hard by a tough French trio of Simon Viain, Léo Bergère and last year's bronze medal winner, Dorian Coninx. Bergère's early season 4th place in Abu Dhabi shows good pace and he will be dangerous if there is a sprint. Viain will be hoping to improve on the 5th here last year. These are the top 5 but behind them come a whole army of younger athletes who will do their best to push and test the older and more established athletes. Last week was a great result for Antonio Serrat Seoane. Since Kitzbühel last year he has placed top ten in each of his races, with the exception of Melilla when a mechanical failure saw him DNF. Bronze last week … a tougher race this weekend. First out of the water is likely for several athletes. Hungary's Márk Dévay and Spain's Kevin Tarek Viñuela, who led them out of the water in Melilla and Gran Canaria respectively. Luxembourg has representation there with Bob Haller who is currently being trained by Portugal's great duathlete Lino Barruncho.
Start times (GMT) are as follows: Saturday, March 24th
13:45 - Elite Women Start
16:30 - Elite Men Start
The Junior Athletes race on Sunday. Wearing #1 and from Portugal comes Gabriela Ribeiro. A 12th place last year was followed by a tough race schedule that saw her take a bronze medal in Funchal last year in the Elite race over the sprint distance. Powerful riding there could be translated into a podium place here on the renowned bike course with it immense climb. Italy's Carlotta Missaglia won the shorter distance Bled race last year and secured top ten finishes in Zagreb and Melilla. She will be hoping to start the 2018 with a podium finish here and her powerful riding could well be a true benefit on this course. 8th place here last year for Audrey Ducornet FRA was improved to a 4th in Lausanne where she posted the fastest run of the day. A good place on the bike and the run could take her to a top three.
For the Junior Men, the Norwegian athlete Vetle Bergsvik Thorn had a great end of season result with 5th in the Worlds in Rotterdam. A powerful swim and solid run took him to his career best finish and he will be hoping to find someone to ride with him on the bike here, where they can work hard and make some distance on any chasing athletes. From Costa Rica comes Sam Vanderjeugt Rojas. His silver in Playa Hermosa last year was reduced to a 5th this year and he will certainly be hoping to put that behind him here in Portugal. His run pace is certainly something to watch out for but that bike course, with the immense climb, is where we think the race can be won and lost. Spain sends Romaric Forques. His 6th last year showed power on the bike. Could he be the one to make things happen on that climb? Portuguese hopes will rest upon Ricardo Batista who raced well in Funchal last year against an elite field to place 14th. With a good swim and bike, he was outpaced by the faster and older runners but here, his swim and bike power could be just what the host nation needs.
Start times (GMT) are as follows: Sunday, March 25th
08:45 - Junior Women Start
10:00 - Junior Men Start
Our ETU Photographer will be Filipe Pereira. You can follow him on Instagram.
Related Event: 2018 Quarteira ETU Triathlon European Cup
Latest
Videos
---
Latest
Event Galleries