NEWS
Punta Umbría - Age Group Sprint; the story
By Paul Groves
|
01 May, 2020
As usual, it was Team GB that made the event a true spectacle. A small army of athletes made their way down to the sunshine; some racing for the first time, some racing to defend their titles and others who were simply proud to be able to wear their national uniform and to represent their country and delighted afterwards to finish. That old adage, "it's not the winning but the taking part that counts" is still very much valid today.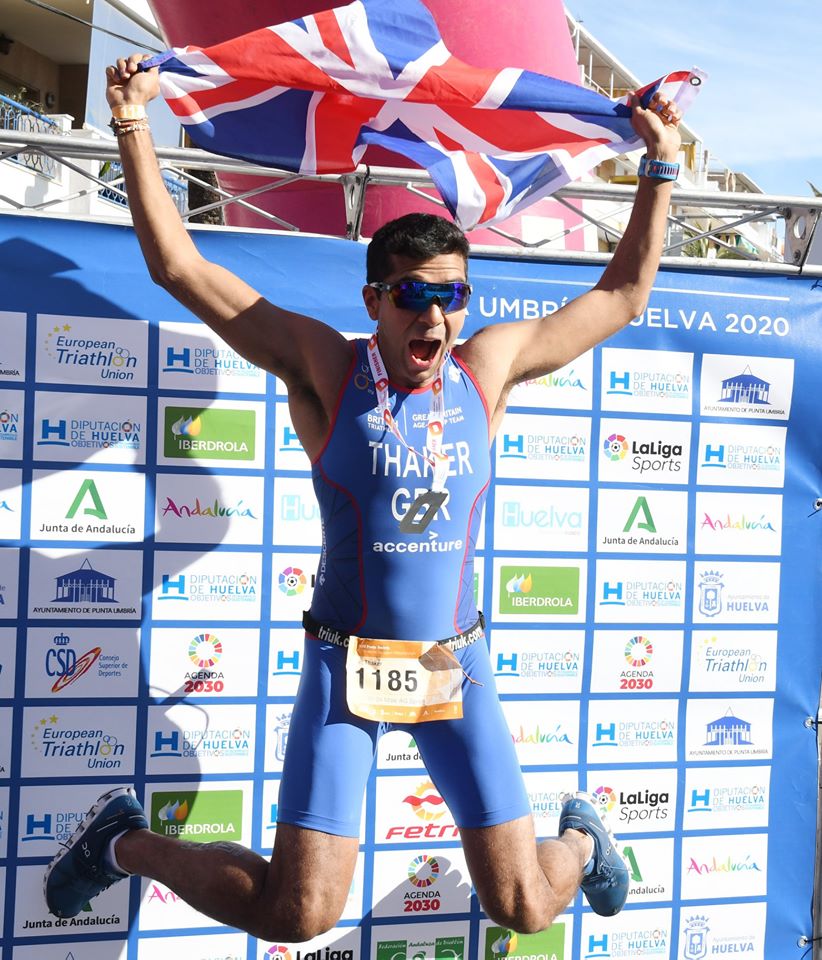 Leaving family and friends back home in the chilly early seasons and with the expectation that they would return with at the very least a finisher medal, athletes from all over Europe made their way to the historic venue and the warm welcome from the Spanish Federation.
With athletes racing from the 16-19 category right up to the 85-89 age-group, with one athlete being born in 1931, the city was alive with colour, sound and the smooth-spinning gears of the bikes.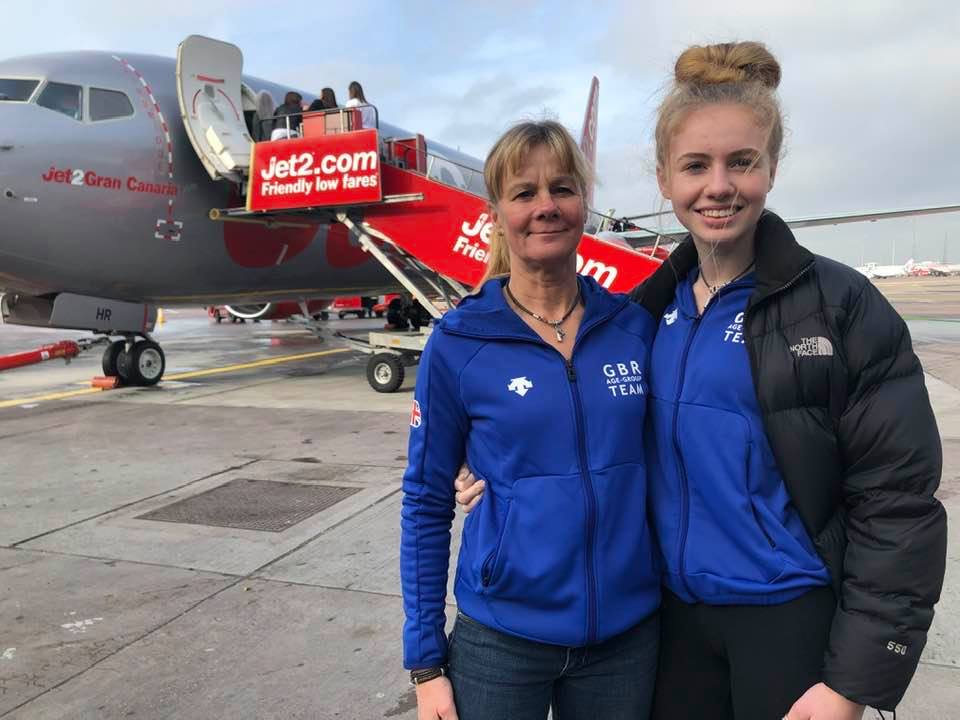 Photo: Lucy Bednall
It was very nearly a GB clean sweep in the youngest wave, with 5 of the six medals going to the Brits. Leading the women home was Buxton superstar Lucy Bednall in her first outing for Team GB. She exploded out of the pack on the first run and using her tried and tested skills, set about creating a massive lead over Kate Driscoll. Entering T1 with a comfortable 2-minute lead, she increased her advantage on the bike with a superb performance that ensured not only gold in her Age-Group but an impressive top-ten finish in the overall Women's rankings. Zara Knowles was stronger on the bike and used that to her advantage to overtake Driscoll and create just enough to secure silver. All three women racing for the first time for Team GB – looks good for the future.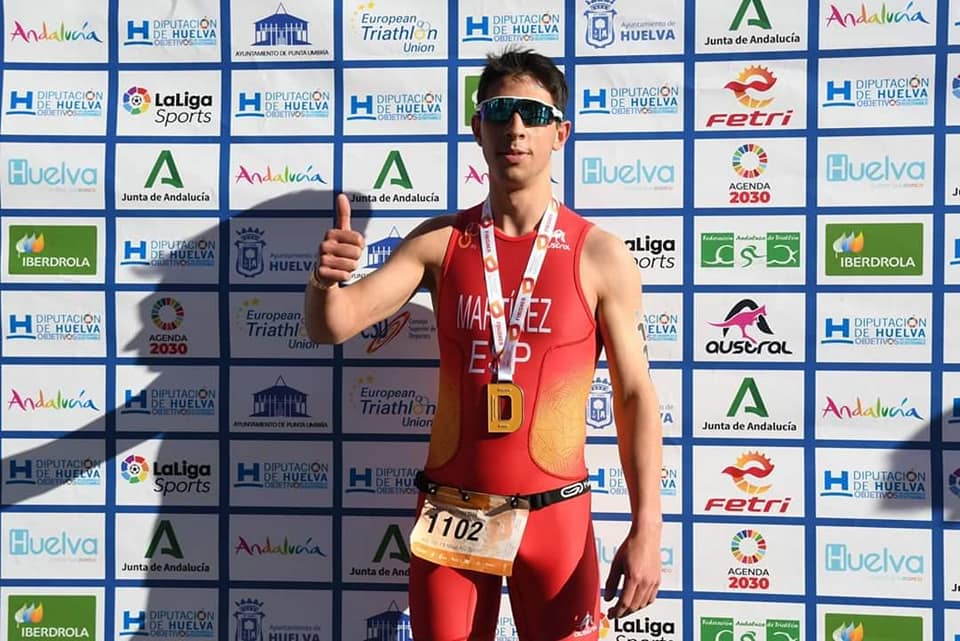 Daniel Martínez Díaz was one of those athletes that, as soon as the gun goes off, just seemed to get smaller and smaller as he ran away into the distance. An opening run of 15:22 saw him easily create the lead he needed to cruise home. Team-mate, Iván Pereda Pereira tried to keep up and was able to break free of the chasing Brits, Samuel Hughes and promising Eastern Region star, Joshua Vail. Both British athletes were younger than the Spaniards who were leading but it was on the bike that tings started to go wrong for Pereda and he was soon caught and passed by the pair. It was however an impossible task to catch the leader, who cruised home for an easy victory. Behind him, Hughes had the final kick that gave him silver but for the young Brits, this first outing in GB uniform was an impressive one.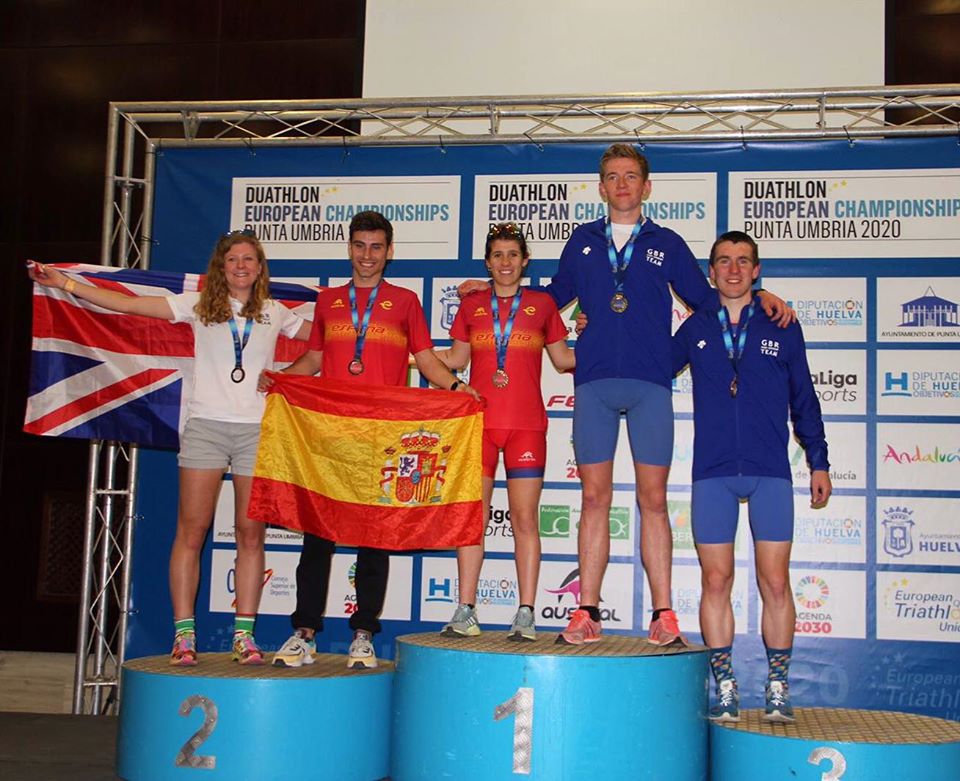 In the next category, 20-24, the pace was hot in the women's race. With Spanish supporters cheering on Besaide Astobiza Sánchez, who had missed out on a medal in Pontevedra in 2019 by just 15 seconds, the British fans were shouting for Caitlin Peers and Racheal Vetter. Vatter had won a world silver in Penticton but had been nudged down to bronze in Pontevedra last year. Back to a European silver on the tight downtown circuit in Târgu Mureș last year, she saw Peers edge ahead on the first run but both had the Spaniard in their sight. Both Vetter and Peers caught up with Astobiza but the final run was the decider and for the host nation, it was a gold. Silver and bronze to GB, with Peers showing well on her first international appearance to beat Vetter with a faster run. A tight race for the medals and a thrilling finish.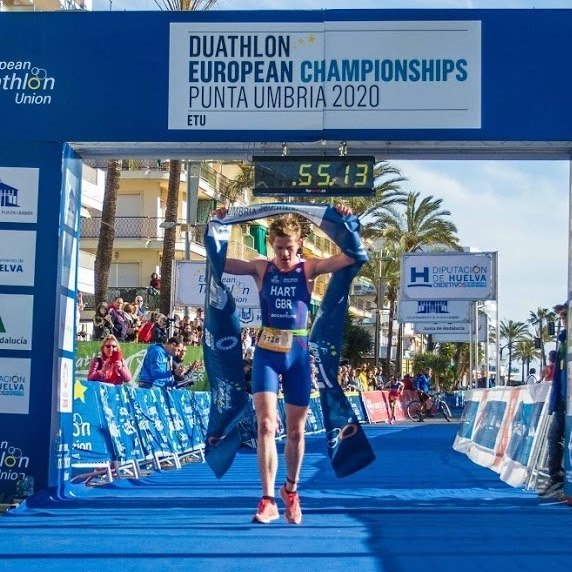 The men's race saw defending champion, David Pearson, who is also the reigning ETU Sprint Triathlon Champion in this category, arrive in good form. Since Kazan and his win there, he has used the winter months to train for this race to make it "three in a row", after his wins in Ibiza and Târgu Mureș. However, things did not quite go to plan and a fast-running attack from Spain's Jose Luis Davila Muñoz saw him escape with Britain's Henry Hart. The pair had created an impressive minute lead on the defending champion, who was then caught up in the chase pack on the bike and despite some powerful riding with Felix Wernham the 2018 World Champion, they simply could not bridge the gap. Hart and Davila were out in front and clear for the gold and silver medals and what made it even more exciting was that this was for both, their first race in national colours. Hart had the final pace to steal gold, with Pearson putting in a fantastic final run to claim the final medal.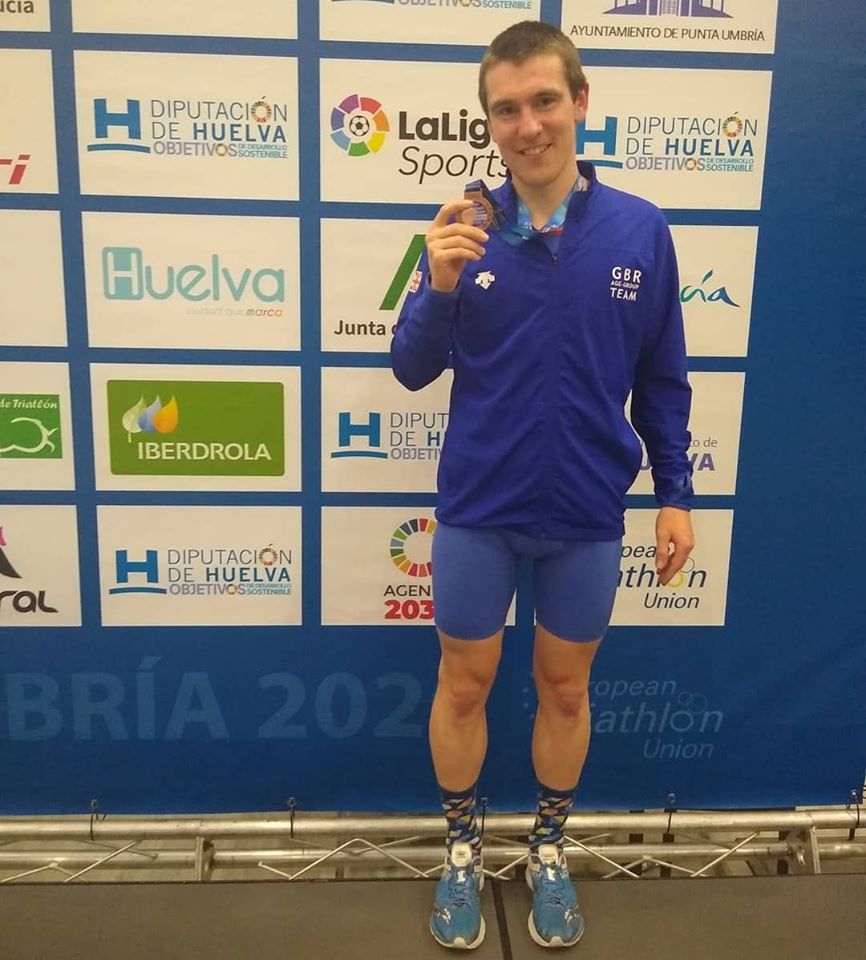 Photo: David Pearson
After the event, Pearson was philosophical, "Pleased with the bronze at the Age-Group European Duathlon Championships in Punta Umbría in my last year in the 20-24s. For the last 4 months I have focused on little else than retaining this title for a 3rd year, and despite my best efforts I fell short of that on Saturday. But I'm proud of the work my coach Gareth Allen and I did this winter… and of racing aggressively on the bike true to my style. Yes, it's great to win, but I'll never sniff at a medal! Congratulations to Henry Hart who raced superbly to ensure Great Britain continue to occupy the top step for another year!"
Hart's performance was impressive. The Imperial College athlete took a Gold medal, the title and claimed the 3rd fastest finish time of all the Age Group men. With his 32:12 10k Personal best, he is a name to watch.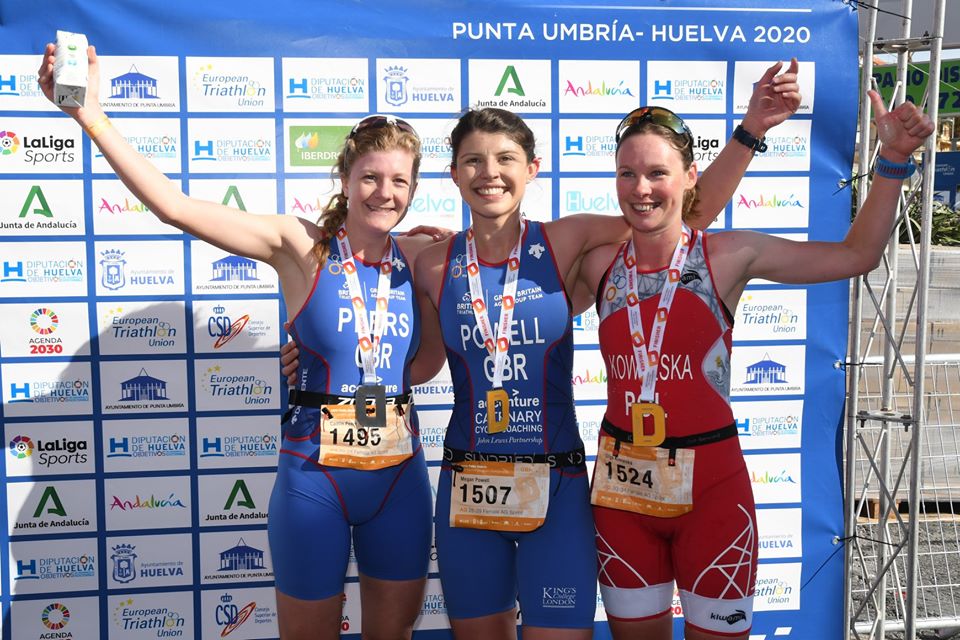 In the 25-29 Age-Group, GB's Ella Neale was hoping to defend her title but she was up against Megan Powell who moves up a category this year. When the pair raced last year in Transylvania last year, Powell was faster and she wasted no time this year, with a kick that took her into T1 and out onto the bike with a 20 seconds advantage. Powell pushed hard on the bike and built upon that lead, with Portugal's Rita Maria Lopes catching up in transition and then running away from Neale to claim silver behind the unbeatable Powell. Neale's bronze was secure, adding to the medal haul that was to be for the Brits.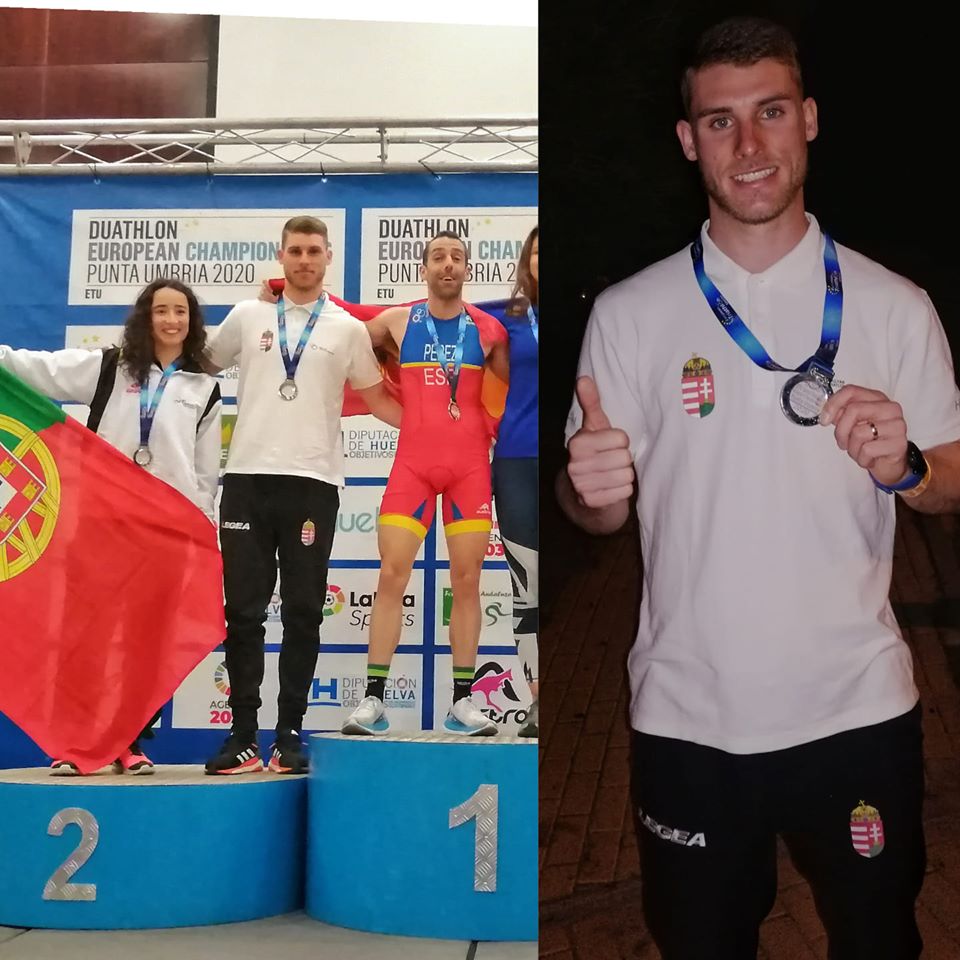 Photo: Peter Simon
The men's race saw Spain's Jonathan Pérez López add the European title to his 2019 win in Pontevedra. His opening run was enough to take him clear of any challenge. Behind him, Péter Simon HUN, who had claimed the bronze last year in Târgu Mureș over the middle distance, was the main threat. Converting his stamina into power, he could see Pérez ahead as he entered T1 and did his best to catch the leader out on the bike course. Behind him came Xabier Tijero Santillán, runner-up in Pontevedra in both this distance and the Long Distance events and with a qualification slot for Kona later this year. He was clearly looking for the silver medal. Simon held onto second place and had a clear transition from bike to run. Tijero lost valuable time in T2 but sprinted after the Hungarian, edging closer and closer with a faster run. Simon could do nothing to catch the leading Pérez but had done just enough to claim silver by only 4 seconds. For Tijero, this was a warm-up for the Standard Distance.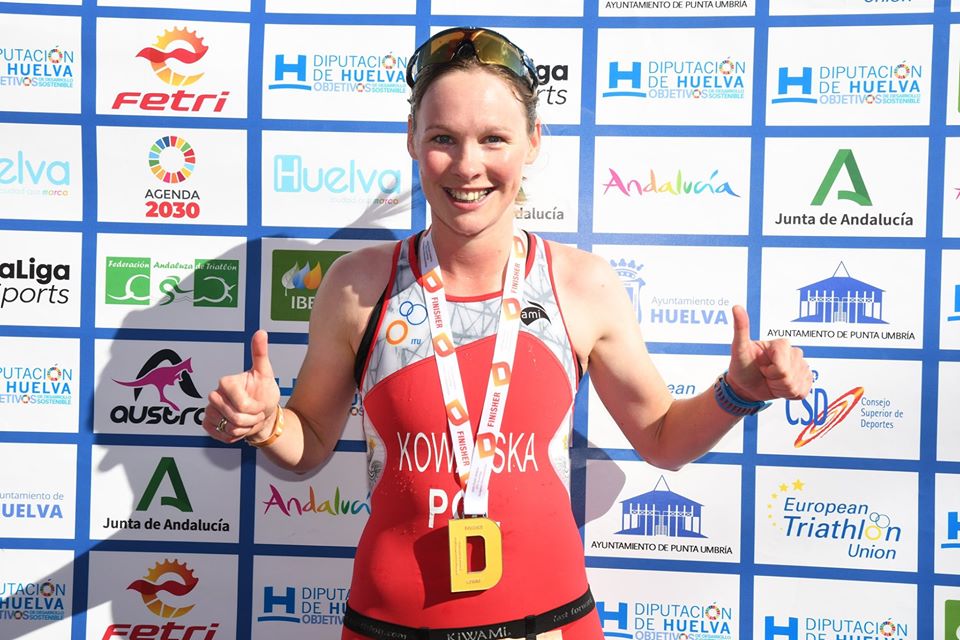 The 30-34 category saw the fastest times posted by both male and female athletes. It was Poland's Olga Kowalska, who has a PB of 1:23 for the half-marathon, who took the title, with Great Britain's Natalie Duncombe matching her Transylvanian silver once more with the second-fastest time of the day. Duncombe's biking was powerful enough to get up the hopes of the British supporters that the title would go her way but the final run saw Kowalska pull away. Bronze went to Nina Atherton GBR in her first appearance in GB kit.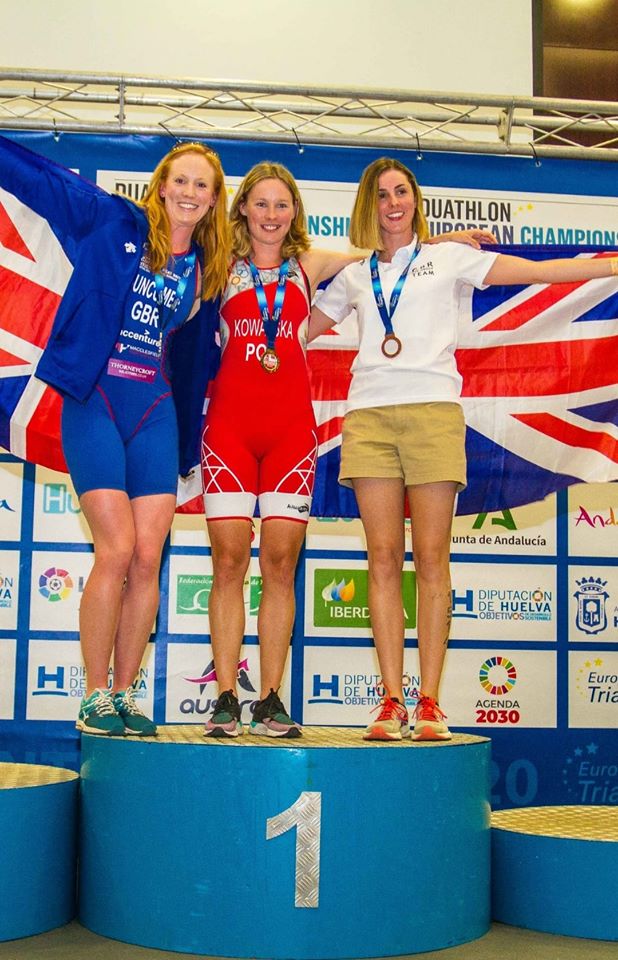 The men's race was run at breakneck speed with Spain once again claiming a title and the first of their two clean sweeps. Cristóbal Valenzuela Guerrero in his first race wearing Spanish colours led into T1 with a 14:20 5k. Close on his heels was Francisco Javier de León Rodríguez and then Álvaro Gutiérrez Hernando. All three racing at this level for the first time and all three showing tremendous pace. Gutiérrez lost touch on the bike, allowing de León and Valenzuela to escape. Coming into T2 it was the faultless transition from Valenzuela and a closing run of 8:46 that secured the title and the fastest time of the day for him. Gold, silver and bronze to the host nation with a mighty result.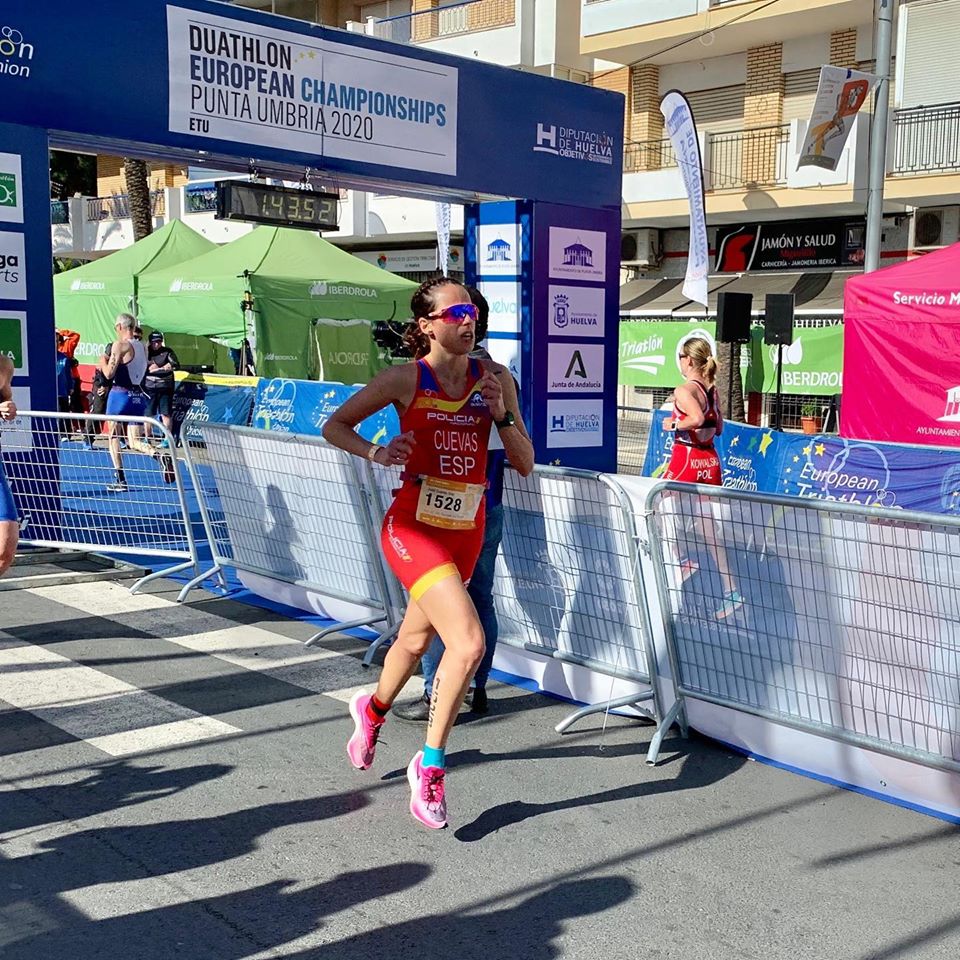 In the next category, it was the Brits who looked good in the opening run. Lucy Stobbart GBR led them into T1, with Laura Pescott a couple of seconds behind. Pescott had a smooth transition, gaining time on Stobbart and once out on the bike, applied the power that took her away. She was joined by teammate, Katie Latham and Spain's Judit Cuevas Díaz. The battle was on and the pace was high. Coming into T2 and with a textbook move from bike to run, it was Cuevas who sped out first. In front of her was Kowalska, racing in the younger category and Cuevas locked onto her with Latham busting a gut after losing a few seconds in transition. With no chance of catching the Polish athlete, Cuevas dug deep to try and keep Latham away. She had done enough and claimed the title, crossing the line with high emotions. "Corrí el Cto Europa duatlón, lo hice en Grupos de edad y me salió la carrera de mi vida! Primer 5k a 3'50 de media en el grupo delantero de unas 10 unidades, transición perfecta, entran los patitos en las zapas a la primera y a dar pedales como loca… Me mantengo en el grupo delantero con las inglesas, las cuales están venga a dar palos y pegar gritos intentando dejarnos atrás a otra chica española y a mí. Aprieto dientes y aguanto al grupo, hoy vengo a darlo todo! Nos sale una bici a media de 35km/h. Me posiciono lo mejor que puedo para entrar a boxes, de nuevo transición perfecta y salgo cuarta. Veo que delante tengo a una de mi grupo y pienso, me la juego! Si reviento lo peor que me puede pasar es que quede segunda o tercera. Me pongo en modo Forrest Gump y me voy con una Polaca la cual había llegado la primera destacada en la anterior carrera. Pasan los km y la polaca se adelanta un poquito más, no me preocupa ya que es de otro grupo, mantengo posición y llego a meta corriendo a 3'53 de media. Segunda de todas las mujeres, primera española y primera de mi grupo de edad! Entro en meta y me emociono tanto que casi hasta lloro!! Estoy que no me lo creo, hoy ha salido todo perfecto pudiendo además sacar a relucir todo el esfuerzo y los entrenos que llevo a las espaldas. Dar las gracias en especial a dos personas, @david_wiky porque gracias a sus entrenos y sabiduría lo hemos conseguido y a @jpedrocalderon por acompañarme en todas las locuras y mantener todo mi material en perfectas condiciones. // I participated at the ETU Duathlon European Championships as an Age-Grouper and this was the best race of my life! First 5k to 3.50 on average in the front group of about 10 athletes, perfect transition, put my running shoes on at the first try and then to pedal like crazy ... I stay in the front group with the Brits, who are coming at full blast and screaming trying to leave me and another Spanish girl behind. I clench my teeth and hold to the group, today I come to give it all! We get a bike split at an average of 35km / h. I position myself the best I can to enter transition, once again perfect transition and I come fourth. I see that I have one athlete in front of me and I think, I must catch her! If I blow up the worst thing that can happen to me is that I will be second or third. I get into Forrest Gump mode and leave with a Polish woman who had arrived first but she was in the Age-Group below me. The kilometres pass and the Polish girl gets further away. I am not worried since it is from another group, I maintain position and reach the finish line running at 3.53 pace. Second of all women, first Spanish and first in my age group! I go to the finish line and I get so excited that I almost even cry!! I cannot believe it, today everything was perfect, and I can also bring out all the effort and training I carry behind my back. Special thanks to two people, @david_wiky because thanks to him I have achieved training and wisdom and to @jpedrocalderon for supporting me in all kind of crazy things and keep all my stuff in perfect condition." Pescott faded on the final run, but improved upon her fifth-place last year in Transylvania to claim bronze behind Latham.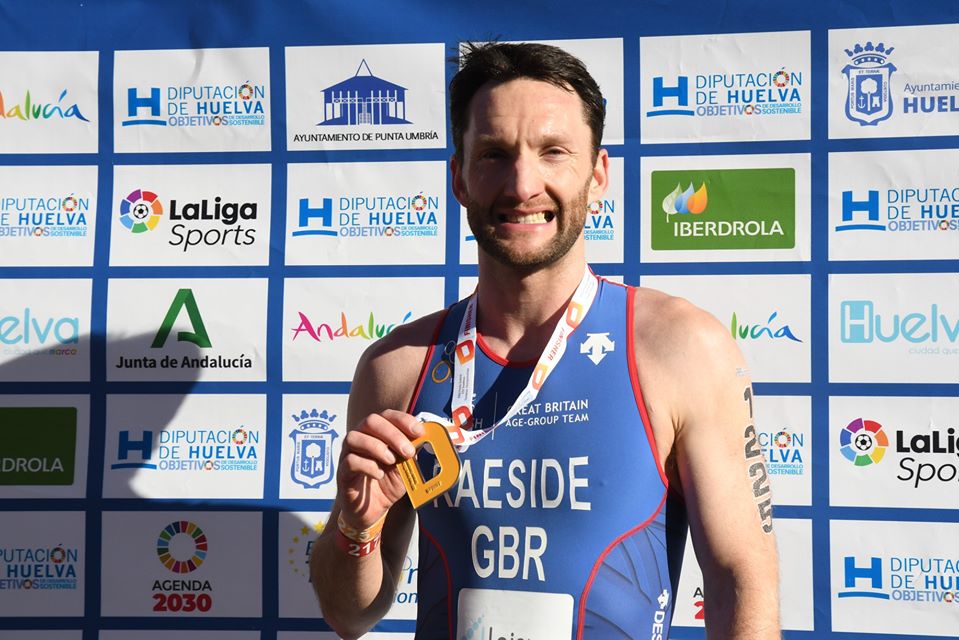 Bruce Raeside, reigning European Champion, led the 35-39 AG men into T1. An opening run of 14:24 took him well ahead of the massive chasing pack of Spanish athletes, each and every one of them determined to do their best and cheered along by the vocal locals. Raeside was over a minute quicker than any of the other Brits, who could not match the pace. Transition was swift and Raeside was out onto the bike course, looking strong. No stranger to pace, he had raced with Tim Don way back and was a force to be reckoned with on the track. With an 11-hour IM finish last year, he certainly had the stamina but his biking was bettered by the Spaniards. Juan Bernal Sánchez and Santiago Javier Muros Ramírez. The time lost on the bike was to decide the race and despite clocking the fastest closing run, the Scot, Raeside was unable to catch the leader but did manage to split the podium, claiming silver ahead of Bernal. It was Muros, reigning World Champion, who added the European title to his collection.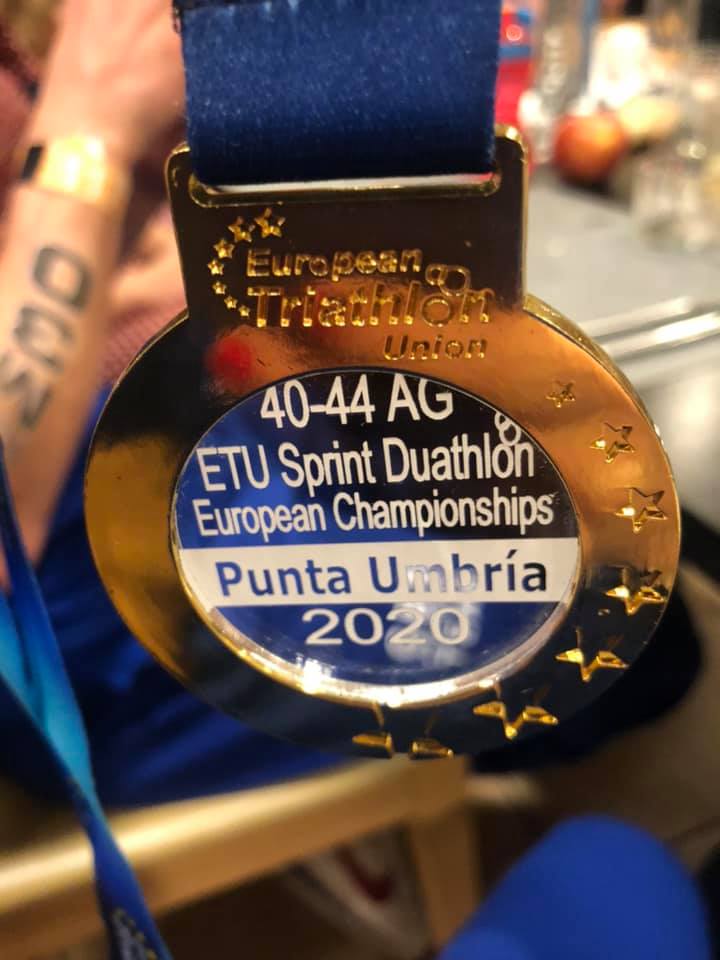 Photo: Phil Brush
Moving to the over 40's now and the host nation scooped up 5 of the six available medals. It was Great Britain's Marie Brush. Previous outings in GB kit had given her a taste of the podium, with a bronze in Fyn, Ibiza and Pontevedra but this time around, she was simply dominant. An opening run of 17:42 took her ahead of the opposition. A cautious transition was followed by a whopping bike that secured her victory. Easing up on the run, she had time to enjoy the moment and follow the cheers along the course. A few days before her birthday, this was a stunning result. Her coach, Jason Harvey had this to say about her, "A privilege…the words I would use to describe what it is like working with and alongside this incredible woman. Watching her win Gold on Saturday was a really proud moment for me and I was so happy I could be there to witness it as well!" For Brush, the reality was difficult to believe, "I Still can't believe I'm the 40-44 AG sprint European Champion gold medallist.!! As I stood on the start line in the front row, I knew this was my time! When the horn sounded, I was off!! After leading the first run with a very strong pace I felt I was in great form! I had a good transition to the bike and took to the road feeling stronger than ever. T2 went well and as I set off on my final 2.5k run I knew I had it if I could just keep my legs moving!! A massive shout out to all fellow athletes and family supporters." Husband Phil bronze medal winner in Viborg last year was there to support her. "Really proud of you Mrs B, you were amazing and never looked in doubt after the first run."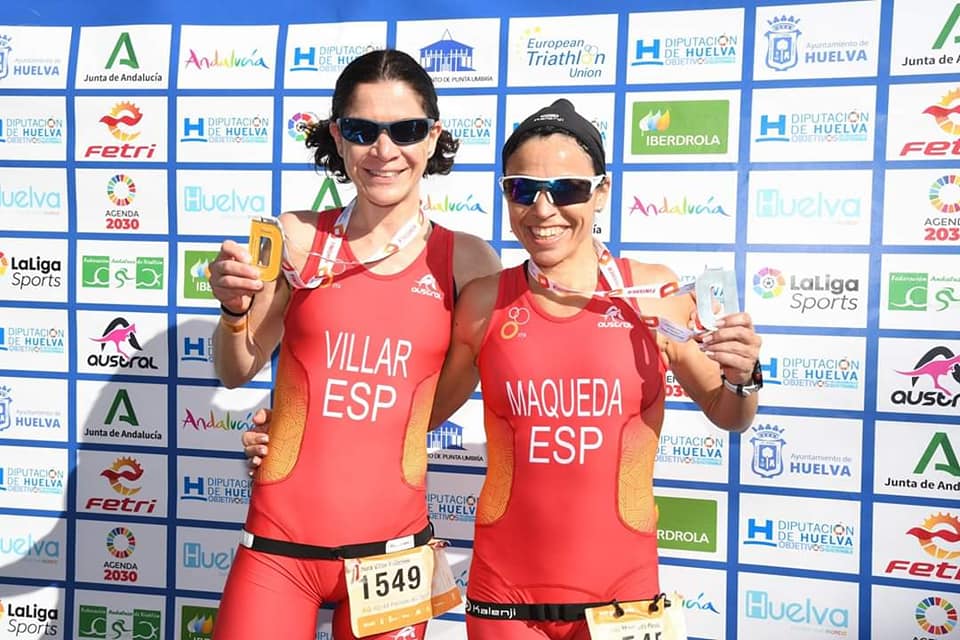 Silver went to Laura Villar Palacios and bronze to Esther Maqueda Pérez, both from Spain and both in their first international duathlon.
It was a clean sweep for the host nation in the men's race. In fact, they filled the top nine places in an astonishing statement of power for this Age-Group. The Spanish wave of attack began early, with three of them breaking away and leading the pack. It was Reigning World Champion, Angel Gutiérrez Calzado with Alberto González Gil and Miguel Angel Muñoz Moreno, bronze medal winner in Pontevedra who had the smallest of leads over Rafael Curado Tejero. Former European Cross Duathlon Champion, twice World Duathlon Champion, runner-up last year, he escaped death in his early 20's when involved in a horrific car crash but successfully built up his strength and skill from his early 30's onwards. He was just once second behind the leading three and he swept through T1 with them and formed part of a fast-moving pack that attacked the bike course. It was neck and neck for the entire course and with not room for error, they sped through T2 for the final run. It was Gutiérrez who had the final kick and broke free to claim the title with just a 4 second lead on González. Muñoz, two years younger than Curado, had just enough left in the tank to snatch the final medal but this was an amazing display of talent from the hosts.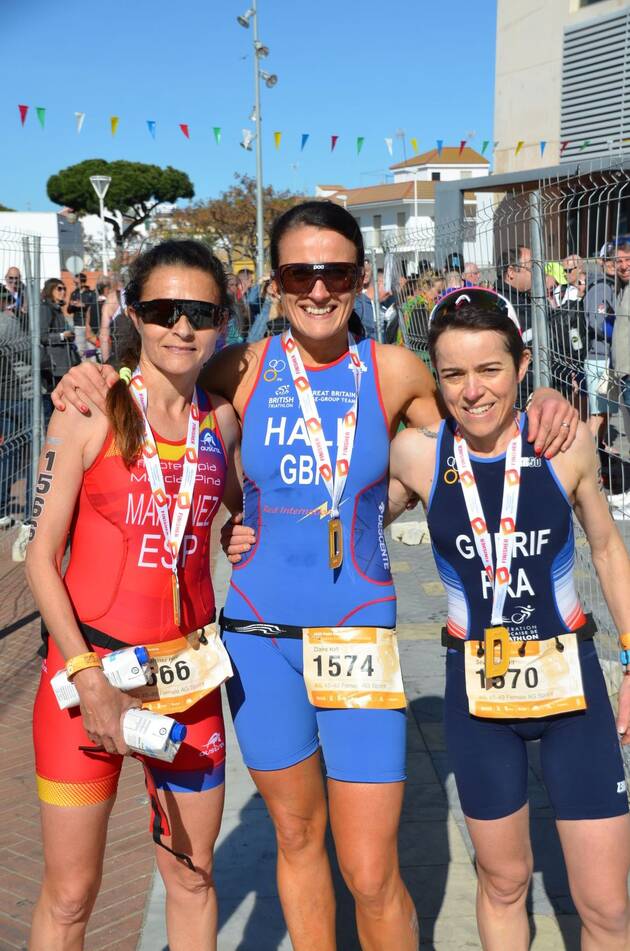 In the 45-49 Age-Group race, it was an outstanding victory for GB's Claire Hall. The reigning European Champion had missed the podium by one place in both Fyn and Pontevedra but had since upped her game and came to this race with the intention of making her mark. The victory in Transylvania showed her true potential and coming to Spain, targeting both Sprint and Standard races, she was keen to let everyone know that she was fast. She achieved this pretty early on with an opening 5k time of 17:58. The comfortable 20 second lead was stretched even further with a text-book transition and then she was off on two wheels, with so much power being generated that she pulled further away. An easy T2 and then she set the clappers down for the final run to cross the line over two minutes ahead of any of her rivals.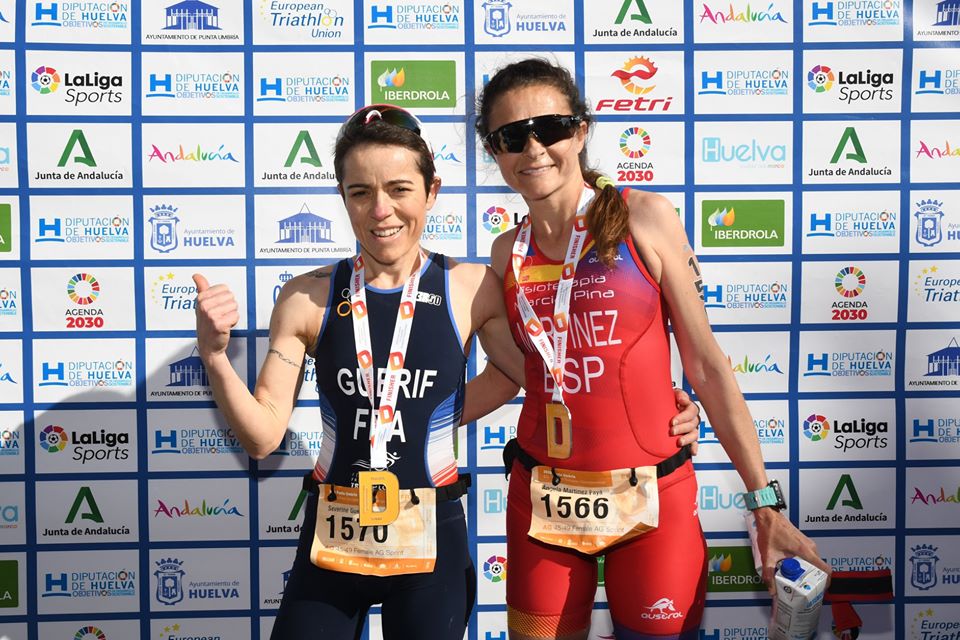 Silver went to Séverine Guerif. Sixth place in the Worlds, she had come to the race leaving a series of injuries behind her and was the first to admit that she was not best prepared, « Je sais que je ne suis pas la mieux préparée, mes blessures de cet hiver ont bousculé mon entraînement en vue de cette course.  Je sais que l'Anglaise Claire Hall, sera certainement la plus forte devant l'Espagnole Ángela Martínez Payá https://www.triathlon.org/athletes/profile/131041/ngela_martinez_paya . / I knew that I was not race-fit. Injuries that I had picked up over the winter had a knock-on effect on my training and its focus on this race. I knew that Claire Hall, the Englishwoman, would most certainly be the strongest ahead of Spain's Ángela Martínez Payá.» But, with the first run over, she felt quite positive. 30 seconds plus, positive as this was the lead she had over the Spaniard « J'ai la sensation que cette année je suis plus forte que l'Espagnole à la course à pied, mais prudence.  / I had the feeling that this year I was stronger than the Spanish athlete on the run at least, but hey, be careful. » Martínez was indeed stronger on the bike but with the initial run, the super-fast transition and this new confidence, Guerif was on fire. It was only about 1k from the dis-mount line that the Spaniard caught her and just edged ahead, to lead into T2. There then followed a battle royal between the pair but finding her rhythm, the Frenchwoman, still shoulder to shoulder with the Spaniard, saw her moment and kicked for the sprint finish. « Je la suis pour accélérer plus fort encore et jusqu'à l'arrivée: je donne tout jusqu'au bout. Je suis vice championne d'Europe de duathlon. Quelle course, que d'émotions. C'est la beauté du sport. / I followed her so as to accelerate even more and just before the finish, I pulled out all the stops. I am European Duathlon, Vice-Champion. What a race. Such emotion. That's the beauty of this sport. »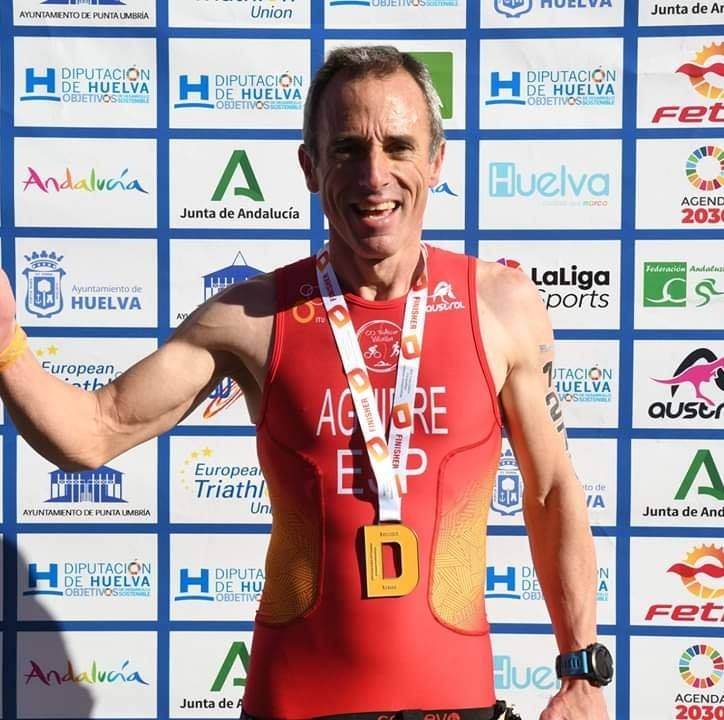 The men's race saw a finish that was yet another amazing battle between the host nation and Team GB. Daniel Aguirre Moreno ESP came to the race as an unknown on the international circuit but very soon made his mark. Leading them into T1 with a 15:33, he had GB's Robert White on his heels and tried to shake him off with a faster transition. The Brit, a silver -medal winner in Penticton kept him in sight but was joined at the end of the bike by José Miguel Jiménez Martín ESP. With Aguirre stretching his legs and easing away on the run, White was all too aware of the threat posed by Jiménez and dug deep to secure silver for the British Team. Jiménez, losing valuable time in T2 now had another battle on and had to run for his life to snatch bronze ahead of GB's David Cass who, in his first race, missed out on a medal by just one tiny second.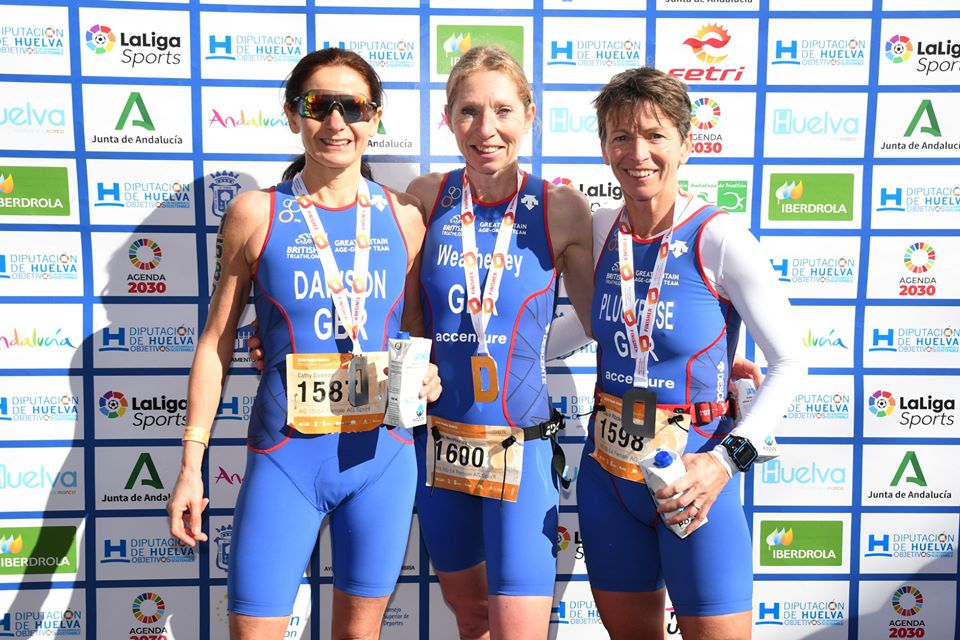 In the 50-54 Age-Group, the Brits claimed all three medals in the women's race with a thrilling battle between Nikki Weatherley and defending champion, Cathy Dawson. Dawson had held the World and European titles in 2016 but had a bad race in Soria in 2017, to DNF. A bronze in Penticton, a silver in Fyn and then a gold in Ibiza with a third gold in Târgu Mureș. She was the one to beat. Neck and neck through the first run, almost glued together in transition and then the bike, Dawson broke free in T2 for the final run. With the title within her grasp, she was attacked by Weatherley, who found that extra bit of pace to snatch gold from her. Set in the thick of this battle was Claire Pluckrose, who made up the third British athlete who would stand on the podium. She too had claimed a world medal in Pontevedra and narrowly missed out in Kazan. She came home for bronze, having put in the fastest bike split of the category. Inspiration indeed for her Speedy Pluckers, back home in Whitstable.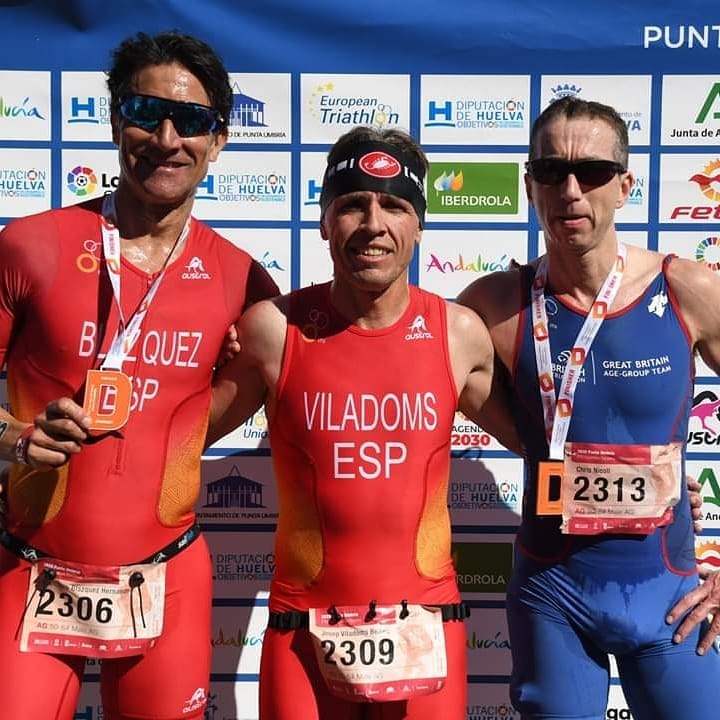 The previous category saw a fantastic battle for the final place on the podium. With the defending champion from Spain, David Serra Termens the race was on. Three Spanish athletes flew the flag high on the first run, coming in to T1 together. Josep Viladoms Bellart and Serra, with Francisco Blázquez Hernández on their heels were joined by Portugal's reigning World Champion, Joaquim Carlos Lopes and GB's Chris Nicholl. Nicholl had twice won bronze over the standard distance in Ibiza and Pontevedra and was clearly here, with this leading group of speeding athletes, looking to cash that in for gold or silver. Game on. A tight bike saw them come into T2 and then it would be a battle for three places on the podium. The pace went up and it was Viladoms who finally had the legs to break free of Nicholl and Blázquez to win but the final medal was decided by just one second as Serra failed to match the speed of his teammate. For Viladoms, this was a warm-up race as he went on to claim the title over the Standard Distance, "¡¡Fi de semana perfecte !!! Al campeonat d' Europa a Punta Umbría disfrurant amb la família!!! - Doble campió d'europa en duatló en les modalitats Sprint i olímpica. / Perfect weekend!!! At the European Championship in Punta Umbría with the family!!! - Double European champion in duathlon in Sprint and Standard distances."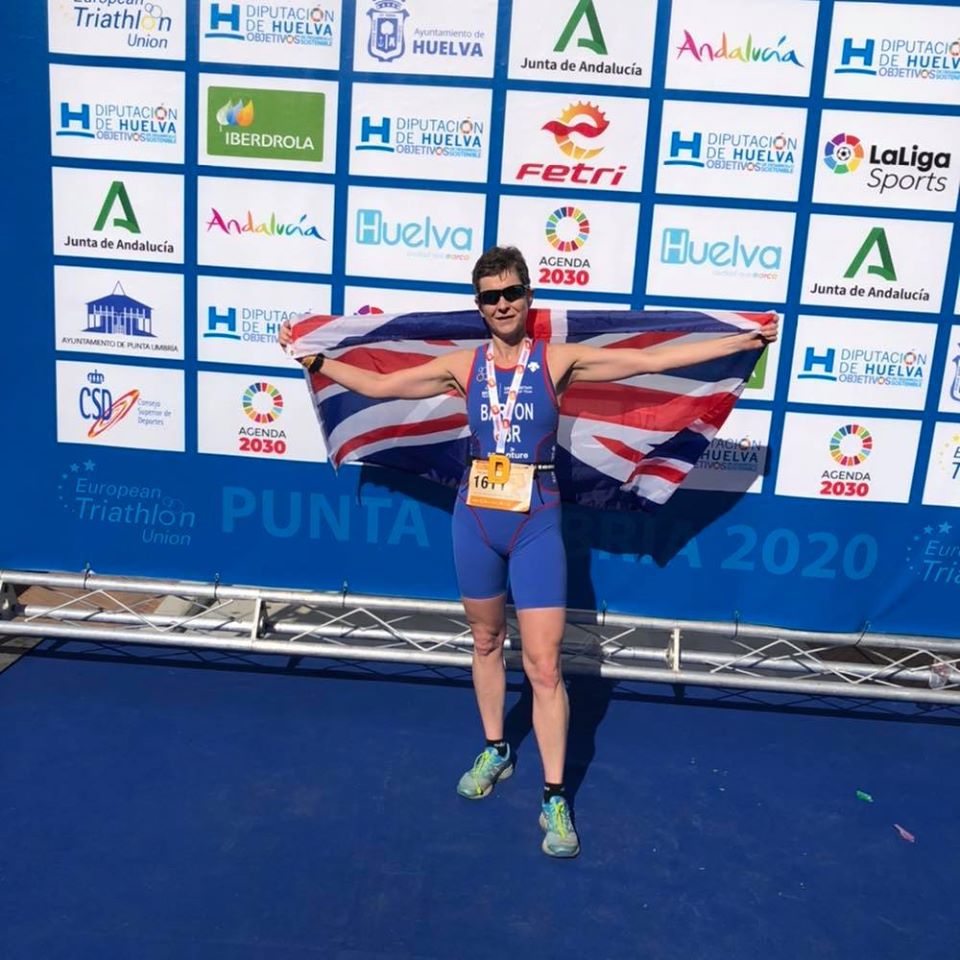 In the 55-59 Category, reigning World Champion, Amanda Young was looking at adding the European title to her collection. Having moved up from her silver in Fyn, she had won convincingly in Pontevedra but had a disappointing bronze on the technical course in Transylvania, coming away with a bronze. But it was Trish Barton, new to the British team who dominated the race with an opening run that could not be matched. Losing time in transition, she put in a strong bike and more than made up for lost time in transition with a closing run that was over 30 seconds faster than anyone else. A stunning debut and with GB taking silver, with another newbie, Anne Walton and bronzed with Joanne Bednall, whose daughter had won the youngest category, the clean sweep was complete. Young came home 4th. A good result but no medal this time around. Trish Barton is not one to shout from the rooftops, "I didn't shout about as that's not my way" All she needs to do is put the race kit on and that is enough. Team GB – look after this one.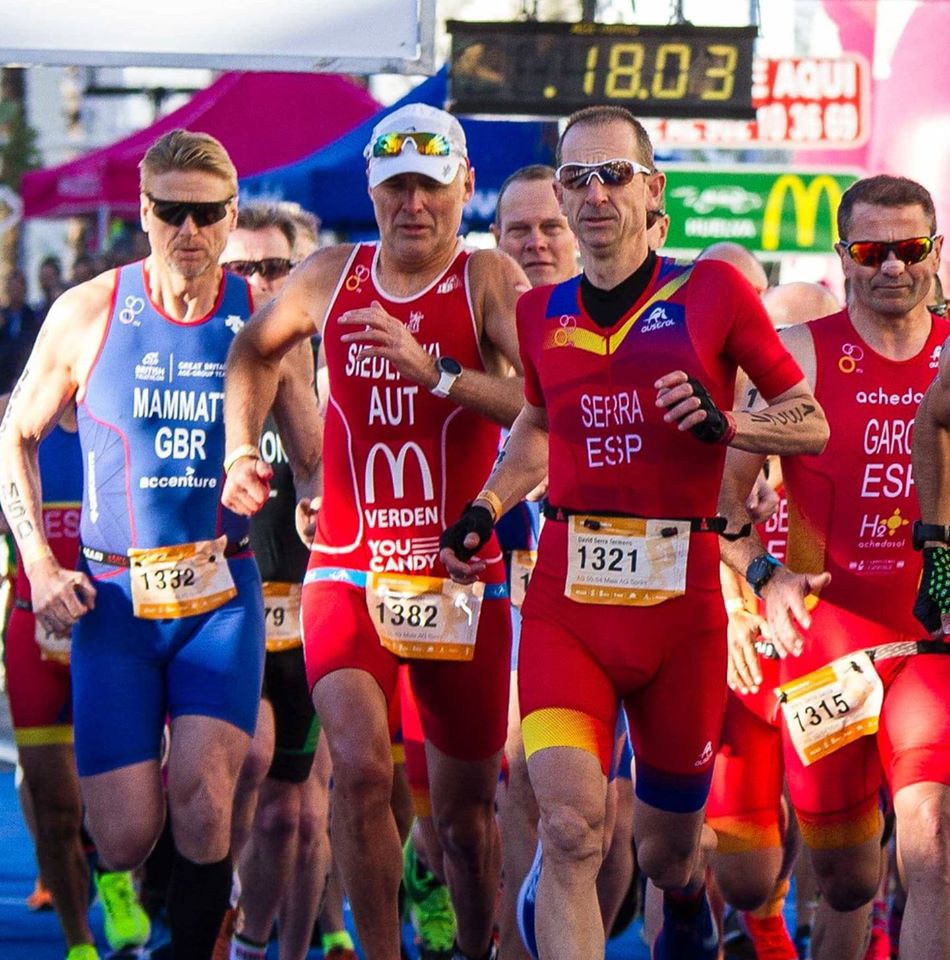 Winner of silver last year in the 50-54 Age-Group, but moving up a category, was Austria's Christian Siedlitzki. Despite early concerns that a recurring sciatica problem would scupper his chances of a medal, he set the early pace with Portugal's Antonio Fernando Horta. "Das Laufen wurde zur Tortur und das hohe Anfangstempo verschlimmerte mein Problem noch. Doch aufgeben war keine Option / Running was a torture and the high pace made it worse. Giving up was not an option." Siedlitzki suffered on the bike against the stronger Horta but Spain's Juan Luis Maiza Begiristain was flying and was able to make up the deficit. Siedlitzki did his best on the run but had lost too much time on the bike and in T2 and had to settle for bronze behind Maiza. Gold went to Horta whose pace was an impressive display, after an absence of some 12 years on the international circuit. Read the impressive account in German from Siedlitzki here.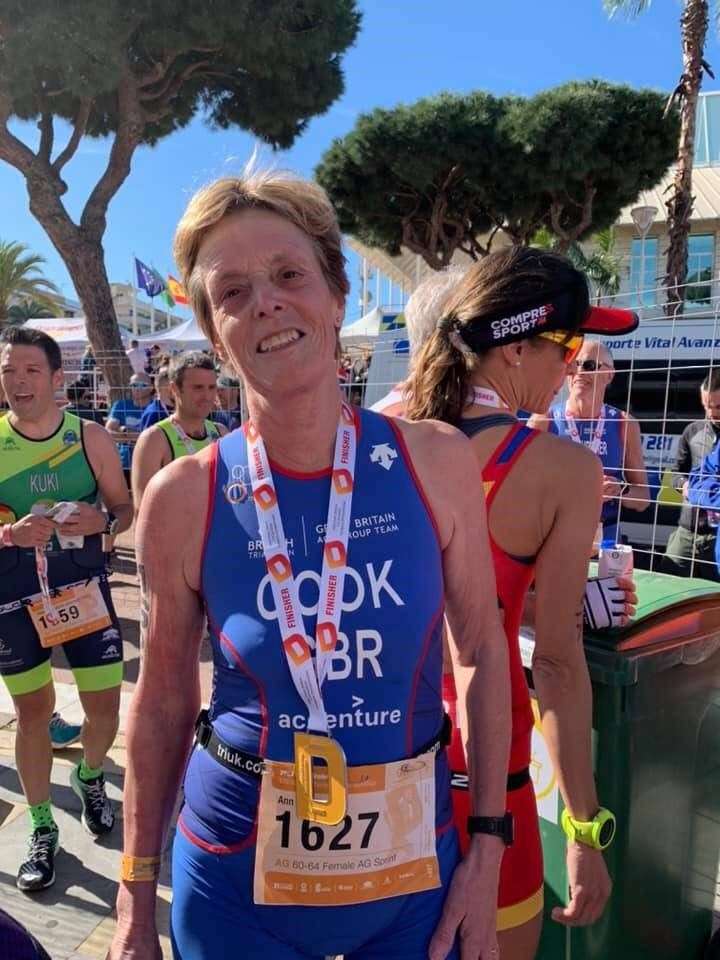 60-64 saw Team GB rise above the rest once more with a clean sweep for the women. Reigning Double European Champion, Heather Lambert. Her pace in Ibiza and Târgu Mureș was matched by Ann Cook who had clearly been working on her running and biking skills after a disappointing race in Târgu Mureș. Moving up an age-group this year, former PE teacher Cook set the race alive with a blistering opening run that was over 20 seconds faster than the rest. A speedy transition and a further gain of almost a minute on the bike secured victory for her. Gold to Cook. Lambert was poised for silver but a slow T2 robbed her of the medal as Jenny Wakeman edged ahead to claim silver on her debut.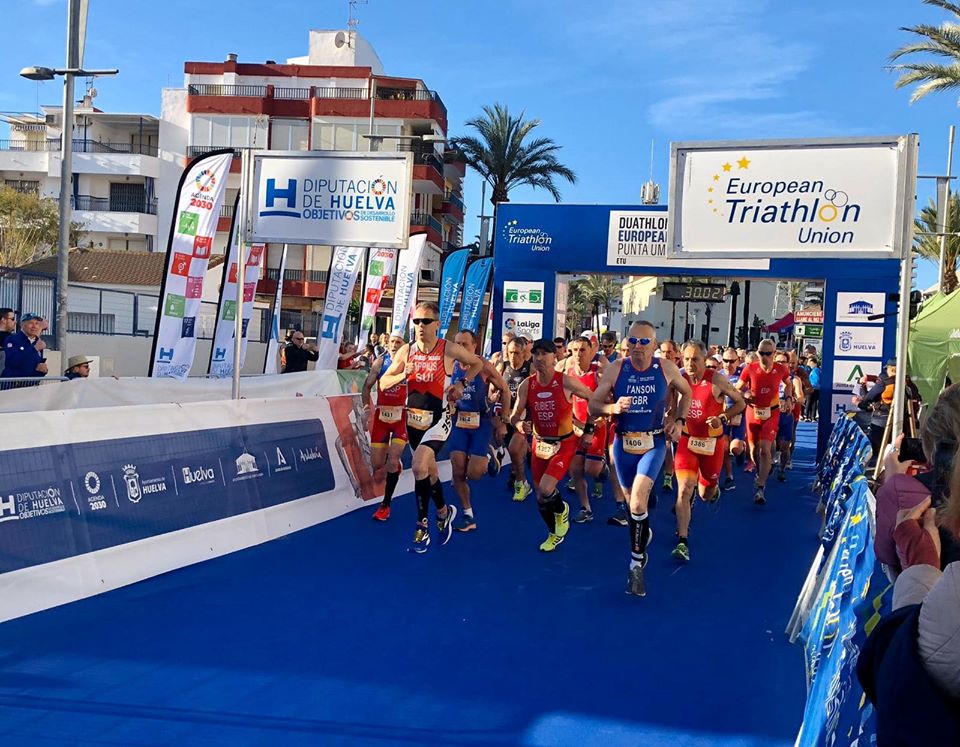 For the men, Aeneas Appius SUI upgraded his silver from Târgu Mureș to a gold with a dominant performance. He was tested by Spain's Javi Zubiete Soler, who led into T1 but with a swift transition he was out onto the bike where he opened up a lead that could not be matched. Once free of the Spaniard, Appius popped in a solo 20k bike ride that took him way ahead of the chasing athletes. He was able to ease up on the run but still claim victory and yet another title by a comfortable margin. Zubiete had a battle on his hands when team mate Enric Gil Marès but pushed on the run and just edged ahead by 4 seconds to claim silver. Appius went on to claim the title in the standard distance, making him a 4-times European and two-times World Champion.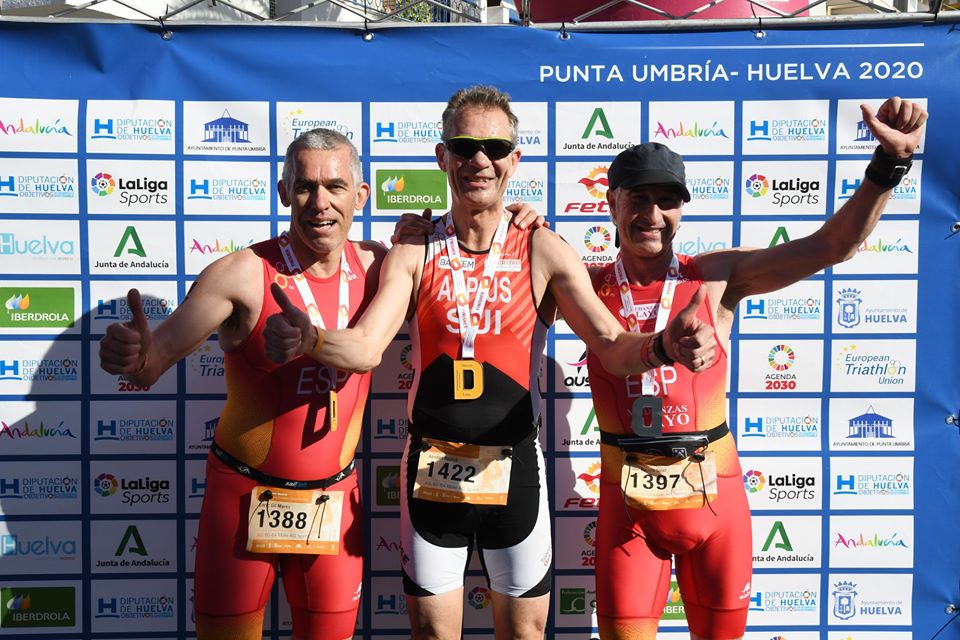 Now into the 65-69 Age-Group and history has told us that from the far north of England come many warriors.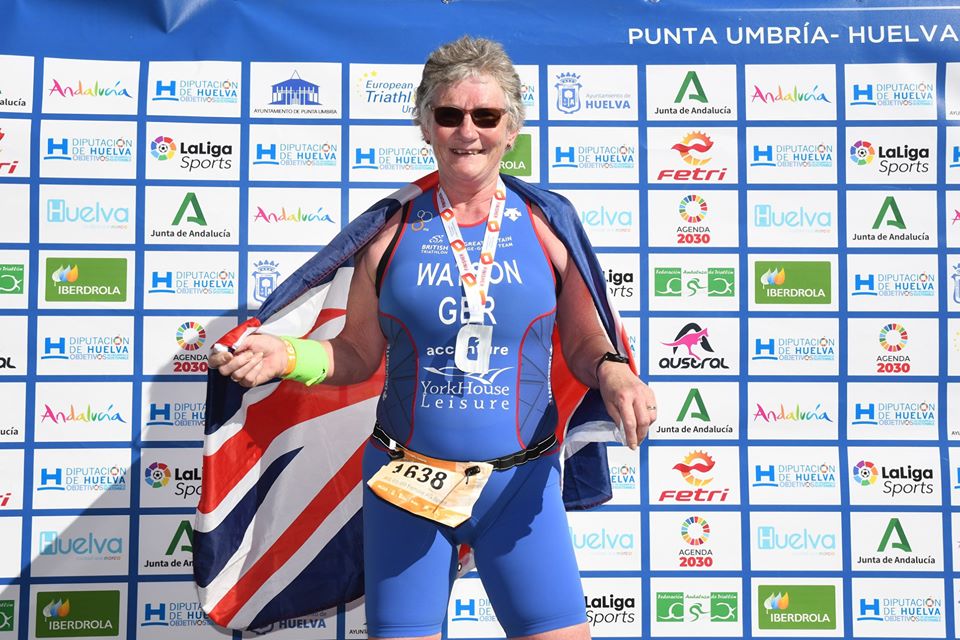 Amongst that clan was Sue Watson. She pretty much sums up the great spirit of Age-Group racing, "Have only been involved in triathlon since 2018 and qualified for my 1st ITU-world sprint Duathlon at Pontevedra in 2019 where I came 5th overall and the 2nd GB women's qualifier. I race in the 65 to 70 category, as I'm a bit of an old lady. I have qualified for ETU and ITU in 2020. What I will do after that will depend on how many bits of me have fallen off." Her club sent a few athletes to the Championships and of them all, she came home with gold. A comfortable lead over her teammate, newbie, Lynn Munro on the first run was converted into a solid lead after a swift transition and strong bike. Cruising home to take the title, she was cheered along the way by the Brits.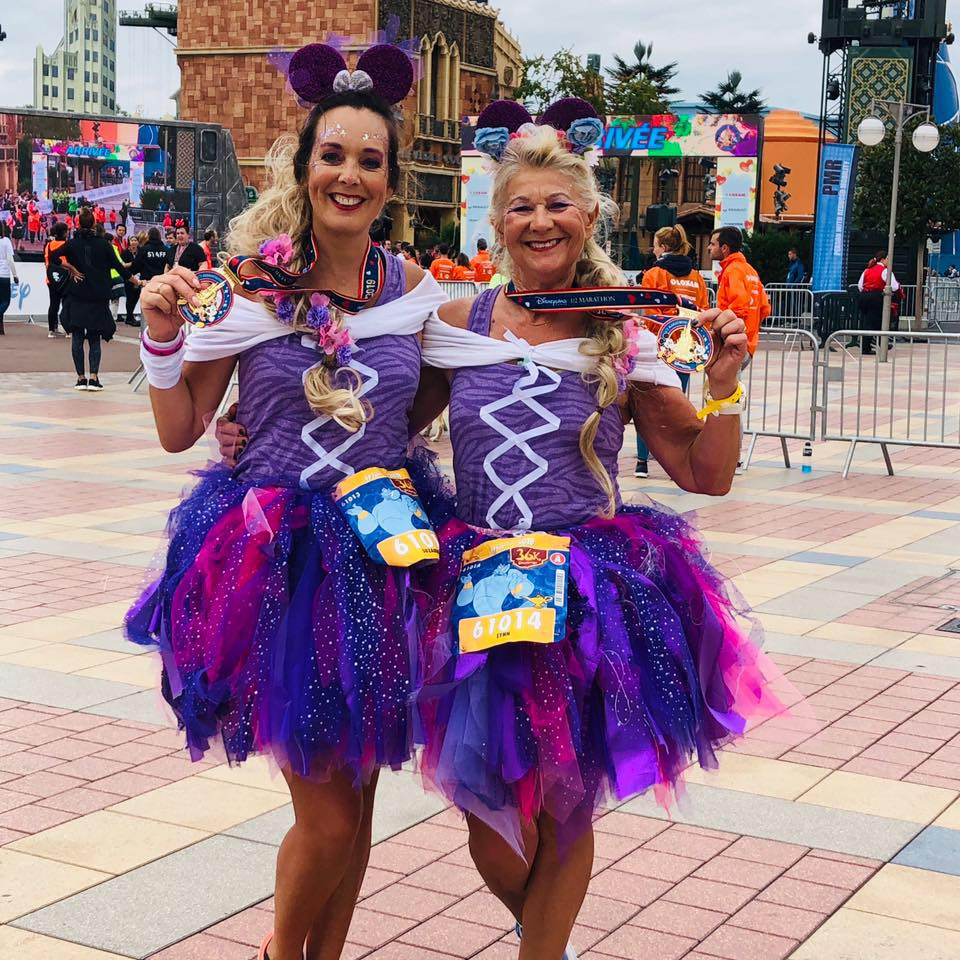 Gold and Silver to Team GB but for a short period, the Technical Officials had to re-check Munro's race uniform. Photo: Lynn Munro
The men's race saw Spain and their neighbours, Portugal dominate the race.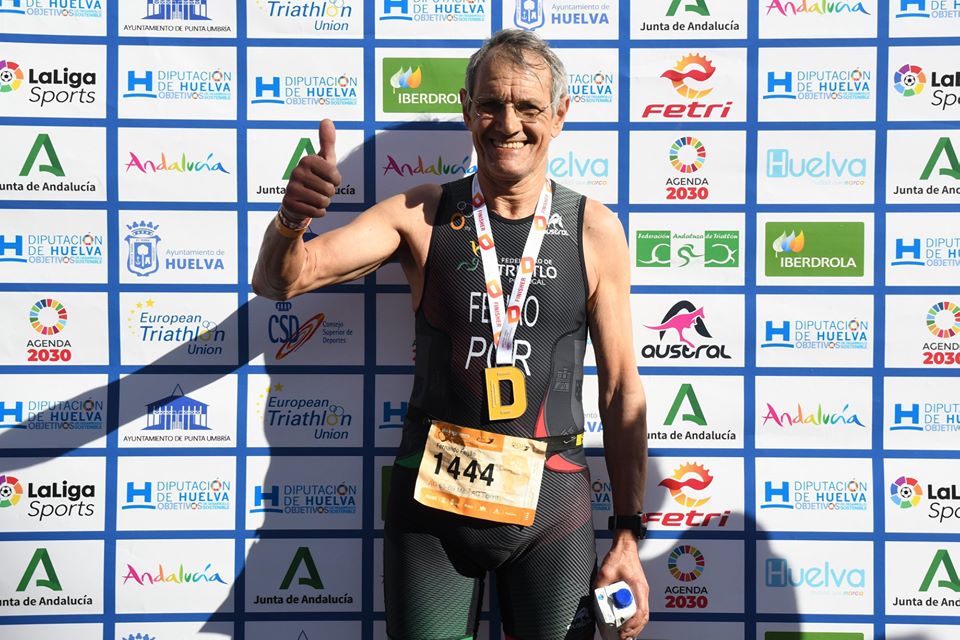 Former President of the Federação de Triatlo de Portugal, Fernando Feijão returned the best result of his lifetime, with a bronze behind the two Spanish athletes who had snappier runs.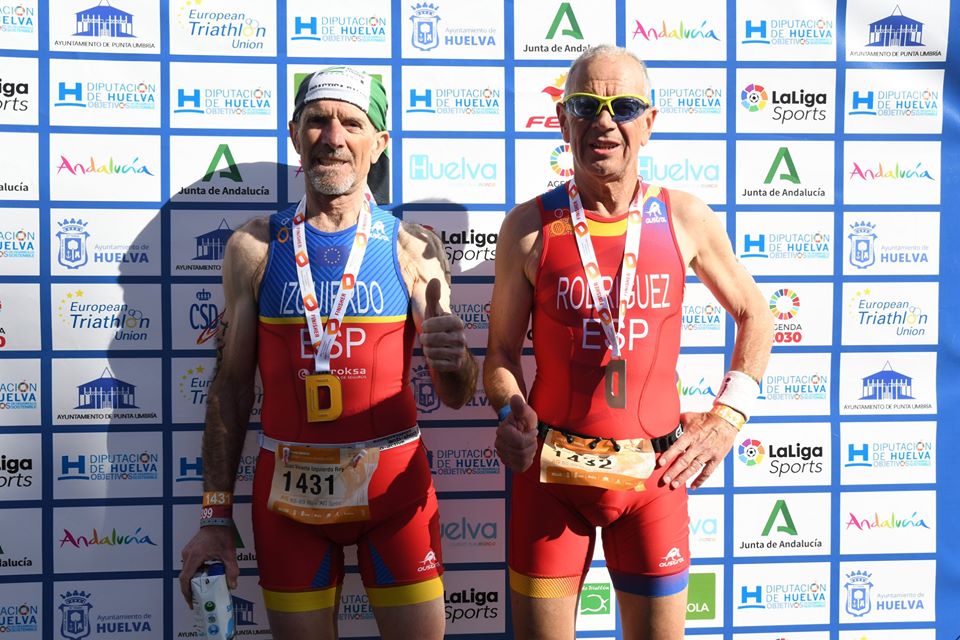 It was defending European Champion, Juan Vicente Izquierdo Rey who looked to have the race won. His steady run but then fast T1 and bike put him in the lead ahead of the 2019 world runner-up and teammate, Fermín Rodríguez García but even with a quicker spin through transition to set off on the final run, it was Rodríguez who had the faster legs and who claimed the win. Feijão and Izquierdo would do battle again in the Standard Distance race.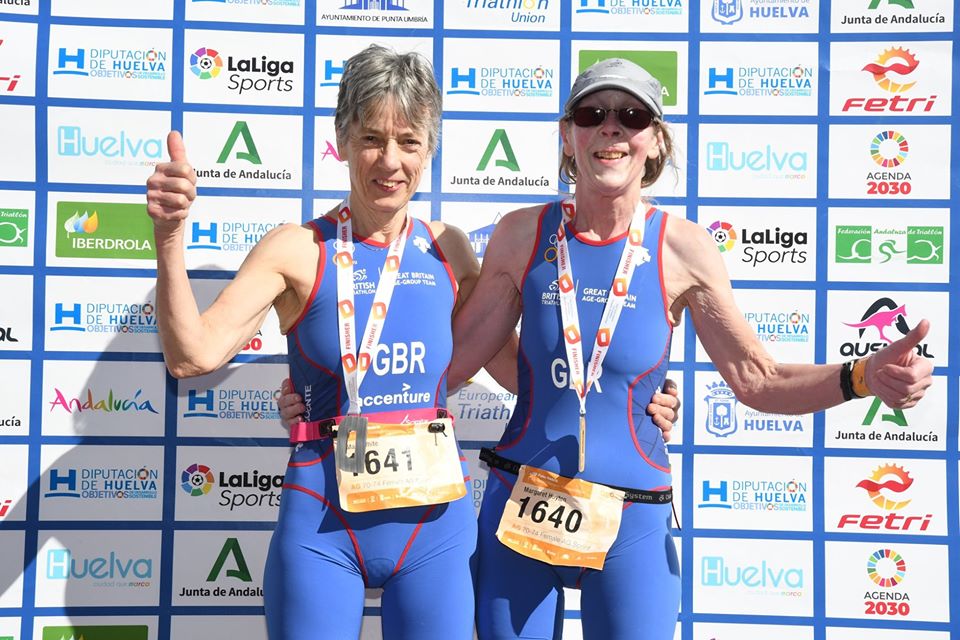 The last Age-Group to see any women racing was in the 70-74 category. Again it was the Brits who stole the show but there was also the presence of Italy's Lucia Soranzo to spice things up. Soranzo came to the race as reigning World and European champion. With a massive 8 wins on the World and European circuit, she was clearly the one to beat. From the gun, she was neck and neck with GB's Mary White, making her international debut at the age of, well, a distinct and classy vintage. Back in 2012, she had a knee-replacement. In 2014 she became Quadrathlon World Champion in her Age-Group at the age of 63. She ran tactically with Soranzo, took her time in T1 and then attacked on the bike before opening up the throttle to storm ahead on the final run. Bronze went to Margaret Huyton in her debut race. She too has migrated to duathlon from the sport of Quadrathlon.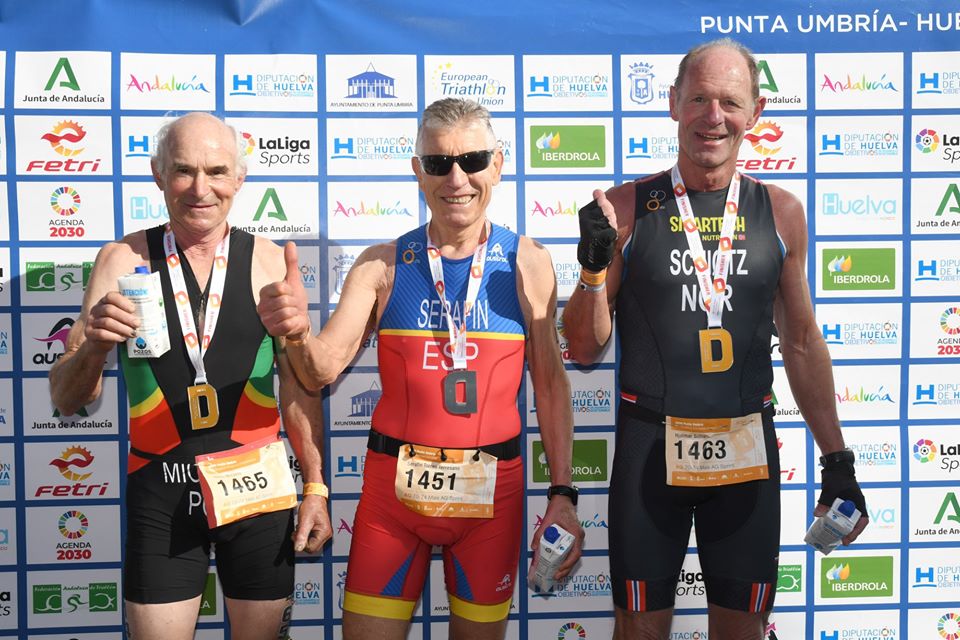 The men's race saw a close-quarter battle between Serafin Torres Terresano and Norway's Hjalmar Schiøtz. The pair have raced against each other in the past and knew the strengths and weaknesses. They ran into T1 together but Schiøtz lost time in transition, valuable time. The Spaniard set off with over 20 seconds in the bank and so, it was catch-up for the Norwegian. As they entered T2, history repeated itself and, losing time in T2, the Norwegian watched his gold medal fade. Making up time in T2 as well was Portugal's Vasco Micaelo. Seizing the opportunity, he set off to chase after Torres, all the time looking behind him to see how the attack might come from Schiøtz. He just had enough in the tank to keep his hands on the silver medal but by only two seconds, in a nail-biting finish. For Serafin Torres Terresano, the win came a few days before his birthday.
Our last two Age-Groups provided some quite outstanding racing. Leading them into T1 in the 75-79 men's race was Portugal's Carlos Leite. The reigning World Champion, clocked 21:18 for the first run and moved swiftly through transition to then further extend his lead on the bike. Nobody could catch him and the gold medal was a certainty. Behind him there was a close battle between David Gilbert and Michael Dixon, both wearing GB colours. They had seen teammate, Alan Churcher ahead of them and it was in that first transition that Churcher was able to break free, with Dixon having a nightmare. As Dixon dropped back further, Leite moved ahead to establish a solid lead with Churcher leaving Gilbert, to move into silver medal position. It was gold to Portugal and silver and bronze to Team GB, with Gilbert holding onto the final medal place.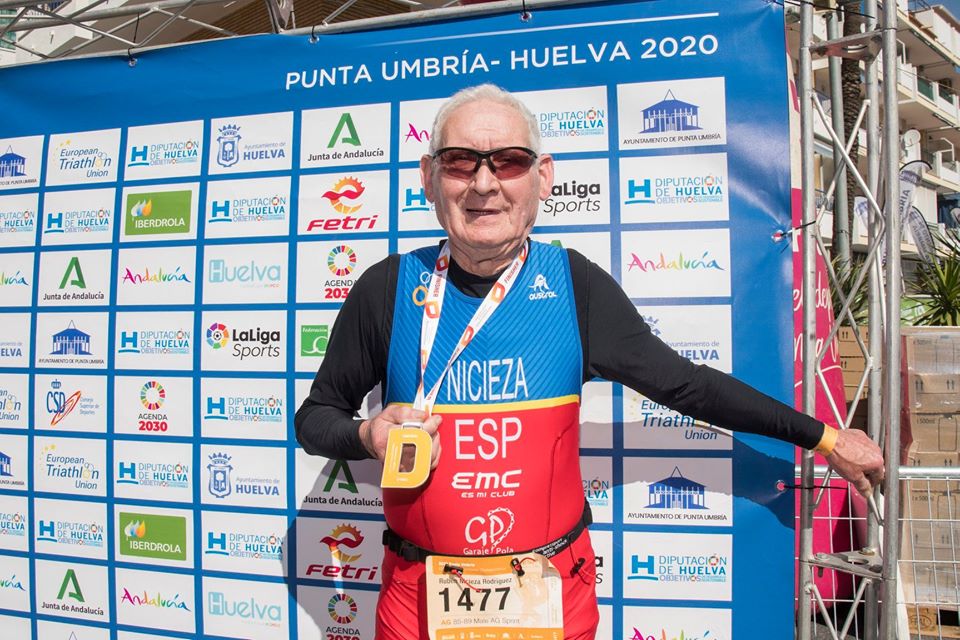 The final medal went to the host nation and to Rubén Nicieza Rodriguez. This legend of an athlete had decided to call it a day in Pontevedra last year but when he heard that the championships were coming to Punta Umbría, his mind was made up. "Pero después de enterarme a últimos de noviembre del año pasado que el Campeonato de Europa de Duatlón (categorías de Grupos de Edad y Élite) se celebraría en Punta Umbría (Huelva), tomé la determinación de prepararme a tope para presentarme a la competición en el grupo de edad 85 – 89 en la modalidad Sprint. / But after learning last November last year that the Duathlon European Championship (Age and Elite Groups) would be held in Punta Umbria (Huelva), I took the determination to prepare myself to the fullest to introduce myself to the competition in Age Group 85-89 Sprint distance." He received a heroes' welcome when he crossed the line.
MEDAL TABLE

| | | | | |
| --- | --- | --- | --- | --- |
| | | GOLD | SILVER | BRONZE |
| Spain | | 12 | 7 | 9 |
| Great Britain | | 10 | 13 | 12 |
| Portugal | | 2 | 2 | 1 |
| Poland | | 1 | | |
| Switzerland | | 1 | | |
| France | | | 1 | |
| Hungary | | | 1 | |
| Italy | | | 1 | |
| Austria | | | | 1 |
| Norway | | | | 1 |

Click here to see more of the event photos, provided by the organisers.
Sprint - Flickr
Our next review will feature the Standard Distance Championships.
---
Article gallery
Related Event: 2020 Punta Umbria ETU Duathlon European Championships
Latest
Videos
---
Latest
Event Galleries