NEWS
IMPORTANT UPDATES: Ranking, Prize-Money and Development
By Paul Groves
|
29 Jan, 2018
This weekend we saw the first medals awarded to athletes in Europe at a multisport event. Congratulations to the Romanian Federation for their successful ITU Winter Triathlon World Championships. Once again, the domination of European athletes at this event, showed the world that we lead in this tough winter sport.
In just over a couple of weeks our focus will be upon the 2018 Etna ETU Winter Triathlon European Championships where medals will be chased by Elite, U23, Junior, Para and Age Group athletes.
Don't forget, the deadline for entries is fast approaching. If you raced in Romania and had a good performance, you can try for a second medal in Sicily.
With the arrival of these two great races, we know that the summer season is getting close and that it is time for the Federations, coaches and team managers to look closely at which events they will target in 2018.
2018 will see 13 ETU European Cups. 5 will be standard distance and 8 will be raced over the sprint distance. There will also be 13 ETU Junior European Cups. Across Europe this year there will be a bigger selection of races and this will inevitably lead to a more strategic approach by athletes, coaches, managers and federations as they focus on collecting points and of course, building up those points to aim for that end of season bonus at the ETU Cup Final, which will be held in October at the 2018 Funchal ETU Sprint Triathlon European Cup Final.

The 2017 edition of this race was very popular with our athletes and we are delighted that the 2018 season will end on a high note at this great location.
Renato Bertrandi, President of the European Triathlon Union has announced some important changes to the prize-money pot this year. "I was very pleased to see the fierce competition in Melilla at the end of the season last year. We had some of the top-ranked athletes racing neck and neck for the top prize and the excitement was felt by all. For 2018, to encourage athletes to participate at our events ETU will keep the €40.000 pool prize money BUT will have an additional pool prize money of €15.000€ for the top 10 U23 athletes in a separate ranking. This will be calculated from participation at all European Cups plus the U23 Triathlon European Championships, where the points will be doubled.
The ETU Executive Board would like this year also to offer reward to the category 2 and 3 National Federations who support the ETU Junior European Cups so well. We will retain of course the €10,000 for the National Federation ranking (top 3 NFs) but for 2018, make available a further €10,000 for category 2 and 3 National Federations only (top 5)."
All ranking criteria can be found below and also on the ETU website.
ETU invites all National Federations, Coaches, Team Managers and athletes to carefully study the ranking criteria and also, because you will be winning prize-money, please ensure that you know where to find the Prize-Money claim form for 2018.
This form is easy to download and complete. You then e-mail it to ETU HQ using the address on the form and the prize-money will be transferred to your account. This saves paper and makes the process much quicker.
Chris Kitchen, Vice President of the European Triathlon Union, has been our lead on Anti-Doping and the main drive behind the "Be Clean" project. "Our Anti-doping Education is aimed at, but not limited to, all levels of coaches and support personnel, elite teams - junior and senior, and age group athletes training and competing in events. The main message is about is pretty simple 'Strict Liability'. i.e., 'You (athlete) are solely responsible for any banned substance you use, attempt to use, or is found in your system regardless of how it got there and whether there was an intention to cheat or not'.
The main aim is to educate members, clubs, coaches and athletes to be aware about Clean Sport, to promote it and to avoid any inadvertent doping."
For the 2018 season, ETU and some LOCs have invested in having random doping controls in several Junior European Cups.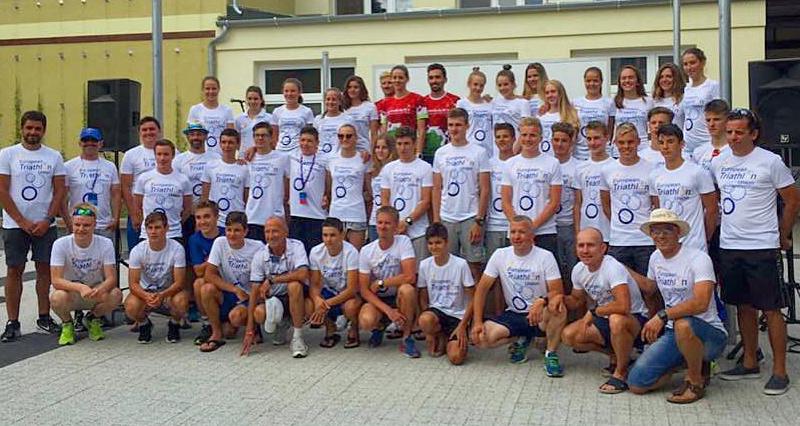 The Development Team is an important part of the ETU strategy. Since 2013 now there has been a Development team, where athletes, aged 17 – 22, from category 2 and 3 National Federations get the opportunity to race at a Sprint Triathlon European Cup in order to earn important ITU points and to start their careers. One good example is Kaidi Kivioja from Estonia and last year Romana Gajdošová SVK and Eva Skaza SLO amongst others who, with this invaluable support from ETU, were able to score ETU points.
To deliver this programme in a constructive and transparent way, the ETU Executive Board appointed a Selection Panel consisting of Željko Bijuk, ITU Sport Development Co-ordinator for Europe and Kathleen Smet, Secretary General for the ETU. They have selected 4 sprint events for 2018 where the programme will support 15 male and 14 female athletes from 12 National Federations in Category 2 and 3. Those athletes showed in 2017, in either or both elite and junior European Cups, their potential to compete at an elite level and their ability to earn ITU points and to make the necessary progress in order to be able to compete at World Cup and World Triathlon Series in the near future.
The selected ETU European Cup Events and athletes are:
Olsztyn ETU Sprint Triathlon European Cup, 26th May
Athletes: Luka Grgorinić (CRO, °1999), Luka Paliska (CRO, °1997), Luka Dumančić (CRO, °1998), Lucija Petrović (CRO, °1999), Zara Baković (CRO, °2001), Ivana Granosa (CRO, °2000)
Dnipro ETU Sprint Triathlon European Cup, 2nd / 3rd June
Athletes: Mikita Katsianeu (BLR, °1996), Matúš Verbovský (SVK, °1998), Milan Tomin (SRB, °1996), Kristina Jesenská (SVK, °2000), Daryna Moskalenko (AZE, °1997), Daniela Leitane (LAT, °2000), Merili-Mai Kivimets (EST, °2001)
Malmö ETU Sprint Triathlon European Cup, 5th August
Athletes: Matevž Planko (SLO, °1998), Henry Räppo (EST, °1998), Kevin Vabaorg (EST, °1998), Savelijs Suharževskis (LAT, °1999), Henrika Parviainen (FIN, °1997), Astrid Snäll (FIN, °1999), Evelina Tomkeviciute (LTU, °2001), Eva Skaza (SLO, °1997)
Székesfehérvár ETU Sprint Triathlon European Cup, 25th August
Athletes: Klemen Bojanc (SLO, °1998), Velizar Velizarov (BUL, °1999), Hristo Yovev (BUL, °1999), Alexander Ion (ROU, °1998), Nicolae Seitan (ROU, °1997), Andrea Balan (ROU, °1997), Katja Hočevar (SLO, °1999), Tjaša Vrtačič (SLO, °2000)
ETU will provide a travel grant up to a maximum of 250€ and will pay for accommodation for a maximum of 3 nights (on a shared room base) for all the above mentioned ETU Development Team members and will appoint a qualified coach to train the team in preparing the event.
By providing all this, ETU hopes to encourage and guide our younger athletes and to support them on this important pathway; enabling them to establish their ITU ranking and, who knows, a place in the Olympics, just like Kaidi, who raced in Rio in 2016 and is now part of the ITU Development Team for Tokyo, 2020.
Latest
Videos
---
Latest
Event Galleries