NEWS
Georgia Taylor-Brown defends her European Championship title in Alanya
By David Peddie
|
14 Jun, 2013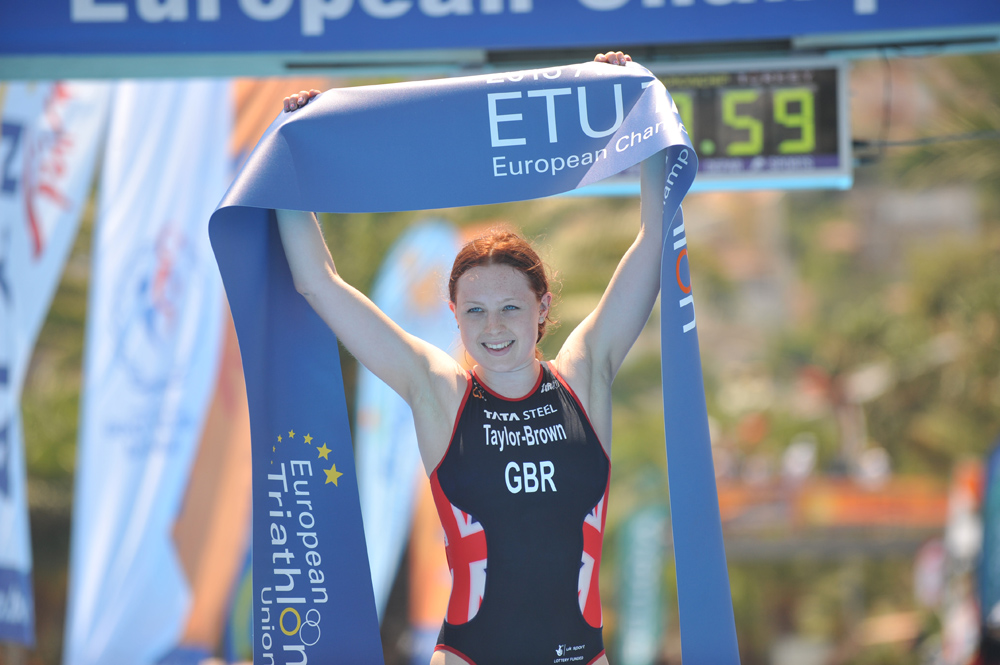 Georgia Taylor-Brown sprinted to glory to defend her European Championship Junior title in the scorching afternoon heat in Alanya.
After a couple of months out due to injury, Taylor-Brown showed no ill effects in what was her first European race this year. As part of a lead group of three entering T2, she left her rivals in her wake to cruise home.
Germany's Laura Lindemann finished second in her first ever European Championships and Italy's Angelica Olmo secured the final podium place, also in her first ever European Championships.
58 athletes dived into the sea to get the Junior Women's European Championship underway. After 750m, Russia's Anastasia Gorbunova emerged from the water closely pursued by Laura Lindemann (GER), Maya Kingma (NED) and Cassandre Beaugrand (FRA).
One by one they trickled out of the sea and only a minute separated the entire field as they headed into T1 and onto the bikes.
After the first bike lap, Lindemann had kept the pace at the front as a lead pack of 13 athletes, including Lotte Miller (NOR), Georgia Taylor-Brown (GBR) and Jeanne Lehair (FRA) held a 15 second advantage over the second group, headed up by Leonie Periault (FRA)
By the end of the second lap, the two packs had formed one –with 24 athletes riding together with Ireland's Emma Sharkey leading the way.
An unfortunate crash on lap 3, allowed Sharkey, Taylor-Brown and Lindemann to seize the initiative and they broke away to head into T2 some fifteen seconds ahead. The advantage was to prove crucial as once on the run, Taylor-Brown clicked through the gears and was never going to be caught.
"I didn't think at all that I was going to win as I've had two months out from injury and have only just started back running," said Taylor-Brown. "But I didn't put any pressure on myself, just told myself to do what I do and it worked out.
"We got a break on the last bike lap, a couple of girls went down, and after that it was just a case of head down and go for it and luckily, I felt alright on the run."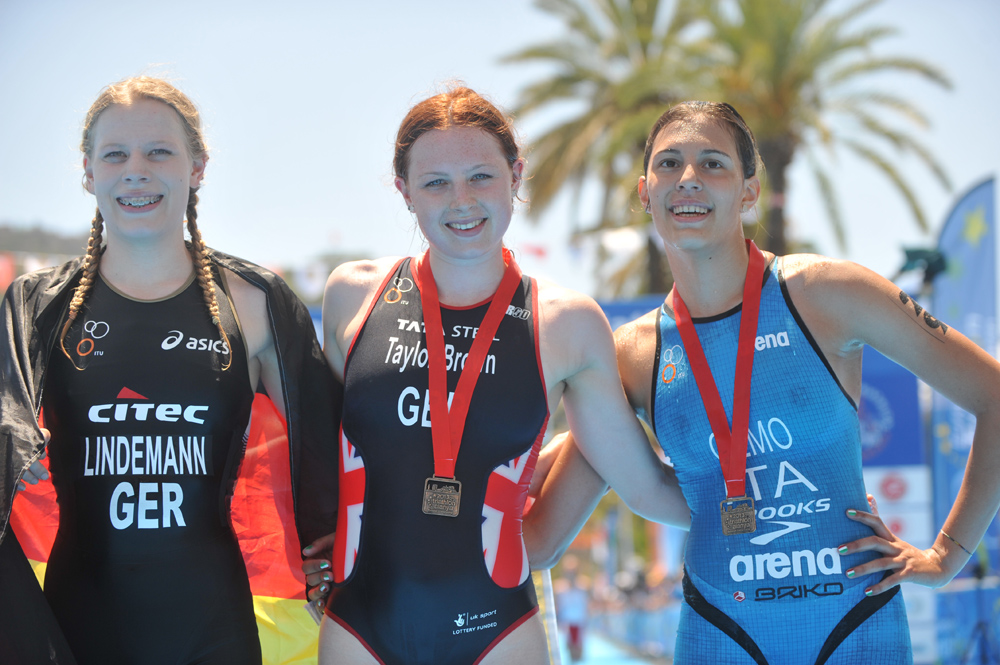 Lindemann performed magnificently, having been in the lead group at every stage of the race, and she was comfortably in second place.
Lindemann said: "It feels really good, I had to work really hard. I am so pleased as it is my first ever Championship."
Behind her the battle was for third place. Sharkey had tired and been caught but Periault (FRA), Miller (NOR) and Olmo (ITA) were fighting for third place.
A sprint finish by Olmo gave her the win and it's only her second ever International podium.
She said: "I am very happy it feels amazing. I could never think that I could get a podium. But I had to work hard, I had to sprint at the end and now I'm really tired but it feels great."
Related Event: 2013 Alanya ETU Triathlon European Championships
Latest
Videos
---
Latest
Event Galleries