NEWS
French athletes are fastest in Cross Triathlon Championships
By Paul Groves
|
20 Feb, 2019
The final review of the 2018 ETU Multisport Festival turns its attention to the Cross Triathlon and what a show it was!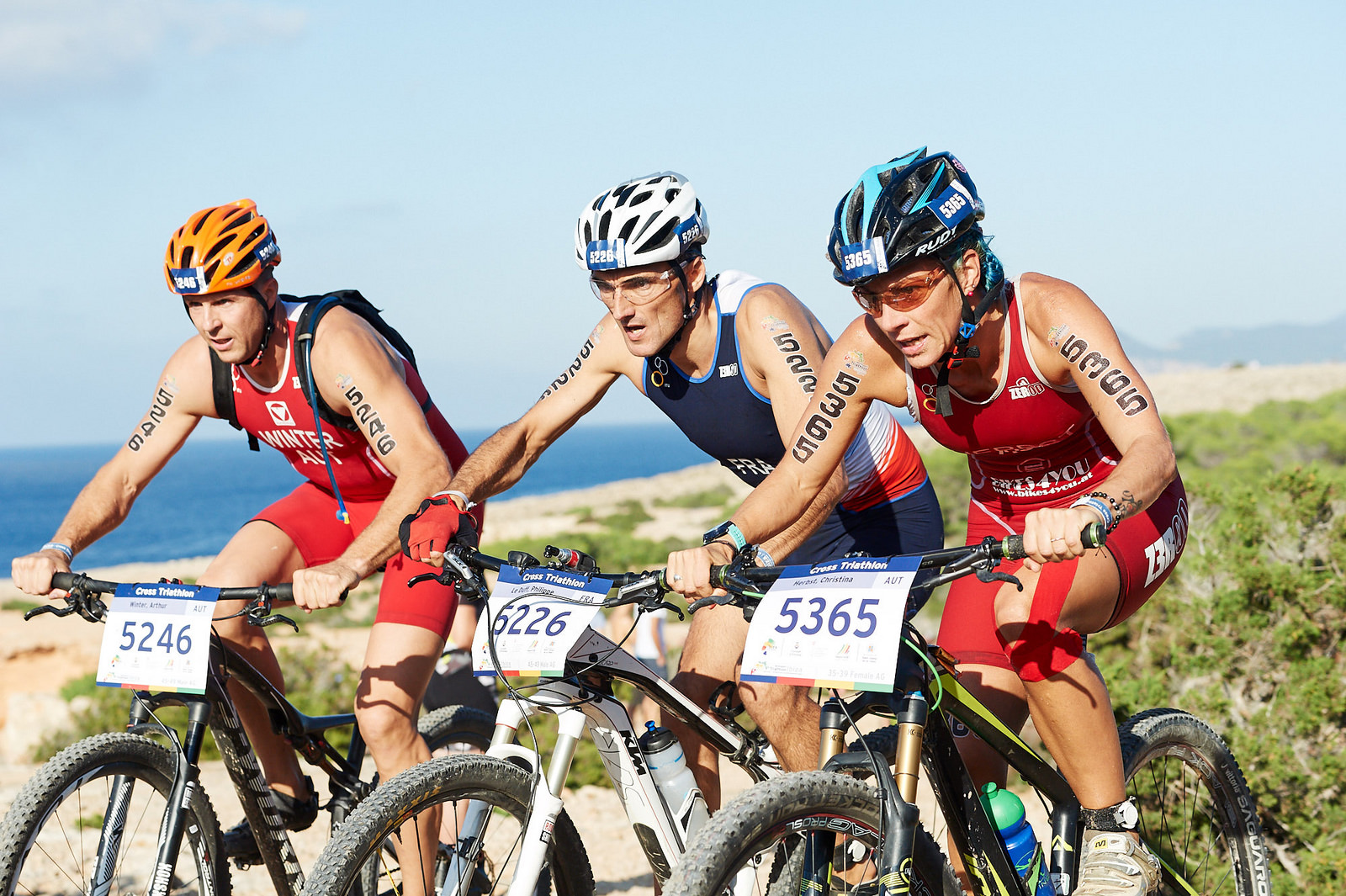 Medal glory went again to the host nation but the Brits were still up there just behind the French in third place. With ten nations taking home medals, the strength and depth of off road racing has again been confirmed and this dynamic addition to the international calendar is surely here to stay. With top-level competition at international level, we need now to see all National Federations hosting qualification events for their Age-Group athletes, so that the sport can grow from domestic racing.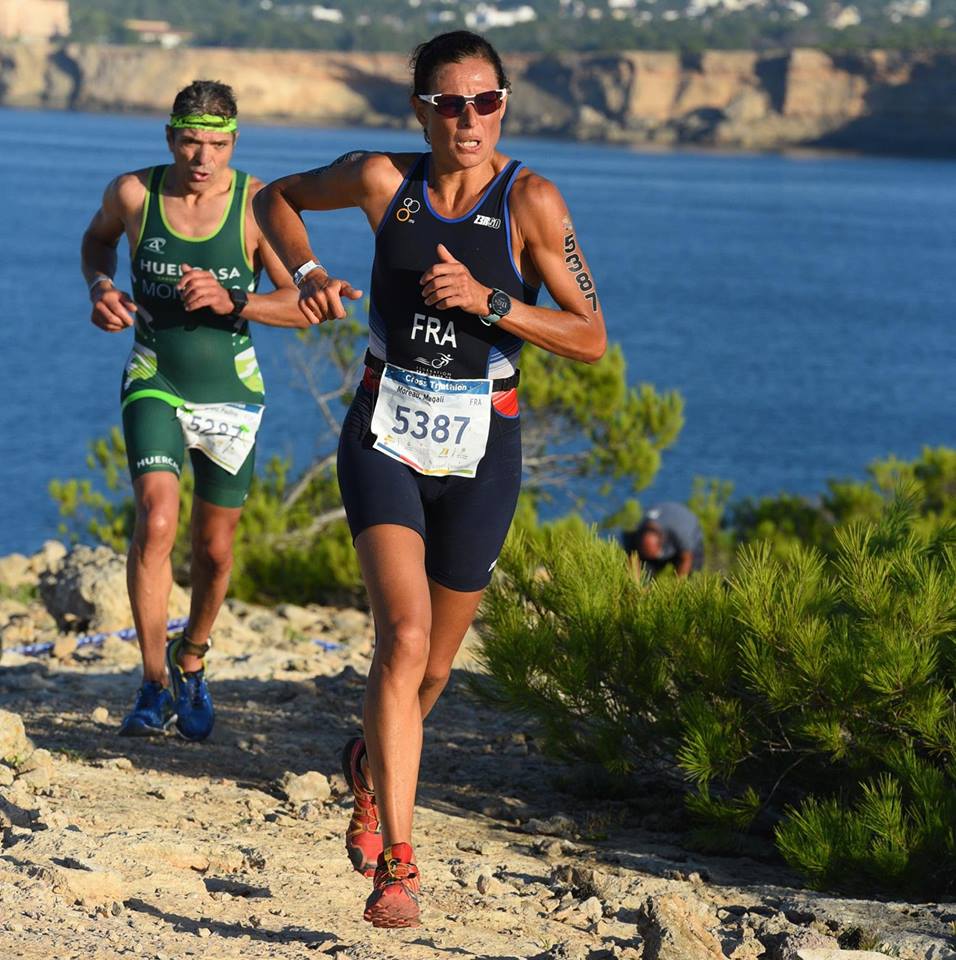 The race proved to be one for the more experienced athletes, with the overall women's victory going to Magali Moreau FRA in the 45-49 category with a magnificent 1:38:21. The men's race was won by Nicolas Durin FRA in 1:26:54, making it a truly impressive victory for Les Bleus.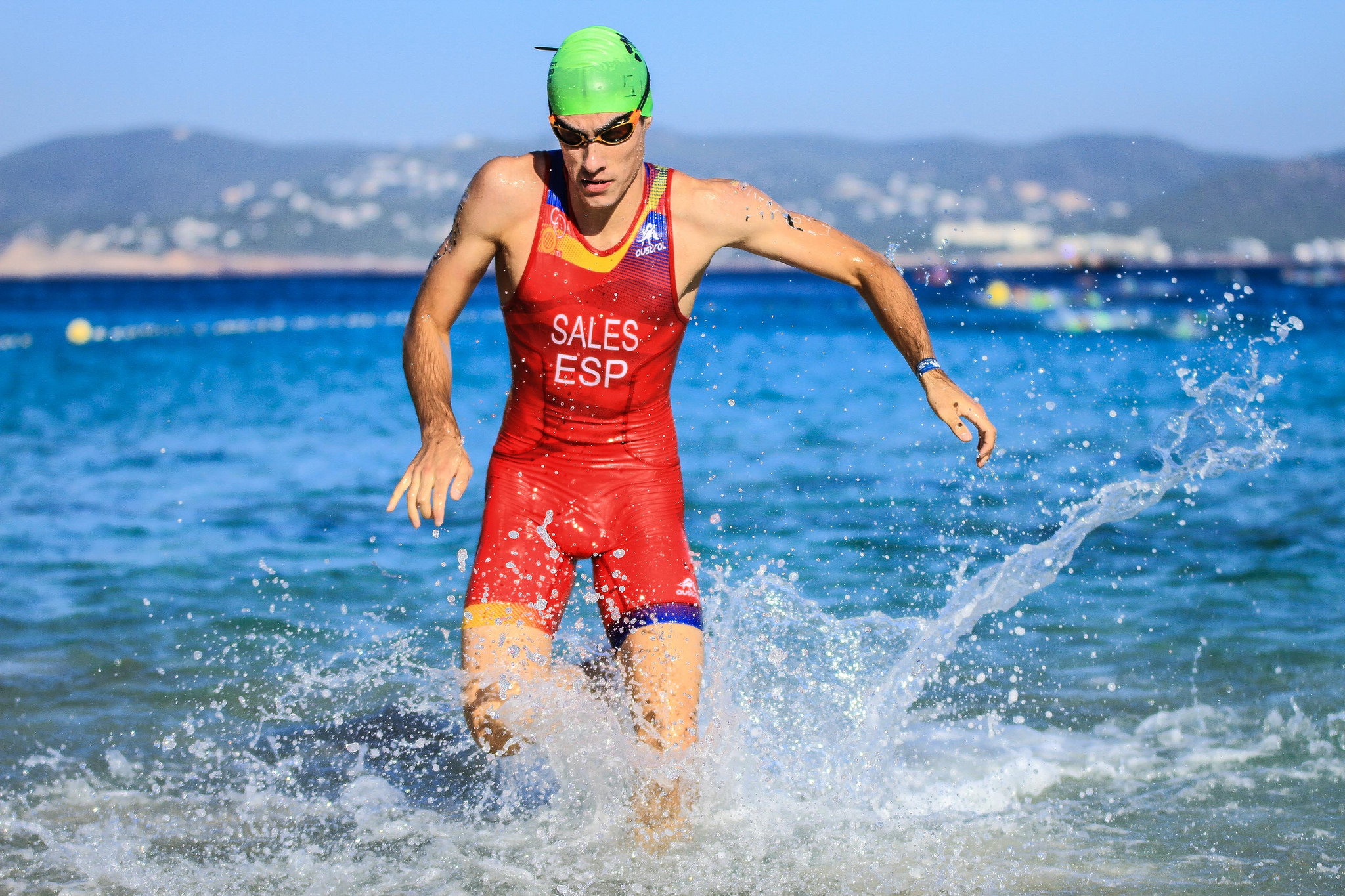 In the youngest category, 18-19, only two Spanish men raced. Once again, opportunities lost there by the host nation and indeed every other nation. Surely there must be female 18-19 athletes who should have been there. Setting that aside, the race for gold was dominated by Daniel Sales Roger. An opening swim of 15:19 saw him set the pace for his challenger, Miguel Esteban Sáez. Both making their international debut, it was a runaway victory and the European title for Sales.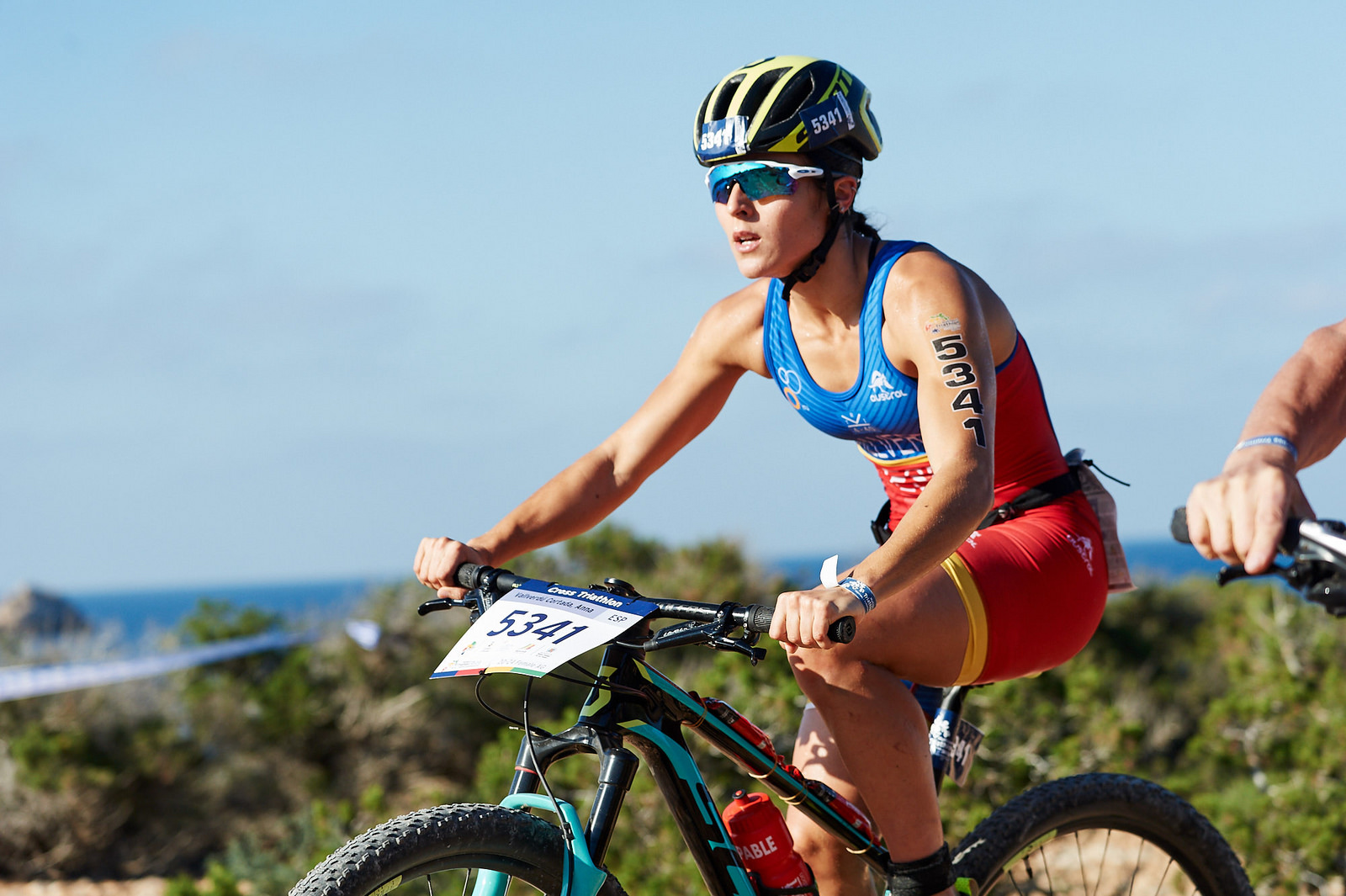 For the women in the 20-24 category, it was more medals for Spain, with Anna Vallverdú Cortada once again dominating. Her visit to the Multisport Festival gave her three victories; Cross-Duathlon, Cross-Triathlon and Duathlon Sprint and with her evident power on bike and run, we look forwards to seeing her defend her titles in Transylvania later this year. From the start she was leading but it was the work she did on the bike that blew away any risk of a challenge. Coming home in silver medal positon was teammate, Maria Hernández Contijoch, whose run pace was just enough to claw back the silver from GB's former World and European champion, Molly Campbell who lost out after having problems in T1.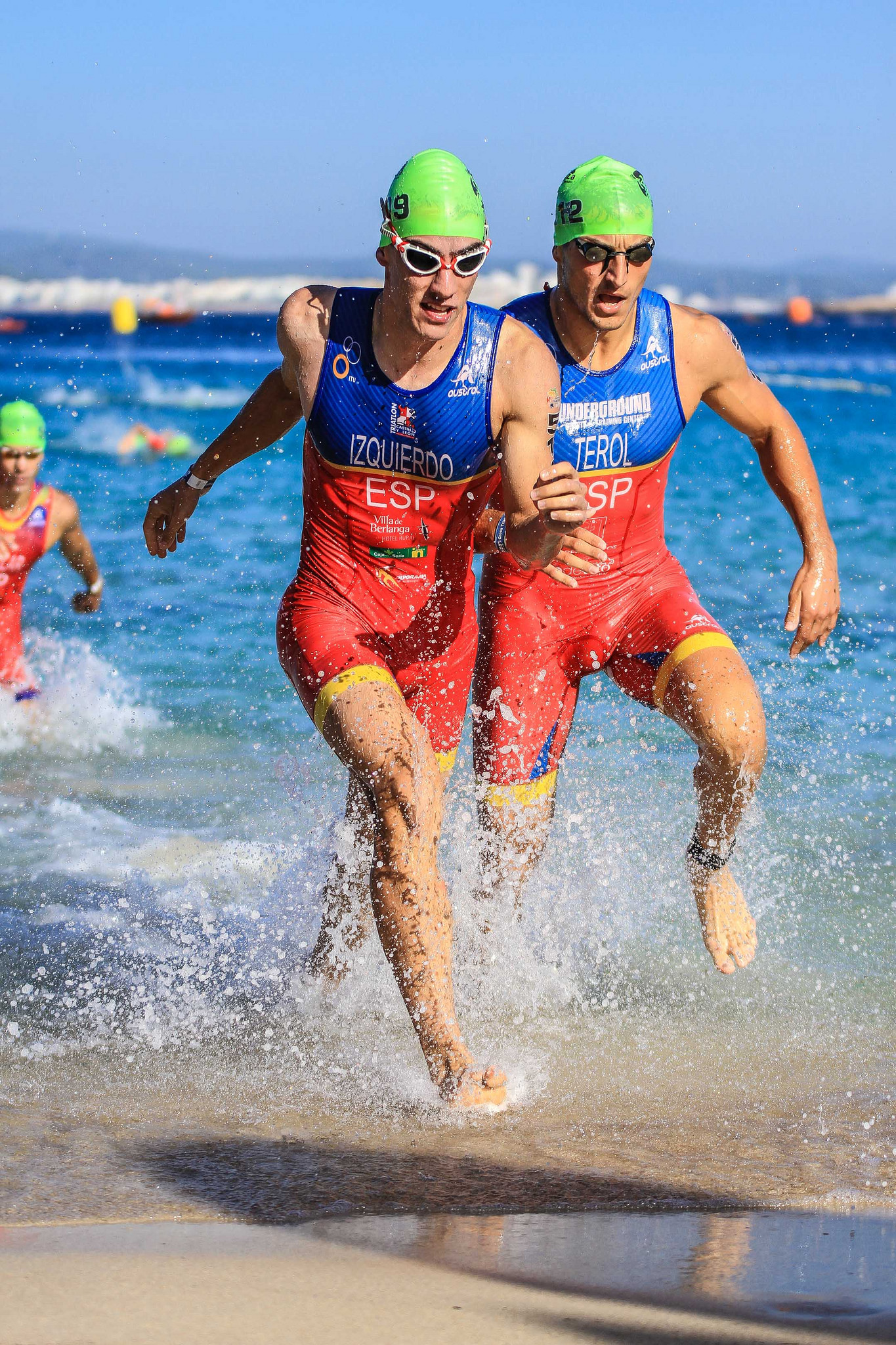 The men's event was a clean sweep for the Spanish, with gold going to Enrique Terol Pérez but it was Great Britain's Joseph Ricciardi who led them out of the water. Speeding through T1 was Terol's teammate, Jaime Izquierdo Alcázar. It was out on the bike that Terol hit hard and established a lead that would secure him gold. Izquierdo worked hard but could not catch the leader and despite his efforts, could not prevent Roger Camprubí Gallet who edged ahead with a fine closing run of 22:18.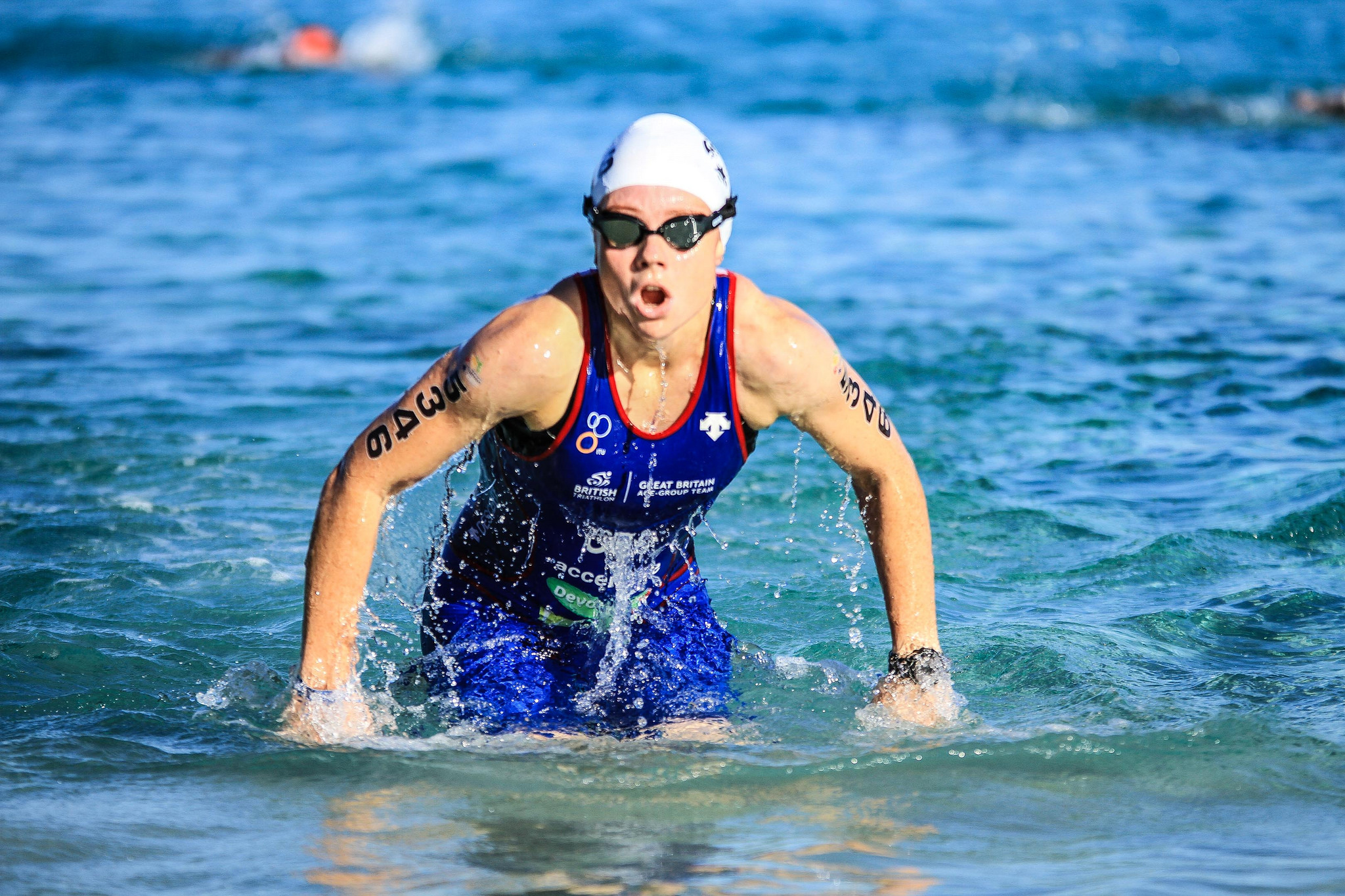 In the 25-29 Age Group, Spain struggled and came away with only one medal. It was GB's Kerri-Ann Upham. Runner up in the 2018 Fyn ITU Cross Triathlon World Championships, she established an early lead in the swim and, holding her lead on the bike, ran easily to gold ahead of Sophie Rodot. Germany's Helena Pretzl, 2018 World Champion was unable to respond to the pace set by Upham and settled for bronze.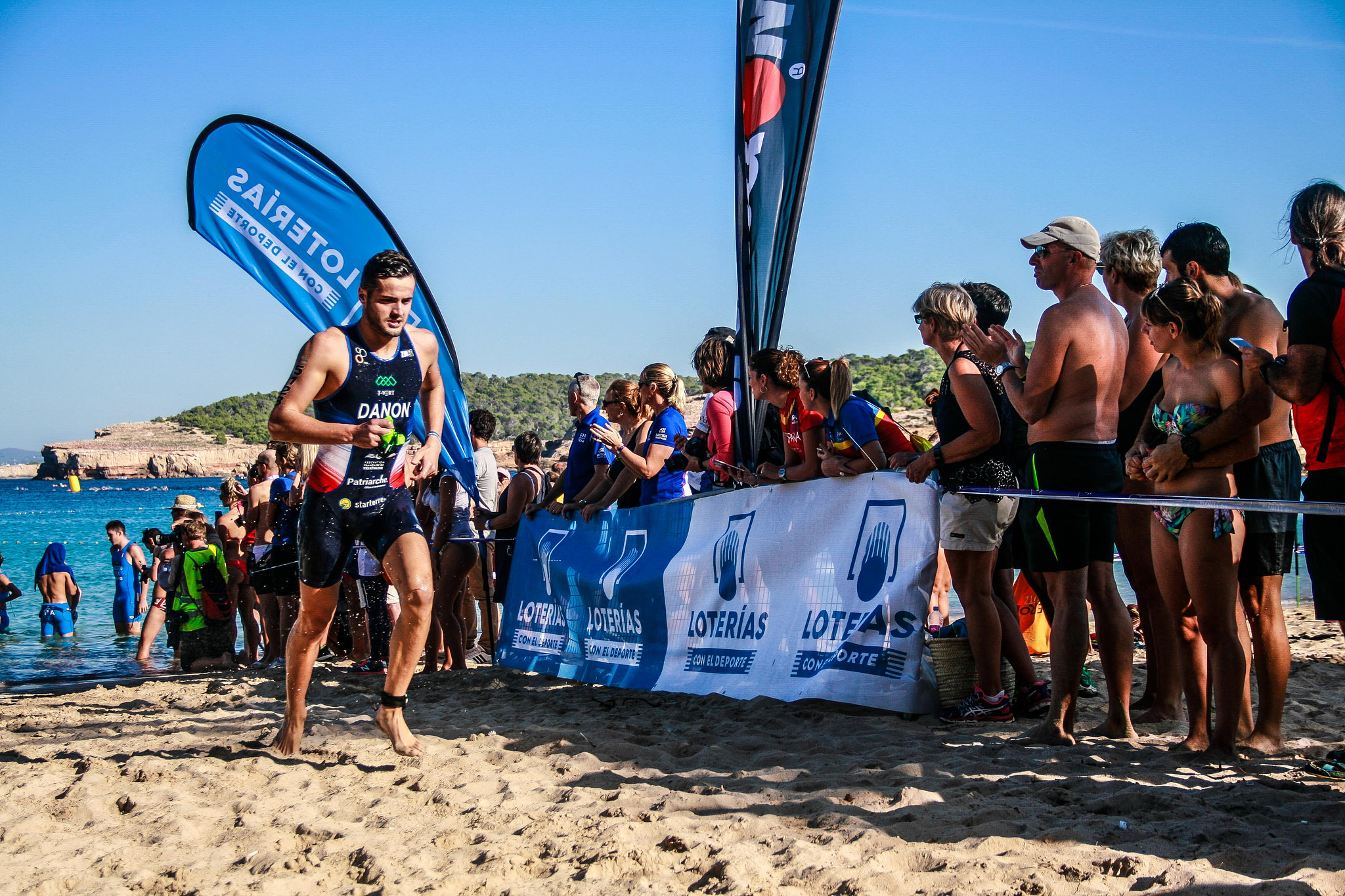 For the men, there was more powerful racing from the French with Pierre Roblot, 2014 & 2016 ETU Champion and runner-up in Fyn powering away in the swim to lead out some 45 seconds ahead of the pack. A good T1 saw him head off on the bike, with teammate, Maxime Danon almost a minute down. Danon was amazing on the bike and posting a 47:05 split, he caught the leaders before T2. He was able to ease off the pace on the final run and cruise home to victory, with silver going to Roblot, who held off an attack on the bike from Juan Diego Moreno Rodríguez.
In the next category, the 30-34 Age-Group, it was France once again that showed strong, with Emilie Attanasio cruising to victory despite a spectacular fall on the bike course. Winning her category, she was also 3rd finisher of all Age Group women. It was Spain's Isabel González Fuentefría who led them out of the water, but a slow bike gave the chance to Britain's Emily Harper, runner up in Târgu Mureș in 2017, to pass her and focus on the final run. Gold to France, silver to GB and bronze to the hosts.
Looking back on her year, a year full of top results, Attanasio had time to thank those closest to her, "Merci bcp coach Anthony Rabeau qui m'entraîne depuis début 03/2018 avec succès. Merci à mon homme qui me soutient tout au long de l'année ainsi que ma famille qui m'a accompagné sur certaines courses! Merci à mes co-équipières de Club qui ont contribué à tous ces podiums et classements : Magali, Margareth, Léa, Coco, Maguelone, Delphine, Sab et Sandrine! Merci à mes collègues de club pour les entraînements communs, merci aux coaches natation et CaP du Waimea, Ainsi qu'aux sponsors du Waimea! Rdv en 2019 !!! - Big thanks to my coach, Anthony Rabeau who has been training me since the start of March, 2018, with some success. Thanks to my husband who has supported me during this long year as well as my family who have accompanied me to some of the races. Thanks to me teammates who have contributed to the podiums and results: Magali, Margareth, Léa, Coco, Maguelone, Delphine, Sab and Sandrine! Thanks to my colleagues at the club for the training sessions, to the swim coaches and CaP du Waimea, as well as the sponsors for Waiema! See you in 2019!!"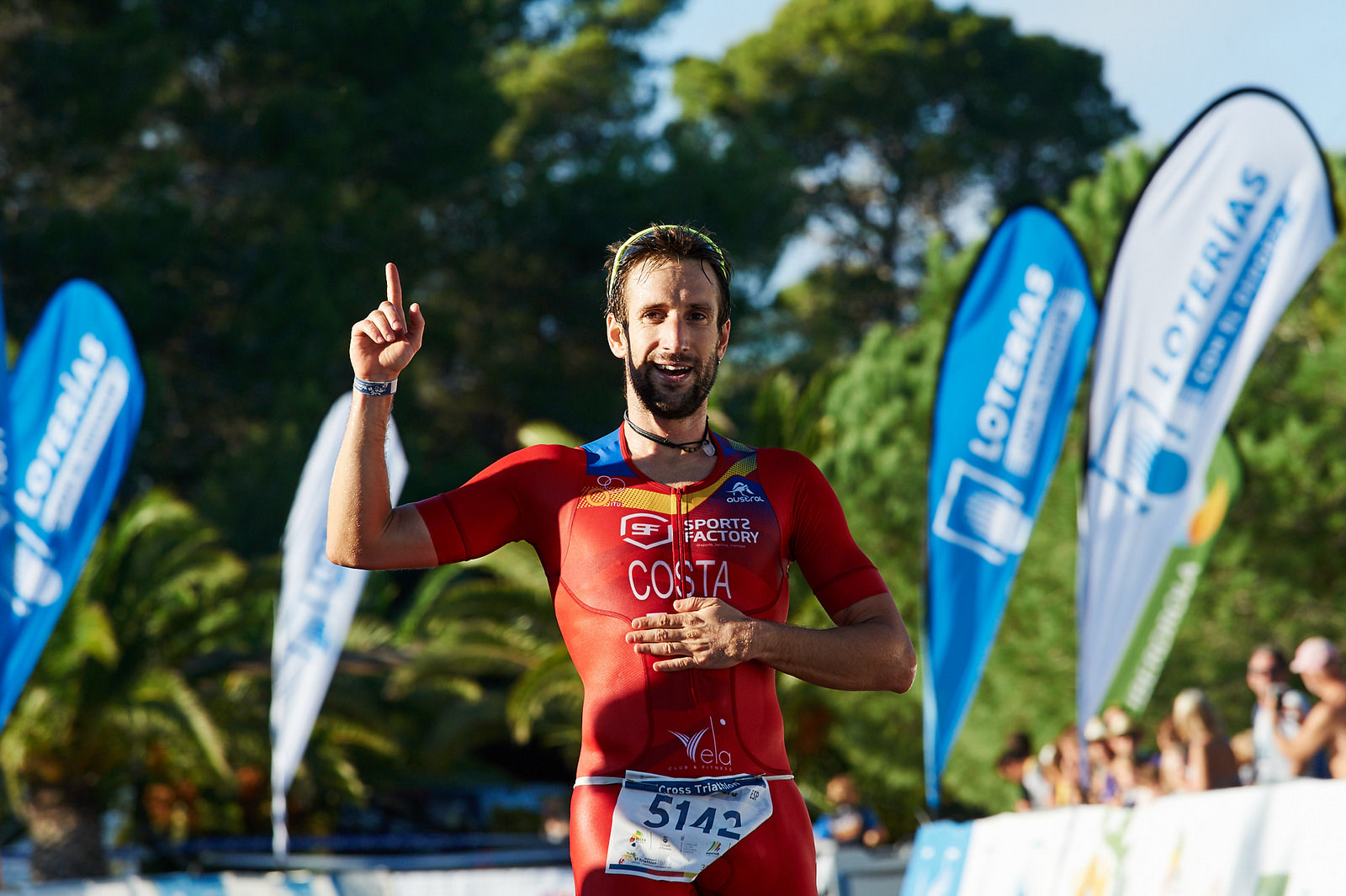 Leaving Ibiza with two titles is impressive. When they are for two completely different events. Ricard Costa Puigpelat ESP, did just that, with the Cross Triathlon serving as a warm-up for the Middle Distance event a few days later. His swim was not nearly as fast as that posted by GB's Scotland-based athlete and level 2 accredited triathlon coach, Ruben Villalain. Bronze medal winner in Fyn, he blew the swim apart, exiting the water in 14:18 but being unable to match the Spaniard's power on the bike. The Brit then had to watch as Octávio Vicente sped past on the final run.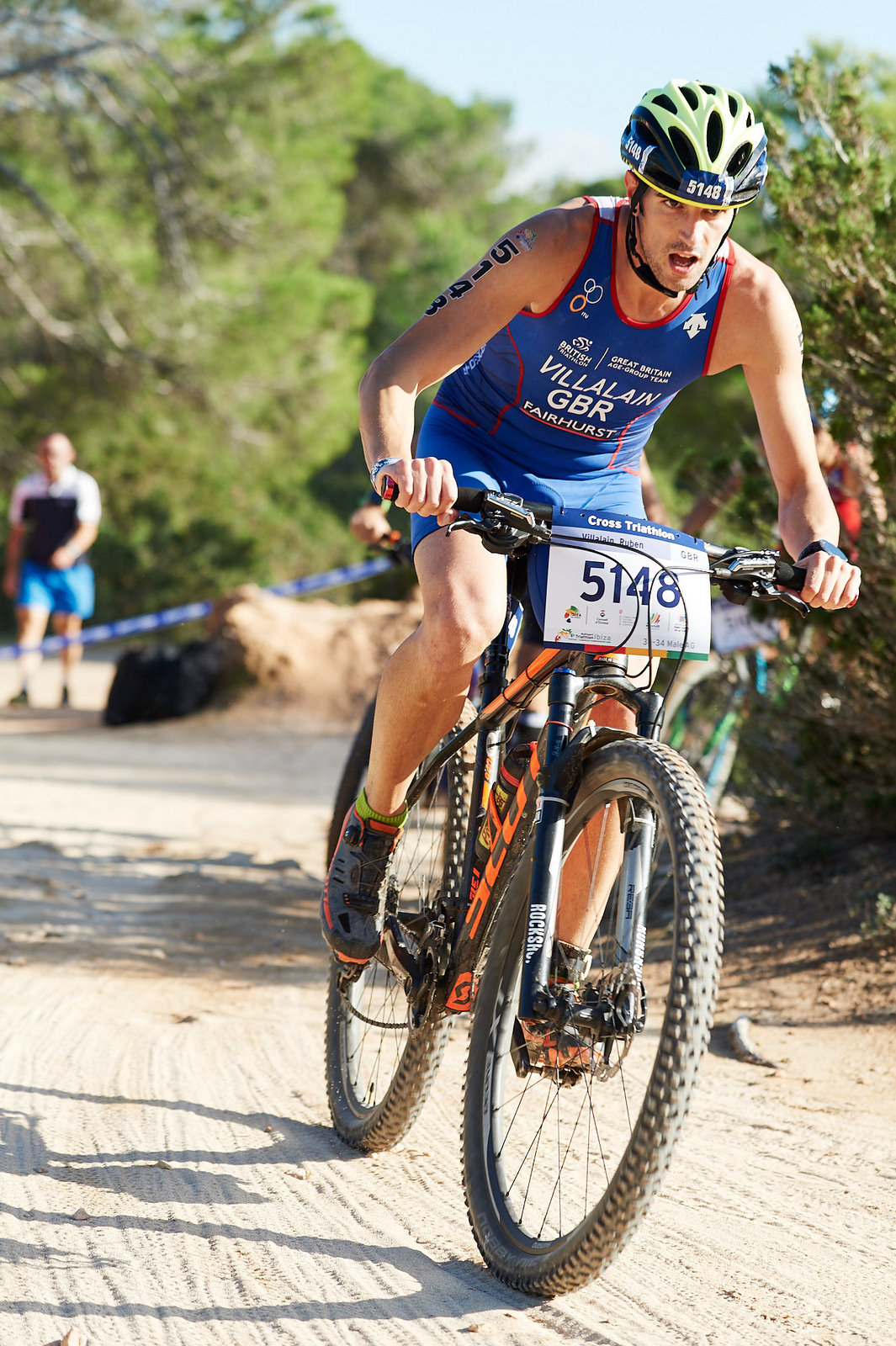 After the race, Villalain spoke about his plans, "Can't ask for a better end of the season. 3th place (30-34) at the2018 Ibiza European Cross Triathlon Champs. It has been a long season but also the best since I started doing triathlon 4 years ago. Huge thanks to @sharita_88 who got an amazing 5th place and is always supporting me along the road. Also a massive thank you to all other friends and family supporting us, making these little adventures so good. Time now to have a well-earned rest and start thinking about next year."
For Vicente, "Vice-campeão da Europa de Triatlo Cross (30-34 anos). Fecho assim mais um capítulo. Obrigado a todos os que me apoiaram ao longo deste ano. Com tudo ou nada incluído, Vamo nos vendo por aí. Vice-Champion of Europe of cross triathlon (30-34 years). I close another chapter… Thanks to all who supported me throughout this year. With all or nothing included. See you around."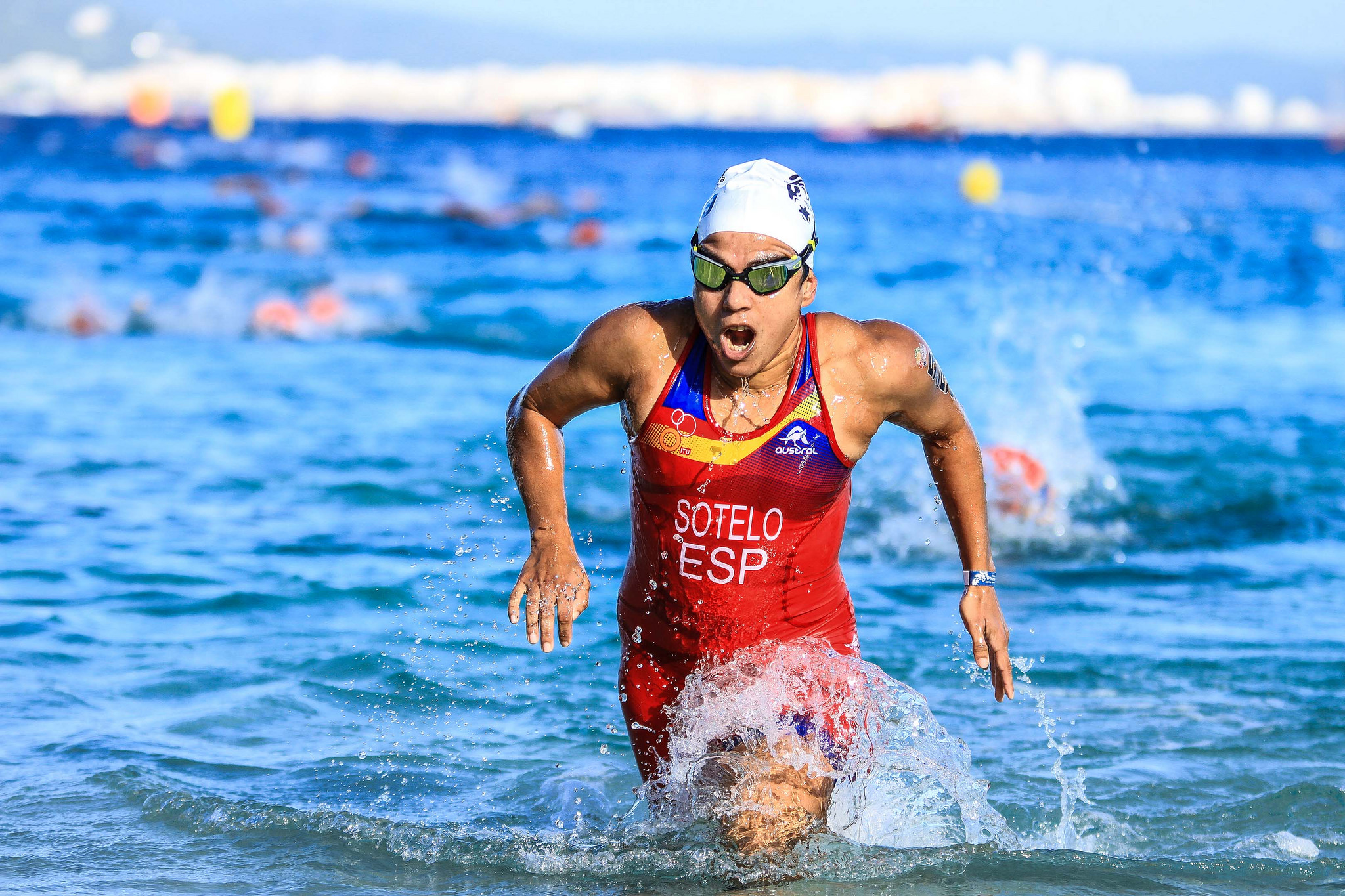 Germany's defending champion, Sara-Diane Gorges had picked up a bronze in Fyn and was the clear race favourite but an amazing opening swim from Spain's Krist Eliana Sotelo Reynoso, winner earlier in the week in the Aquathlon, stunned the crowds. Leaving the water in 15:31, she was way ahead of the pack. Gorges had to dig deep and powered away on the tough bike course to catch and overtake the Spaniard, who had earlier watched Miriam Gerber SUI speed past on two wheels. The Swiss athlete had a faster swim than Gorges and it looked as if the deciding attack would be on the run. Losing valuable seconds in T2, Gorges ran her heart out trying to catch Gerber but just missed the title by less than 20 seconds. Sotelo, sharing exactly the same finish time as Elisa Nardi ITA, winner of the Cross Duathlon title earlier in the week. For Gerber, this victory was a clear signal of her strength and she went on to take the 2018 XTERRA Euro Tour F35-39 Champion title as well. A hugely successful 2018 for the Swiss athlete.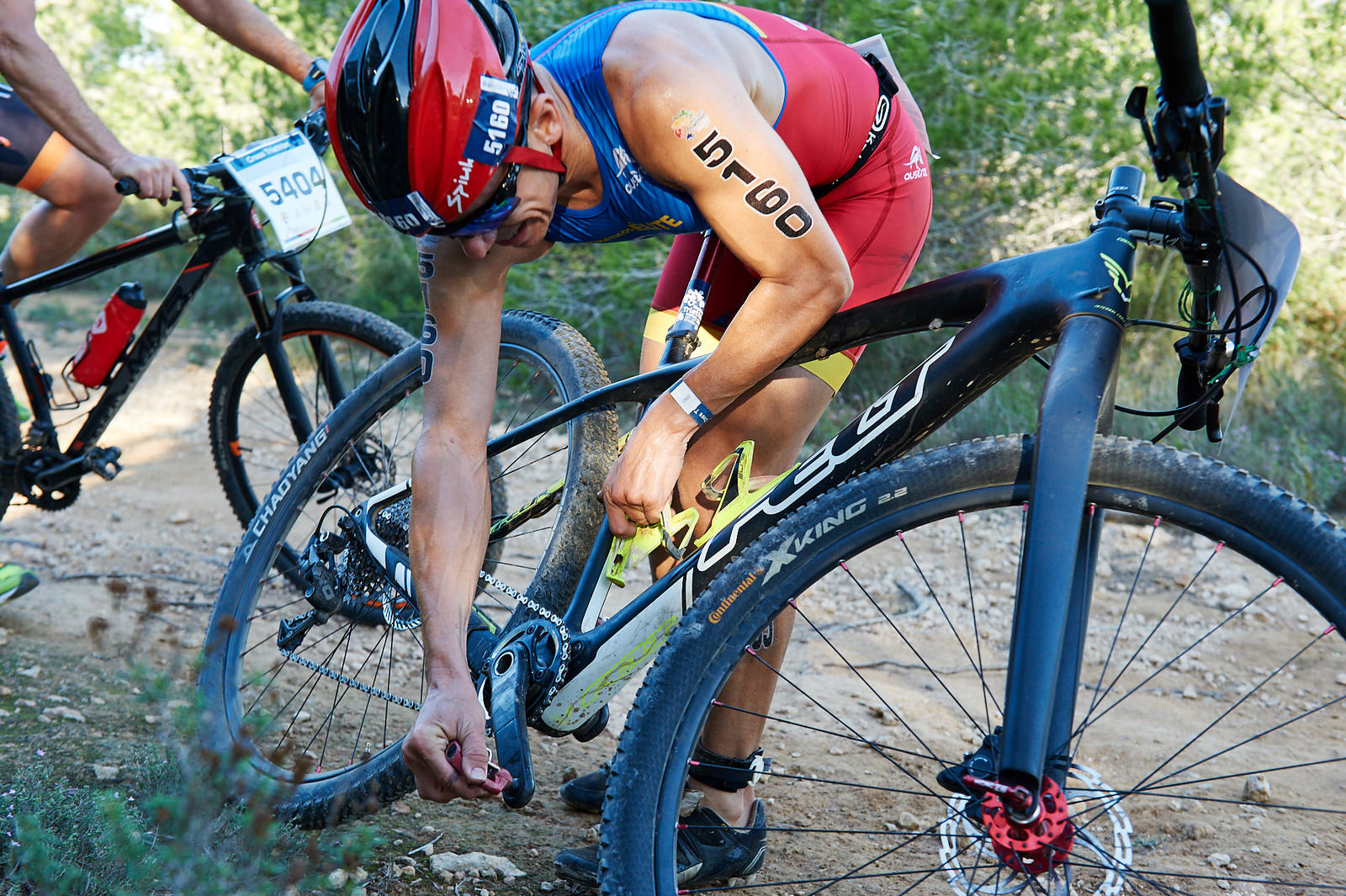 The men's race was not so tight at the front end and victory went to Czech athlete, Jan Hron. The swim was led out by two Spanish athletes, with Noel Reyes Cordero just a few steps behind his teammate, David Rodríguez López, who clocked 14:32 for the swim. Hron was neck and neck with another Spaniard, Juan Andrés Cano Cuevas but edged ahead in transition only to battle it out on the bike course. The pair soon established a lead in the category and with Cano heading out onto the run first, it was up to Hron to put his foot on the accelerator and play catch-up over the closing run. His pace was too much for Cano and it was gold and the title for Hron. Cano, stronger on the bike, held only silver ahead of Reyes.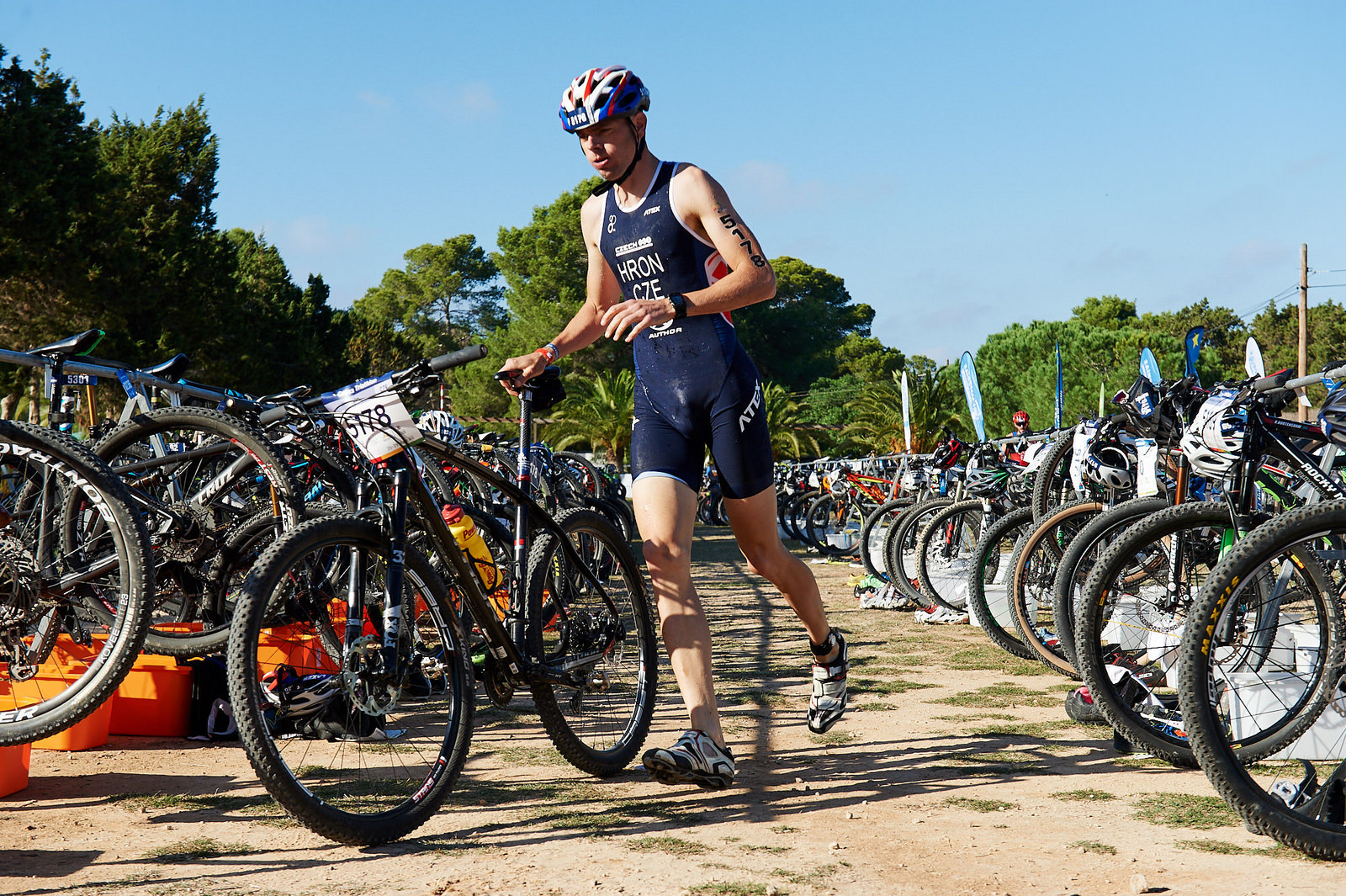 For the Czech readers, this news article makes a good read. Click here for the link.
It was gold to Germany in the 40-44 category, with Birgit Unterberger beating the ghosts that saw her DNF in the Cross Duathlon. With a 36:36 pb for 10k, an accomplished athlete on the duathlon circuit, Ibiza was her first outing on the ETU / ITU Circuit and with power like this, we look forwards to seeing her race some more. A standout performance that meant that gold was hers and that the remaining medals had to be fought over almost ten minutes back. Silver went to Great Britain's Rachel Clay, a former bronze medal winner in Kijkduin. Bronze was a close thing, with Spain's Teresa Pons Munill, Cross Duathlon champion, hanging on somehow to the final medal despite a fantastic closing run from Claudia Wilesmith GBR, who missed out by just three seconds.

Having won the title in Sardegna in 2015, it was France's Nicolas Durin who posted the fastest men's time of the race, stopping the clock at 1:26:54. A truly impressive 45:39 on the bike was the foundation for this victory that gave France not only the men's win, but the category title and gold medal. Teammate, Johann Mathis claimed silver ahead of Spain's Albert Torres Carles. Click here to see Durin's attack on the bike.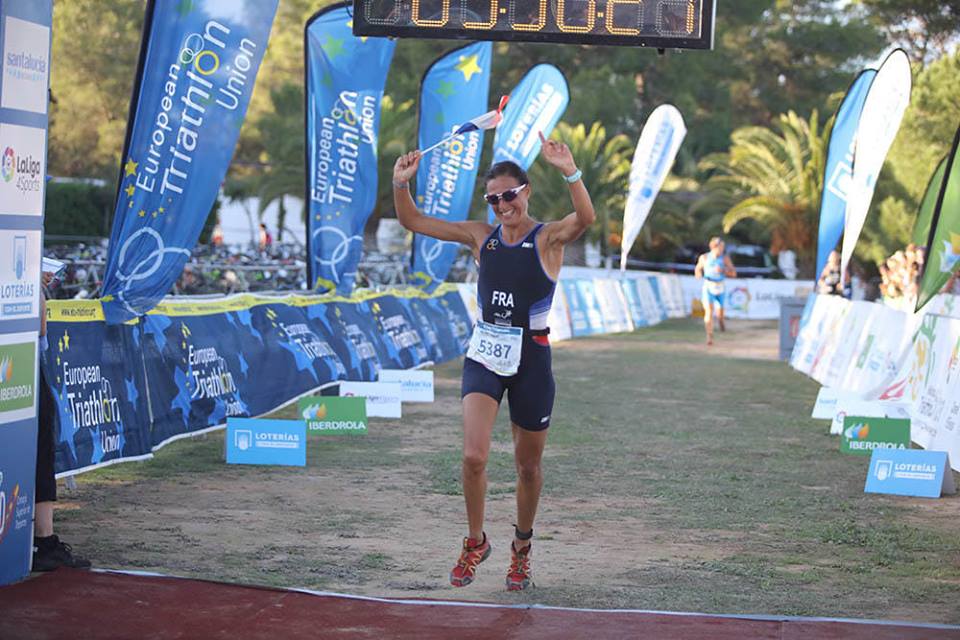 It was an overall victory for the ITU World Champion, Magali Moreau FRA in the 45-49 Age Group. The clock stopped on 1:38:21. Her victory here was similar to her domination in Fyn, with Spain's Maria Jose García Álvarez chasing. With the World Runner-up, Claire Hitchings absent from the start line, following a DNF in the Cross Duathlon, we had the two world medal-winners looking for a third member for the podium. It was García who led them out of the water, with GB's Victoria Wilkinson former ITU Long Distance and ITU Cross Triathlon champion, with victories in Canberra and Kijkduin. She was a stride ahead of Moreau entering T1 and swiftly headed to the mount-line. García was still some distance ahead but Moreau set about applying pressure on the bike and soon had the Spaniard in her sights. Catching, overtaking and pulling away, the title was won on the bike. Wilkinson dug deep but could not find that extra gear to catch García but with a superfast T2 and then almost sprinting around the run course, she came oh so close to the silver. As she hit that last turn, it was only three seconds that kept her back in the bronze medal slot. For Moreau, it has been a long season but to close it in Ibiza, with the whole family there was a magical moment, "près de la ligne j'aperçois mes filles mes parents les parents d'Anton..waouhhh ! Gros moment d'émotions c'est la première fois que tout le monde est là pour une telle course et je franchis la ligne avec Anton au bout…ça y je suis championne d'Europe… Emilie Attanasio arrive en 3e place…juste énorme. Close to the finish line, I see my daughters, my parents, Anton's parents … wow ! Massive emotional moment, it's the first time that everyone is at the finish for such an event and I cross the line with Anton at the end … there you are, I'm European Champion. And Emilie Attanasio crossed the line in 3rd place overall – amazing."
Defending champion Gianpietro De Faveri ITA opened the account with a dominating swim of 13:35 to ensure that the rest of the men would have to dig very deep if they wanted to challenge him. He lost no time in transition and was soon on his own on the bike. Behind him Jeff Satge FRA runner up in the Cross Duathlon a few days earlier, put in a fine performance on the bike but even with a quicker split than the Italian, made no real impression on the lead. A spirited run from Giovanni Maiello newly-crowned Cross Duathlon champion, was not enough to challenge for silver and so it was that Italy enjoyed two medals and France collected yet another gong.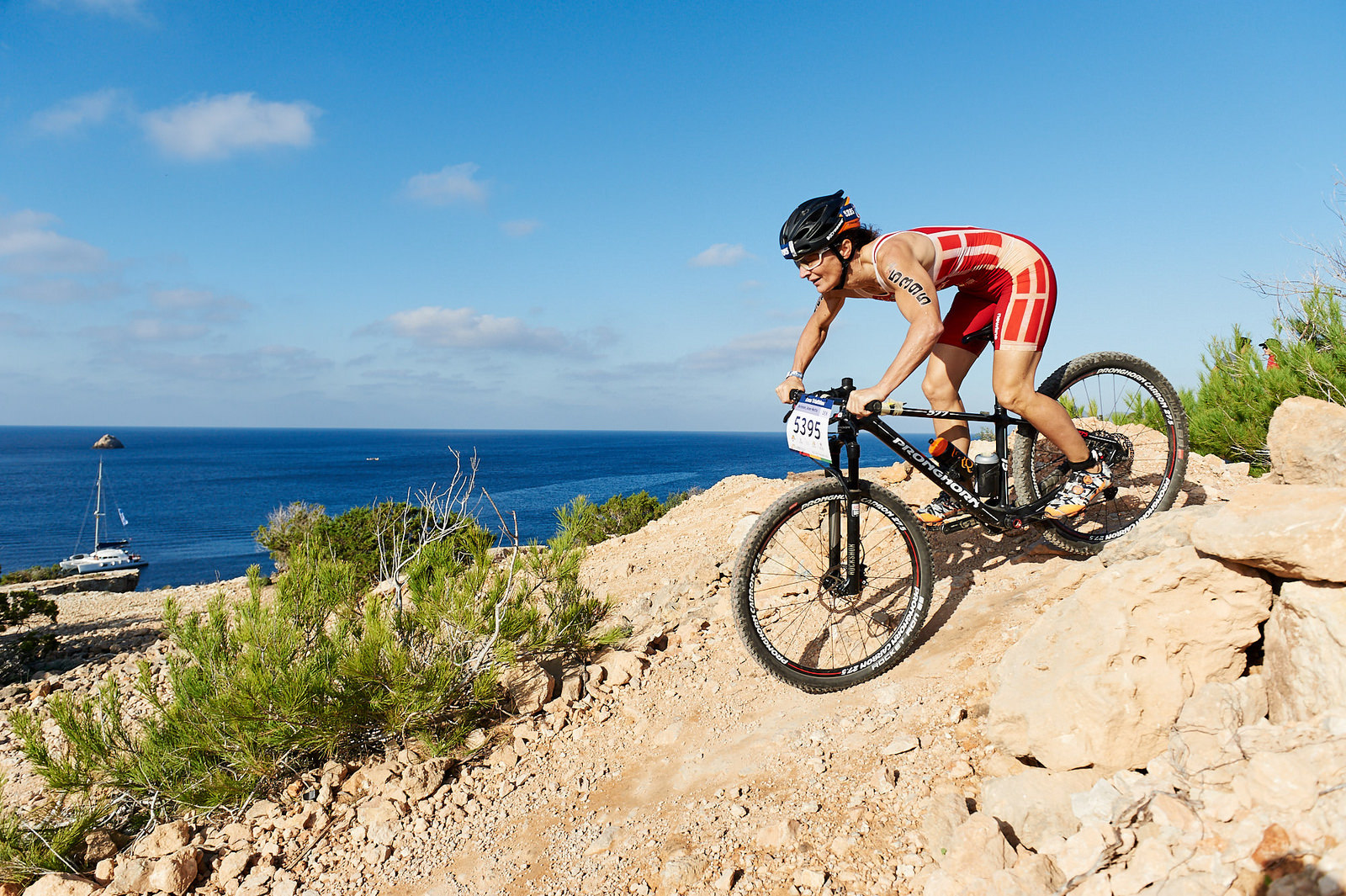 Denmark collected its only medal in the race with Anne-Mette Mortensen putting in an unbeatable run to overtake Spain's Inmaculada Sánchez Belis. When Sánchez last raced here, she won the title but that was 2007 and despite her initial lead in the swim, she was no match for the Dane whose run pace was electric. Bronze went to Claire Jolly.

The reigning world champion from the Czech Republic, Tomáš Klimek had every expectation to make this event his win but losing time in T1 and then seeing Frenchman Stéphane Carron speed past on the run must have been a shock. Having beaten the Frenchman in Fyn in all three disciplines, the nine seconds advantage that Carron created will haunt the Czech. Bronze went to Germany's Jörg Schneider, giving him now three bronze medals with those collected in Zittau and Schluchsee. Carron's victory here shows his depth and strength across disciplines, with his victory in 2014 in Cogne over the run, MTB and ski format.
The last of the categories with women racing was the 55-59 Age Group. Great Britain had none other than the Age Group Director, Nicky Dick representing. She had been a motivational ball of energy all week and had already collected a title in the Cross Duathlon event. Gold and another title to GB.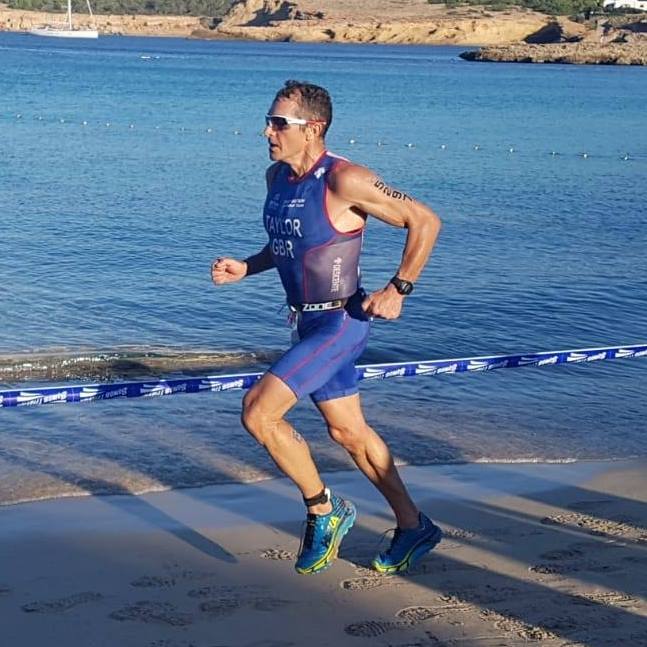 For the men, it was also to be a British athlete taking the title but Simon Taylor did not come to the race as a World or European Champion. The reigning world champion in this age group is Robert Moore and he was immediately put under pressure by Taylor and by Francois Consentino the French runner up in 2017 for the Cross Duathlon and bronze medal winner for the Cross Triathlon in Târgu Mureș and runner up in Fyn. It was Taylor who dominated in the swim, exiting the water well ahead of his teammate. No looking back on the bike and he had a clear run to the finish-line, the title, the gold medal and bragging rights, with a convincing victory. Moore dug deep and delivered a strong bike leg, to close with a run that would secure him silver ahead of the Frenchman.
In the 60-64 category, the great Peter Naegeli, with the enviable race stats of 6 starts, 5 podiums, five wins, was a clear favourite. Perhaps fate and circumstance might favour Yves Le Nouaille on his birthday. Runner up in Fyn, it would have been icing on the cake if he could beat the Swiss athlete. Into the mix was Dutchman, Rob van Zanten but with a 15:44 swim, it was Naegeli who went straight into the lead. A lightning-fast transition gave him more of an advantage but out on the bike he was unable to increase that lead as behind him Le Nouaille was powering along on two wheels and looking as if he would catch the Swiss athlete. It was a close call but T2 gave Naegeli more of a lead and the final run was easy enough for him to hold on to the title. Le Nouaille had passed van Zanten on the bike but knew the Dutchman's running would be strong. Despite posting a superfast closing run, it was bronze for the Netherlands. After the race, with Swiss economy and efficiency, Naegeli said, "A day at the European Cross Triathlon championships in Ibiza…. Swim very fast, bike in a solid way, and run quick and steady, resulting in European Champion Title… Really happy with this!"
From Russia, the defending champion, Sergey Geydrikh, winner of both Cross Duathlon and Cross Triathlon titles in 2017, had placed 4th in the Duathlon and would go on to claim a top ten finish in the Middle Distance Championships in dreadful weather later in the week. He was the man to beat in the 65-69 category and he started to apply pressure at the very start with the fastest swim in the age-group. Out on the bike and it was Italy's Corrado Capelli runner up in Sardinia at the ETU TNatura Championships, who was impressively fast. Easily 6 minutes faster, he pushed past the Russian and had only GB's Colin Hunt to contend with. This year had seen Hunt's preparation and racing all come together and his silver medal in the Cross Duathlon showed that he had the finish that was needed for such a tough course. His 32:40 was not quite enough to catch Capelli but it secured him his second silver, with Geydrikh taking the bronze.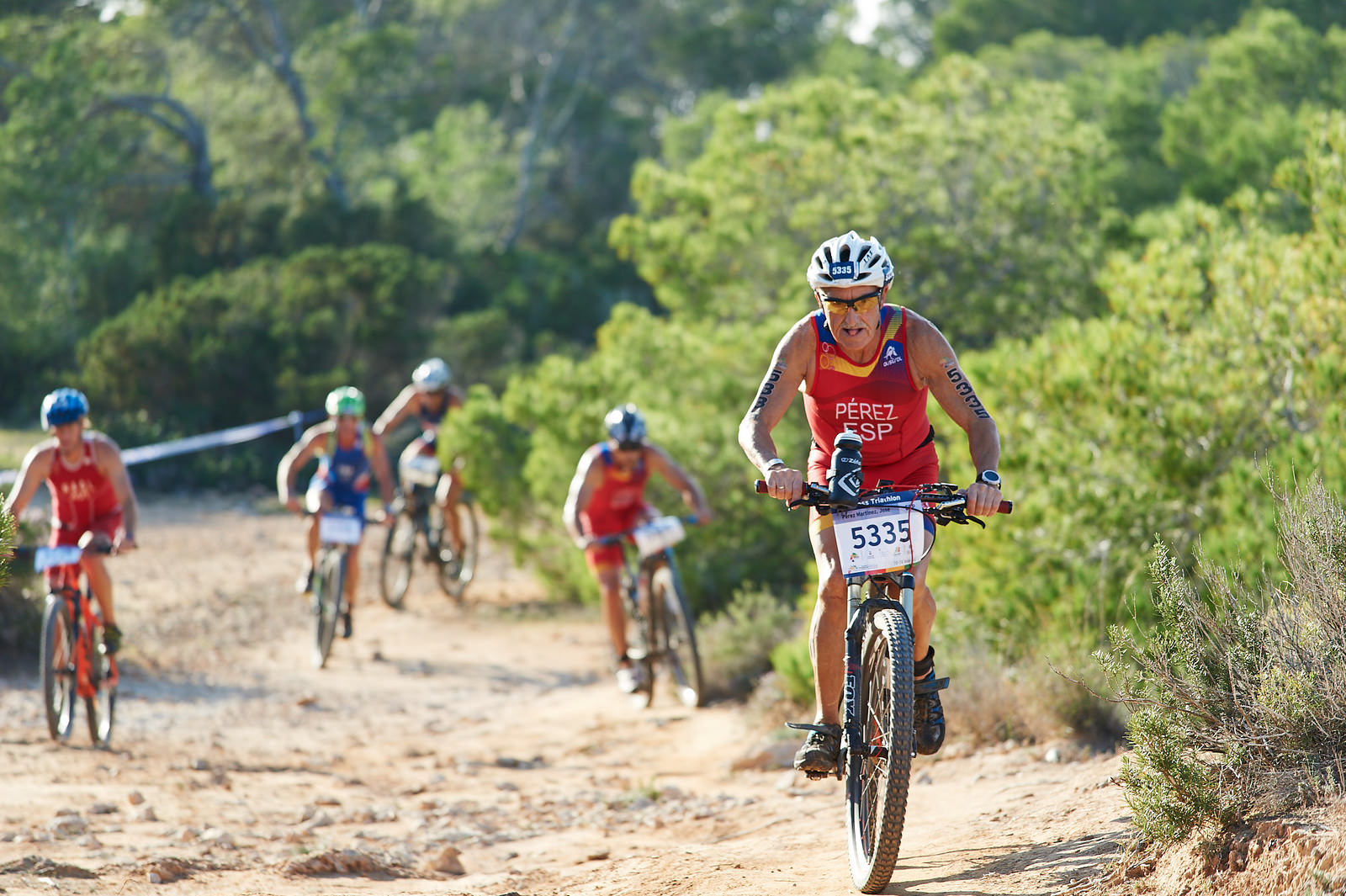 In the final age-groups, the athletes were led by Great Britain's William Hammerton. The European and World Champion had already claimed a bronze in the Cross Duathlon Championships and was making plans for an appearance in February at the ITU Asiago Winter Triathlon Worlds. However the multiple World and European champion suffered out on the bike and watched as the reigning Cross Duathlon champion, José Pérez Martínez stormed past on the bike section. The 52:24 bike split would ensure that the Spaniard got gold. Heike Wannewitz GER, was next strongest on the bike and had worked his way through the pack to overtake Hammerton and hold on to the silver medal slot despite a final surge on the run from Italy's Romano Simi, whose 33:55 run was easily the best.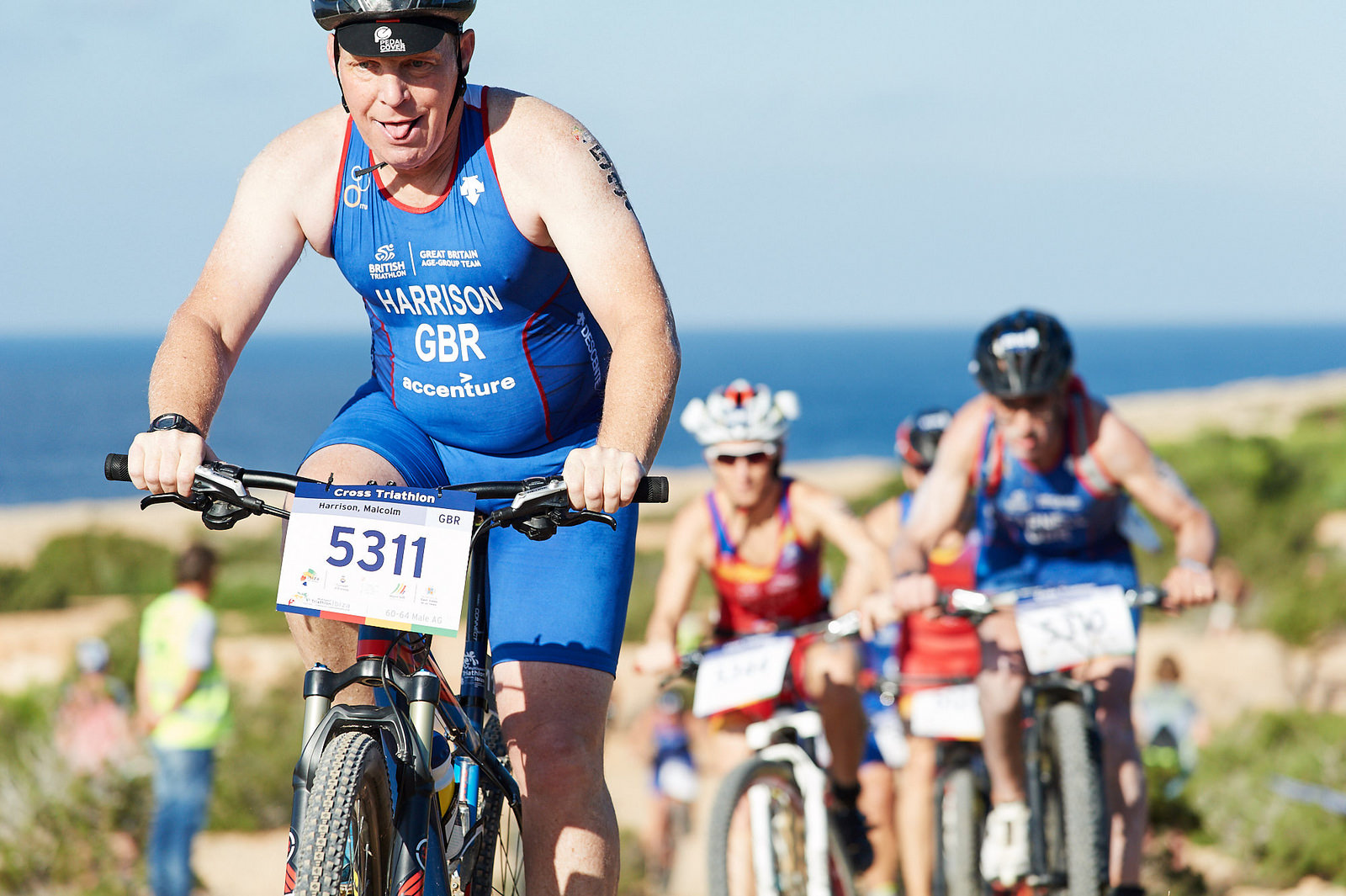 A special shout out goes to a British athlete who won no medals. He raced in both the cross events but got as many cheers, perhaps more, than the winners. Malcom Harrison, GBR later shared his story, "I completed my first Triathlon in 1991, the following 25 years I've completed everything from Sprint to Ironman, Relays to Tandem Tri and BTF Level1 Coach – well almost everything … I still had not represented GB at age group. 2017 and the target was to qualify for the GB Team at Sprint distance. Everything was looking good, I picked up a few trophies in the 60-64 category, feeling fit and healthy but in April a routine health check up at the doctors included a blood test that showed a PSA 26 (2009 PSA was 1.9). 'Malcolm – you have prostate cancer'." Click here for the video.
True inspiration – a true hero!
Click here for the photo albums.
With the final medals presented, the Cross Triathlon Medal table looked like this.
| | | | | |
| --- | --- | --- | --- | --- |
| | | Gold | Silver | Bronze |
| ESP | | 5 | 6 | 7 |
| FRA | | 5 | 5 | 2 |
| GBR | | 3 | 4 | 3 |
| ITA | | 2 | | 2 |
| SUI | | 2 | | |
| GER | | 1 | 2 | 2 |
| CZE | | 1 | 1 | |
| DEN | | 1 | | |
| NED | | | | 1 |
| RUS | | | | 1 |
---
Article gallery
Related Event: 2018 Ibiza ETU Cross Triathlon European Championships
Latest
Videos
---
Latest
Event Galleries