NEWS
Final race in Funchal - showdown for the ETU Rankings
By Paul Groves
|
18 Oct, 2019
This weekend sees the last race of the long ETU 2019 season and a chance for some really intense racing as athletes grab the final points in the ETU Rankings Series. With double points up for grabs, the start lists look mightily impressive.
Both races take place on Saturday but before we look at who might be on the podium, let's add a bit of spice to the mix and see how the rankings stand.

The race is over the sprint distance. A sea swim (fingers crossed for a non-wetsuit swim) and a technical, hilly bike ride is followed by a flat run.

For the Athletes' Guide, please click here.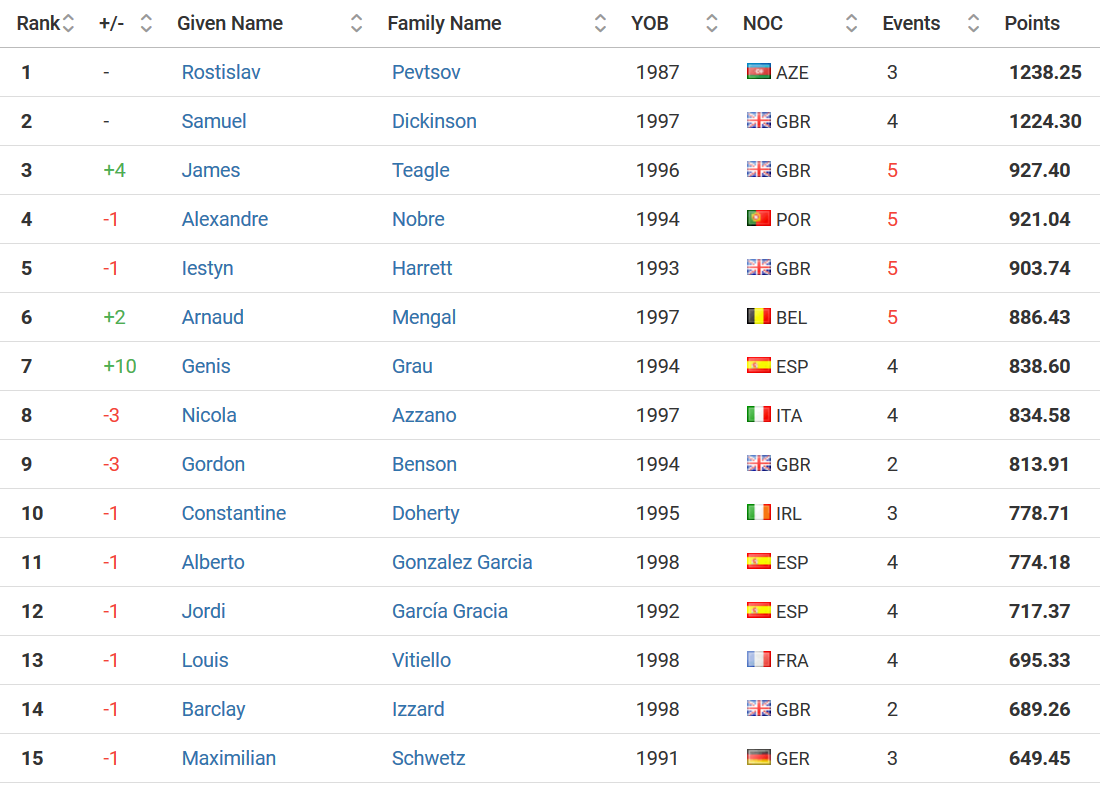 Last year's end of season race ended spectacularly – read all about it by clicking the photo.

A fantastic race in Alanya saw Ukraine's Yuliya Yelistratova surge back into contention for the title and the end of season pay-out. Currently only a handful of points behind long-time leader, Carlotta Missaglia ITA, this is a course that will suit her and we may see one of the sport's most experienced athletes take the title once more.
Lisa Terstch GER has had a great season and is equally in with a great chance not only of a medal but also of a good share of the ETU Rankings pot. No stranger on the European circuit, Filipina Kim Mangrobang will face one of her toughest races of the year against the top-ranked European women.
We can expect to see Alicja Ulatowska POL at the front end of the swim. She has been strong all season and will no doubt be doing her best to create as much of a lead as possible in the early stages of the race. She will have Quinty Schoens NED alongside her as well as perhaps Spain's Xisca Tous, recent winner of the World Beach Games Aquathlon title.
This race is not just about the win and the points. It will be a thrilling battle from start to finish.
Alanya saw GB's Sam Dickinson denied the expected win. It seemed that every move he made was matched and so rather than coming to Funchal with a comfortable lead over Azerbaijan's Rostislav Pevtsov he comes here with the smallest of deficits. Just under 14 points separates him from the leader. Intense, or what! Both athletes have had a good season and neither can be expected to give up easily. Pevtsov comes here fresh from Doha and the World Beach Games, where he won a bronze. He gives ten years to Dickinson who, in his graduation year, has scored some impressive victories around the circuit.
They will have to watch out for Spain's Genis Grau, whose victory in Alanya was a well-deserved one and showed him capable of running hard off the bike. In striking distance of the leaders on the ETU Rankings Table, he has every incentive to make Dickinson and Pevtsov work harder than ever before and will have team-mate Alberto González García there to work with.

The home crowds will be cheering on Alexandre Nobre whose 4th place in the rankings puts him in a good position but GB is sending not only Dickinson but also James Teagle who snatched the bronze in Alanya. Add him to the mix, with Calum Johnson and Iestyn Harrett and the Brits have one of the strongest teams present.
To watch the race, please use this link for the Madeira-based TV company Or you can click here for the Triathlon Live feed.
We will be bringing you updates throughout the race on Instagram, Facebook and Twitter.
Related Event: 2019 Funchal ETU Sprint Triathlon European Cup Final
Latest
Videos
---
Latest
Event Galleries