NEWS
Did you Du last year? (Part 1: Kalkar)
By Paul Groves
|
31 Dec, 2016
Throughout the year, ETU has delivered a series of championship events that have tested Europe's best Age-Group athletes. We have seen the performances of our middle and long-distance athletes as well now as those who race in the snow and muddy trails.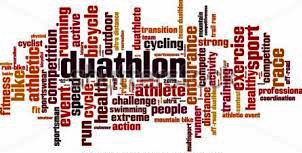 This week it will be the turn of the duathletes who met in Germany and Denmark.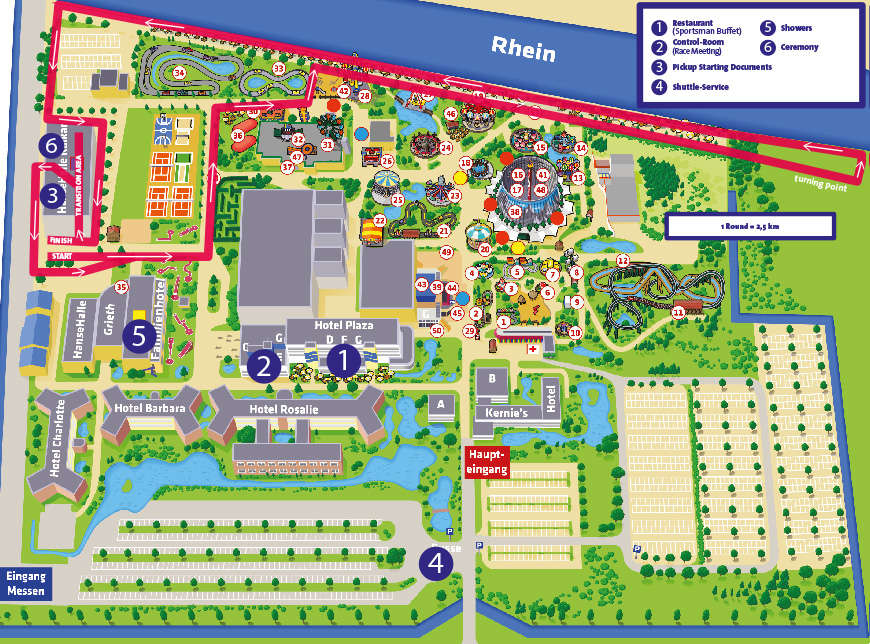 Our first big test was in Kalkar in the quite unique location of a former nuclear reactor. Following the disaster that struck Chernobyl, the programme for delivering energy changed around the world. In Germany the massive investment that had been made was not wasted and so was developed the "Kern-Wasser Wunderland", an amusement park with a rollercoaster and several other rides and restaurants.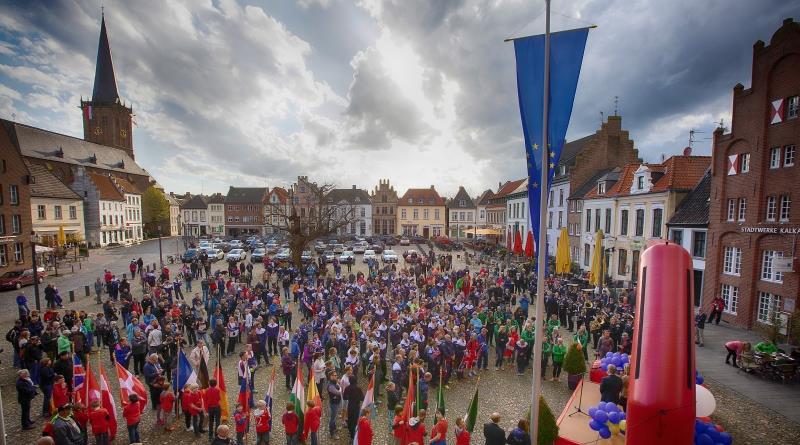 As an event, this duathlon is not new but 2016 saw it step up to international level. The ancient town square was the focal point for the opening ceremony and, as we expected, Team GB arrived in numbers.
In the youngest category, raced over the Sprint Distance, it was a clean sweep of the podium for the Brits. Jemima Walker led in from the first run with Diana Chalmers just behind her. Out onto the bike and it was Chalmers who pulled away but Amy Chalmers, the younger sister, soon edged up to challenge. It was the final run that gave gold to Diana, with Amy coming second and Walker rounding off with the bronze.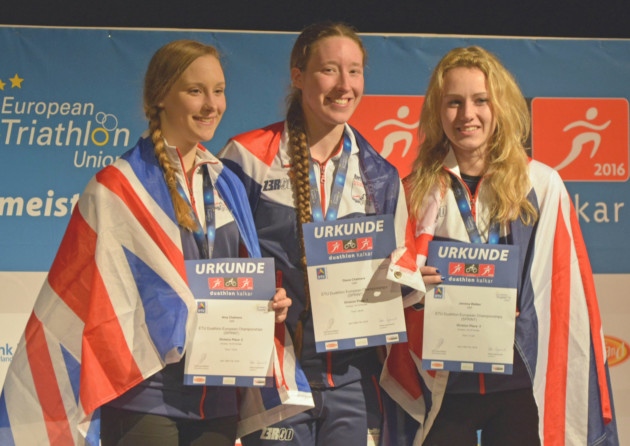 Celebrations indeed for the Chalmers family. Diana had already enjoyed the glory of the top place on the podium in Horst in 2014. She was unable to defend her title in 2015 in Alcobendas, when she won bronze but put the record straight in Kalkar. Younger sister Amy was the winner in Alcobendas. So sibling rivalry in the UK – watch out for the Chalmers sisters. For Walker this was her first podium. A top five in Geneva and a top ten in Lisbon suggests that she too, is one we need to watch in future.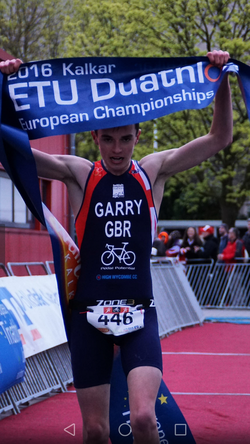 For the men, the medals were shared between the hosts and Team GB but it was Sebastian Garry GBR who dominated the race from the start.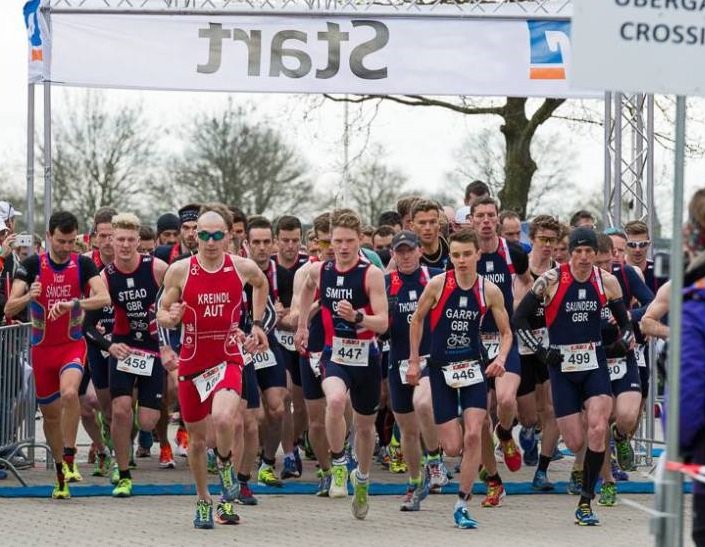 He led from the very start and has this year fulfilled his promise with a gold in Kalkar and a gold in Lisbon. Harrison Smith GBR took silver and despite missing out on the podium in Lisbon, went on to deliver a massive statement in Aviles when he too the world Gold. Germany's chance to celebrate came with the bronze medal, which went to Jan Nikulla.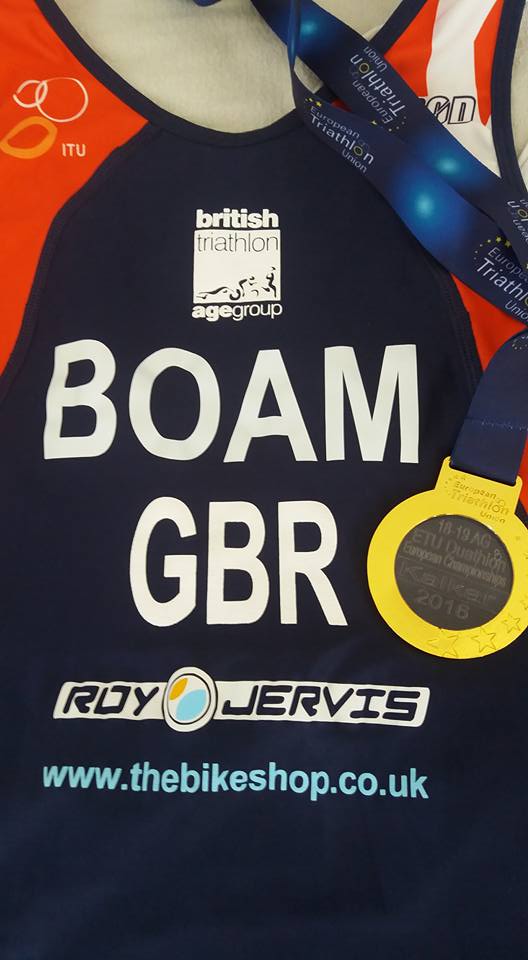 Tasmin Boam GBR racing the standard distance, took gold for the 18-19 category. A 2014 Horst silver is improved upon and a World silver in Aviles shows that in the younger age-group categories, Team GB has strong athletes.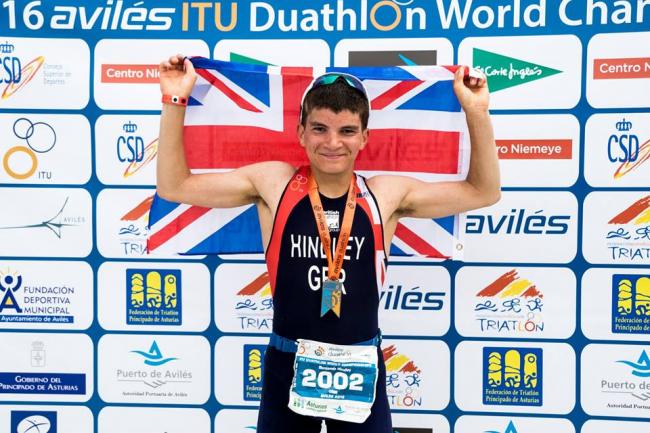 In 2015, Benjamin Hindley won bronze in Alcobendas but 2016 was his year. Gold in Kalkar and a later world title in Aviles.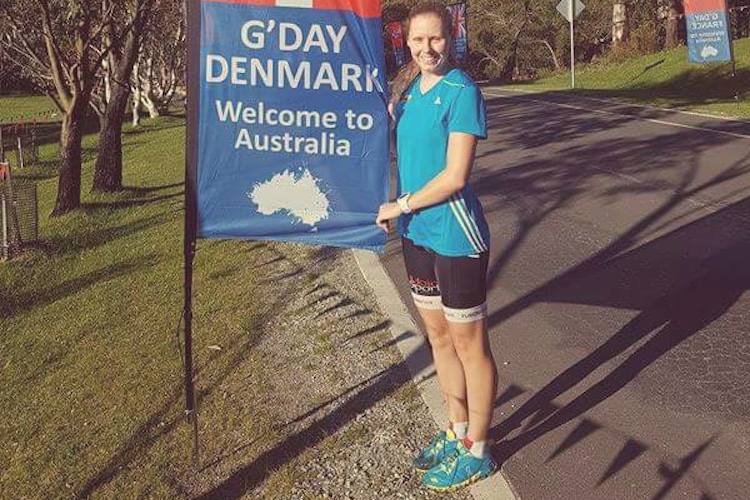 20-24 and the standard distance saw Denmark's Ann Kathrin Scholtyssek DEN . She then repeated this domination on home soil in Copenhagen over the long distance and then finished her season in Australia at the Snowy Mountains event, where she missed out on the podium by just one place. The Sprint distance was won by Lauren Evans GBR on the first run. Despite a determined effort from teammate Kayleigh Adams who was stronger on the bike, it was the powerful running of Evans that decided the result. The two had met in Geneva in 2015, when Adams was much stronger. Silver was the reward for her efforts there, when Evans struggled. We can expect to see these two race neck and neck in future.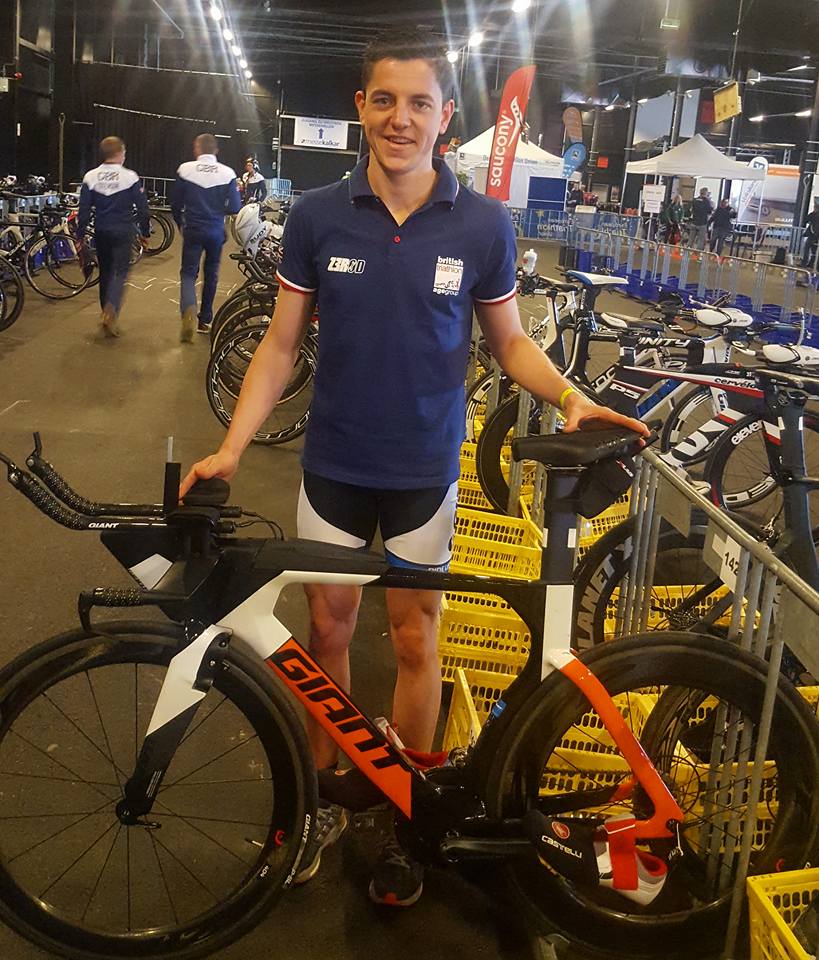 Amongst the men, over the standard distance Jordan Skelly GBR was a bronze medal-winner in Geneva over the standard distance but made it gold in Kalkar. Back to Lisbon and again he hit bronze. In silver position was Germany's Adrian Grellneth and bronze went to Zachary Pywell GBR who narrowly missed out on the podium in Alcobendas.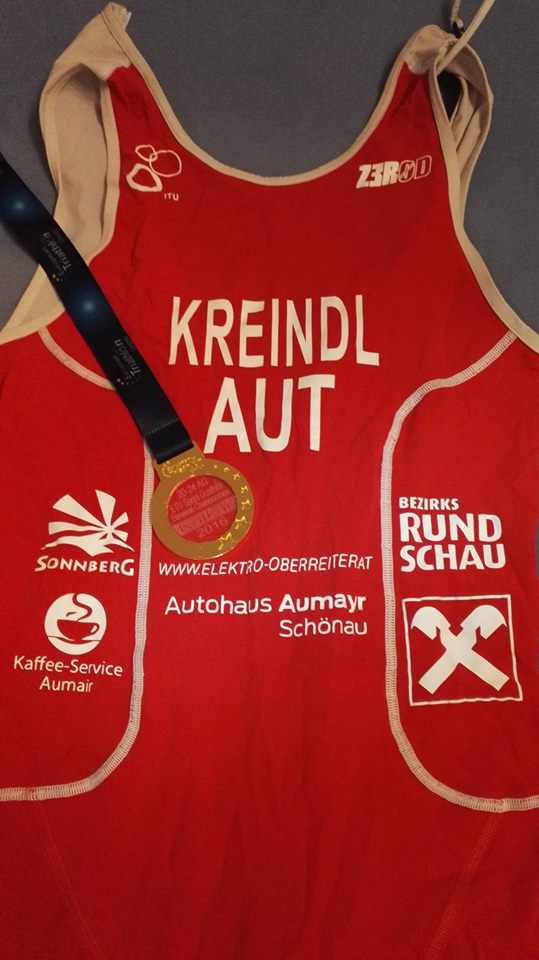 Over the sprint distance it was indeed a golden year for Oliver Kreindl AUT. Becoming world champion in Zeltweg before a home crowd must have been a wonderful experience. A European title in Kalkar was followed by a tenth place in Lisbon and a top ten in Aviles. Silver went to Tobias Tesch GER and Ben Cockburn GBR took the bronze, adding a top ten place in Lisbon later in the year.
25-29 saw in the sprint, GB's Lydia Newton improve her 4th place in Alcobendas to take bronze.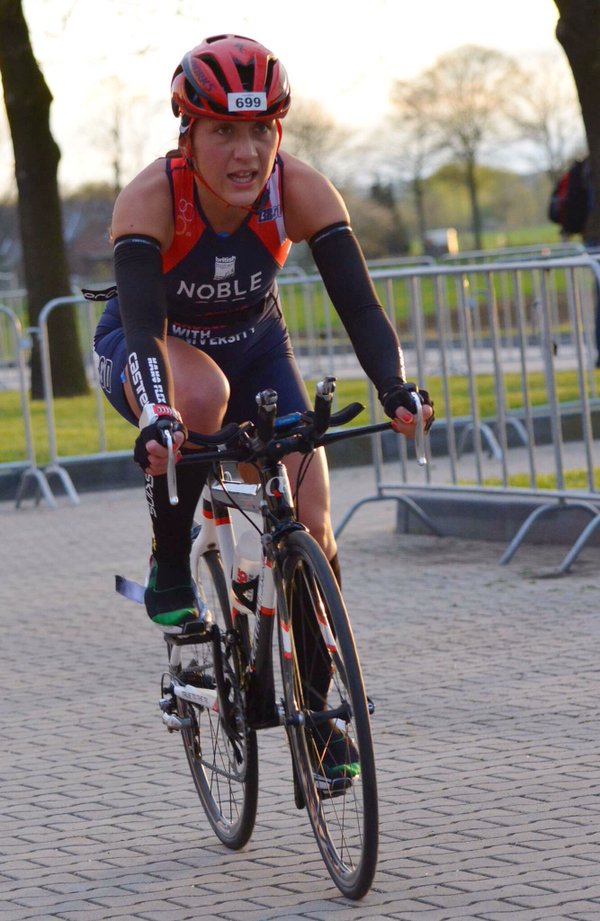 Ahead of her was Nicola Noble who has been collecting European medals since her bronze in Alcobendas. With a silver in Castro Urdiales, off-road and then improving to a gold in Târgu Mureș this year, she was unable to make the podium in Aviles but nevertheless managed a top ten finish.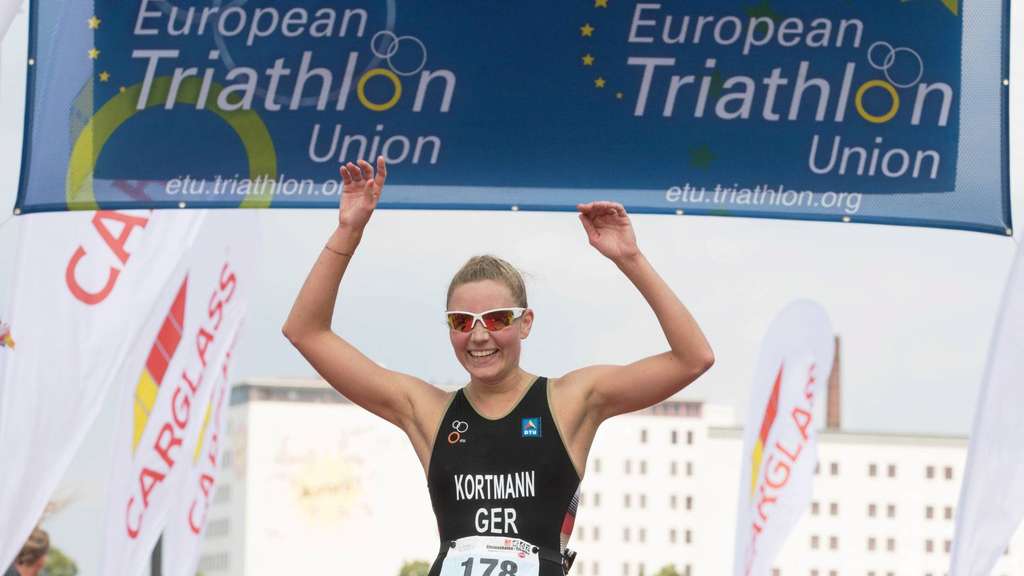 Gold medal winner and title holder for 2016 was Germany's Tatjana Kortmann, for whom winning gold on home soil has, after her victory in the Aquathlon last year, become something of a habit. The battle was certainly on between Germany and Great Britain, as the host nation's athletes collected medal after medal. The men's standard race was a delight.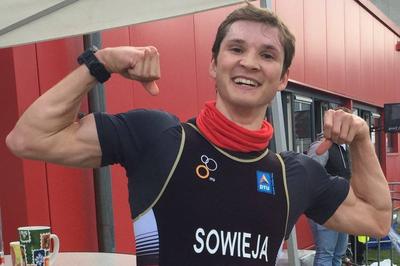 The winner, fastest male age grouper of the day, Dominik Sowieja GER is really one to watch. His move to Elite in 2017 is long-awaited.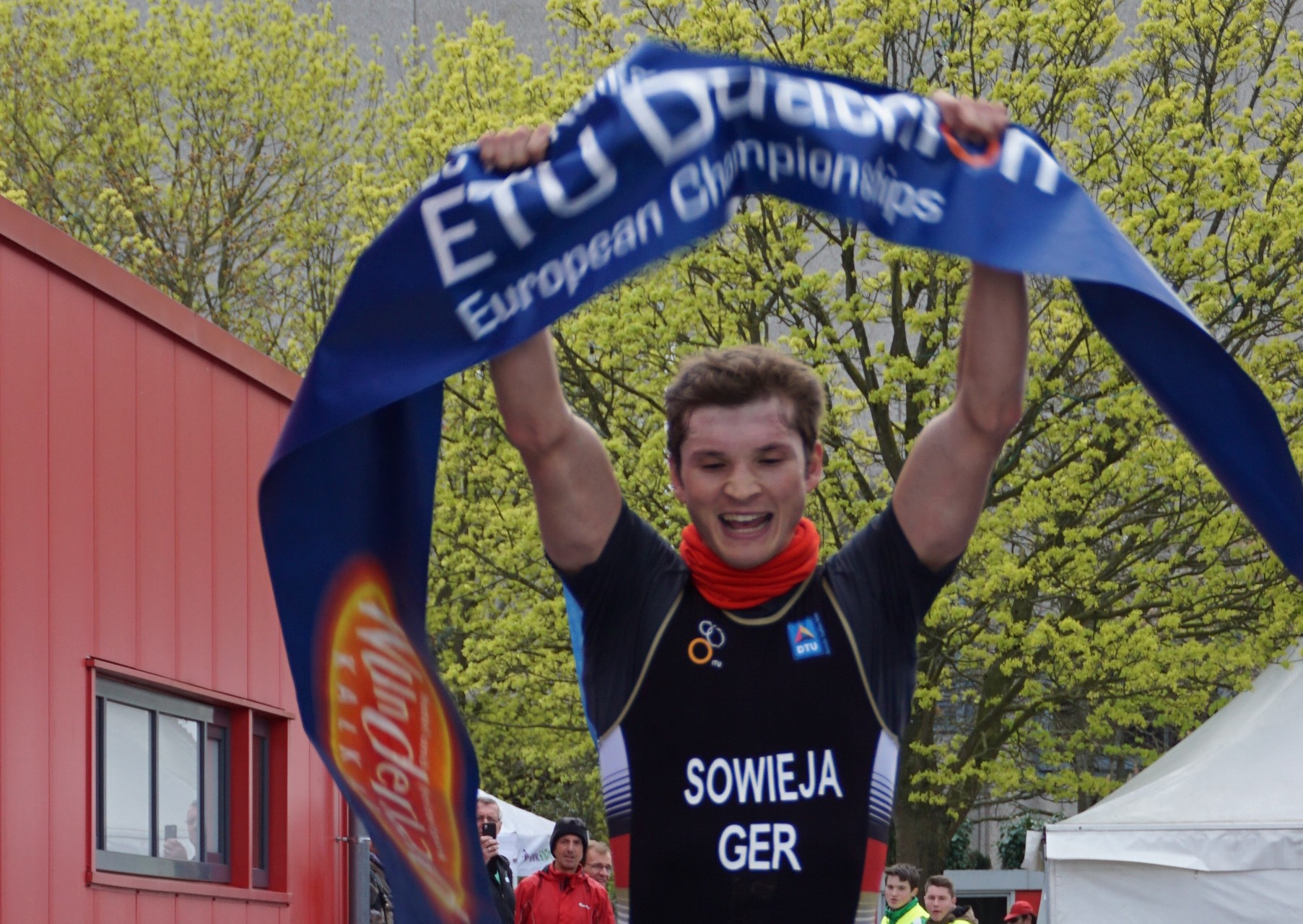 He really has great pace and from the moment the race had started he was in command. He went on to Walchsee for the ETU Middle Distance Championships and again dominated from the start.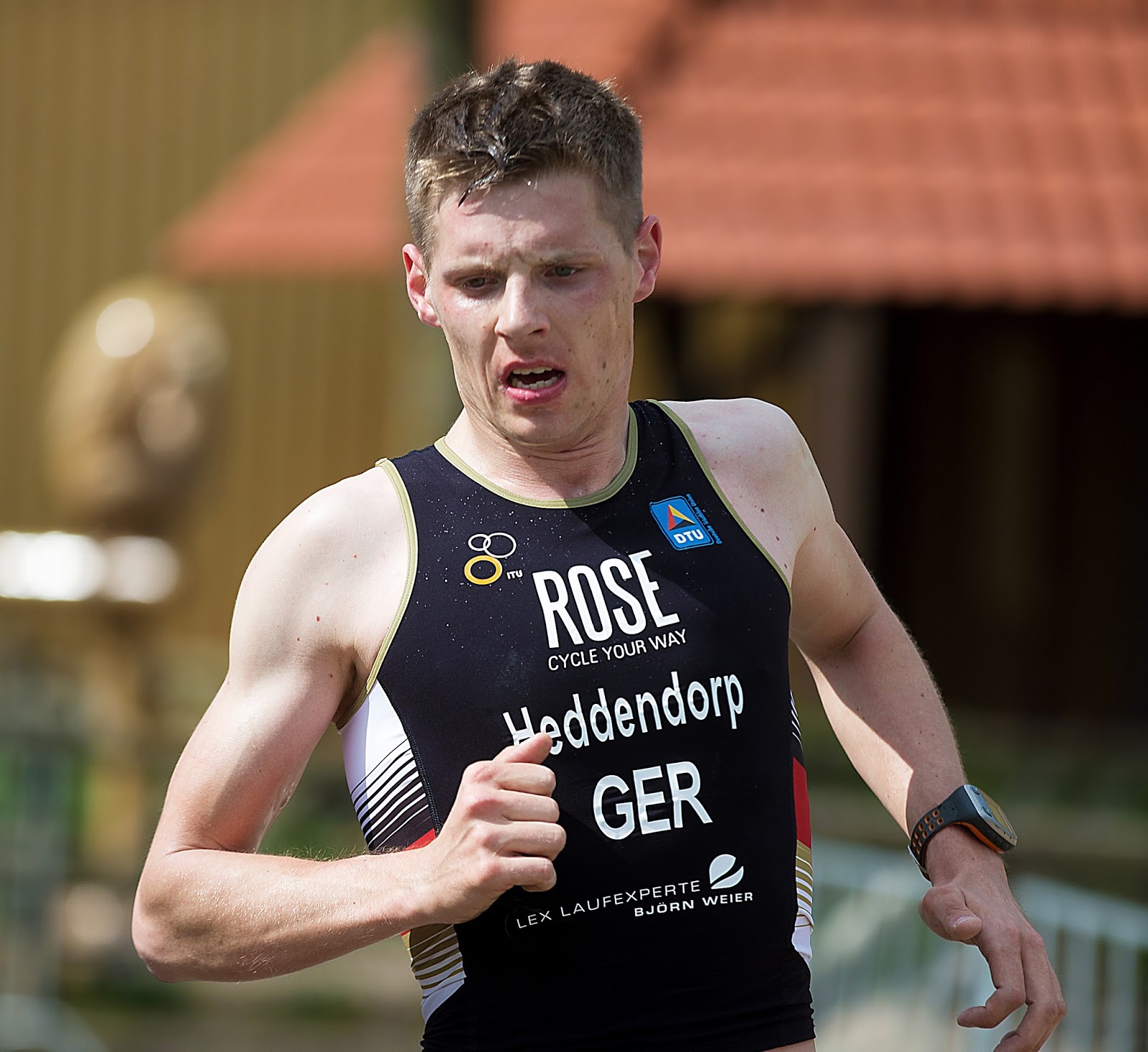 It was a clean sweep for Germany with Simon Schwarz taking silver and bronze going to Daniel Heddendorp but with a winning margin of almost 5 minutes it was a master-class from Sowieja that took Germany to victory. The chasing Brits, over 6 minutes down, saw nothing of the German medal-winners for the majority of the race.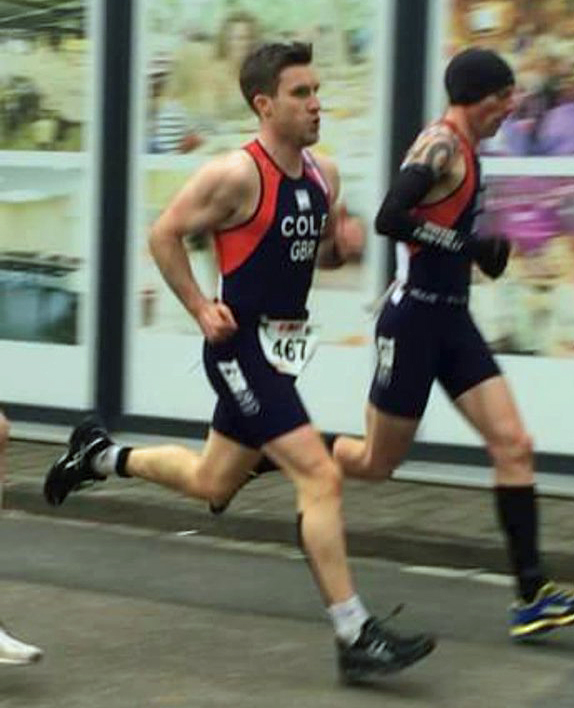 Over the Sprint Distance, David Cole GBR improved his 17th place in the standard race in Alcobendas with a resounding victory. Behind him Cameron Keast, his teammate was head to head with German Kolja Milobinski whose faster bike split seemed good enough to make silver an assured result but behind him Keast's fast running was bringing the British athlete into contention.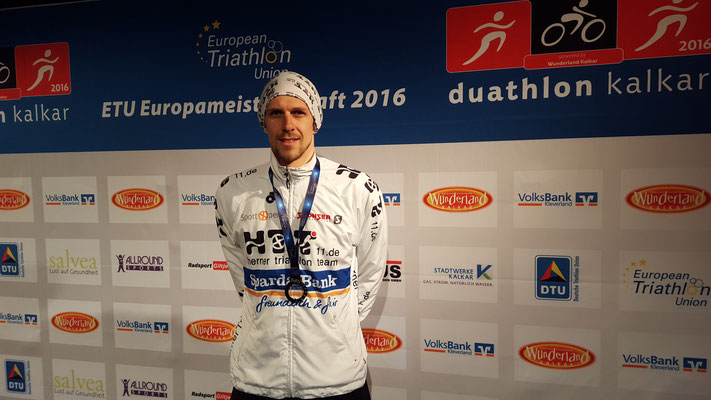 A sprint to the line and Milobinski had just done enough to hold onto second place to give him his second ETU silver in two years.
30-34 saw a clear victory for Germany's Kristina Ziemons. It was a gold and a silver for the Germans as Nina Vabic came home ahead of the British athlete Hannah Priest. Vabic went on to race in Walchsee but missed out on the medals. Priest was unable to repeat her Alcobendas silver but has consistently been at the top of her age group since her first race in 2014 in Weyer.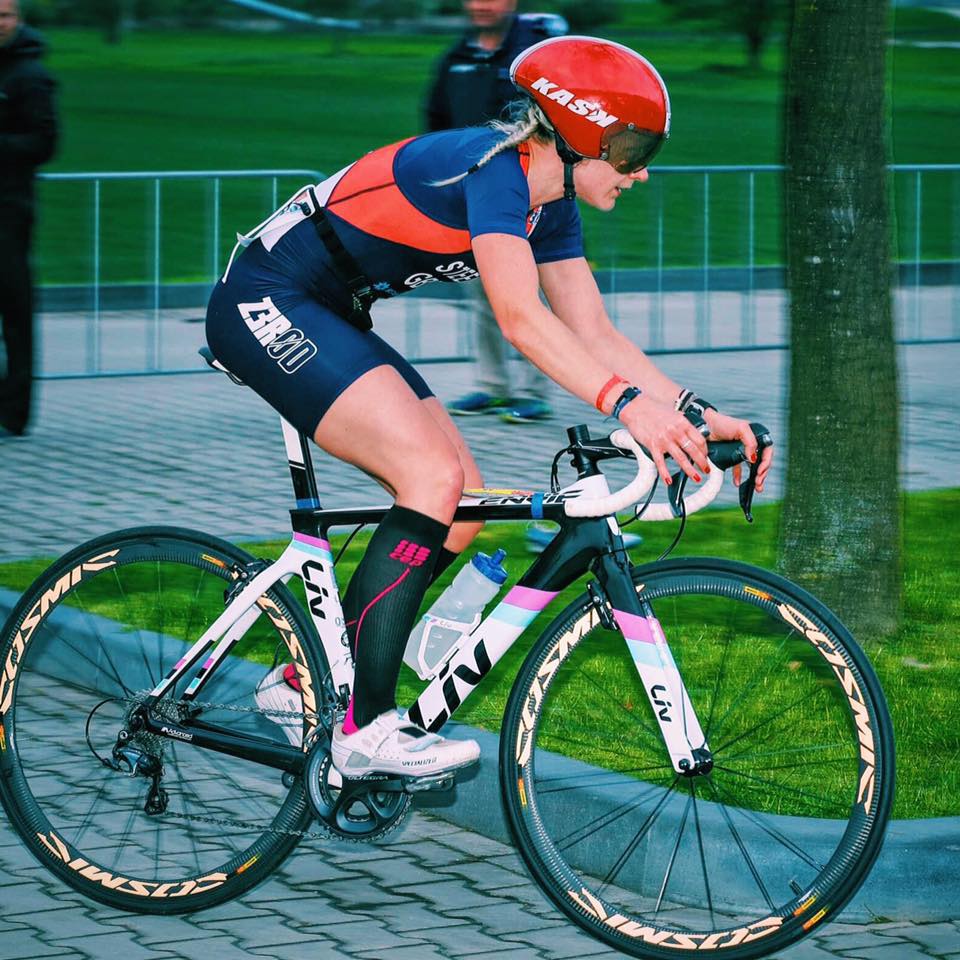 In the Sprint, Adelaide World Champion from Great Britain Claire Steels, was race favourite but it was Julia Ertmer GER, who set the early pace and as the race unfolded, made it clear she would not give up her lead.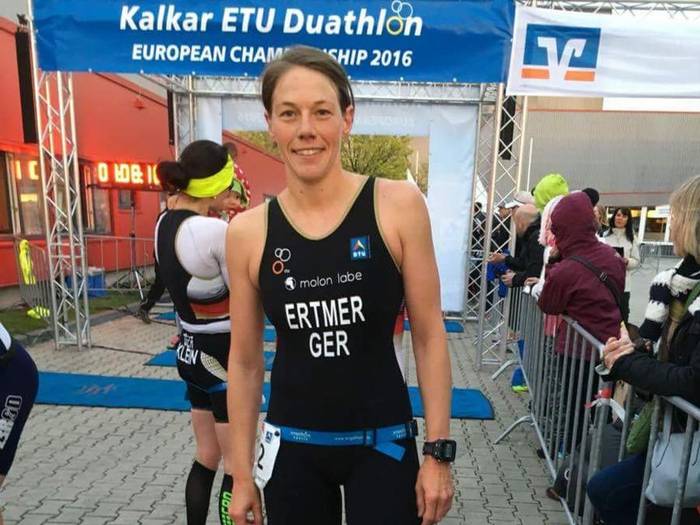 Gold went to Ertmer, with Steels coming home in second place comfortably ahead of Franziska Klein GER. Ertmer finished her season with a silver in Walchsee and Steels went on to successfully defend her world title in Aviles. For the men, over the standard distance, we saw Alexander Bramer GER, return to the international circuit after a three year break. His last appearance, in 2013 in Barcelona, saw him just miss out on a podium finish but this year he led from the very start.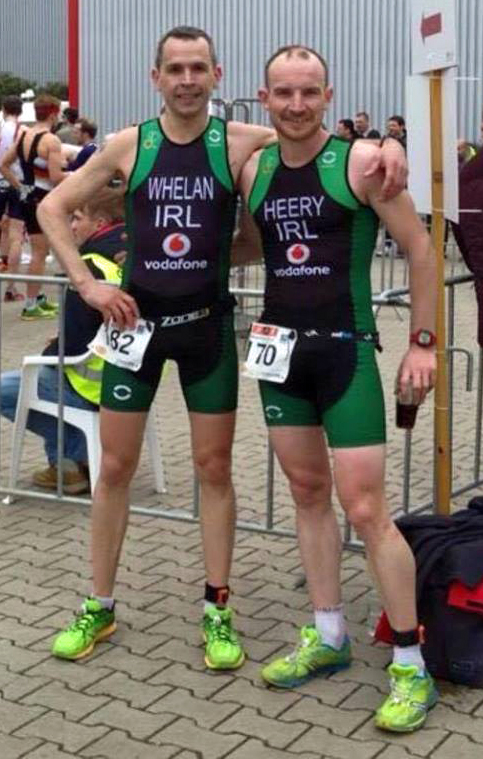 Bronze at the worlds in 2014 in Pontevedra showed us just how good Killian Heery from Ireland was. In 2015 in Alcobendas he had an off day with an 8th place but this was turned around. A silver in Kalkar and then later in the year a bronze in Aviles.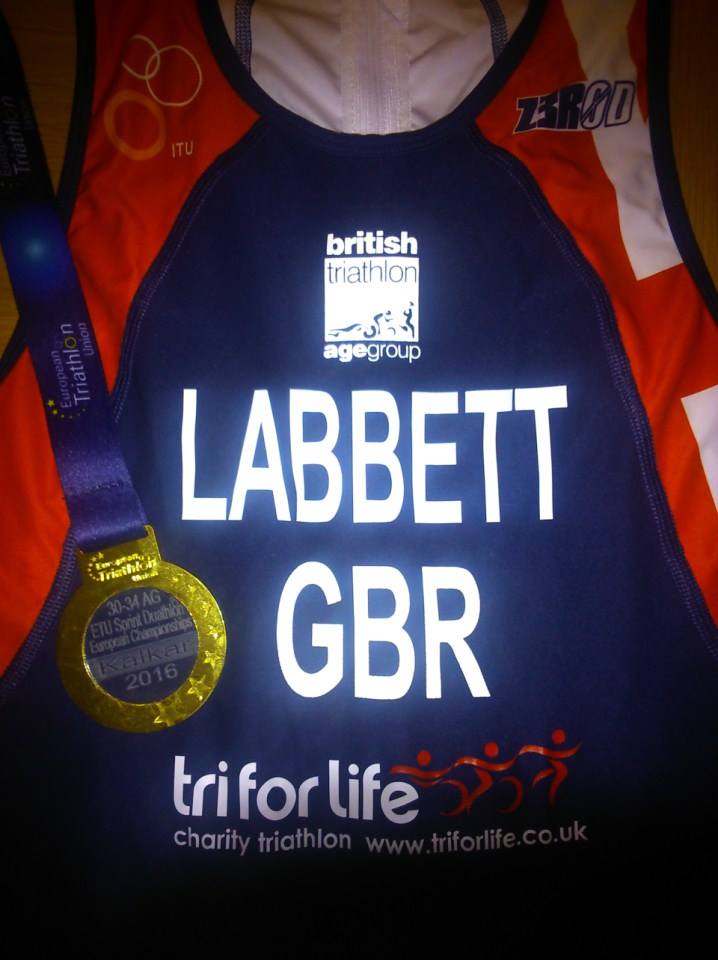 The Sprint saw Adam Labbett GBR take pole position ahead of Ireland's Brendan Murphy. The two had previously raced against each other in Adelaide at the worlds. On that occasion Labbett had just missed out on the medals with a 4th place.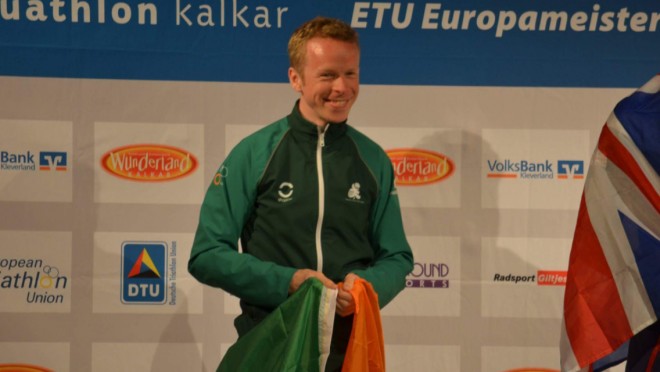 Murphy, in 8th was down the pack but this time around the Irishman's fast running was a real threat but it was on the bike that Labbett dominated.Labett went on to a tenth place in Aviles but Murphy, racing in the Elite Standard wave was lapped. With an opening 33 minute 10k he might have been better off racing as an Age Group athlete.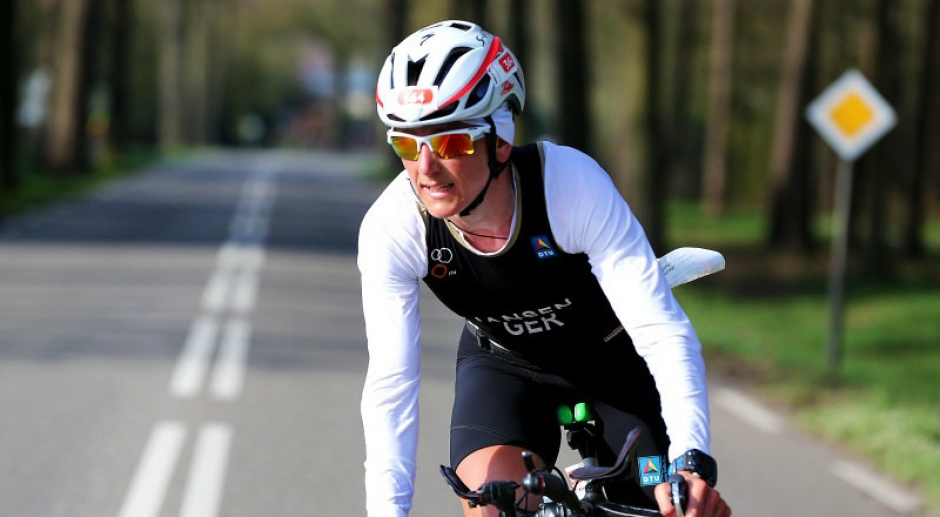 Moving now to the 35-39 category, we saw Steffi Jansen GER once more on the very top of the podium. With her ETU title for the previous category from the long distance in Horst in 2015 and previous podium appearances in 2013 and 2012, she came to the race strong and clearly the one to beat. Nobody came anywhere near to her as she truly commanded events from start to finish. It was British athlete Jo Wilkie who split the Germans with her powerful running. Bronze went to Sandra Morowitz who won in Horst in this age group and who went on to just miss out on the medals in Copenhagen over the long distance. Over the Sprint distance and amazingly, there were no German athletes at all. Quite how a host nation can fail to have athletes on the start line is a mystery but it gave Team GB a clean sweep of the medals.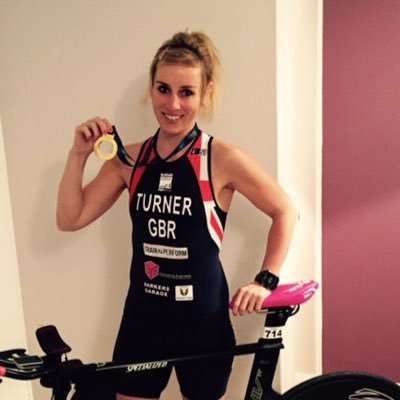 Sally Turner took the top honours and then went on to Aviles but missed out on the podium against the powerful cycling of the Spanish and Brazilian athletes. She was running with Sara Eames but despite equal run pace it was Turner's power on the bike that took her to gold. Caz Kay took bronze.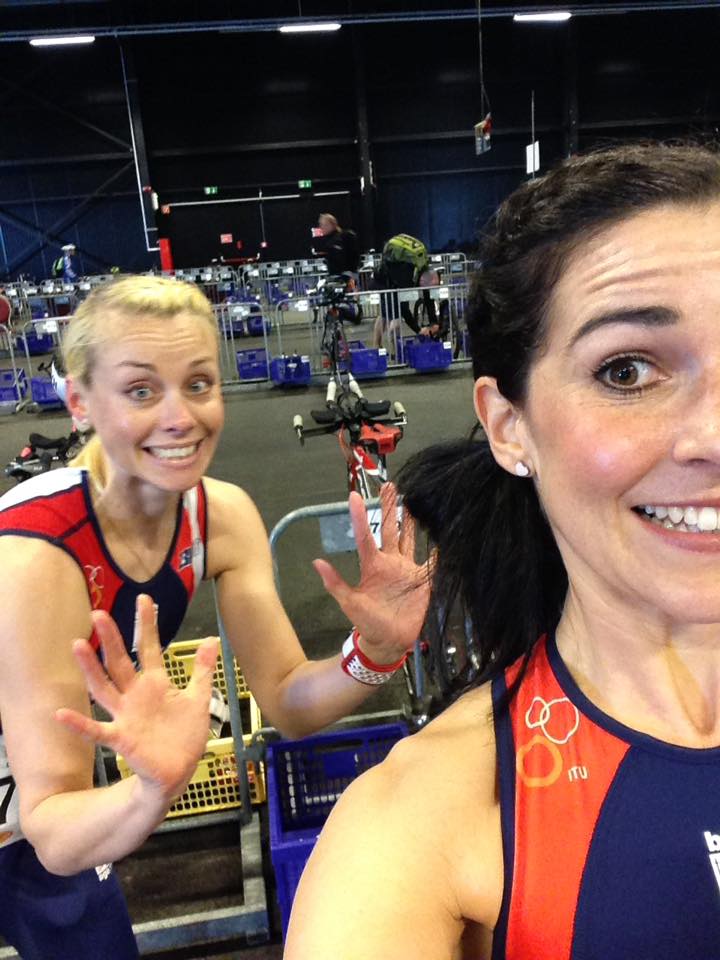 Both Kay and Eames are regulars on the GB Duathlon and Triathlon Team and are part of that great Team Spirit that makes Team GB buzz.
Amongst the men over the standard distance, the Brits did it again with a magnificent display of biking skills. Gold went to David Thomas who really got it all together for his first ETU podium. Sadly his run of luck did not continue to Aviles.
He was ahead of Nicholas Latimer and Nicolas Pillinger who has previously raced the biggest of big duathlons, Zofingen. In the Sprint, gold went to Spain with Victor Sánchez García successfully defending his Alcobendas title in this thrilling chase for medals. Once again, there were no German athletes on the start line.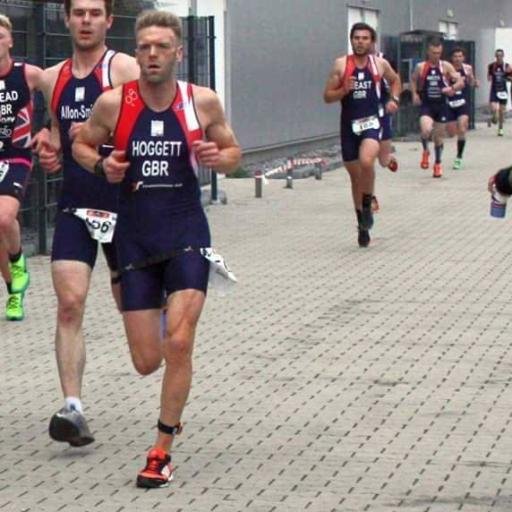 Silver went to Jonathan Hoggett who greatly improved upon his 14th place from last year.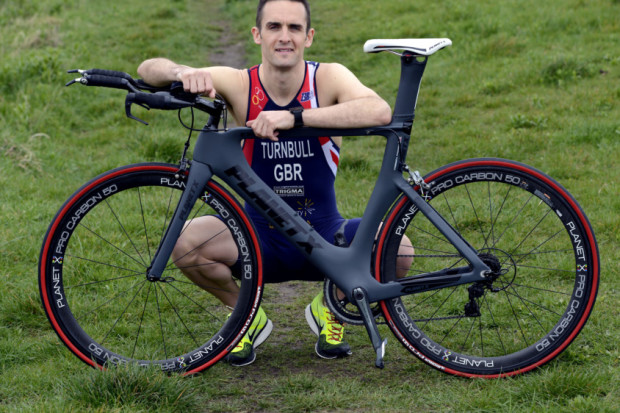 Bronze went to Matthew Turnbull as the crowds shouted, "Look behind you!" Turnbull, realtively new to the sport, has shown great potential with top ten placings in 2014 and 2015, when he raced in Kitzbühel and Alcobendas. Clearly his decision to move from the Billignham Forum Theatre stage to the wide open international stage of triathlon and duathlon has paid off.
The host nation scored an impressive victory in the women's 40-44 standard race. Anke Hennecke was way ahead by the half-way point on the bike. Her final run sealed victory ahead of Britain's Joanne Clark who adds this silver to the one she won in Alcobendas last year. Sadly a DNF in Aviles robbed her of the chance for the full set of silverware.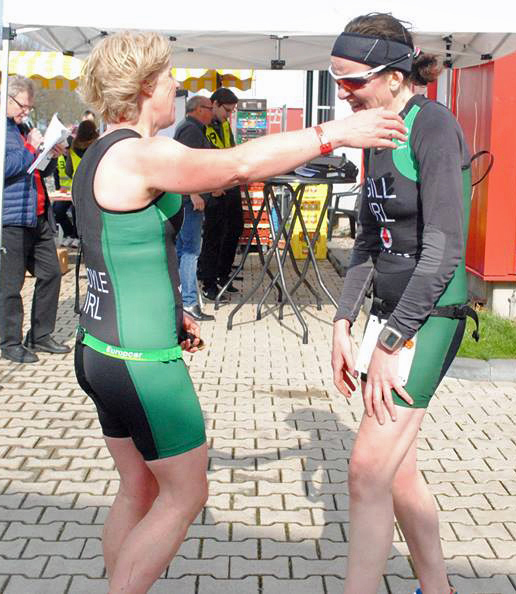 Ireland had cause to celebrate with Geraldine Gill winning bronze in her first international race. She was rewarded with a top ten place in Aviles.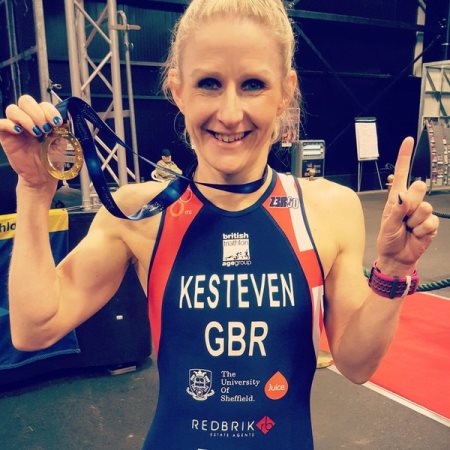 Another clean sweep came to the Brits in the sprint race, with Fiona Kesteven taking the honours. A bronze in Lisbon shows her swim power is not too bad either.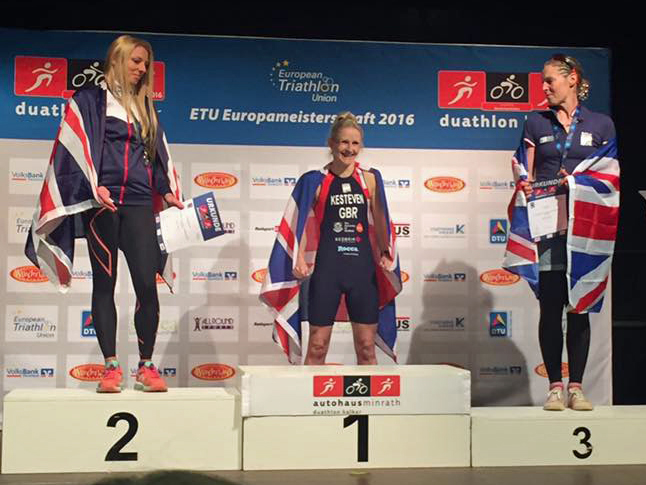 Karolyn Brown took silver, an improvement on her bronze last year. A top ten in Aviles at the worlds came later in the year. Kirsty Prior came home for the bronze, which was met by a bronze in Transylvania. She missed the podium by just one place in Copenhagen but then went on to get a top 10 placing in Aviles and a top 5 in Zofingen.
The men, over the standard race provided us with a truly international top five.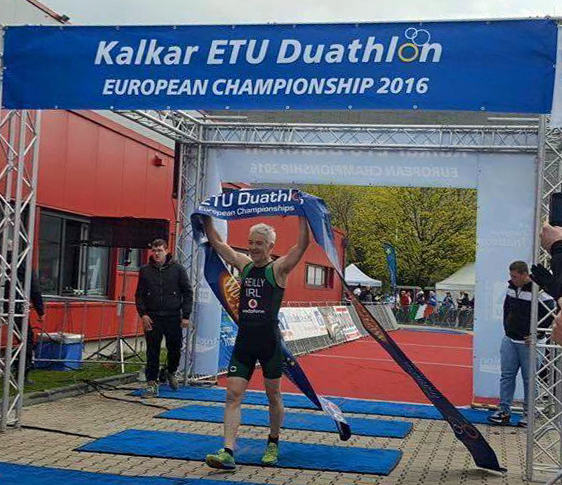 Gold went to Michael Reilly IRL, who showed a great improvement over his Alcobendas bronze. He was in a tremendous battle with Frenchman Benoit Riegel on the first run but pulled away on the bike. Reilly had done enough to maintain control of the race and despite a blisteringly fast final run from GB's Philip Kruse it was Riegel who took silver ahead of the Brit.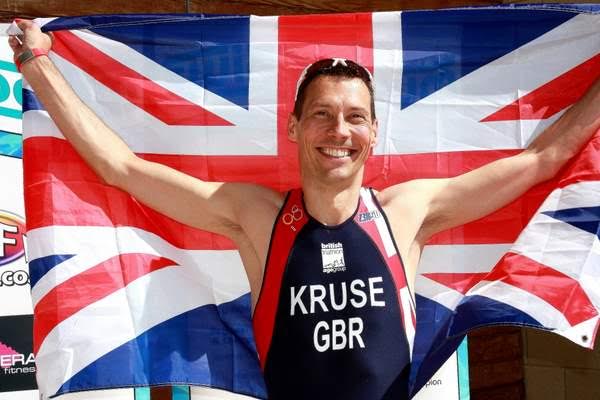 Kruse went on to secure world silver in Aviles, pushing Reilly into 4th.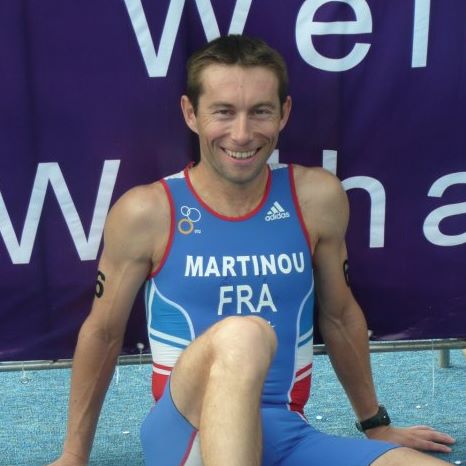 Laurent Martinou FRA has had a good run of successes. Gold in Zofingen to finish the 2015 season and then gold here over the sprint. He went back to Zofingen in 2016 and, showing that short or long he is the man to beat, he won gold and the world title once more and did so with a massive 6-minute margin. Denmark's Søren Kirketofte looked like he was going to lead the race with an incredibly fast first run but lost out to the Frenchman on the bike and final run. Not to be put off, he went and raced Copenhagen, upping the distance and came away with a bronze.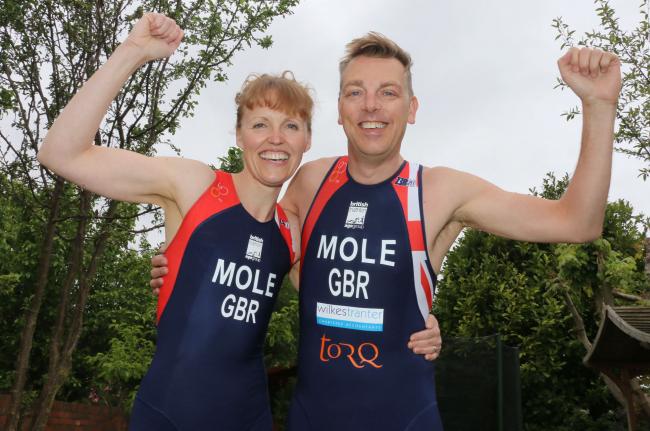 David Mole made it yet another medal for the Brits but could not keep the form going for Aviles.
Once again it was domination from the host nation in the Women's 45-49 standard race.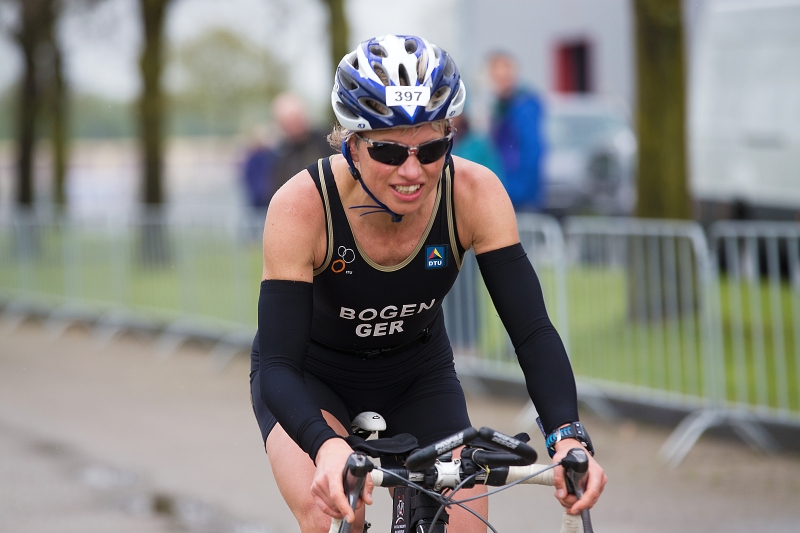 Kathrin Bogen had supreme control on the run and despite a weaker bike, had such pace on both the first and second runs that she came home with a four-minute advantage. This one-off appearance on the international stage really is not fair to us all. We want to see more racing like this from Bogen. Britain's Louella O'Herlihy certainly does her best to race the circuit. In 2014 she missed out on the podium in the Middle Distance Championships in Paguera but then took the title in Alcobendas, where her strength on the bike was all so visible. In Rimini for the Middle Distance championships and once again the podium was in sight but not for her.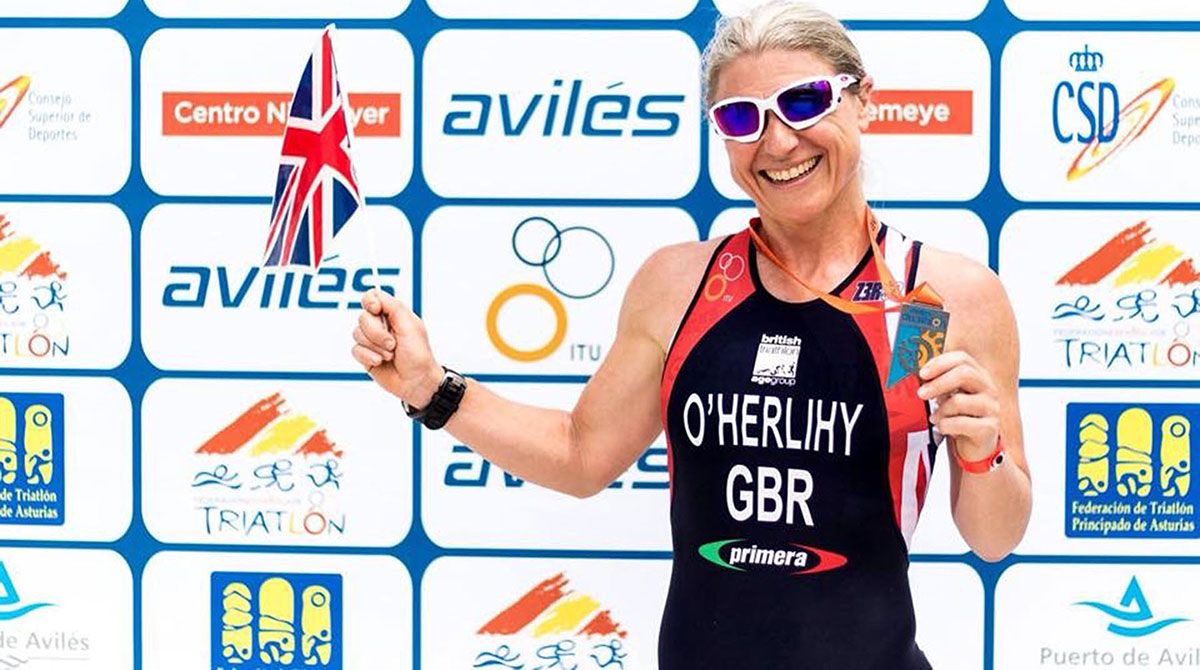 Kalkar gave her silver and she went on to win bronze in Copenhagen and secured a top ten place in Aviles and in Walchsee.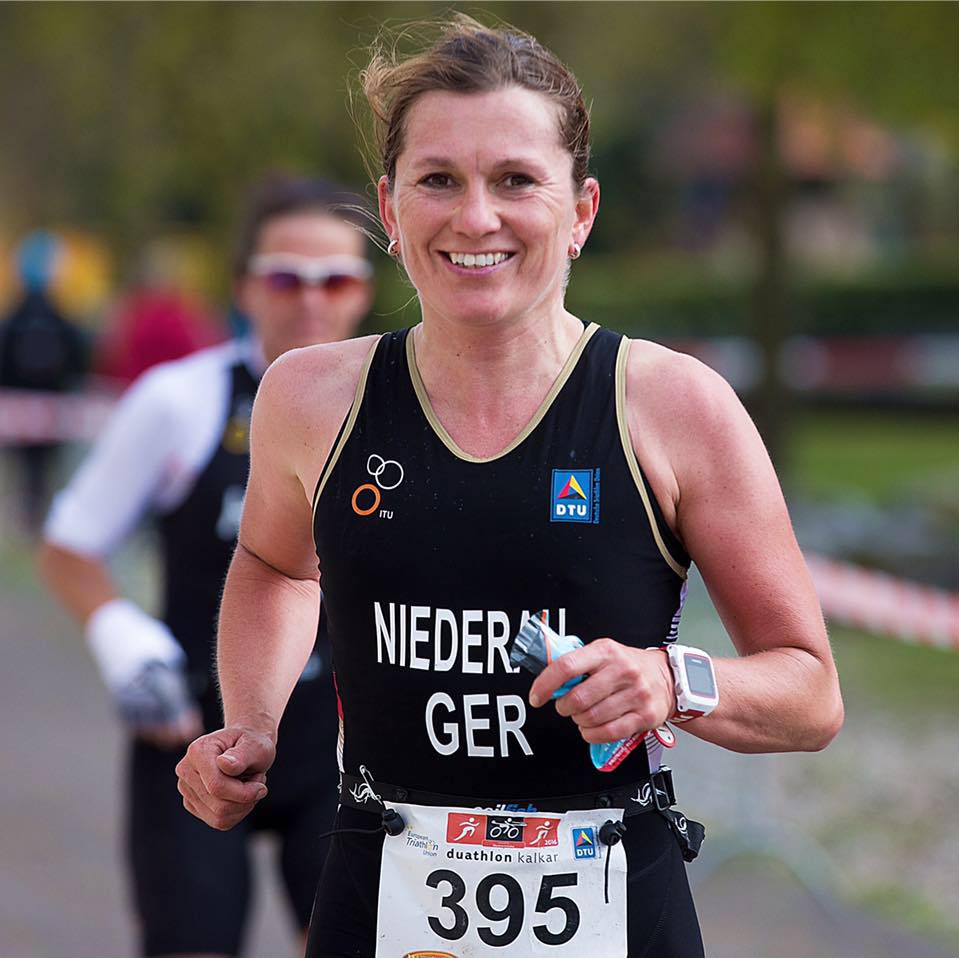 Annette Niederau GER won bronze here and then went on to secure a bronze in Walchsee.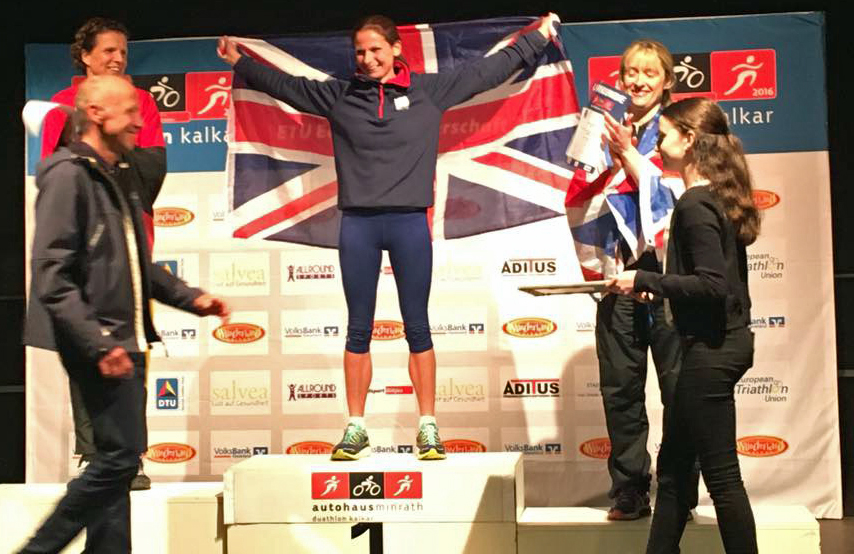 Over the Sprint Distance gold went to Britain and to Cathy Dawson.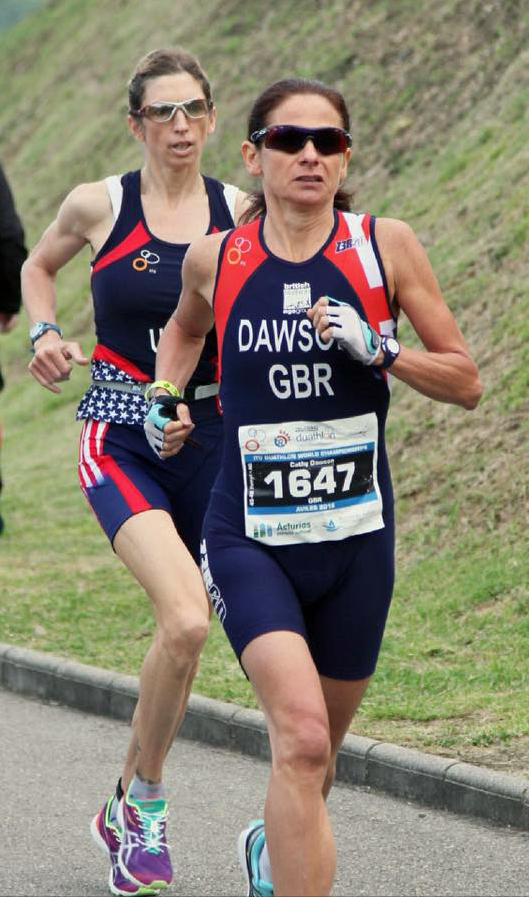 For her, 2016 was a memorable year with the European title from Kalkar and then the World title in Aviles. It was a neck and neck race between her and German Anke Lakies whose faster pace on the bike and speedier transitions really threatened the Brit. It was only the final run that saw her lose out and take silver.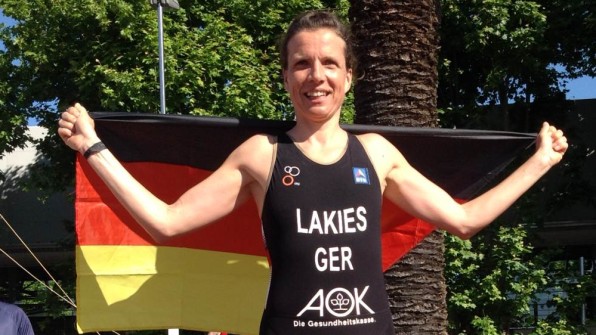 Lakies went on to top ten finishes in Lisbon, Aviles and Cozumel. Clearly there are German Age Group women out there and hopefully, performances such as this will inspire others to sign up.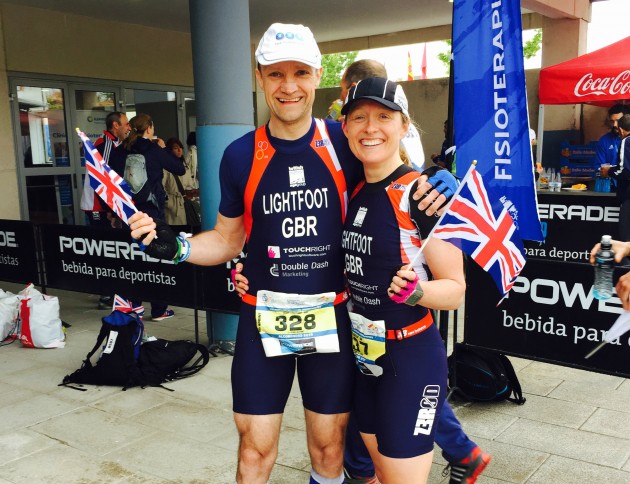 Watch out for Rachel Lightfoot GBR. Her bronze in Kalkar comes after a couple of DNFs and then a 7th in Alcobendas. Getting better, getting faster and perhaps coming back to the form that gave her the world title back in 2011 in Gijon..
In the Men's Standard, only 35 seconds separated the medal-winners.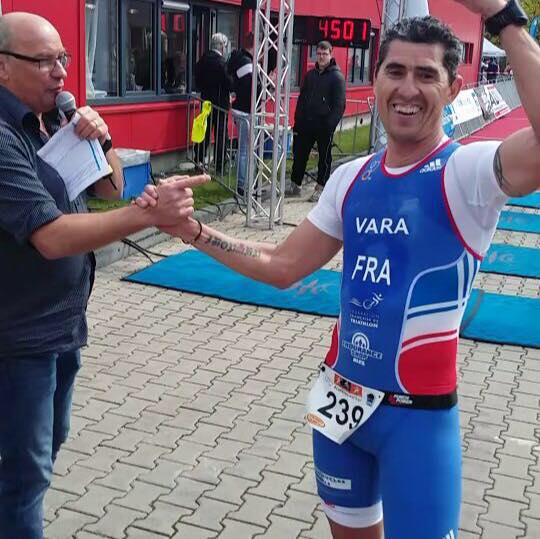 Frenchman Philippe Vara could only watch as Britain's Paul Miller edged ahead and ran into T1.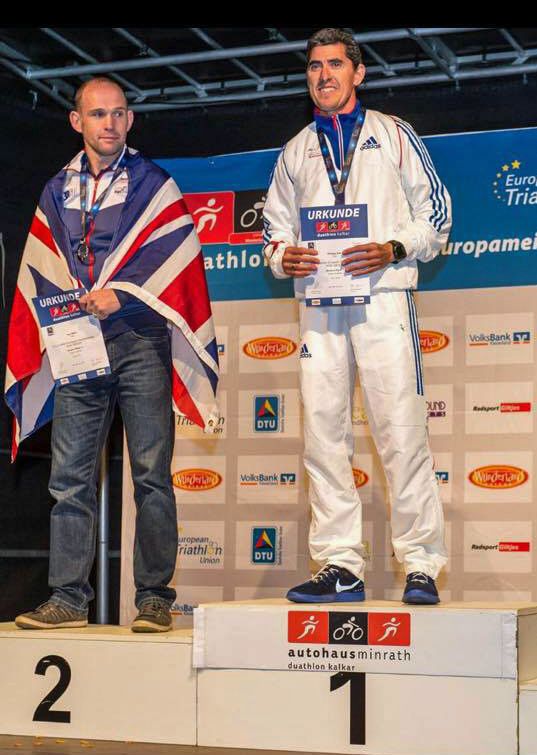 Behind them but and stronger on the bike, was Ronald McWilliam GBR. The three were locked in a battle for gold and it was finally the Frenchman who took the title, with Miller just running out of road, but with the fastest pace on both runs, taking silver and McWilliam getting the bronze. Vara was unable to reproduce his form as the year unfolded but we are all looking forwards to seeing these three athletes racing against each other in 2017.
In the Sprint it was once again raining medals for Team GB.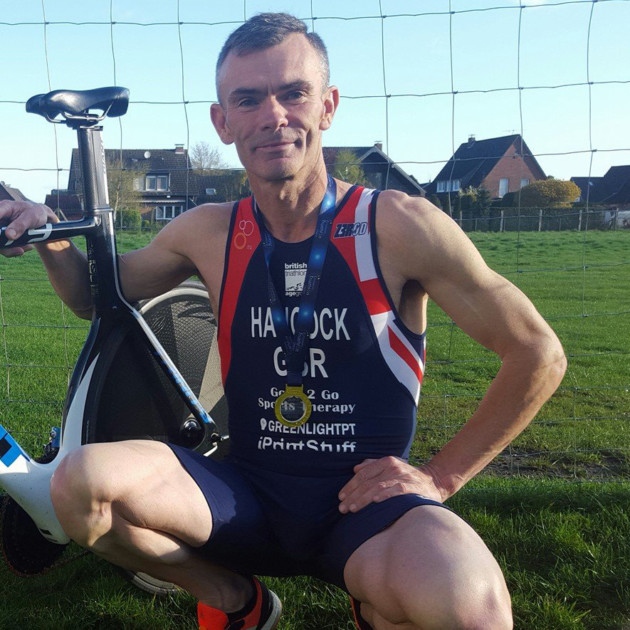 Richard Hancock led home Harry Walker and Michael Buchallet.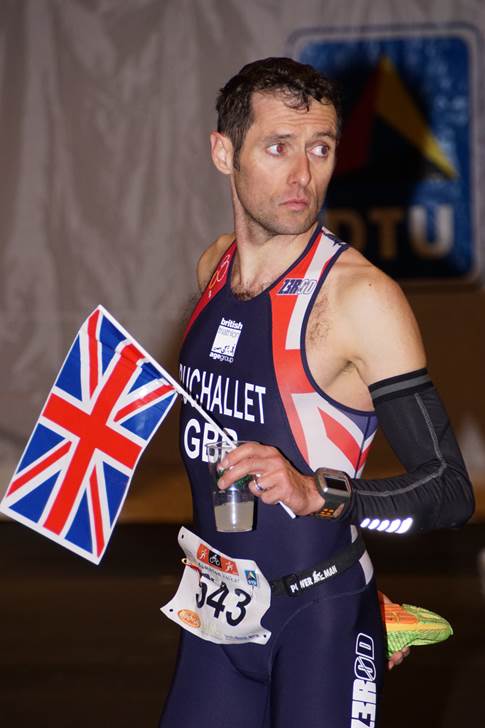 All three have been racing for years. Hancock and Buchallet went on to race in Aviles. Both just missed the podium.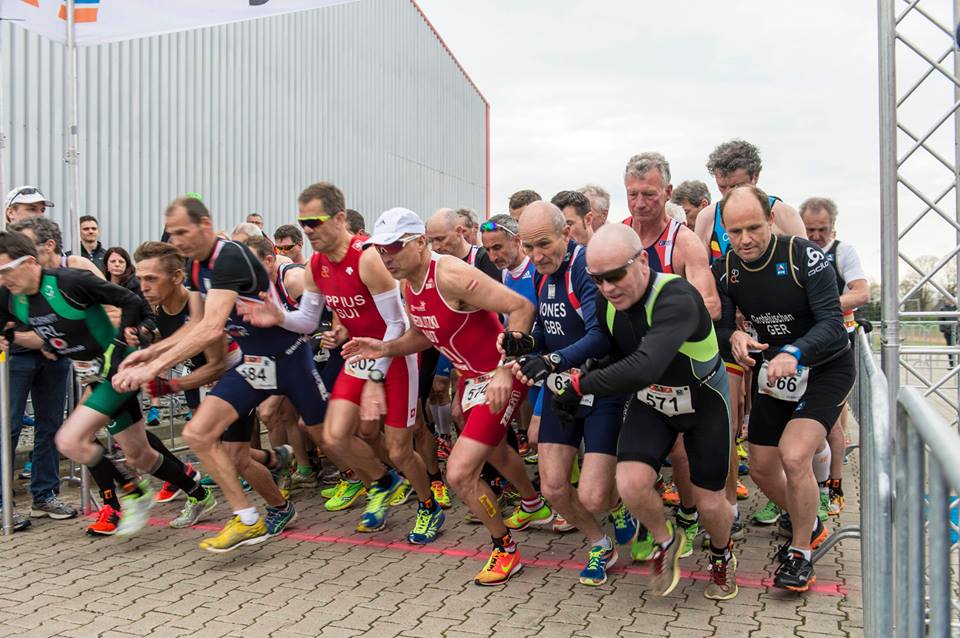 Moving up to the 50+ categories and the host nation managed to get onto the podium with a Sprint silver medal coming for Katjan Quest-Altrogge. This medal matched her silver from 2009 when she raced at Holten in the ETU triathlon Championships. In Lisbon this year she missed the podium with a 4th place. She split the Brits in Kalkar, despite her powerful riding. Gold went to Joanne Bolton in her first international race. Bronze went to Sarah Gill, who has been consistent in this age-group over the past couple of years with a silver in Weyer and Alcobendas and then a silver at the Worlds in Aviles. Over the standard distance, it was a chance for Germany to collect some more medals, but not the gold.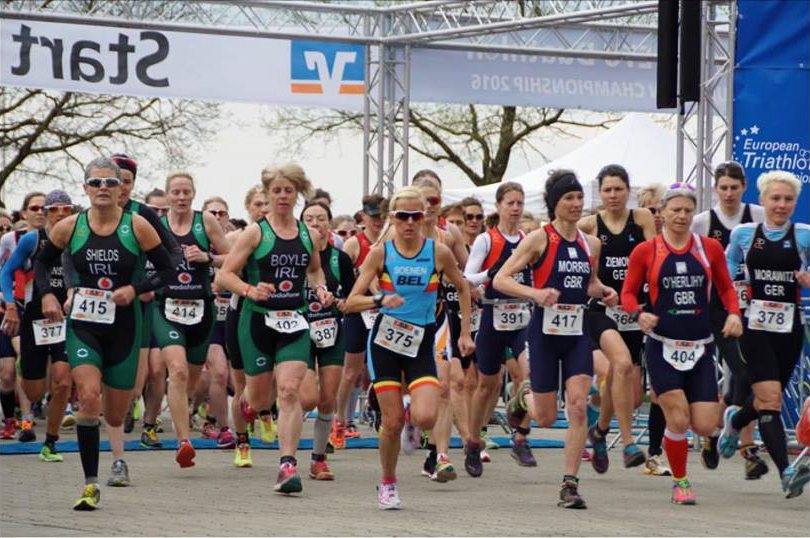 That went to GBR once more, with Kate Morris taking the honours. Six starts, four times on the podium and twice winner, she has shown great form in 2014 with a silver in Horst and a gold in Pontevedra at the worlds. This year she nearly managed the Du-Double, with gold here and a silver in Copenhagen. That double-title just slipped from her hands.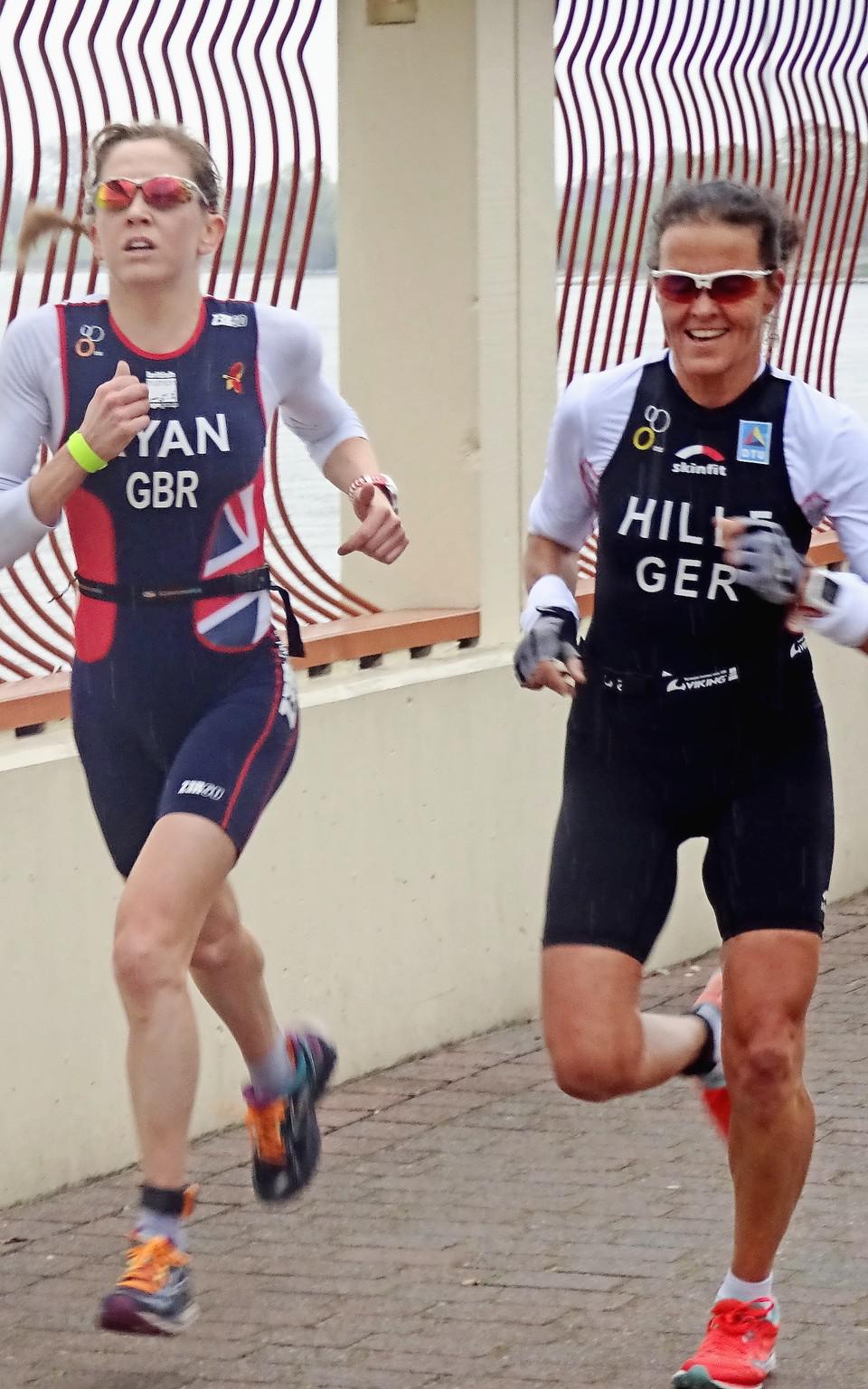 Silver went to Claudia Hille, who started her Age-Group medal spree in Rimini in 2006 with a silver. In 2008 in Serres, Greece, she won the ETU duathlon title, which she successfully defended in 2009 in Budapest and again in 2010 in Nancy. With a strong long-distance background she went the same year to the ITU Triathlon Worlds in Immenstadt and won silver, and then the same year in Edinburgh at the Duathlon Worlds took bronze over the tough Scottish course. In Horst over the long distance in 2012 she took gold and then, after a short break, claimed the silver on home soil in Kalkar. An impressive record of racing and dedication to the sport. Bronze went to Birgit Schellöh.
For the men, over the sprint distance, it was an exciting race between Austria and great Britain with a spectacular first run over the 5k course at 17:41 from Christian Siedlitzki AUT.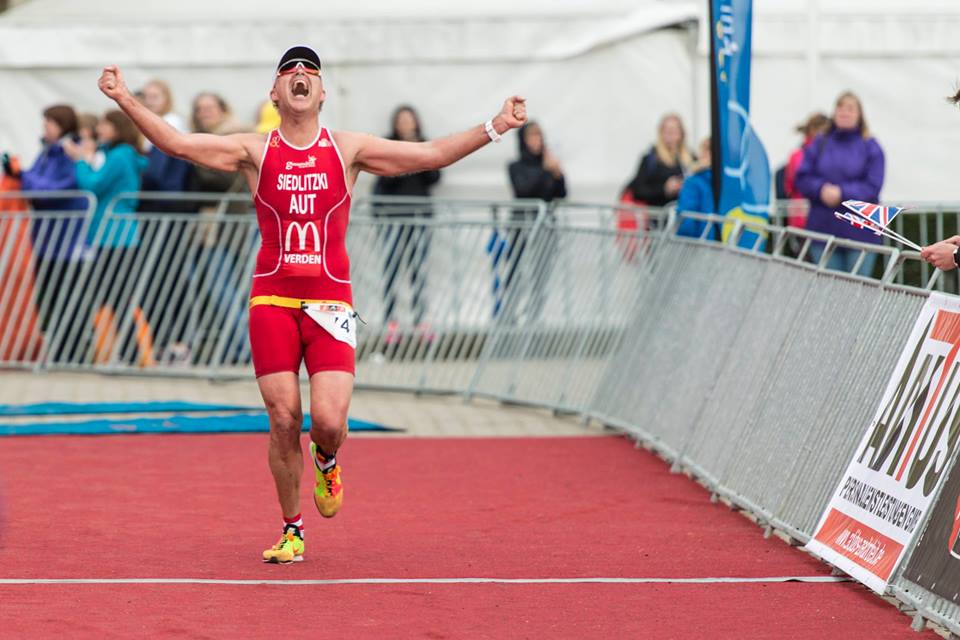 He outpaced the rest of the age group but once out on the bike he was caught and overtaken by Wayne Aylesbury GBR. It was the bike leg that decided it as the Austrian could not produce a faster second run.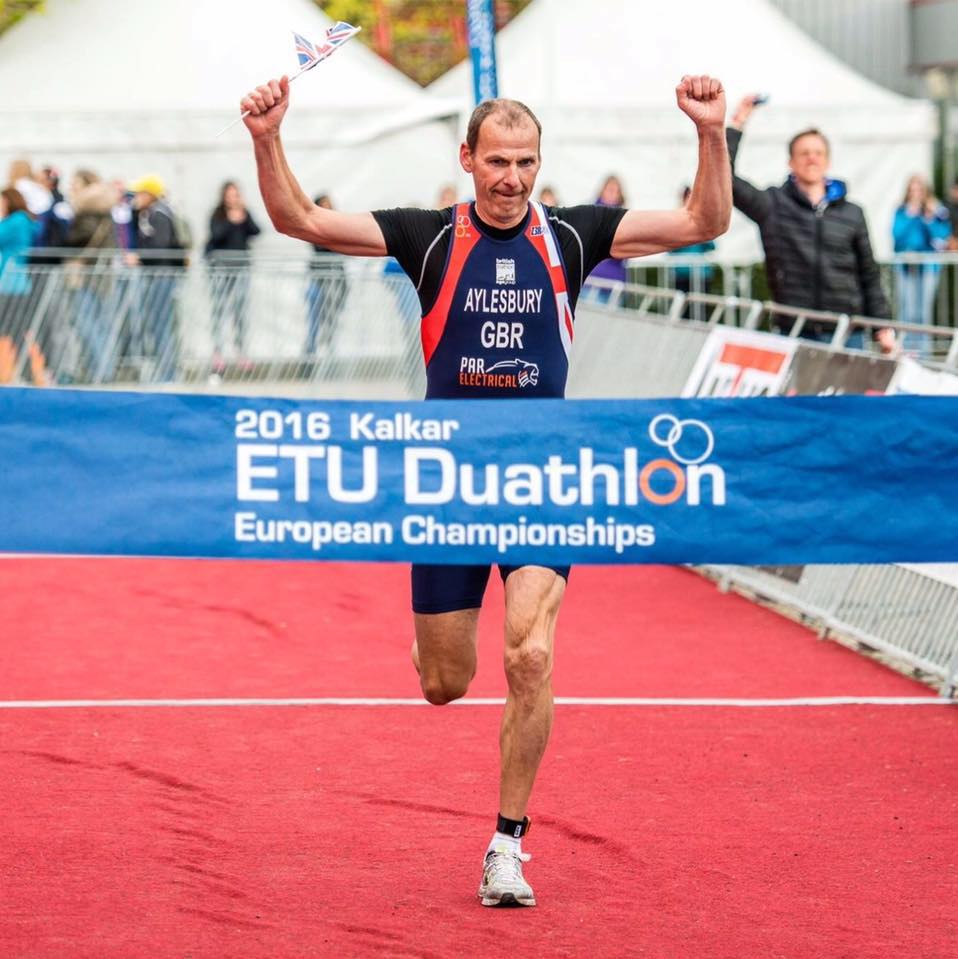 Gold to GBR and silver to Austria but it was a bronze as well to Great Britain with David Bagge. Bagge had a great bike in Aviles later in the year but missed out on the podium.
Siedlitzki just could not find that pace in Aviles and missed out on the podium in the sprint but it was Aylesbury who did the double with a gold and the world title in Aviles.
Standard distance medals went to Germany and the Netherlands.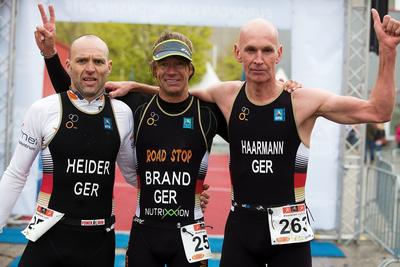 In his first outing on the ETU / ITU circuit, Jörg Haarmann brought home a bronze for Germany. Silver went to the only athlete in this category to break the hour on the bike. Dutchman, Edwin Ophof went on to win the Middle Distance title in Walchsee, showing us all that he can swim with the best.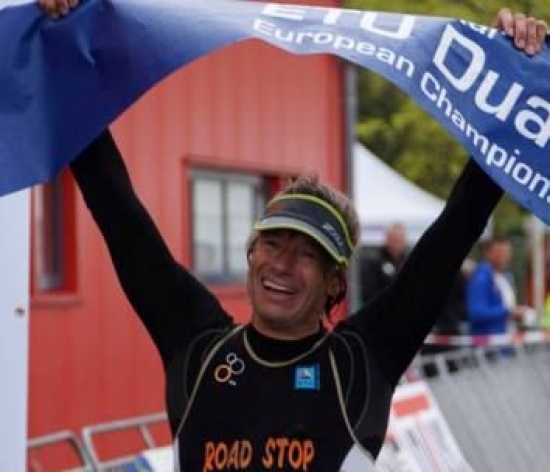 Gold went to Hubi Brand who claimed the title in Lisbon over the standard distance. All three ran comfortably under 40 minutes for the first 10k.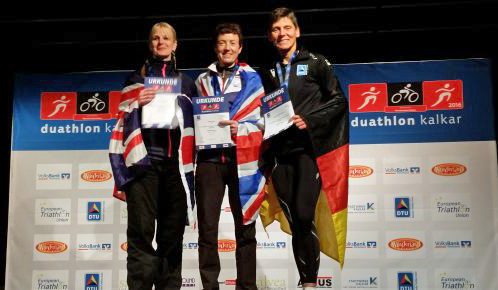 55-59 saw Carole Page GBR hit the front with a powerful run and take the title in the Sprint. Behind her, teammate Janice McWilliam was battling with Germany's Dr Angela Boczek.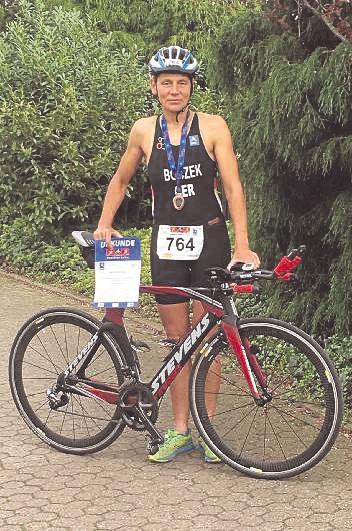 The German had greater power on the bike but it was McWilliam's running that took her to silver. After missing out on the podium in Alcobendas, this medal is an improvement on her bronze in Pontevedra.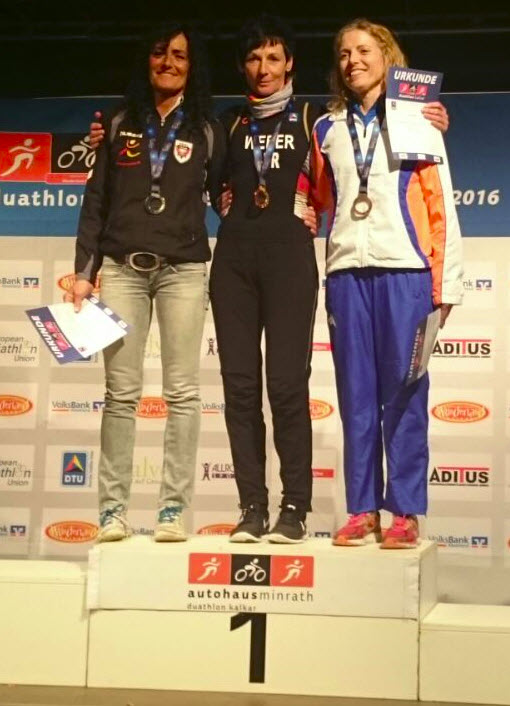 Over the standard distance, Germany dominated the first run and once out on the bike, despite a slow transition, it was Ute Weber who took control.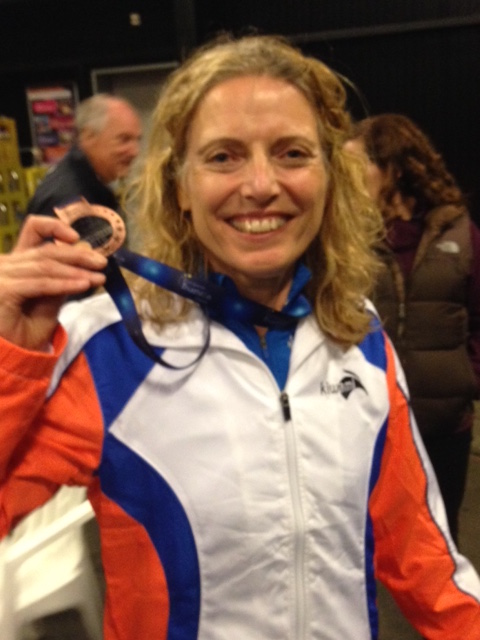 Her final run was enough to secure the title ahead of Gesine Rosner GER and Elly Visser NLD who later missed out on the podium in Copenhagen over the longer distance.
The men's Sprint saw Aeneas Appius SUI lead from the gun.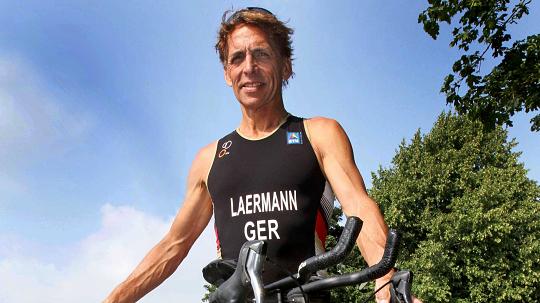 The title went to him with battle behind him being waged by the highly experienced, multi-title holder, Ralf Laermann GER and Willi Verleysdonk. Laermann went on to win bronze in Walchsee and in the blistering heat of Cozumel, came away with a silver in the Sprint. With 19 podium appearances and three titles, he has raced Sprint, Standard, Middle and Long Distance events, as well as Aquathlon and Cross. A great Ambassador for the sport in Germany. Over the Standard Distance it was once more a great performance from the top five finishers, all of whom went under 40 minutes for that 10k.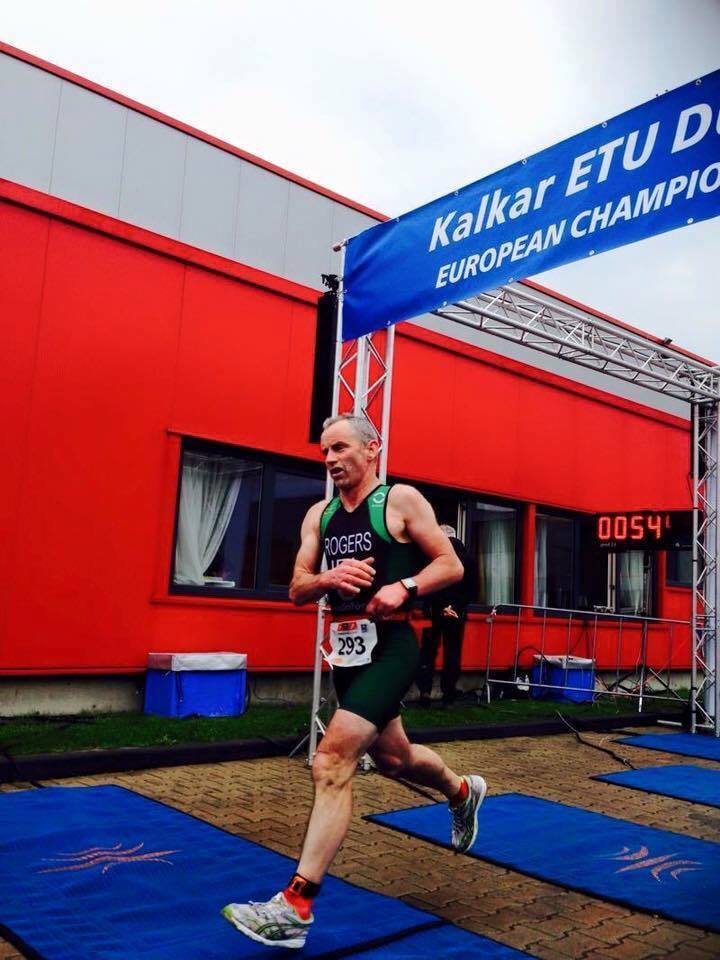 Ireland's John Joe Rogers went off like a rocket but faded on the bike. It turned out to be a battle between Germany and the Netherlands. Frank Manthey and Josef Limburg kept the local hopes high but Dutchman, Peter van Ravenswaaij would be the one to dominate with his well-timed and faster final run. He went on to take the title in his category in Zofingen to add a quite unique double to his name. Limburg went on to win silver in Walchsee.
60-64 saw the Brits get another clean sweep in the Women's Sprint.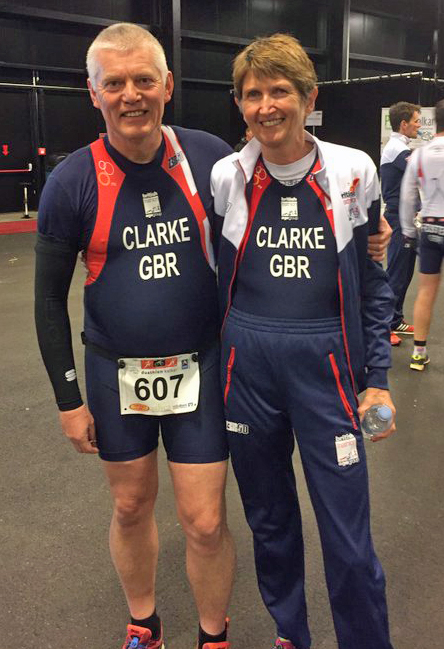 Sue Clarke had the run pace to win and improve upon her Alcobendas silver. She came to Kalkar with an Adelaide World bronze but was unable to reproduce a podium finish in Aviles later in the year. She was ahead of World title holder, Andrea Sanders-Reece, whose bike power looked ready to take the title. Her 4th in Aviles was one position ahead of Clarke. Bronze went to Wendy Read who has been collecting Sprint medals now since 2011. The standard race gave Jan Forrester GBR the title, an improvement on her silver from Alcobendas. She later took the bronze in Aviles. She was ahead of Germany's Edith Kowalski who held the Long Distance world title in 2010 in Immenstadt and who added a second 2016 silver with her race in Walchsee.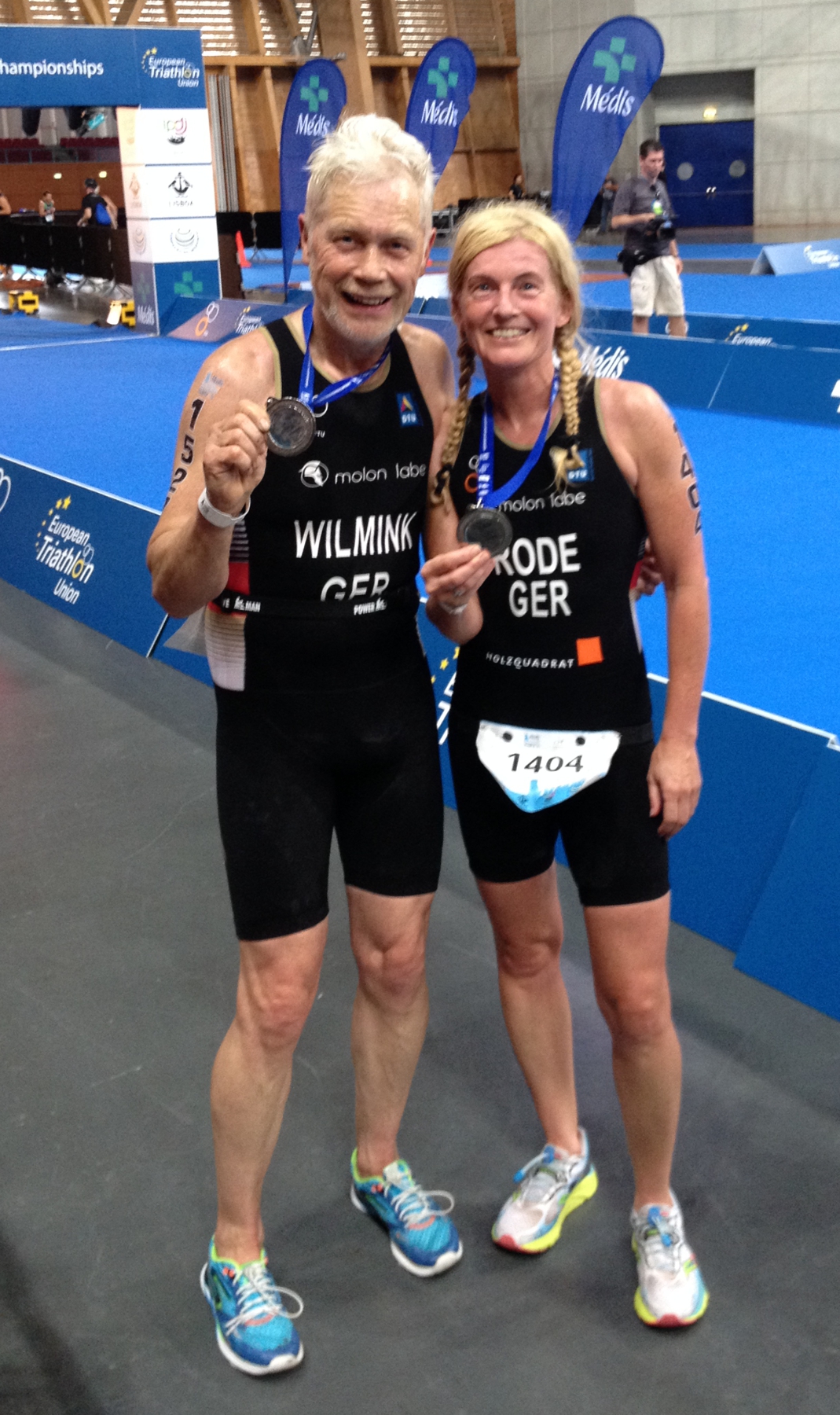 Germany's Heinrich Wilmink showed great pace through transition and that gave him the advantage he needed to pull ahead and take the Sprint title to add to his Standard gold from Horst. In Aviles he won silver and his race in Lisbon also gave him a silver. Previous medals and titles in Horst over the long distance show him to be a great all-round athlete. He was ahead of GB's David Butt whose silver matched that won in 2015 and who later went on to win bronze in Aviles.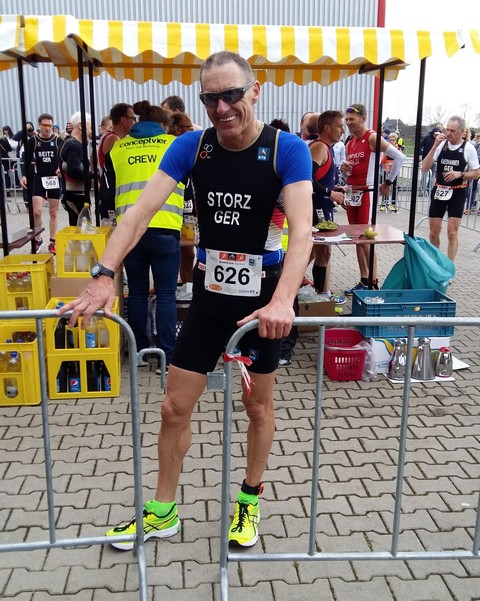 Bronze went to Heinz Storz. This follows his bronze in 2015.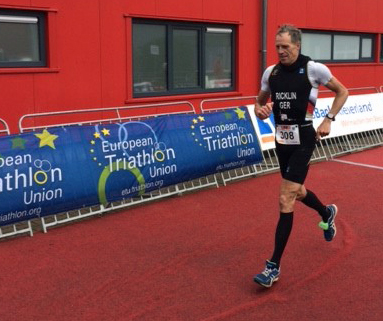 Over the standard distance it was gold to Germany with a stunning ride from Manfred Ricklin. His riding was enough to allow him to relax a bit on the run and still win by a comfortable margin.
Silver went to Denmark's Karsten Olsen. Olsen's power off-road has been seen. He has twice been world champion in Cross Triathlon and this year went on to win in Copenhagen and to take a silver in Vallée de Joux. Bronze was claimed by Reinhold Petzold.
In the 65-69 Sprint, gold and silver went to Britain, with Margaret Jagan having her fifth podium and edging out Sue Graves, whose dedication has finally given her a podium finish.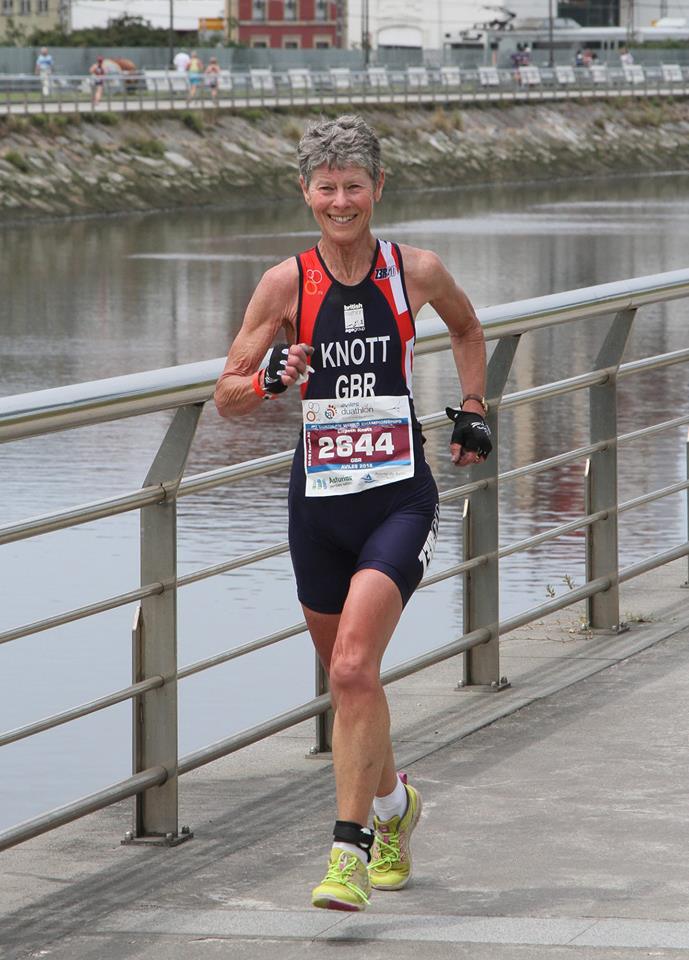 Over the standard distance it was a runaway victory for the evergreen Elspeth Knott. With 13 gold medals in her collection, she came to Kalkar as 2015 World Champion and went home as 2016 European Champion. Later in the year she regained her world title in Aviles.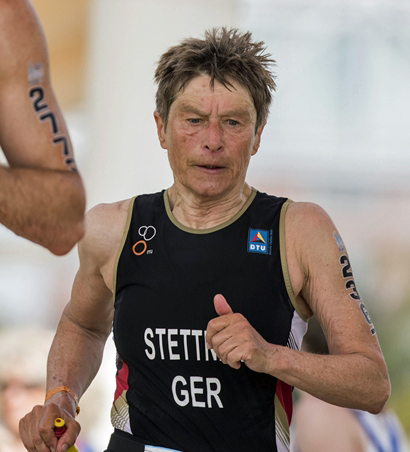 Inge Stettner GER races over Sprint, Standard and Long Distance and Kalkar delivered her sixth medal. She went on to win gold and bronze in Lisbon over the standard and sprint distances, respectively and was rewarded with a top ten place in Cozumel. Britain's Eleanor Robinson won the bronze and went on to gold in Copenhagen over the long distance.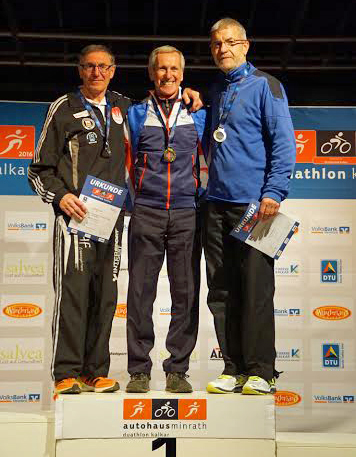 For the Men, the first three back into T1 went on to share the medals. Great Britain's Mick Anglim took the honours, with Reinhard Joas in second and Joachim Bernhardt in third, to give Germany some cheer.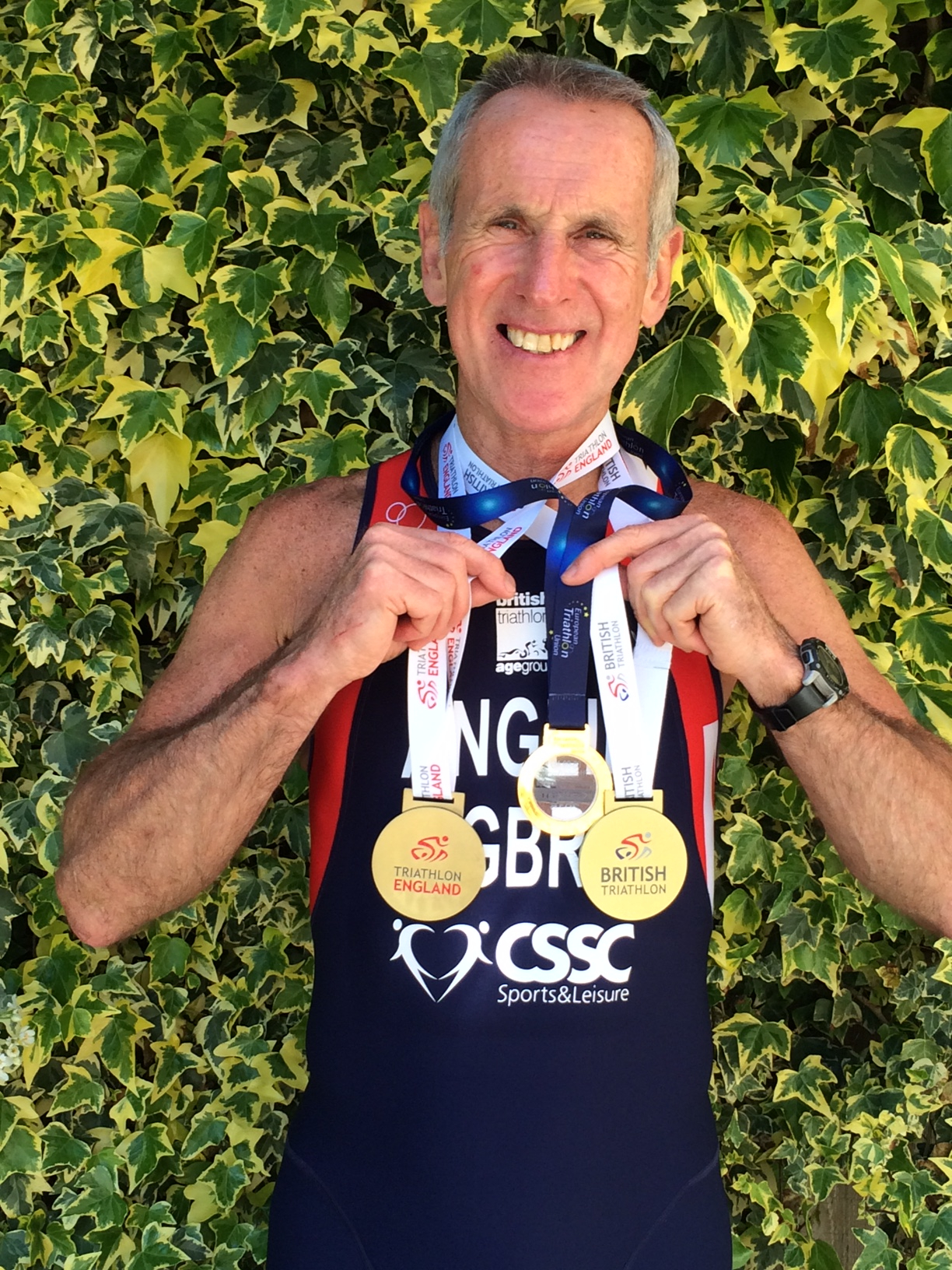 Anglim came to this race with a bronze in Alcobendas in the Sprint and a silver from the standard in Horst and so was delighted with his win. He just missed the podium in Copenhagen and had a top five finish in Aviles to round off the year. Joas has raced three times and has won silver on each occasion. Over long, standard and sprint, he has shown his ability. Perhaps 2017 might see that elusive gold come his way.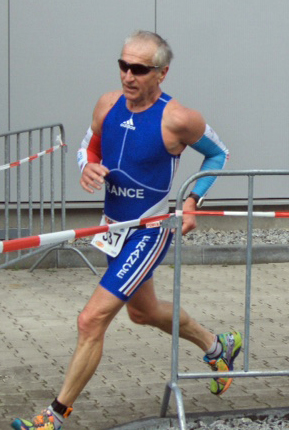 This year was a golden year for Frenchman Francis Viet. His win in Kalkar over the standard distance was great preparation for his victory in Zofingen in September. He kicked at the start and was almost a minute ahead of the chasing German duo of Udo Hopermann and Manfred Müllejans.
No women raced the sprint in the next category but over the standard distance it was a gold for Germany with Elisabeth Onißeit who went on to win gold in Walchsee.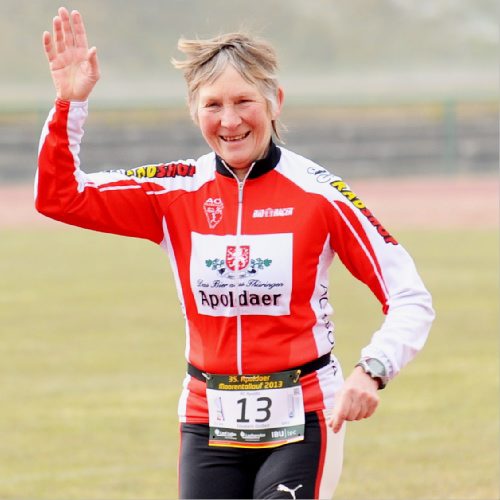 It would be nice to see her race more. She is strong and a great example to follow.
The men, in the 70-74 Sprint, were well-represented. 11 on the start-line. All finished and all finished in less than 90 minutes. The first run was absolutely dominated by Germany's Klaus Schmidt. 5k in 23:09 saw him lead out onto the bike only to be caught out on the 19.6k bike by GB's Michael Smallwood.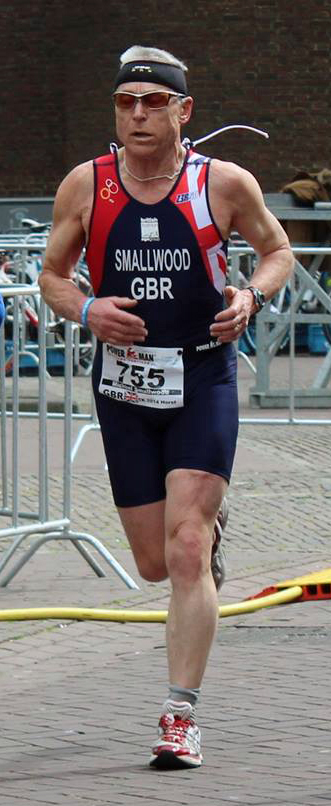 Easily the fastest bike split of the day, Smallwood had done enough to cruise to victory. Newly-arrived into the category, he went on this year to take titles at the Châteauroux ETU Aquathlon Championships and both Sprint and Standard World titles in Cozumel. Smallwood's medal collection over the years is truly impressive, with 9 titles and 19 appearances on the podium. Schmidt had done enough for silver and bronze went to Hans Frößler for his third bronze since 2007 in Hamburg.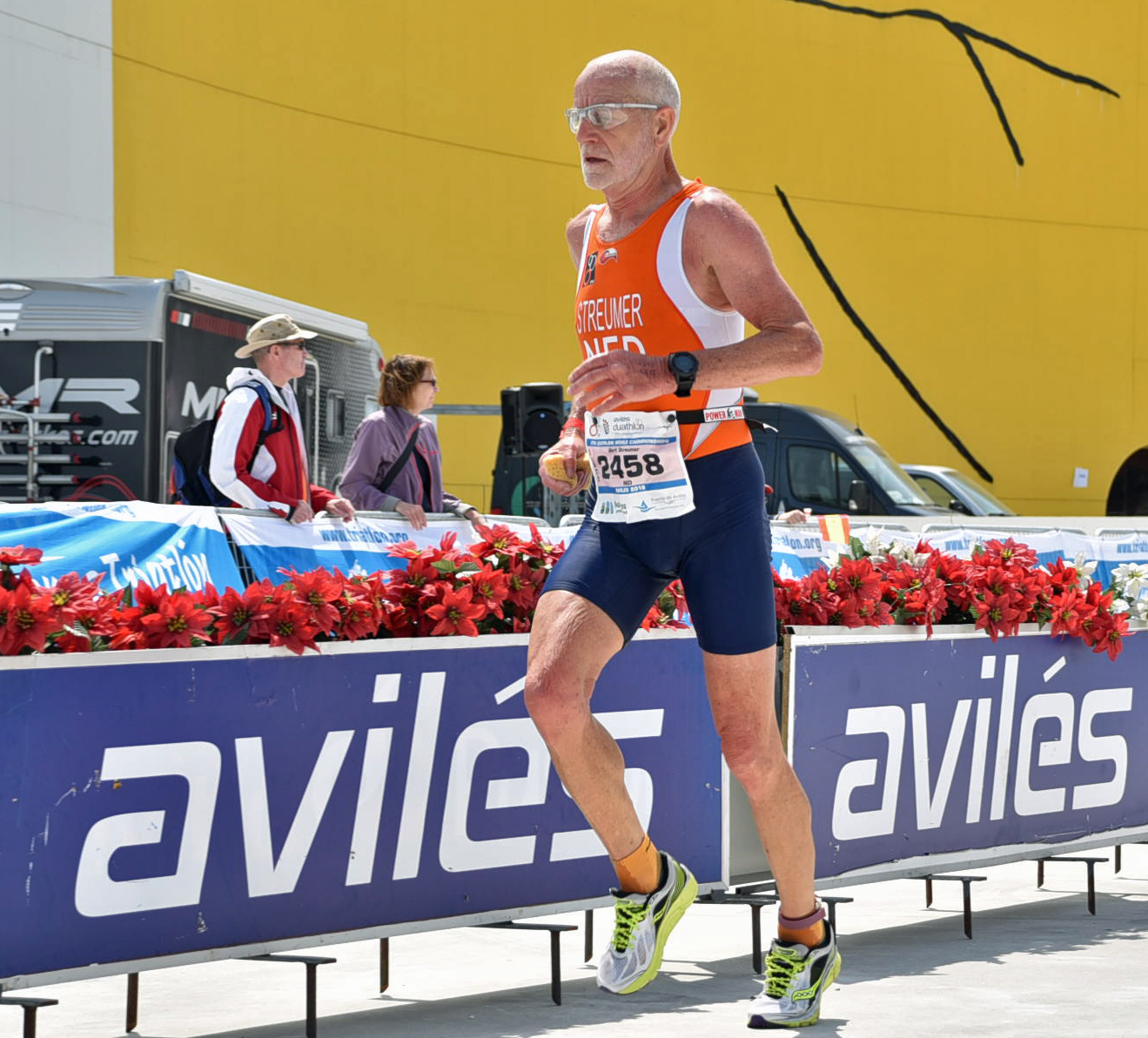 Six athletes raced the Standard Distance. It was a masterclass, delivered by Bert Streumer NED, that won gold and yet another title. An incredible racing history shows him to have won every race since 2010 and to have collected World and European titles over the sprint, standard and long-distances. Silver went to Germany and to Dr Ulrich Schäfer. He went on to finish in the top ten in Lisbon later in the year. Bronze went to Portugal with Carlos Leite just losing out on the bike. He later raced in Aviles to win silver.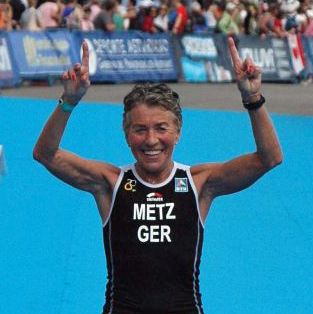 Frieda Metz was the winner in the 75-79 category over the sprint distance. Since she came onto the scene in 2006 in Rimini, where she won the title in the 65-69 category, she has won her age group every time apart from one DNF and a silver. 9 titles is something to be really proud of. No women raced the standard distance in this category.
For the men, the sprint saw 4 athletes start. With only 3 medals up for grabs it would always be a tough race and it would be the fast running of Germany's Lothar Bathe that would decide the medals.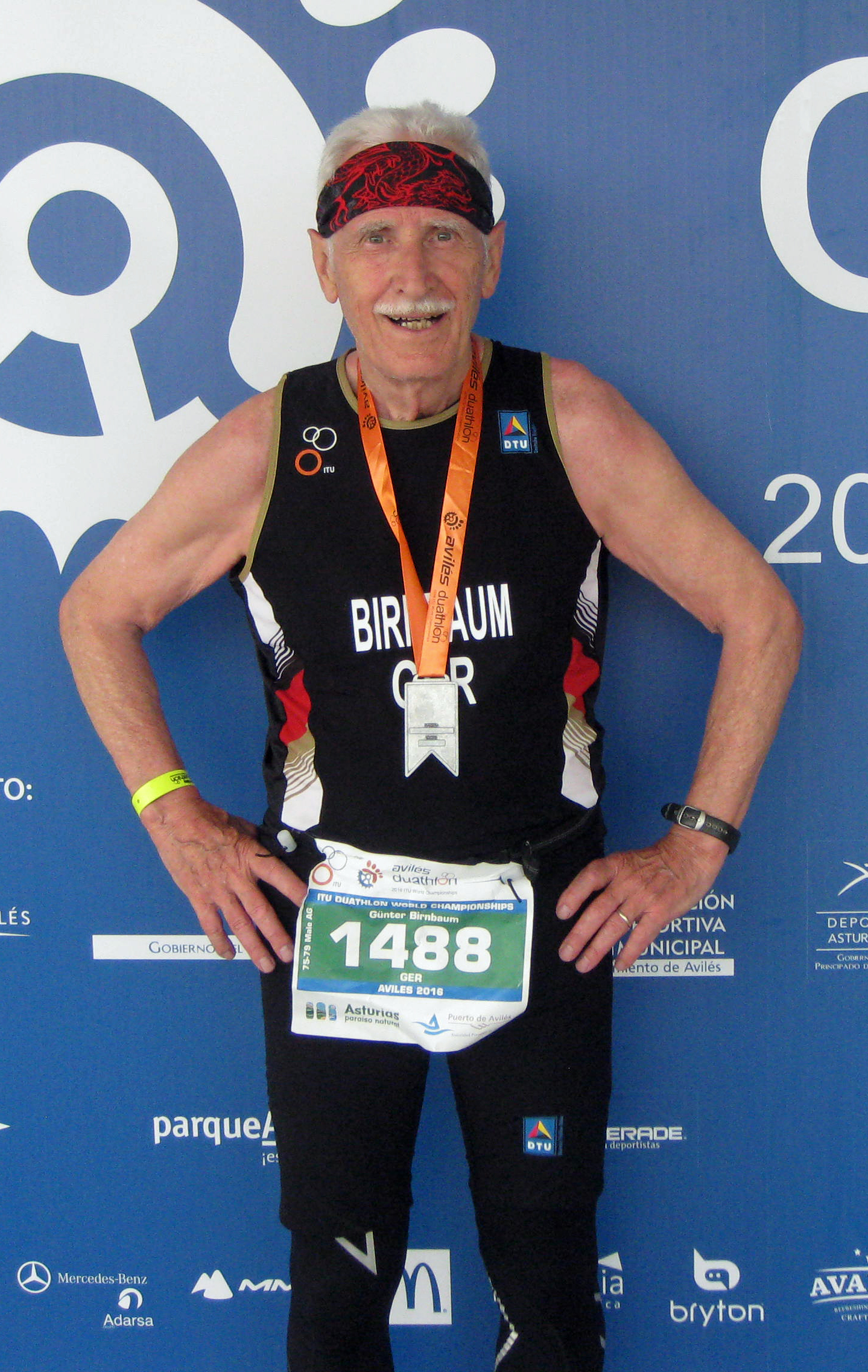 He led comfortably and even with Joseph Osterkamp pushing hard on the bike and the presence of the reigning Cross Duathlon Champion from Castro Uridales, Günter Birnbaum, it was going once more to be a victory for Bathe.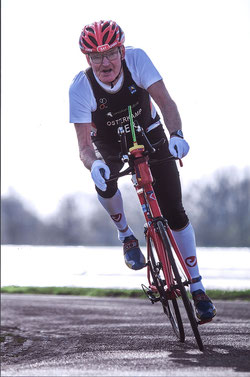 These elder statesmen of our sport race cross, winter, long-distance and sprint. Just check out their splits – be prepared to be impressed.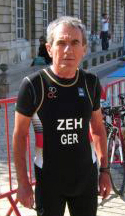 But save some of that "being impressed" for Ernst Zeh who, in the is the European Duathlon Champion, Standard Distance, 2016 and who went on to become the World Champion in Aviles in June. His 7 races have delivered him 6 gold medals.
If there is any better advertisement for keeping fit, it cannot be anything other than seeing results for people still racing as they leave their "three score years and ten" far behind. In the 80-84 Sprint, it was gold and silver to Germany and Britain.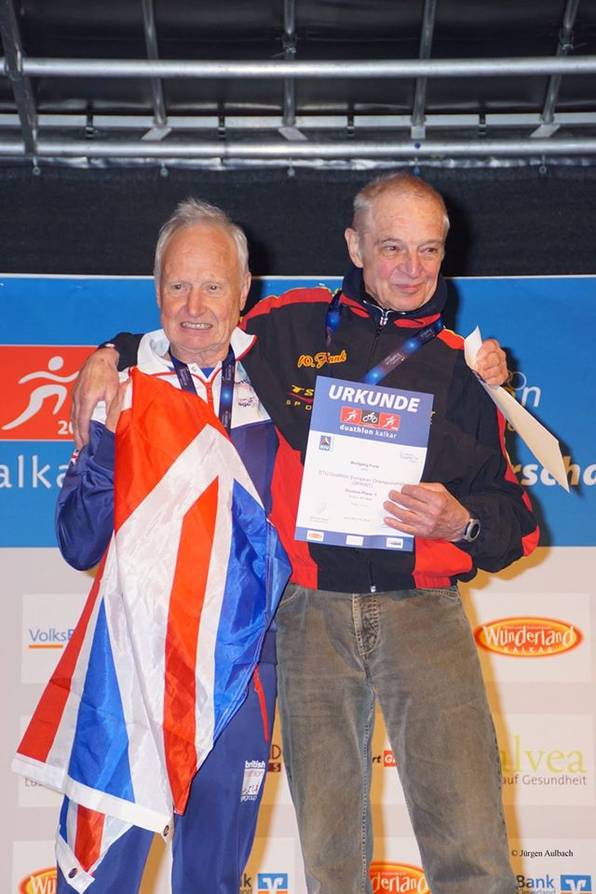 Wolfgang Funk won his first medal in Geel at the ITU Long Distance Duathlon Championships. It was a bronze. Since then he has been collecting gold and silver and following his victory in Kalkar went on to Aviles to once again dominate. Silver went to Maurice Young, who came to the race with the Adelaide, Pontevedra and Ottawa world titles behind him and as defending title-holder from Alcobendas.
Catch up with Copenhagen tomorrow.
Latest
Videos
---
Latest
Event Galleries