NEWS
The first Europe Triathlon event of 2022: Asiago
By media@europe.triathlon.org
|
27 Jan, 2022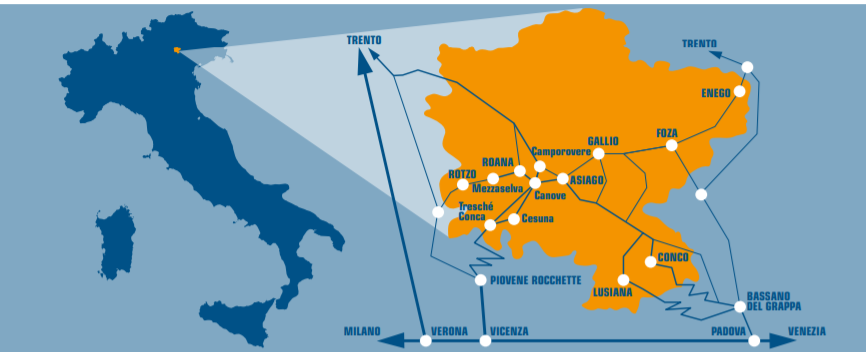 2022 EUROPE WINTER TRIATHLON CHAMPIONSHIPS ASIAGO
Italy's rich history of Winter Triathlon European Championships:
• 2018 Etna ETU Winter Triathlon European Championships
• 2012 Valsesia ETU Winter Triathlon European Championships
• 2006 Schilpario ETU Winter Triathlon European Championships
• 1999 Mals ETU Winter Triathlon European Championships
• 1998 Mals ETU Winter Triathlon European Championships
Five times already, Italy has hosted the European Winter Triathlon Championships. 2022 will make it six and in February we will see Europe's best winter triathletes head to Asiago, a location already well-known on the circuit, having twice hosted the Winter Triathlon World Championships.

Italy has been a great supporter of this wonderful sport, hosting the very first world championships in Mals in 1997. So good was the event and so happy were the athletes that in 1999 both the European and World Championships came to Italy, to be held in Mals and Bardonecchia respectively. 2002 saw the world's best come to Brusson and then to Flassin in 2007. Cogne, in 2013 and 2014 gave us the closest finishes you could imagine in the elite men's race, with Russia's Pavel Andreev winning a close-fought battle with Italy's Daniel Antonioli on both occasions.
There is little doubt then, that Italy loves Winter Triathlon and that Italy is loved as a location for winter triathletes from all over Europe and all over the world. 2022 will see not only the European Championships but also a World Cup race take place over the weekend. This year will see an exciting new development for the Elite and U23 athletes as they race the "standard distance" over the Run/Bike/Ski/Run/Bike/Ski format. FiTri, working with Triathlon 7C will bring the very best of organisational skills, the very best of locations and the very best of courses to you at a location high above Venice.
Friday 18th February will see the Elite / U23 and Juniors race for medals, points and prize-money, and on Saturday 19th, it will be the turn of the Age-Group athletes to race for glory after the early morning Elite / U23 / Junior relays. Of course, all the COVID-19 protocols will be in place to ensure the safety of athletes, technical officials, volunteers and everyone working at the event. FiTri has worked hard with World Triathlon, Europe Triathlon and the WHO to ensure the very best controls are in place and the event schedule reflects the need now for these extra precautions.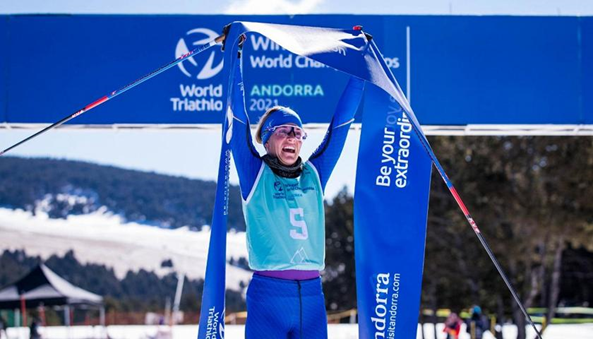 The reigning World Champion, Italy's very own Sandra Mairhofer, will be hoping that a home soil advantage will work in her favour and without doubt the local crowds will be screaming their support out for her. She will come to Asiago following the World Championships that are taking place in Andorra a couple of weeks before.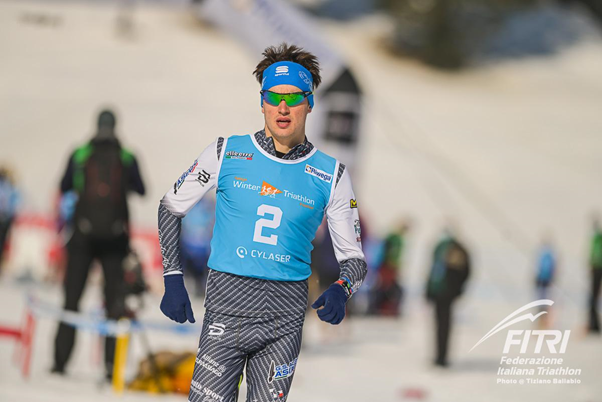 The Italian men, with athletes moving very successfully up from the Junior and U23 ranks, will certainly be hoping to claim some of the places on the podium and to challenge the mighty Russians. Coming to the race as Italian Champion, having successfully defended the title he won in 2021, Franco Pesavento will be hoping that he and Sandra Mairhofer can make some magic and deliver two gold medals to the host nation. Pesavento on the run is outstanding. In Andorra last year and in Asiago he led the field into T1. Although still young, his potential is growing with each race and he has worked hard on his biking during the summer months. Teammates Giuseppe Lamastra, Daniel Antonioli and Alessandro Saravalle add to the strength and depth of the Italian team. Europe has long been in charge with regard to Winter Triathlon. All the great winners have been Europeans and for the past few years, it has been Russia that has dominated. With the greater availability of events, the longer snow season and of course the great tradition of this sport in Russia, we know that when they come to a European or World Championship, the Russians are most certainly race fit and ready for action. A surprise win in Andorra last year saw Hans Christian Tungesvik from Norway outski Russia's Pavel Andreev. A truly exciting race there saw the Norwegian take the gold medal and world title by almost a minute. He is due to race both the duathlon and triathlon event in Andorra before hopefully coming to Asiago. Who knows, if he wins there, he might then be able to add the European title to his collection.
Sandra Mairhofer's win in Andorra ahead of the Russians, Anna Medvedeva and Daria Rogozina, was the start of a magical year. The Italian off-road specialist went on to win gold at the 2021 Europe Triathlon XTERRA Cross Championships Dolomiti Paganella and finished the season with a silver at the World Triathlon Cross Championships El Anillo – Extremadura. She will be the race favourite for sure.
The U23 athletes will start alongside the Elite and amongst the women, it is once again the strength and might of the Russian team that is likely to dominate the women's line up. Mattia Tanara might well add to the Italian medal collection in the Men's U23 category. His great win in 2021 in Andorra and a solid performance at the Italian national championships only recently in Cogne shows him to be on good form.
Norway's junior women certainly showed good form in Andorra last year and will be the ones to watch in Asiago. Amongst the junior men, it was the same story and so we can expect to hear the Norwegian national hymn being played at the Awards ceremony. But as we all know, Winter triathlon is a big favourite amongst the Age-Group athletes and, as so many are already familiar with the location and as so many have already signed up for the race, we can expect to see many different flags at both the Opening and at Awards ceremonies. The race courses remain unchanged from the successful editions of the World Championships.
2022 Europe Winter Triathlon Championships
INTRODUCTION
The purpose of the Athletes Guide is to inform both athletes and team managers about all procedures concerning the Event. The LOC has made every effort to ensure that information are correct and up‐to‐date. However, Team Managers are advised to check up-to- date information and last-minute changes on World Triathlon and FITRI websites.
Event schedule:
This is a prospective schedule. Hours and days may be modified due to weather conditions.
Location: Centro Fondo Campolongo
Date: 17th - 20st February 2022
Local Organizing Committee: Triathlon 7C asd
LOC Contact: Leonardo Franco +39 347 6898418
Website:http://www.asiagowintertriathlon.comwww.europe.triathlon.org
Email: http://asiagowintertriathlon@gmail.com
Facebook: http://www.facebook.com/asiagowintertriathlon
Friday 18 February 2022- Elite/U23 European Championships + World Triathlon Winter Cup – Standard*- Juniors European Championships – Sprint* (*) New format: Run/Bike/Ski/Run/Bike/Ski
Saturday 19 February 2022- Elite/U23 Mixed Relay European Championships – Super sprint- Juniors Mixed Relay European Championships – Super sprint- Age-Group/Para European Championships – Standard
ELITE/U23 COURSE
(see the image below)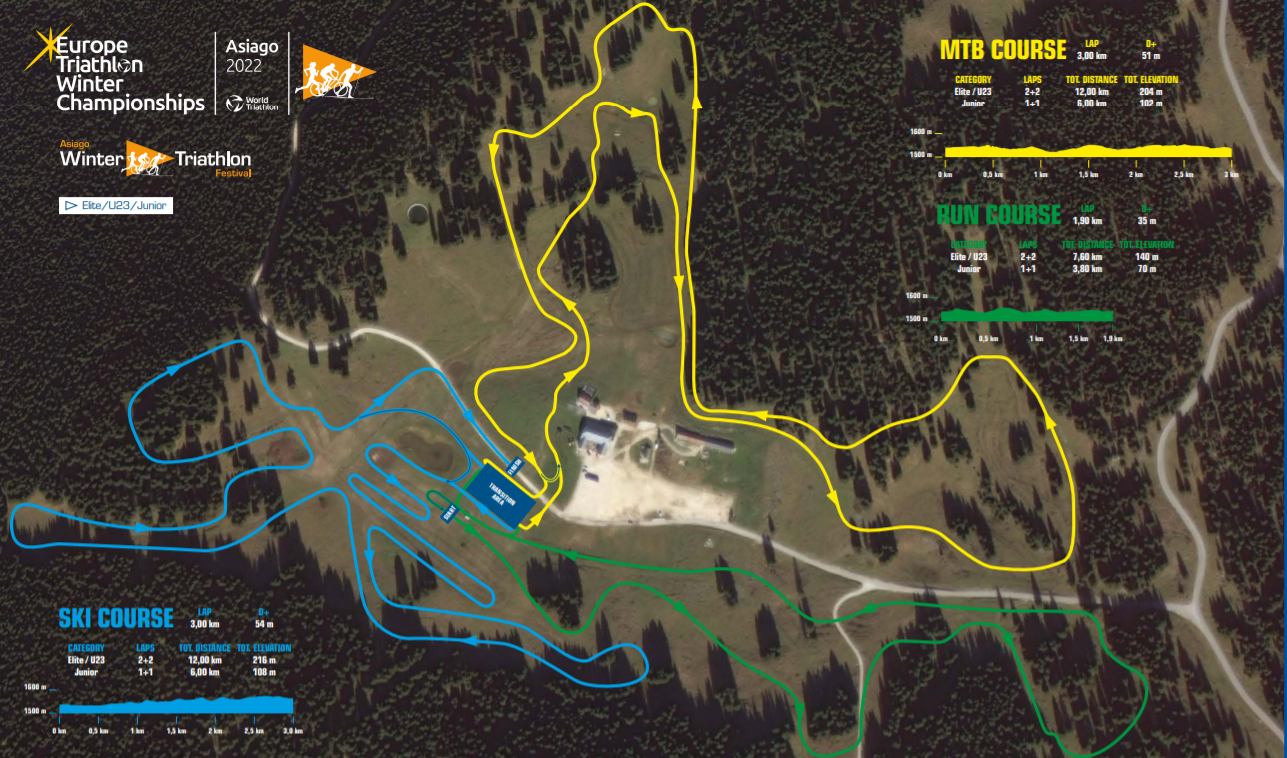 MIXED RELAY COURSE
(see the image below)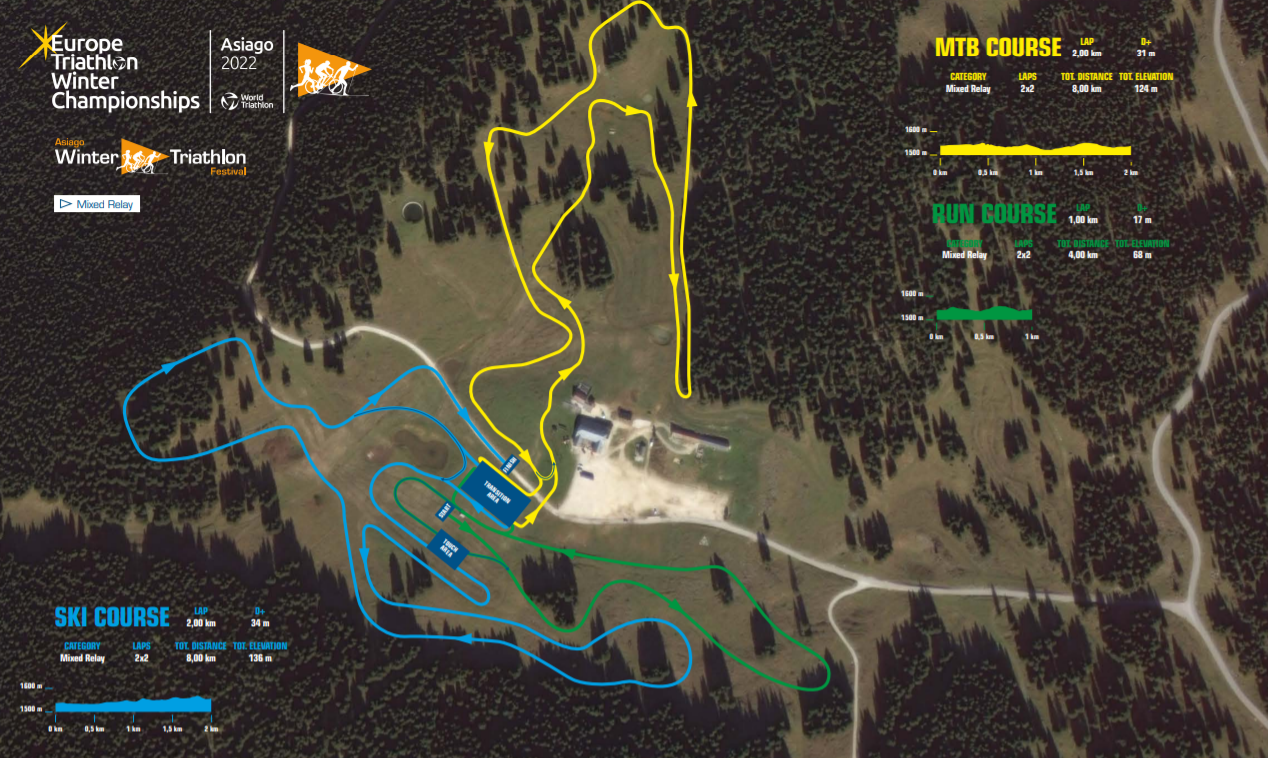 AGE GROUP AND PARA TRIATHLETES
(see the image below)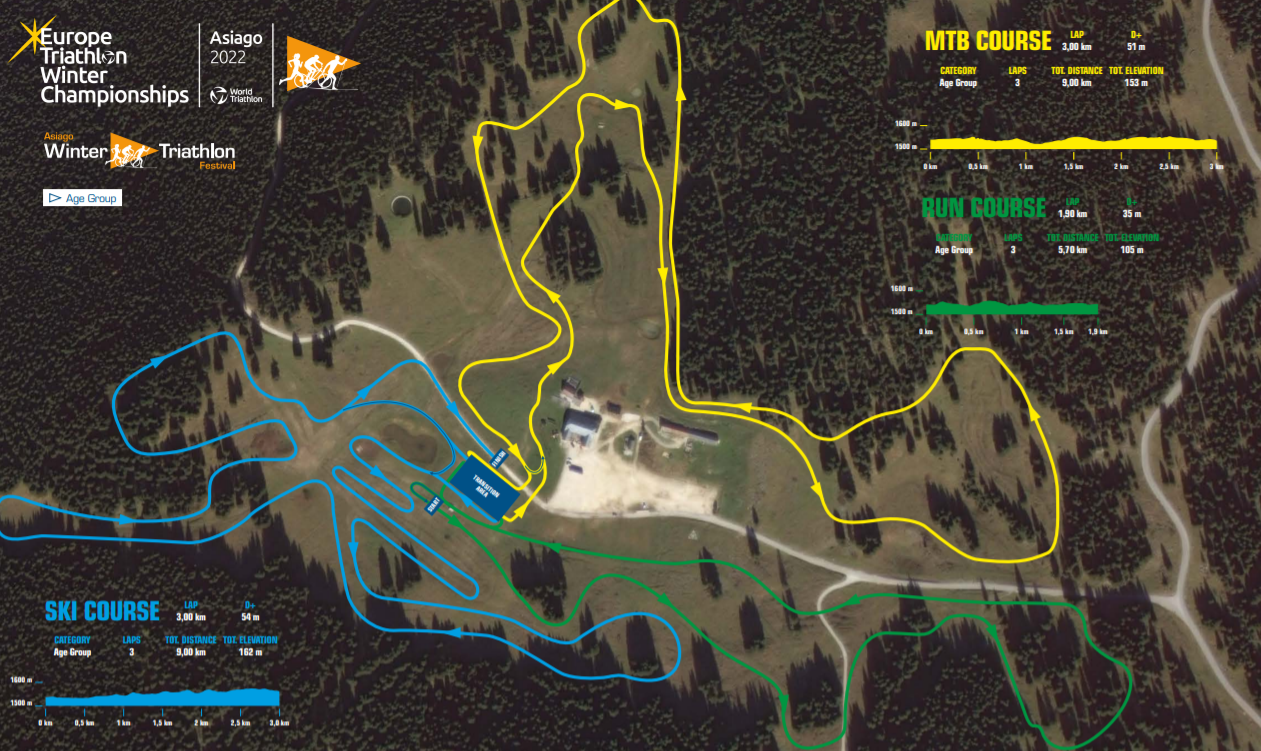 DEADLINE FOR AG REGISTRATION
- Age-Group athletes need to contact their National Federation (NF) for further information. In case an athlete is not able to get in touch with his/her NF, s/he should contact [agegroup@triathlon.org](mail:agegroup@triathlon.org) NFs must collect the entry fees from athletes. No athlete can directly pay to the LOCNational uniform must be worn. Contact your NF. We look forward to seeing you for the first Europe Triathlon event of 2022. The original entry deadline was yesterday, 26 January, but it has been extended until February 1st! You still have time to register if you have not yet done!
Registration and Race pack distribution for Elite/U23/Junior
A Covid-19 antigen test is mandatory for athletes and related accredited team support on their arrival on the
venue on Thursday morning, according to slots by country communicated in the week prior to the event.
In case of a positive test, a PCR test will be performed immediately afterward . Those waiting for a PCR test result will have to be waiting in self-isolation. Athletes are kindly recommended to inform the Loc of the time of their arrival and the location of their staying be- fore February 11th, 2022. If possible antigen tests will be carried out directly in the hotel on Wednesday evening. After a negative antigen test, athletes and team support must go to the entrance of the registration area for temperature and green pass check, where they'll receive a blue wristband to be worn intact for the entire duration of the event. Only at this point athletes can collect their race packs. On the race venue it always mandatory to wear FFP2 face masks and keep social distancing. Access to the field of play and courses familiarization is strictly forbidden prior to the registration procedure.
Registration and Race pack Distribution for Age Group Athletes
On their arrival on the venue Age Group Athletes must show up at the entrance of the registration area for temperature and digital vaccination certificate (green pass) check, where they'll receive a blue wristband to be worn intact for the entire duration of the event. Afterwards they may proceed to registration and race pack collection. On the race venue it is always mandatory to wear FFP2 face masks and keep social distancing. Access to the field of play and courses familiarization is strictly forbidden prior to the registration. Bag drop area for age groupers inside the registration complex.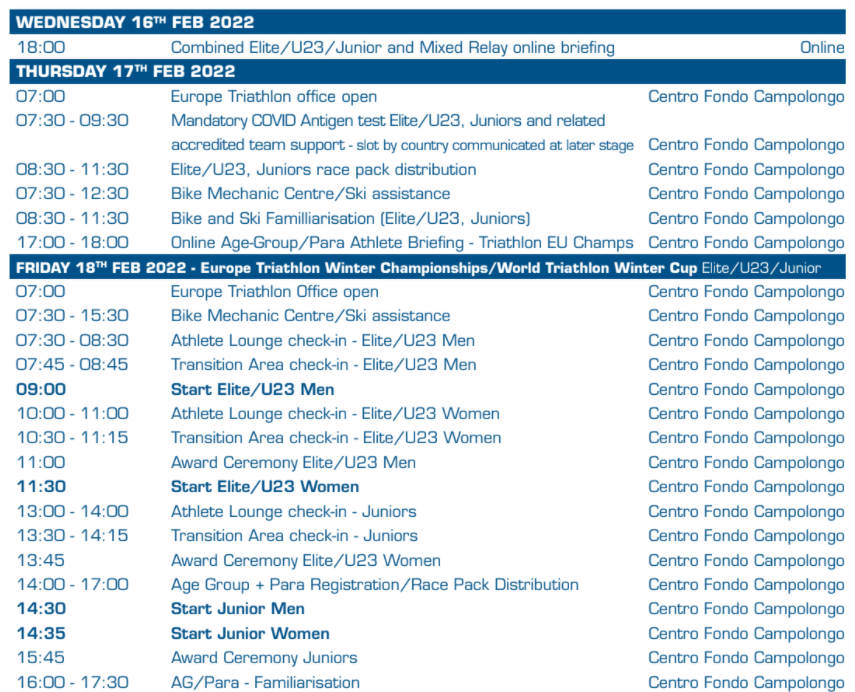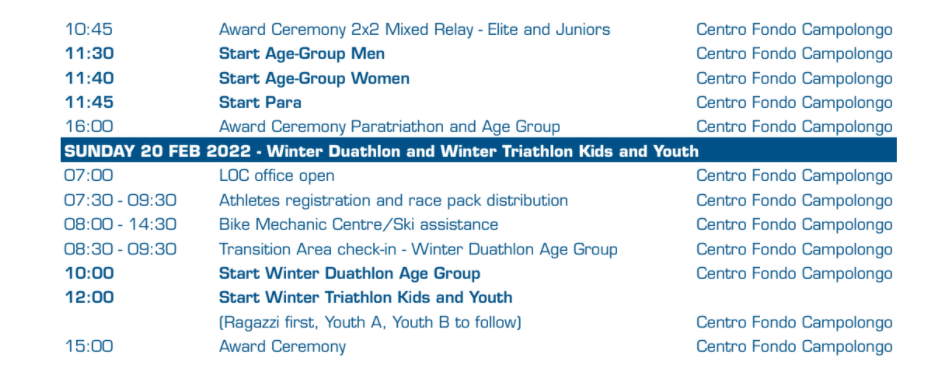 BIKE MECHANIC CENTRE/ SKI ASSISTANCE

Ski assistance available in the Centro Fondo's rent.
The weekend of races does not finish on the Saturday but continues with an open race for those wishing to race the Winter Duathlon. This will be on the Sunday, starting at 10:00hrs and with a Kids and Youth race at 12:00. Bring the family. See how many medals you can collect.
For more information click on this link: https://www.fitri.it/it/gare/calendario/download.html?file=L3Zhci93d3cvZml0cmlfZmlsZXMvZXZlbnRvLzAwMDAxODk4QS5wZGY=
Asiago – see you there!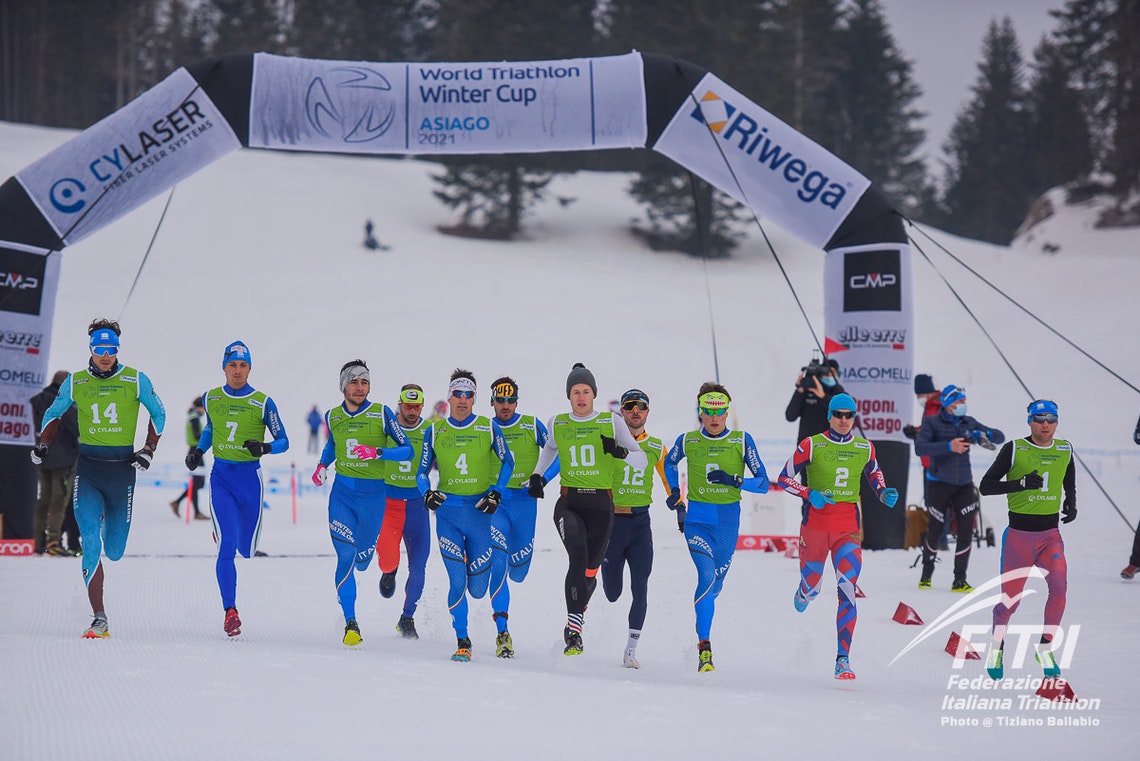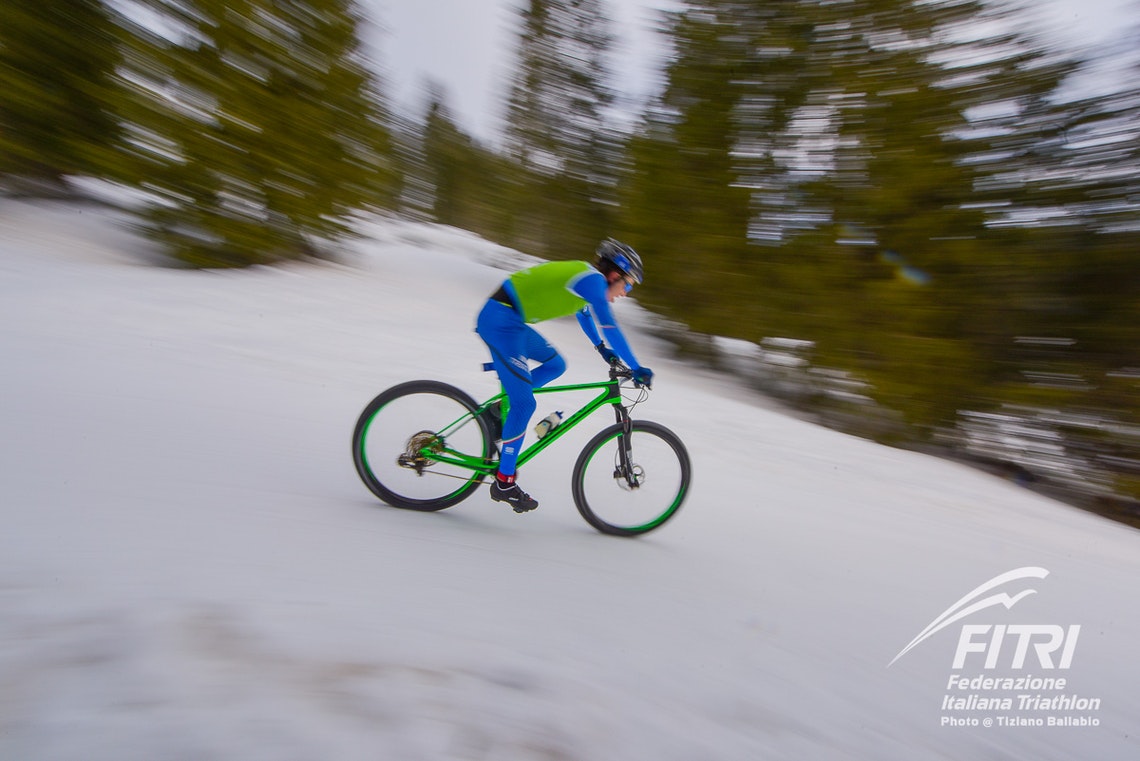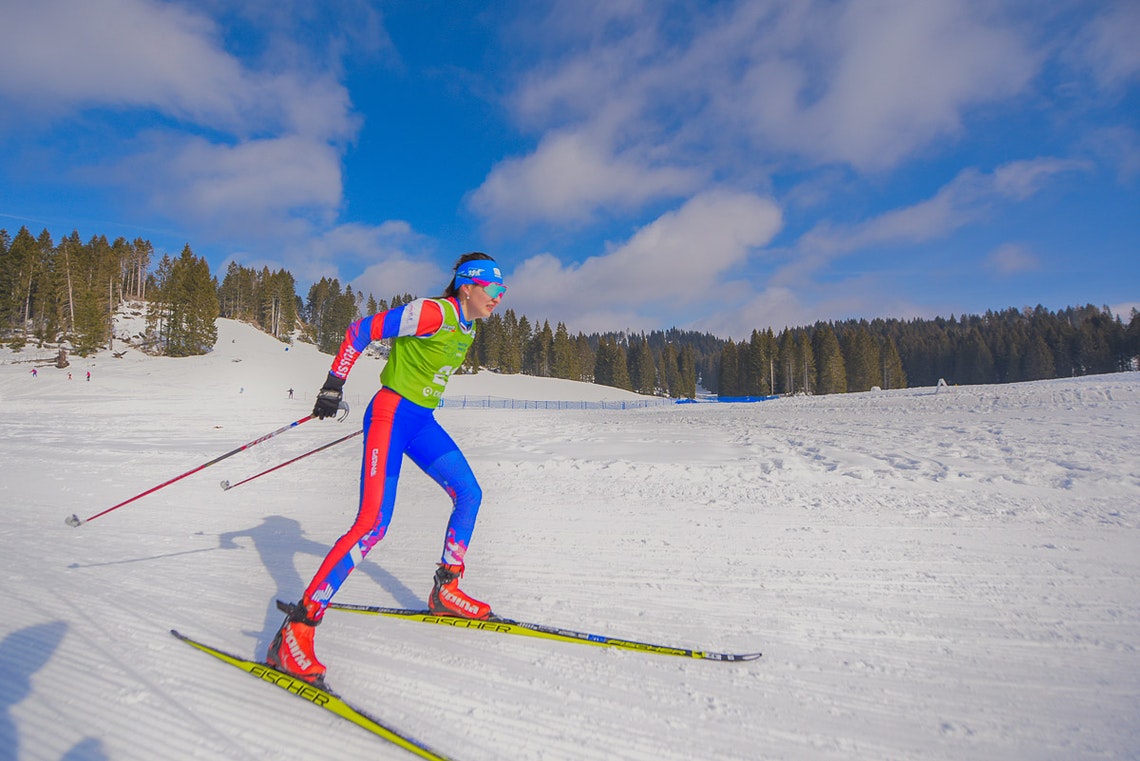 Latest
Videos
---
Latest
Event Galleries