NEWS
Age-Group Aquathlon - GB athletes get reward and recognition from BTF
By Paul Groves
|
12 Jan, 2019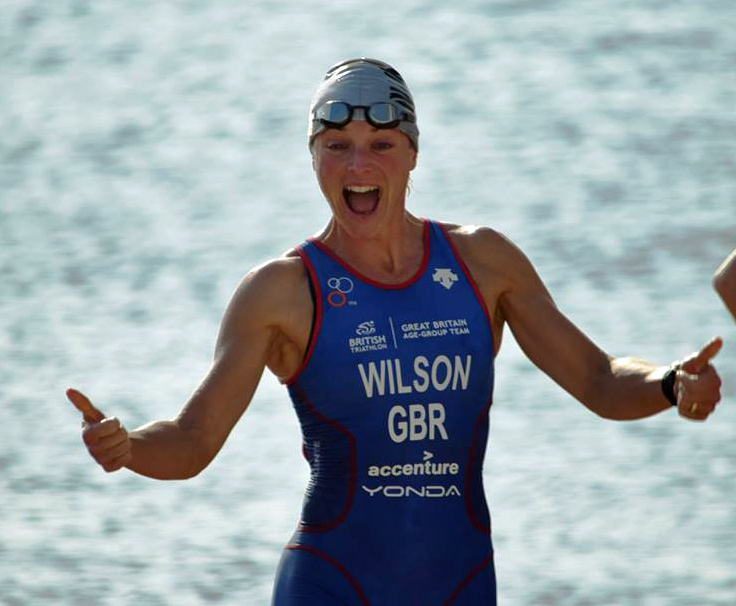 Team GB swept up the medals in the Aquathlon, with a massive 15 golds, 11 silver and 11 bronze medals. The hosts lost out to the French age-groupers who matched the Spanish gold tally but with a stronger presence in the silver medal position, secured 2nd place ahead of the Spanish team.
| | | | | |
| --- | --- | --- | --- | --- |
| | | Gold | Silver | Bronze |
| Great Britain | | 15 | 11 | 11 |
| France | | 3 | 6 | 2 |
| Spain | | 3 | 2 | 5 |
| Italy | | 2 | 2 | |
| Germany | | 2 | | 1 |
| Greece | | 1 | | |
| Russia | | 1 | | |
| Norway | | | 1 | |
| Ireland | | | | 1 |
| Romania | | | | 1 |
| Switzerland | | | | 1 |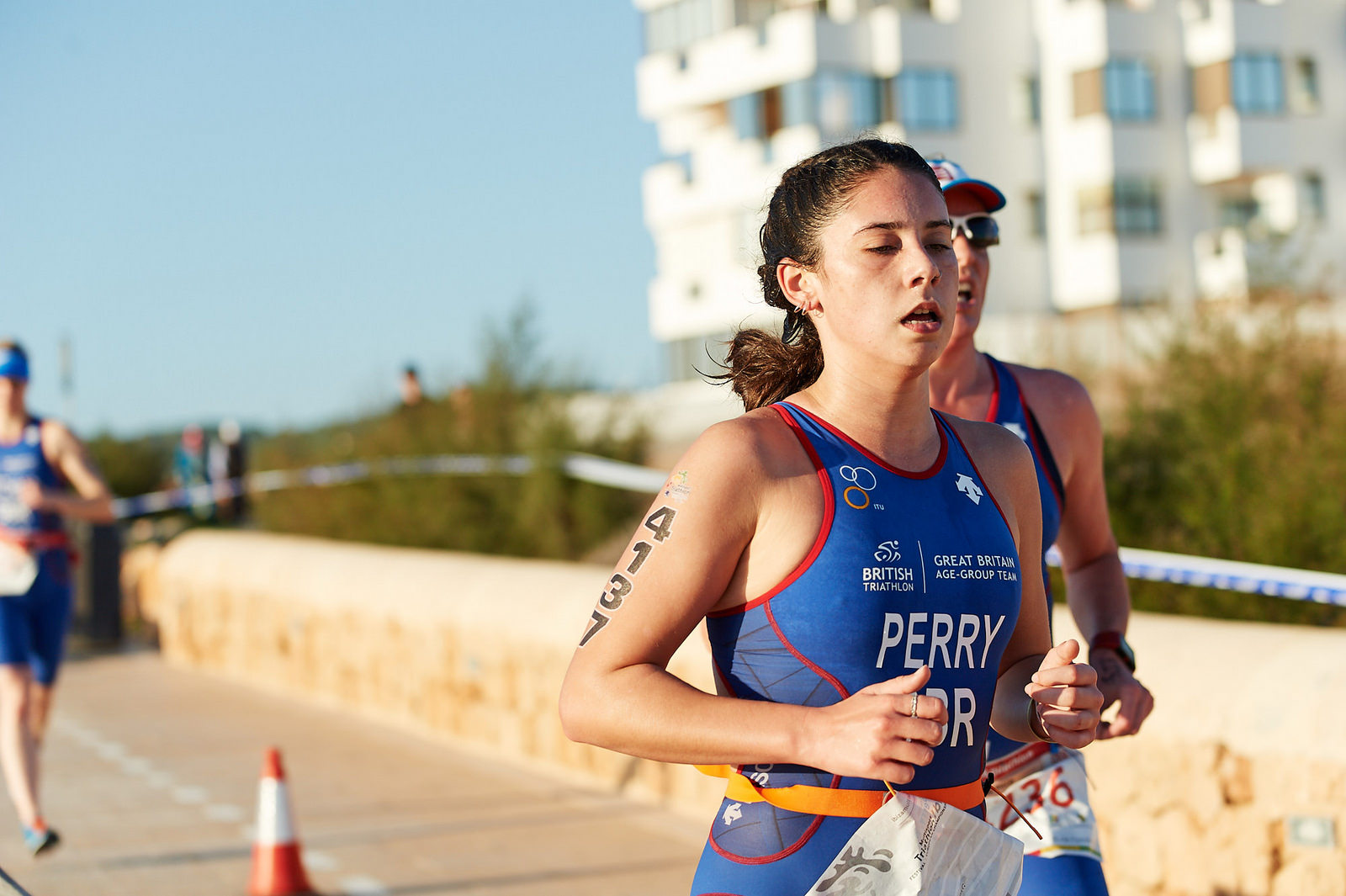 In the youngest category, Great Britain's Niamh Perry posted exactly the same swim split as she did in Fyn when she won silver behind a fleet-footed Kiwi. Perry led them out of the water in Ibiza with over a minute's advantage and was able to hold on to her lead despite a faster run put in by teammate, Lara Greggs who had finished behind Perry in Fyn. Greggs has certainly been working on her running and can look forwards to the 2019 season knowing that her running has improved. Léna Uvalle FRA came home for bronze.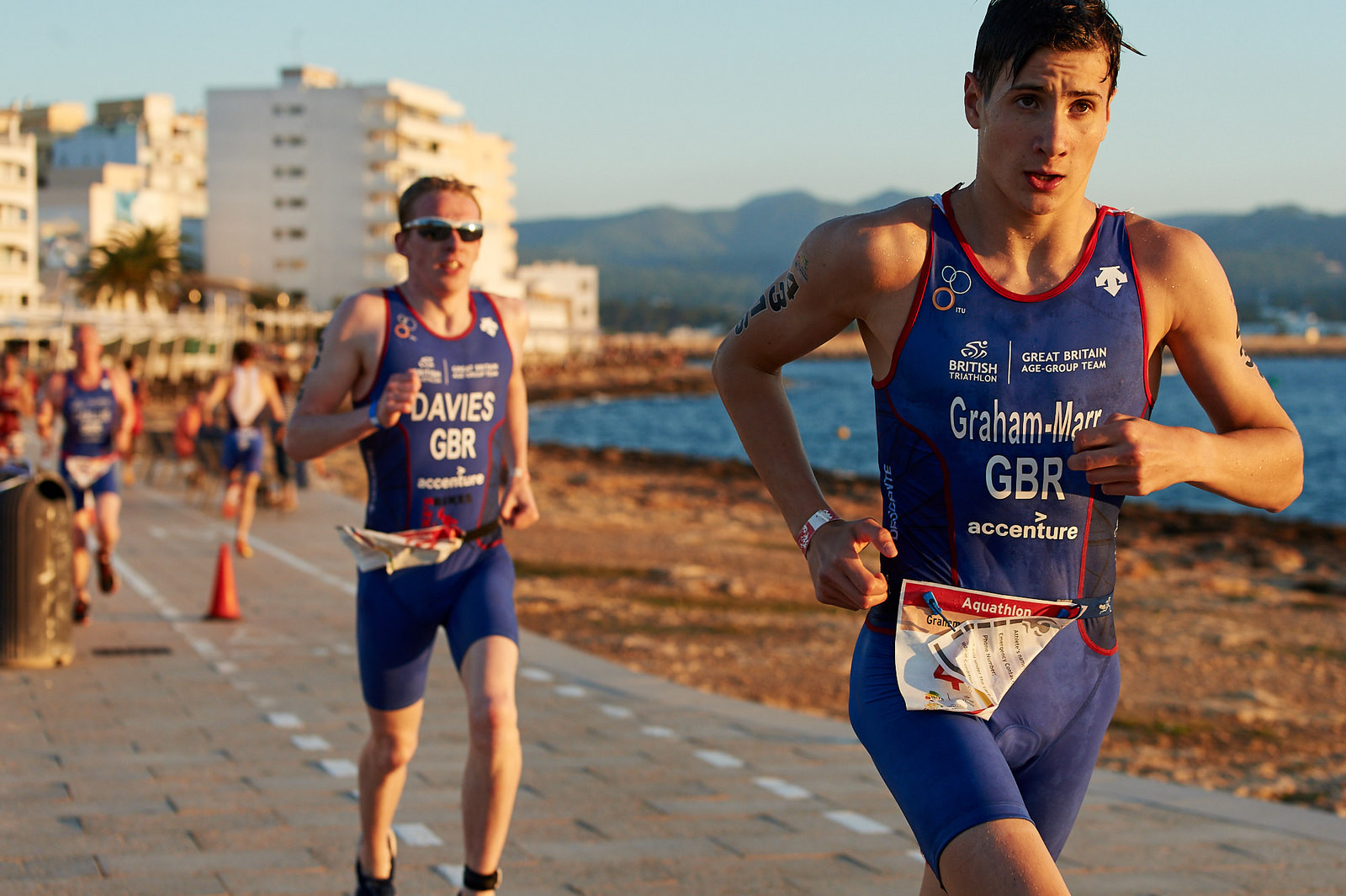 It was Pembrokeshire Tri's Rhys Davies who led them out of the water. The Fyn bronze medal-winner had a comfortable lead as he left transition but a superb run from Scotland's Tom Graham-Marr saw him put to bed the ghost of Fyn-past, where he DNF'd. Graham-Marr simply outran everyone to take the title ahead of Davies. Bronze went to Spain's Víctor Greciano García.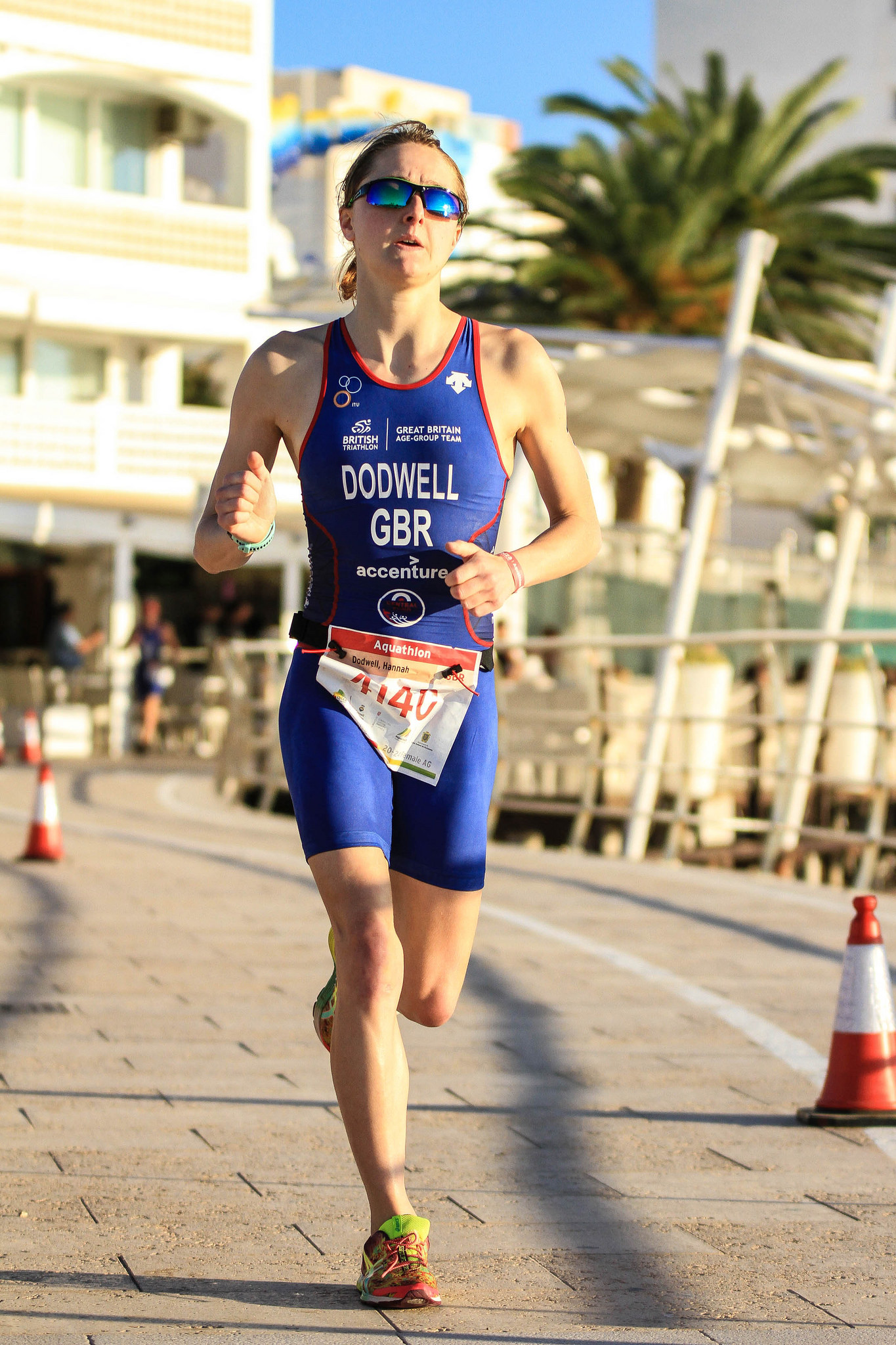 It was the British women in the 20-24 category who secured a clean-sweep. All three medals went to the Brits but it was the ETU Sprint Triathlon Champion Hannah Dodwell who led them from the very start. Dodwell had delivered a great race in Glasgow, leading with the swim and then riding solidly to finish the final 5k run and take the title. Here in Ibiza, the swim was hers and then she simply held on for the run to cross the line ahead of Jessica Prior who must surely have wanted the run to be a couple of hundred metres longer; her fast pace was almost enough to catch Dodwell but Prior's silver is an improvement from the 4th in Bratislava and the bronze in Châteauroux. Defending champion, Phoebe Lloyd Evans rounded off the podium.
Mike Lewis GBR's defending champion, with titles in his pocket from 2016 and 2017 and with the silver from Penticton, simply could not match the finishing pace of Thomas Pietrera FRA. Just before Christmas, he posted a 30:57 10k. He did this on the back of winning the French "Armée de l'air" Cross Country Championships. No wonder then that his winning time was the fastest of the day and that his run split of 16:36 was streets ahead of anyone else. Gold to France, silver to Great Britain and it was the host nation that rounded off the podium with a great swim delivering Alfonso Bastos García to the bronze medal position.
In the 25-29 Age-Group, it was a another title to the Brits, with Katie Curd posting the fastest swim split and then cruising home to ward off the late attack from Laetitia Lantz, who claimed the silver medal. Lara Langston GBR, was runner-up in Fyn but even with her blisteringly fast final run, she was unable to make up for time lost on the swim.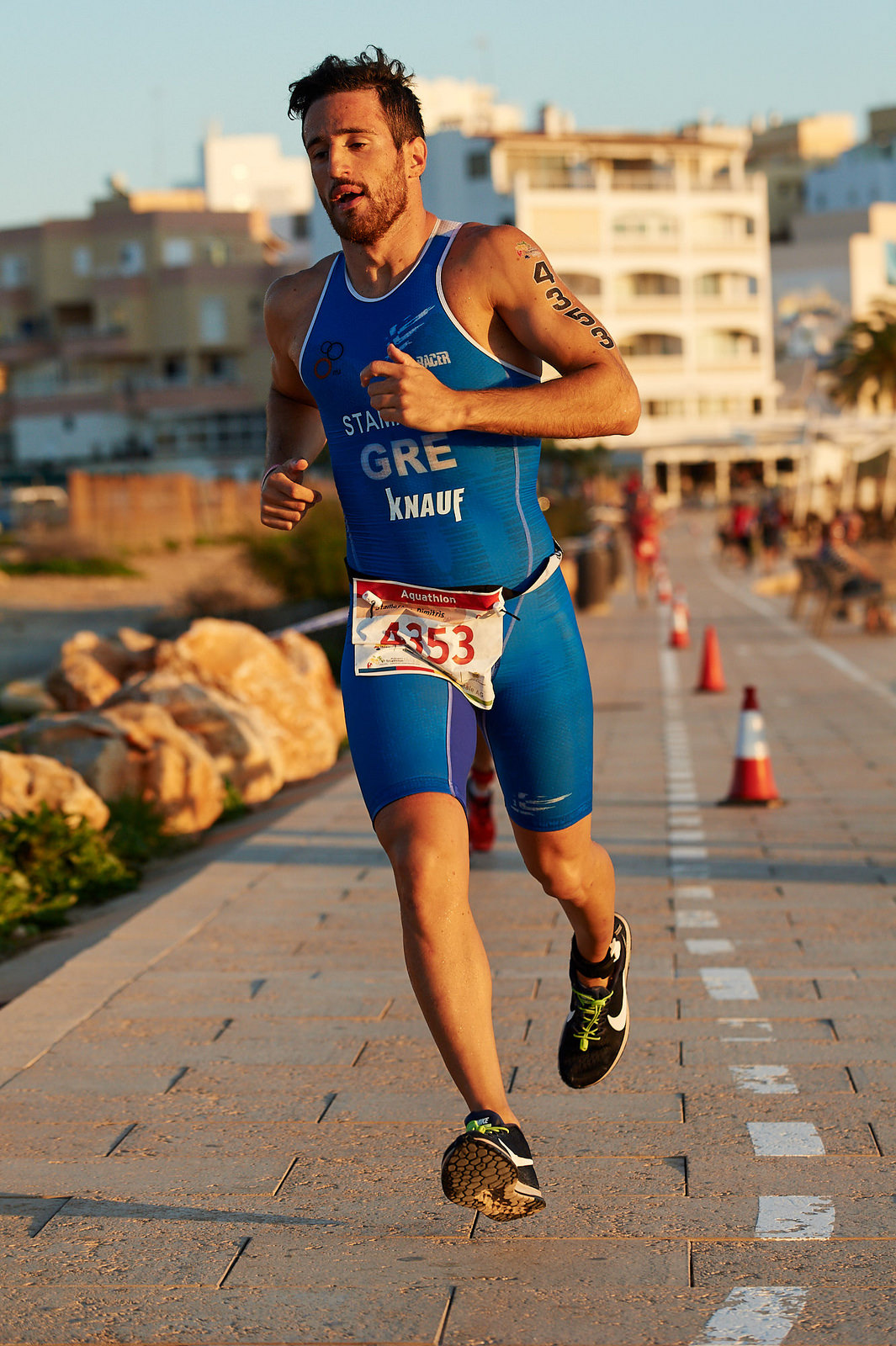 It was another blue uniform that led the men around the course. Dimitris Stamatiou was powerful in the water, leading them out in 12:33. The reigning world champion had won convincingly in Fyn and his swim power took him into a comfortable lead. He was able to ease up as he neared the finish but still crossed the line over 30 seconds ahead of the fast-running challenge from Axel De Poorter FRA, who was runner-up on home soil two years ago and who narrowly missed the podium in Tartu after suffering out on the bike course. De Poorter is without doubt one to watch on the triathlon circuit in 2019 but it was Stamatiou who was all-powerful in Ibiza. It was Spain's David Huertas who had followed Stamatiou out of the water but who could not match De Poorter on the run, who claimed bronze.
Two-times European Champion, Jessica Thorpe pushed the pace in the swim in the 30-34 category and emerged from the warm seas over 45 seconds ahead of anyone else in the category but the immense power on the final run from the reigning European Sprint and the 2017 World Standard distance triathlon champion, Michelle Willcocks could not be matched and Willcocks sped to the front with a 18:55 run. Her run pace, over a minute faster than anyone else, is a fine way to round off the 2018 season and we look forwards to seeing her race in 2019. Thorpe was relegated to silver while Sandrine Benz SUI, who had won gold in the duathlon, rounded off her Ibiza trip with bronze.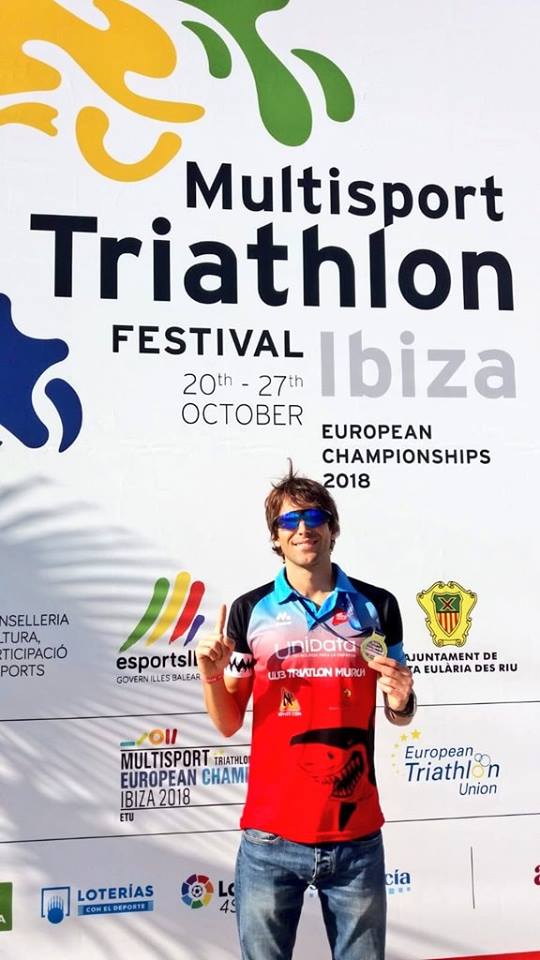 For the men, it was time for the host nation to cheer as Pedro Barbudo led them out of the water and continued to power away from GB's Shaun Challis, the two-times World bronze medal winner, to claim the title. Romania has seen a massive growth in multisport participation over the past few years and with George Murar winning bronze, there will be even more support for the ETU Transylvania 2019 Multisport European Championships in the summer.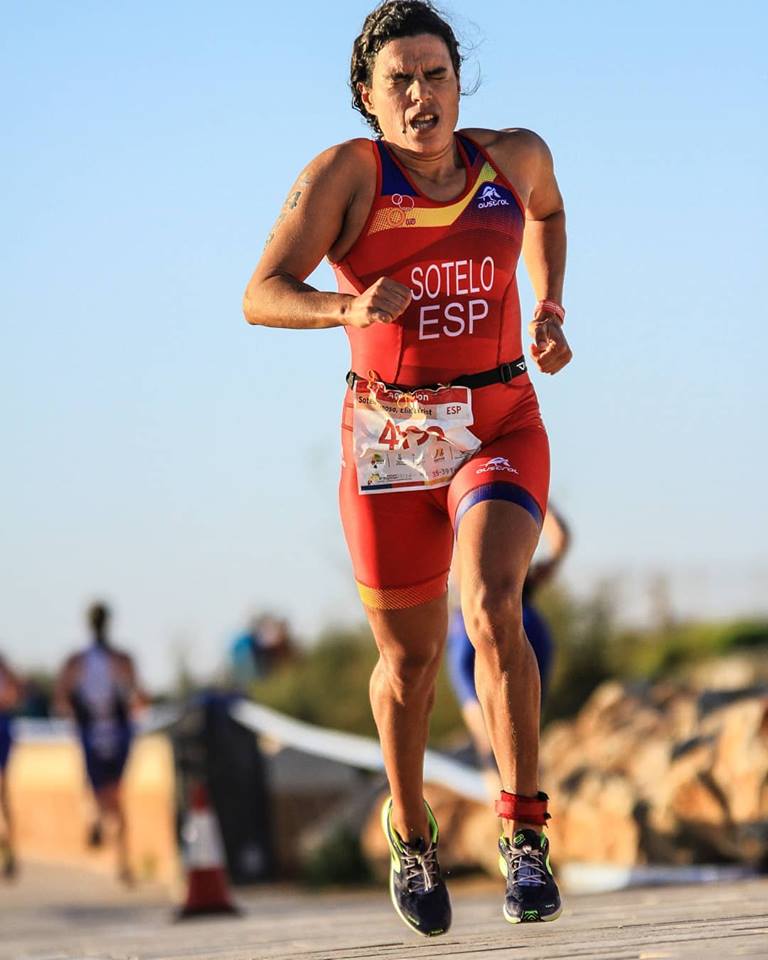 It was France and Spain that dominated the next age-group. It was Eliana Sotelo Reynoso Krist Eliana ESP who posted the fastest swim. A few weeks later she headed off to the World Championships, 10km Oceanman Dubai, coming home in 6th place in the Elite category – impressive swimming indeed! With Ibiza being more or less a sprint for her, she exited the water comfortably in the lead, swept through T1 and sped off out onto the run course. Over 30 seconds back was the 2015 AG champion, Julie Stephan, from France. 2015 was a good year for her, with the ETU title in Cologne, top ten triathlon finishes in the standard event Geneva and Chicago sprint, followed by bronze in the standard and a silver in the Aquathlon. Since then, she has raced consistently and as she started her run, it really looked as if she would catch the Spanish athlete. It went right down to the line with Soltelo only just holding on to the gold. A mere 5 seconds separated them at the end. Bronze went to Britain's Michelle Reid in her first podium in three races. Bratislava and Fyn saw her miss out, with 4th but it all came together on the day for her in Ibiza.
For the men, there was more celebration for the French as Florian Schäfer, six-times World Champion, took back the European title that he had also held for two years. His victory in Fyn did not only give him the Age-Group title but also the overall fastest time. Dominant in the swim. Uncatchable on the run, he delivered a masterclass in swim/run to take the title with a comfortable winning margin ahead of Spain's Noel Reyes Cordero, who came to Ibiza as defending ETU Champion. Right from the very start, Reyes was playing catch-up and despite his thrilling run to close the race, he was unable to make any impression upon the Frenchman's lead. Teammate, David Rodríguez López lost out on the run but still had enough pace to easily claim his first international medal. Schäfer's views on the race were widely published but his description of being in the thick of it makes thrilling reading, "J'évolue dans le groupe de chasse des nageurs qui ont un record en grosso modo entre 4'25 et 4'30 sur 400m. Je sors de l'eau 10, en bonne position après 1000m de natation. … Ma course à pied est assez solide, sans être étincelante. Je reviens 6 au général, sans jamais être inquiété dans mon groupe d'âge, que je remporte avec plus d'une minute d'avance. La course est pliée en 31'18 transition comprise. Entre les championnats du Monde en juillet et les Europe à Ibiza, mon objectif majeur était ailleurs : un mariage qui s'est déroulé à merveille seulement 10 jours avant cette dernière échéance. Décidément, 2018 aura été une année riche en événements et riche en émotions !
I ended up in the chase pack, with swimmers who could do 4:25 - 4:30 over 400m. I exited the water in 10th, a good position after a 1k swim. My run was pretty solid, without being an impressive performance and I came home 6th overall, without really being bothered by anyone in my Age Group, which I won with a minute to spare. The whole event took 31:18, including transition. Between the Worlds in July and the Europeans in Ibiza, my objective had been clear: a marriage, which went marvellously, only ten days before the Europeans. Without doubt, 2018 was a year rich in events and emotions." Having been racing at the very top for a number of years he now shares his skills and experience by providing coaching support. Check him out here.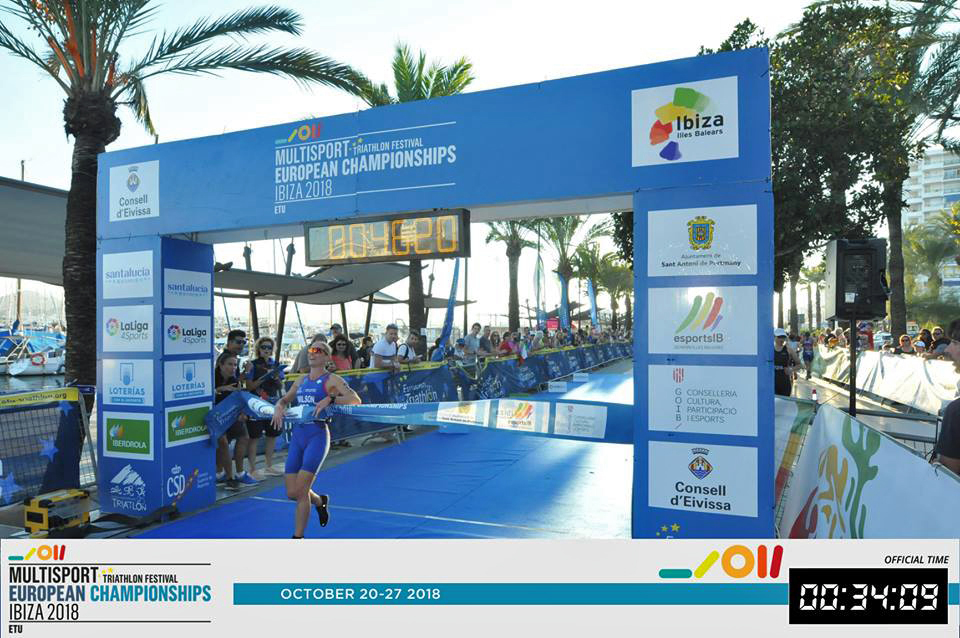 In the 40-44 category, it was an overall victory for Great Britain's Tina Wilson. She came to Ibiza as World Champion, having won the race outright with a 34:03. She did exactly the same here, with an opening swim of 14:01, which meant she had some work to do to catch up the initial leader, Amy Pritchard. Out onto the run and she kicked into a second gear to overtake the race leader and to cruise home for victory. Pritchard, veteran of many ITU and ETU champion races, dug deep but Samantha Lake produced a fine closing 5k run and was comfortably home for silver.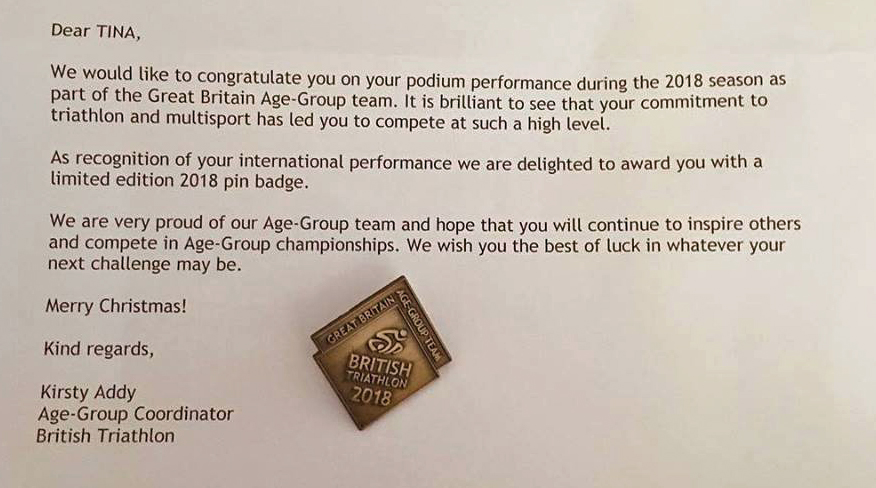 Wilson's regular updates on social media kept all her friends and family updated. "It's sometimes the little things that can inspire and also remind me that hard work really does pay off :) Thank you British Triathlon and thank you to Coach Dean @ Real Fitness LIVE for coaching me to the be the best I can be :) Coach Morg for keeping my swimming in check too :) and last, but absolutely not least David Tune and all the Blizard gang for totally kicking me into touch during the weekly run sessions !"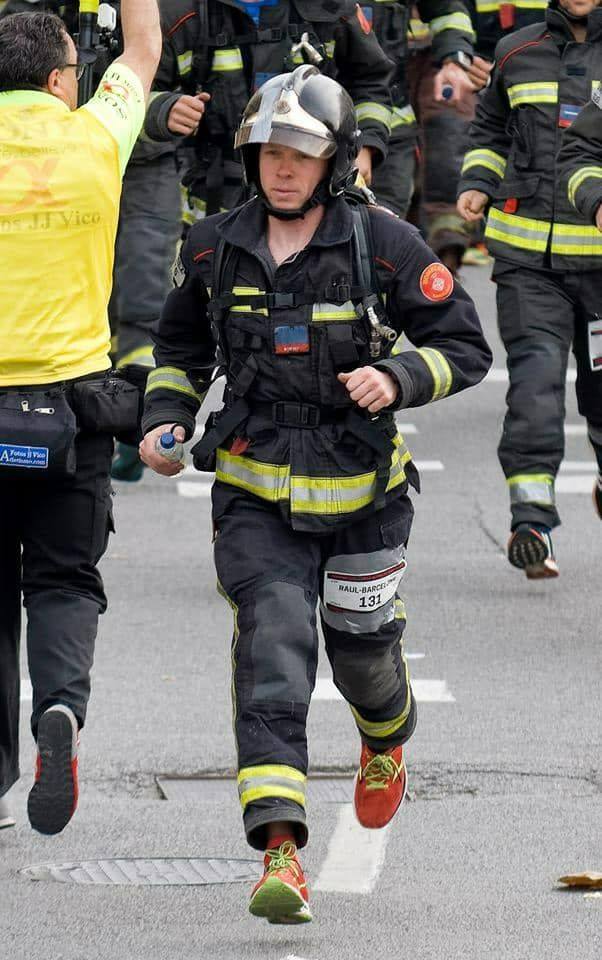 The men's race proved exciting as GB's Steven Paine smashed the 1k swim with a 13:03. His pace in the water was faster than many but Raul Gómez Garces Del Garro was close behind and with a super-fast T1, soon left the Brit behind. Out on the run course and the firefighter was striding out. He knew that the main threat would be coming from Xavier Tupet, whose closing pace on the run would always be a danger but having opened up with such a great swim, he was able to hold off the fast paced Frenchman, who had to settle for silver. Behind them came Nigel Gaskin who took silver last year in Bratislava but who in Ibiza, was unable to match the fast pace of Tupet and Gómez, who later said, "Final de temporada por todo lo alto. Campeón de Europa acuatlón en GGEE 40-44. Dedicado a mi mujer e hijos!!! Por tantas, y tantas horas , fines de semana y demás, que aguantais cada temporada!!!
End of season for everything high. Champion of Europe championships in GE 40-44. Dedicated to my wife and children!!! for so many, and so many hours, weekends and others, that you keep every season!!!"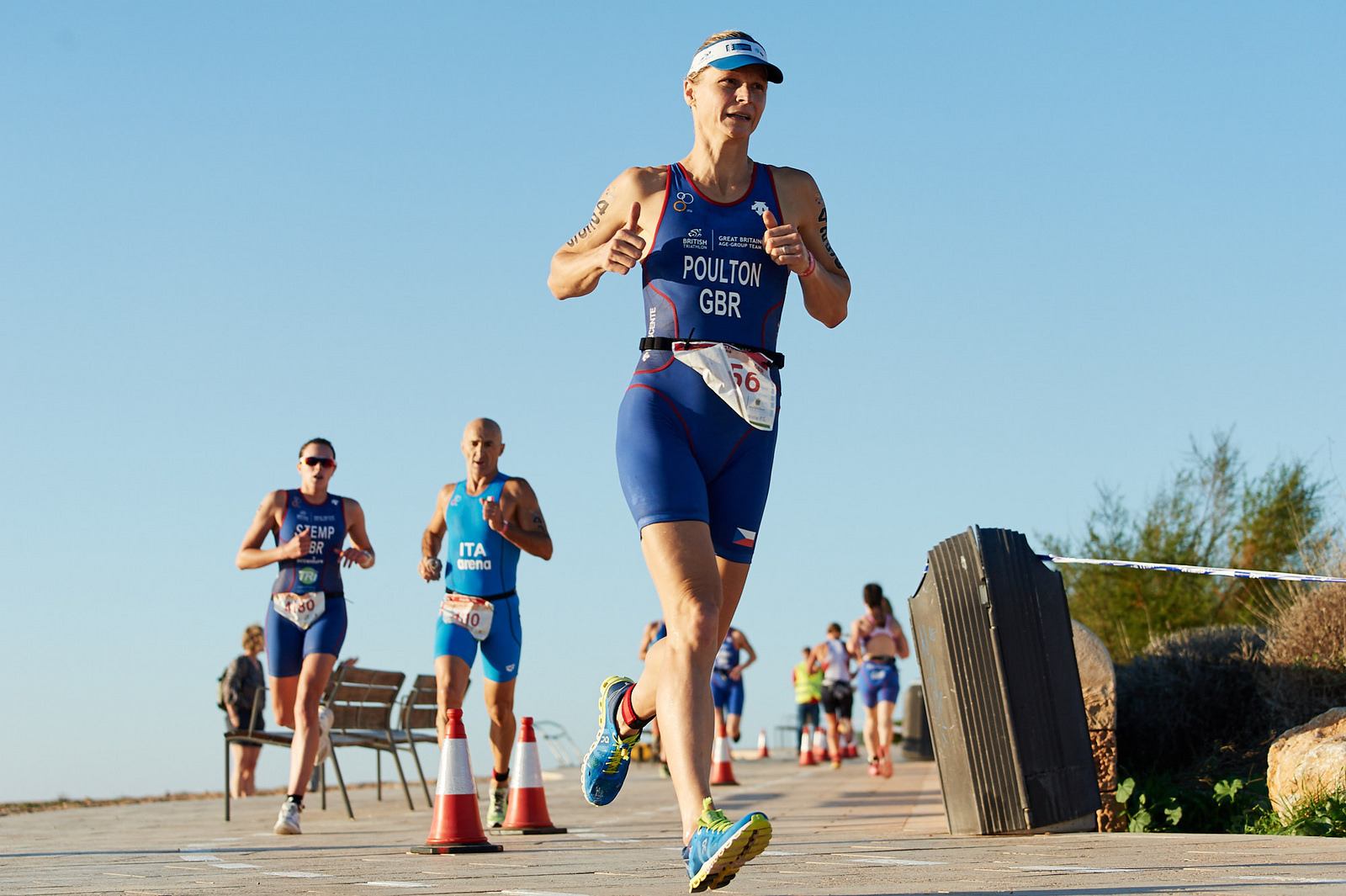 Lena Poulton GBR was the runaway winner in the 45-49 category. Poulton has been a regular visitor to the podium but this was her first time to try the Aquathlon. Coming here confident after her Glasgow victory, the GP led them out of the water with and advantage of over 30 seconds. Hers was not the fastest run but the lead she had created in the water took her to victory with Laura Thomas ITA in second place. It was Great Britain's Rachel Barnes making her debut on the international circuit, who claimed bronze.

For the men, it was another gold for the French, with Sébastien Sudrie upgrading his silver medal from last year. Winning the title in 2014, he had to settle for silver when he went back to Cologne in 2015. 2016 and Châteauroux was a "bad day at the office" as he failed to make the podium on home soil but 2017 saw him back in form with a silver in Bratislava. Fyn and the Worlds gave him sliver and so in Ibiza we were to expect him to be in good form. In the lead group as they exited the water, he wasted no time in catching those ahead of him and he soon ran them down to take the lead. Three athletes were disqualified due to starting in the wrong wave – a lesson to be learned and so it was Sudrie crossing the finish line with over 40 seconds to spare, to claim the title for France ahead of Spain's Mario Rosell Rosique. Germany's Ole Jacobsen, an Age-Group athlete who mixes his distances and seems to thrive on international racing, reported after the race that he had yet again claimed 4th place but was delighted with it. His friends and supporters congratulated him. He was happy with 4th as it meant he would be going to Transylvania. It was some time later that he found out he had won bronze. Great preparation for the Middle Distance event later in the week and a medal to match his Cologne bronze from 2015.
In the 50-54 category, the Brits once again claimed all three podium places in the women's race. Coming to Ibiza, the strongest athlete on paper was GB's Maria Powell. Silver medal behind a fast-running American athlete in Fyn, Powell was over a minute behind teammate Pauline Foot but once out on the run, she set about chasing down the leader. Alongside her was Jacqui Phillips who was really shifting along. Having claimed her first title in Eilat back in 2012, she has been a regular visitor up onto the steps of the podium, with titles in Horst, Alanya, Pontevedra (Worlds), Alcobendas, Cologne, Cozumel (Worlds), Soria, Düsseldorf and Rotterdam (Worlds) she was always going to be a threat to the Fyn runner-up and it was her stronger running that took her to the top of the podium once more. Foot's pace dropped off, allowing Sharon Hill, last year's runner up in Bratislava, to come home for bronze. She adds this medal to her bronze from Fyn.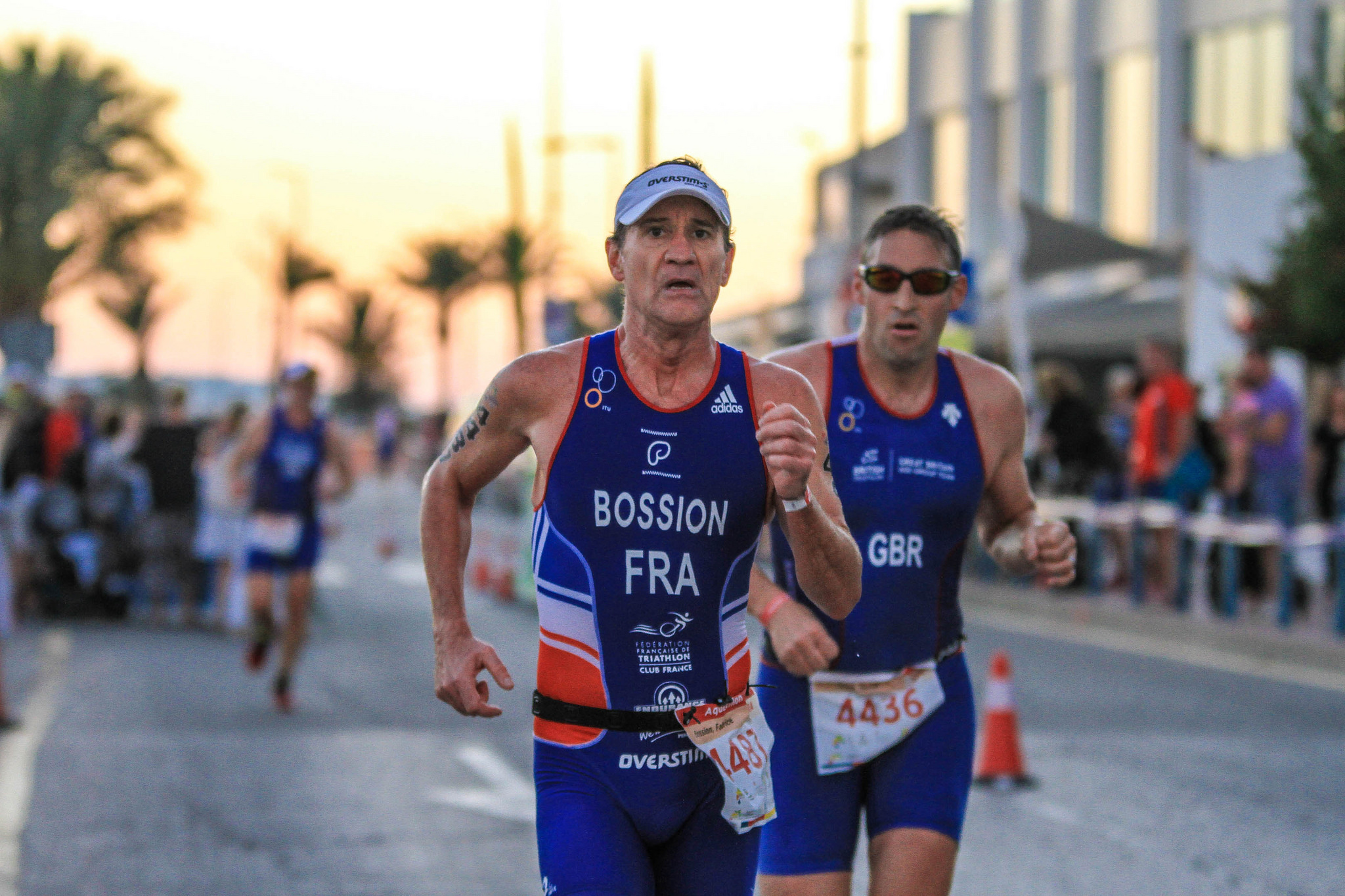 The British men were nowhere to be seen in this category, with none of them making the top five. Instead, it was a standout performance from Olaf Geserick GER, winner in Cologne in 2015 and then twice taking bronze in Châteauroux and Bratislava, he swam hard to exit the water ahead of his main challengers. Ahead of him was Britain's Sean Kinsey who had a massive 60 seconds lead but who would falter on the run, fading to finish in 6th.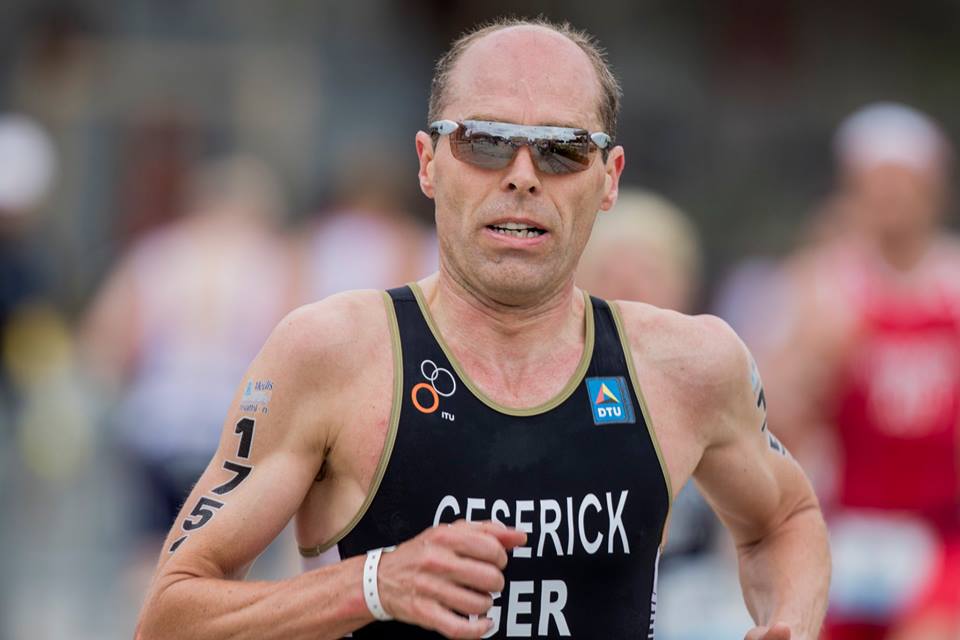 Geserick was initially looking at a lesser medal but the fate that had befallen athletes in the younger category had also struck at the leader in this group. Geserick ran well to finish ahead of France's Fabrice Bossion, who as defending champion and three-times ETU Sprint champion, lost out by just 9 seconds. It was his teammate, Franck Tajiri, 2016 ETU Aquathlon champion and runner-up in Fyn, who claimed the bronze just 14 seconds later to the delight of the French supporters.
In the 55-59 Category, gold and silver went to Great Britain, with Helen Kula-Przezwanski leading out the swim and holding on with the closing run. She was a minute clear of Diane Kidd-Ferguson, who was runner-up in Fyn but the battle for bronze was a nail-biting one with Jill Rogers GBR speeding along the 5k just running out of metres to miss the podium by just 2 seconds. She was pipped to the post by Ireland's Anne Morrissey who collects her first international medal.
Germany collected the title in this age-group too, with Erk Heinßen out swimming the field. He led GB's Eric Wardle by some ten seconds as they exited the water and then powered away on the run as the pair of them headed to the exit of transition. Scotsman Wardle did his best to hold on to the leader but a fast-running Italian, Gianfranco Coppa, popped in a 19:45 run to edge the Brit into bronze. Wardle returns with his best ever international result. Coppa went on to claim bronze in the Aquabike and Heinßen can look back at 2018 as the year that he claimed both World and European titles.
In the 60-64 category, it was another clean-sweep for the British women. Jane Bell led home Christine Meek and Gina Coulson but a big cheer went out for Bev Childs, 2010 World Champion, who was involved in a pretty nasty accident before the race. Childs had a hip replacement and then, just two months before Ibiza, was run over by a motorist. Her military background and sheer determination saw her decide to race anyway and the British women were a solid team behind her. Bell led Childs out of the water and that was it; the defending champion, with victories in Bratislava, Châteauroux and Cologne and 2013 World Champion just accelerated away to cruise home for her 6th title.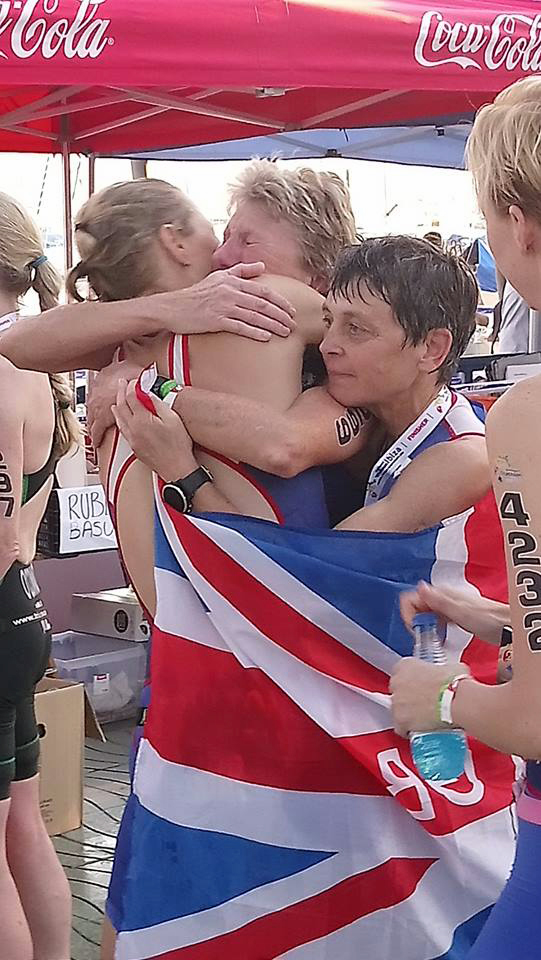 Childs, digging deep and pushing the pain and discomfort to one side, bravely carried on but was overtaken first by Meek and then by Coulson. Meek upgraded her bronze in Fyn to an Ibiza silver. Coulson dropped down from silver last year to bronze this year but all were there to cheer Childs across the finish line.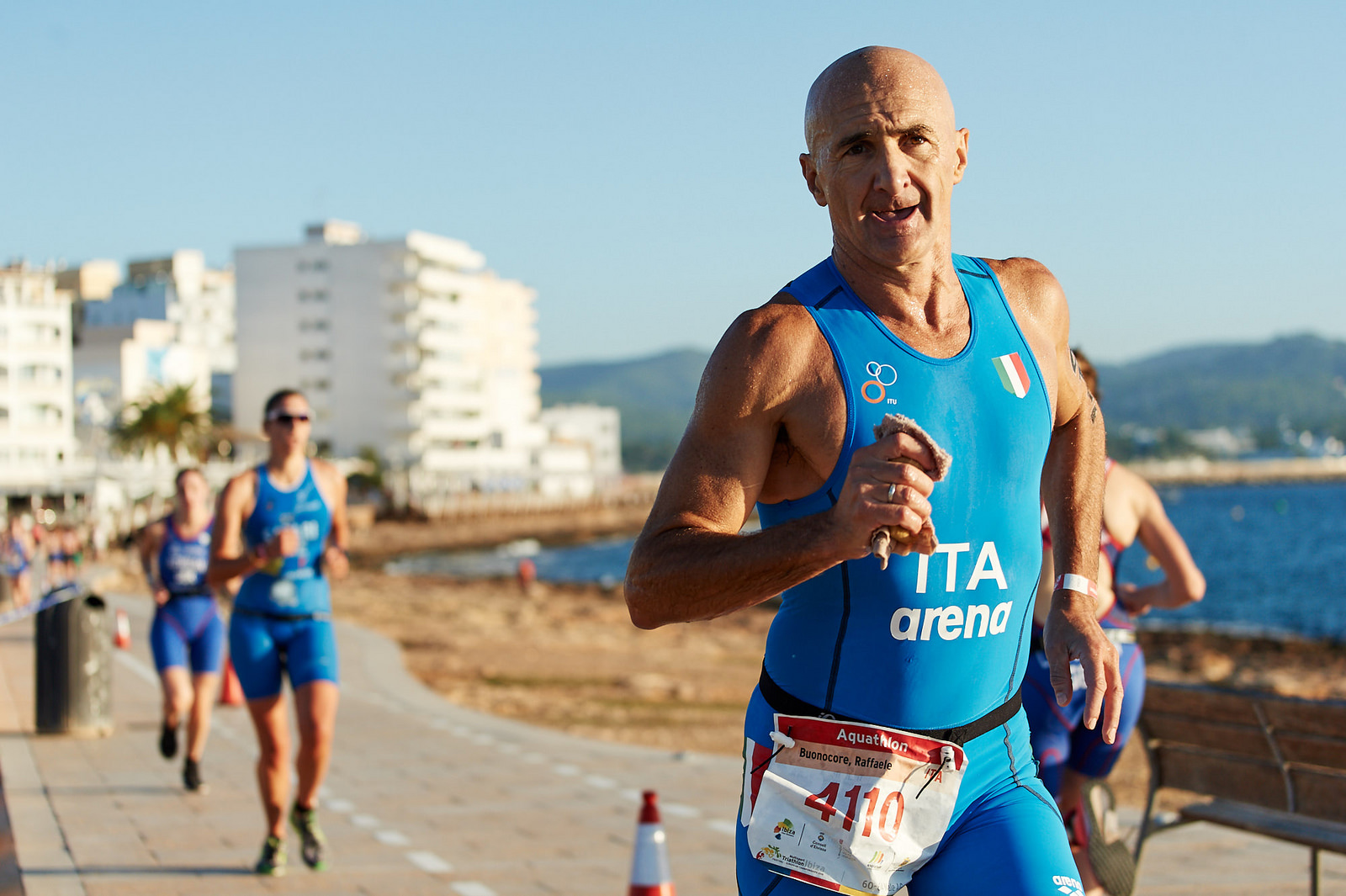 In the men's race, it was a runaway victory for Italy's Raffaele Buonocore. Coming to the race with every intention of defending his title, he posted the fastest swim and run to easily win the title for the second year running. From France, Alain Greco was 90 seconds ahead of Spain's Daniel Cifrian Perez and who did his very best on the 5k to catch the Frenchman. Missing out that silver medal by just 14 seconds at the finish.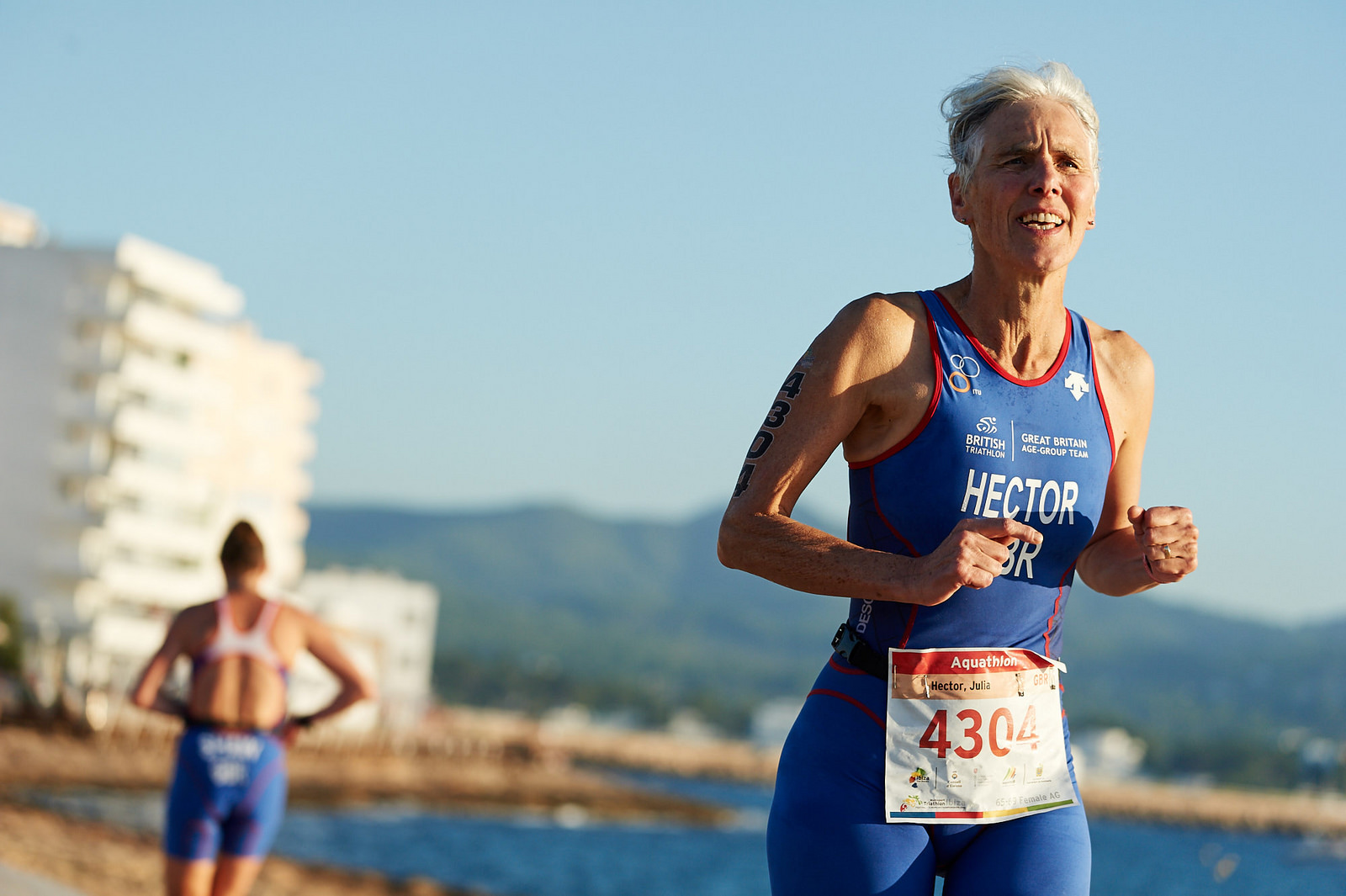 In the 65-69 category, it was GB's Julia Hector who claimed the title. No parrot on her shoulder at the prize-giving, that honour was for her daughter, Alice, but for Julia, yet another title to add to her collection. Having lost out in Fyn to an athlete from the USA, she was comfortably ahead of the rest of the field. Sadly in Fyn there was no other competition from Europe aside from one other British athlete. In Ibiza, Hector just had to finish as, astonishingly, there were no other takers. Had there been, they would have been really hard pushed to match her pace. Her swim was faster than any of the men in her category and her finish time would have given her a silver not only in the category beneath her but also in the Men's race. This is her third ETU Aquathlon title and can be added to world and European triathlon titles. Ah … so that is where her daughter gets the incredible genes from.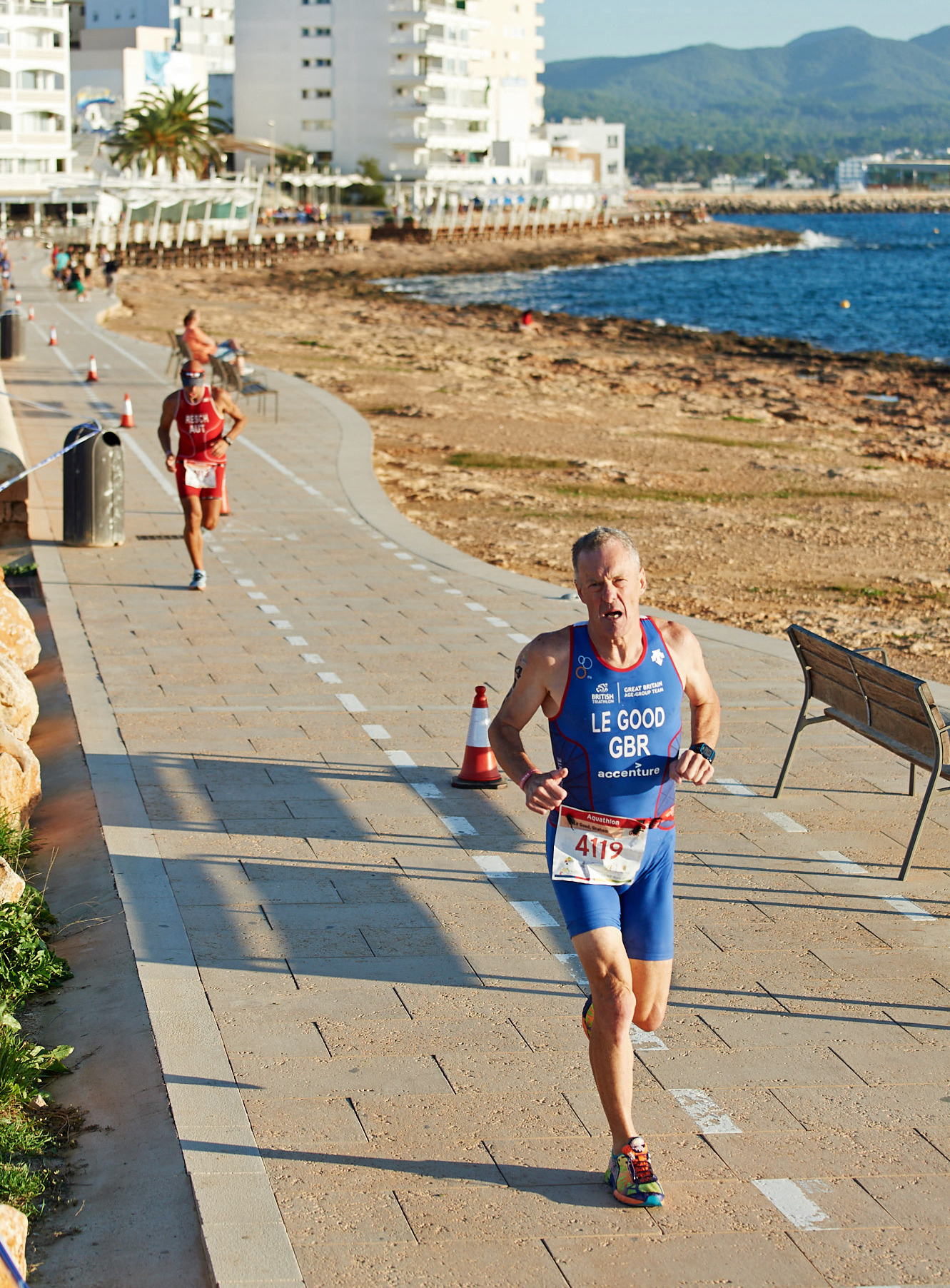 Amongst the men, it was once again an exciting race, with the race being led by none other than ETU President, Renato Bertrandi. He covered the 1k swim in 20:00 and was soon out onto the run course but behind him was defending champion from GB, Graham Le Good. We had seen his run pace last year in Bratislava. He posted the fastest run split in Fyn but had lost valuable time on the swim against the stronger swimmers and had come away with a bronze but here, he was flying and had soon passed the ETU President. Le Good had run well in the duathlon a few days earlier and soon enough the gold medal and title was once more in his hands. In silver medal position came Norway's Hjalmar Schiøtz. He was running well and moved up through the field with relative ease to finish ahead of Great Britain's Paul Bennett. Schiøtz went on to collect silver in the Middle Distance event, adding the two Ibiza silvers to his Herning silver, won back in 2017. Bennett now has a fine selection of bronze medals. Having only started his ITU / ETU career in 2015, with a 3rd place in Cologne, he went on later that year to collect bronze in pretty terrible weather in Weymouth. Having moved up an age-group, we look forwards to seeing him race later this year.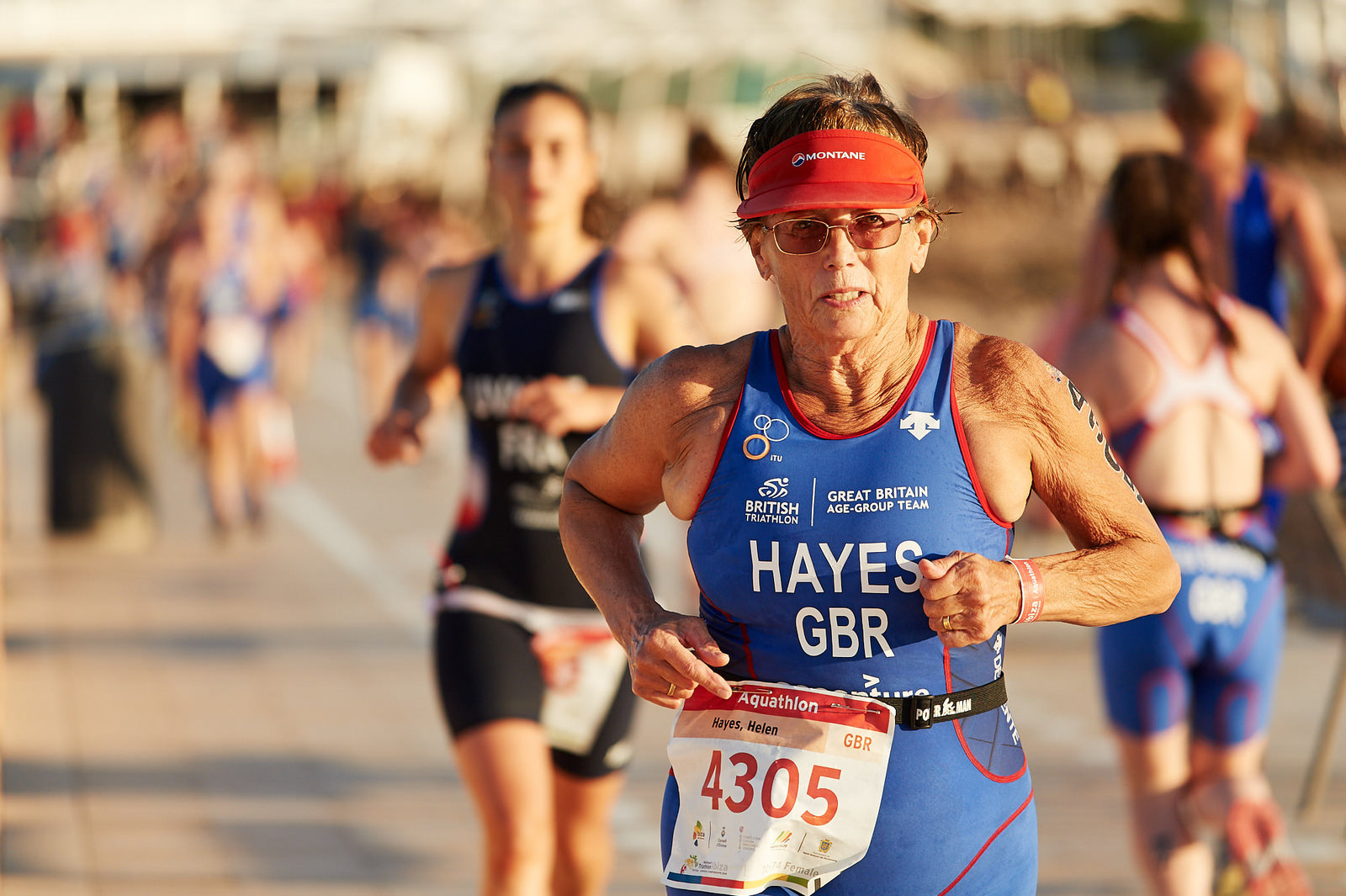 70-74, yes there are still athletes at this age who race and it was again Britain who put their faith in Helen Hayes. An impressive 5 starts, 5 podiums and 2 wins was the end of year tally for her.


The men's race proved to be a clean-sweep for the British men, their first and only in these Aquathlon Championships. They had competition from Russia and Spain but with the combined swim and run pace, they were dominant. Brian Tate, victorious in Rotterdam followed Michael Smallwood out of the water by a few paces and then kicked up a gear to race away to gold. Smallwood came as defending champion, but knew what he was up against, having lost out by only 32 seconds to Tate in Rotterdam. Behind them Alexander Heron fished out a superb run from a scaled down swim that took him past both Russian and Spanish challengers to round off the podium. Heron went on to win silver in the Middle Distance event later in the week. Tate's finish time would have given him gold in the younger category and was the fastest of all Brits over the age of 60. Beccles Triathlon Club are understandably very proud of him.
In the 75-79 category it was once more a delight to see Great Britain's Peggy Crome come home to victory. Her finish-line interview in Tartu this year showed just how thrilled and delighted she is when she races. Her words have been inspirational for many and never one to sit back and get bored, she has recently taken up rowing. Participating as an Age Group athlete, especially in the, shall we say, "vintage category" is not simply about winning medals, it is also so very clearly a statement to all peers that if you try, you can.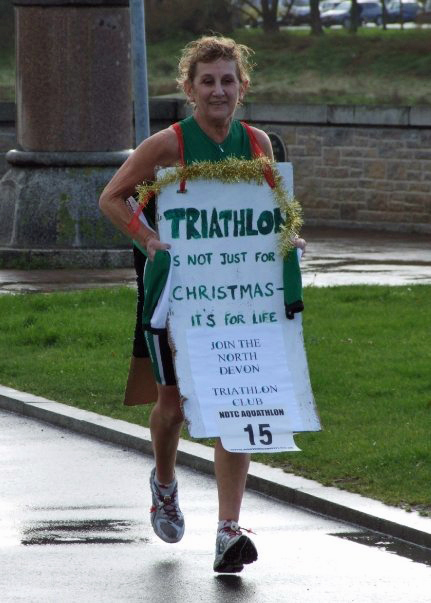 Even back in 2009 she was promoting the sport in her own special way. Peggy's example, being now shown on her local TV station, will no doubt inspire more and more people who have retired and who find they have extra time on their hands to get out and join a local fitness club. This title is her 12th on the international circuit. Read more about her in her local paper.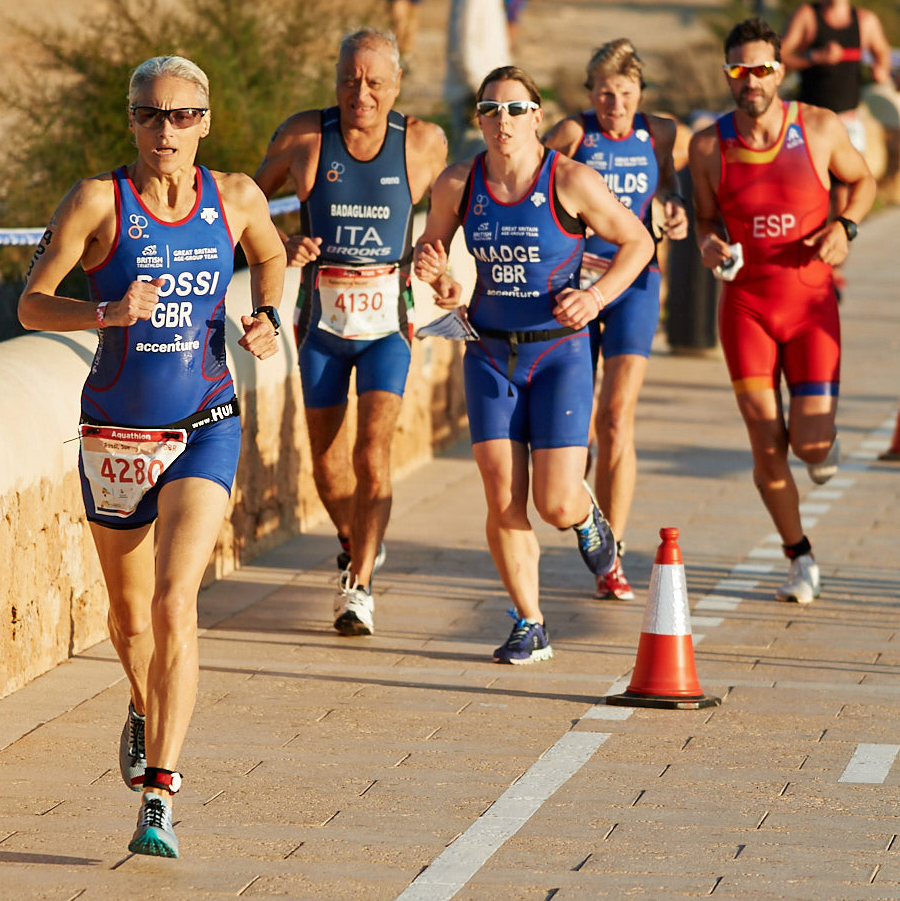 In the men's race, it was gold to Italy's Nicolo' Badagliacco. His silver medal last year was upgraded to add to the Italian medal collection.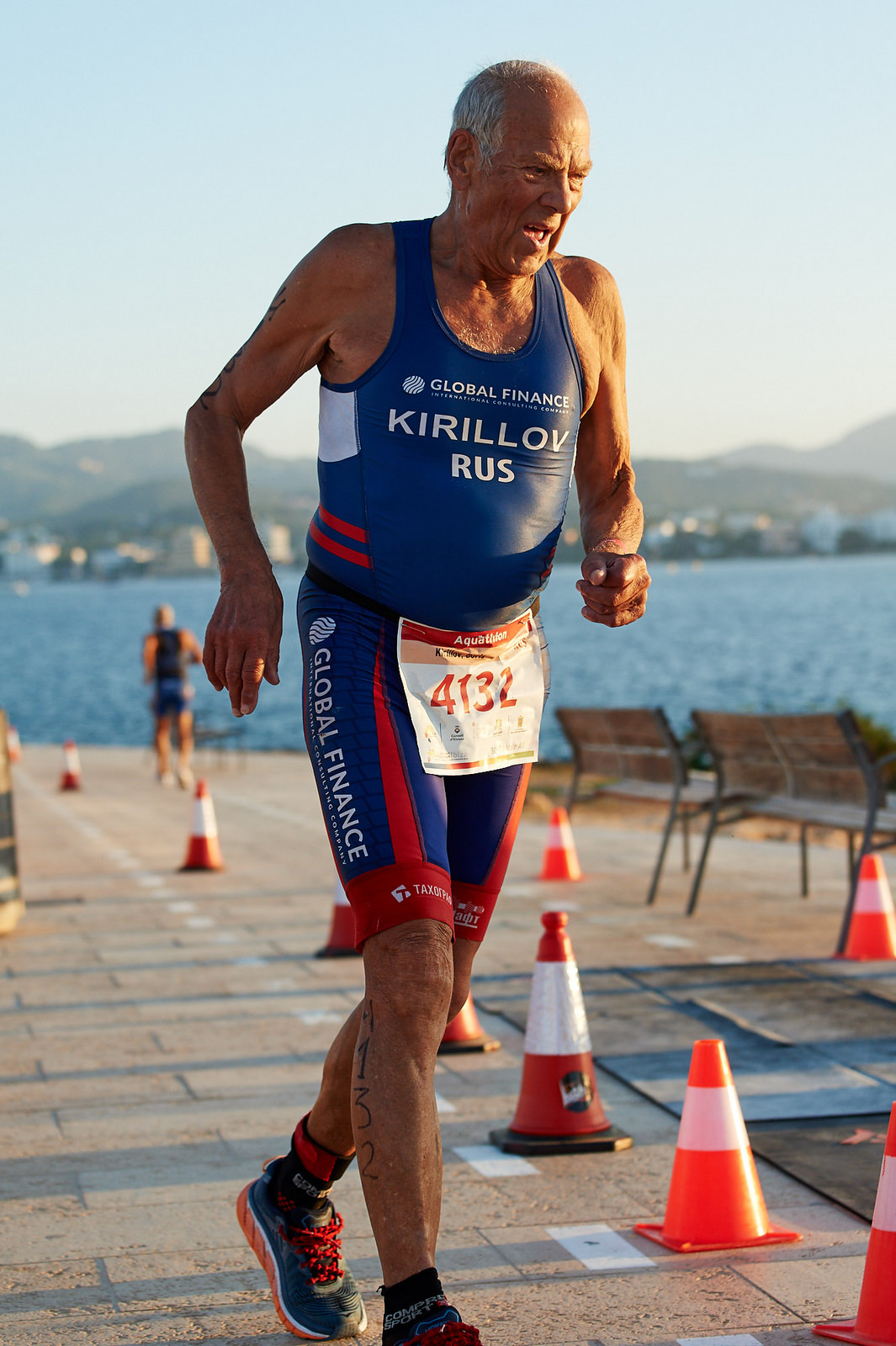 The final category was the 80-84 and the crowds were treated to a show from the legendary Boris Kirilov. His truly impressive performances have been entertaining us as much as his appearances on the podium. Back in Tartu, it took him almost 30 minutes to get back to his wife from the podium as people asked for "selfies" with him and shook his hand. We first saw him race in 2009, as a very young 70-74 category athlete, he came 4th in the Gold Coast but since then has collected 19 medals, 12 of which were gold.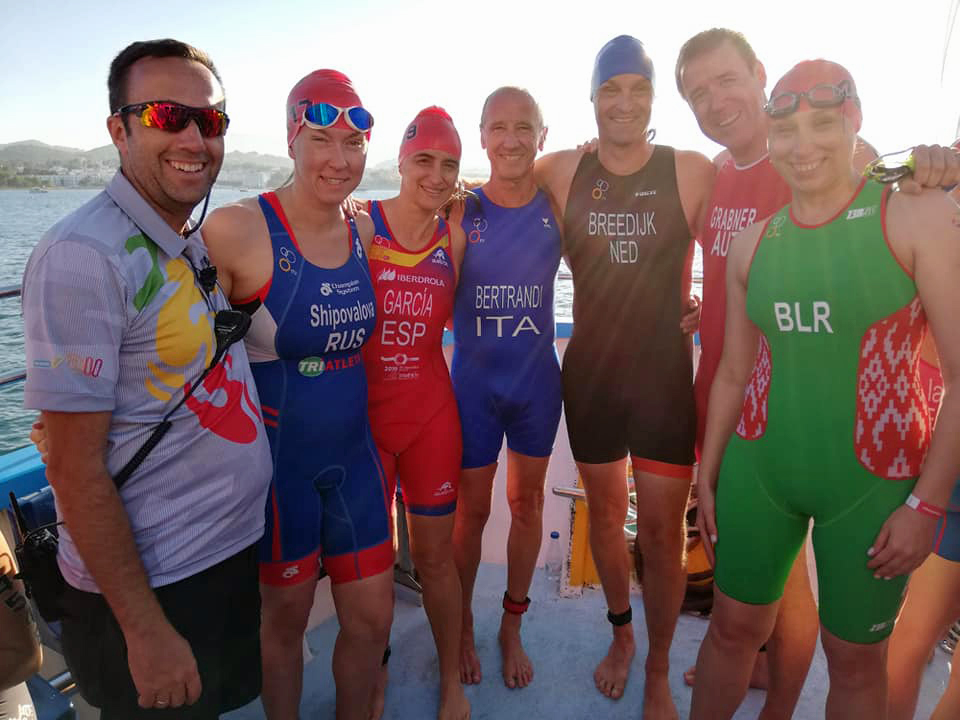 The ETU Executive Board met in Ibiza and to show their commitment to the sport, they all decided to race the Aquathlon. Having broken a collarbone just before the event, Kathleen Smet, ETU's Secretary General, was allowed to sit this one out but Russia's Galina Shipovalova, finding temporary childcare for her new baby was there, as was Maryia Charkouskaya-Tarasevich from Belarus. Alicia García Perez, ESP, Herwig Grabner AUT, recovering from a knee operation was Martin Breedijk NED and of course, our President, Renato Bertrandi proudly wearing the colours of Italy. Who could possibly have thought that three of them would finish in 23rd place?
The next chance to win Aquathlon medals will be at the 2019 Târgu Mures ETU Multisport European Championships. For all updates check out their Facebook Page.

For the full selection of albums, please click here.
---
Article gallery
Related Event: 2018 Ibiza ETU Aquathlon European Championships
Latest
Videos
---
Latest
Event Galleries