NEWS
Winter Triathlon: Age-Group and Para Review
By Paul Groves
|
23 Mar, 2020
At a time when looking forwards appears to be a far from appealing option, we can look back at some great performances. That's the good thing about our sport; the memories of athletes from all over Europe coming together to race for medals, titles and the memory of the buzz that comes with Age-Group European Championships.
With the Winter Triathlon medals being decided before we were advised of the seriousness of the COVID-19 situation, it was a chance for not only a race over the snow but also to cherish the memory of a greatly missed friend, Péter Klosz, whose image looked down upon us all at the Fundata resort.
Not all categories were represented as travel plans were changed or cancelled at the last minute and as, once again, the event was held after the World Championships. The feedback from virtually everyone on site was that in future years we really need to have the logical and natural progression of Europeans first and then the Worlds.
For the organisers, this would be a good test of their ability to deliver after the sudden death of not only the President of the Federation but also the lynchpin of the event delivery. As we arrived in Romania, it felt the same but not quite. It looked the same but not quite but the closer we got to the event, the atmosphere picked up and on race day, everything worked very well and as the organisers look back, they can be happy that by changing the course at the last moment to adjust to the conditions they saved the day and certainly delivered a great event,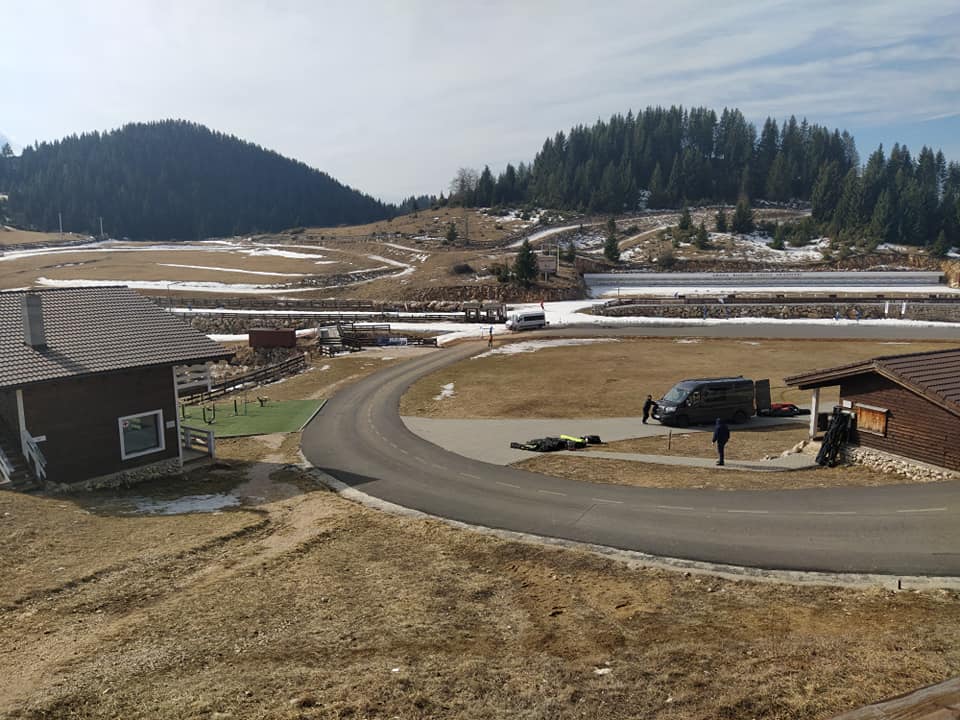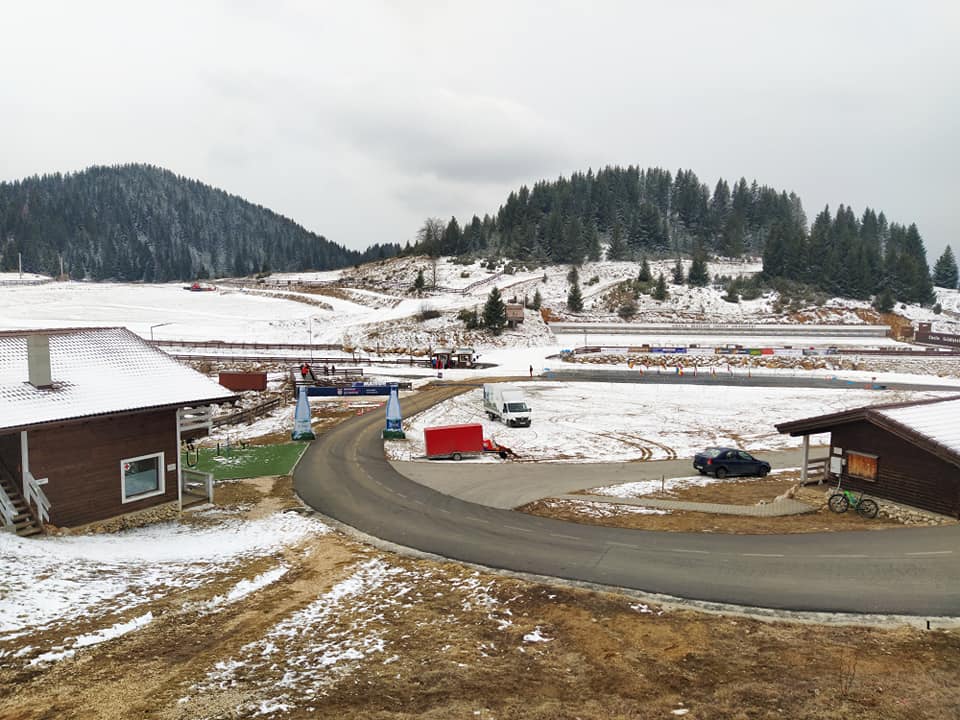 The weather, compared with 2019, was not as friendly but the closer we got to the resort, the heavier the snowfall and at the venue, there was just about enough for the event not to be turned into a cross-duathlon. With hopes and a few prayers and perhaps some intervention from Péter, the snows came during the Friday evening and night and with the resort owners really putting all their support behind us, the Saturday opened with minus temperatures, a good covering of snow and freshly-prepared tracks. The Age-Group athletes were out in force to support the Elite, U23 and Junior athletes before setting up for their own races. Although the sunshine was doing its best to attack the snow, it was a combination of good preparation and good timing that allowed the athletes to enjoy a proper winter triathlon, even if the bike course was a challenging mix of snow, ice, gravel and asphalt.
The traditional line-up was once again a great way to see the solidarity amongst our winter triathletes and in no time at all, the athletes were powering their way up the steep hill to commence the laps around the main hill. Many of the Elite, U23 and Junior athletes came out to support and reports of two Sumo Wrestlers cheering the athletes, proved not to be a rumour.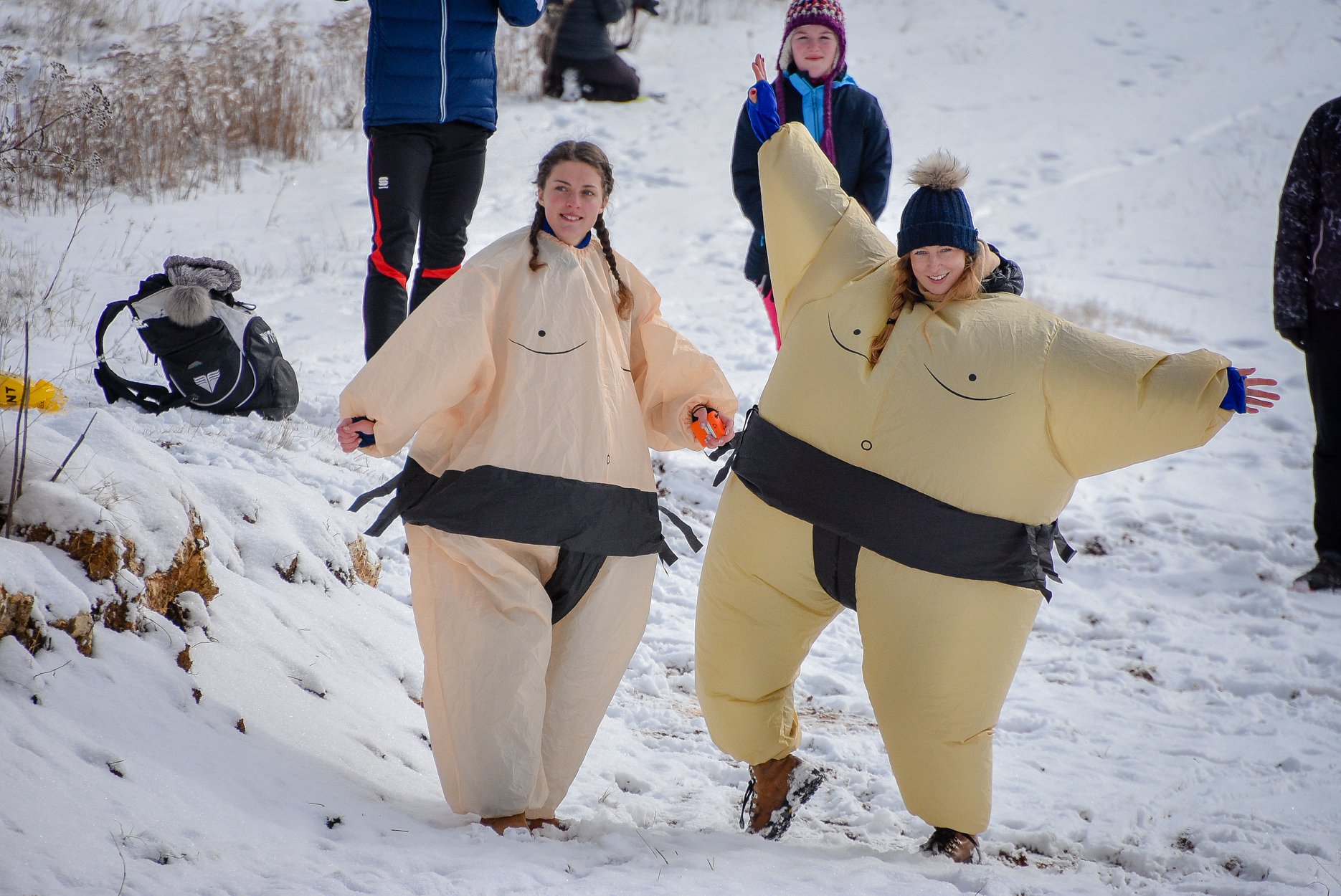 There was the now traditional battle between Spain's Rafa Solís Torres and the host nation's Robert Tamirjan in the PTS4 and PTS5 categories. Starting behind the Age-Group athletes they have shown again and again just how strong they are over such courses and with Solís usually faster on the run it was no surprise to see him edging ahead but he knew that the bike would tip the balance in favour of Tamirjan and in no time at all out on the bike course, it was the amazing skills of the Romanian that took him ahead. Their finish times of 50:50 for Solís and 46:33 would have placed them well up the overall rankings. As ever, they celebrated together at the finish.
In the youngest category, it was a 16-19 gold to the host nation with Radu Gabriel Bondei taking the title. This was his first trip out on the multisport circuit.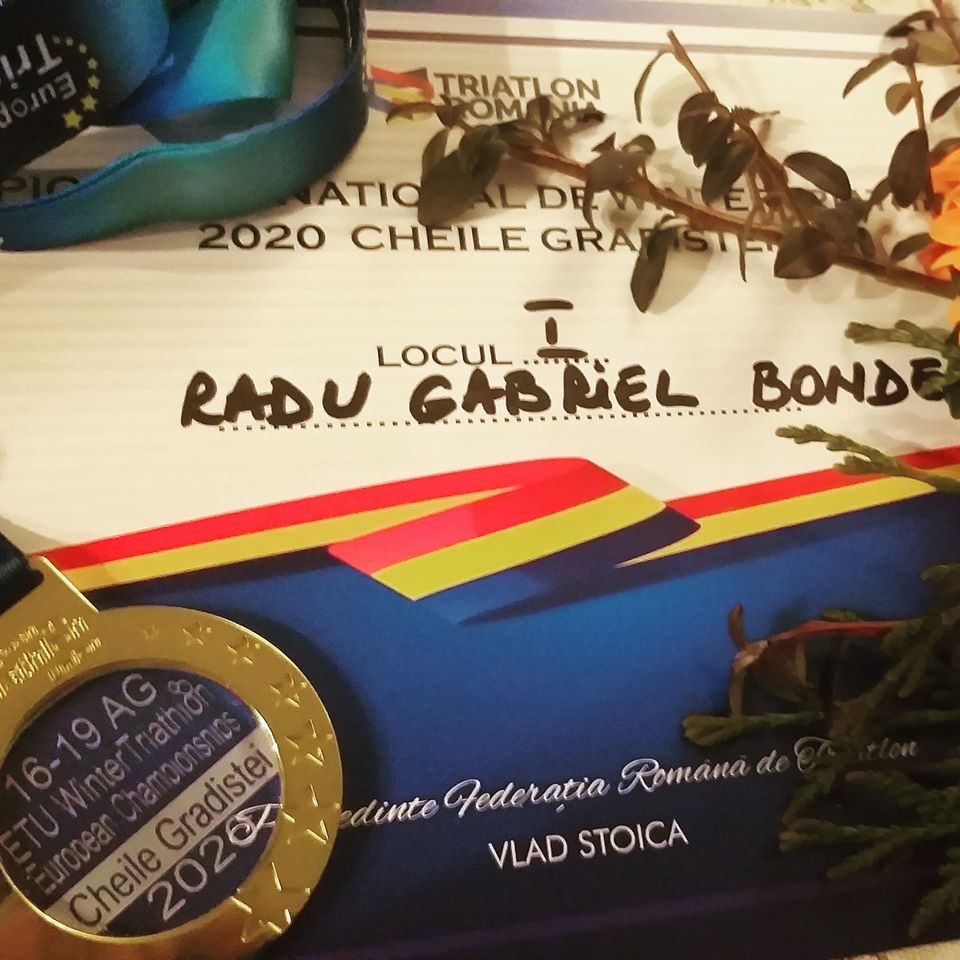 In the 20-24's there was a bit of a battle between the Czech Republic, Spain and the Romanian hosts, with 5 athletes going for just the three medals. It was Ondřej Petiška who set the early pace and led his age-group into T1 with a comfortable advantage of 12 seconds. He wasted no time in getting into bike mode but out on the bike course, it was Spain's Txomin Osoro Gutierrez, silver medal winner back in 2015 in Reinosa, who has shown great power over middle distance racing, who pulled back lost time and edged ahead. A cat and mouse game followed as he then lost time in T2 and it was Petiška, who showed greater power on the skis to take the title by just 12 seconds. Behind them, the strong running and biking of Szabolcs Kovács ROU took him into bronze medal position but the biking specialist was unable to keep the advantage against the superior ski technique of Adam Holomoucký CZE, who easily added the last medal to the Czech team's collection.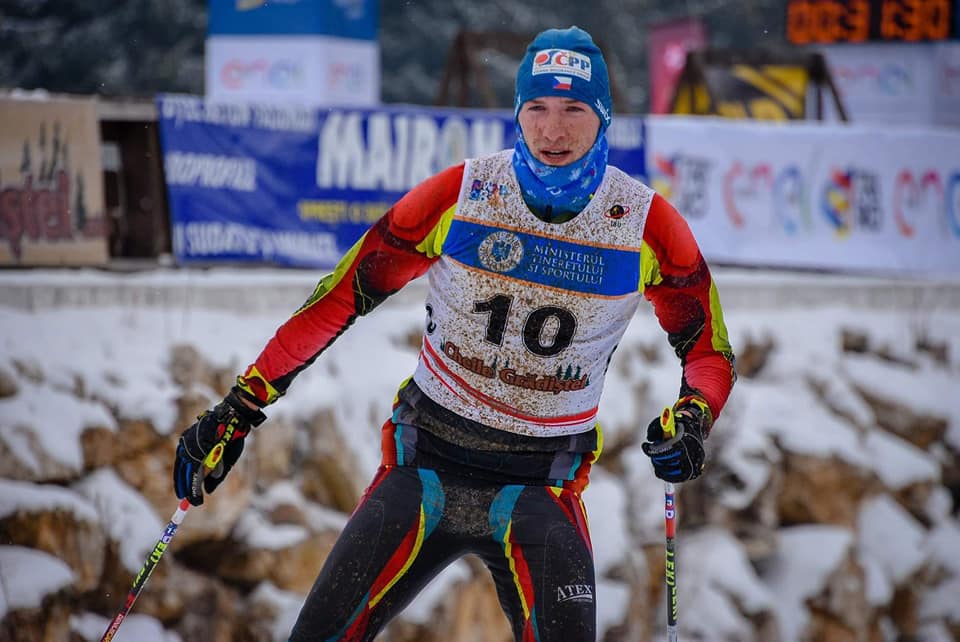 After the race Petiška said, "Po nevydařeném druhém depu v Itálii, jsem relativně dost času věnoval nácviku obouvání běžkařských bot…a to se tentokrát vyplatilo. Na běžky jsme tak vyráželi téměř současně ve skupince 5lidí...Ačkoli jsem běžky považoval za svou silnou disciplínu vůbec se mi nedařilo dostat se na první místo, a dokonce jsem se propadl až na 3-4. V posledním okruhu jsem si všiml, že španělský závodník předemnou působí už dost unaveně, tak jsem ještě z posledních sil zrychlil, a v těsném finiši se mi podařilo se dostat na druhé místo celkově a první v kategorii do 24 let. / After an unsuccessful second transition in Italy, I spent quite a lot of time practicing changing shoes from bike to ski-boots ... and this time it paid off. We started cross-country skiing almost simultaneously in a group of 5 people ... Although I considered cross-country skiing my strong discipline, I could not get to the first place and even fell back to 3rd or 4th In the last lap, I noticed that the Spanish athlete appeared to be tiring ahead of me so I accelerated even more and managed to get to second place overall and the first in the category under 24 years."
In the 25-29 category, we saw the first of the women's medals, with Pavlína Jordánová CZE taking the gold ahead of Ágnes Tuzson ROU. The defending champion lost sight of the Romanian athlete, whose first run was impressive. She was into T1 and gone before Jordánová had even entered transition. It was out on the bike that the Czech athlete, as defending champion, showed her determination and dug deep to work at the deficit. Entering T2 still a long way off her target, she wasted no time and gained a further minute on Tuzson. Out onto the ski segment and she was supreme. Before the race she was chilled out and enjoying the moment; golden smiles for both athletes!
For the men, the battle would be between the host nation, Slovakia and Great Britain. Lukáš Cintula CZE came here as defending champion and with a fine pedigree of off-road racing looked good for the title but he faced a big threat from GB's Oliver Gerard-Pearse who took the world title here in 2018. Gerard-Pearse works full-time for the HALO Trust helping countries recover after conflict. His work for the charity, which focusses upon the clearing of landmines in communities that are too often forgotten once the fighting has ended, takes up more time than a normal "nine to five" job but his hard work has raised huge sums of money. It was Gerard-Pearse who stormed to the lead and really added fire to the race as Cintula realised he had a fight on his hands. Time was lost by the Brit in T1 and Cintula broke free. Gerard-Pearse still looked good for silver but he had a poor final segment on the snow and was edged out to bronze position by Zsolt Keresztes ROU, who successfully defends his 2019 silver.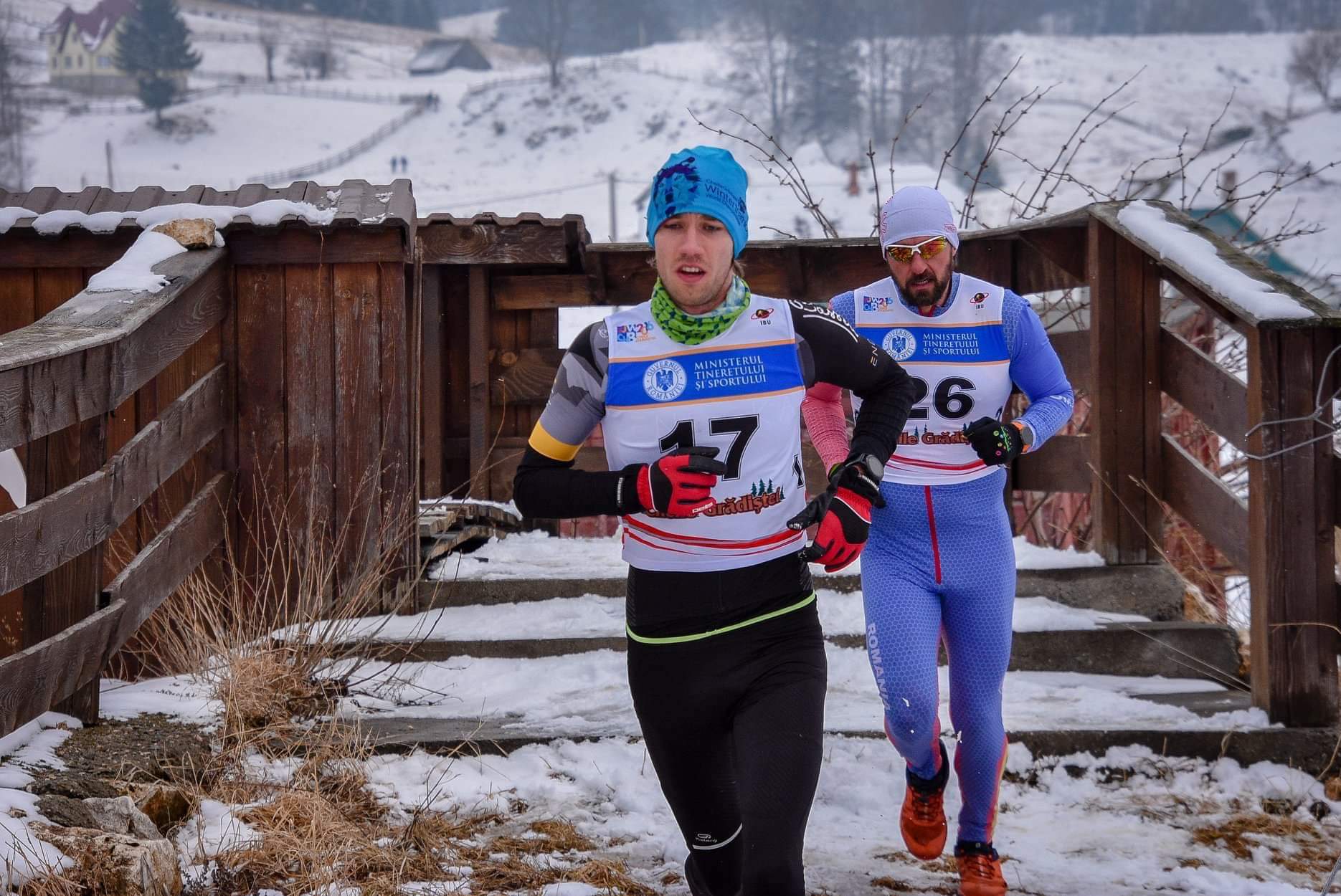 For Cintula after the race, one word was enough, "OBHÁJENÉ / defended!"
No women raced in the next categories but we had the pleasure of seeing Italy's Filippo Blanc race. Blanc had just missed out on the medals in 2009 in Gaishorn am See as a junior. He had returned to the scene in Asiago with a convincing victory in his Age-Group and it was pretty certain amongst many who knew his form, that he would win his category and perhaps the race. Taking it easy on the first run, he did enough to take him into the lead in the 30-34's but then just kicked the turbo and took off. His biking was the fastest of the day and coming into T2 with a massive lead, he was able to ease up a little to cross the line, hold the finish tape high and celebrate his victory.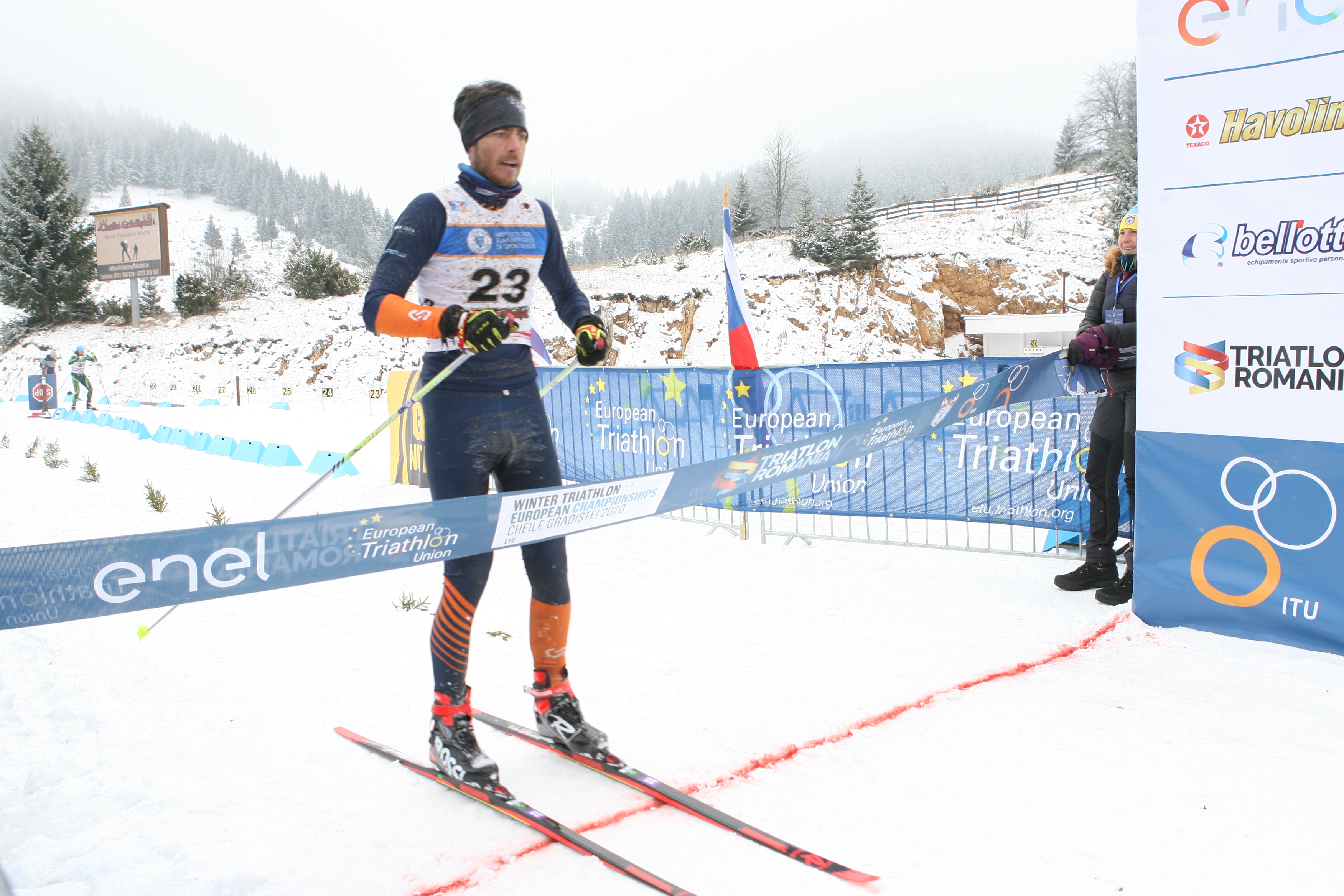 Behind him, the chase for silver and bronze was on and it was Romania's Dumitru Moisan who stunned the crowds with the fastest split, 11:34, to silver medal position in his first international winter triathlon. Some distance behind him, but in a truly remarkable display of determination, came GB's Chris Gouldsmith. The 2018 European Champion has not had the best of pre-race build-ups. In September last year, a crash during an adventure race saw his bike trashed and him with concussion and broken wrist. Even the determination of a Royal Engineer could not save that race but, undeterred, he set about a recovery programme that included a 10k run a week before Asiago. It was during this race that he had problems and was later diagnosed as having had a heart attack. "Very random and still unknown of the cause but from further tests, the doctors were not worried, thumbs were up!" Having seen him race in Asiago, he looked as if he was only charging along at half speed. He had used Asiago to test himself and feeling "good to go", he pushed harder in Cheile Grădiştei, was rewarded with the bronze and came away with the biggest smile you could imagine. As Team Manager, Keith Jenns would say, simply, "Warrior!"
In the 35-39 Men's race, a special guest appearance was made by one of Turkey's most well-known Technical Officials, Mustafa Şirin. Along with his elite teammate, they had both decided to race in honour of Péter Klosz and wore black armbands in his memory. Şirin is an accomplished cyclist but freely admitted he had not had much of a chance to train for the ski segment as Alanya is more famous for its luxurious beaches and all-year sunshine. He had managed a couple of sessions on arrival on snow but had been secretly training on in-line skates.
The first run saw him focus on the immensely powerful Romanian athlete, Adrian Costea, who won silver here last year. Costea had a small advantage as they came into T1 but the pair of them were comfortably ahead of the rest of the pack.
Onto the bike and Costea pulled away but Şirin's riding was strong and it was Romania and Turkey in gold and silver positions as they entered T2. At this point, we need to move our attention away from the Turkish athlete, who seemed to be smiling all the way around the ski course. Of all the athletes who raced, he got the best value for money out of the two lap ski course and certainly one of the biggest cheers when he finished but … back to the front.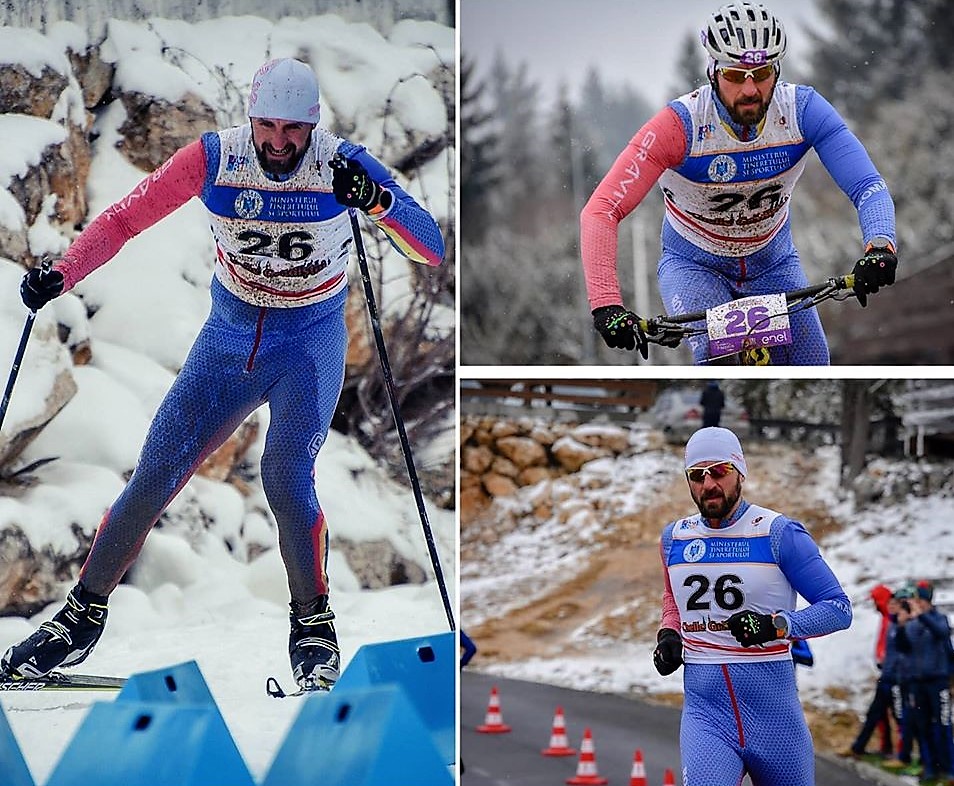 Costea was now storming and nobody would be able to catch him. It was Slovakia's Martin Hikaník, defending champion, who was now chasing but after a slow bike, even his speed through transition and out on the skis could not secure the top place of the podium. Gold to Romania, silver to Slovakia and behind them another incredible performance from a British athlete. In the couple of days before the race, Simon Hedley, bronze here last year, gold in Etna, had been seen limping as he walked. His story was quite shocking; In November last year, he was run over by an E-Class Mercedes. With 4 metatarsal bones broken along with his tibia, he had surgery to pin the breaks. After 8 weeks of recovery, keeping all weight off the damaged area, he came along to the race with his family and with remarkable focus of mind, raced and raced to the podium.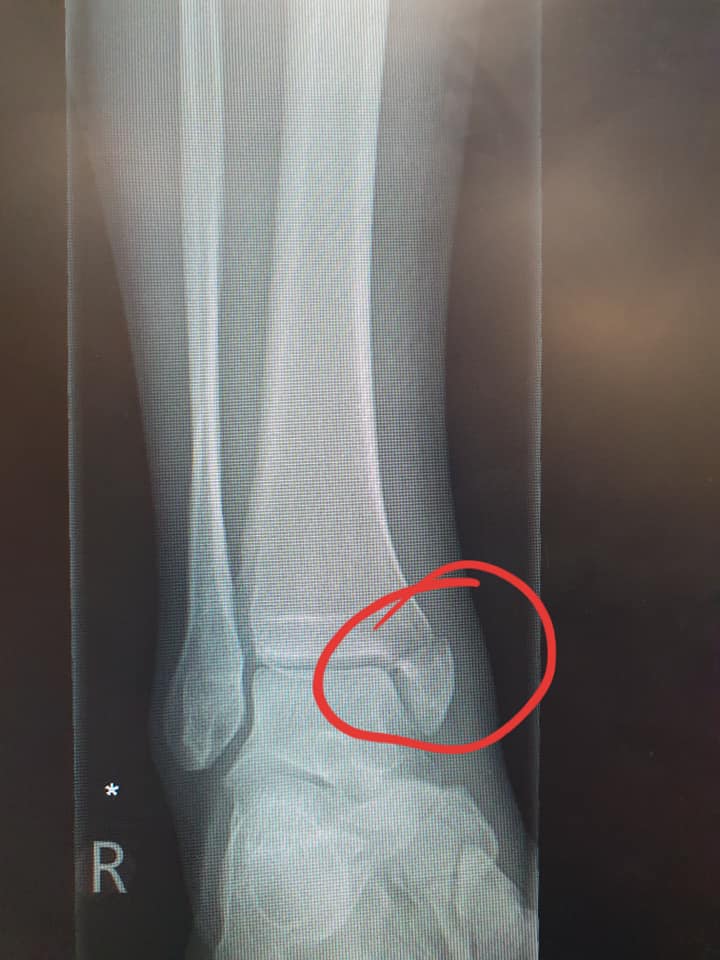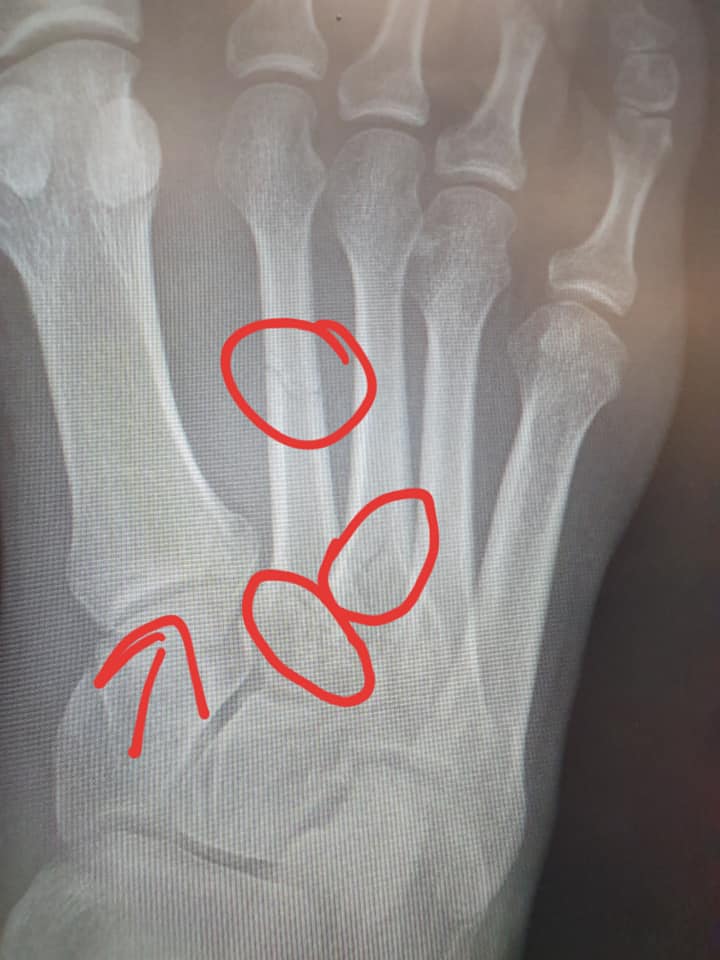 At breakfast the next day, the Yorkshireman admitted to feeling just a bit stiff. Understatement comes easy to anyone who has lived in a shoebox in the middle of the road.
In the 40-44 Categories, there was a tremendous battle expected between Italy's Serena Piganzoli and GB's Joanne Pitten. The pair had met recently in Asiago, where both finished outside the medals but where the French-based Deal Tri member had narrowly beaten the 2019 European Champion. Pitten's supporters were as loud as the Italian cheerleaders (led by Marco Bethaz) and as she came into T1 over 20 seconds ahead and then, with a display of transition perfection sped off on the bike, it was going to be a true test of the Italian if she were to keep her title. Coming off the bike, Pitten still held the lead and had in fact built upon it with a powerful ride. Both knew, however, that the final leg would be the strongest for the Italian who really had the advantage on snow. Pitten knew this and with the tight course allowing her to see her opponent getting closer and closer, one can only imagine what her heart-rate could have been. With the final descent and run into the finish area ahead of her, Pitten was home, to the delight of her family and friends. A nail-biting finish and a well-deserved title indeed. Pitten can add this to her 2019 Târgu Mureș ETU Cross Triathlon European title.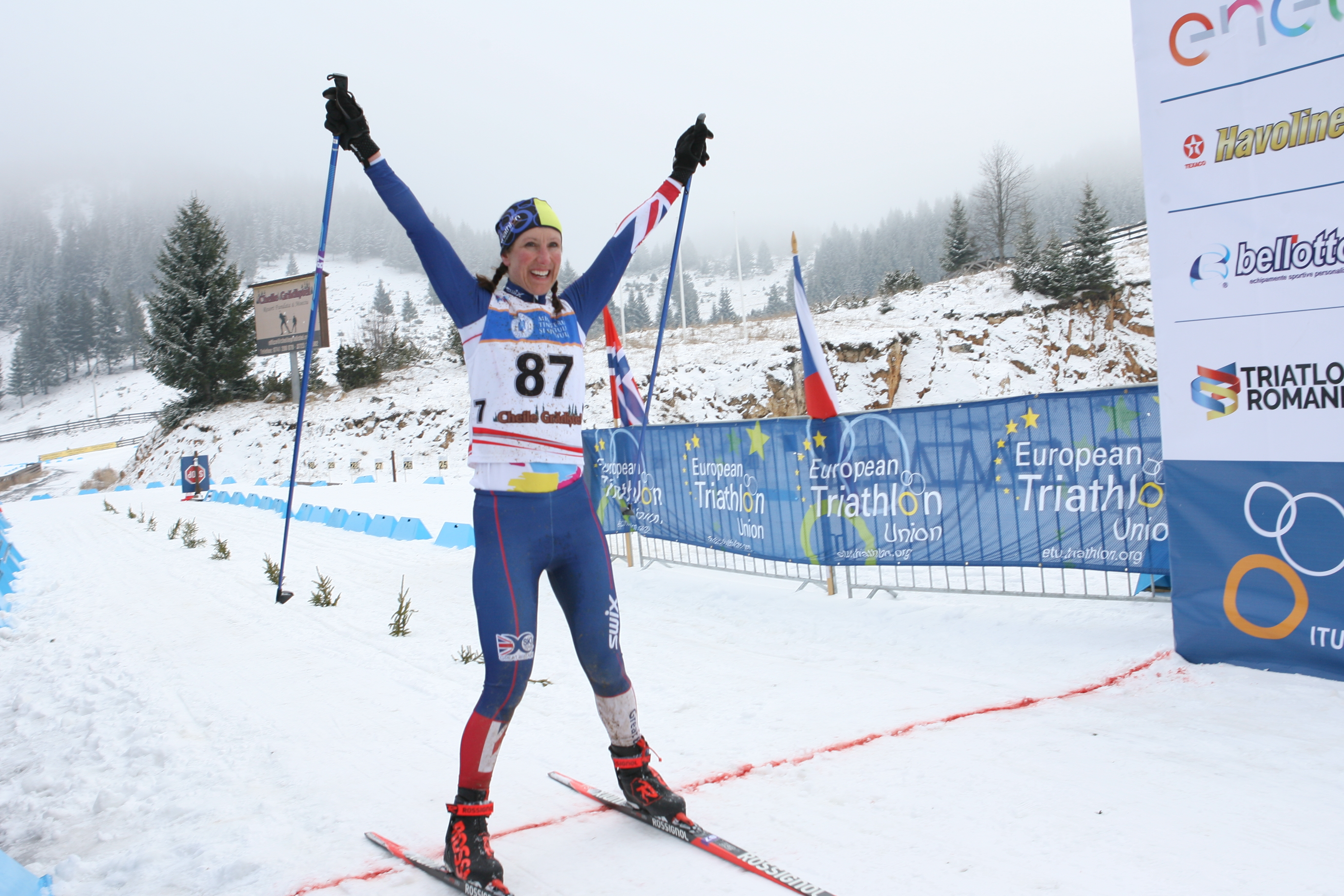 For Pitten, "My top supporters carried me round to get the gold medal. A battle to the finish with the 2019 European champion in my age group just 200m behind!"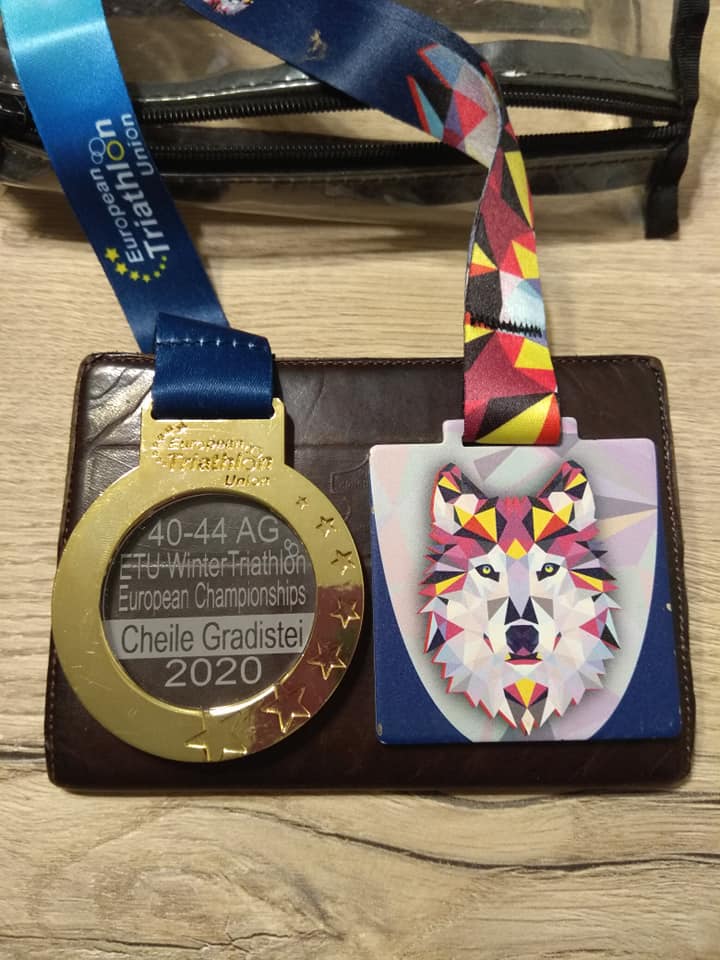 For the men, it was a gold once more for Russia's Sergey Mishanin. Two world titles; in Jämijärvi and Asiago and a European title in Tartu in 2012, 2013 and 2019, he was certainly race favourite but he was most certainly impressed by the fast running of Marcel Balan, the 2018 World Champion. Balan had over a minute's lead when he came into T1 and then set about building that out on the bike. It was here that the Russian kicked up a gear and clawed back 10 seconds before having a clean T2, where Balan struggled and lost time. Out onto the snow and Mishanin was in complete control. His 11:53 was too much for the Romanian and gold went to Russia. Balan secured his silver medal with a faster final segment than his teammate, István Csergedi, the 2019 Cross Duathlon AG title-holder.
In the 45-49 Age-Group, it was Romania's Eliza Pop, who successfully defended her title. Each of her three races here have seen her on the podium, with a bronze in 2018 at the Worlds.
The Men's race saw the outright winner from 2019, Slavomir Praj SVK, go head to head against Italy's Luca Alladio. In Asiago, only a couple of weeks earlier, Praj had lost out by 23 seconds to Alladio and so we knew that the competition would be fierce between them.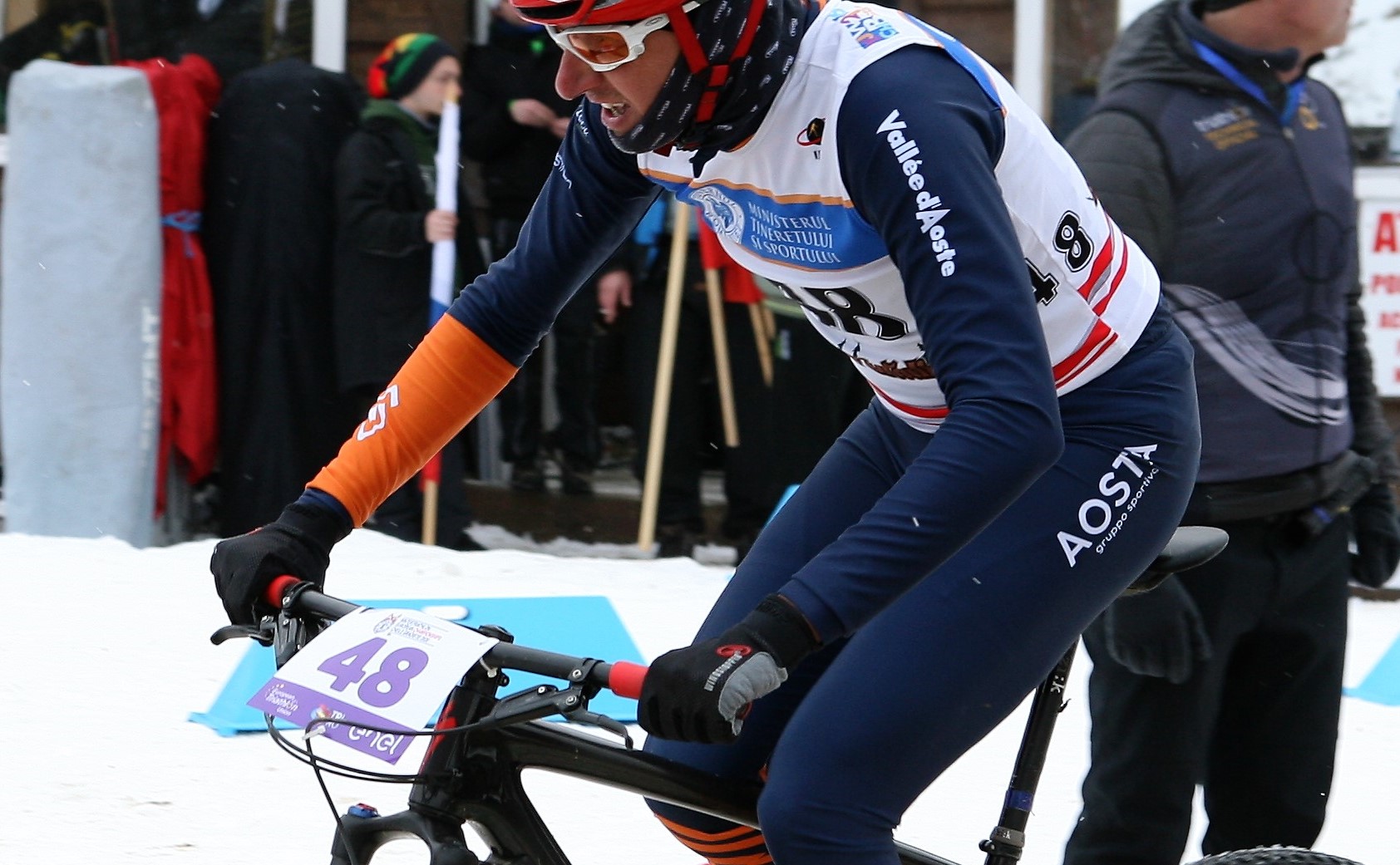 Alladio had the advantage coming into T1 and was onto his bike ahead of the Slovakian athlete but out on the bike Praj worked hard to catch the Italian and by the time they entered T2, it was game on for the final race to the finish.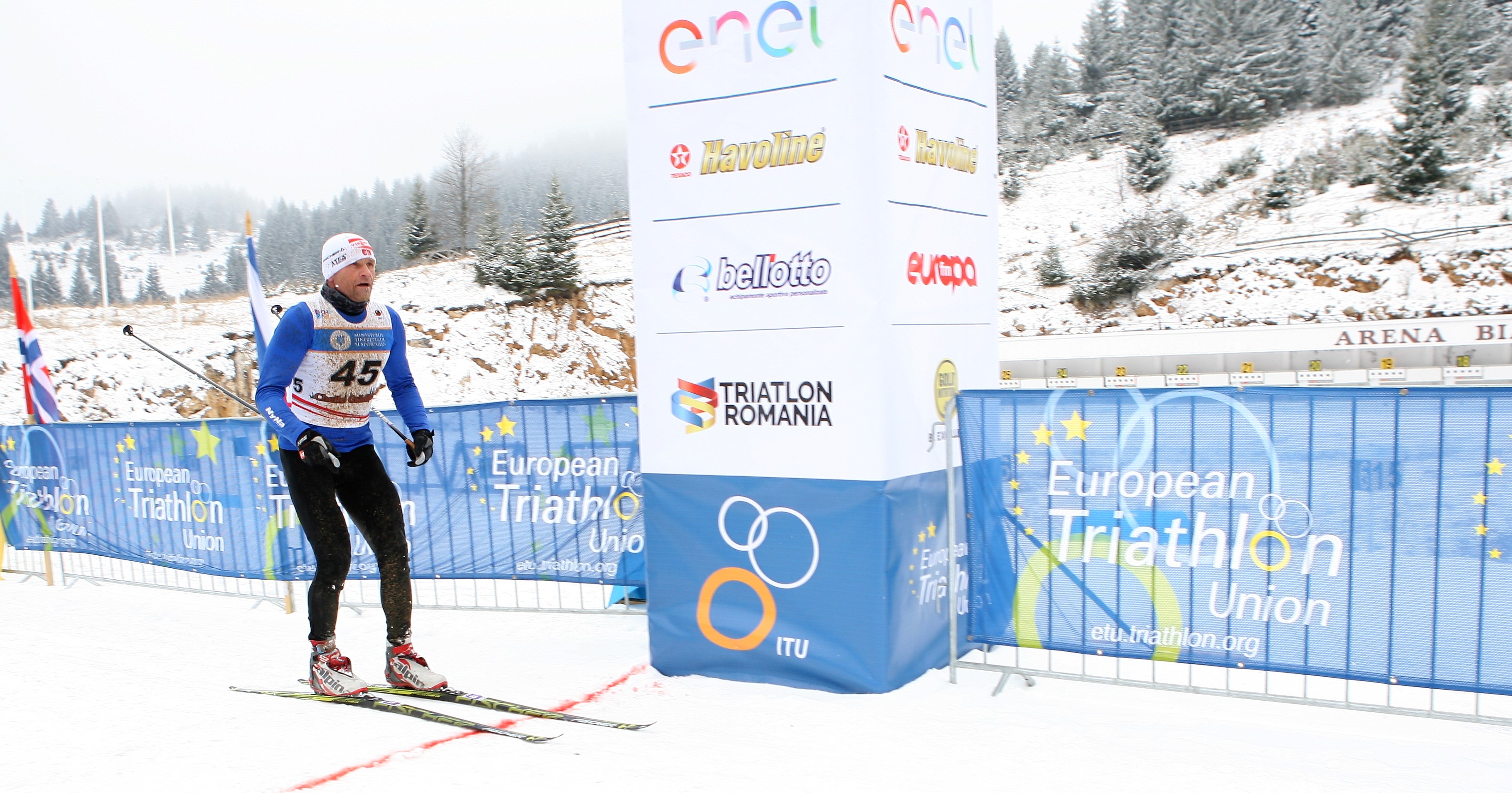 The ski segment was more suited to Praj and his grabbed the lead to cross comfortably ahead of Alladio. Behind them, Sorin Viorel Ilie had a fantastic race and, with the fastest ski split of the group, claimed bronze.
There was a lot of discussion and interest in the appearance in the Age-Groups of a racing legend. After a distinguished career as an elite athlete, Šárka Grabmüllerová CZE had finally decided to hang up her elite licence. Having won easily in Asiago, she completed the 50-54 double and, with a finish time of 43:59, was first woman across the line. Her finish time put her 22nd overall.
For the men, defending champion, Peter Sitárik SVK knew that he would have to work hard after the race in Asiago saw him lose out to Germany's Markus Denz. When the pair had raced last year, Sitárik had been dominant, with Denz claiming bronze but the race in Asiago was a different battle. Denz had the advantage on the run and, making no errors in transition, had just held of the faster ski skills of the Slovak to finish just ahead of him. Neither were in the medals in Italy and, against those in the category, it was on paper going to be decided by these two athletes. Denz was joined by Waldemar Vaum ROU in the first run and made good his getaway from Sitárik. Vaum lost time in transition but clawed back to be in striking distance of Denz on the bike as they entered T2. Sitárik was nowhere to be seen and his medal chances looked slim but then came the final two-laps on skis and the Slovak sped past Vaum. He had lost too much time in the earlier stages of the race to catch Denz and had to settle for silver and the acceptance that on this occasion, the German had out skied him completely. For Vaum, an impressive medal. For Denz, at last the gold he wanted.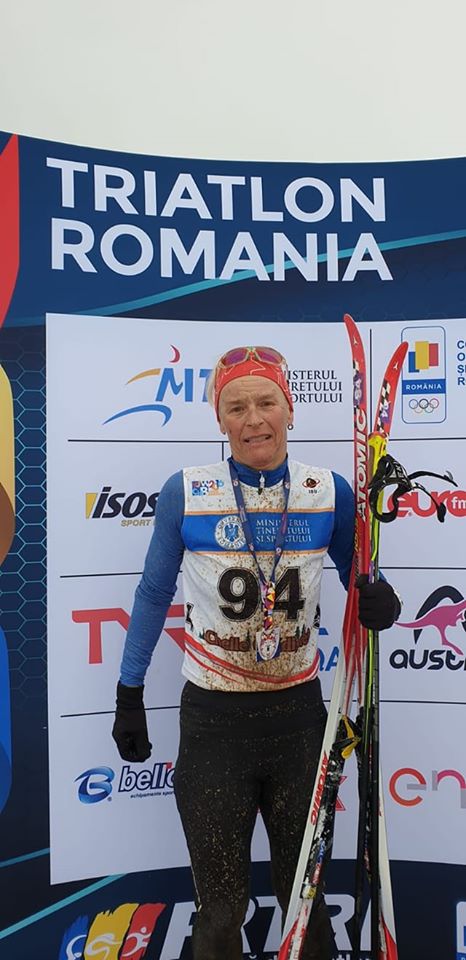 In the 55-59 Categories, we were again treated to some impressive racing. Sabine Greipel AUT came to defend her title and, after losing out in Asiago by just 4 seconds in a nail-biting finish, she would want this win even more. She was up against the slightly older Angela Boczek GER, who since coming to Winter Triathlon has been so enthusiastic that her son decided to race in Italy with her. It was Greipel who posted the faster splits and added this title to her vast collection. With 35 starts, 25 podiums and 9 wins, she has an impressive racing history that spans sprint, standard, middle, long, cross and duathlon races. Boczek's own stats show 20 starts, 11 podiums and 5 wins across a similar range of events but with a greater focus on cross events. For Boczek, whose son was unable to come to Romania, "Das schöne am Triathlon: Alle Altersklassen, kann ich mit meinen Kindern immer noch zusammen machen, nur die Rollen haben sich geändert, jetzt laufe ich hinterher. / The best thing about triathlon: all the age-groups, I can race with my children but now the roles are reversed as I end up chasing them."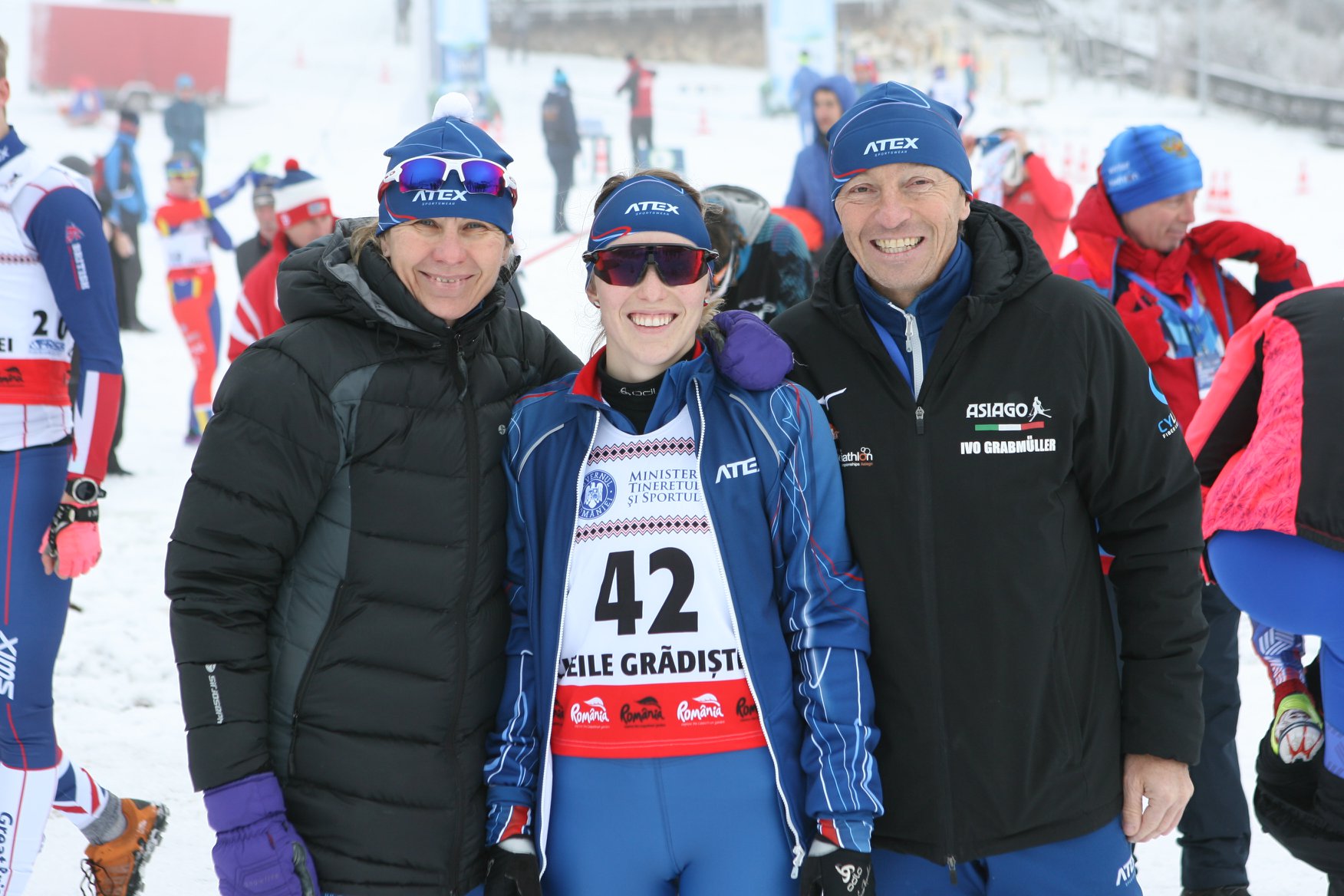 The men's race saw the welcome return of Czech Republic's Ivo Grabmüller. He had moved his focus to mountaineering after taking the World silver and European bronze in 2018 and then, following his successful ascent of Mount Everest, spent a period of recovery after losing fingers due to the severe frostbite. His presence around the course in the build up and then on Elite Race Day, as he and his wife supported their daughter, who was racing Elite, was a welcome sight and seeing him back racing again was even more a pleasure. The three-times World Champion and two-times European Champion led from the start and the only threat came from Estonia's Aivar Veri, who won silver here last year. The Estonian's power was on the bike and he came close to catching Grabmüller. Gold and silver decided, it was Russia's very own Andrey Gudalov, the Russian Team Manager, who spent the whole day on Saturday looking after his athletes and who now was showing great stamina and he crossed the line to claim bronze. The Estonian team made a real "Road Trip" out of the World and European Winter Triathlon Championships by driving from Estonia to Italy and then to Romania before heading back north. A round trip of about 6,000km.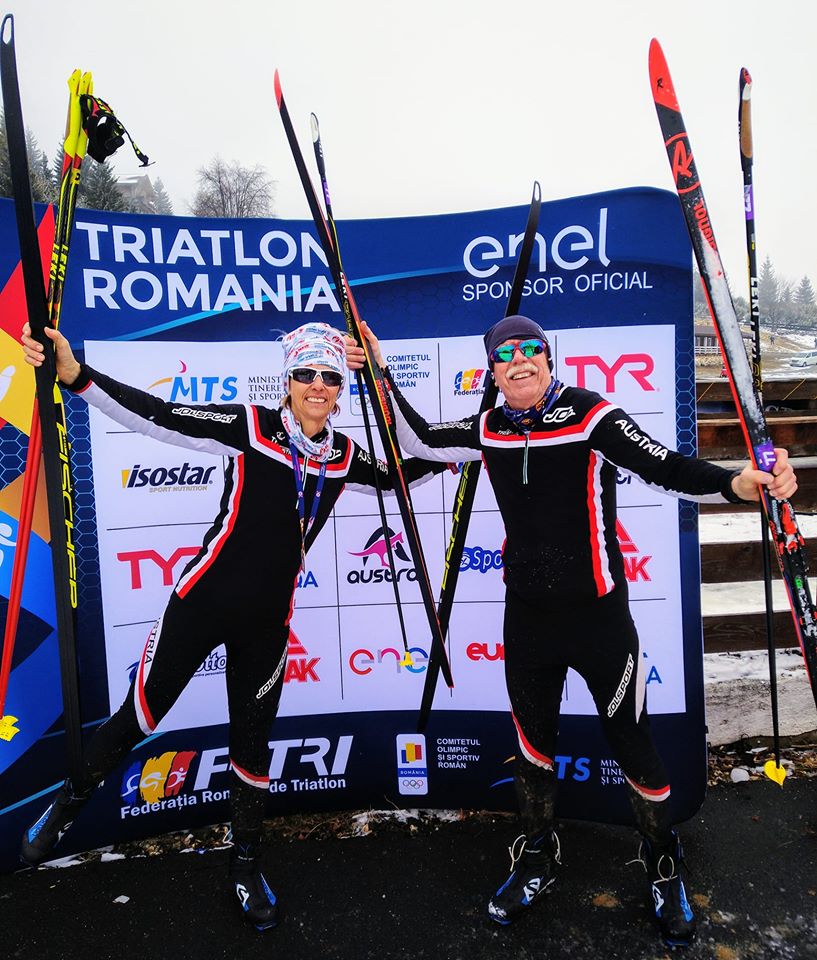 The last category to see both men and women racing was in the 60-64 Age-Group. Austria's Marianne Hergouth had come to the race with husband, Anton. A world champion when she raced in Zeltweg and with a world title in Cross Triathlon from the Snowy Mountains event in the same year, she had been beaten into silver position in Asiago by a teammate who was not racing in Cheile Grădiştei and no doubt was looking forwards to her first European title. Up against GB's Frances Hooper, who came with her very vocal support team. Hooper's move into Winter Triathlon has seen her transfer her power and skill over middle distance, duathlon and cross events with some degree of success. As defending title-holder, she was determined to make this a race for the Austrian and immediately set about pushing the pace with a run and first transition that placed her out of sight. That advantage was lost on the bike as Hergouth's greater power on the pedals took her into the lead. Gold for Austria and a silver for GB.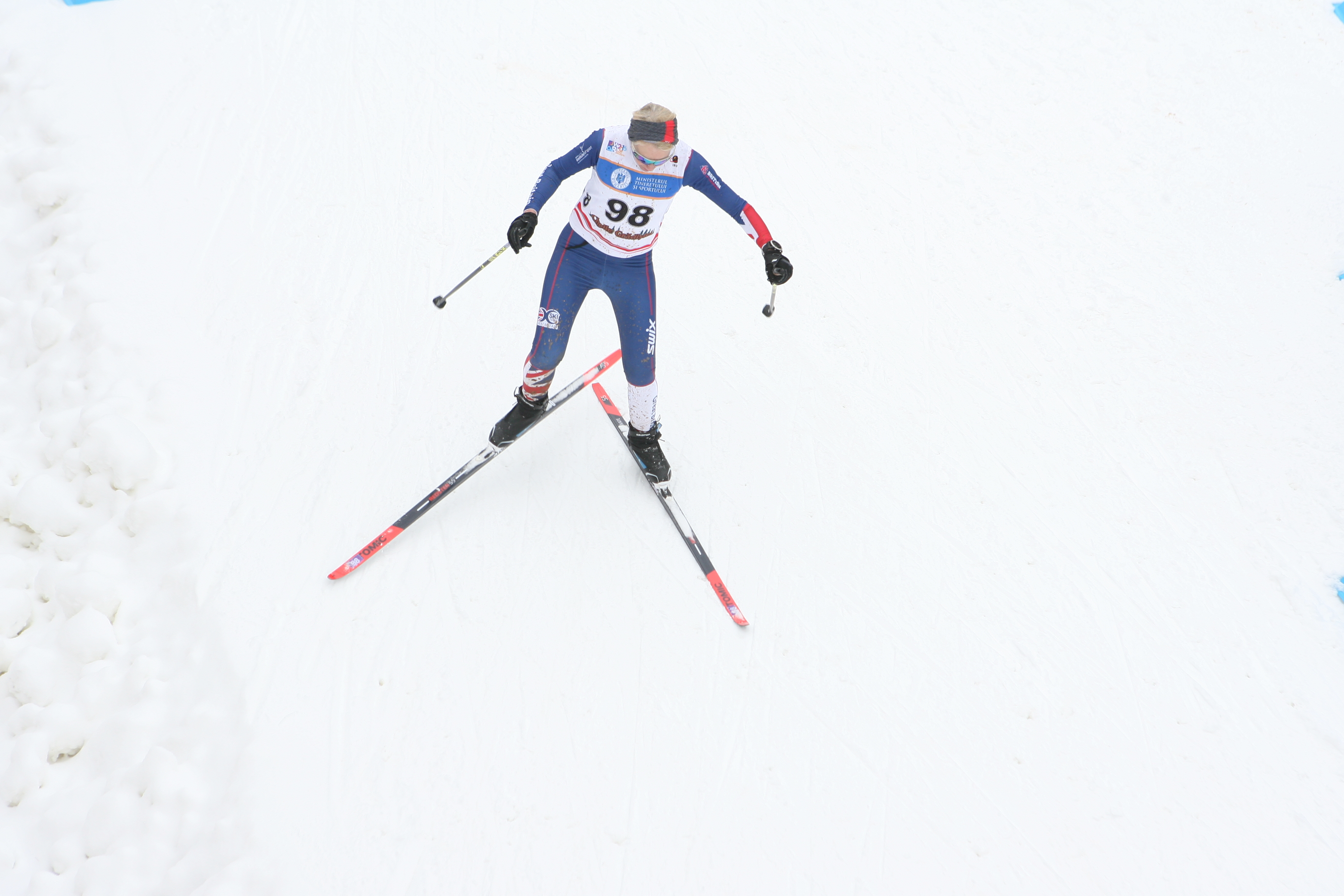 For Hooper, "I've been so lucky to have another amazing weekend away in Transylvania at the European Winter Triathlon championships with Team GB. Happy to come away with age group silver."
In the men's race it was to be another Austrian, Joachim Rathbauer who would make it a double for the European title, with a successful defence of his 2019 title. Romania has been good to him; following his victory here last year, he came to Târgu Mureș for the Cross Triathlon Championships and won, so coming here again he was no doubt confident that another title was within his reach. A bronze in Asiago showed that his form was good and trusting in his bike and ski power, he was not too worried to see Slovakia's Bohuslav Melicherčík edge ahead on the run. Once on the bike, Rathbauer started the attack and had soon taken the lead. A swift change to the skis and he was powering around the two-laps to cross the line with a comfortable lead. Gold to Austria and silver to Slovakia. Behind them, GB's Nicholas Farnell improved upon his 2019 4th place to collect bronze.
Defending champion, Jaroslav Balatka CZE was facing his old adversary from Estonia, Anti Oot in the 65-69 Age-Group and on this occasion it was Balatka all the way with a solid win to add to the Czech Republic's collection of medals.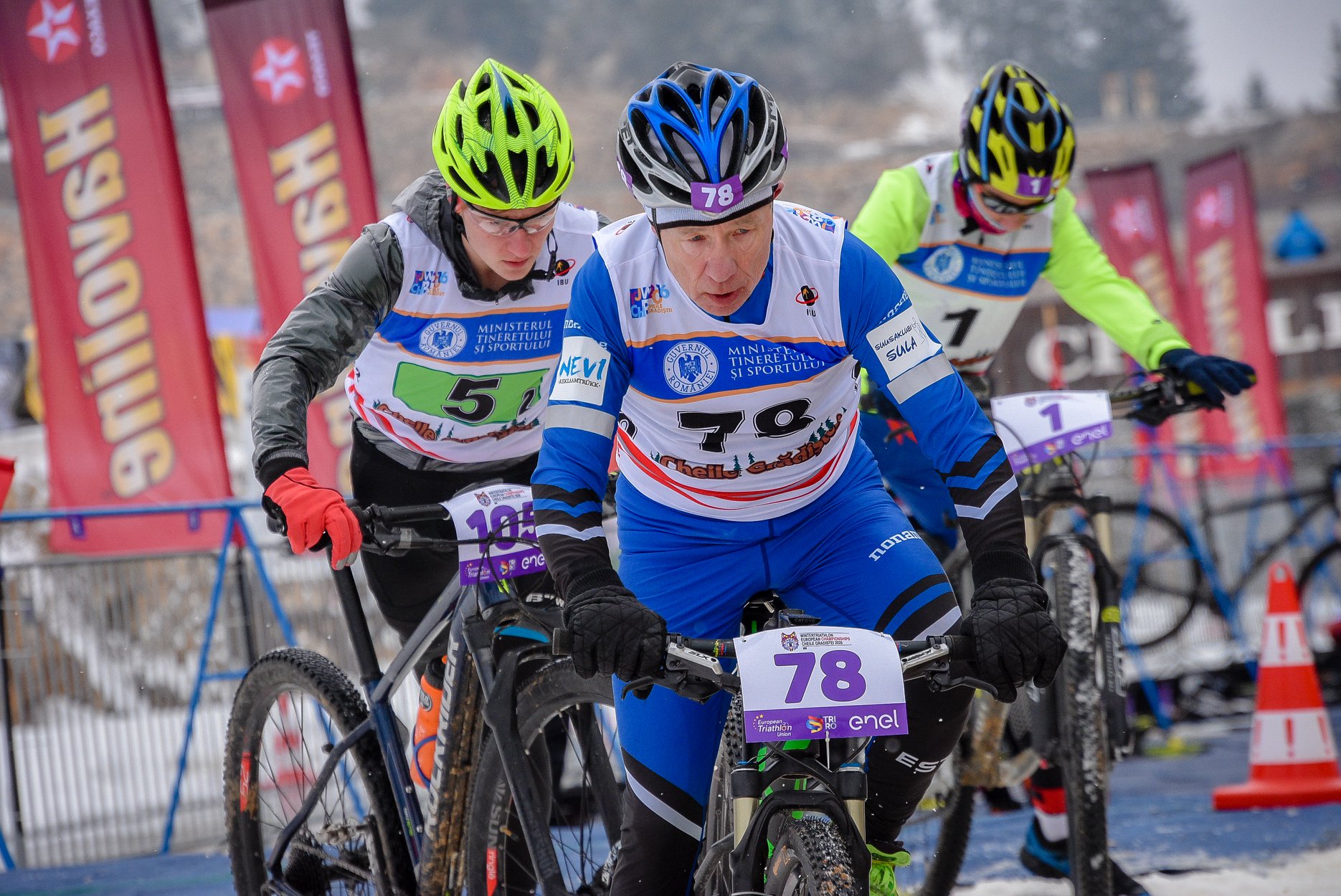 Oot's silver was won in 53:00 but in the next category, 70-74, his teammate and defending European Champion, Juhan Lukk secured gold for Estonia with a fine performance that was 17 seconds faster than his junior teammate, leaving no doubt that he is the strongest and fastest. The Estonian, with World and European titles in 2019 had been beaten into silver medal position in Asiago by Germany's Hans-Peter Grünebach. With the World Champion pre-committed for another long-distance ski race, Lukk simply ran away from the opposition and crossed the finish line jubilant and with a huge winning margin over Reinhardt Engert GER. Austria's Anton Hergouth rounded off the podium just 38 seconds quicker than his wife, which no doubt will be part of the focus of their training together in preparation for the race next year.
In our final category, it was gold once more for Steffen-Luis Neuendorff, who now holds 7 World and European Winter Triathlon titles and 7 World and European Cross titles. A truly impressive collection of wins since he began to race in 2012.
| | | | | |
| --- | --- | --- | --- | --- |
| | | Gold | Silver | Bronze |
| Czech Republic | | 6 | 1 | 1 |
| Romania | | 3 | 4 | 3 |
| Austria | | 3 | | 1 |
| Slovakia | | 2 | 3 | |
| Germany | | 2 | 2 | |
| Great Britain | | 1 | 1 | 4 |
| Estonia | | 1 | 2 | |
| Italy | | 1 | 2 | |
| Russia | | 1 | | 1 |
| Spain | | | 1 | |
Our Age-Group athletes made a great impression on the venue owners. We took time to sit down and discuss with them how we had been made to feel so welcome at the Cheile Grădiştei venue and , over a coffee, they explained that of all the big federations, it was always Triathlon Romania that delivered on its promise to bring athletes to the venue. When you look at the ready availability of accommodation and the ability of the owners to save the day when weather conditions make it look almost impossible and when you sit back and simply take in the stunning views then you begin to understand what a wonderful place it is. For Winter Triathletes, this is a paradise but during the rest of the year, with its twisting tracks, it makes the perfect place to train and race. With the 50m pool that is almost finished, this venue has loads of potential. Check it out here.
Once again ETU would like to thank Radu Cristi for his photos that were shared soon after the race. You can see Radu's photos by clicking this link. Radu-Cristi. All rights reserved.
For the Award Ceremony photos, please click here.
There is a hand-held "Facebook Live" recording of the Age-Group race but sadly all available batteries died in the cold. You can watch it here but remember, this is no professional job, merely an attempt to capture something for you.
Accompanying this report are a selection taken by ETUMedia. Please feel free to use them. All we ask is a small thank you.
"It's not important when you start, but how far you can go" – Peter Klosz (1970 2019).
---
Article gallery
Related Event: 2020 Cheile Gradistei ETU Winter Triathlon European Championships
Latest
Videos
---
Latest
Event Galleries