NEWS
What is a Level III Technical Official ?
By Paul Groves
|
06 Dec, 2014
Technical Officials; who are they and what exactly do they do?
Ideally the Technical Official is a rarely-seen animal. There to ensure that the competition is safe and fair but preferably keeping well to the background and out of view – after all, the focus is, has been and always should be upon the athletes.
Who are they? Bottom line – they are all volunteers who give up hours and days of their own time to make sure that your event runs well.
How do they become technical officials? In the past there was a rather relaxed way to appoint people as officials but in order to ensure transparency and quality of delivery ITU drew up and applied an ITU Technical Officials' Certification Program. This is based on previous education programs and was re-established in 2009 to develop technical officials. The program defines the requirements for officials to officiate at different level of ITU events. The purpose of this program is:
To identify and make transparent the criteria needed to be gained by technical officials.
Establish the level of certification required to manage ITU events.
Identify the role & responsibilities of every one include in the process.
Establish the criteria to accredit National Federations to certificate ITU Level 1 officials (NTO).

There are three levels (I, II and III) for international officiating. At present there are 7 Level III officials in ASTC, 8 in OTU, 7 in PATCO but here in Europe we have 15. This is good news for the events and athletes who race in Europe as the majority of top officials are here. Once the course has been attended and the assessment completed and marked, the officials have to keep that qualification live by working regularly at ITU / ETU events and by attending re-validation courses every 4 years.
Just one such course recently took place in Madrid. It was an opportunity for new blood to be brought into the level too. Under the watchful eyes of Thanos, Enrique and Gergely officials are selected to move up the grade and a total of 20 officials joined together in Madrid for the three-day course.
In case you had any idea that this was just another "jolly" I can take you inside the course and let you see just how a "Weekend in Madrid" was for the top European Officials.
From all parts of Europe and also, one official flying in from Zimbabwe, the officials met up at the hotel and settled down for dinner, to renew old acquaintances, to share stories about events they had worked at and for some to ask "What will the course be like?" Friday came all too quickly and after an early breakfast it was down to work at 08:30.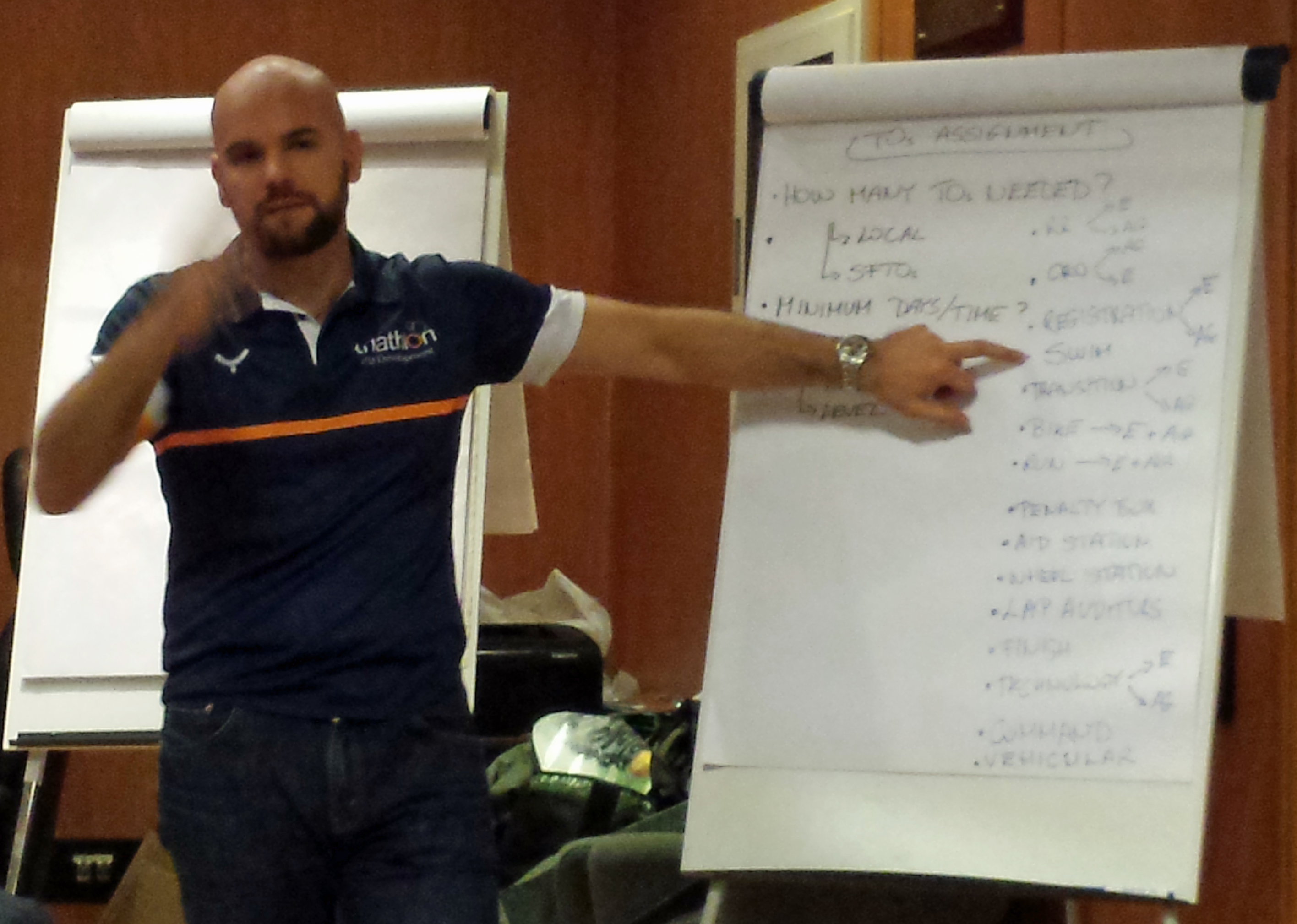 Working together in teams the delegates were drawn into the delivery by Thanos who led the course. With a massive focus on WTS events the delegates looked in detail at insurance documentation for events from various countries to ensure that the required cover was in fact provided and were shown examples where insurance documentation had sadly not been of the best quality. Strategic planning was examined in detail along with athlete services, scheduling and wave calculation. This is easily the biggest challenge for any organiser. They must work with the Technical Delegate (TD) who has been appointed as head official to deliver a safe course not only for the Elite but also for the Age Group athletes. Keeping the waves safe, reducing the risk of drafting … this is all done by the TD in conjunction with the Local Organising Committee (LOC).
The day was a long one and by the time the delegates returned to the hotel it was just about time for dinner and then there was homework before lights out.
Next morning was again an early start but with a detailed risk assessment of 600m of potential bike course. This was done by each group. One person wrote all the details into a spreadsheet while the others identified the risks and calculated the impact these risks would present and to whom. This practical exercise focussed everyone's attention on the need to be thorough and to ensure that we do not allow athletes, officials or spectators to be exposed to unnecessary risk at out events.
The day continued with sessions on assigning technical officials at a European Championship. For delegates Esther Sanchez and Pascal Godel who are the appointed Technical Delegates for the ETU European Championships in Geneva in 2015, this exercise was great preparation for them as they will be doing exactly this in the next few months as we close 2014 and open the 2015 racing schedule.
Sessions followed on major constructions on the Field of Play, accreditation procedures, timing, heat stress and contingency planning. The day finished with sessions on Broadcaster requirements and a final detailed and intense period of work on paratri. The day was long, the walk back to the hotel was long, the dinner was late and there was more homework.
Day Three began with the scheduling of paratri waves and the delegates were shown the importance of getting the order of waves right. With Rio fast approaching and paratriathlon going to the Games this was a very popular session.
The delegates then worked on venue-planning for the European Games that are due to be held in Baku in June next year. We were lucky to have Alpar Nagy who is working with the LOC at present in Baku. He, with Dr Bela Varga and Jorge Garcia, who are the appointed TDs for the event, were able to leave Madrid with constructive ideas to improve plans for the layout and to bring it more in line with the top-level events we have recently worked at.
Sunday finished all too soon with the delegates heading off to all points North, South, East and West. With written examinations to be submitted before Christmas their work is not all over yet. It was exhausting but rewarding.
For the new delegates, GBR's Duncan Hough said, "The course made me look at things as a Technical Official in different lights and aspects, and gave me the skills and tools to do this, with enlightening aspects, that can only help me as a Technical Official to deliver on the Field of Play."
From Belgium, Dirk Bogaert, "It was a privilege to attend the L3 Madrid course, facilitated by TOP 3 facilitators Gergely, Enrique and Thanos. This very intensive 3-days course brings us ( 9 new attendees and 11 renewals) up to date with all details at the highest level events. And I hope, in future, to hand over and share the lessons learned to international and national LOCs in my own country and when I work as a TD."
For the existing delegates, Jorge Garcia said, "I expected to improve my knowledge and share experiences for further legacies. The course was good as we saw new things coming up, new things to implement and I feel that as a Technical Official we need continuous learning, in order to improve ourselves, and there are new items, that is important to implement. The big thing for me was the session on project planning. The course was good. I like being a TO because it is a way to help in the development of the sport."
From Africa, Rick Fulton said, "It was good to see you all again in Madrid. I did not expect so much valuable experience to come out of the seminar, both from the Facilitators, but also from the participants. Probably the most important facet in my opinion was from the expression "Failing to prepare, is preparing to fail". Regarding being a TO - it is good to see how the sport has progressed technically and to be part of this process, it is also good to be at the coal face and providing a safe and fair event for the athletes."
A final word from Alpar, "Coming to the course I hoped to be able to update my knowledge about the high level events, how we need to setup the venue, accreditation system, build up the TO Team. I got some good ideas for some of the events were I am already involved, e.g. Baku, Alanya. The course was definitely very useful! The session on insurance was very important as were the sessions on schedules for the Paratriathlon Starts and on Accreditation zones. I like working as a technical official. Firstly, because if I am a TO I believe I can be the part of the sport, and I can help this on the most effective way. Being a TO is really a key role on the event, and this is a good feeling if I can be the part of this success. Secondly, being a TO improving some very important skills in anyone: ability to make decisions, and taking the responsibility same time. It is also important to be fair with everyone and always support the fair and sporting behaviour. Being a TO teaches me how I can control myself, and control the situation or the Event same time around me, I think this is really important. And it is really good feeling when I can find the balance in this "controlling". Control the Event and the movements of the Athletes, but give them the freedom to be able to focus for their race.
And there is no better feedback when the Coaches and Athletes are coming to thank you at the end of the Event. This is why I like to be a TO."
I think that in his words here, Alpar has really expressed the satisfaction that we all get as TOs. Nice words Alpar!
A big thanks goes to the ITU Development Team, Thanos, Enrique and Gergely and to the Spanish Triathlon Federation for hosting the course. This group of Technical Officials is ready for 2015. If you are interested in moving up from being a technical official in your own country to working internationally then contact first your National Federation. Nominations for ITU Level I courses come from the National Federations and usually take place at an ETU / ITU event so as to provide you with the chance for practical, hand-on experience at an international event.
---
Article gallery
Latest
Videos
---
Latest
Event Galleries