NEWS
Tiszaújváros comes alive - Junior athletes race for medals, points and prize-money.
By Paul Groves
|
06 Jul, 2018
There is not much that you can say about Tiszaújváros that has not already been said. It is a word that few can pronounce easily (without the assistance of palinka) but a word that everyone in the triathlon world knows. "Tiszy" offers elite, junior and everyone a triathlon-spectacle with a massive festival of sports centred on this small town.

Emma Jeffcoat AUS, is racing the ITU World Cup - her photo is just perfect.
The history of the event is well-known and without the hard work and dedication of Dr Gábor Márkus, who gave us not only this event but also Gergely Márkus, who is they key member of the ITU machine, we would not have this annual festival to look forwards to. Sadly no longer with us, Dr Gábor Márkus is remembered by the legacy he created.
It will be a huge event this weekend with the ITU World Cup attracting some of the world's top athletes and alongside them will race the new generation of athletes; our Juniors!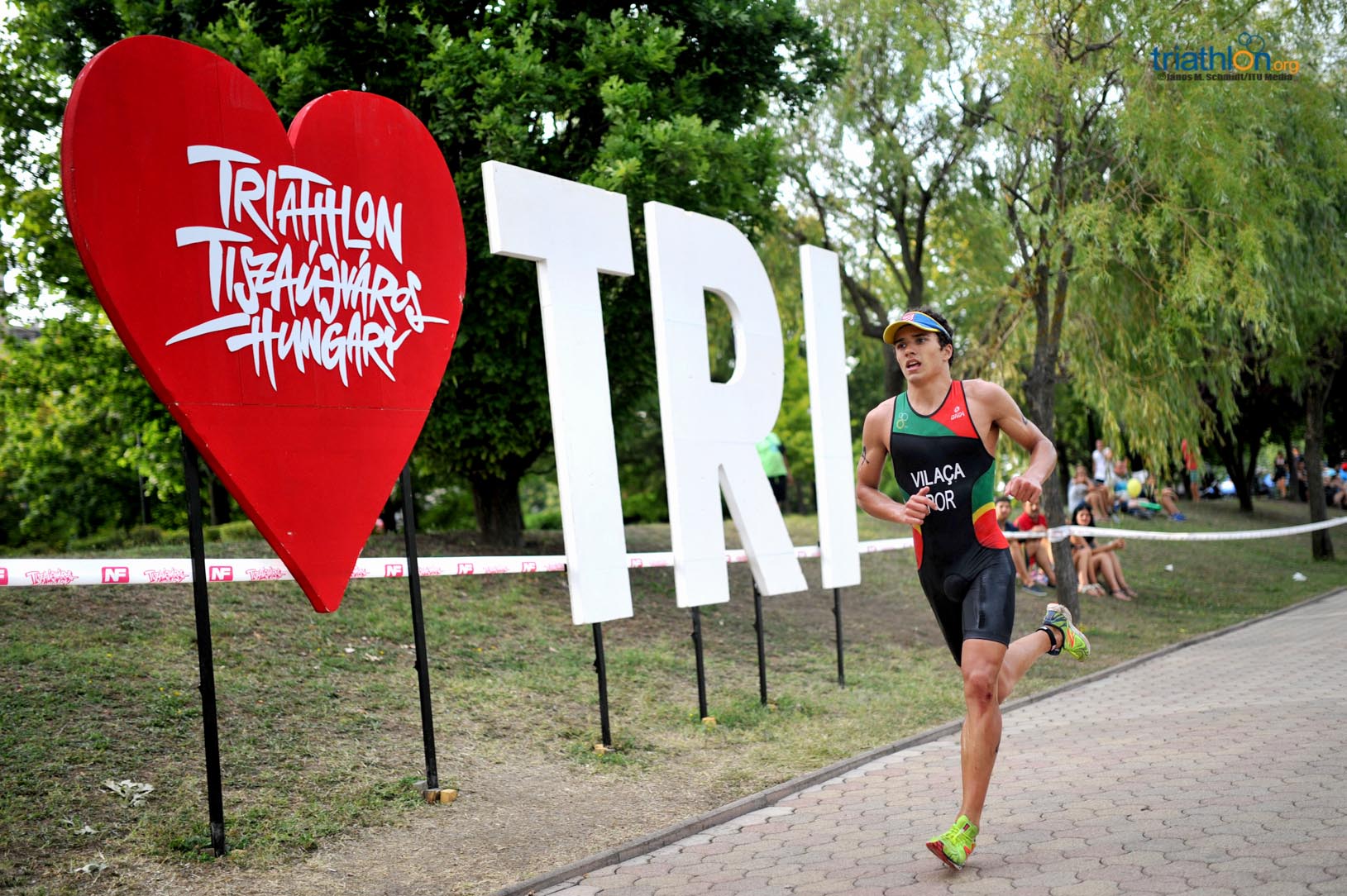 The format will, as in previous years, be the semi-final and final races.
Semi-finals Distances:
Swim: 500m (2 laps)
Bike: 12km (2 laps)
Run: 3,3km (2 laps)
Swim course:
Expected water temperature: 25-27°C
Number of laps: 2 laps
Two laps of a 250m circuit - Wetsuit not expected
Bike Course:
Number of laps: 2
Flat circuit – Good road surface
Run Course:
Number of laps: 2
Flat circuit – 2 Aid stations in each lap.
Final Distances:
Swim: 500m (2 laps)
Bike: 12,5km (5 laps)
Run: 3,6km (3 laps)
So we can expect flat out racing from the athletes to ensure that they get a place in the finals. To see how this all works, check out the ITU Competition Rules, Section 20 (COMPETITION IN QUALIFYING ROUND FORMAT)
Just to make it even more exciting, the Juniors will have a chance to win some prize-money.
Prize money distribution for Junior Men and Women:
1st. 350 EUR
2nd. 210 EUR
3rd. 140 EUR
The most recent ranking (not yet updated after Bucharest) make interesting reading.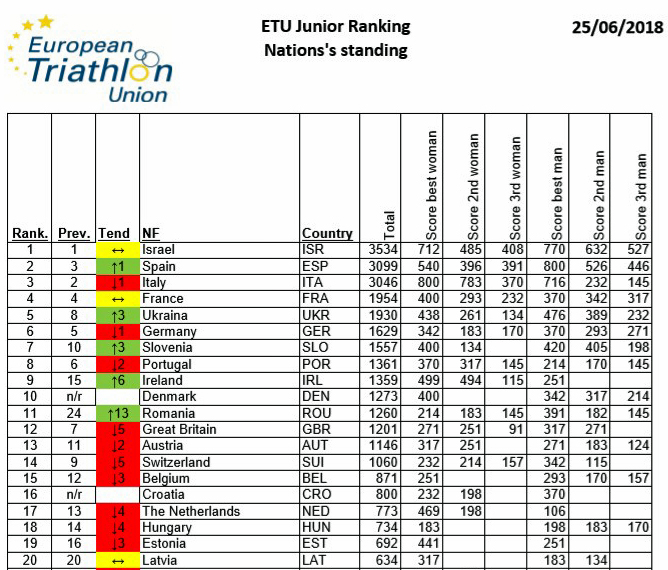 For the Junior Women, 64 athletes representing 12 nations will see athletes from South Africa, Hong Kong and Australia joining our very own athletes for the battle to get to the final, for the points, medals and prizes. A massive Hungarian team will be led by #1-ranked, Dorottya Petrov. This will be her 4th Tiszy and following a 7th place in 2016, she will be focussing on making the most of the experiences she collected by winning silver at the 2017 Astana ASTC Sprint Triathlon Asian Cup and Central Asian Championships and then at the 2017 Tulcea ETU Triathlon Junior European Cup. Wearing #2 is her teammate Dorka Putnóczki. She had a tough race in Olsztyn recently, where the rains fell in Biblical proportions but still, against the older Elite athletes, placed a creditable 8th. This will also be her 4th Tiszy but with silver medals in 2016 and 2017, she comes here as potentially the race favourite.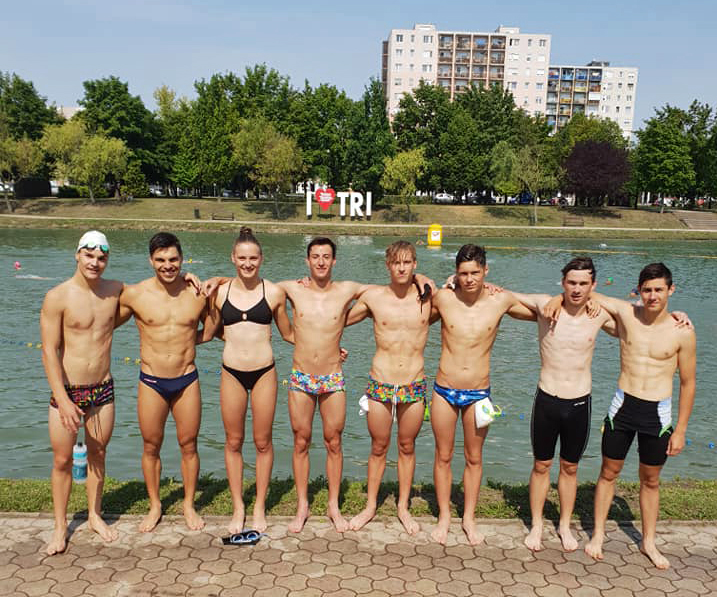 Slovenia sends Tjaša Vrtačič. As winner of the challenging Dnipro race, with strong currents in the river and a tough bike course, she will be confident that she is in good form. A top ten in the Mediterranean Games recently against some very experienced athletes shows that she is ready for Tiszy. Making the very most of the ETU Race Calendar and the top quality races that are on offer on the European circuit, we welcome Ellie Hoitink AUS. Having raced at Kitzbühel, Wuustwezel and Holten recently, she is the highest ranked overseas athlete, just ahead of New Zealand's Samantha Whitting. She too followed the Kitzbühel, Wuustwezel and Holten on her first European outing. Also from Australia is Bree Thistlethwait.
South Africa has Ashleigh Irvine-Smith on the start list. She wears #6 and was spotted as a young athlete when she won silver at the 2013 Potchefstroom ATU Duathlon African Championships over the super-sprint distance in the 12-13yr category! She then took bronze in the youth category at the 2015 Sharm El Sheikh ATU Triathlon African Championships and Pan Arab Championships. A 5th at the 2018 Rabat ATU Triathlon African Championships and YOG Qualifier and hopefully a place in the final this weekend. She is joined by Gizelde Strauss. The 2015 World Junior Duathlon Champion, she will need a strong swim to deliver her into the pack where she can then consolidate her power for the final run.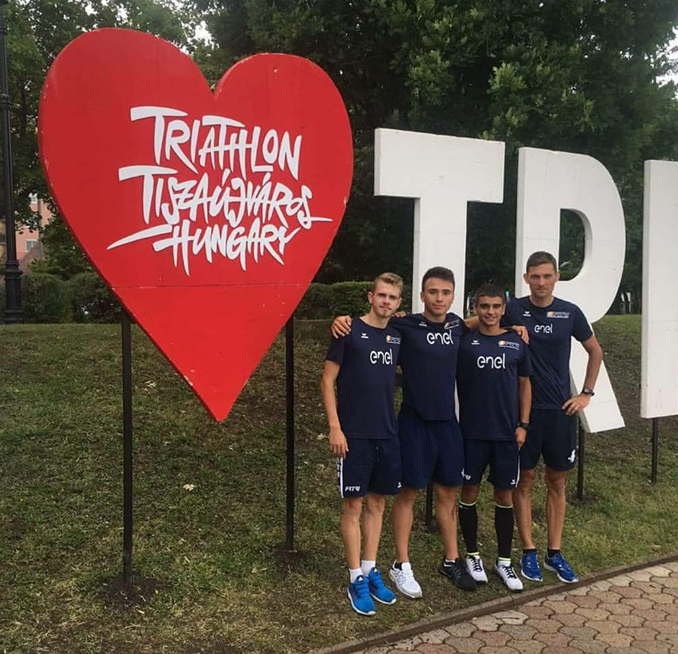 Austria is sending Pia Totschnig who will be hoping to improve upon her early season performances and perhaps find the pace she showed last year but these athletes had all better watch out for Kristína Jesenská SVK, who comes here fresh from her comprehensive victory in Holten.
One to watch out for, with incredible pace on the run, is Italy's Beatrice Mallozzi. Victories in Melilla and Kitzbühel this year show that this rising star is really the most promising young athlete that Italy has.
For the Junior Men, there will be three semi-finals and so the racing might well be even more intense. 93 athletes from 17 nations and one athlete wearing ITU colours on his journey from France to Australia. South America will be racing along with Hong Kong, Costa Rica, Canada and Australia but once again the biggest team by far will be the host nation, with a massive 23 on the start list.
It is however, the non-Europeans, who take the top places and who, as they walk out onto the pontoon, will get to cherry-pick the best spots. Leading them out will be Hong Kong's Cheung Sing Nicholas Tsang. His good swim in Holten was not good enough to take him into a position that would open up a good run and he will be hoping to collect some points here. His teammate, Shing Him Yu finished ahead of him in the Dutch race and we can expect to see these two, racing in red, at the front end of the swim. From Costa Rica and wearing #3, comes Sam Vanderjeugt Rojas on his return to Europe after his Quarteira race. From South Africa, we have six men racing. Asher Biggs gets to wear #4. Slovenia's Žiga Hutter swam and biked well in Bucharest to claim a top ten finish in his 3rd international race. An impressive start for the Maribor athlete.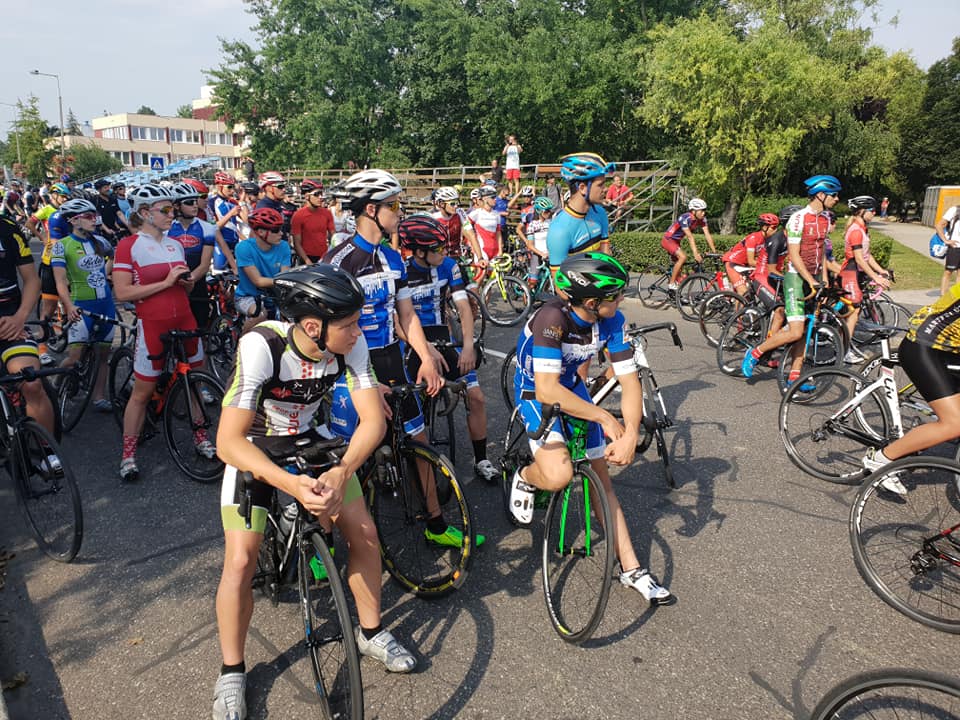 The Austrian Sprint Champion, Tjebbe Kaindl scraped into 9th place last year but since then has put in some powerful performances and is one to watch. His power on the bike will be used to bridge any gap after the swim. Canada's Braden Kersey came all the way from Vernon, BC, Canada and had a miserable race in Holten but had to courage to finish the race rather than DNF. Hopefully, this race will put that memory to bed. The Czech Republic fields Tomáš Kříž. As the National Junior Champion, with his victory in Příbrami back in June and he will no doubt be seeking to draw on his racing over the past couple of years. Having experienced the 2016 Tiszaújváros ETU Triathlon Youth European Championships Festival, this step up will be a good test.
Marchelo Kunzelmann has raced this format recently in Kitzbühel and will know what he has to do to get to the final. Last of the top-ten ranked athletes is Hungary's Levente Karai. A silver in Zagreb last year and then, in a tough end of season race in Melilla, he came home 7th. The early season Melilla race this year was not so good and against some very good athletes he dropped out of the top ten to 11th. We can expect very loud support from the local crowds for him.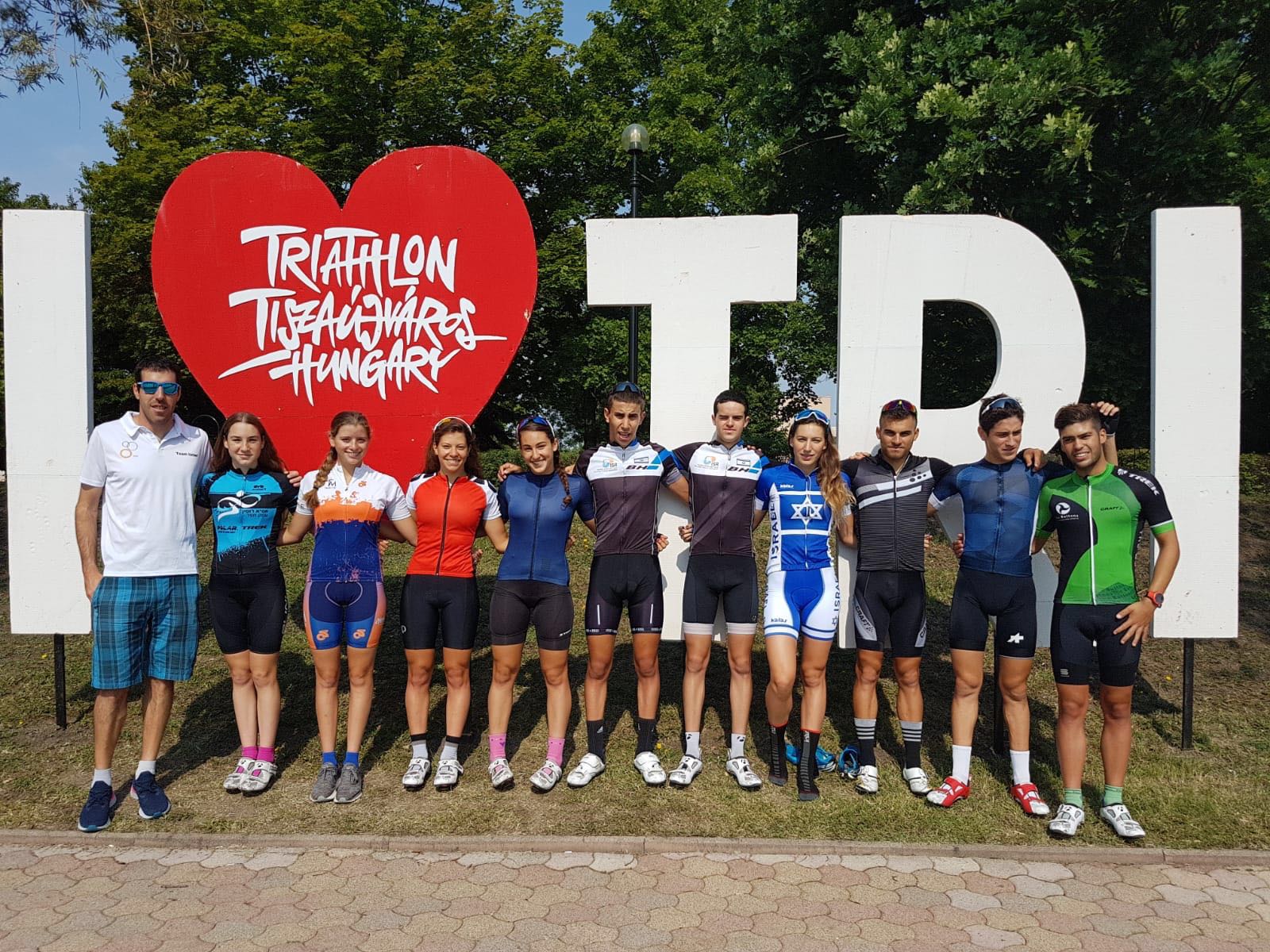 Watch out though for two very strong Israeli athletes; Itamar Eshed convincingly took gold in Dnipro and with three podium appearances, Yoav Avigdor won the race in Kitzbühel.
Related Event: 2018 Tiszaujvaros ETU Triathlon Junior European Cup
Latest
Videos
---
Latest
Event Galleries