NEWS
Time for the honeymoon now for Italian winner at the ETU Challenge European Championships in Paguera
By Paul Groves
|
20 Oct, 2014
Paguera-Mallorca was the location chosen this year for the middle distance championships. Once again ETU has joined up with a top event provider and the ETU – Challenge mix certainly seems now to be paying off. Superb weather welcomed the masses of athletes to the largest of the Balearic Islands. Midday would see the Elite Men start, followed by the Elite Women only 3 minutes later, then the ParaTri at 12:05, the massed Men's Age Group at 12:10 and the Age Group Women at 12:20.
As usual, it was Team GB that brought the biggest team to the event and fielded even more athletes than the host nation. The 230-strong GB Team did not come home empty-handed, scooping up a massive 23 medals. For full results click here.
The ParaTri was a relatively small event but over these distances and in this heat everyone who took part got the respect of the spectators and other competitors. It was here that Spain showed domination by taking 5 medals. A strong showing from the Hungarian team took them to second place in that medal table, with Germany and Austria following.


The pre-race Elite Women focus in Mallorca was on the Danish athlete, Helle Frederiksen. She had dominated the Danish tri scene for a number of years and raced in London at the Olympics. Since then she had found more success racing longer distances and had three 70.3 victories under her belt as well as walking away with the biggest prize purse at this year's 2014 Hy-Vee where she won more than comfortably. The ranking was based upon results of races held under the ITU banner but Challenge attracted many athletes who race elsewhere and so competition was always going to be exciting.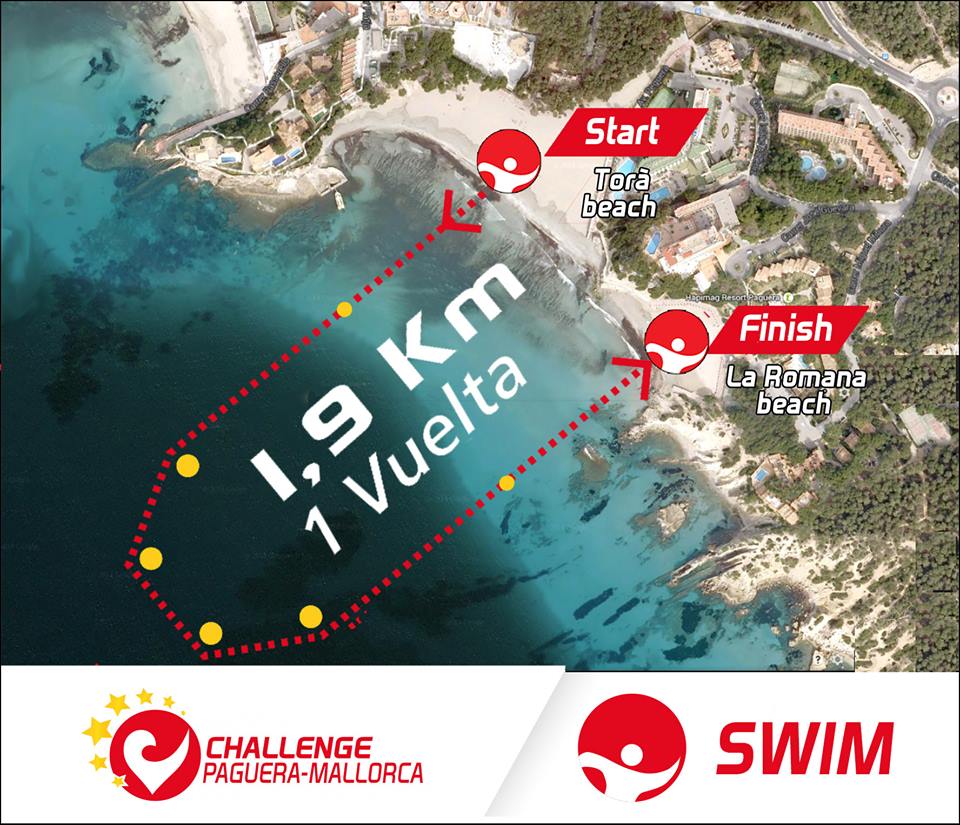 The swim was a non-wetsuit one with gloriously warm water and hot air temperatures. It was always going to be tough but then, triathlon is never supposed to be easy. We have seen Frederiksen's swim strength in the past. It was once again the Dane's chance to show everyone present that technique counts for so much as she led the swim with Rahel Küng SUI, to exit the 1900m course in 25:19. A quicker run to T1 took Frederiksen into a commanding position with Germany's Carina Brechters following her. She managed to overtake both Küng and Valentina Zapatrina RUS on that long run.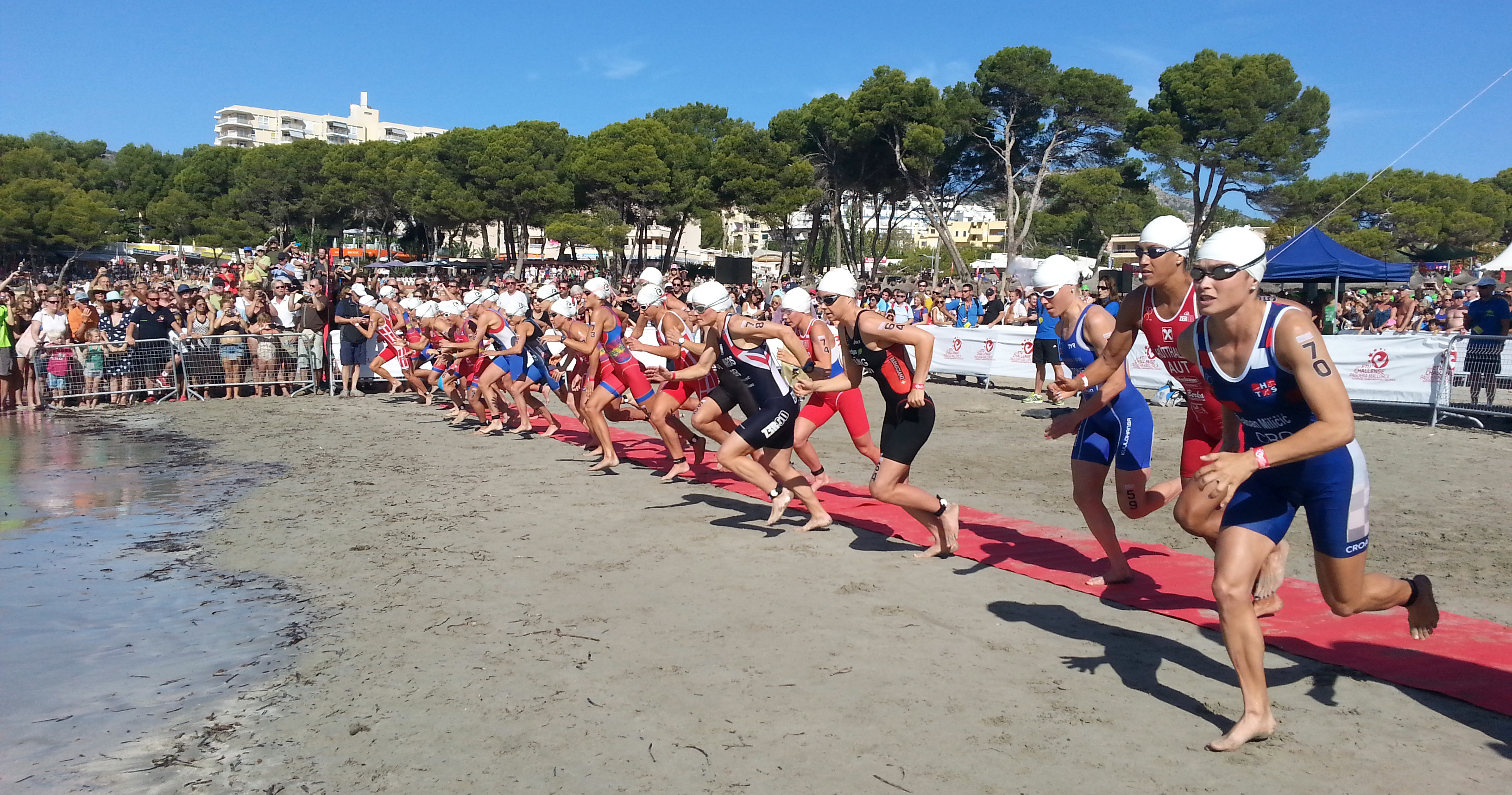 With no drafting permitted, it was out onto the testing 90k bike course. Regular updates were fed back to show that Frederiksen had maintained her lead but that Anja Beranek GER and the Austrian athlete, Lisa Hütthaler were catching up. Hütthaler's swim was over two minutes slower. Her run to T1 was slower but she was showing power on the bike. With only 45k remaining on the bike Hütthaler was locked into position behind Frederiksen. With 2:56:38 on the race clock it was Frederiksen who entered T2 first. Hütthaler was 2 seconds down as they entered T2 and lost a further 4 seconds in the transition area.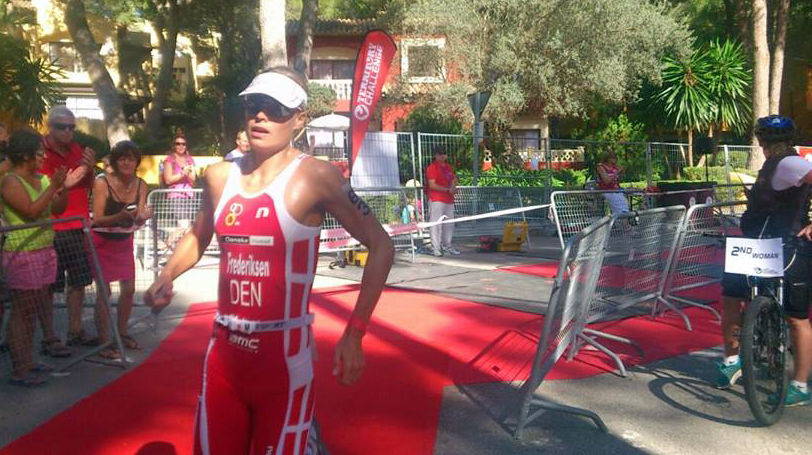 Out onto the run and the Dane was showing signs of pulling away from the Austrian challenge. Her lead grew to 25 seconds. She later reported that she was feeling "strong and springy". That lead grew and grew to 40 seconds but then the heat started to take its toll. Her partner and coach was worried about the effect of the mid-afternoon heat. Despite that she pushed hard and extended the lead to 49 seconds but then with 5k to go, "the wheels started to fall off". Hütthaler found something magic and surged past the Dane to take gold.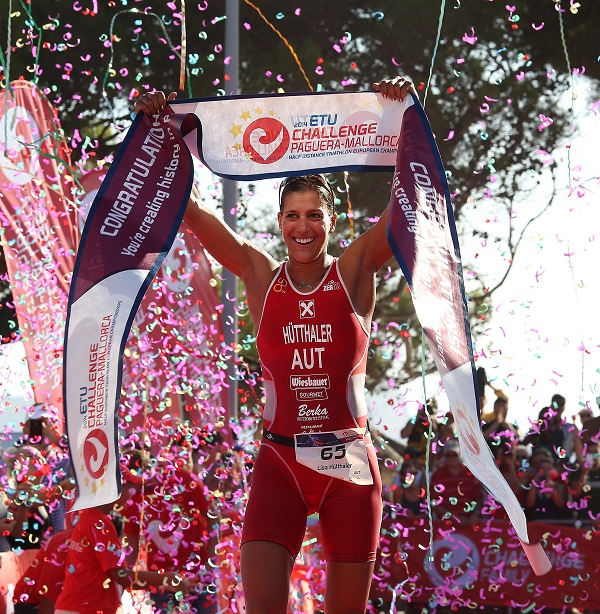 Behind them was Eva Nyström SWE who had made up lost time from the swim by pushing harder than Maja Stage Nielsen DEN on the bike. However it was former international golfer Stage Nielsen who had the greater pace on the run and with gold going to the Austrian, it was Danish domination of the podium with silver and bronze.
Frederiksen was full of praise for the event organisers and the great support around the course. It was hot, she reported and out on the run she saw many tourists and locals who cheered her on with a glass of beer in one hand. For Frederiksen the ETU Challenge European Championships was a race with great atmosphere. Following a short break back in Denmark she will prepare for her final race of the year, also with the Challenge Family, in Bahrain in December.
After the race, her protégée, Stage Nielsen was jubilant, "This was my last race of the season. I will have a bit of time off now before I start the winter training to prepare for 2015. I will do some cross running next weekend though, and hope to quality to represent Denmark for the Nordic Championship in cross run. I really enjoyed the race! And I am over the moon of joy by my result. Helle is my coach and for me a big icon. It was cool to try and test myself against her, as I see her as one of the strongest athletes out there. I think it was a challenging but very cool course and the atmosphere was nothing less than incredible!! Overall a great event."
Her performance was endorsed by Frederiksen, "From rookie to European bronze medallist, I'm very happy to play such an active role in the development of Maja Stage Nielsen. This weekend Maja claimed the 3rd spot behind me in the ETU European Middle Distance Championship. As coach to Maja it has been incredible to witness her journey from absolute triathlon beginner to an international podium athlete. It was a very warm feeling to share the podium with this very talented Dane. There is still plenty of work to be done but we can expect to see more of Maja in the coming years."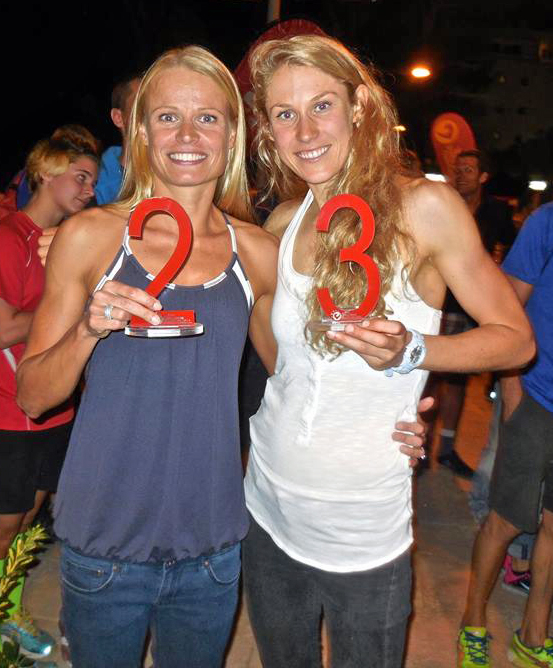 As a result of comments on Social Media, the event organisers issued a Press Statement.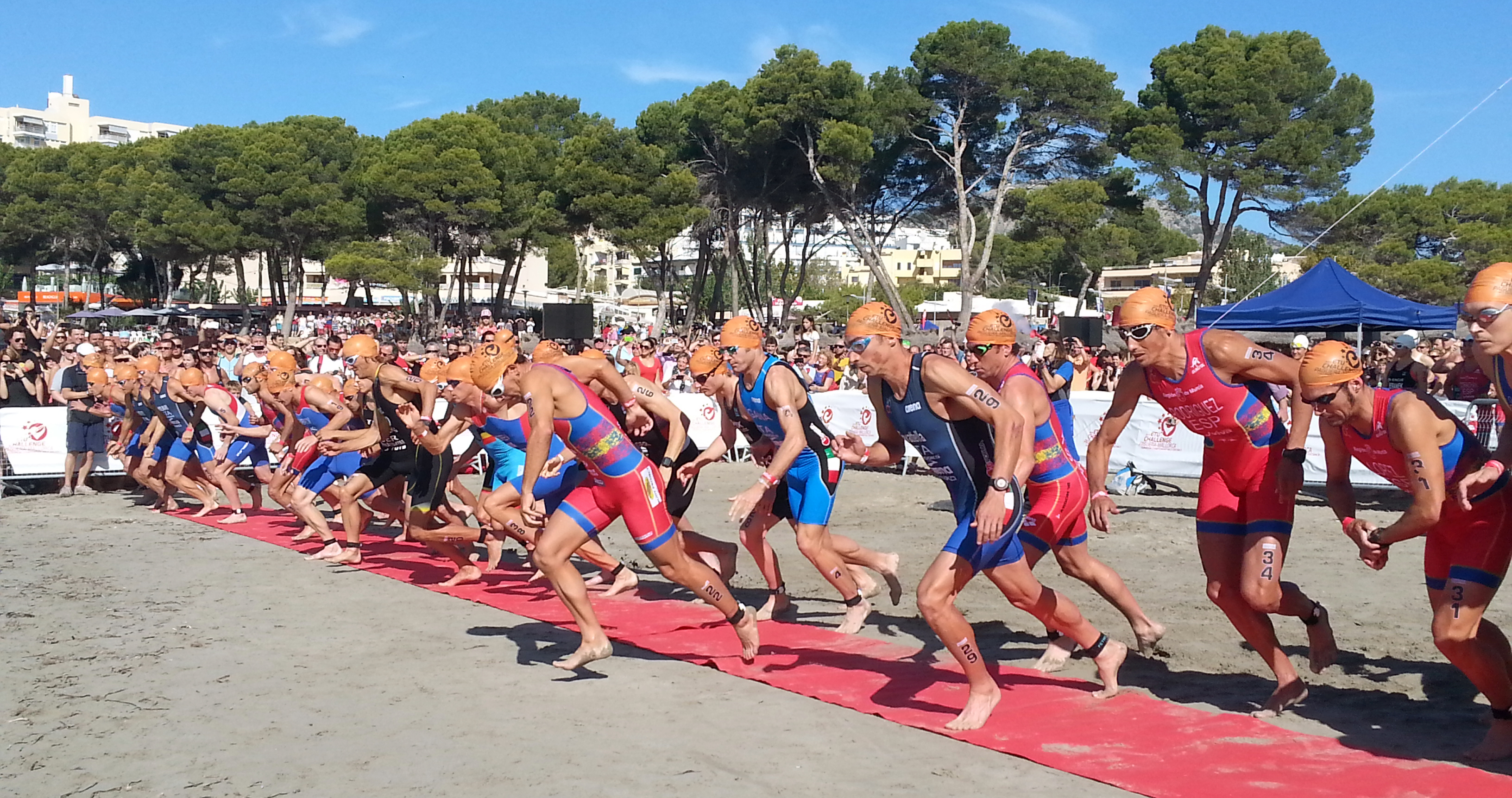 The Men's Elite race was an exciting one with once again the ranking not really showing who would be likely to secure a place on the podium.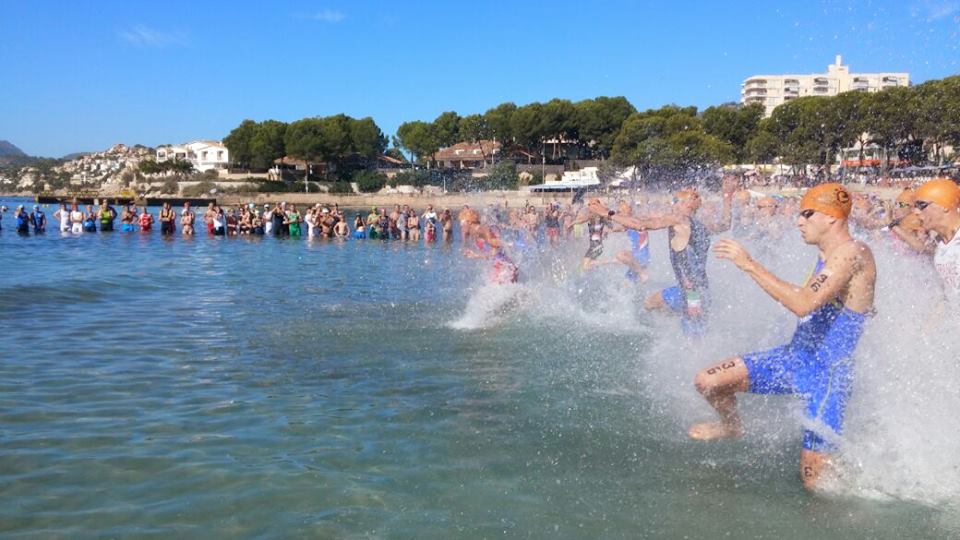 Leading the waves the Elite Men ran into the sea. It was not flat and easy water and so it was the strong swimming of Francisco Fernandez-Cortes (ESP) who hit the beach first with Giulio Molinari ITA, Carlos Lopez Diaz ESP and Russian Nikolay Yaroshenko neck and neck. Just behind them was a string of athletes. Thomas Strange Hansen DEN, led Molinari's team mates Jonathan Ciavattella and Alberto Casadei and a well-placed Bruno Pais POR. These athletes had over 45 seconds on the chase group.
Fernandez-Cortes soon faded on the bike against the much stronger Molinari who very soon took the lead. He kept up the pressure all through the 90k and had a commanding lead when he entered T2.
Behind the Carabinieri other athletes would have been wondering if he could keep up such a pace on the run too after such exertion. They could only watch him run away from them and although he did not post the fastest run of the day his domination on the bike secured a victory that was almost five minutes ahead of any challenger.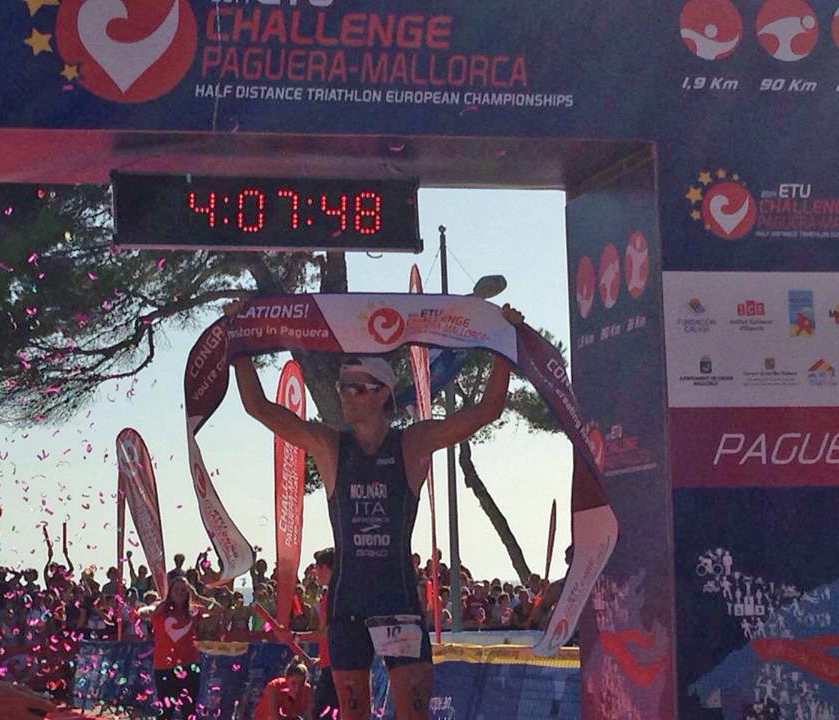 After the race he said, "I am very happy. I felt good when I arrived in Paguera. I just got married and I was feeling stronger, my wife is always with me. After the swim I climbed on the bike." What happened then was, "a very strong attack. Pedal hard, eat and hydrate properly. I continue to gain seconds. The bike and the run course were hard, I think the hardest half distance I did this year. It was very hot too. However everything went well. I like hard work. Organisation was great. Challenge family never let you down. I decided to try in bike and I was right: I won 8' from chase group. Now my race season finished. We can go on honeymoon."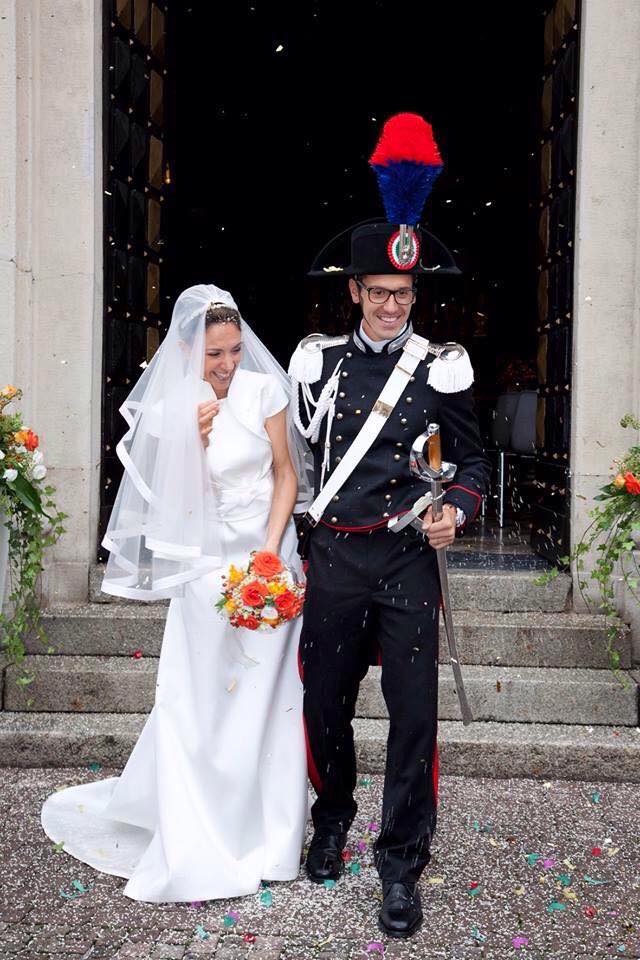 The fast pace of Pais took him onto the podium with a well-deserved silver. It was at last something to cheer about for the home crowds when Gustavo Rodriguez Iglesias ESP took bronze. His exit from the water was way off pace but a powerful period of sustained work on the bike and the ability to hold it together on the run ensured early disappointment turned into joy.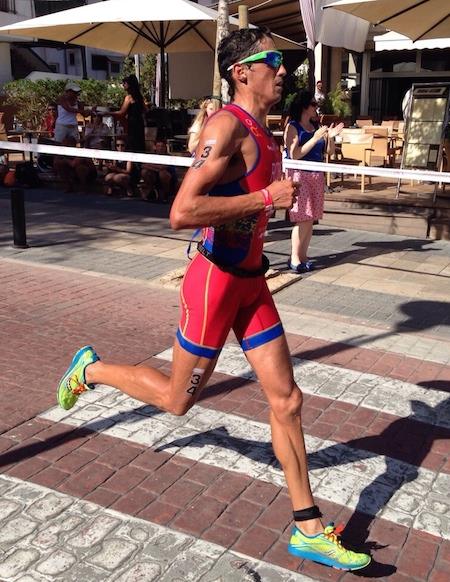 For him, "Mallorca is a paradise for triathlon and more during this period of the year when the cold weather and autumnal rains start. But it seems like summer wants to stay forever here and not say goodbye. Regarding the race, conditions were simply ideal; crystal clear water and good for swimming. The course on the bike was tough but spectacular. The weather was very hot which made it rather difficult. The result for me was simply the best. Getting 3rd place was great. The way everything came together; my performance was good in each discipline. Also, after 11 months of racing it is about time for me to have a rest and in fifteen days I will race the Ocean Lava in Lanzarote and that will be the end of the race season for me. In 2015 I want to take another small step and to race more in international events. Nothing fixed but everything will depend on the level support of I receive."
Italy ruled at this race with four athletes in the top ten. 7th went to Alberto Casadei, 8th to Jonathan Ciavattella and 9th to Massimo Cigana, demonstrating that Italy is well on line to show well in 2015.
The athletes who travelled to Mallorca were treated to one of the best opening ceremonies of the year. Challenge Family events focus on delivering the race of a lifetime to athletes of all ages and abilities, and creating a memorable spectator experience that captures all the excitement and emotion of this inspirational sport. The words, "We Are Triathlon" were seen all around the venue. The true meaning of this, according to the Challenge Family, is "When we say 'We Are Triathlon!' we include everyone who makes up the Challenge Family – athletes, volunteers, sponsors, supporters and spectators. We work hard to ensure that everyone is treated as a valued individual, whether a first timer or a world champion, and everyone in-between!"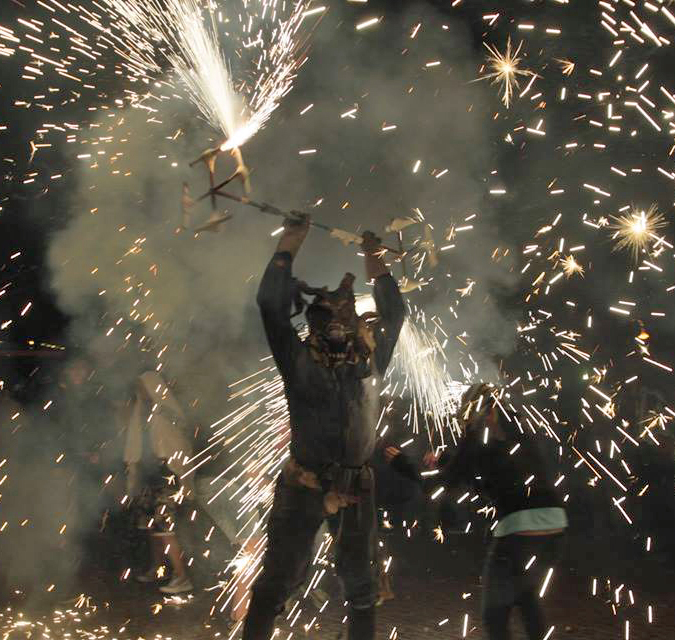 They were good to their word. This was a great event and now, for many, it is time to relax.
Related Event: 2014 Paguera-Mallorca ETU Challenge Half Distance Triathlon European Championships
Latest
Videos
---
Latest
Event Galleries