NEWS
Surikova and Andreev claim European titles
By Paul Groves
|
17 Feb, 2018
Just over one week ago, the race venue for the Etna ETU Winter Triathlon European Championships, was a bare, wind-swept collection of stones and small plants. There was much worrying about the race but then, by some miracle, the weather changed and over a period of a few days, tonnes of snow fell, with deep drifts forming. In fact the snow was so "bad" that many cars, parked at the race venue, were blocked in for a few days and access to and from the venue was impossible.

Race day came and the sun shone brightly on the snow. Some technical problems delayed the start but soon enough the Elite and U23 athletes were lined up together ready for their start. The Juniors started just a few minutes afterwards and the Para and Age Group athletes had time to cheer on the athletes as they raced for medals and titles.
We will provide a full report on the Age Group race in a day or two but let's tell the story of the Elite first.
The two reigning World Champions, both Russian Yuliya Surikova and Pavel Andreev were here. For Andreev, this would give him the chance to win a 6th European title to match his 6 World titles. For Surikova, the European title had eluded her so far. This would be her chance to finally get that gold.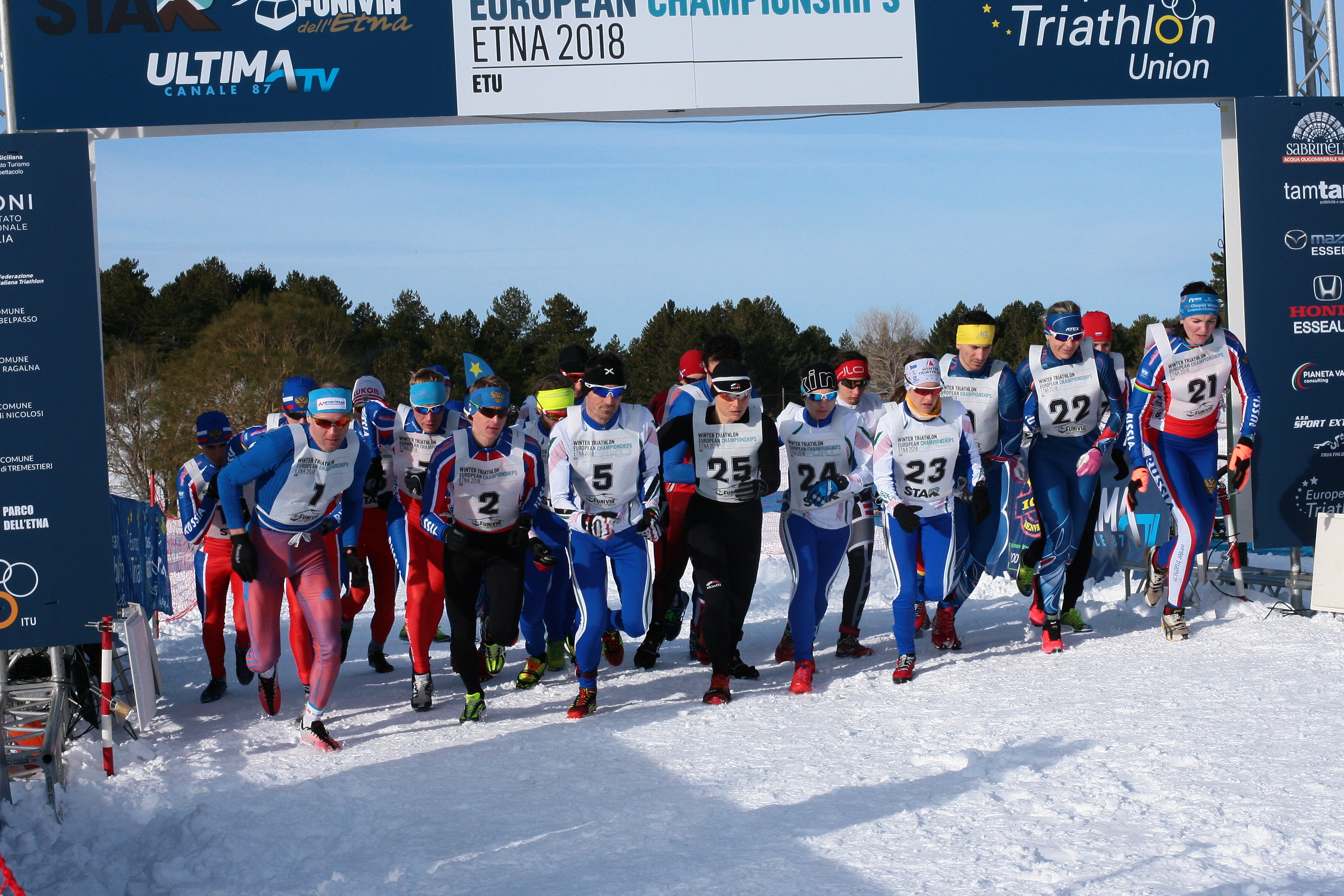 Amongst the women, Surikova adopted a strategy that had worked for her in Cheile Grădiştei a few weeks ago. Her first run lap was steady and in the pack but then, one lap completed, she just pulled ahead and created a clear lead between her and anyone trying to chase her. With long strides she established a lead that would take her into T1 but behind her came the reigning World U23 Champion, Nadezhda Belkina RUS. Behind her and looking strong was Romania's Edith Vakaria who had won U23 bronze in Cheile Grădiştei. Italian fans cheered loudly as their national winter triathlon champion, Sandra Mairhofer came into T1 but ahead of her, Surikova had pushed hard on the pedals and on the very tough bike course, was making her lead bigger and bigger.
Athletes reported back after the race that the bike course was one of the toughest they had raced, as the early morning icy crust on the snow began to melt. Surikova's 43 minute bike split was enough to put her into a truly commanding position and as she set off on the skis she knew that, barring a damaged ski or a crash, the title was hers. The Russian supporters knew this too and their shouts of encouragement rang around the course. Behind her Belkina was holding her position but the hugely experienced Czech athlete, Šárka Grabmüllerová was using her power and skill on the bike to move up through the field.
Chasing Surikova on the skis now, it was Belkina who maintained her place behind her compatriot but Grabmüllerová's ski skills ensured her a strong position as the laps were counted down.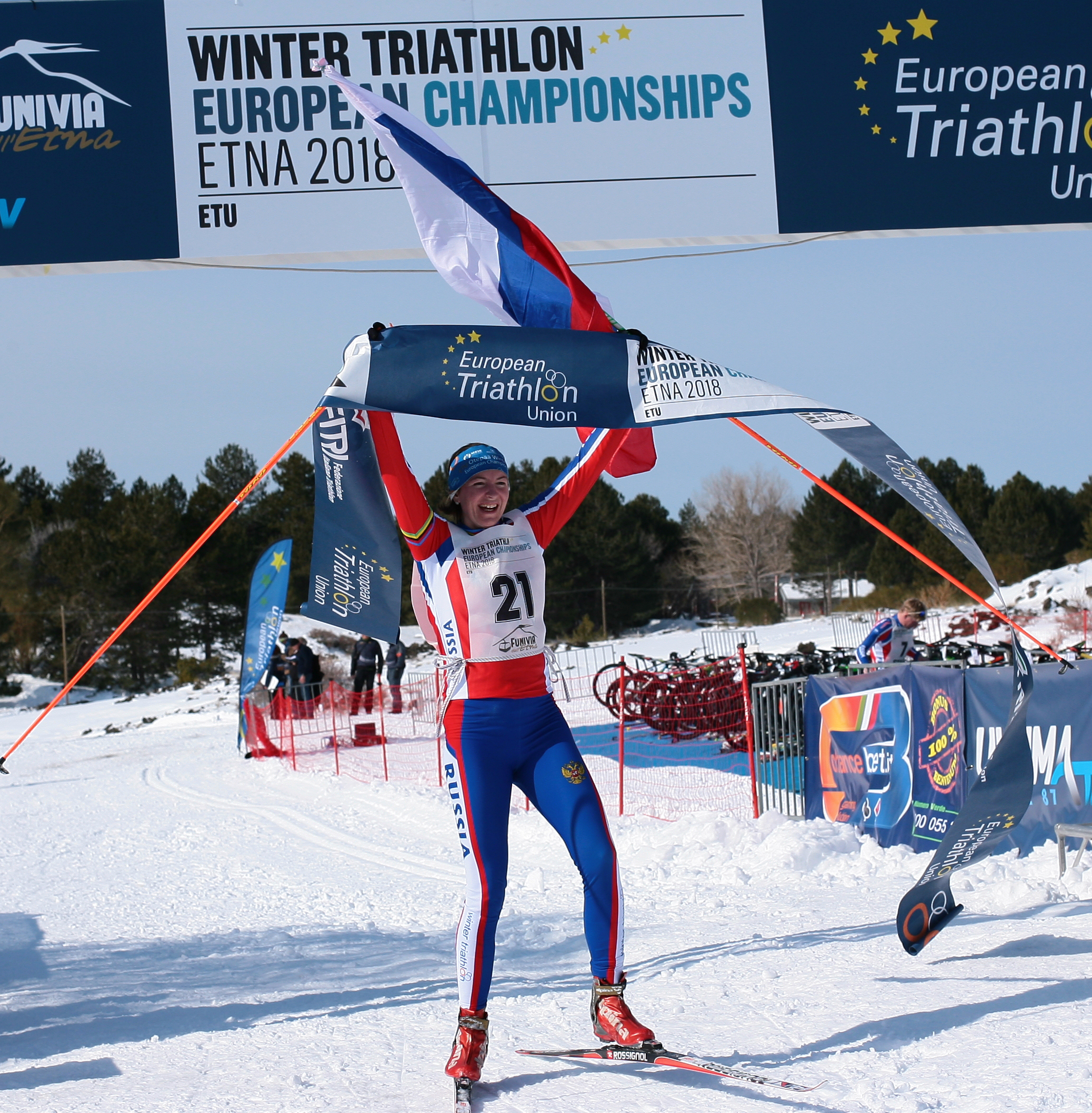 Coming to the finish line, the Russian flag flying high in the air alongside her, Surikova's dream came true and she took the European title after so many years of trying.
Second to cross the finish-line, winning the U23 title and taking silver medal in the Elite, was Belkina and coming home in third place it was Grabmüllerová.
Romania's Vakaria had a great race to take the silver U23 medal and bronze went to Austria's Anna Swoboda, the 2016 World Junior champion.
Russia had good reason to celebrate; with Surikova and Belkina taking Elite and U23 titles.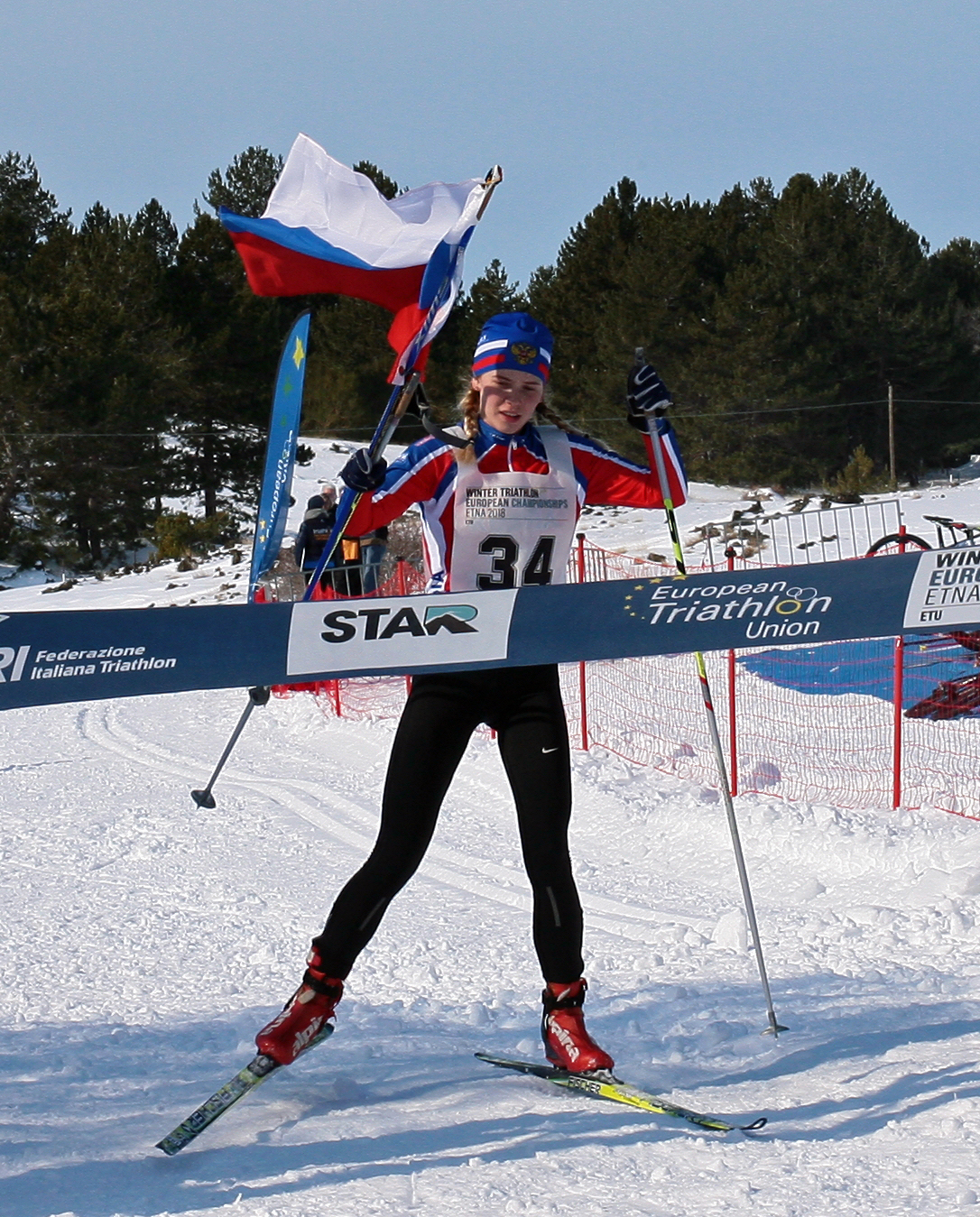 In the Junior Women's race the title went to the defending Junior Champion, Polina Tarakanova.
The Elite Men's race was just as exciting. Andreev was happy to sit in the pack initially. With the main challengers to his title doing all the work in front of him, he kept a watchful eye on his team-mates, Pavel Yakimov, Dmitriy Bregeda and Evgeny Kirilov. In Romania a few weeks ago, he was made to work really hard by the Czech athlete, Marek Rauchfuss and with the home crowds cheering them all the way, Giuseppe Lamastra, the Italian national champion and Daniel Antonioli made it a thrilling opening run segment.
Coming into T1, it was Andreev, with Antonioli and Bregeda, followed by Rauchfuss that were in command. Norway's Kristian Monsen picked up the pace towards the end of the run and as he left T1 he could see the leaders not so far ahead.
Andreev's waiting game had been well-played and soon he had broken away with only Rauchfuss in contention. Bregeda had dropped back and Yakimov was now looking at grabbing one of the medal positions.
Andreev on skis is an amazing sight. His power, his skill, his flowing movements on the narrow cross-country skis simply took him further and further into the lead.
He crossed the finish line comfortably. He too held the Russian flag high and had time to look over his shoulder to see just who might be coming in for silver. It was Rauchfuss who had done enough on that final leg to take silver. A supreme effort from Yakimov gave Russia two athletes on the Elite podium.
Amongst the U23 athletes, an early run lead was established by Aleksandr Vasilev RUS. He won Junior gold last year in Otepää and it looked like he would add this title to his collection. Fellow Russian, Kirill Tarakanov had missed the Race Briefing and had a mandatory 15 second time penalty to serve on the start line. He watched the other athletes race away from him but put in a superb first run leg to come into T1 in second place. Anton Matrusov RUS, came into T1 in third place but the race was not over. The cheers were loud, very loud for Alessandro Saravalle ITA as he came into T1 over three minutes down on the U23 leader but once he was on two wheels he simply destroyed the field. His 32:07 bike split was faster than Andreev and all of a sudden the Italians were focussed on this amazing performance. He came into T2 way ahead of the chasing Russians and with his powerful skiing, the title would become his.
He crossed the line to take gold and to raise the hopes of the Italian Federation for a new generation of Winter Triathletes. Silver medal went to Vasilev and Matrusov rounded off the podium for Russia.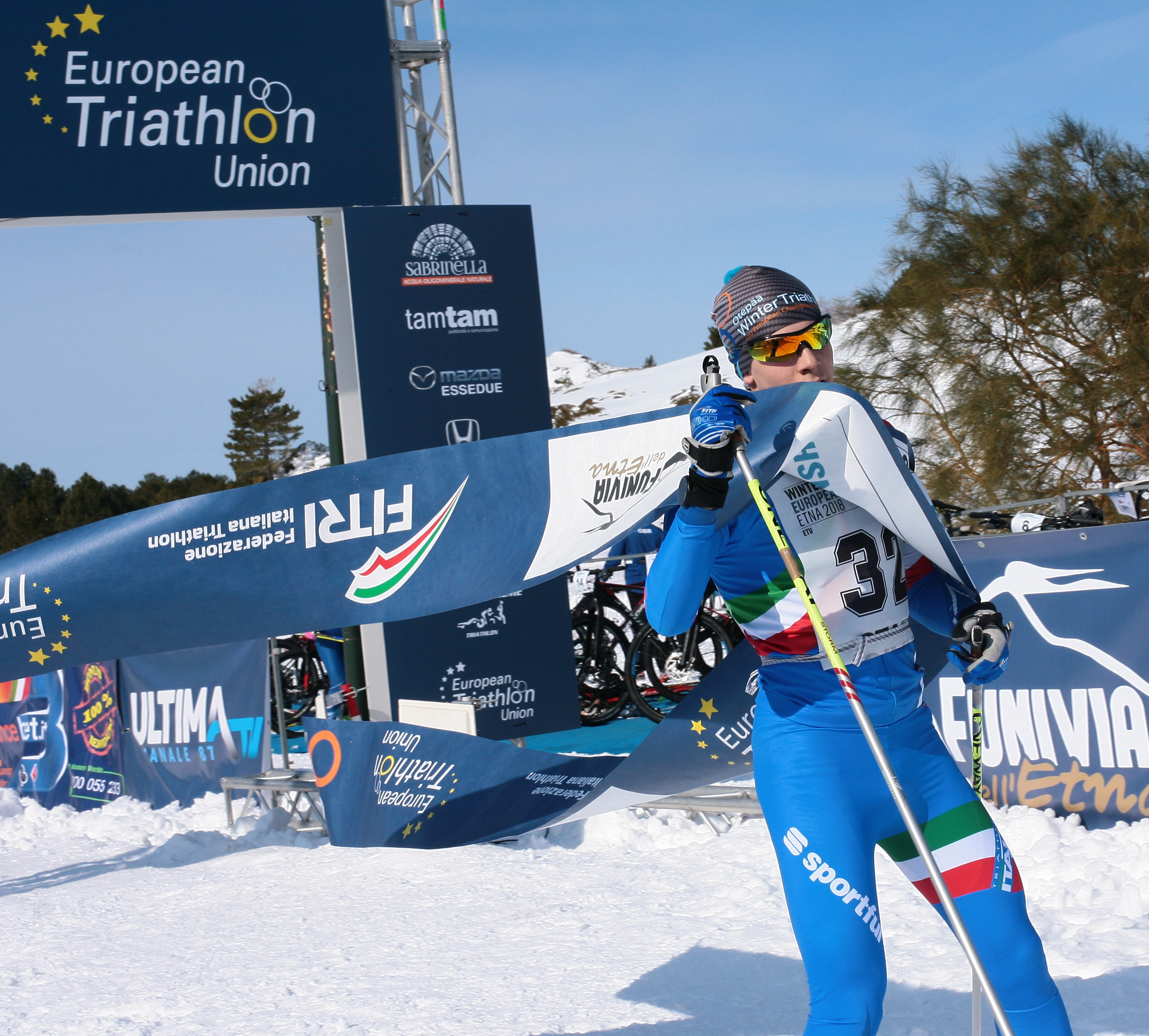 The Junior title was further success for Italy, with Alberto Rabellino crossing the line as European Champion.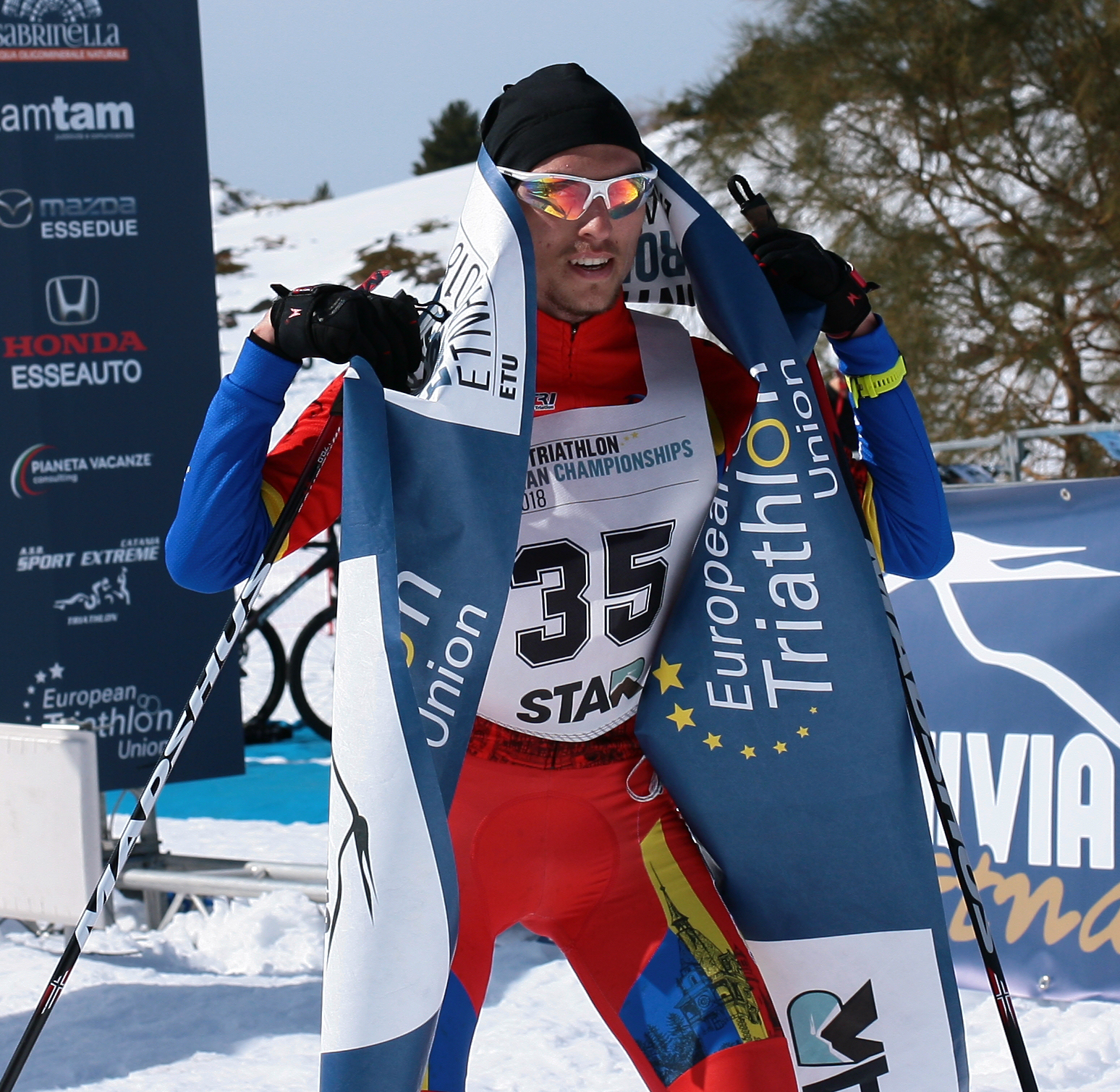 ParaTri medals went to Robert Tamirjan ROU and to Rafa Solís Torres ESP in the PTS4 and PTS5 categories.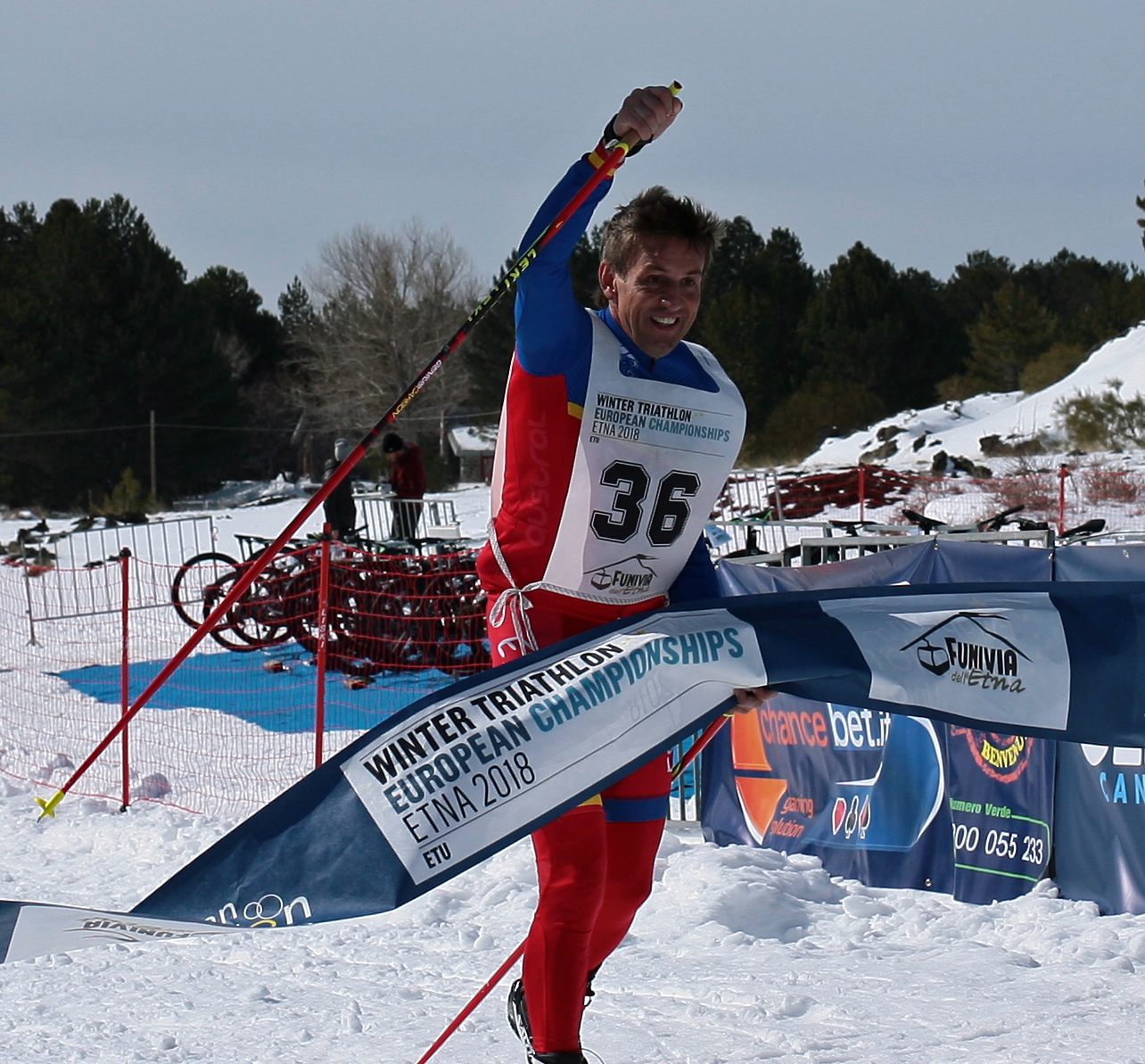 Have a look at their times – they raced exactly the same distance as the Age Group athletes and will go back to Spain and to Romania as Champions in every possible way.
Mount Etna, you looked down upon us, you hissed and spat your hot breath up into the skies and gave us a wonderful, memorable and quite unique location to race.
Related Event: 2018 Etna ETU Winter Triathlon European Championships
Latest
Videos
---
Latest
Event Galleries