NEWS
Stojanović retains Balkan title in Ruse
By Paul Groves
|
11 Jul, 2017
Serbian athlete Ognjen Stojanović first won a Balkan title as a Junior in 2007 when he raced at the Gelibolou (Gallipoli) event and in the same year won the Eilat Junior European Cup. Since then he has grown as an athlete and was part of the ITU Development Team. Moving up to race Elite in the 2008 Balkan Championships in Belgrade he took the Balkan title and continued to win in 2009, then 2010. He did not race in 2011 but from 2012 he won the race each year. So 9 Elite titles and 1 Junior title. Impressive eh!
The race over the weekend was always going to be the one that he wanted to win but from the start he was playing catch-up as the swim was led by Australian Jonathan Sammut who raced recently at Altafulla.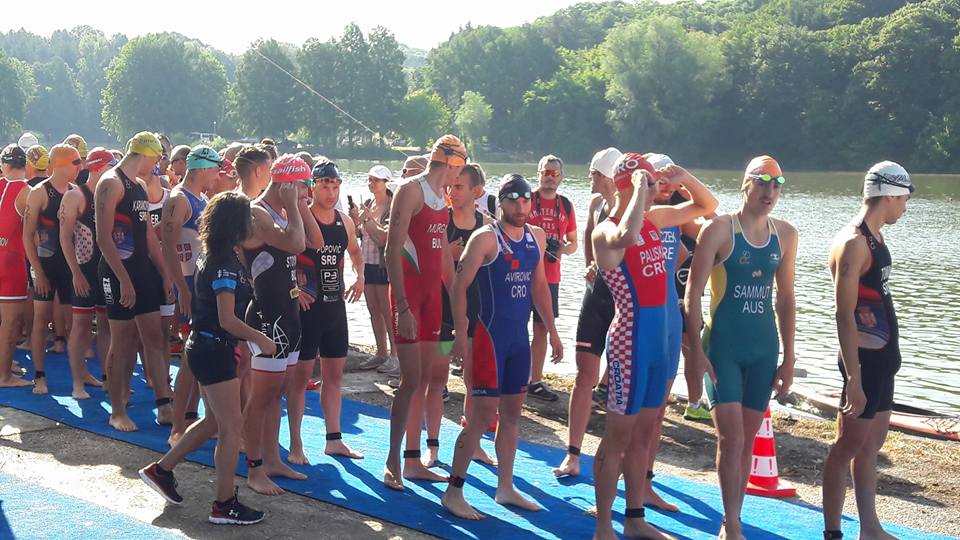 It was no surprise at all to see Turkey's Gültigin Er tucked in behind him on the swim. Over the years Er has shown again and again that he has the swim and bike power but this weekend was to see his running finally come together.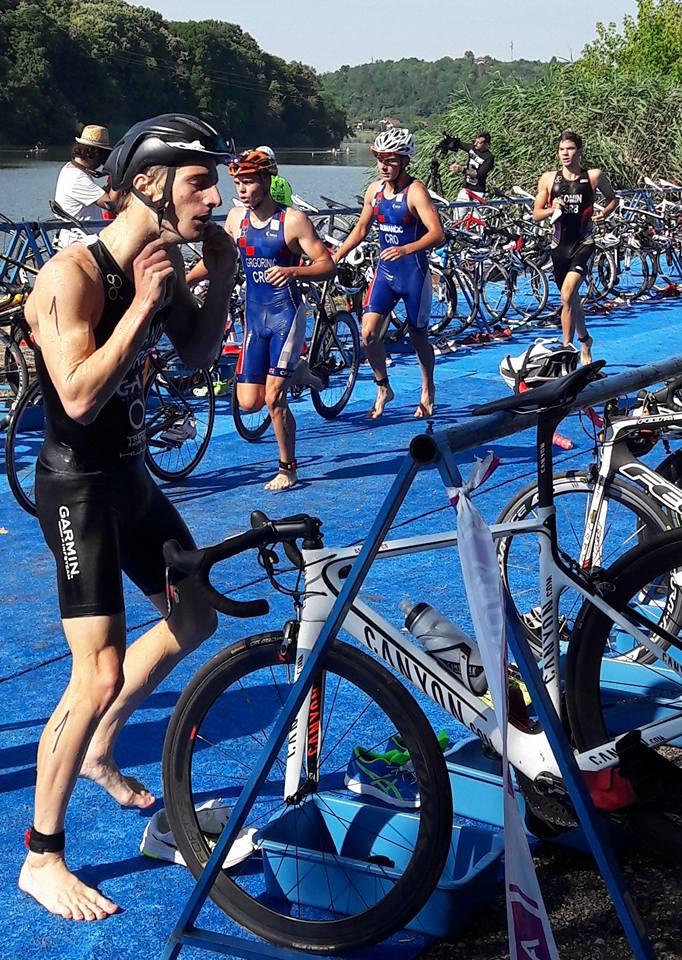 Fellow Serb, Milan Tomin had placed well in the swim and so the small but powerful peloton set about creating distance between them and the chase pack. The 2013 Junior Balkan Champion placed 3rd last year and was now in a position, with Stojanović to take command of the race and to put to Serbian athletes on the podium.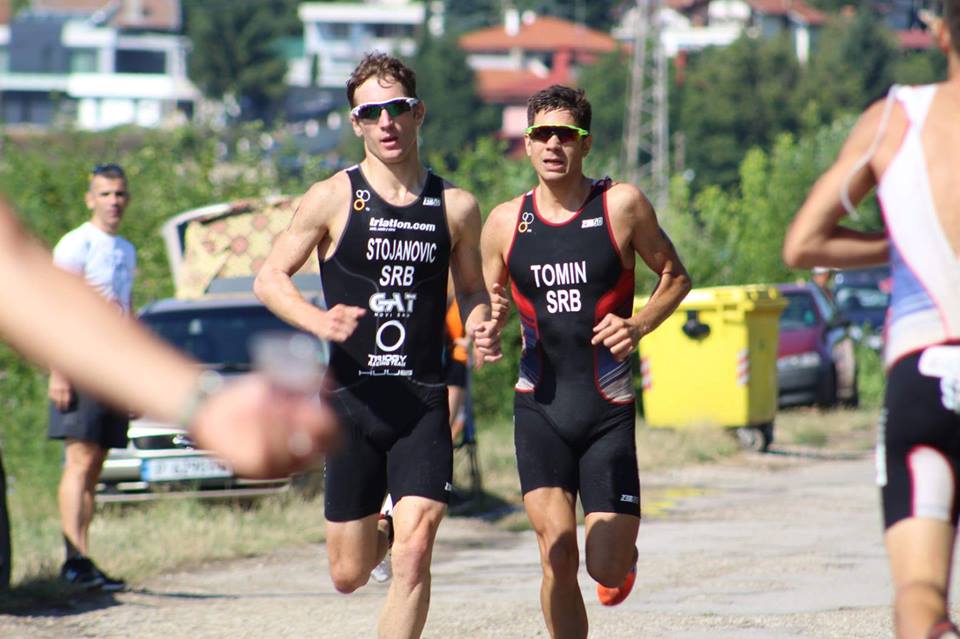 The final run came down to a chase between the two Serbs, Sammut and Er and it was Stojanovic, the elder of the two who really kicked and with a 15:05 final run, took gold ahead of the younger and promising Tomin. Sammut held off Er to take bronze but the Turkish athlete must surely be delighted with this improved performance in his running.
Stojanovic was delighted with his victory, his 9th title and magnanimously gave praise for Tomin and Sammut.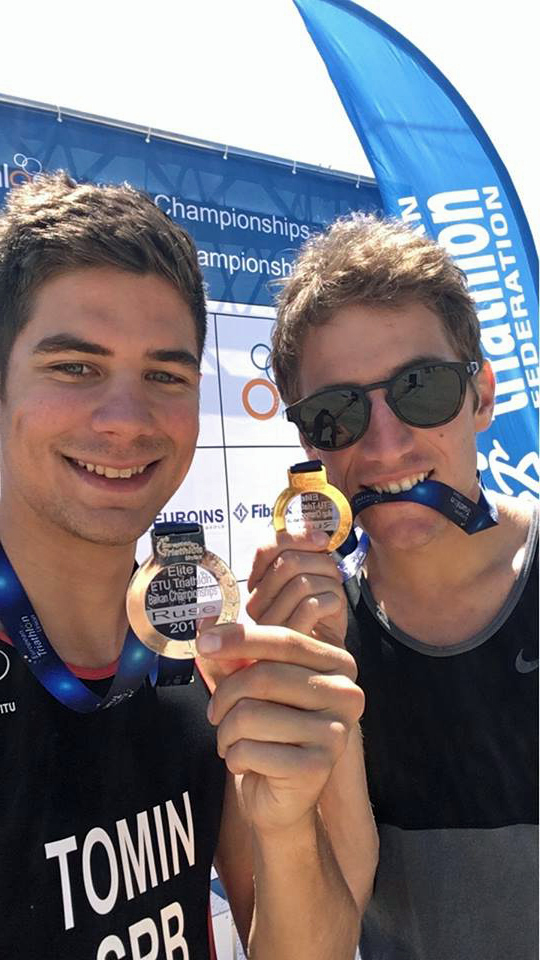 Tomin threw down the gauntlet, "Last year third, this year second in elite race. The sequence is obvious - next year shooting for the gold." and for Sammut, an Aussie racing in Bulgaria, the chance to go home with so many stories.
The last word goes to Er, "Since I started this job, my goal was to improve my country, to represent my country in the best way abroad. I'm getting the results of long, hard, disciplined studies. 2017 Ruse ETU Balkan Championship. In Balkan 3rd place but at the same time, I've placed in the European Cup 4th. I've got my first elite men's score. Thank you for my family, my club, and everyone who believes in me." "Bu işe başladığımdan beri hedefim her yarış kendimi geliştirerek ülkemi yurtdışında en iyi şekilde temsil etmekti. Uzun ,zorlu,disiplinli çalışmalarımın sonucunu alıyorum . 2017 Ruse Etu Triathlon Balkan Championship te Balkan 3. Oldum . Aynı zamanda European Cup ta 4. Oldum ve ilk Elit Erkekler puanımı aldım. Desteklerini esirgemeyen aileme,klübüme ve bana inanan herkese teşekkür ederim."
The women's race saw strong swimming from Ezra Nur Gökçek. An end of year top ten in Alanya showed that amongst the women athletes in Turkey there is also some depth and strength. With Ece Bakıcı now back racing after her 2015 injury, and with Ipek Öztosun, there was a strong chance that Turkey could take some medals here.
Israel sent two female athletes; Yuval Gome and the relatively unknown Marie Elias.
Of the two, Gome has considerably more experience. They swam stroke for stroke and rode together. Elias picked up a ten second penalty, which she had to serve on the run and it looked as if neither would feature on the podium but Elias was fast. She was very fast indeed and soon looked threatening to the race leaders. Behind her, Serbian athlete Vida Medić was hoping to improve on the Olimp bronze but she too picked up a penalty.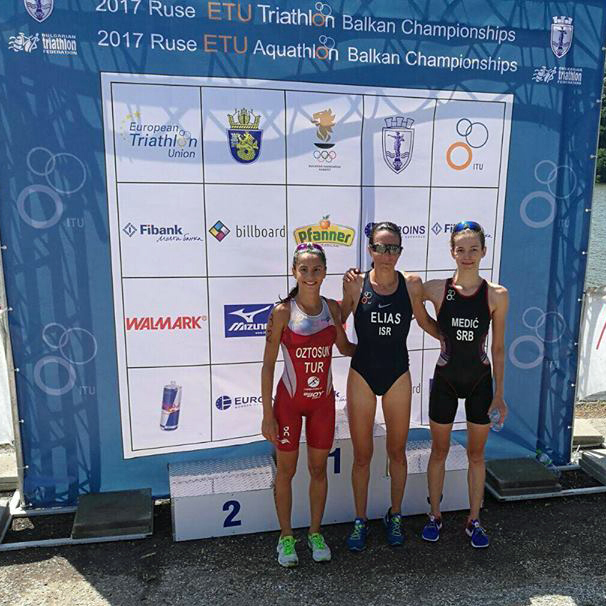 The race was on as the earlier leaders run pace could not match the more experienced and faster challengers. Elias took the lead, with Öztosun and Medić behind her. With the Turkish athlete needing only to finish, with no penalties, it was a superb final leg from Elias that took her comfortably to the gold medal position, with silver going to Turkey and bronze to Serbia.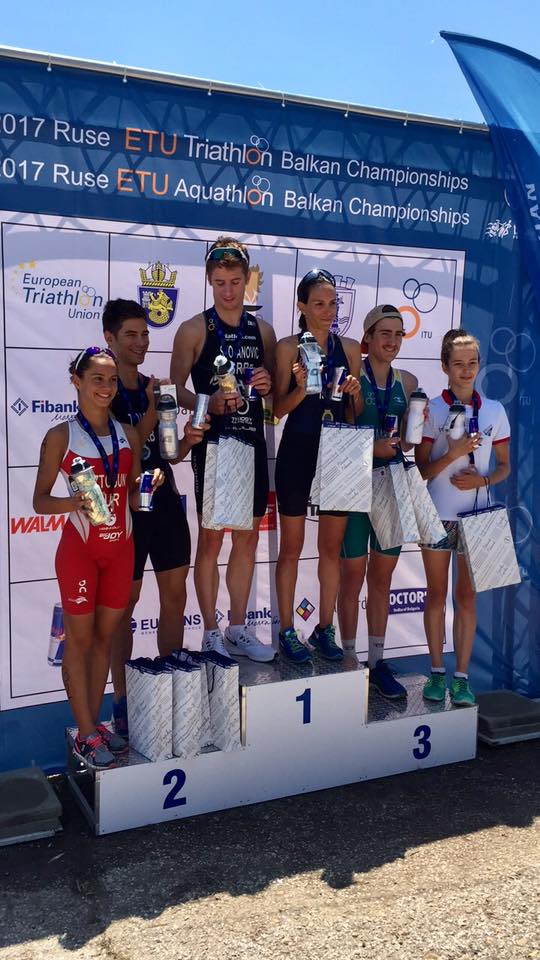 The weekend saw also the Balkan Aquathlon Championships, with golds going to Buse Aygün TUR and to Andrei Sergiu Chis ROU
For the full Aquathlon results, please click this link.
The LOC also staged a successful Mixed Relay race, so important now with this format on the timetable for Tokyo.
Thanks to Ivan Ivezić for his photos.
We are awaiting more photos from the Bulgarian Federation. These will be uploaded as soon as we get them.
Related Event: 2017 Ruse ETU Triathlon Balkan Championships
Latest
Videos
---
Latest
Event Galleries