NEWS
New kids on the block stun in the women's race while Spain is dominant in the men's
By Paul Groves
|
11 May, 2015
The women's race was to see a change in the guard. The race favourites failed to feature and it was a chance for the newer athletes to make their mark. Spanish hopes rested on Anna Godoy Contreras who had previously lived in Madrid and who knew the course well.

As soon as the athletes hit the water it was British athlete, Sophie Coldwell who took command. Just 20 and with only one previous race Elite, in Cozumel, where she also dominated the swim. Coldwell led the swim to the end of the first lap and once again dominated here in Madrid.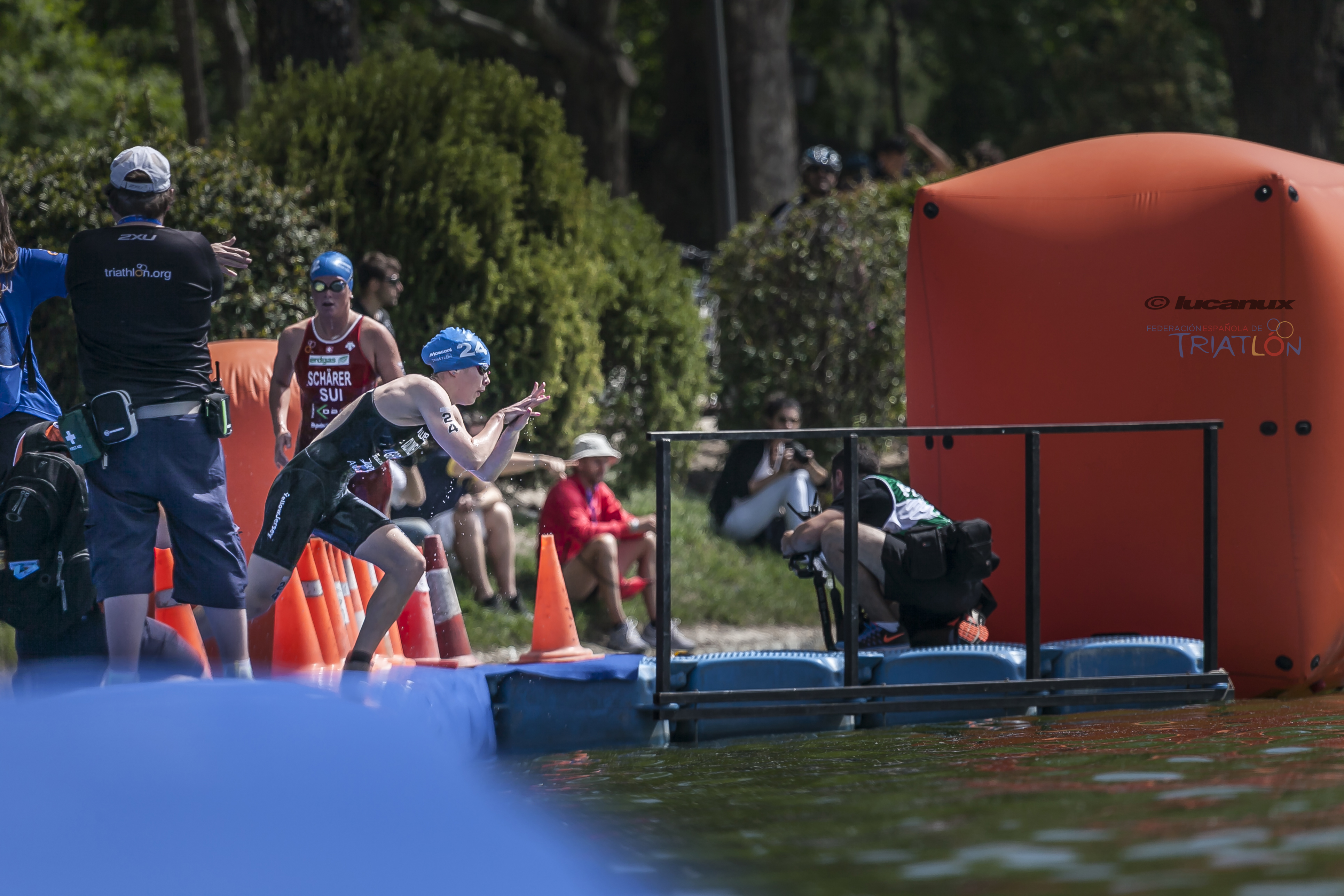 Joined only by one other athlete, Celine Schaerer SUI who would DNF, Coldwell was in pole position. After the race she explained, "Today was my first Olympic distance but I really enjoyed the race. The swim was solid as I wanted to take the race out hard and managed to stay away on the bike for 6 laps but when the gap came down to 20 seconds I sat up." What a stunning performance !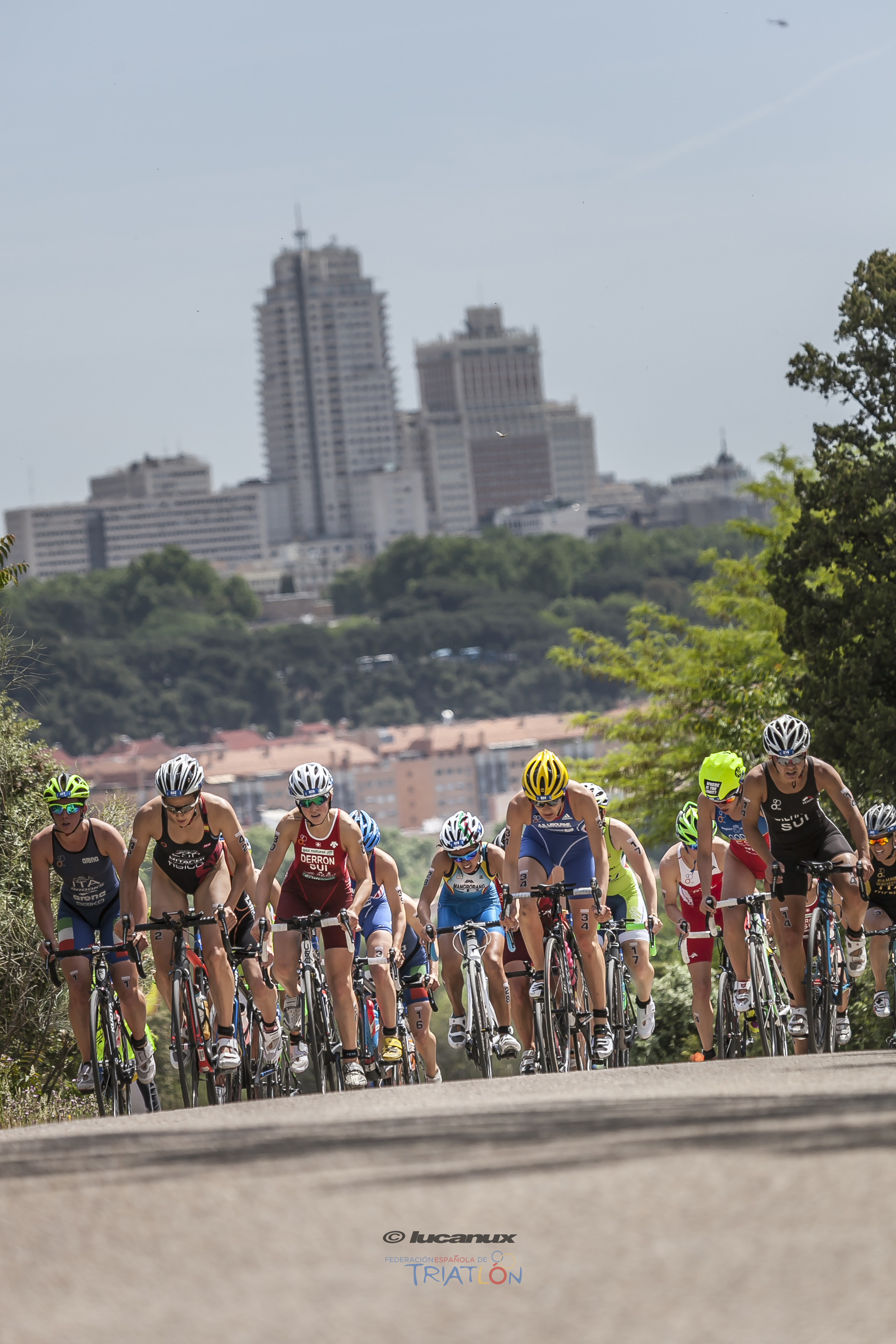 Out onto the bike and for everyone it was catch-up as the British athlete disappeared in to the distance. It was danger, further back as Godoy, in the chase group, started to push the pace and Sara Dossena ITA was in no-man's land, working the pedals hard.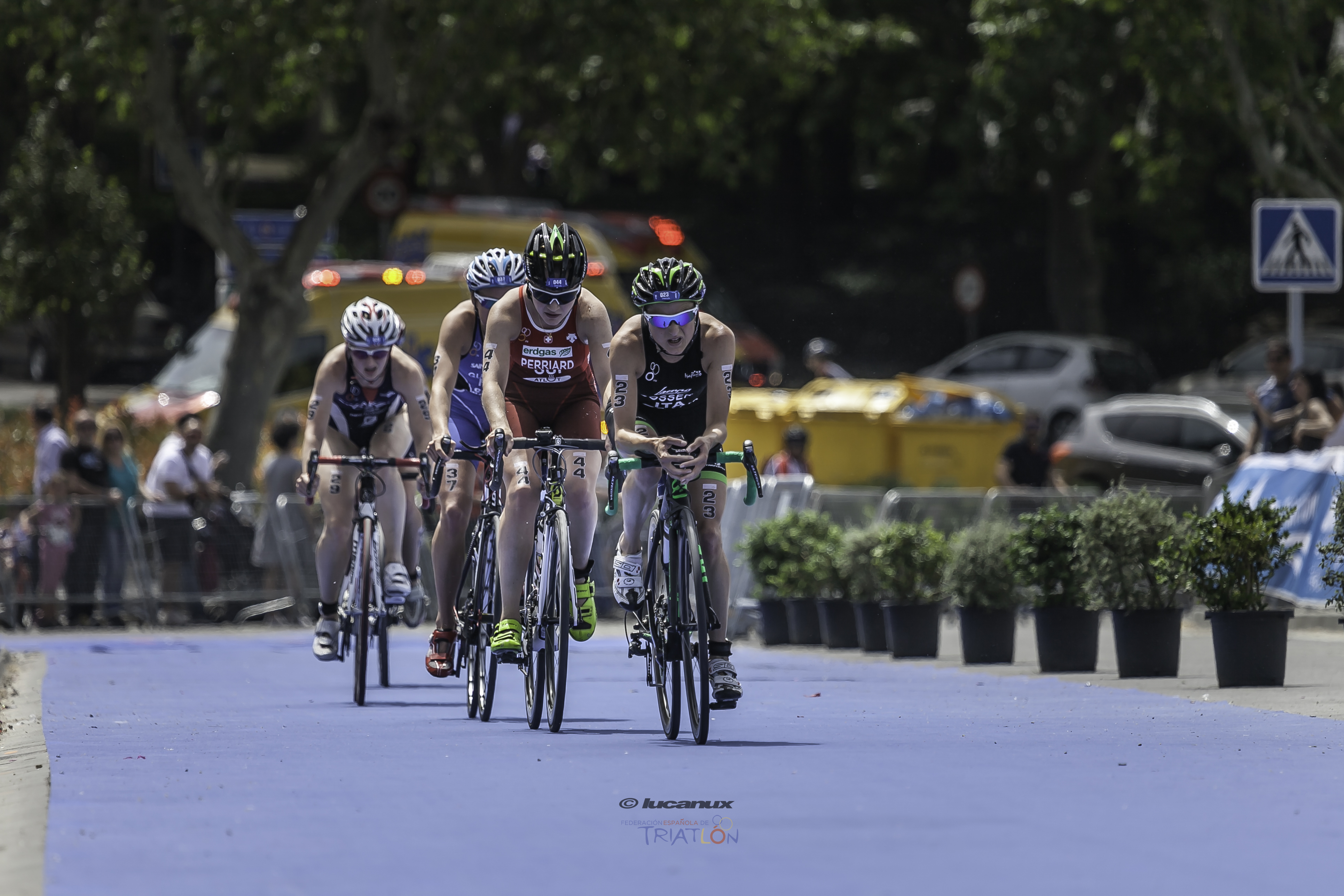 Further back a second chase group was working hard but finally Coldwell was caught and some 14 athletes headed into T2.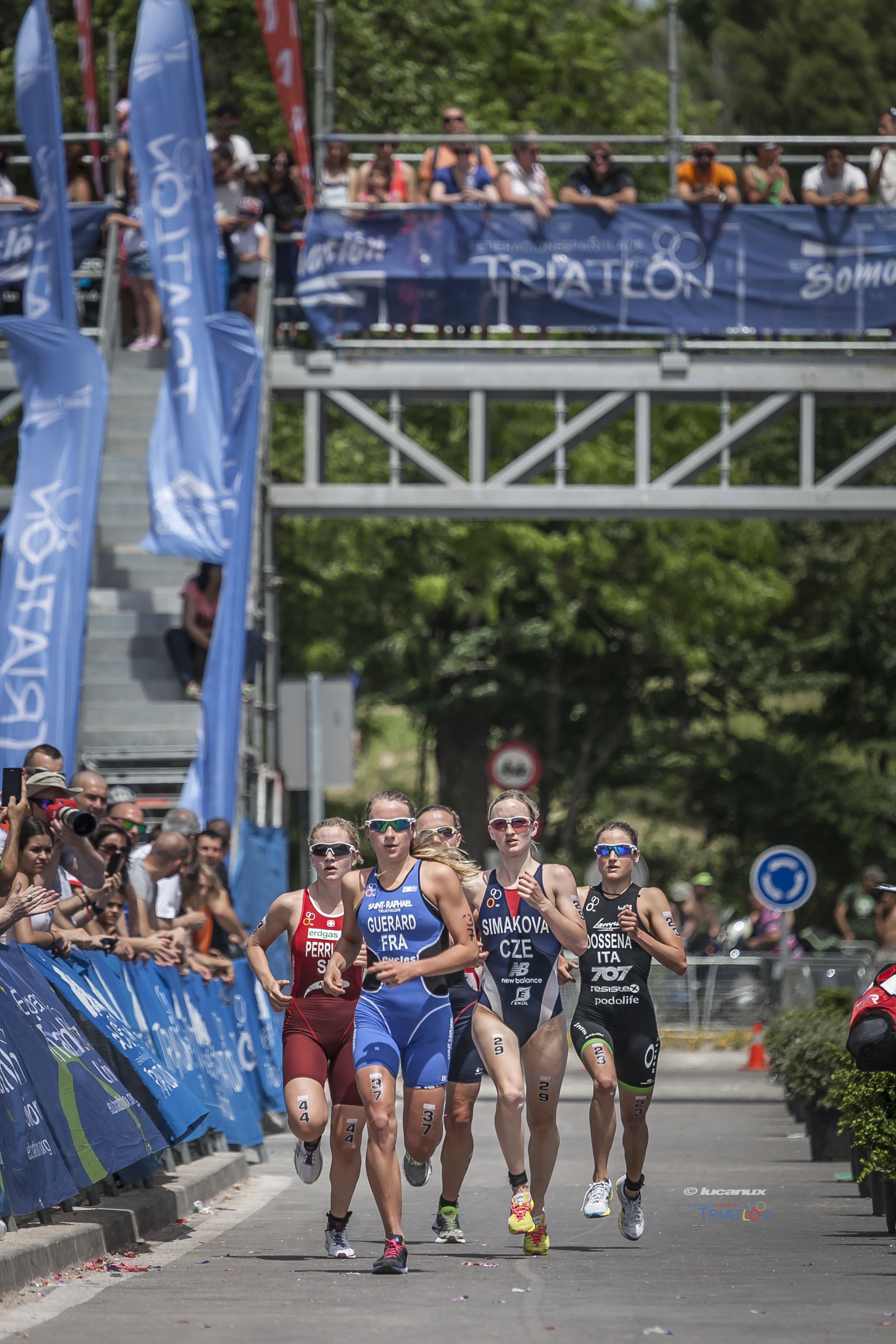 As they set off for the run Coldwell was still in a strong position but French athlete Jeanne Lehair as another "new kid on the block" was keen to make the world stand up and notice her. This race was really a chance for the younger athletes to remind the established ones that their positions of dominance were not assured. Lehair did not have the best of swims, "The race didn't start too well as I missed the lead but I then I don't think being two-up with Sophie on the bike would have been good for me on the run. In the second half of the bike I pushed and managed to get out of T2 leading the race. Sophie joined me and was just behind me. I held until half-way around the third lap and then I attacked. Sophie dropped back and then I did everything to keep ahead of the Italian athlete (Dossena)."
Dossena lost over three minutes in Alcobendas in the ETU Duathlon Championships following mechanical problems after a crash. Her pace there suggested that a gold medal was within her grasp. Would this race break the run of silver? "My swim not very good but I worked hard for this. Out on the bike I was alone. Nobody was with me to work as a peloton and I did the second part of race like a non-drafting race! The course is hard and for me that is better!"
So, three athletes leading the race; three medals to be shared; two youngsters and a very experienced athlete with a full collection of silver medals. Who was going to get gold? The three of them were all fighting for the podium and pulling away from everyone else. Dossena turned up the heat and passed the young Brit, Coldwell. The finish was close but between her and that gold medal was the young Frenchwoman, Lehair. "I thought I'd get the medal by the third lap but I was still worried that I would be caught and lose the gold." Coldwell, "I then just ran as hard as could to hold on to a podium."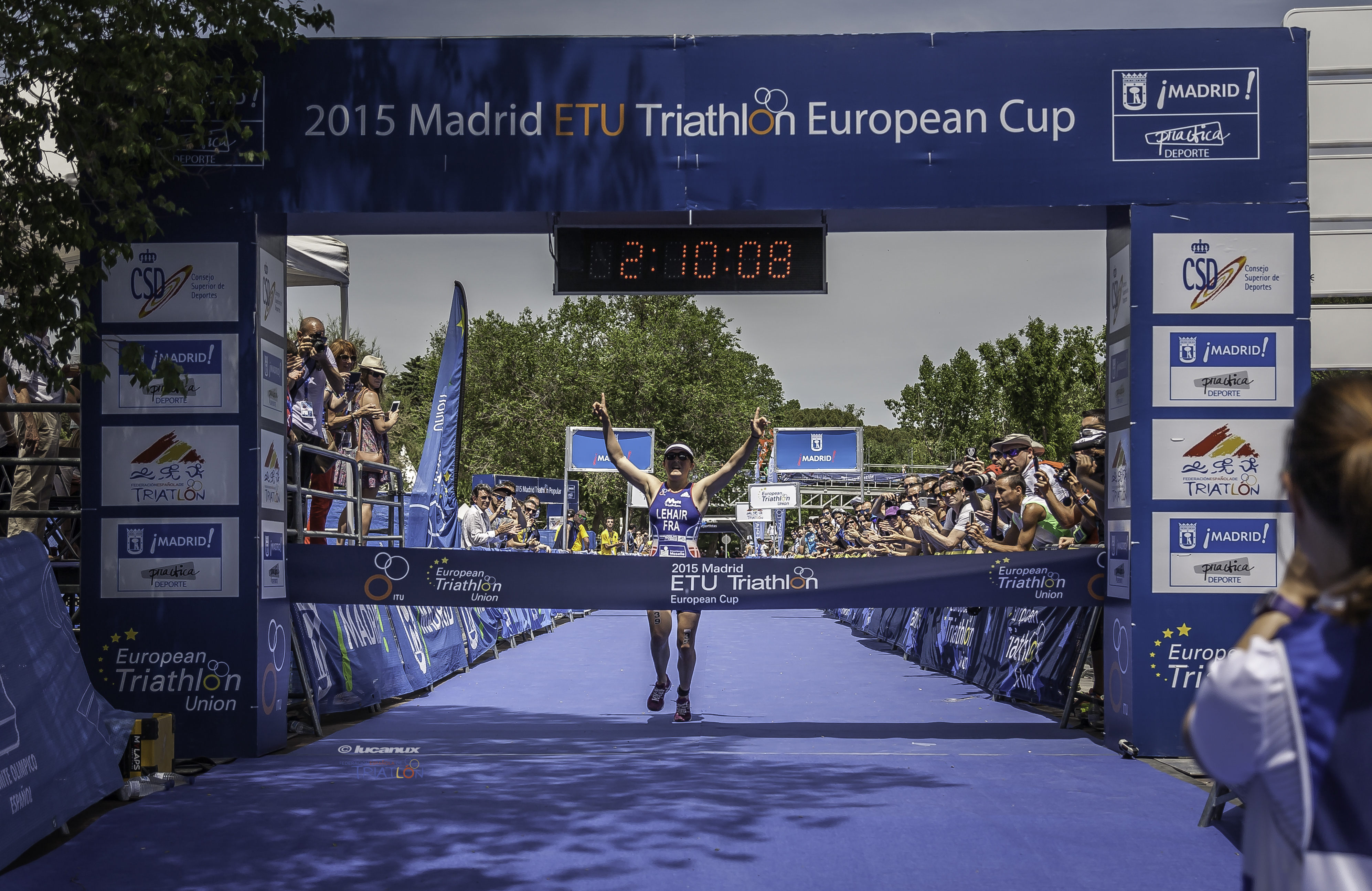 So it was France – Gold, Italy – Silver and GB – Bronze.
For Lehair, this was a massive victory. Her first international race as an Elite Woman and she takes gold. "It is difficult to compare a sprint and a standard race, as difficult in fact as comparing a junior and an elite race. I do not have much experience racing Elite (having only raced on the domestic circuit) but they seem to be more strategic. Sprint races see you trying to make breaks." For Dossena, "Always second. Silver medal in Madrid. Still very happy. Swimming is better than last season and the bike was good but the run was great as I made up all the time I lost in the swim. I really wanted to hear the Italian national anthem but hey… Next up for me will be the ETU Challenge Middle Distance Championships in Rimini."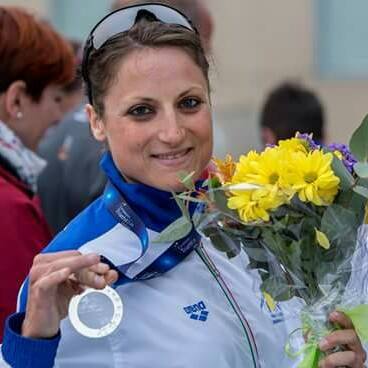 Coldwell will go home buzzing with delight and be in a strong position for the London WTS race.

The Spanish fans had little to cheer for in the women's race with only one athlete in the top ten. Could the men change all that ? Would Spanish voices roar their support in a sprint finish ? Tension was high and the build-up at the start was enormous.


70 athletes fighting for a good spot in the swim; powerful swimming from Raoul Shaw FRA who, as expected, led out his team-mate, Aurélien Raphaël. They were some 30 seconds ahead of the leading Spanish athletes, who surrounded Uxio Abuin Ares.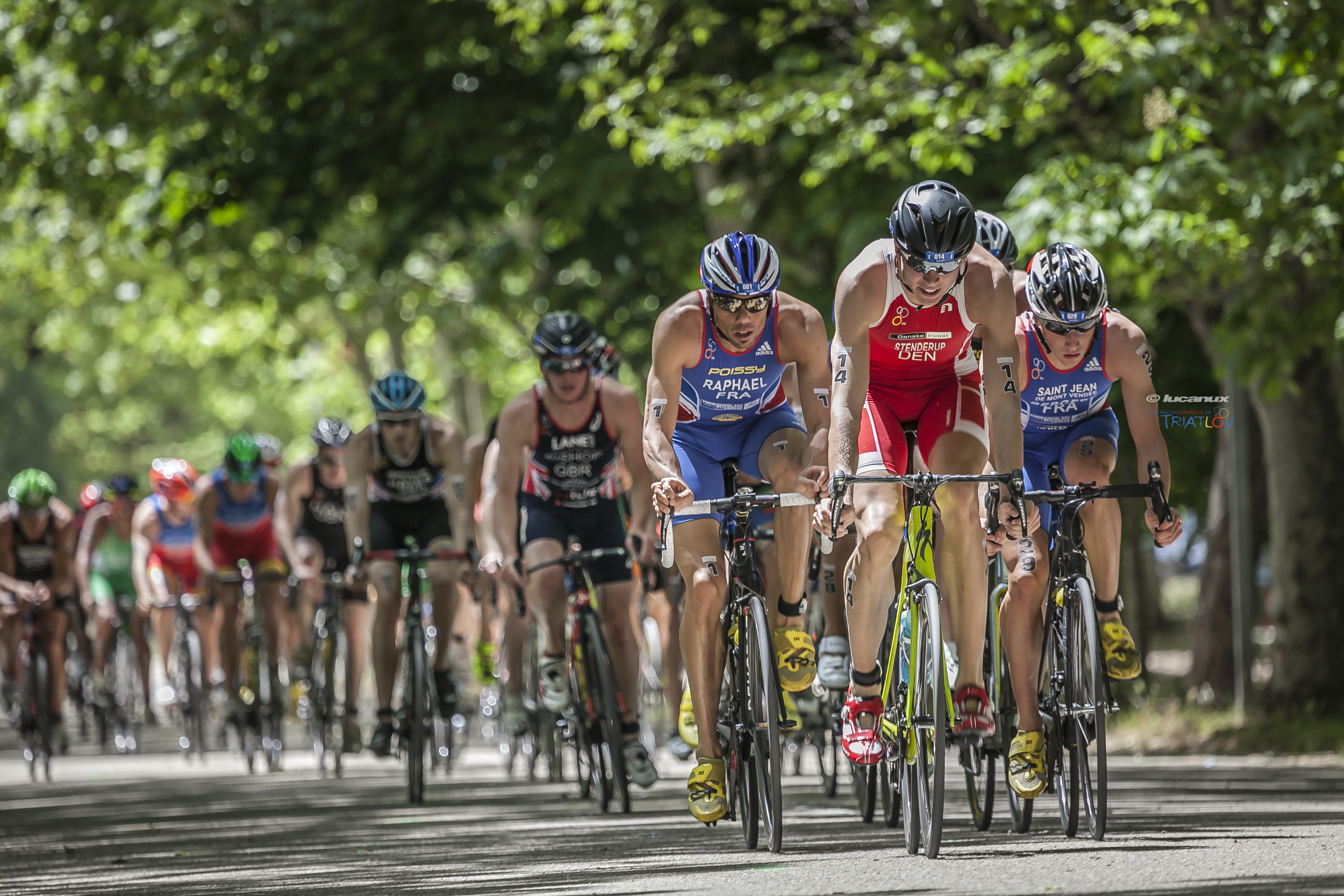 In no time at all a massive peloton had formed but hard work from the French athletes, who worked well together, took them away from the main group and into T2 with a 50-second lead. With his proven speed over the run it looked as if Raphaël had another gold medal in his hands but behind him a high-speed groups of Spanish athletes, including Abuin were racking their bikes and hitting the run.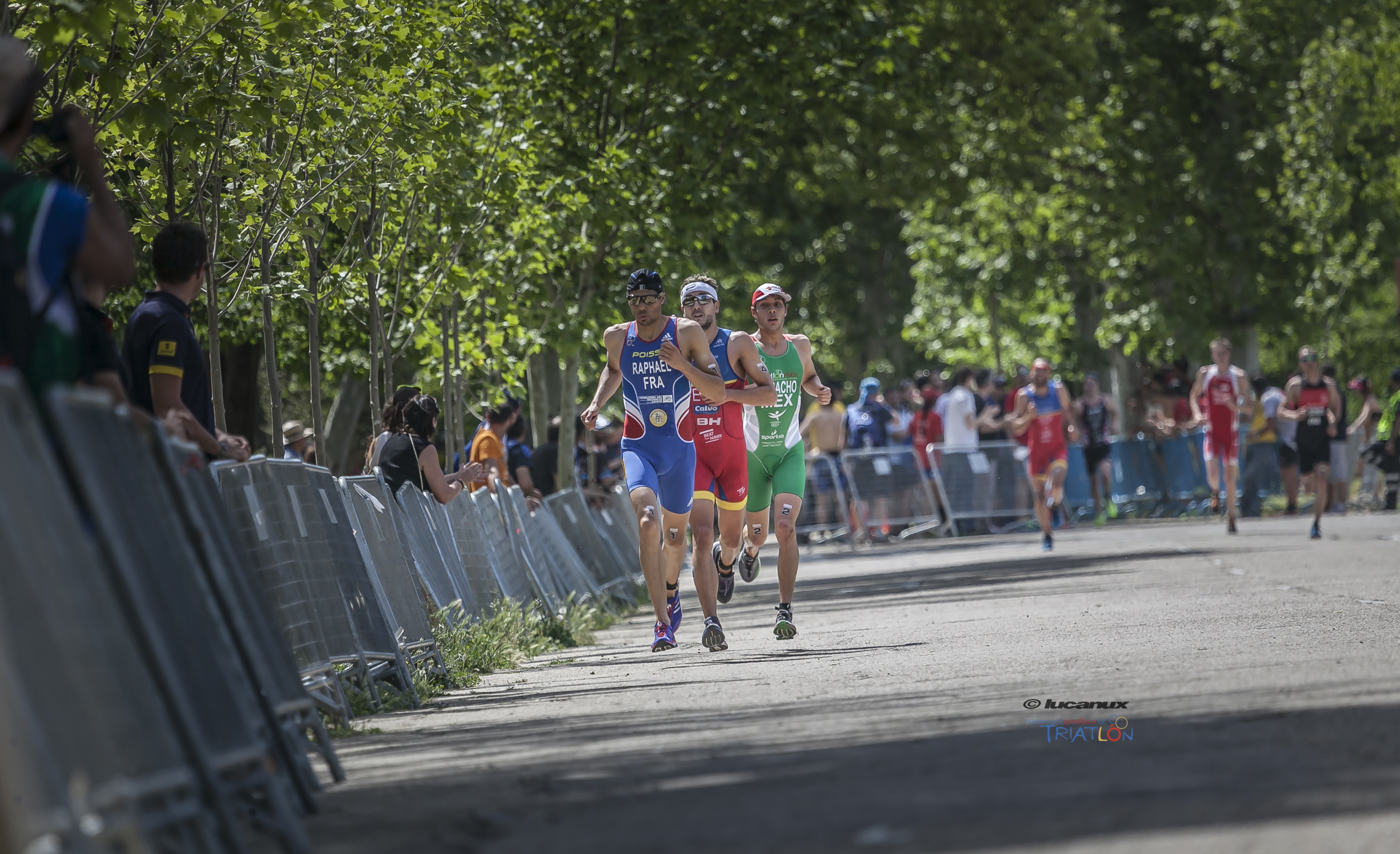 As the run laps were completed it was clear that this 10k would be a real fight all the way to the finish tape. At the start of the third lap of the run, Abuin, Raphaël and the Mexican César Saracho took control of the race and it was impossible to say who was going to win. Saracho, racing in Europe would want to make his mark; Abuin, racing on home soil would of course want his victory and Raphaël, wanting to improve upon his bronze in Quarteira would want to push up the podium. With the crowds all shouting for their favourites and with the athletes giving everything to get to the podium it was Raphaël who broke first and saw his chance disappear before his eyes. From behind and to the delight of the local crowds, Emilio Aguayo was having the race of his life and passing everyone in front of him. In the best finish of his elite career he secured third place in Madrid but at the front, gold and silver was a sprint finish between Abuin and the young Mexican.


The local crowds must have been enough for the Spaniard who just took gold from a delighted Saracho.
After the race Abuin said, "I am very, very happy with my victory today at the ETU European Cup in Madrid. It is always a pleasure to run in a place I consider to be my second home, as I spent so many years here and I still carry on heading back here where I spend so many training hours accompanied by Team Blume at Casa de Campo. There were 30 of us in a group on the bike and then out onto the run it was only in the last 2km that it all happened. The support I received during the race made me give 100%. It really was a very special triumph for me. I'm more than happy to win my first European Cup in which I consider to be my second home !"
For the jubilant Mexican, Saracho, he had more than just words to describe his finish.
"El corazón de una madre
es el más hermoso lugar
para un hijo… y el único
que no puede perder
aun cuando él lleve ya
canas. "
For Saracho this race on Sunday was a way for him to thank his Mum on what for him was Mother's Day. Mrs Alma Ravelo whom could not have been given a better gift this week as Saracho's silver followed his two golds in the Campeonato Panamericano in Monterrey, and the Olimpíada Nacional. After the ceremony he said, quite simply, "Happy Mother's Day for all the mothers in Mexico and surroundings !!!"
For bronze medallist Emilio Aguayo it was simple, "What a way to finish the week. An incredible feeling to get an International podium - and in such an important race!"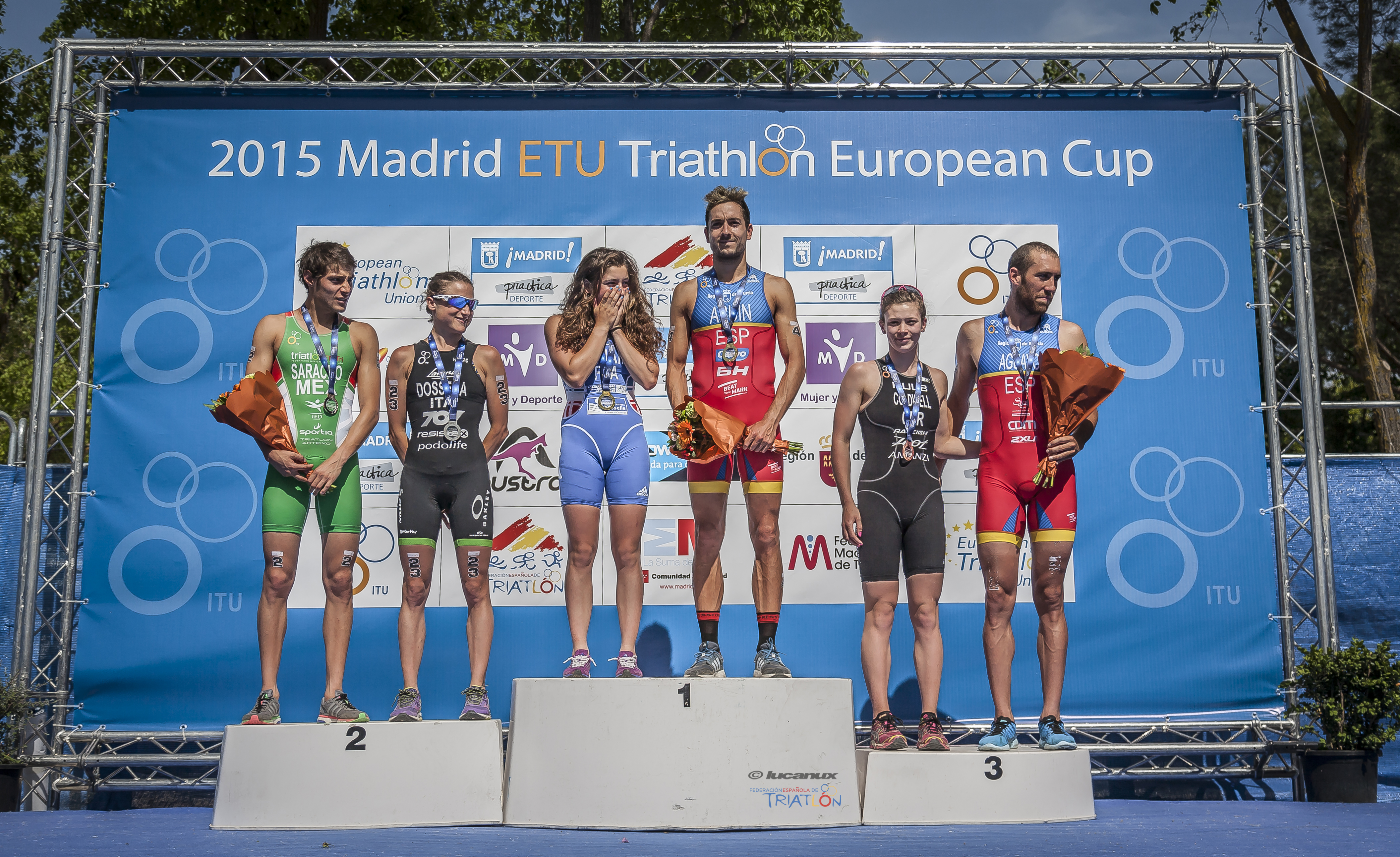 Many thanks again to the Spanish Triathlon Federation for the images and to Sara Dossena for her photo.
---
Article gallery
Related Event: 2015 Madrid ETU Triathlon European Cup
Latest
Videos
---
Latest
Event Galleries