NEWS
More than 300 athletes are going to fight in the Europe Triathlon Cup in Caorle!
By laura@europe.triathlon.org
|
13 May, 2021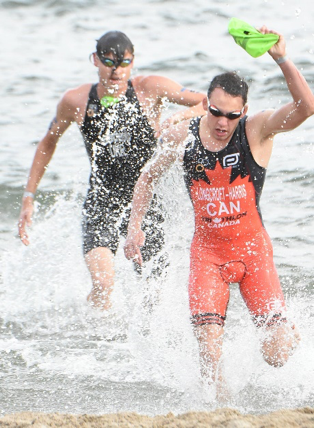 For many athletes, Caorle will be there international racing debut. It will also be a great opportunity to some of the emerging nations to test their strengths and weaknesses of their new generation of athletes alongside the more established Triathlon Federation. Caorle offers them the safety along with the technical challenges that will lead them further along the pathway of international triathlon racing. The feeling coming is that return to competition again and the city is the perfect Triathlon venue and a breathtaking tourist destination with 2,000 years of history. the Europe Triathlon Cup and Junior Cup will be the biggest event of organized so far.
In the the women's elite race in mighty line of 24 Nations will be there this coming Saturday. Austria will be represented by a good mix of very experienced athletes moving from Lisa Perterer, Magdalena Früh and Pia Totsching. Traveling from the sunny Caribbean Erica Hawley and Tyler Smith. From the Czech Republic Petra Kuríková and Spain will send eight élite women to the race.
France will have Audrey Merle, Léa Coninx and Pauline Landron. The only British athlete will be Siân Rainsley. The German Team of nine athletes will give the Federation a chance to see how a new generation of athletes can perform at the élite level. Italy will have a Costanza Arpinelli, Sharon Spimi, Alessia Orla, Carlotta Missaglia and Luisa Iogna-Prat.
In the men's élite race we have 27 Nations represented. We have a very big start list. Austria with Leon Pauger, Lukas and Philip Pertl will you make sure that the pace will be high. The Czech Radim Grebik will lead the new team. From France a seven-strong team of athletes will make the trip East across the border. From Great Britain Christopher Perham, Grant Sheldon and Jack Willis will make a tough race. Italy With nine Azzurri athletes can expect the supporters to be cheering loud at every stage of the race, captain of them will be Alessandro Fabian.
In the junior women's race we are expecting some stiff competition among all the athletes. Austria is sending its reigning National Junior champion Larissa Burtscher and Sarah Hämmerle, from Belgium Hesse Fleerackers is part of the athletes for hope squad. The Czech Republic is sending a large team. Among them Heidi Juránková and Katerina Míčková. The only female athlete from Spain is Carla Domínguez Torner. Also Hungary is sending a strong team, leading them is Márti Kropkó. Serbia is sending Iva Pavlović. Netherlands will send Barbara De Kooning and Italy the national Junior champion Angelica Prestia who will be hoping that the home crowd will give her the support and encouragement needed.
In the junior a man's race Slovenia will deliver to the athletes line-up to brothers Ziga and Nejc Podgoršek, Romania Albert Stratulat that will lead with the others the swim. The Dutch team will bring a former Youth National champion Gjalt Panjer. Finland's 2019 Junior champion Veikka Sarén. From the Czech Republic we will see some new faces on the start line. Belgium is sending a strong team of athletes, among them we see Wout Van Nuffelen. Austria steam is sending its top flight juniors. The reigning Junior champion Jan Bader, will be joined by Niklas Keller, Thomas Windischbauer and Matthias Freisinger. For most of the Italian juniors this will be their first taste of international competition. Francesco Gazzina, Fiorenzo Angelini and Kirin Polikarpenko will have a chance to show how good and talented they are.
You can follow Live the event Saturday 15th of May from 3:30 PM to 8 PM. Click here for the Live.
Latest
Videos
---
Latest
Event Galleries