NEWS
Junior Team Germany and Elite Team Great Britain are European Mixed Relay Champions in Kitzbühel
By laura@europe.triathlon.org
|
21 Jun, 2021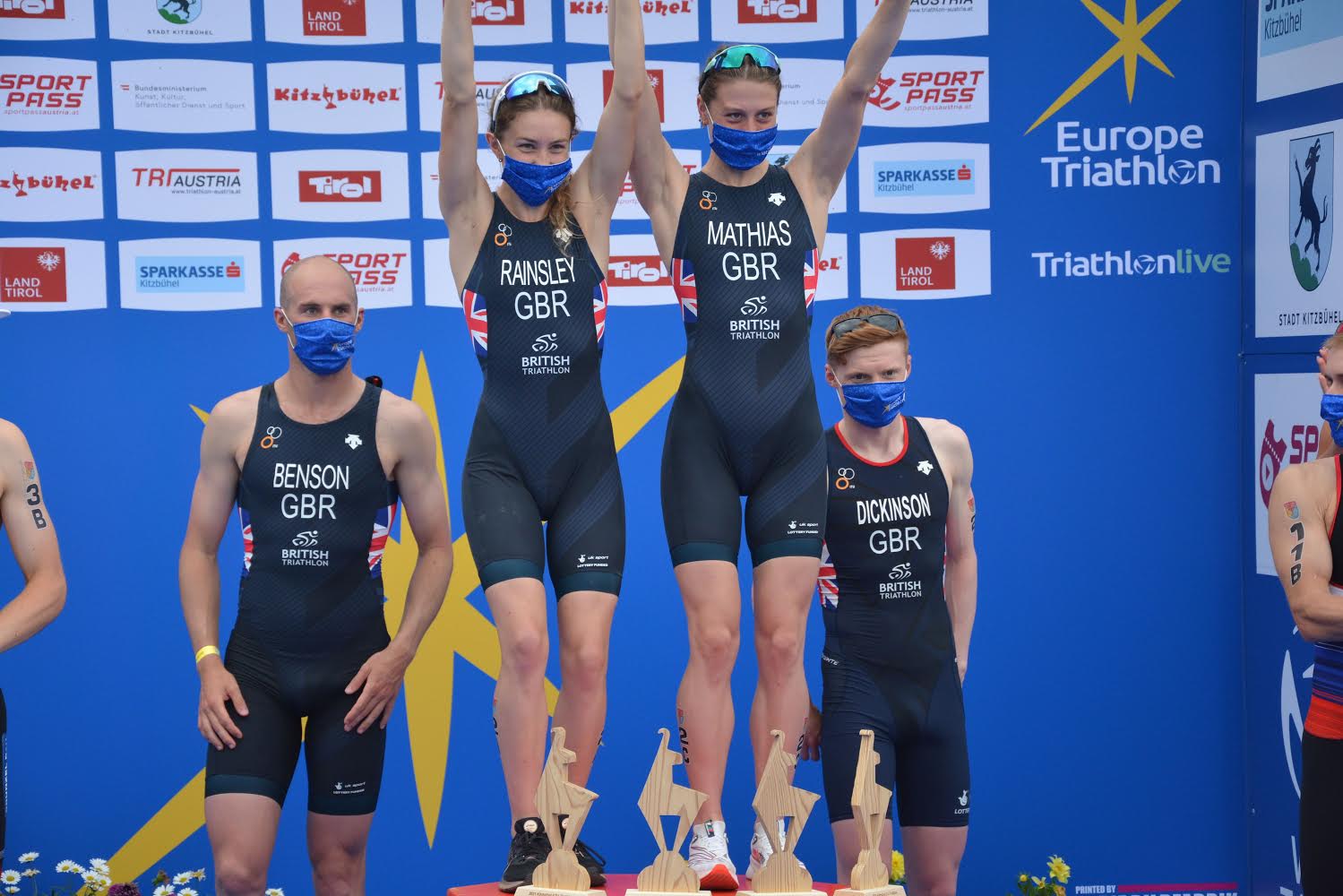 Last day of races has the same feeling of the last day of holiday for students. So sad to leave all the friends made during vacations but in the heart so many beautiful memories of the days spent with all the people who came at this unforgettable event. The organisation was impeccable and the job made by Technical Officials and volunteers during the endless days was immense. In the hearts of all the athletes and coaches the feeling that everything is coming to life again after a terrible year. Everyone was so happy to have the possibility to race in a big event again. Happiness was perceived from the light in the eyes of everyone.
An event with athletes representing 33 different National Federations were here defending the colors of all European countries, who performed stunningly during the different semifinals, finals and Team Mixed Relays. The elimination formula in a super sprint distance is for sure the best showcase formula that has allowed to a great number of athletes to race in the event.
President Renato Bertrandi said "the Sprint European Championships are just over. It was great to stage again our Championships after almost an year and a half. Our last one was in Spain at Duathlon European Championships back in March 2020. It was great to meet again our NFS in a race, to exchange ideas and make projects for the future. This new format with semi and finals B and A, was really successful and has given the possibility to a larger number of athletes to compete after such a difficult period. It is a formula that we will consider for the future. We had at the start 33 NFS and I want to thank all of them from the ones that went to the podium to the ones that had the goal to enter to the final. I do understand that for many it has represented an economical effort: I am sure that it was worth coming. Sport is one of the solutions to come out from this global economic difficult situation".
In the Junior Team Mixed Relay first out of water Hadhoum (FRA) in second Suchomel (SWE) then Dobi (HUN), Cook (GBR), Huys (AUT), Levi (ISR), Prestia (ITA) and Bröcker (GER). In the bike Brit Cook managed to gain over the others and was the first to exit transition followed by Bet (SUI), Bröcker (GER), Prestia (ITA), Castro Santos (ESP), Dobi (HUN) and Vrablova (SVK), Hadhoum (FRA), Juránková (CZE). After the second swim Dixon took the lead of the race with an amazing bike leaving all other Teams with an immense gap. In T2 Dixon (GER) left with 13 seconds ahead of Töpper (GER) third was Team Swiss with Faeh and De Nigro (ITA). In 3rd round out of the water Davies (GBR) was leadind with Team Germany 20 seconds behind and other 9 seconds Team France with Denzot and in forth Team Spain with Casals, then Swicky (SUI), Sacchi (ITA) and Dreyling (NED). T2 was left on round 3 by Davies 18 seconds ahead who made a terrible mistake choosing the wrong way out that helped of Denzot to gain precious time and then Behrens (GER). Denzot (FRA) did a huge run and round 4 Team France after the last swim was definitely leading with Tharreau followed by European Champion Graf (GER) and Basanta (ESP). On the final fast run (GRAF) was leading and already knowing his capabilities and dreaming about another precious medal. Behind him Team France, Team Britain with Howard and Team Spain with Basanta. Junior Team Germany gets the European championship of Mixed Relay in 01:11:55, silver medal for Junior Team France in 01:12:49 and bronze medal goes to Team Spain with the final time of 01:12:49.
The Elite Team Mixed Relay was really amazing and at the end 7 teams crossed the finish in 29 seconds battling for the last spot on the podium. First water exit was Perez (ESP) conducting, behind Rainsley (GBR), the European Champion Lindemann (GER), Team (NED), Riasova (RUS), Carlsson ((SWE), Tomé (POR), Annen(SUI) and Periault (FRA). In the first bike 11 teams were biking together right to T2. Team Germany and Russia were the first to start running with the others just behind. On round 2 Team Russia was leading with Prasolov followed by Dickinson (GBR), Lührs (GER), Berland (FRA), Volar (CZE), Oliwa (POL), Knabl (AUT) and Crociani (ITA). Team Russia, Germany and Britain left T1 with a 10 seconds advantage from Czechs, France and Poland. The 3 Teams working together managed to gain precious time over the others. After T2 Team Great Britain was in first, followed by Germany and slightly behind Russia. A great battle between England and Germany and behind them the crowd of other Teams were fighting hardly to keep third place. Knabl (AUT), Berland (FRA), Van dereste L (NED), Oliwa (POL), Serrat (ESP), Volar (CZE) and Crociani (ITA). In round 3 Mathias (GBR) was leading after the swim with a seven seconds advantage over Tertsch (GER). In third 20 seconds behind Team Russia with Golofeeva, other 20 seconds behind Sudan (POL), Vermeylen (BEL), Gomez (ESP) and Hruskova (CZE), Perterer (AUT) and Coninx (FRA). In bike Team GB and Germany were doing a solo race with all the other Teams behind. In the last round Team GB was still leading with Breitlinger (GER) and Team Russia with Antipov 30 seconds behind. The last run was a breathless moment for everyone both for spectators screaming and Team mates pushing athletes to go faster. Apart from GB and Germany that had the podium in their hands, Russia was losing terrain and wolves behind were seeing the prey getting near each meter more. Team GB crossed the final finish in 01:09:18 and is the new European Team Mixed Relay Champion. Silver Medal for Team Germany with the time of 01:09:36 and Team Russia managed to claim bronze in 01:10:08.
Latest
Videos
---
Latest
Event Galleries