NEWS
Gold goes to Köhler and Pooley adds "European" to her title collection of titles
By Paul Groves
|
21 May, 2017
Sankt Wendel awoke on Sun day morning to clear blue skies, sunshine and temperatures rising to a very nice 20C.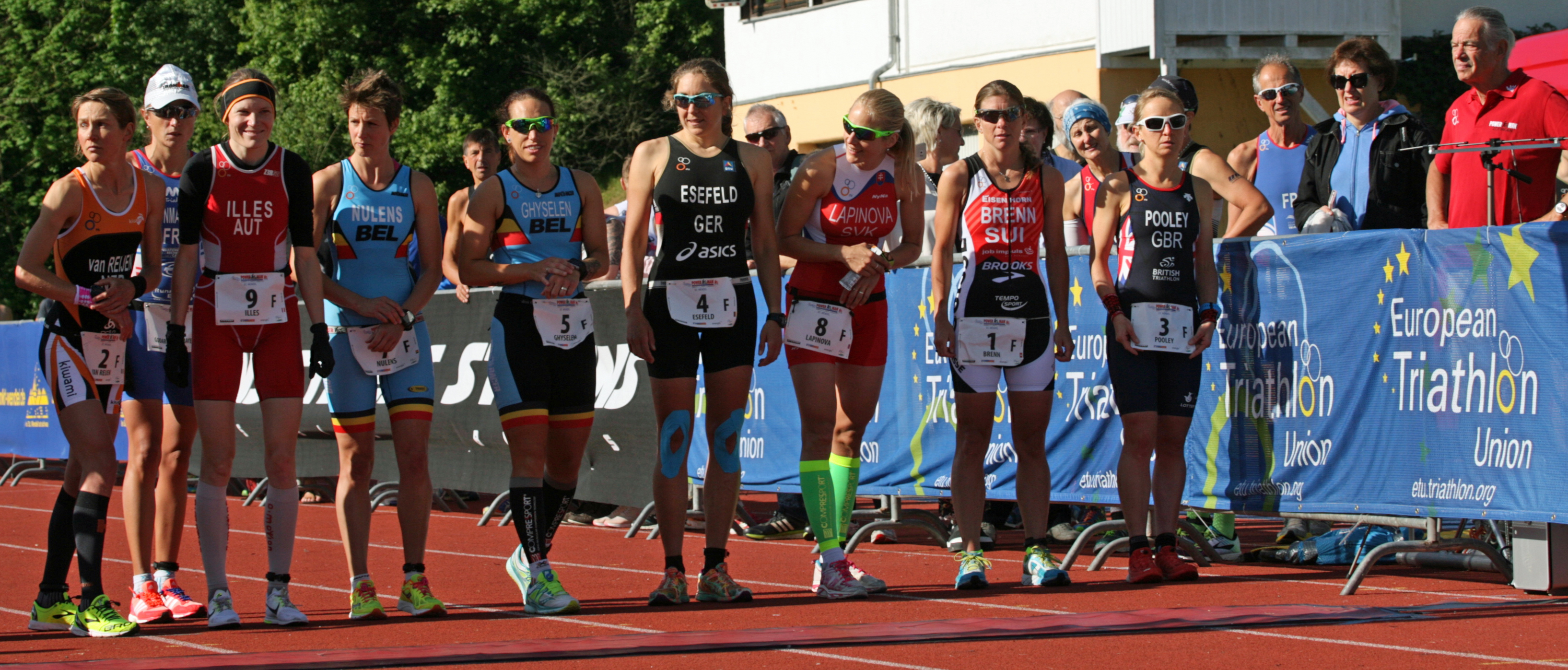 It was the Elite Women who lined up first for the start. Although not European Champion, it was Great Britain's, Emma Pooley who was a clear race favourite. Her immense power on the bike and her ability to run strong off the bike, added to her three world titles, won in Zofingen, mean that she was the one to beat. Norfolk-based Pedal Revolution set up her new Bond Bike and despite not having had the chance to really put it to the test, she was cool and confident in the pre-race atmosphere.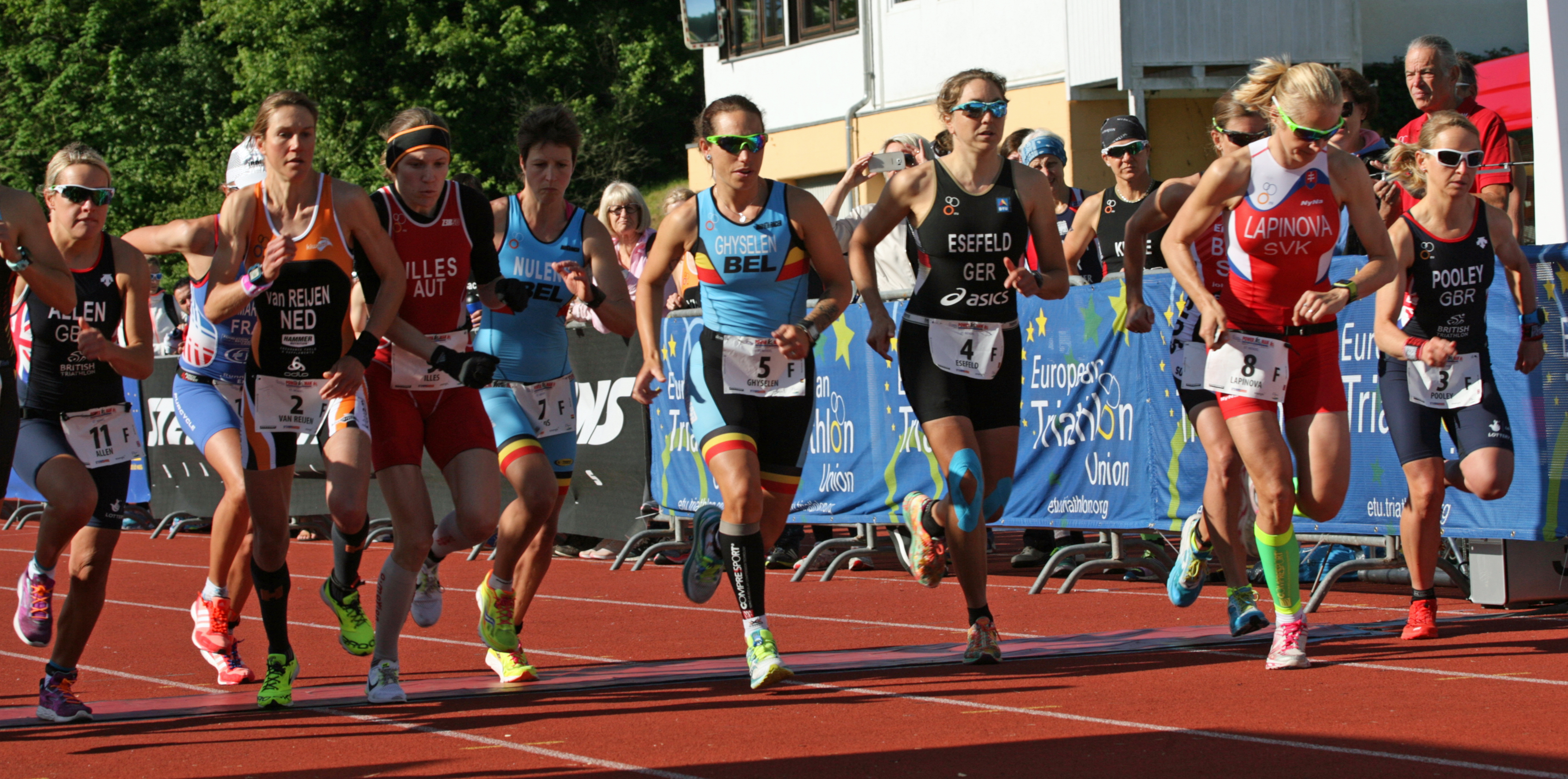 Defending title holder, from Switzerland and also with a fine Zofingen background, comes Nina Brenn. Brenn's victory in Copenhagen was on a very different course to Sankt Wendel and indeed many athletes were suggesting that Sankt Wendel was like the first course, with Zofingen being the main course. On home soil, Germany's Katrin Esefeld, with domination in the German long-distance duathlon championships and Dutch athlete Miriam van Reijen looked like the major threat to Pooley.
The first run was a two-lap, 10k with the athletes having a massive climb on each lap, sharp descents and a dead-turn in the main arena. It was no surprise to hear Emma Pooley' name being called out after one lap but she was not alone. Alongside her was Austria's Sandrina Illes and in fact after the 10k, it was Illes who led Pooley into T1 by a pace. Very swift change from run to bike and it was Illes who led out onto the bike course but just behind her and still looking very relaxed, was the British World Champion. Van Reijen came in next, about a minute and half down and then came the British athlete Dionne Allen who moved up to the Elite ranks after a very successful year of racing both duathlon and triathlon as an Age Group athlete.
Out onto the bike and very soon Pooley had pulled up to, overtaken and pulled away from the Austrian athlete but Illes was not going to give up and whilst not being able to match the pace of the Brit she nevertheless stayed in contention. Brenn came into T1 in tenth but once out on the bike she started to press her advantage and strength on two wheels and was soon moving up. No surprise that Pooley managed 1:58 over the 60k but behind her and really having the race of her life was Laura Zimmermann GER. Her initial 10k took her into T1 in 5th place and she build upon that performance to establish a solid base for the final 10k. She came into T2 just behind Illes, whose early run had been enough to give her 2:41:56 for the first run and bike. Zimmermann's 2:42:02 was close but could she find anything for the home crowds?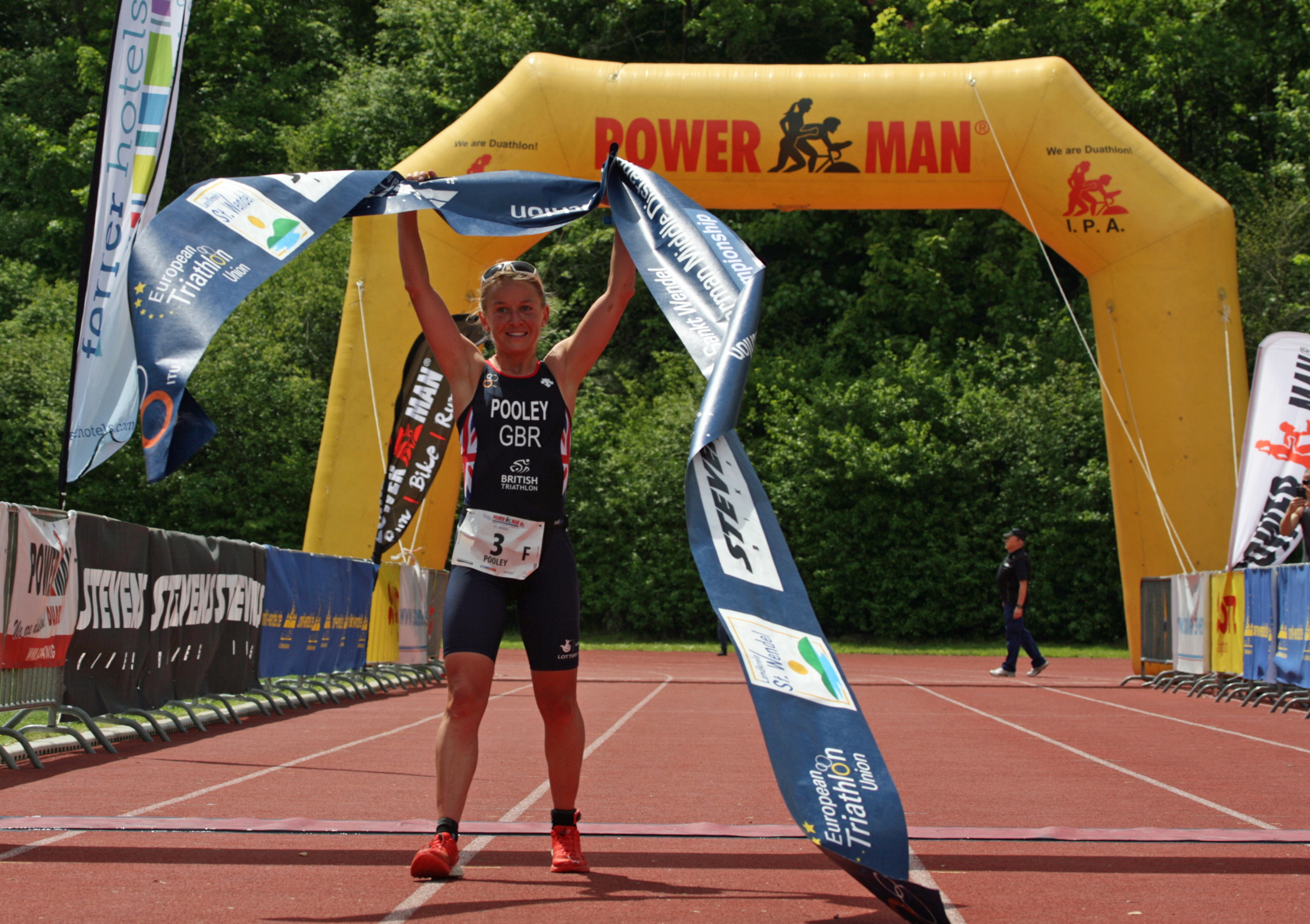 Pooley out on the final run, again two laps, looked good as she came to complete her first lap and Illes had kept ahead of Zimmermann over the first 5k. To the cheering crowds, Pooley came home in 3:19:38 to take the European Title. She had to wait nine minutes before she was joined on the finish line but it was not Illes. Zimmermann had dug deep over the final 5k and had delivered the best race of her life to take silver in 3:28:49 and Illes, with her best performance ever, took bronze in 3:29:55.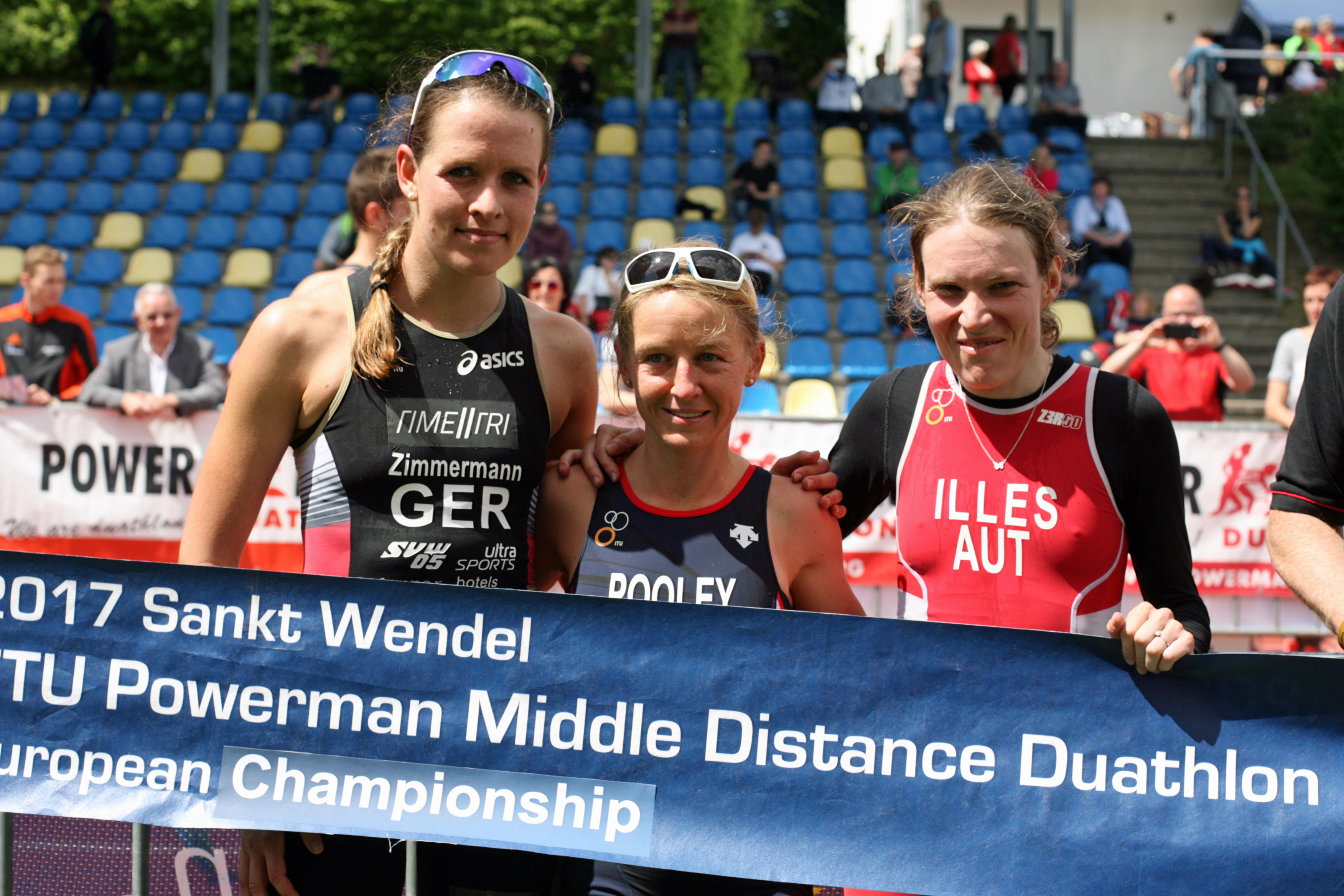 After the race Pooley was full of praise for the support given to the athletes around the course and for the design of the run and bike courses. Zimmermann was just delighted and soaked up the cheers and adulations from the German crowds. Illes seemed just a little surprised. She had beaten some seriously strong athletes to take the podium and after the two fifth places last year, this bronze medal must shine very bright for her.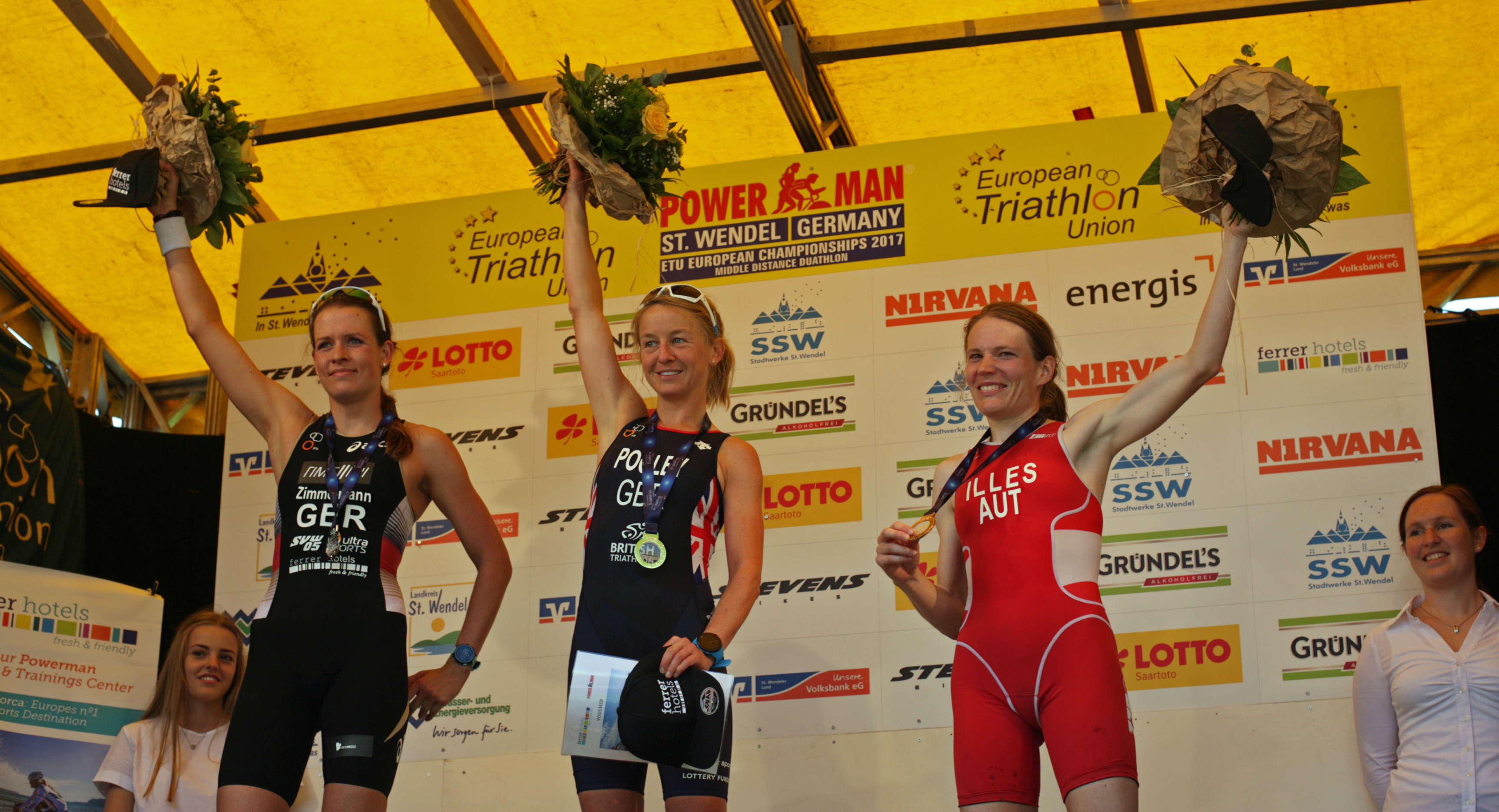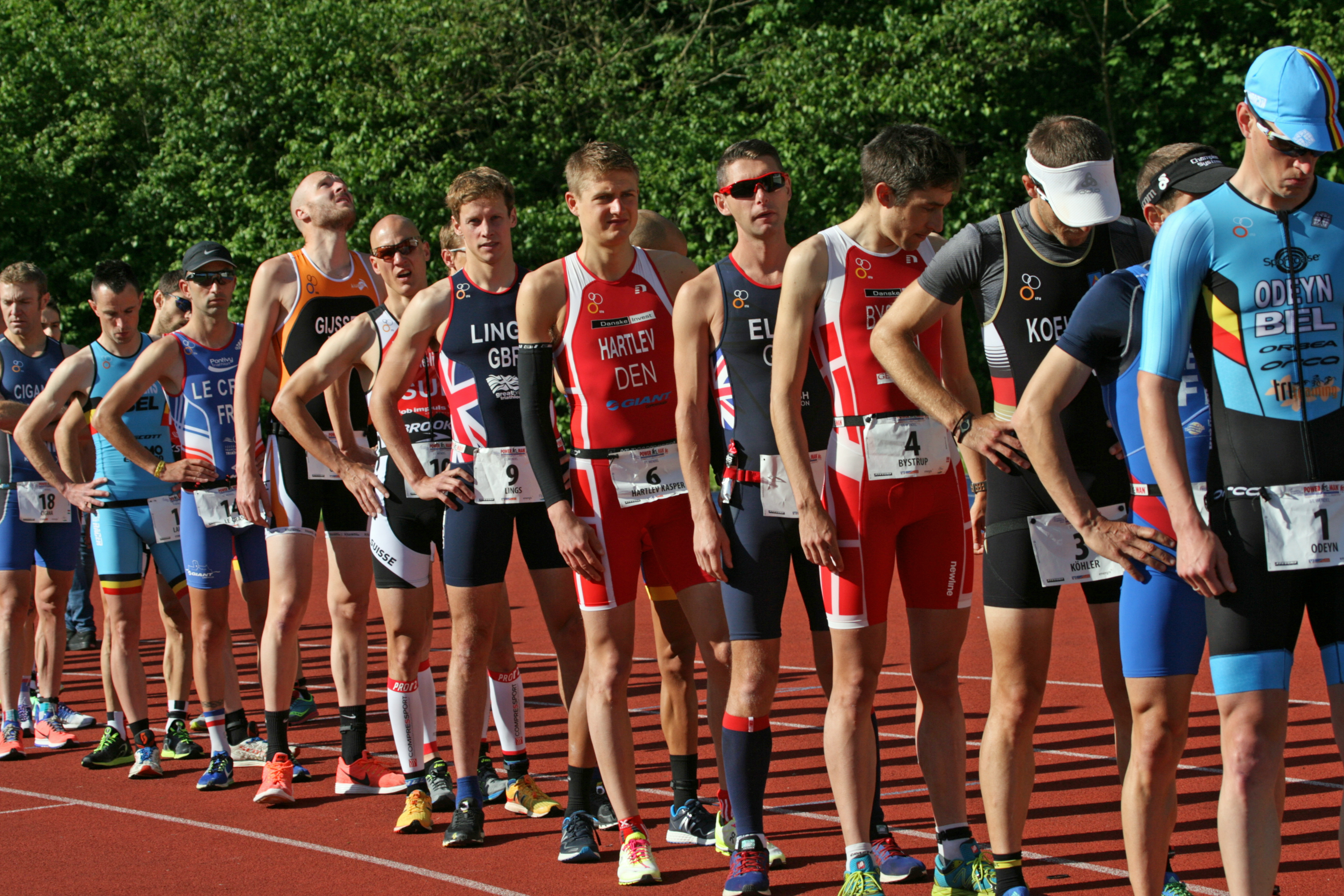 Amongst the Elite Men, we had World Champion, Seppe Odeyn BEL but racing over this much shorter course, would he have that speed necessary to hold off the challenges from Denmark's Søren Bystrup and, here on home soil, the former Age Group athlete, Felix Köhler so impressed the German Federation with his Age Group gold in Zofingen in 2015 that he was promoted to the Elite ranks . His silver there in 2016 just behind Odeyn secured his place in the Elite ranks and he was really going to be someone to watch.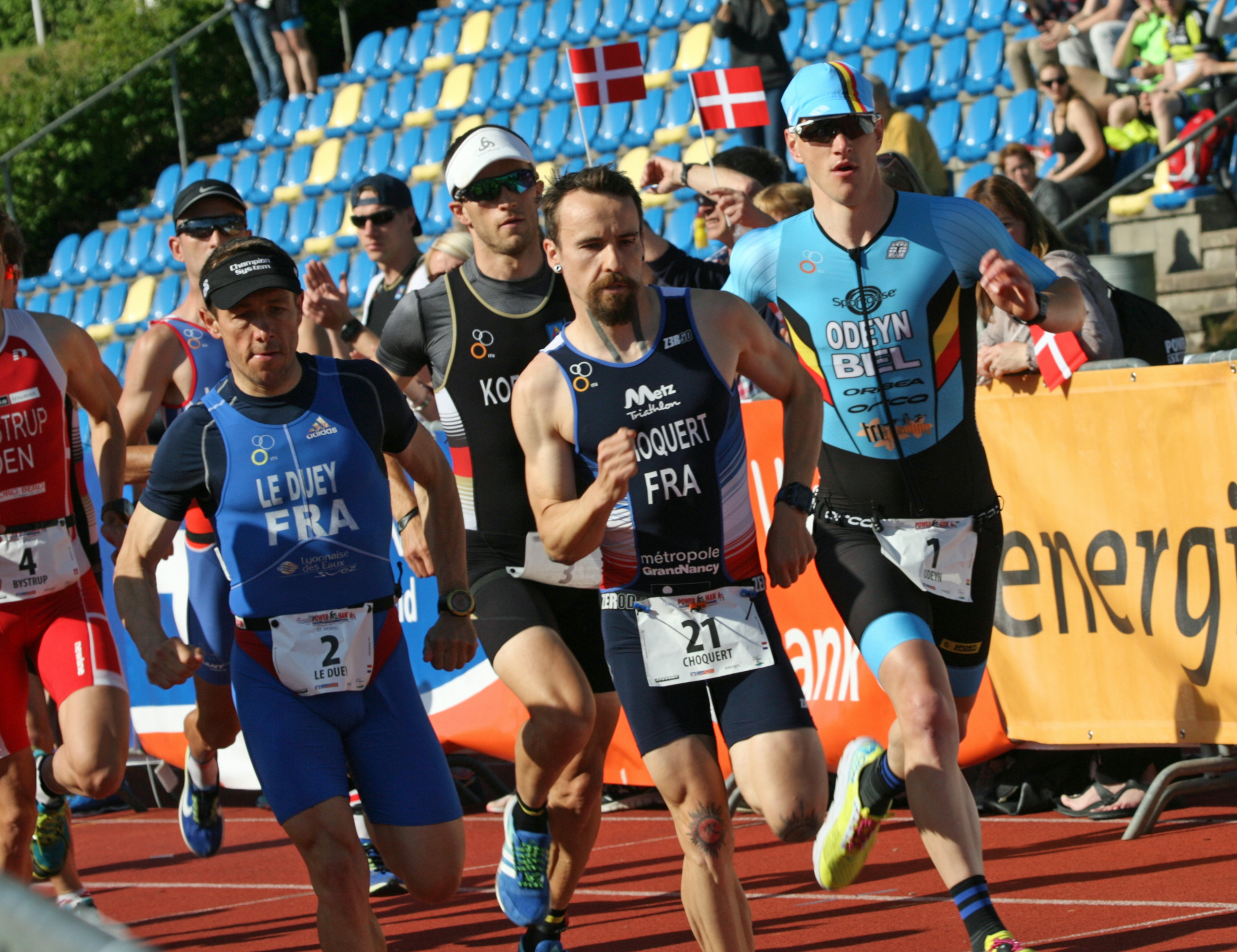 The first 10k was run at 34:44 pace and the athletes were led into T1 by guest athlete from Bahrain, winner of the Gold medal at the 2016 Sharm El Sheikh ATU Duathlon African Championships and Pan Arab Duathlon Championships, Moussa Karich. His pace was matched by Frenchman Benjamin Choquert. The two looked strong as they raced through transition and were almost a minute ahead of Köhler and Spain's Pablo Martín López. His 4th last year in Zofingen meant that he had the stamina and power to cope with the bike course. These four athletes were ahead of a pack who raced into T1 and with amazing speed and professionalism, moved from run mode to bike mode in the blink of an eye. Amongst them was Odeyn and Bystrup but also Fabian Zehnder SUI and Frenchman Anthony Le Duey, who, aged 43 is still racing with the best.
The bike course was the test we expected and positions changed. With the fastest bike split of 1:39:34, it was Bystrup who moved in to pole position but behind him were many athletes who would do their best to prevent him from winning gold. Amongst them of course, was the fast-running Choquert who had suffered a little on the bike and who came into T2 with work to do. A momentary lapse of concentration cost one athlete a time penalty of one minute out on the run course as he opened his helmet before racking his bike. Such a mistake was a costly one and his final run time took him way down the rankings.
Out at the front, Bystrup was pushing hard to hold the lead and with just over a minute lead he came into the stadium for the turn to see that Köhler had eaten into the lead. Martín López was running free and looked good for the podium too and as we looked down the long run into the stadium, where the athletes still had 200m on the tartan track to run to the massive finish arch, the red race uniform of Denmark's Bystrup was clear to see but ahead of it was the Schwarz, Rot, Gold of the German uniform and inside that uniform was a massive smile attached to Köhler.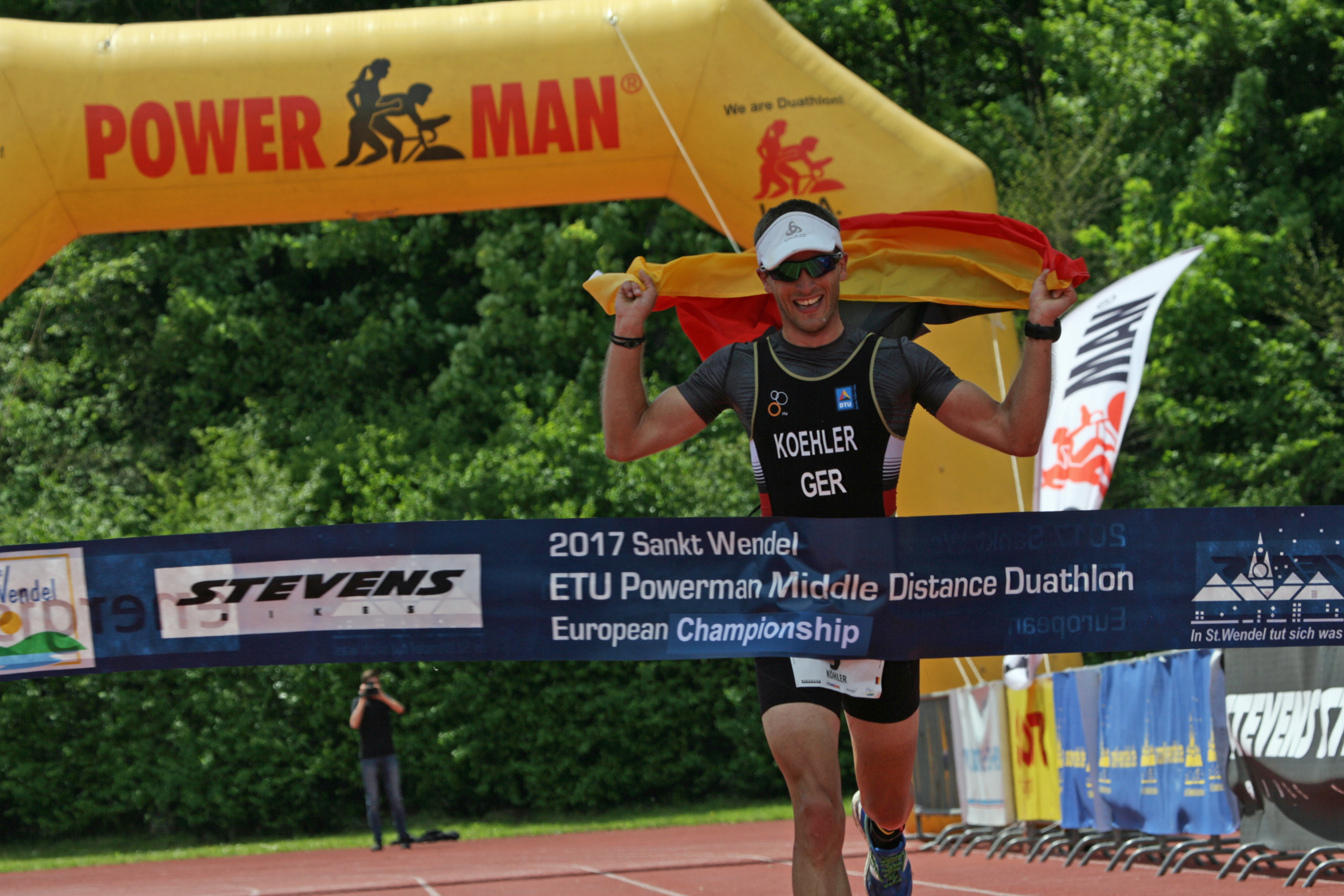 The crowds were cheering loudly as he rounded the top end of the running track and came home to take the tile. A journey from Age Group athlete to Elite silver medal winner in Zofingen to European Champion was complete.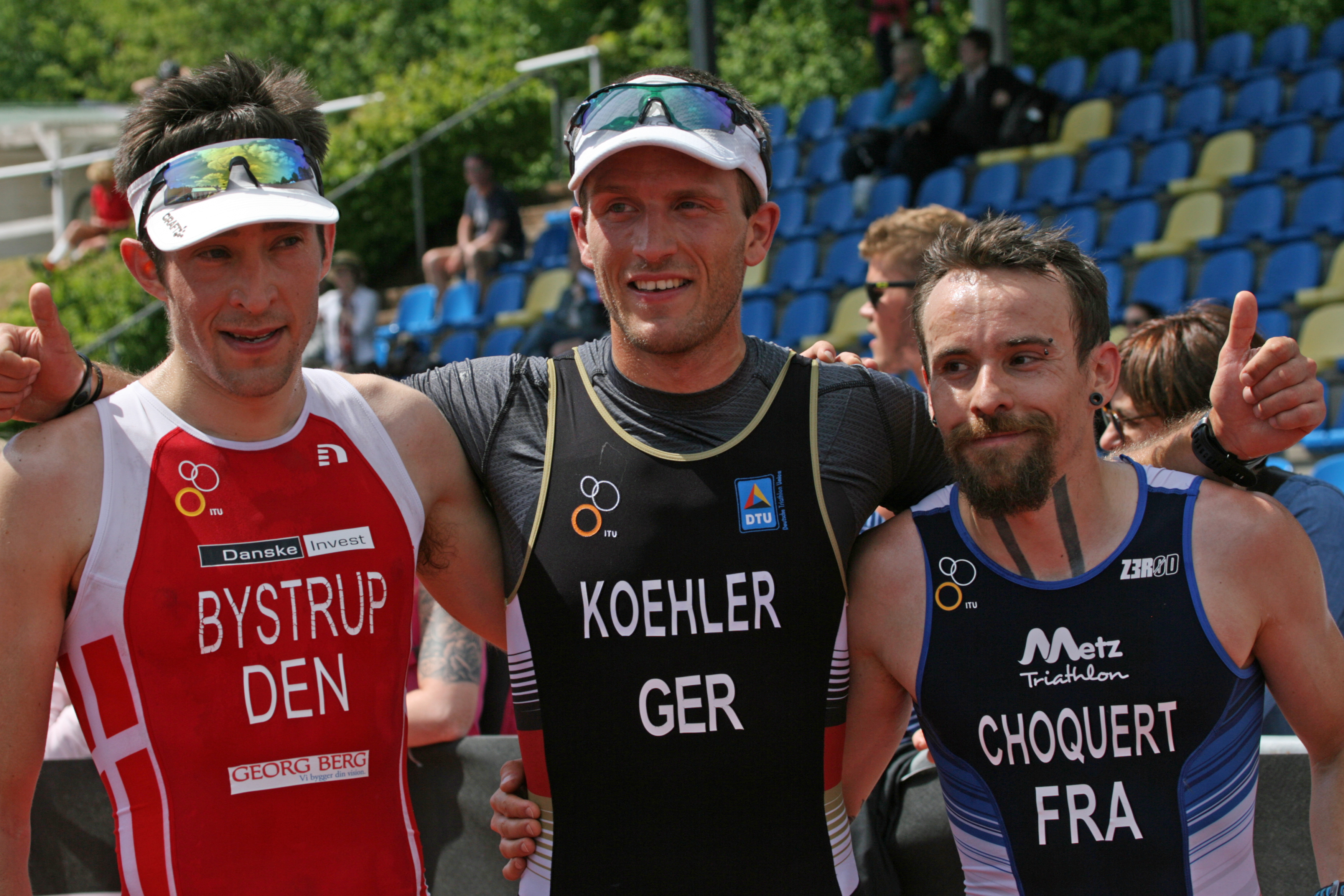 Behind him Denmark's Bystrup was a beaten man but one with a silver medal. Choquert pulled out a fantastic final run of 35:15 to round off the podium but Martín López made a fatal error by missing the lane to the finish and leaving the course.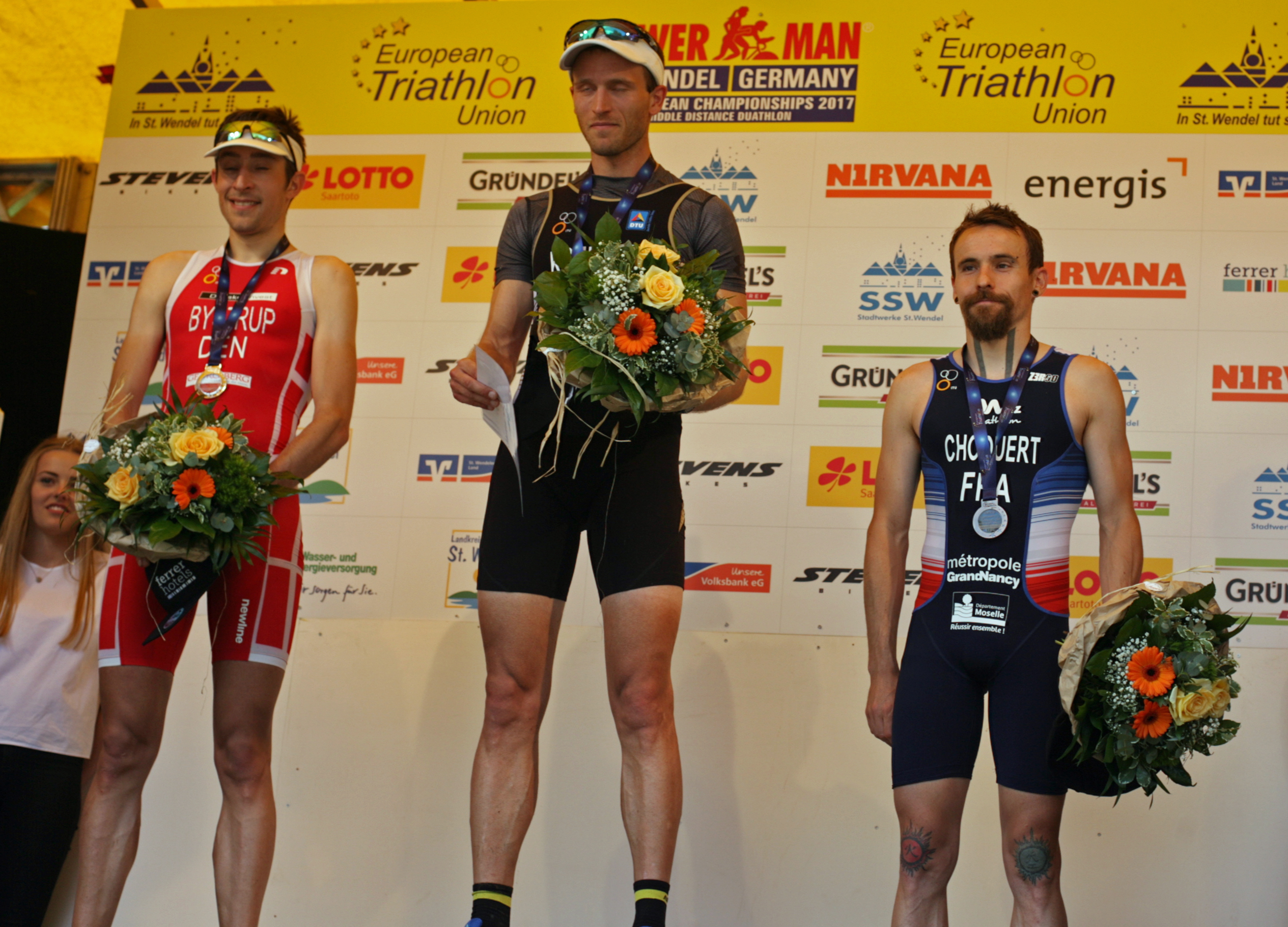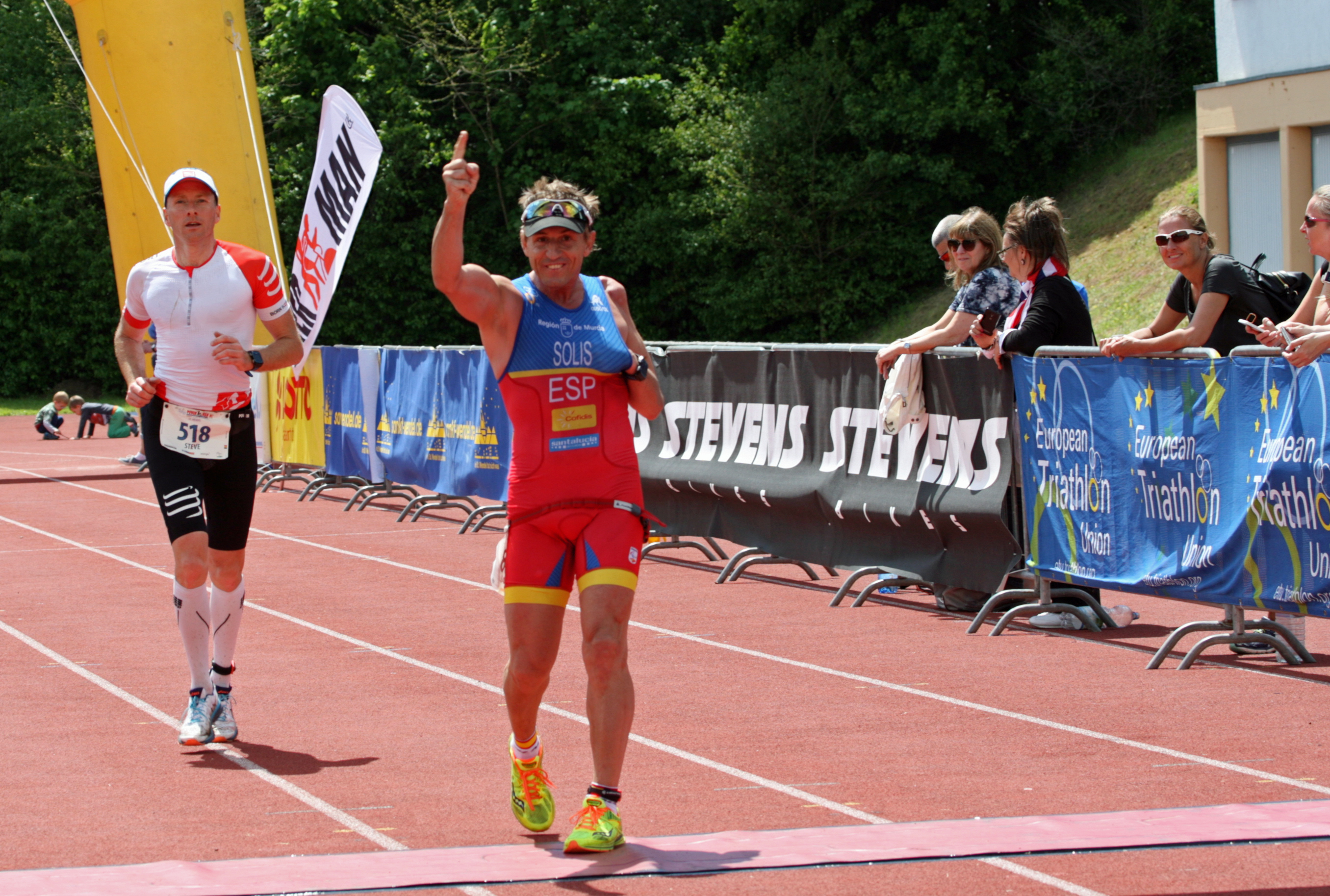 Amongst the Para athletes it was Spain's Rafa Solís who took up the challenge and raced the immensely tough course. After a very successful season in 2016; racing Winter Triathlon, Cross Duathlon and Duathlon, he began the 2017 season with a gold in Otepää on the snow and a silver in Soria.
The top three Elite Men all went under three hours on a course that truly challenged everyone. The sun was still shining and the Age Group Athletes were not far away. We will cover their performances over the next couple of days.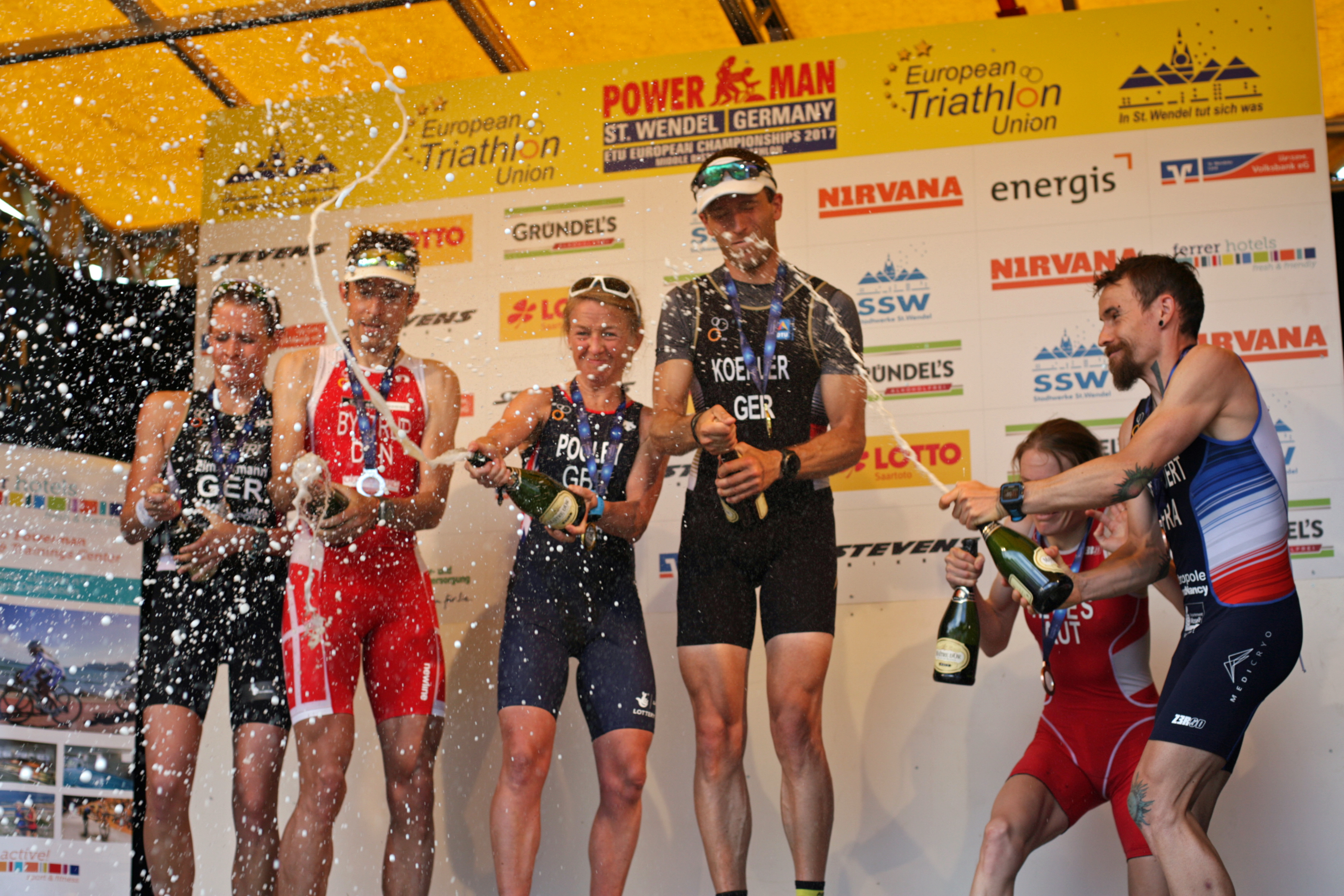 Related Event: 2017 Sankt Wendel ETU Powerman Middle Distance Duathlon European Championships
Latest
Videos
---
Latest
Event Galleries