NEWS
Glasgow will be the place to be once again in 2018
By Paul Groves
|
10 Feb, 2017

ATHLETES FROM 16 TO OVER 80 GIVEN THE CHANCE TO COMPETE AT 2018 ETU EUROPEAN TRIATHLON CHAMPIONSHIPS
Athletes from across a wide range of ages will be given the chance to be part of the 2018 European Triathlon Union (ETU) European Triathlon Championships in Glasgow.
The commitment comes as Glasgow signed the formal agreement to stage the event as part of the inaugural 2018 European Championships – an exciting new multi-sport event that brings together some of Europe's leading sporting competitions.
The Host City Agreement (HCA) with the ETU pledges to deliver an event that elevates the status of European triathletes when they come to Scotland to take part in the European Triathlon Championships.
It details all aspects of the delivery of the European Triathlon Championships, which will bring around 160 triathletes to Strathclyde Country Park in North Lanarkshire for three elite events (Men's, Women's and Mixed Relay). Around 1,200 Age Group participants will also get the opportunity to represent their nation on the same course.
To be staged every four years the European Championships will combine the existing European Championships of Athletics, Aquatics, Cycling, Gymnastics, Rowing and Triathlon and a new team Golf event. The first edition will be held in the summer of 2018 in a unique sporting partnership between Europe's leading sports federations, Host Cities Glasgow and Berlin, and the European Broadcasting Union (EBU).
This sporting partnership will create a new event on the world stage elevating the status of European Champions and attracting a potential television audience of up to 1.03 billion across the continent, with a wider audience via digital platforms. Attendances across Glasgow 2018 are expected to be in the region of 250,000, with registration for priority access to tickets now available at http://www.glasgow2018.com for a limited period.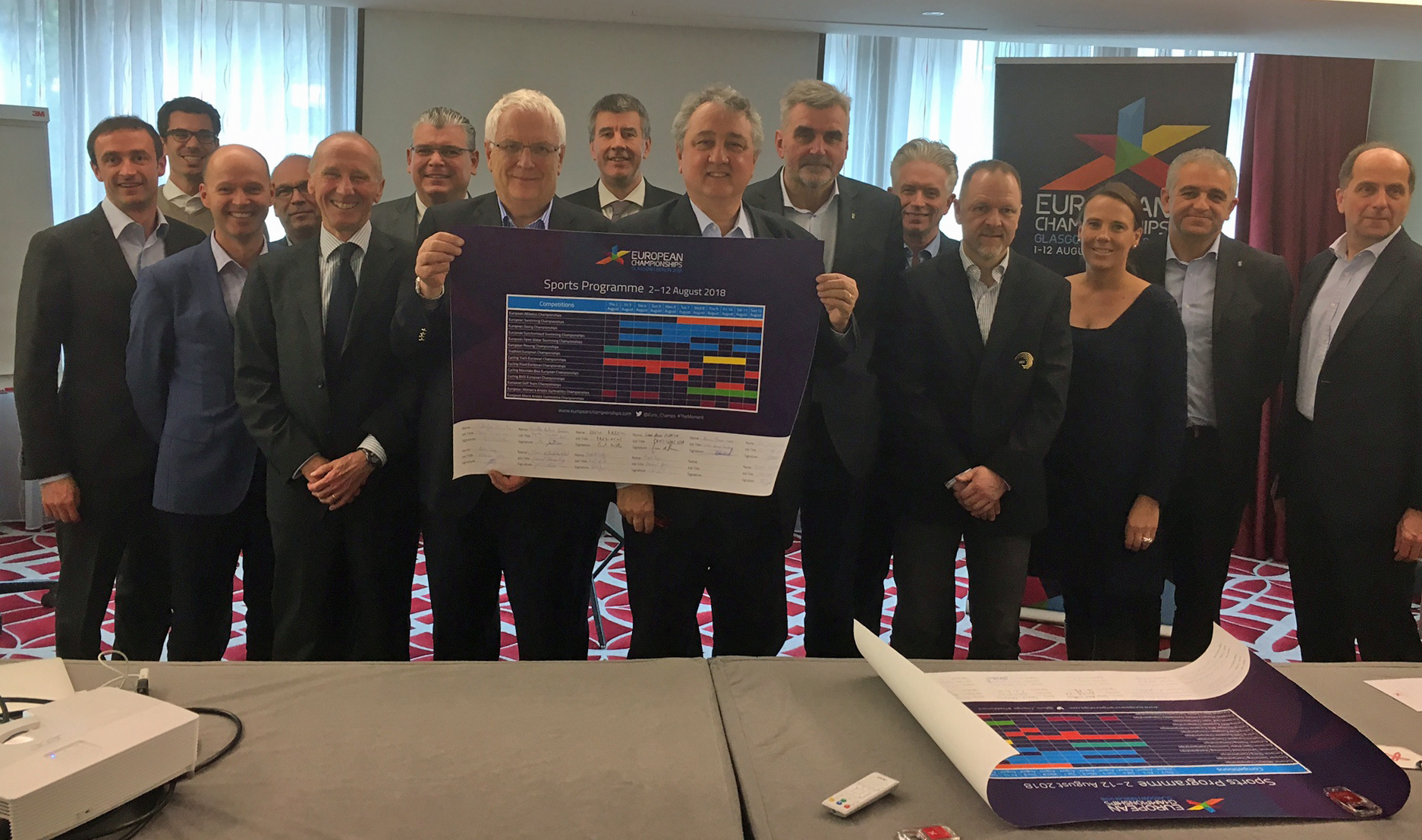 ETU President, Renato Bertrandi said, "I am delighted that triathlon has been invited to be part of this new development. Triathlon is no longer a new sport but it is one of the youngest and still growing. We see whole families now attending races and the message from our sport is clear, 'triathlon is inclusive, triathlon is good, triathlon is a way of life'.
"I was unable to attend the Commonwealth Games in Glasgow but many of my technical officials were there and from their first-hand accounts and from watching the coverage on TV, it is clear that not only were the Games a huge success but also that the city was one of the most welcoming. The athletes enjoyed the atmosphere there and the public were fantastic.
"I am also very pleased that our sport, based upon inclusivity, has traditionally seen Age-Group athletes racing at the same venue for championships and 2018 will be no different with thousands of athletes, from 16 to over 80 years of age, racing the Sprint Distance, making the journey to Scotland and to Glasgow to be part of this great sporting celebration."
Glasgow 2018 Championships Director, Colin Hartley, said: "Glasgow's sporting reputation has never been higher having delivered some of the world's most prestigious events in recent years. We are determined to build on that position in 2018 and deliver an outstanding European Championships.
"Triathlon will be at the very heart of the European Championships and we will do all that we can to continue the proud traditions of the sport, elevating the status of European triathletes. At the same time we are looking forward to staging the Age Group Championships, giving people of all ages the chance to represent their country.
"The triathlon course at Strathclyde Country Park proved popular with athletes and spectators alike during the 2014 Commonwealth Games and by working closely with our partners at North Lanarkshire we will ensure it will be even better this time around."
Scottish Triathlete Marc Austin, who staged a memorable race at the 2014 Commonwealth Games Triathlon event, said: "It's fantastic that the European Triathlon Union have signed the Host City agreement with Glasgow 2018. It's certainly going to be one of the biggest triathlon events we've ever seen in Scotland. It's just great to have these big events coming to Scotland."
As part of the inaugural European Championships in 2018 around 3,025 athletes will visit Scotland for six events (Aquatics, Cycling, Golf, Gymnastics, Rowing and Triathlon) while a further 1,500 athletes will compete in Berlin as part of the European Athletics Championships. The event will build on Glasgow and Scotland's track record of hosting major international events including the 2014 Commonwealth Games, 2014 Ryder Cup and 2015 World Gymnastics Championships.


EUROPEAN CHAMPIONSHIPS BOARD AGREES 2018 MULTISPORT PROGRAMME
Compelling 10-day television schedule starts Friday 3 August
Sports competition begins with one day of qualifications Thursday 2 August, runs through till Sunday 12 August
The 2018 European Championships Board has finalised the sports programme for the inaugural multisport event in Glasgow and Berlin.
The seven European Sports Federations, along with co-hosts Glasgow and Berlin and the European Broadcasting Union (Broadcast Partner), have agreed on a sports competition schedule that will run through Thursday 2 August to Sunday 12 August 2018 with 10 days of television coverage starting Friday 3 August.
The European Championships is a major new multi-sport event taking place every four years fully supported by Europe's free-to-air broadcasters, which aggregates the existing senior continental championships of Athletics (European Athletics), Aquatics (LEN), Cycling (UEC), Gymnastics (UEG), Rowing (FISA), Triathlon (ETU), with a new Golf Team Championships (ET & LET) – all unified under a common brand.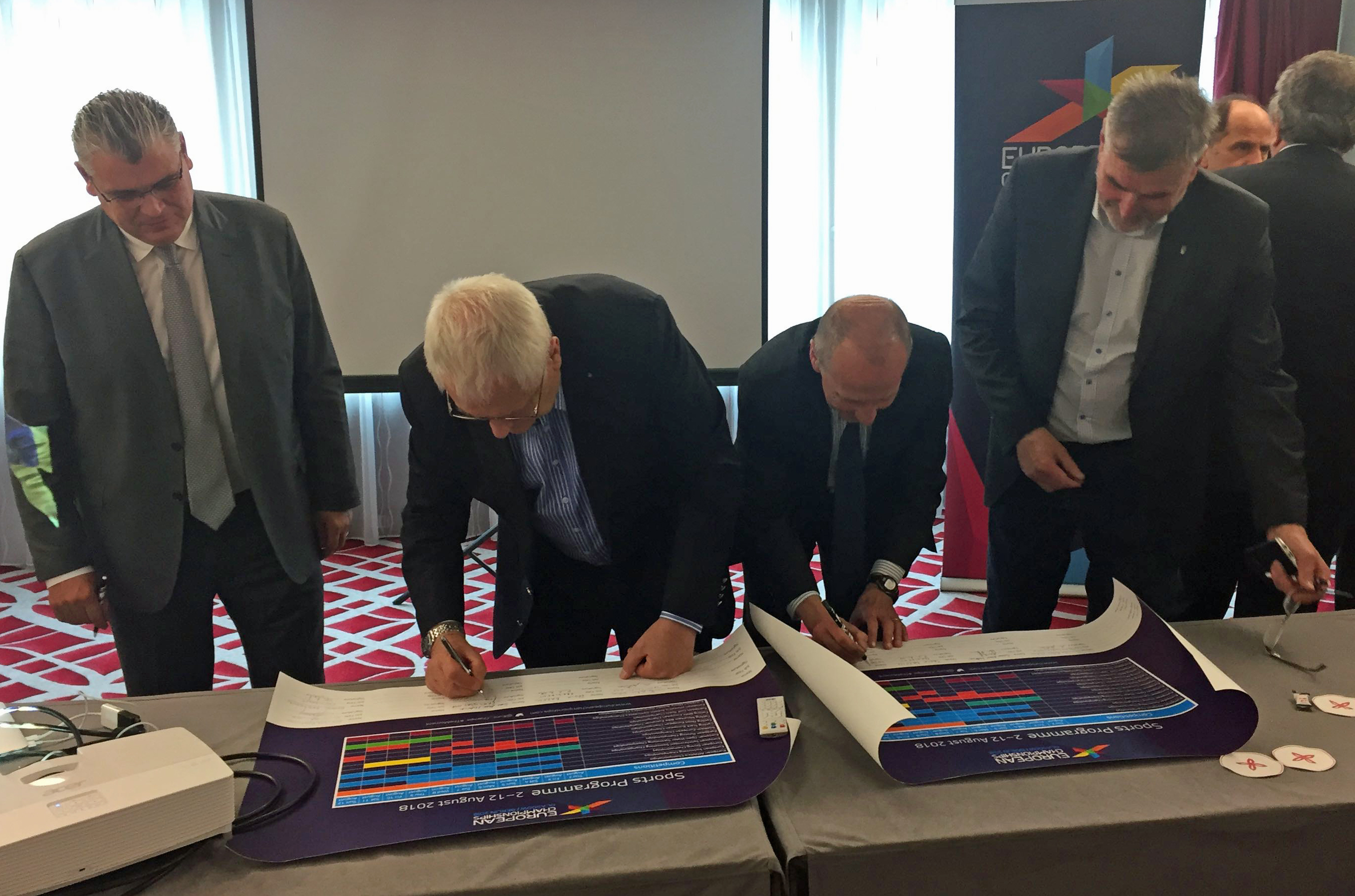 European Athletics President Svein Arne Hansen, co-chair of the European Championships Board, said: "The European Sports Federation members of the 2018 Board are fully supportive of having an overall programme that will deliver a schedule packed with exciting finals and gold-medal moments for television. We all believe in the power of aggregation and the benefits for our sports that come from bringing our championships together in this exciting new event."
Fellow co-chair Paolo Barelli, President of the Ligue Européenne de Natation (European Aquatics), said, "The sports programme in Glasgow will start with a number of qualifying rounds on Thursday 2 August before a packed weekend of sport on television starting on Friday 3 August. This optimised 10-day television program will create a fantastic viewing experience with audiences able to follow finals in multiple sports across the day and evening, with great storytelling opportunities for broadcasters. Indeed, it will intensify even further the power of aggregation that this European Championships provides."
Stefan Kuerten, Director of Eurovision Services and Sports Rights, said: "We are very happy with this exciting 10-day television schedule for the 2018 European Championships. In a multi-sport event, you can choose between the different sports and the opportunity to follow your national athletes across a variety of sport. Television and radio channels will be able to switch from one highly attractive sport to another without interrupting their program and digital platforms will propose a large choice of content which will accommodate all viewers. Furthermore, it creates a close synergy between Glasgow and Berlin, with broadcasters able to crisscross between events in both cities as they follow their respective national medal hopes."
Latest
Videos
---
Latest
Event Galleries