NEWS
France goes for the Sprint in Châteauroux
By Paul Groves
|
18 Jul, 2015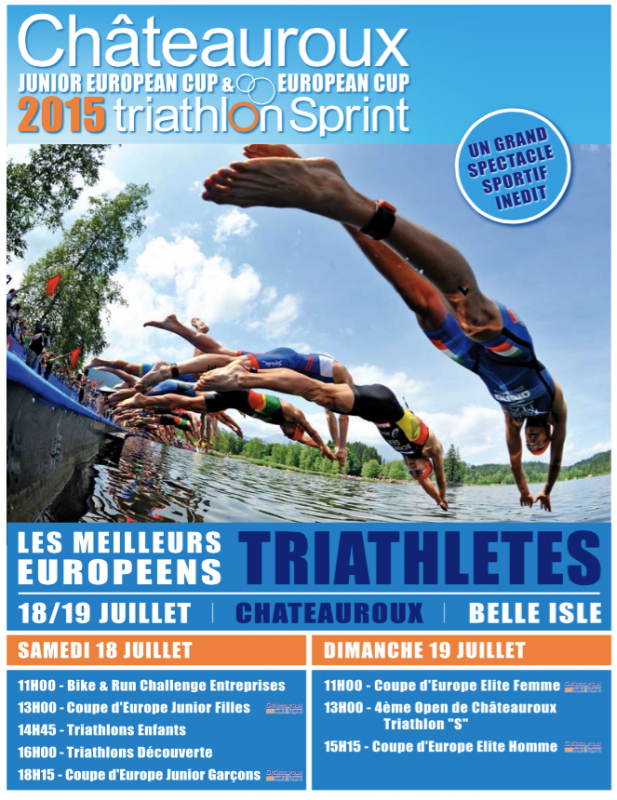 Last weekend provided us with such excitement it was almost a finale but life goes on, points are there to be won and many athletes, team managers, coaches and technical officials have made a short jump across Europe to the three events this weekend on our calendar.
Closest, is the 2015 Châteauroux ETU Triathlon Junior European Cup and the 2015 Châteauroux ETU Sprint Triathlon European Cup.
These races are very important for the French Federation as this will be the venue for next year's Elite Sprint Championships following detailed discussions between the French Federations Vice-President, Dominique Frizza and the city authorities.
The Juniors race today in the afternoon and the Elite will be racing tomorrow, also in the afternoon.
There is an LOC results service, which will be providing provisional results, but of course the final results can be found on the ETU event page above.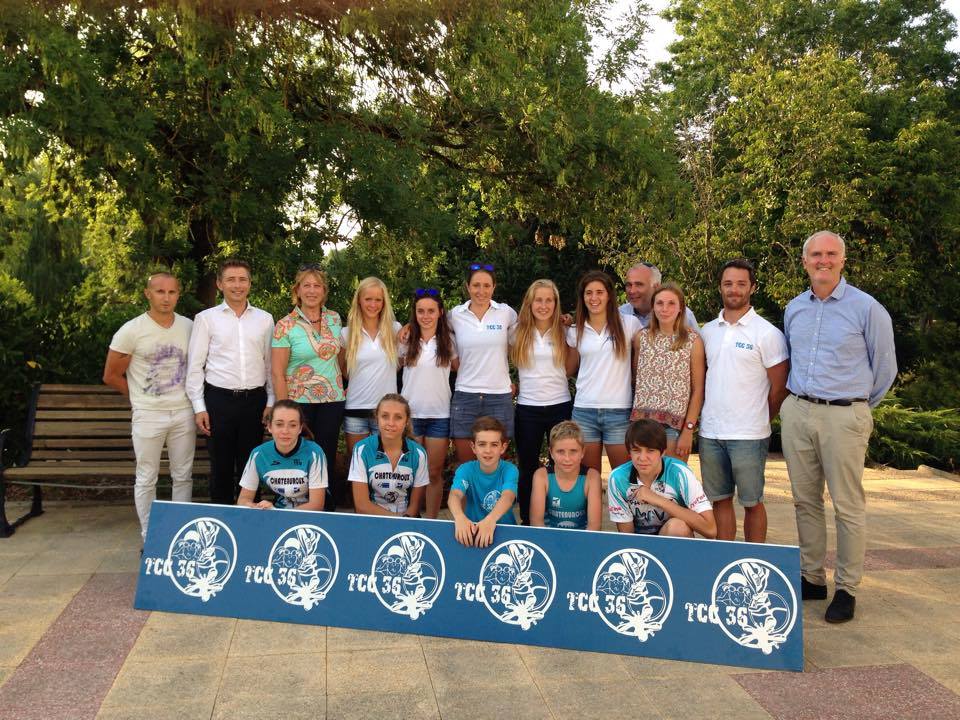 .
As the athletes were arriving it was a warm welcome that was given to them by the local triathlon club Triathlon Club Châteauroux 36 in conjunction with the General Councillor of L'Indre region, Mme Petitpez, the mayor of Châteauroux and the President of Châteauroux Métropole and Mr Fleuret head of sports at the Town Hall of Châteauroux. It was a chance also to say thank you to the many volunteers who have done so much for the event. Visit their Facebook page and see more photos from the event.
The Junior Women will be racing first. With the highest ranking is Dutch athlete Jeanine Kocken. Her bronze in Burgas was followed by a tough battle in Geneva. Next up and from the Czech Republic is Jana Macháčová. Highest place this year was a fifth in Vienna but with faster run pace than Kocken, if she has a good swim then these two could work well together on the bike. Watch out for Amber Rombaut BEL. One of the younger juniors, her improved time over this distance in Geneva from 2014 shows that she is getting faster and stronger. Coming over from Canada and having already experienced the wonderful summer we are having in Europe at the Holten race, Holly Henry is joined by three other Canadians. A start list with 30 juniors from 7 nations, the French Federation is using this event to bring onto the international circuit a new team of junior women.
Watch this space!
The Junior men start list shows 50 athletes from 14 nations. Amongst those non-European athletes, we have visitors from Uruguay, Japan, Canada and Bermuda. It is great to see so many athletes coming from overseas. Leading the ranking is Matthew Roberts, the Australian who took bronze in Holten behind Norway's Iden. Charles Paquet takes second place with Denmark's Daniel Bækkegård who was a strong 10th in Geneva but then part of the explosive force of the Belgium Junior Mixed Relay team that took bronze. His swim and bike did so much to bring his team to the podium. He will be well-prepared and is clearly in good form as he comes to this race.
With the Juniors racing Saturday it will be a wait, watch, cheer and chill-out for the Elite as they race Sunday.
The women's start list looks impressive. Leading the rankings there is German athlete Lisa Sieburger. After a disappointing DNF in Geneva, she will be keen to get back to form. She will be up against GB's Heather Sellars who had a good performance in the tough conditions in Baku and who comes to this event with lots of St Moritz high-altitude training in her legs. French hopes will be for top five places for Julie Nivoix who recently celebrated a Bastille birthday and Leonie Periault. Italy will be looking for a fast swim from Alessia Orla who had a top ten place in Tartu recently. Watch out for Lauren Dance RSA who took a silver behind Bermuda's Flora Duffy in Cape Town. With the second biggest team, it is Irish National Champion Carolyn Hayes who leads 7 to the competition. It was really good to see not only a strong Elite presence in Geneva from the Irish Federation but also increasing numbers of Age Group athletes racing on the ETU and ITU Circuit.
16 nations will race for medals and points.
Amongst the 58 Elite Men from 19 nations we have athletes from Australia, Brazil, Canada, Mexico, Namibia and New Zealand. ETU races remain a major attraction for athletes from all over the world. But who is in the running?
Well, leading the rankings this weekend is Drew Box AUS. With a top ten in Holten last year he will have to do battle with the very much in form Aurélien Lebrun who had such a stunning run to finish with gold in Holten this year. The both better watch out for Uxío Abuín Ares. This Spanish athlete from Galicia won Madrid in style, is the 2014 Spanish National Champion and bronze medal winner in the Melilla race. On form and having missed the chance to defend his national title in Pontevedra, is out to show just how strong he is.
French hopes will rest with Brice Daubord winner of the gold in Burgas and a bronze in Holten. Norway will be testing their powerful junior, Gustav Iden winner of the Junior Race in Holten in this race, rather than the junior event. Amongst these older ranks will also be the Belarus athlete Mikita Katsianeu who as a junior has been on the podium three times already this year with a bronze in Vienna, a silver in Kupiškis and a gold in Burgas.

It's going to be fast and furious and if you are in the region then make your way there to see the races. All photos can be found on the Triathlon Club Châteauroux 36 page.
---
Article gallery
Related Event: 2015 Châteauroux ETU Triathlon Junior European Cup
Latest
Videos
---
Latest
Event Galleries