NEWS
Elite spills and thrills. Crowds get to see one of the most dramatic finishes of the year in Holten
By Paul Groves
|
05 Jul, 2016
The Juniors provided excitement, a clean sweep for the British women and a gold for their athlete Sam Dickinson and now it was time for the Elite to step up to the mark. The rain had made the roads slick and the risk of a spill out on the bike was high.
The volunteers stood their ground and lined the course. The atmosphere in Holten really is amazing, with everyone feeling and being part of the race. ETU Executive Board Member, Eugène Kraus, was present and summed it up, "Holten heeft het beste vrijwilligerskorps van heel Europa". (Holten has the best volunteer team in Europe). His comments were echoed by the numerous athletes as they finished their race, speaking enthusiastically about the volunteers who, despite with wind, rain and sunshine, remained at their posts, dedicated to making their event a success.
For the Elite Women, there was every expectation that once again we would see Lucy Hall and Jessica Learmonth lead the swim and then pull away on the bike. The British duo had done this successfully this year and this success was measured in the three Golds and a Silver collected by Hall and a Gold and a Silver for Learmonth. They would however, be up against the ever consistent Yuliya Yelistratova UKR. She gives 100% each time she races and her grit and determination was seen last year when, following a terrible crash in Kyiv, at a race she clearly had hopes of winning, she returned to form way ahead of her medical team's prediction to take the ETU Ranking Series title once again.
Indeed the swim saw Learmonth and Hall joined by Russia's Anastasia Abrosimova. Valentina Zapatrina RUS was slightly off the pace out of the water and lost further time in transition. Yelistratova was over 30 seconds down and facing a hard bike if she wanted to catch the leaders.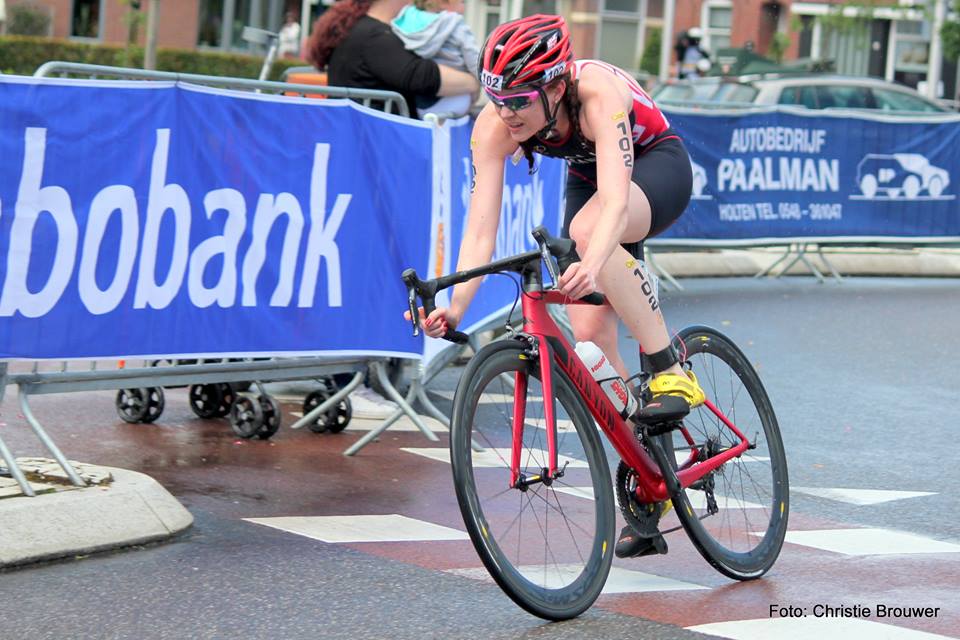 The bike course, over 2 laps, was where we fully expected the Brits to pull away but this is a Sprint Distance and with only the very small advantage they had created in the water, the pressure was even greater upon them to work hard and build the gap. Pushing 43 kph, they did their best.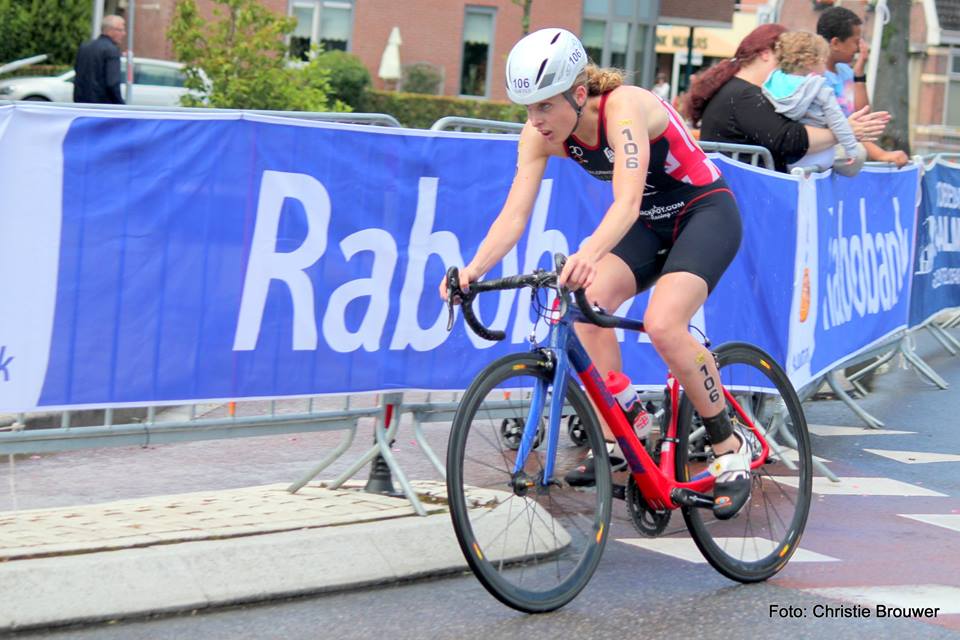 With the sunshine on their backs, it was Hall, Learmonth and Abrosimova who chain-ganged along at pace.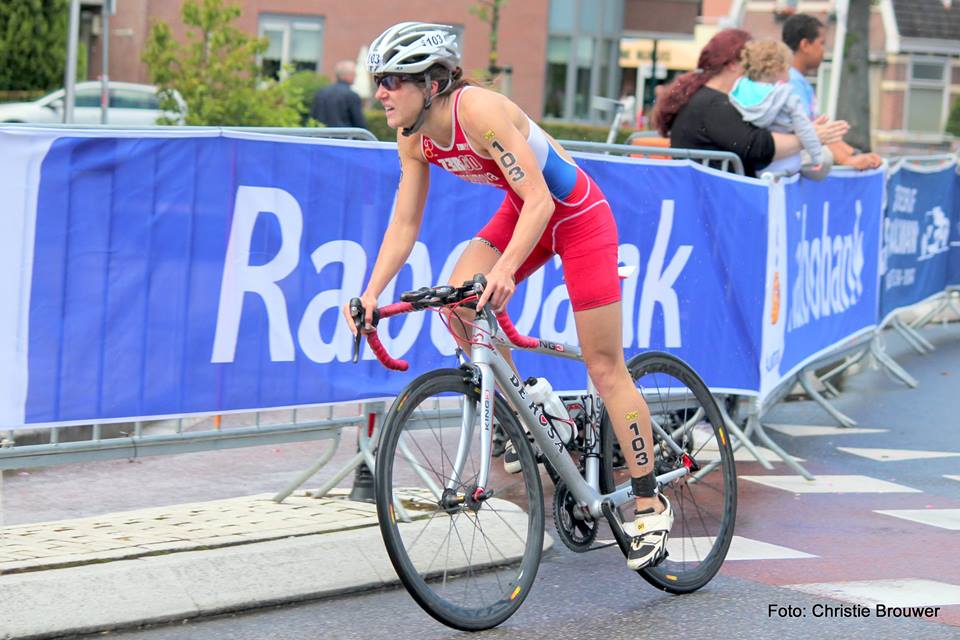 Behind them the pack was working to try and catch them but also to avoid the risks of a crash.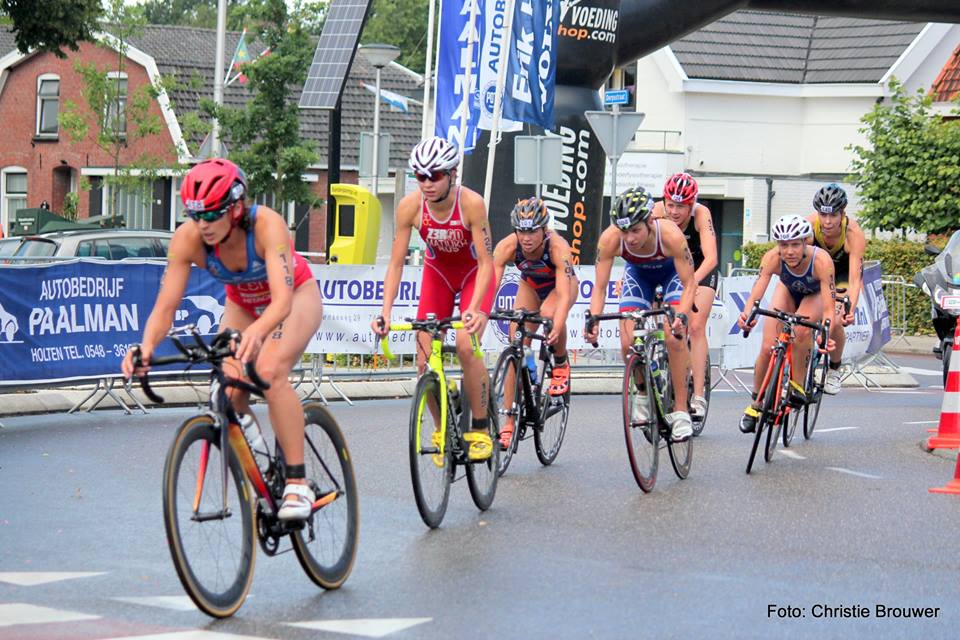 Sadly for them as they were turning to the right and riding across some road markings onto a different road surface, a skid on the slippery road took them both down (check out the video link at the bottom of the page at 1:39).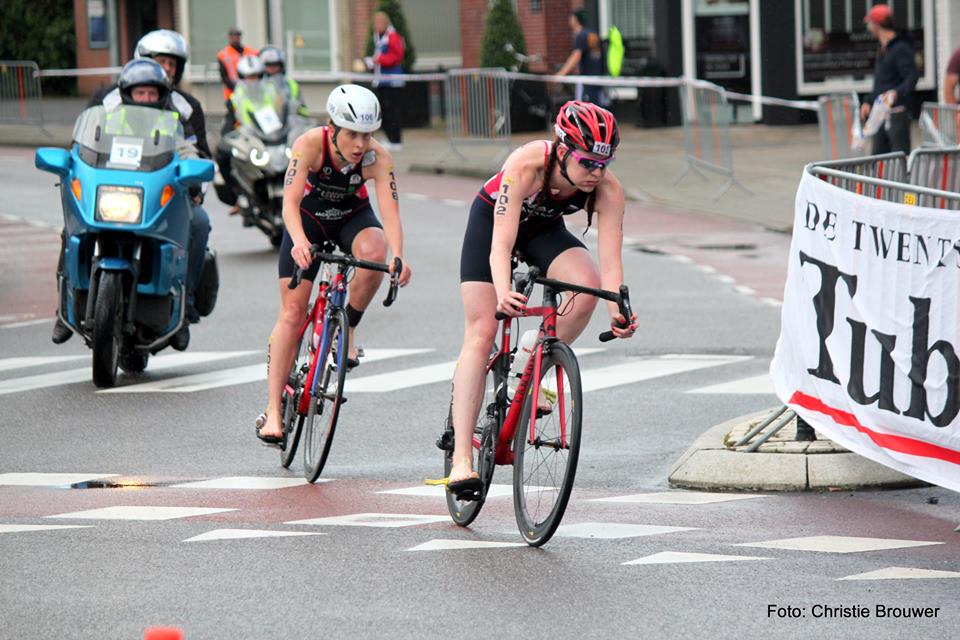 The crash was more of a slide and although it would have been painful after the race and would have taken off a layer of skin but despite this they were quickly up and riding again and, without Abrosimova, led into T2.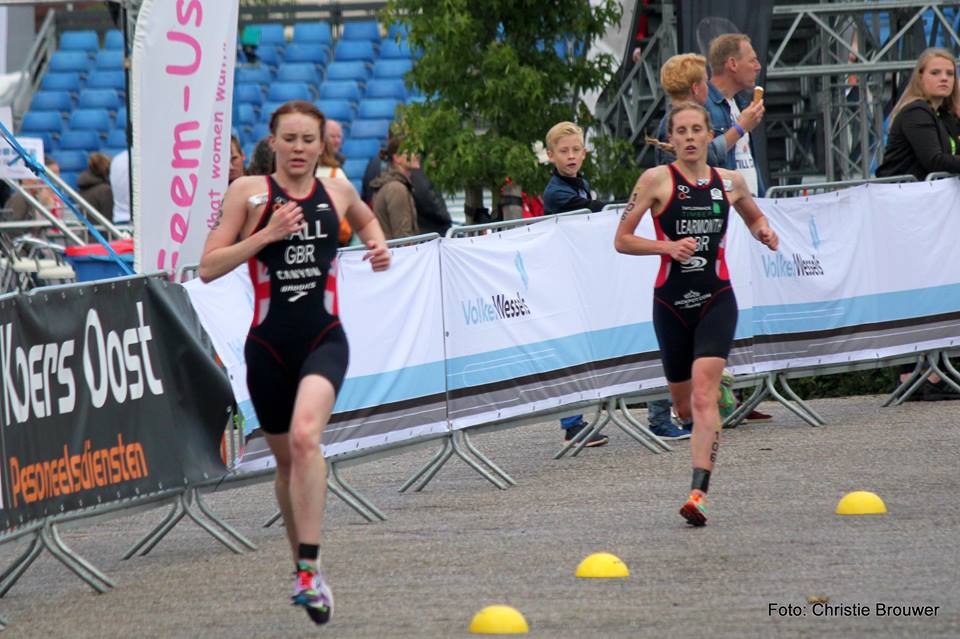 Perhaps due to the aches and pains of the crash, they were not so fast in transition but nevertheless led out onto the run. The road rash was clearly visible on Hall's back and would now be hurting.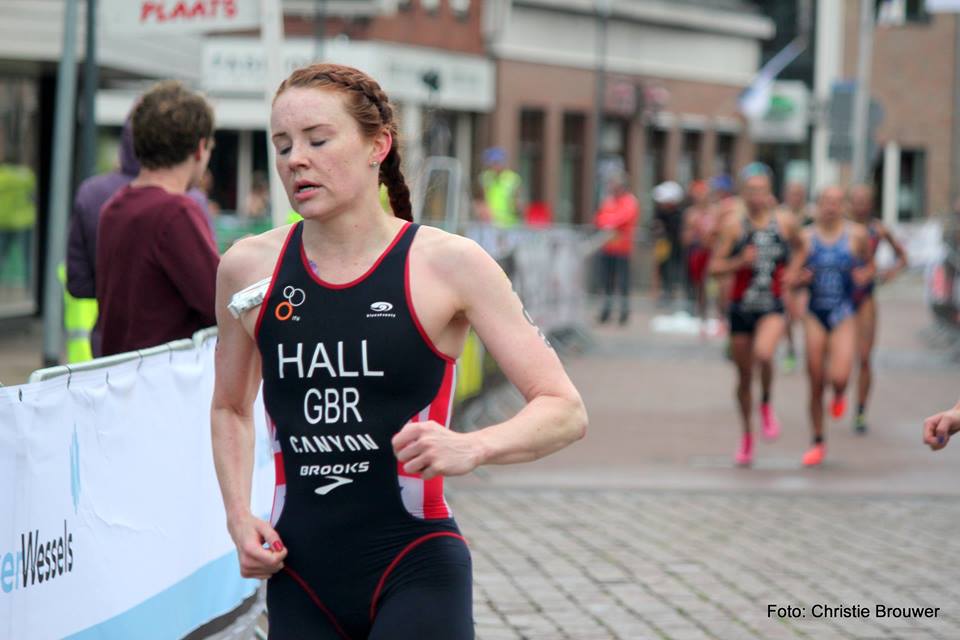 Behind them however and with the British uniforms clearly in their sights, came a pack of athletes, hunting the wounded Brits down.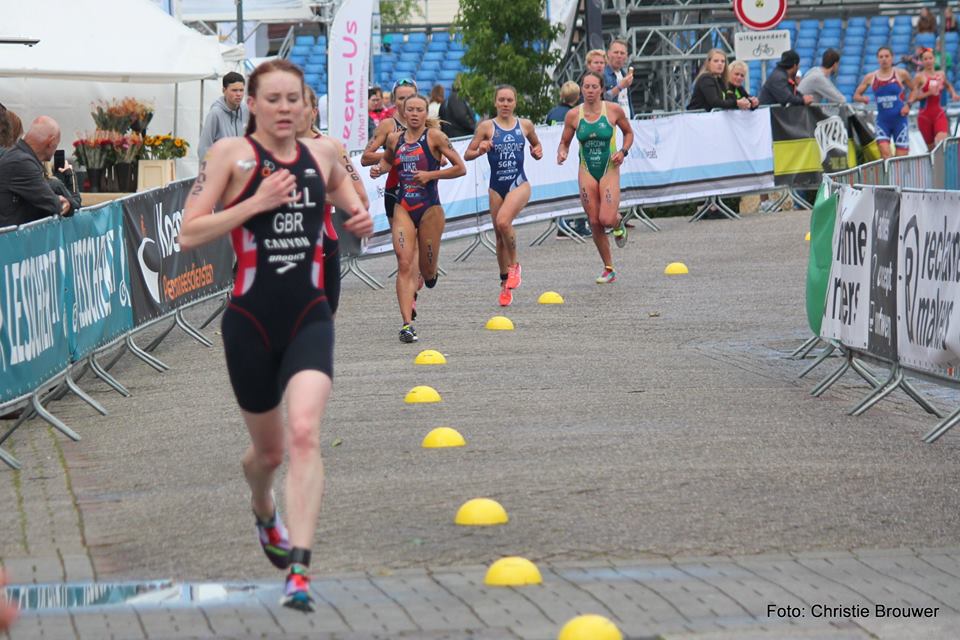 Yelistratova was running with Italy's European Duathlon Champion Giorgia Priarone it would be a massive test for Yelistratova against the Italian who had shown awesome pace off the bike in Kalkar. She also had France's Justine Guerard and Australia's Emma Jeffcoat to deal with.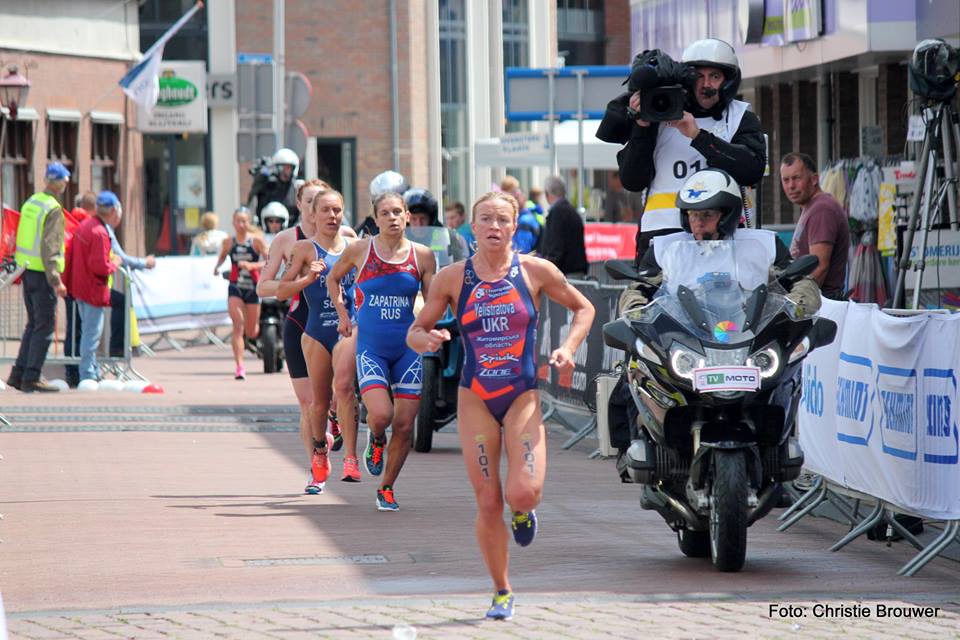 Pulling to the front as they entered the square, Yelistratova could see the huge TV screen and that told her exactly what she had to do. Zapatrina had made her way up through the pack and was a serious threat as they have previously raced and Zapatrina has beaten her. Priarone was still a threat but Hall was looking less of a challenge, after the crash.


Getting closer and closer to the blue carpet and the three were still locked together.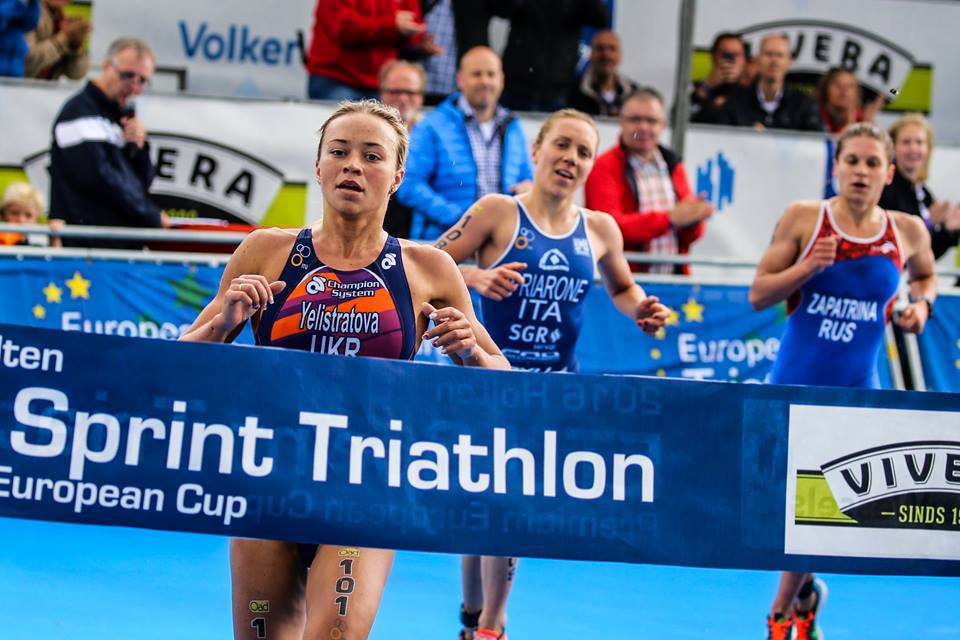 Focussed and with just enough pace, it was Yelistratova who held on to the top place, with Priarone taking silver and Zapatrina, despite the fastest run of the day, had to settle for bronze.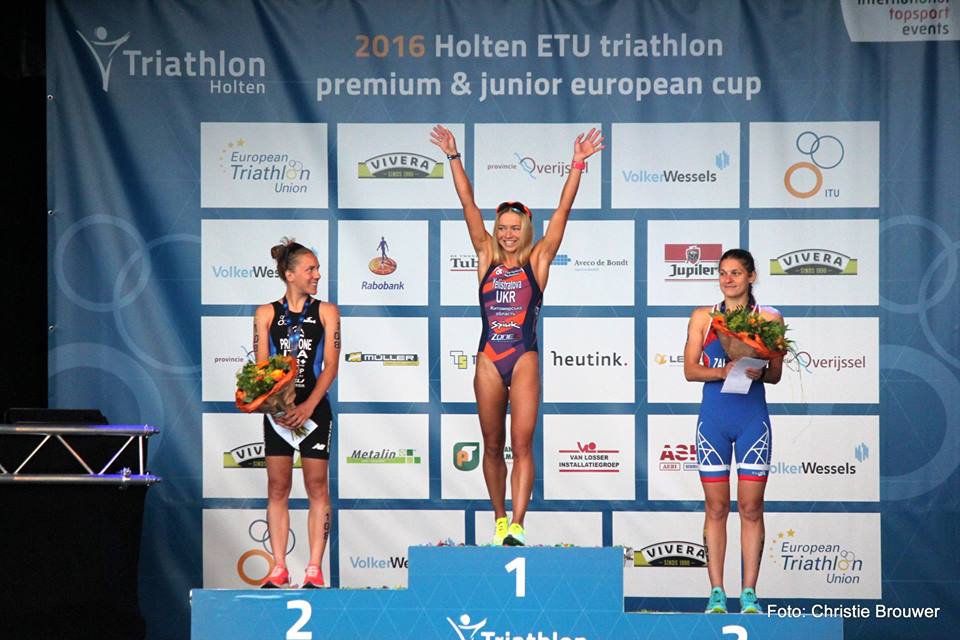 After the race, Yelistratova said, "Amazing feeling to win sprint finish for the gold of Holten Premium European Cup! (which was first European Cup stage for me this season). I'm very grateful to my husband and coach Vladimir Turbaevskiy for efficient preparation (which is never easy in the altitude)."
The crowds had been treated to a fantastic race and knew there was more to come. They did not know, however, just how exciting the men's race would turn out to be.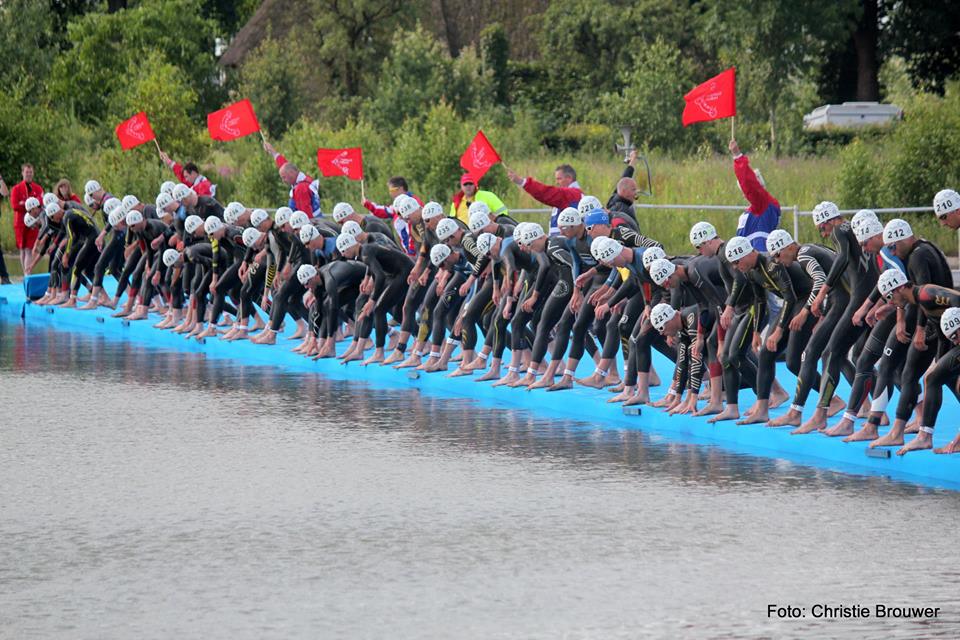 The swim was led out by a Kiwi fish, Tayler Reid who last raced at Weert.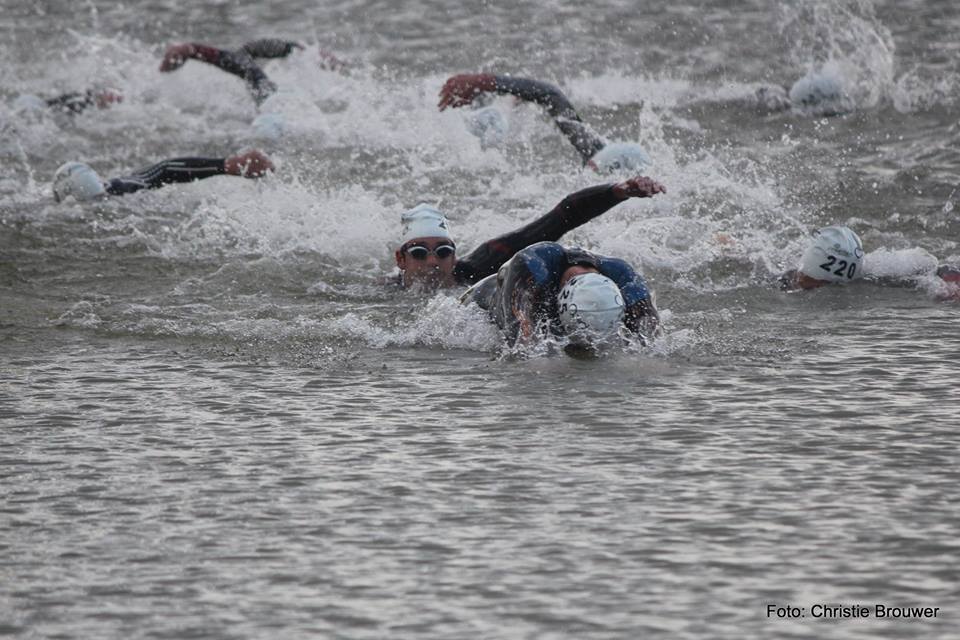 His advantage over the chasing athletes was slim and soon there was a steady stream of athletes chasing up to T1.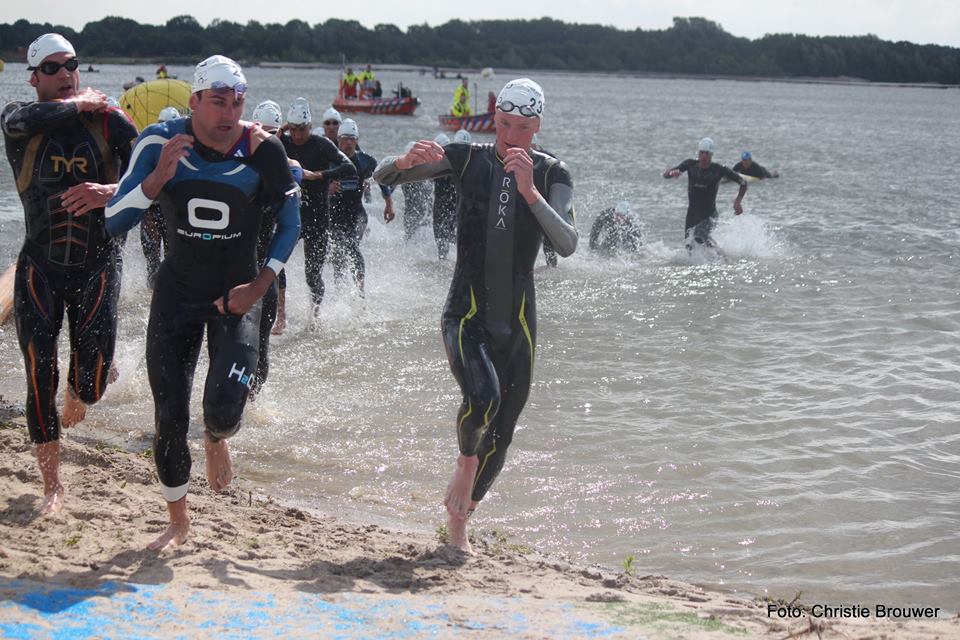 Amongst them were Jorik Van Egdom, Daniel Hofer and Simon De Cuyper, representing Netherlands, Italy and Belgium respectively. With the shorter swim, Van Egdom was well-placed to use his bike power. Hofer, ever strong would work with him and De Cuyper, powering on the bike, could help break up the peloton.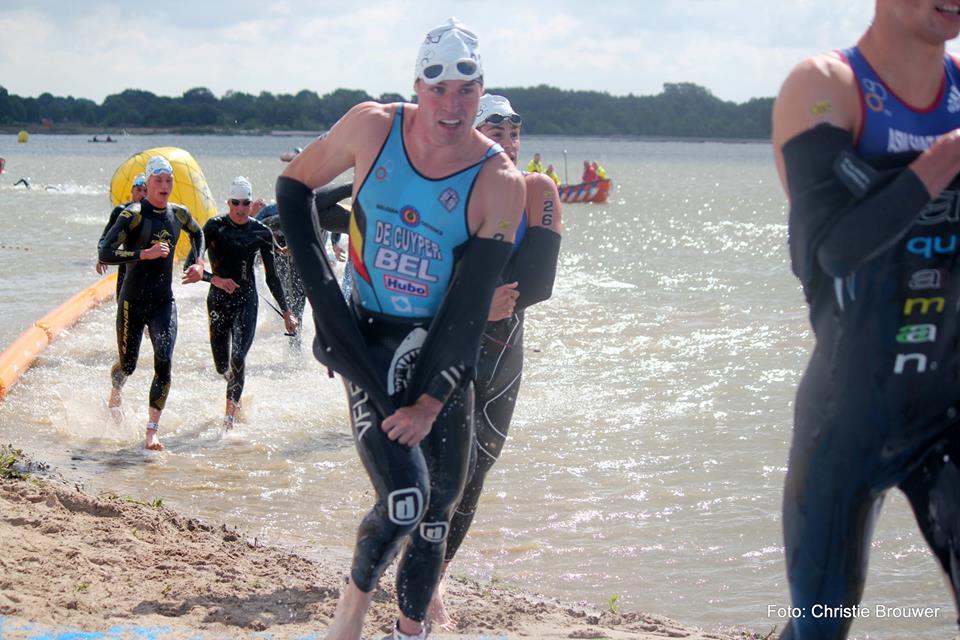 In fact it was Léo Bergère FRA who chose to hit hard on the climb and used Holterberg to his advantage to pull away from the peloton. For him, however, it was a DNF soon after starting the run and after his escape had been countered by the pack but for the five who crashed in a pile up as they entered the woods (1:43 on the video that can be found at the bottom of the page) it was an earlier finish.
De Cuyper led the men out of T2 (2:06) with Seth Rider chasing him. Tom Richard FRA looked comfortable at the front of the group as the 5k settled. With nine men at the front, fighting for just three medals it was clear that the pace would be cranked up as high as they could. Richard and Van Egdom were there. De Cuyper was there and tucked in was László Tarnai HUN, Nathan Grayel and Raphaël Montoya both from France but with the difference that Montoya was the 2014 World Junior Champion, who had in fact won a race here way back in 2011.
Grayel pushed the pace and the group went with him. De Cuyper led into the square, with Tarnai behind him. The lead he had of a few metres looked enough for him to take the title and to improve upon his bronze in Riga last year. The crowds were then shown just how much of a knife-edge our sport is balanced upon. De Cuyper's left foot buckled and he fell. Tarnai went left and almost missed the finish chute. Montoya's long strides took him to the right. De Cuyper struggled to his feet and it looked as if he might just salvage the bronze but even that was denied him by a faster finishing Grayel. (4:19 on the video).

He later posted a different view on his Twitter feed. "Soit, serieus vloeken aan die finish… Maar dat gaat er achteraf niet veel aan veranderen… Positieve was dat ik vandaag een goede race deed, en in een sterk bezette Europabeker bewees opnieuw vooraan mee te kunnen strijden… De komende twee weekends herkansingen in de Europabekers van Tartu en Altafulla." (So, some serious cursing at the finish but that won't change anything. Taking something positive from it all, I had a good race today, against quality opposition and showed again that I can race with the best. The coming couple of weeks will be more chances at the European Cups of Tartu and Altafulla.)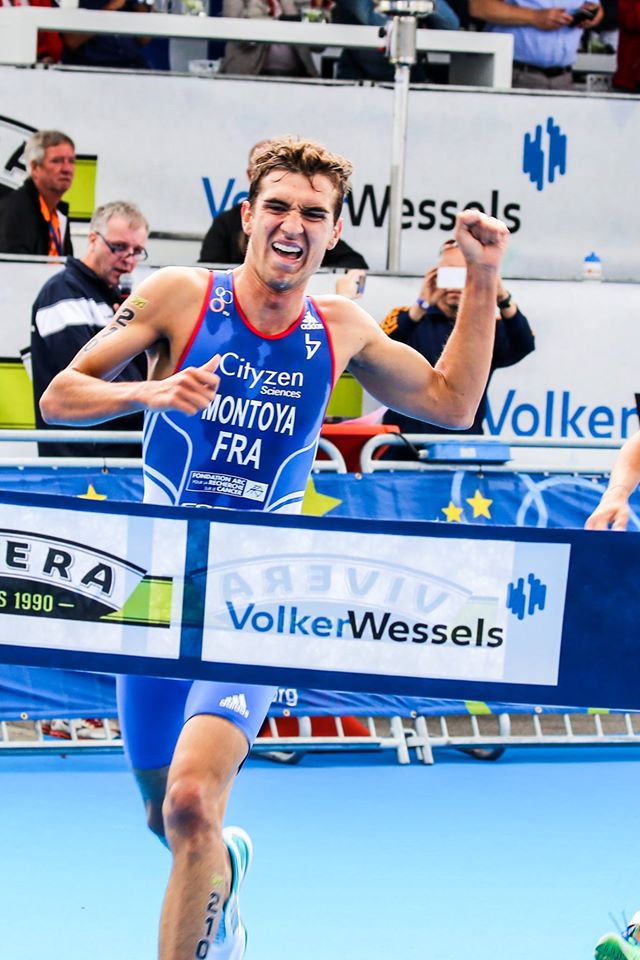 Gold went to Montoya, silver to Tarnai and bronze to Grayel. Montoya later said, "Holten 2011 : Je claque ma première Coupe d'Europe Juniors. Holten 2016 : Je gagne ma première Coupe d'Europe Elite. J'espère que ce sera aussi prometteur pour la suite que mes années Juniors." (Holten in 2011, I won my first ETU Junior Cup. Holten 2016 I with my first ETU Premium Elite Cup. I hope this is a good omen for the remaining years I have as a Junior!"
Holten celebrated 32 years. Sit back, turn up the volume on your computer and enjoy their video.
Oh – if you want to race here next year, they have started planning for the race already. Elite and Junior races will be held but of course there will be open races over various distances. Holten is easy to get to, there are numerous hotels in the area and without doubt, the atmosphere is one you will never forget.

ETU would like to thank Christie Brouwer and the LOC from Triahlon Holten for the photos. As soon as we can get some more images of the men's race we will upload them.
---
Article gallery
Related Event: 2016 Holten ETU Sprint Triathlon Premium European Cup
Latest
Videos
---
Latest
Event Galleries