NEWS
Duathlon titles to be decided this weekend in Viborg
By Paul Groves
|
08 May, 2019
The ETU-Powerman tradition is set to continue this weekend and the venue is once again going to be Denmark. Located this time in the City of Kings, Viborg, athletes from all over Europe and a few guest athletes from further afield, will race the 10k-60k-10k course around some fantastic roads, with view of the ancient city and a finish just in front of the cathedral.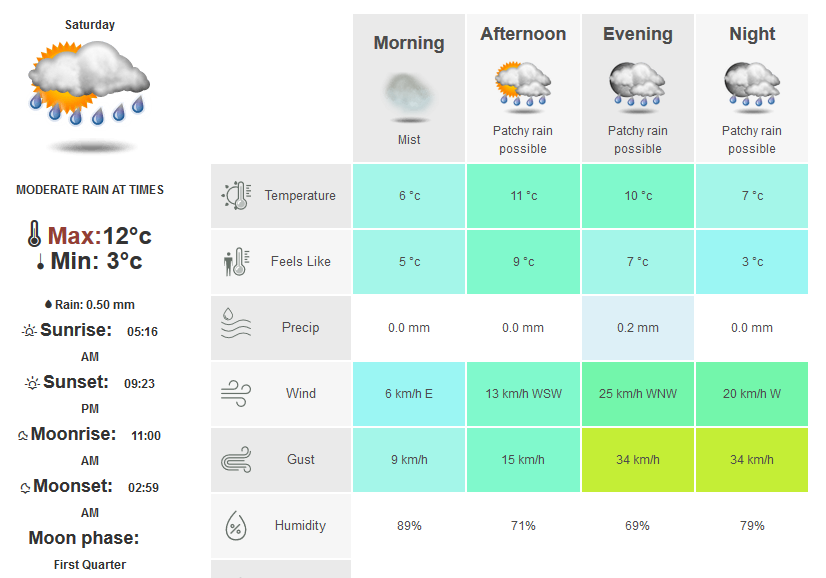 The weather is not looking too good for the duathletes but with luck, the worst rain will not arrive until after the race has finished.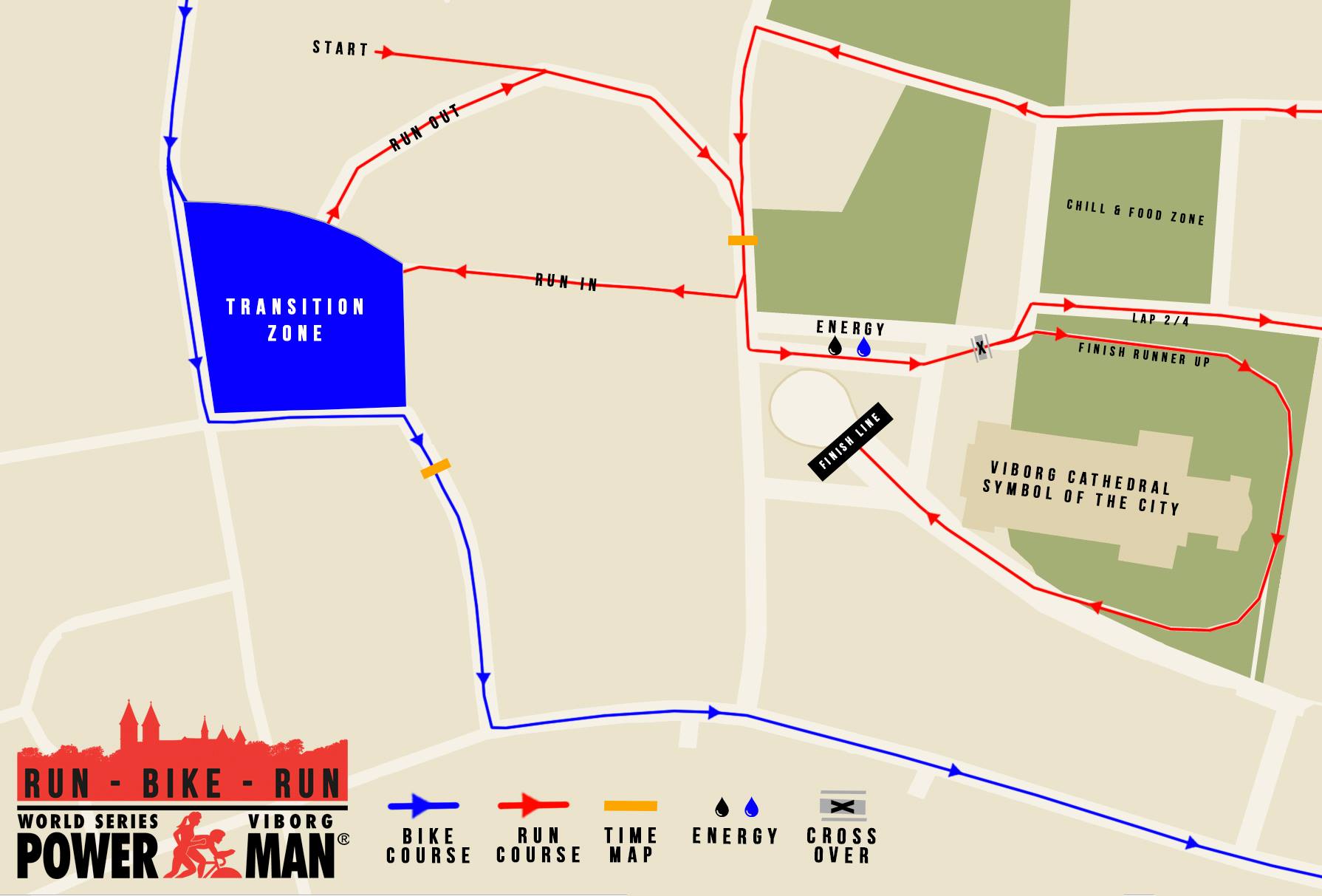 The focal point of the race with an abundance of cafés, bars and restaurants, is likely to be the old city square. Easy to watch the athletes on their first leg through the city streets.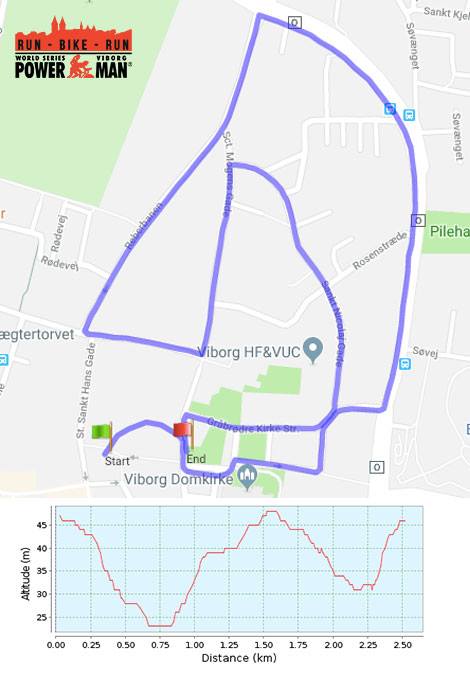 Then they head off for the bike.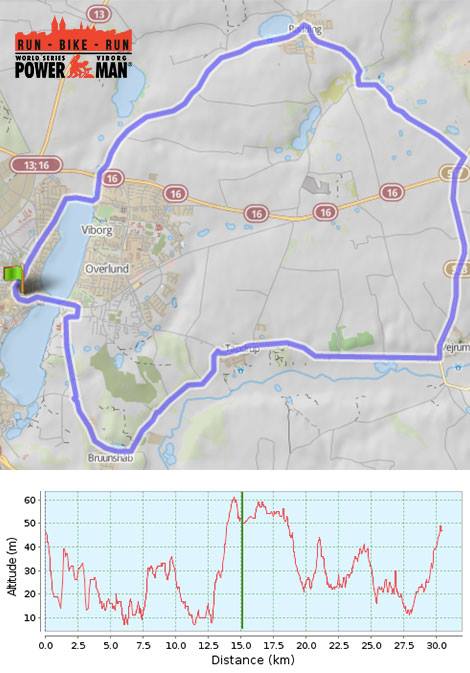 Click here for the Athletes' Guide.
ETU Vice-President, Chris Kitchen, who chairs the ITU Multisport Committee, will be there.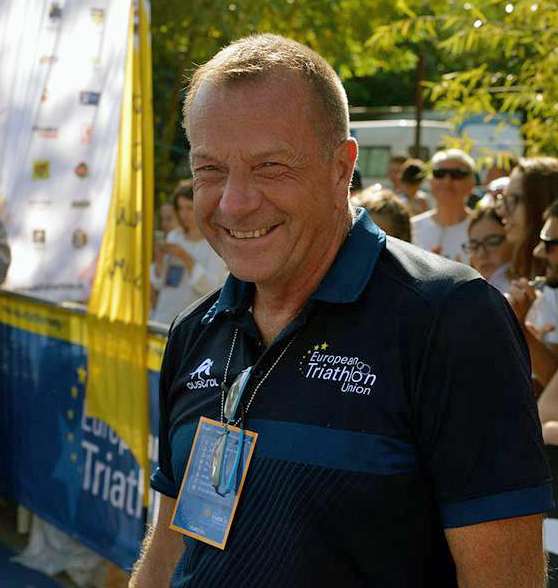 "This is a showcase event, bringing together duathletes from all over Europe who are committed to testing themselves over a challenging course, where there is no drafting. The Powerman Classic Distance is an attractive one for those who are building up to the real test that comes at the end of the year in Zofingen and it is always nice to see athletes who have raced at the ETU-Powerman events as they cross the finish line at the ITU-Powerman Championships.
I would like to thank Jacob Sonne-Schmidt and his team, who have been in close cooperation with John Raadschelders and the ever-reliable team of technical officials for the hard work they have put in to bring this event to the calendar and wish everyone; athletes, officials, volunteers, spectators and duathlon fans, a very successful ETU-Powerman Championships this weekend."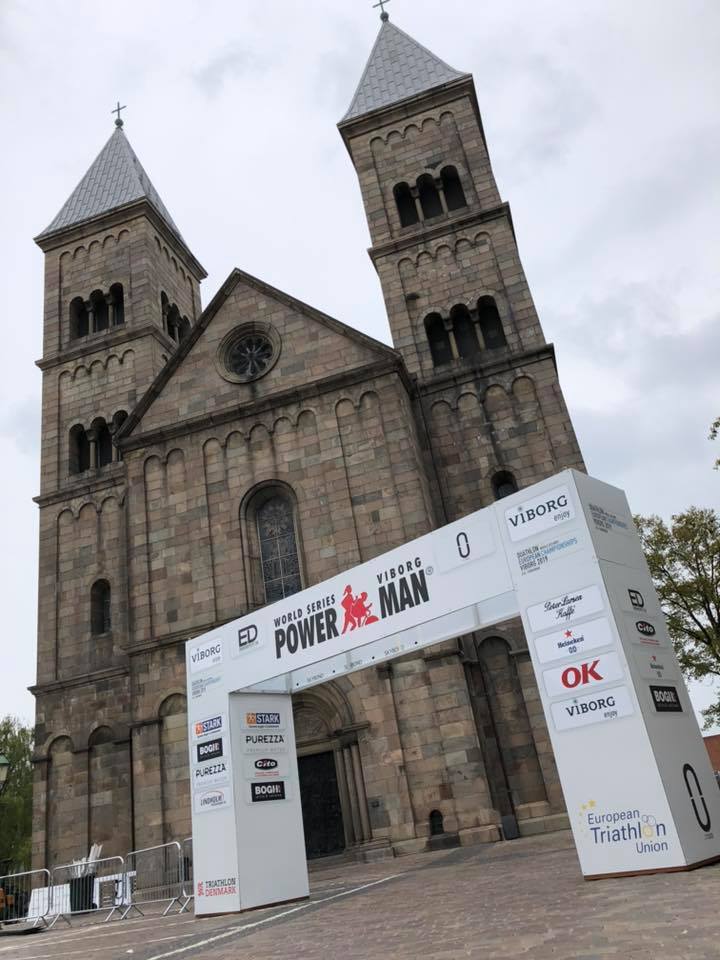 Who is likely to be on top of the podium?
Sadly we will not have the chance to see the amazing pace of Gaël Le Bellec this weekend. The three times World Powerman Champion was involved in a crash at the Michigan Powerman over the weekend. In pretty dramatic circumstances, Gaël was in a bad way but fellow duathlete, Matt Smith had no hesitation in stopping to deliver the much-needed first-aid and in so doing sacrificed his own race. This was a crash far worse than his bonnet-rolling experience a few years ago in Northern France and on behalf of ETU and the whole Multisport Family, we wish Gaël a speedy and complete recovery.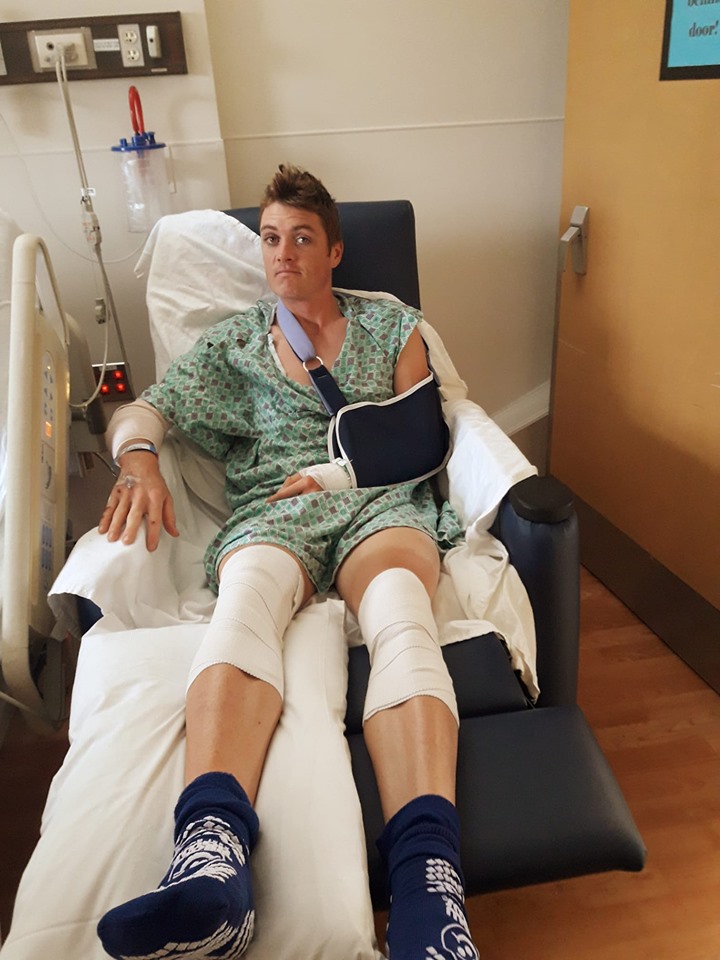 "Les années post titre mondial ont souvent leur dose d'action et de réflexion! Merci pour vos messages, mon corps a souffert mais je suis bien entouré ici à l'hôpital St Marie de Saginaw (MI). Un grand merci à un super athlète et un homme bien qui a arrêté son effort pour me venir en aide. Enorme respect Matt Smith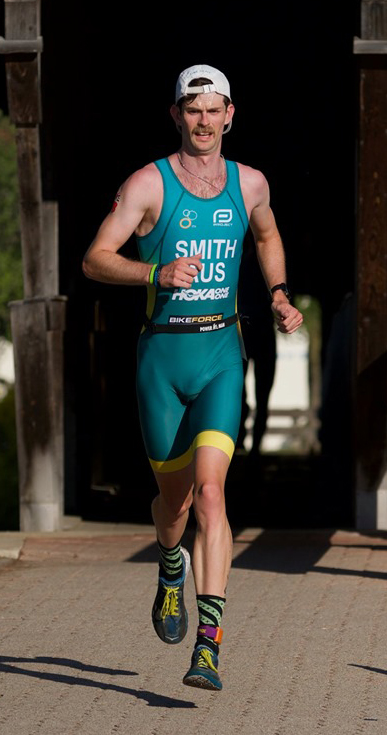 World title years usually have their dose of action and reflexion! Thanks for your support, my body has suffered but I'm well taken care of here in St Mary's hospital, Saginaw. Special thank you to a great athlete and a great man who stopped his race to look after me! Huge respect Matt Smith."
It would have been a fantastic race between him and Seppe Odeyn but we heard this morning that Belgium's Seppe Odeyn, the defending European Champion has had to pull out following his illness after the Belgian Championships. "Suffered a lot during Belgian championship this Sunday ending 4th. Became sick on Monday and now have to cancel the European championship @powermanviborg . Trained really hard for this races so a big disappointment for me!"
Last year's results are here.

With such front-end talent absent, the race is now really open.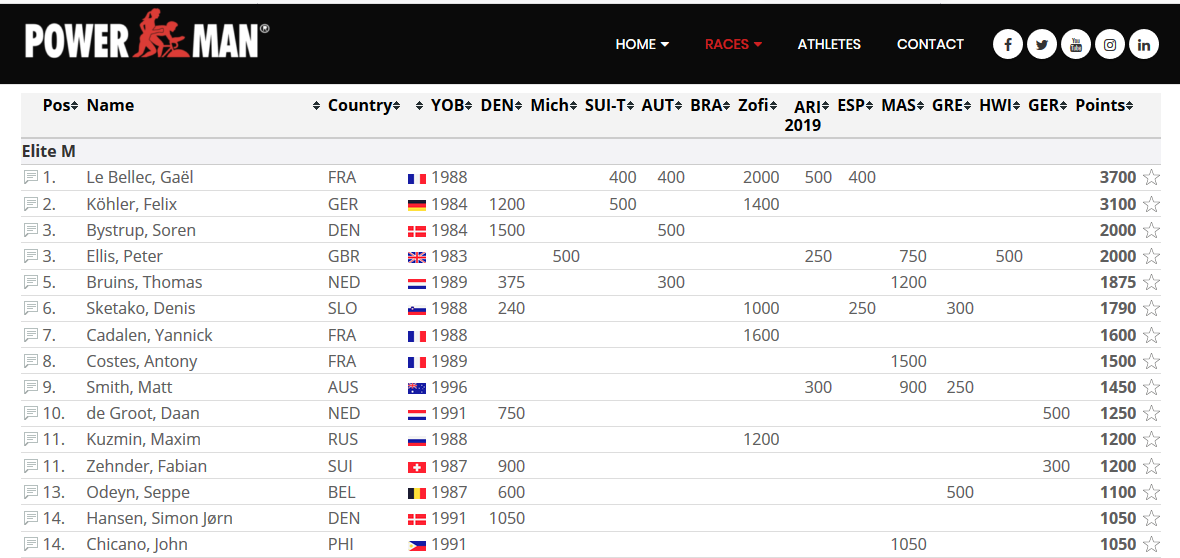 Odeyn's place will be taken by Sven Vandenbroucke, making his Powerman debut. He will be joining team-mate, Jan Petralia. As a U23 athlete he was strong, winning bronze at both the 2014 Weyer ETU Powerman Duathlon Junior and Standard Distance European Championships and at the 2015 Alcobendas ETU Sprint and Standard Distance Duathlon European Championships but his breakthrough race was the recent Powerman Alsdorf, where he won silver behind the man of the moment, Daan De Groot NED. 5th in Vejle last year, he is on top form and now looks good for a medal. Great Britain's Peter Ellis comes to the race with not only a recent 5th place in the 2019 Putrajaya ASTC Powerman Middle Distance Duathlon Asian Championships, but also a victory at Michigan last weekend. He started out as an Age-Group athlete, with golds in 2013 in Ottawa and in 2014 in Horst. Currently joint 3rd in the Powerman World Rankings, he is one to watch.
No doubt hoping that the home crowds will give him extra support, Kasper Laumann Hartlev has raced consistently over this and the full distance. Home advantage? Quite possibly.
Fabian Zehnder lost out on the final run last year and missed the podium by only a matter of seconds. 5th in 2017 in Sankt Wendel, 4th last year in Vejle, this could be his chance for a podium appearance. Great Britain's Ben Price lost time on the bike last year but still got a top ten finish. A reigning British Champion, he may well be able to use the pace he showed recently to get that title and improve. The weather might also play to his advantage. Matt Baker AUS, joins in the fun.
For the full start list, please click here.


For the Women, we have the top end of the internationally-ranked athletes on the start list.
Race favourite is the Swiss athlete, Melanie Maurer. Her recent form on the Powerman Series has shown her to be ready for this race. With a silver medal last year at the Vejle ETU Powerman Middle Distance Duathlon European Championships and at the 2018 Zofingen ITU Powerman Long Distance Duathlon World Championships, she is the one to beat but she will be up against the defending European Champion, Sandrina Illes AUT. Ranked #3 at the moment and with a bronze medal at the 2017 Sankt Wendel ETU Powerman Middle Distance Duathlon European Championships and as the 2018 World Duathlon champion and 2019 World runner-up, she used Pontevedra as a pre-championship test and knows that she is ready. Last year, she led from the very start and gave us a great, thrilling and impressive race.
Last year's results are here.

Petra Eggenschwiler SUI, currently ranked #2, comes to Viborg as the reigning World Champion. Zofingen this is not, but anyone who can claim a world title at the toughest Duathlon in the world, has a good chance over this distance. Her victory last year was a long time coming, having placed 6th at the 2103, 2014 and 2015 races. Germany's Katrin Esefeld has collected 7 World and European gold medals as an Age Group duathletes and triathlete, over all distances, 8 top ten finishes in Zofingen, with bronze in 2017 and was 4th in Vejle last year. Also from Switzerland, comes Nina Zoller. Having missed the podium in Zofingen with a 4th place in 2017 and 2018, she will be hoping to use Viborg as an early-season test for Zofingen, 2019.
Bronze medal winner in Viborg last year was Marina van Dijk NED. She will face stiff competition from two Brits; Alice Hector and Georgina Schwiening. Hector collected a bronze medal winner at the 2018 Ibiza ETU Middle Distance Triathlon European Championships and a recent bronze at Powerman Alsdorf. With consistent racing over the years, including a silver at Challenge Roma and having won Israman in 2014, 2016 and 2018, she could well surprise the more seasoned Powerman athletes. Schwiening's journey from junior to elite athlete has seen her collect a number of medals on the way. The youngest athlete on the Elite Start list, she needs to save something for the final run if she is to beat the olds.
Danish cheers will be for Marie Brandt Schultz. Her season ended last year with a top ten Zofingen place after a 6th place in Vejle.
This sort of distance in not only about the Elite. We have a small army of Age-Group athletes, from all over Europe, who have been training hard over the winter months and who, no doubt have looked out of the window this morning to what looks like an extended winter.
Our youngest category will see 18-19 yr-old athletes racing. There will be athletes filling up all the categories until the 75-79 category, with our oldest athlete being born in 1944. Athletes will come to defend their titles and for some, this will be an exciting new adventure; perhaps one that will take them to the ultimate test of their ability, Zofingen.
For Lasse Bæk Andersen DEN in the 20-24 Age-Group, he will be doing everything possible to upgrade his bronze from last year.
In the category above him is Belgium's Jonas Vandevyvere has won silver in Zofingen in 2016, 2017 and 2018. He won the ETU Powerman title in Copenhagen in 2016 and a bronze in Sankt Wendel in 2017. Missing out in 2018 in Vejle, he will certainly be hoping to claim a podium place this year but will face competition from Nicklas Hammerstrand DEN, who has the home advantage and who will be hoping to improve on his 2018 Vejle results.
In the 30-34 category, we can expect some thrills in the women's race. The 2016 runner-up and 2017 Champion, Virginie Soenen BEL has raced the longer Zofingen as an Elite athlete and has twice been rewarded with a top ten place. She will be up against team-mate Nele Vermeulen, whose tough off-road racing in Târgu Mureș gave her the Cross Duathlon title in 2017. 5th place Age Group result last year in Zofingen was some time behind Soenen. More used to the shorter distances, is Great Britain's Naomi Eaton, the 2017 World Duathlon champion over the sprint distance.
For the men, Lars Lomholt DEN will be hoping for a win, after being runner-up last year. Chris Bessemans BEL, was 4th in Vejle last year but will have a tough battle against Scott Williams GBR who came close to catching him with a powerful closing run.
Defending Champion, Hester Barsham-Rolfe GBR, will be back and have to work hard to keep Sanne Stjernholm Andersen at bay. The Dane had a bad first run in Vejle that gave the Brit the advantage but stronger biking and a faster closing run spells danger for Barsham-Rolfe. Add two Zofingen-experienced athletes to the mix and this could be an interesting category. Denmark's Louise Hoeberg and Romania's Diana Gal, claimed 5th and 6th place last year at the end of season Swiss event but keep an eye open for Louise Beasley GBR, who came 4th last year and whose power was shown in her victory in the 2017 ETU-Challenge, Almere Long Distance Triathlon Championships.
For the men, Cyril Ricci FRA would well push the defending champion, Mikkel Rosendal Larsen DEN all the way. Ricci has bene racing well on the Powerman circuit but Rosendal, with his powerful riding last year and emphatic victory, will be hoping to make this his third ETU title, having won in Herning in 2017. Bronze at that race went to Ebsen Lykkegaard DEN but he will have to work very hard to beat GB's Chris Roxburgh. His 2018 silver in Zofingen was a solid 2nd place, with strong riding. If he paces the runs well in Viborg, there is a podium waiting for him.
In the 40-44 category, Denmark's Maria Buchvoll will try to upgrade her 2018 silver. Having won bronze in 2017 at Sankt Wendel and having ended the 2018 season with a 4th place in Zofingen, she has shown that she's on good form.
Race favourite for the men is Karsten Dahl DEN. Runner up last year but with a victory in Zofingen, he will have Germany's Thomas Gogolin pushing him all the way. Gogolin won bronze last year to add to his Sankt Wendel bronze. Dahl will have to beware of the second run if he wants to take the title.
Kristina Beckendorf DEN, champion in the 40-44 category and will have the home advantage. Moving up an age-group this year, she held the World Long Distance Triathlon title, with her victory in Motala in 2015. She will face someone whose time was 5 minutes quicker and who will this year be defending her title in this Age-Group. From France, Benedicte Blanc comes here with a World Silver after Pontevedra where, despite powerful running, she was out-biked and lost out by just 12 seconds. Bronze last year went to Joanne Clark GBR.
For the men, defending champion, Pelle Grønberg DEN, will face both the silver and bronze medal-winners from last year. Edi Frauchiger SUI, was beaten into seconds place by just 17 seconds. While he went on to win in Zofingen, Grønberg collected two bronze medals in Fyn last year over standard and sprint distances. Neither could match the powerful riding of Germany's Matthias Jubt, who will be hoping that he can somehow find the run pace to upgrade his 2018 bronze.
There is likely to be a good race in the 50-54 category, with GB's Angela Joiner-Hardy moving up an age-group. Her 3:38 bronze medal last year is some way ahead of Diana Mull's 3:54, which won her bronze in this age group. The German athlete went on to win silver at both the on road and off road duathlon last year in Ibiza and came home from Pontevedra with a top five result in the Duathlon but Joiner-Hardy's two bronze medals in Fyn look as if she has a better chance for victory here. Kirsti Sharratt GBR, won silver in Sankt Wendel and also moves up a category this year. When you add to this mix, Jill Cliff who will be making her debut in this distance after a pretty impressive series of long distance triathlon events, including a visit to Hawaii and a 10:19 IM finish time in Barcelona last year, the Brits can be confident of a podium. Watch out too for Yvette van Wegen NED. Silver in Zofingen last year and she is now moving up a category. Could be interesting.
The defending champion is back this year. Jens Oluf Eriksen DEN will be racing against Lars Brix DEN who claimed silver. Both had a disappointing DNF in Zofingen and so will be hoping to perform well in this busy Age Group.
Stand-out favourite for the next category is Denmark's Carol Rasmussen. Her victory last year in 3:24, was then matched by a gold in Fyn in the Cross Triathlon Worlds. The DNF in the World Duathlon was a disappointment but then silver in Zofingen and a gold in Pontevedra, again in the Cross Triathlon, gives every indication that she is on form as she moves up an age-group. Karen Haley GBR won silver in this category in Zofingen and was runner-up last year in Vejle. She needs to keep the Dane in her sights to secure a podium place as there is a real threat from Germany's Suzanne Apfel who comes here after successful racing in Pontevedra gave her bronze in the Standard Duathlon Worlds and a silver in the Cross Duathlon.
For the Men, it is Ian Cardy who returns to Denmark with medals on his mind. Gold in Vejle, silver in Fyn and a bronze in Ibiza but having looked at the results he will see that the younger Dane, Rene Steenberg Olsen was a little bit quicker than him last year.
Moving up now to the 60-64 Age group and Else Grønkjær-Bloch DEN, the 2016 champion, will face Annette Blicher DEN who is new to the international scene. Grønkjær-Bloch rounded off her 2018 season with a bronze in Fyn over the long distance triathlon course and on paper should take the title here on Saturday.
Frank Schøler DEN, placed 4th last year in Vejle and looks good for gold unless Great Britain's Dean Hardie can convert his Pontevedra silver over the standard distance into the best race of his life.
With only men racing in the remaining categories, we turn now to the 65-69 Age Group and it looks good for Mogens Busk Sørensen DEN. With 4 world duathlon titles, 6 world silvers and the ETU Powerman title from Copenhagen in 2016, he comes to this event fresh from a bronze in Pontevedra. His teammate, Erik Mølgaard has, on paper, the pace to keep any threat from Britain's Richard Hardy.
In the 70-74 age-group we will have the pleasure of watching Mick Anglim GBR race. Runner-up last year, he suffered out on the bike but this year, his incredible racing record looks good for another title.
In the final age-group, it will be the honours for Denmark. Born in 1944, Philip Niël looks set to take his first title, having previously won bronze in 2014 in Horst.
The important times (CET) for you are:
12:00 Elite - Start (Women)
12:05 AG - Start (Women)
12:05 AG - Start (Men 55+)
12:20 Elite - Start (Men)
12:30 AG - Start (Men)
You can follow the race with the live tracker.
Related Event: 2019 Viborg ETU Powerman Middle Distance Duathlon European Championships
Latest
Videos
---
Latest
Event Galleries